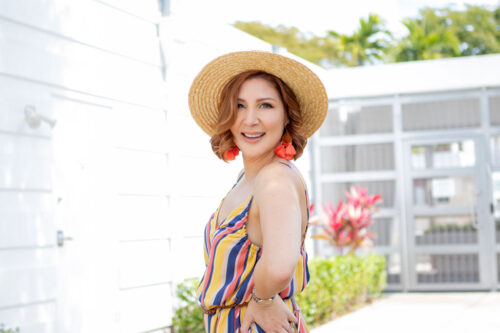 📍 Miami, FL.
Mei (pronounced May) Jorge is the founder and creative mind behind this award-wining bilingual blog. In it, she shares her sense of style, love for skincare, new role as a mom of two and her appetite for travel. This Cuban-born gal's love with fashion stems from her childhood's tropical surroundings. She describes her style as feminine, classic and chic; and has a great talent for combining high-end and affordable pieces simultaneously.
Her eye for style also comes from her graphic design studies at the University of Miami. In her 15+ year professional career, also in the same field of study, she was part of the design team for one of Miami's top Fortune 100 companies. During this time, her entrepreneur spirit was triggered after obtaining a Master's in Business Administration at Florida International University. She later left the corporate world to partake onto new journeys –this blog and a new career path.
Mei enjoys sharing her knowledge of the blogosphere and has been invited to be a speaker for We All Grow Summit, Hispanicize Week, SeedFood & Wine Week and several events for local chapters of The Blogger Union. Additionally, she was awarded by South Florida Bloggers with 'Best Lifestyle Blogger" and has been twice a finalist in the categories of Best Travel Blogger and Best Fashion Blogger. However, one of her biggest accomplishment was being featured in the print version of Parent's Latina Magazine.
Her clean and fresh aesthetics has called the attention of several national and international brands. Mei has worked with retailers like Macy's, Kohl's, Coach, JCPenney, Saks OFF 5th, Banana Republic and Ralph Lauren among others. In the beauty genre, she has been part of campaigns for Dove, Neutrogena, Gillette Venus, Aveeno, Sephora and Colleen Rothschild Beauty to name a few. After becoming a mom, Mei has had the opportunity to work with Huggies, Lovevery, JONHSON's Baby and Hasbro. Mei has also worked with a few enigmatic South Florida hotel brands like Hilton and The Biltmore, and while abroad, with Secrets Resorts.
Another of Mei's deep appetite is traveling. Along with her husband of 10 years, she has visited over 20 countries, and through her adventures both abroad and in her hometown city of Miami, she hopes to inspire women to dress and feel better about themselves no matter the price tag, age, lifestyle or personal circumstances.
Mei is a mother of two beautiful and energetic little ones; Julian age 4 and Mila age 3.
📍 Miami, Fl.
Mei Jorge es la fundadora y mente creativa detrás de este galardonado blog bilingüe. En él, comparte su sentido del estilo, su amor por el cuidado de la piel, su nuevo papel como madre de dos hijos y su apetito por viajar. La pasión con la moda de esta chica nacida en Cuba se encumbra a los alrededores tropicales de su infancia. Ella describe su estilo como femenino, clásico y elegante; y tiene un gran talento para combinar piezas de alta gama y asequibles simultáneamente.
Su sentido de estilo también se debe a sus estudios de diseño gráfico en la Universidad de Miami. En sus más de 15 años de carrera profesional, también en el mismo campo de estudio, formó parte del equipo de diseño de una de las principales empresas Fortune 100 de Miami.Durante este tiempo, su espíritu emprendedor se desencadenó después de obtener una Maestría en Administración de Empresas en Florida International University. Más tarde renunció al mundo corporativo para participar en nuevos trayectos; su blog y su nueva carrera.
Mei disfruta compartir su conocimiento en el mundo de blogging y ha sido invitada a ser oradora en We All Grow Summit, Hispanicize Week, SeedFood & Wine Week y en varios eventos locales de The Blogger Union. Como otro logro, Mei fue galardonada con 'Mejor Blogger de Estilo de Vida 2017' por South Florida Bloggers. Sin embargo, uno de sus mayores logros fue aparecer en la versión impresa de Parent's Latina Magazine.
Gracias a su simple pero memorable estética, ha llamado la atención de varias marcas nacionales e internacionales. Mei ha trabajado con Macy's, Kohl's, Coach, JCPenney, Saks OFF 5th, Banana Republic y Ralph Lauren, entre otros. Y en el género de la belleza, ha sido parte de campañas para Dove, Neutrogena, Gillette Venus, Aveeno, Sephora y Colleen Rothschild Beauty, por nombrar algunas. Mei también ha trabajado con algunas de las enigmáticas marcas hoteleras del sur de Florida, como Hilton y The Biltmore, y en el extranjero con Secrets Resorts.
Otro de los grandes intereses de Mei es viajar. Junto con su esposo de 10 años, ha visitado más de 20 países y, a través de sus aventuras tanto en el extranjero como en la ciudad de Miami, espera inspirar a sus lectoras a vestirse y sentirse mejor sin importar el precio, edad, estilo de vida o circunstancias personales.
Mei es madre de dos hermosos y energéticos niños; Julián de 4 años y Mila de 3.
Let's be friends