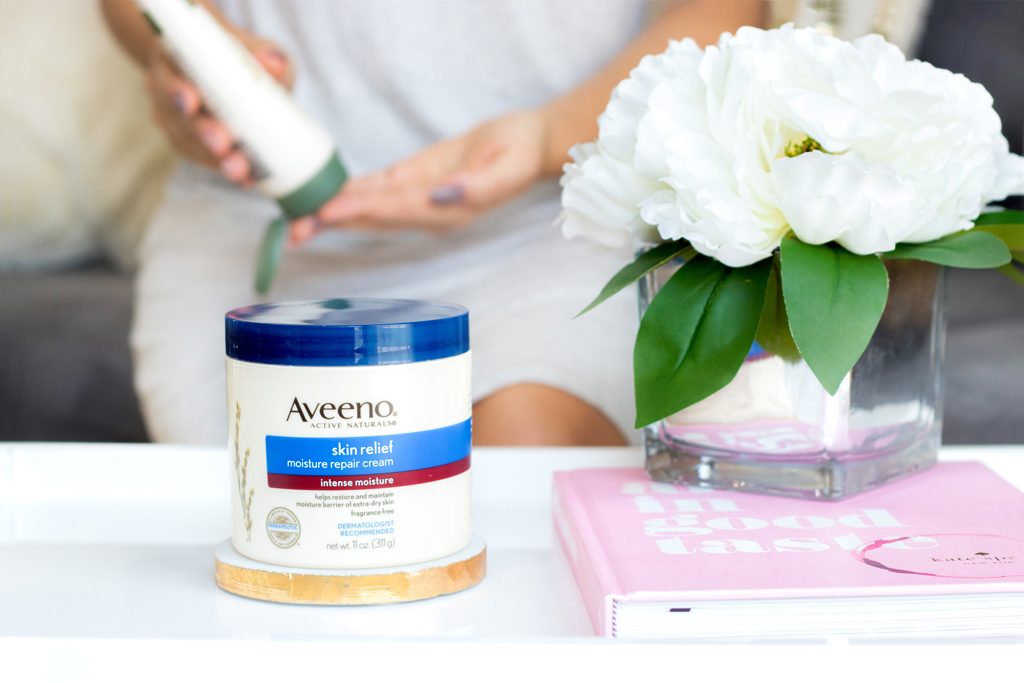 Aveeno is possibly one of my favorite affordable skincare lines. And these two products are the #perfectfit for dry, itchy & dehydrated skin. Miami Fashion Blogger
[one_half]
Having the opportunity to work with brands that I love (and use on the daily) is one of the best rewards of doing what I love. Thus, when Aveeno reached out to me to share how I take care of my skin during the coming months of fall, I said YES in a heartbeat. I've shared a few times in my social media channels and in past blog posts, that I suffer from dry skin, which leads me to often try new products with the hopes of finding THE holy grail of them all. The requirement list is long, since not only do I look for a reputable brand, but I also look for products made of natural ingredients (preferably with no scent, as artificial fragrances are linked to many health issues), are clinically proven, dermatologist recommended and most importantly, one that could keep up with my long days. I don't know about you ladies, but I prefer not to drag around a travel (or sample) size in order to hydrate through the day.
[/one_half][one_half_last]
Tener la oportunidad de trabajar con marcas que amo (y uso a diario) es una de las mejores recompensas de hacer lo que amo. Así que cuando Aveeno me contactó para compartir con ustedes cómo cuido mi piel durante los próximos meses de otoño, dije SI al instante. He compartido unas cuantas veces en mis redes sociales y en posts anteriores, que sufro de piel seca, lo que me lleva a probar a menudo nuevos productos con la esperanza de encontrar el ideal para mí. La lista de requisitos es larga, ya que busco una marca en la que pueda confiar, pero también busco productos hechos de ingredientes naturales (preferiblemente sin olor, ya que las fragancias artificiales están vinculadas a muchos problemas de salud), están clínicamente probados, es recomendado por dermatólogos y, lo más importante, aquel que perdure durante mis largos días. No sé sobre ustedes chicas, pero prefiero no llevar muestras pequeñas de producto por doquier para poder hidratar mi piel durante el transcurso del día.
[/one_half_last]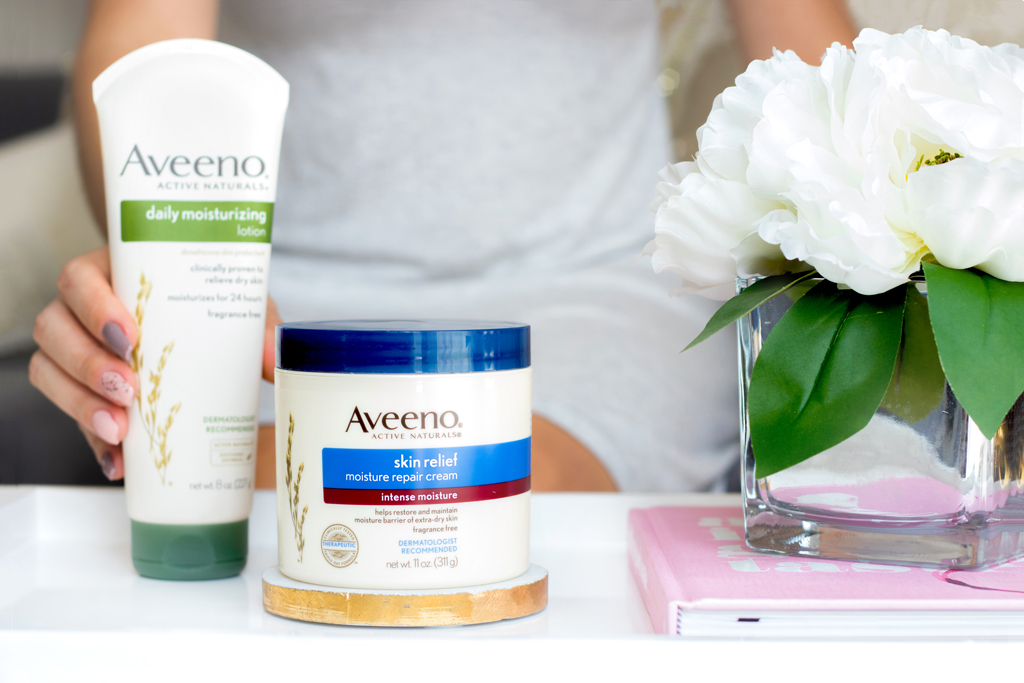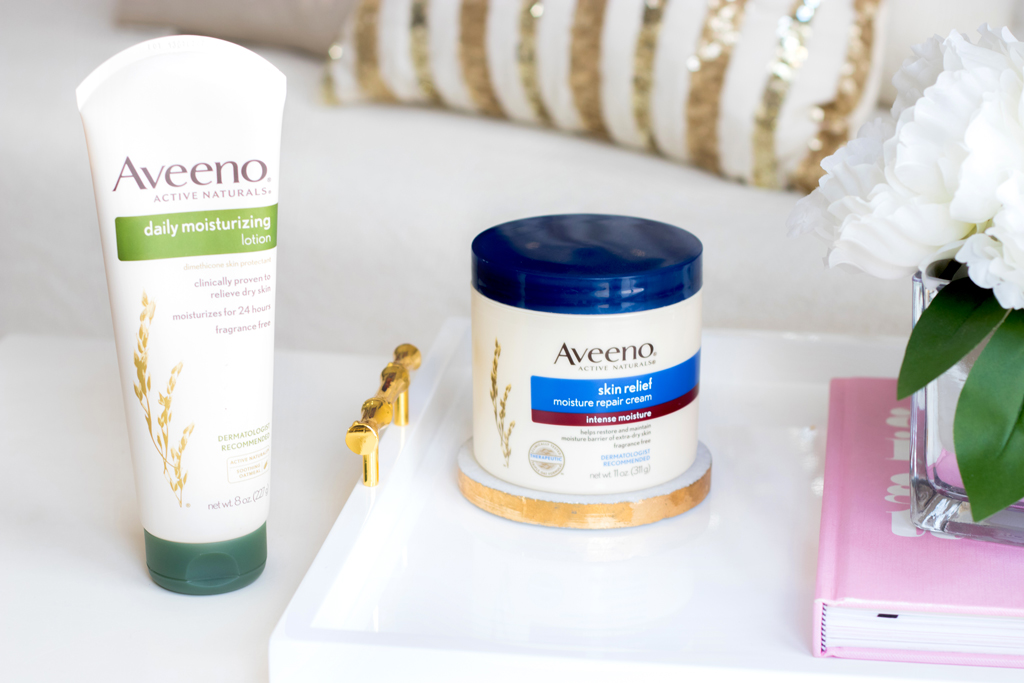 [one_half]
To my surprise, close to a year ago I finally called it quits with what I thought was an ever-ending search. I came across Aveeno Active Naturals Daily Moisturizing Lotion and Aveeno Active Naturals Moisture Repair Cream. Both of these not only fit the bill but they very affordable (both under $11) and available nearly anywhere, if not everywhere. AND if you have a Plenti account, and decide to purchase your Aveeno products at Rite Aid, you'll get 800 points when you spend $20 or more. Usually 1 point = 1 cent, thus this offer equals $8 in savings! If you are not yet part of the Plenti program, you can read more about it here. Basically, you accumulate points on the purchases you already make at retailers like Macy's, Exxon, Expedia, Hulu, etc., and can spend them on future purchases at participating stores (points are valid for up to 2 years). Such a #WinWin right!
Now, let me share why I became obsessed with these two products as soon as I tried them! Because of the long summer months in Miami, dry, itchy and dehydrated skin is quite expected. This is also the case during the very few weeks of cooler temperatures we get to experience. I use both of the above products twice a day; before going to bed and in the morning after I shower. I apply the daily moisturizer all over my body and the intense moisture cream in areas where I am more prone to being dry, like my elbows, knees and feet. These two products have legit been able to keep my skin soft and smooth throughout the day without having to re-apply any other product. I simply couldn't go without them!
This is a sponsored conversation written by me on behalf Johnson & Johnson and ShopStyle. All the opinions expressed are, as always, honest and my own. Thanks for supporting the brands that make this blog possible.
[/one_half][one_half_last]
Para mi sorpresa, hace casi un año finalmente finalice la interminable búsqueda al encontrar Aveeno Active Naturals Daily Moisturizing Lotion y Aveeno Active Naturals Moisture Repair Cream. Ambos no sólo cumplieron los requisitos, pero son súper asequibles (los dos son menos $11) y disponible por doquier. Si tienen una cuenta Plenti y deciden comprar productos Aveeno en Rite Aid, obtendrán 800 puntos cuando gasten $20 o más. Por lo general, 1 punto = 1 centavo, lo que significa que esta oferta equivale a ¡$8 en ahorros! Si todavía no son parte del programa Plenti, puede leer más sobre él aquí. Básicamente, acumulan puntos en las compras que ya hacen, como en Macy's, Exxon, Expedia, Hulu, etc., y pueden usarlos en sus futuras compras en tiendas participantes (los puntos son válidos por hasta 2 años).
Ahora, permítanme compartir por qué me obsesioné con estos dos productos tan pronto como los probé. La piel seca y deshidratada es común durante los meses de verano en Miami. Esto también es el caso durante las pocas semanas de temperaturas más frías que experimentamos. Uso ambos de los productos que mencione arriba, dos veces al día, en la noche antes de ir a la cama y en la mañana después de ducharme. Aplico la loción hidratante en todo mi cuerpo y la crema Moisture Repair en las zonas donde mi piel tiende a estar más deshidratada, como en mis codos, rodillas y pies. Estos dos productos han podido mantener mi piel suave e hidratada durante todo el día sin tener que re-aplicar otro producto. Simplemente ¡no puedo vivir ir sin ellos!
Esta es una conversación escrita por mí y patrocinada por Johnson & Johnson y ShopStyle. Todas las opiniones expresadas, como siempre, son honestas y propias. Gracias por apoyar a las marcas que hacen este blog posible.
[/one_half_last]