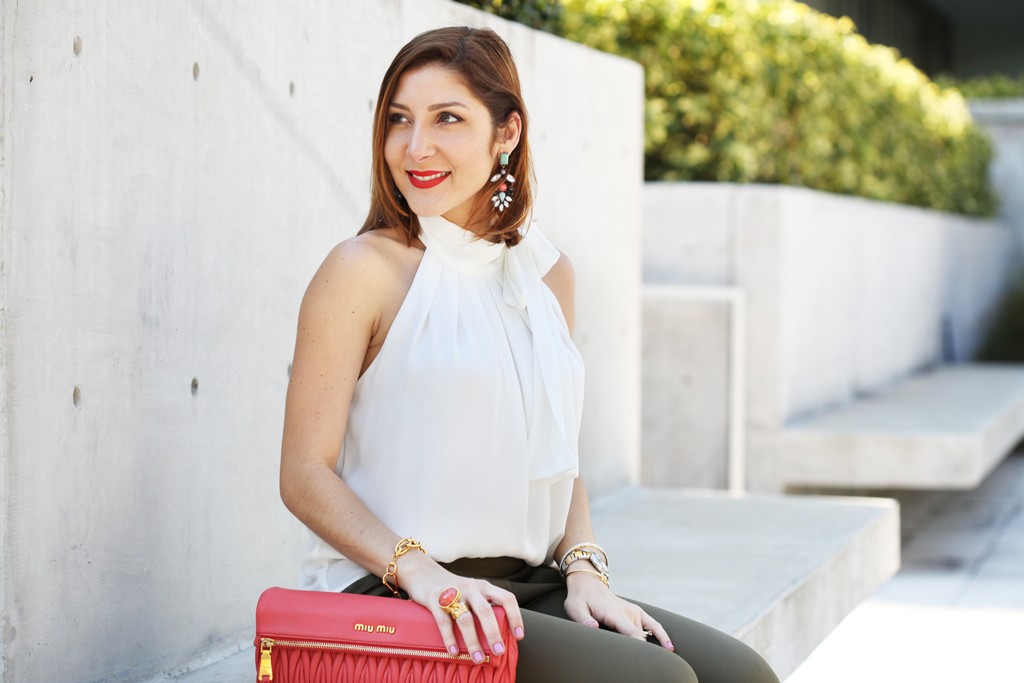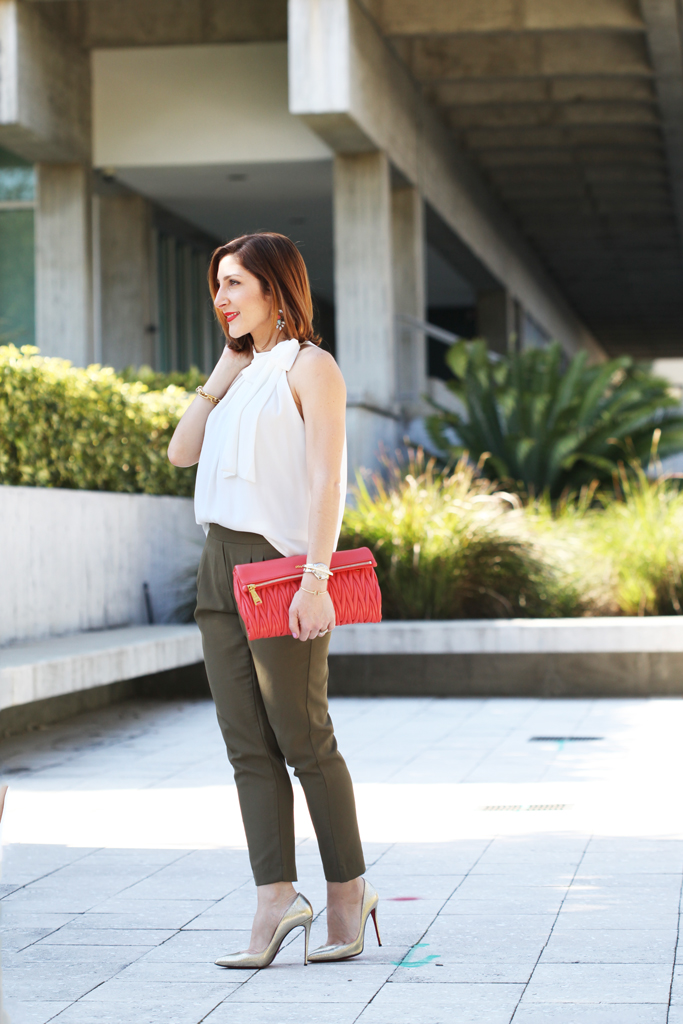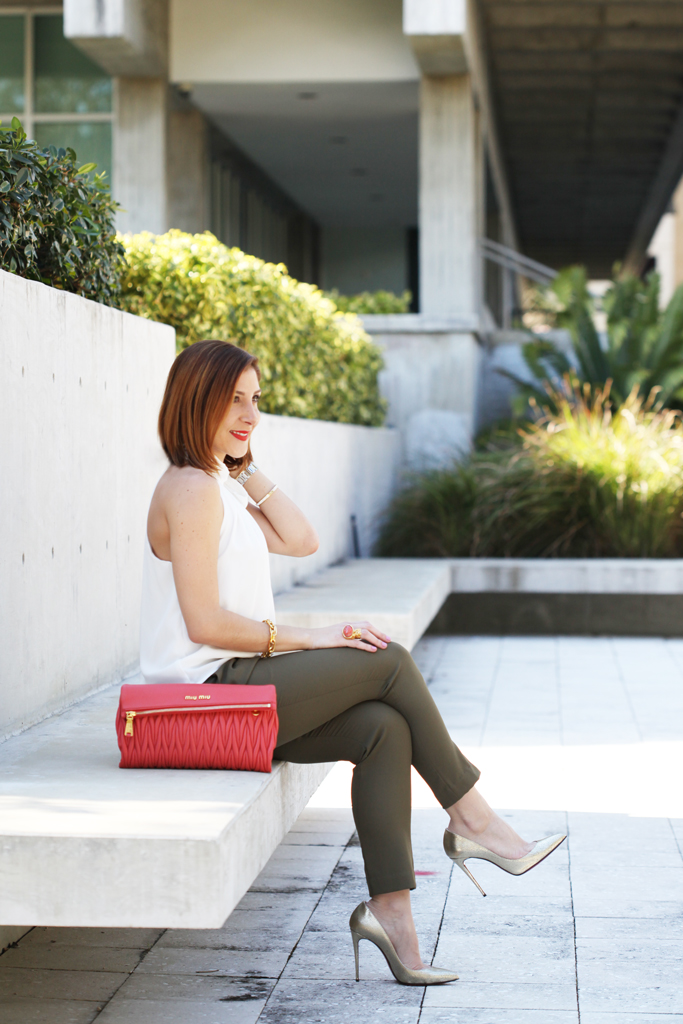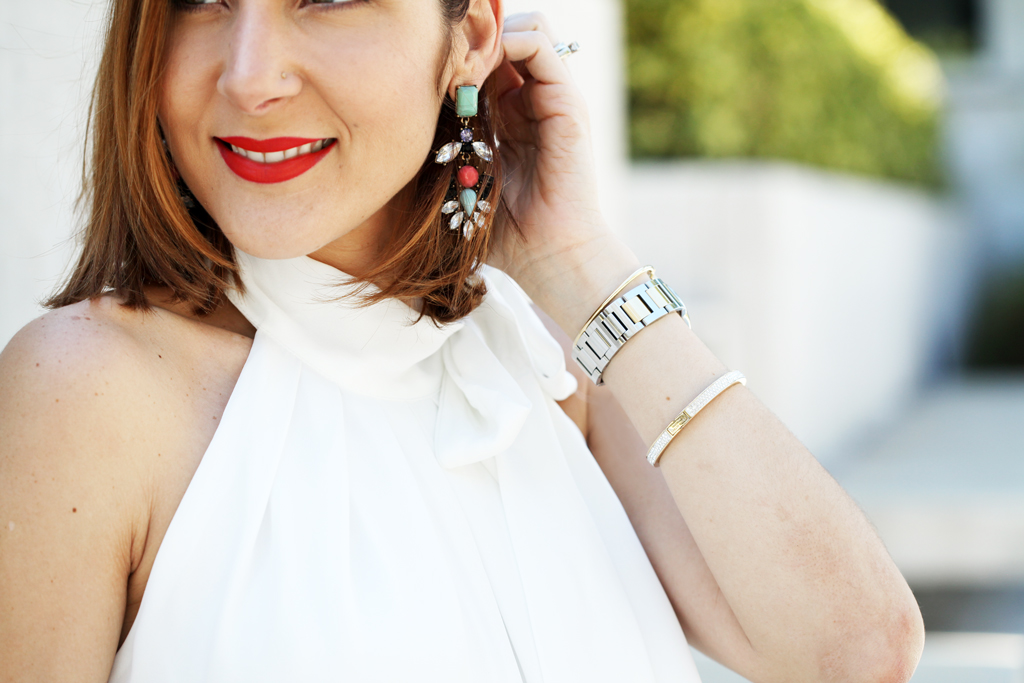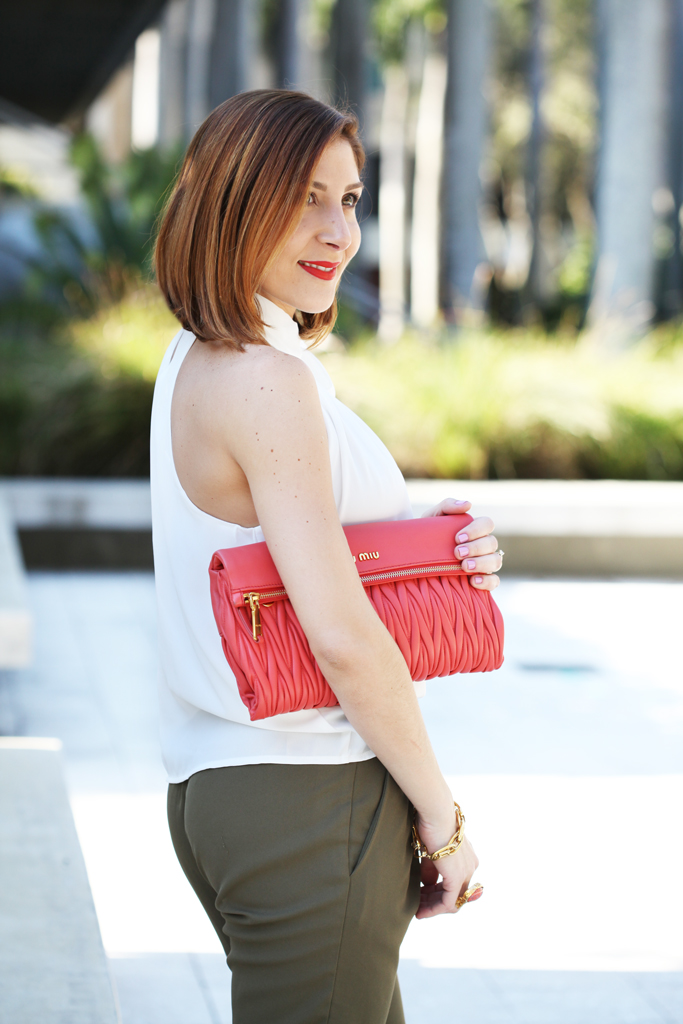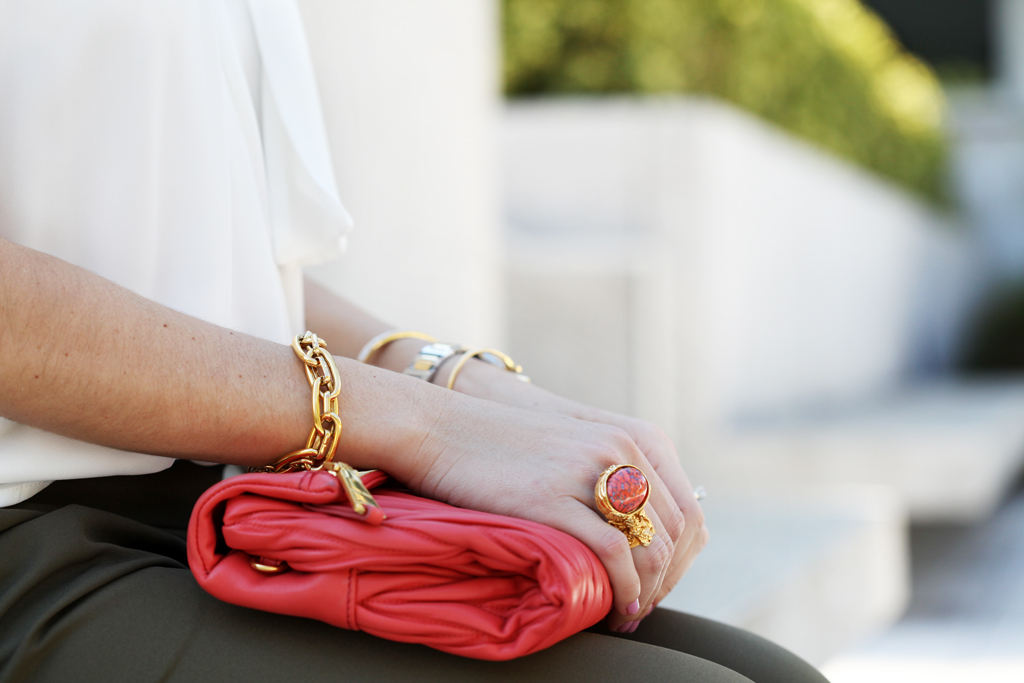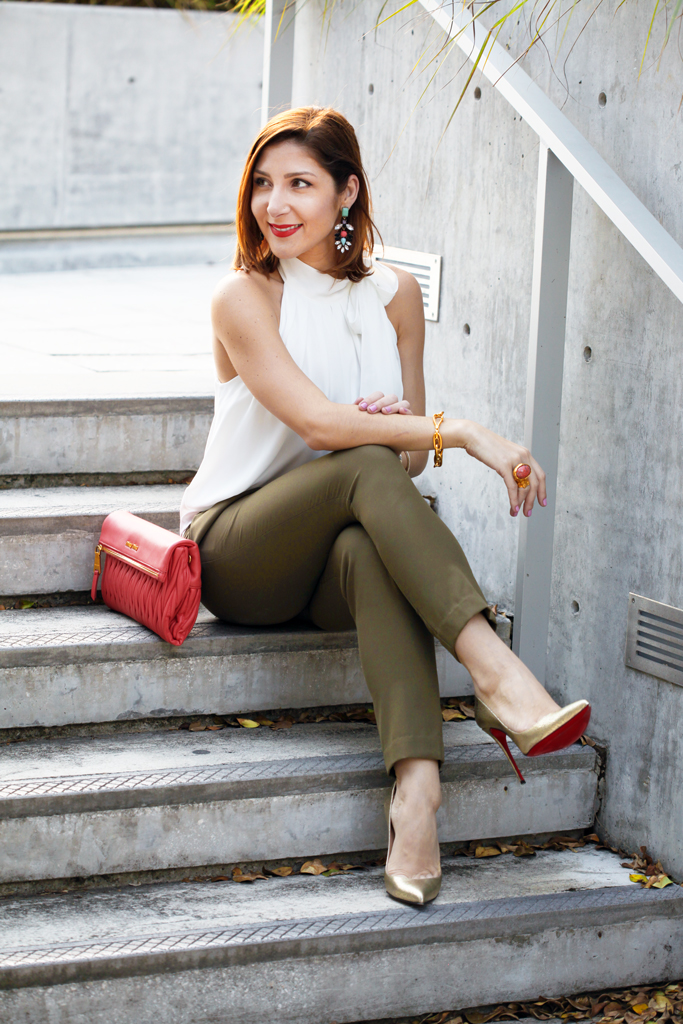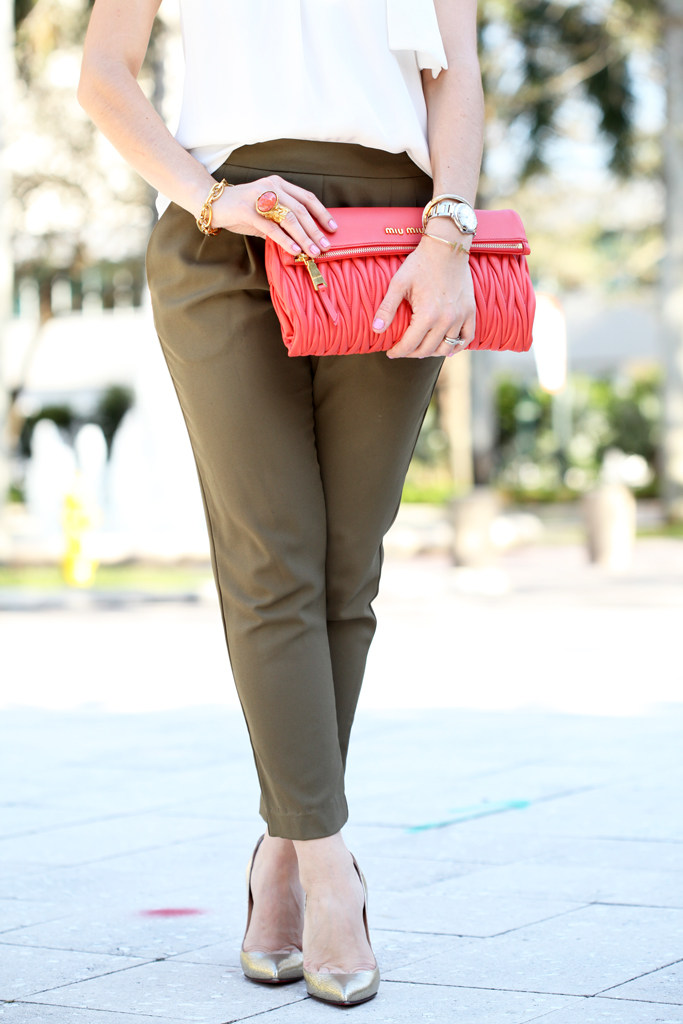 <<   TOP: ChicWish (similar)   |   PANTS: Nordstrom (similar #1, similar #2)  |    HANDBAG: Miu Miu (similar, affordable option)    |    EARRINGS: Nordstrom (similar #1, similar #2)  |   RING:  YSL (similar)   |   BRACELETS: Henri Bendel ('Rock Box Skinny' & similar) and Tiffany & Co. 'T:Wire' (affordable option)   |    PUMPS: Christian Loubotin (similar, affordable option #1 & affordable option #2)   |    WATCH: Cartier 'Ballon Bleu' (affordable option)    |    NAIL POLISH: Essie 'Warm and Toasty Turtleneck'    |   LIPSTICK: MAC 'So Chaud'    >>
Even though I have raved about Pantone's color of the year in previous outfit posts here and here, I can't deny olive green has definitely been MY color of the year. Initially, I was intimidated by its darker hue, but I was so silly to have been because it pairs beautifully with lighter tones as seen in a previous post here. And one of the best things about it is its versatility since it can be worn all year round, don't believe me? Take a look here where you can see how I paired it for spring and now in this post where I styled it with one of my fav colors, coral. Isn't this clutch GORG? I loved it the minute I saw it; it is undeniably the epitome of the perfect spring and summer bag.
Have you given olive green a chance? Share below or tag me in Instagram @blameitonmei, I would love to see.

ALUCINANTE CORAL:  BLUSA CON DETALLE DE LAZO + PANTALON VERDE OLIVA
A pesar de que les he contado maravillas sobre el color del año por Pantone en posts anteriores aquí y aquí, no puedo negar que el verde oliva ha sido sin duda MI color del año. Inicialmente, me sentía intimidada por su tonalidad oscura, pero que tonta fui, porque se combina a la perfección con tonos más claros como puede ver en un post anterior aquí. Y una de las mejores cosas acerca de el verde oliva es su versatilidad, ya que puede ser usado durante todo el año, ¿no me creen? Echa un vistazo aquí donde puede ver cómo lo combine para la primavera y ahora en este post donde lo combine con uno de mis colores favoritos, coral ¿No es FACISNANTE este bolso de mano? Me encantó el momento en que lo vi; incuestionablemente es la personificación de la bolsa perfecta para primavera y verano.
¿Le ha dado al color verde oliva una oportunidad? Compartan a continuación o me pueden hacer un tag en Instagram @blameitonmei, me encantaría ver.