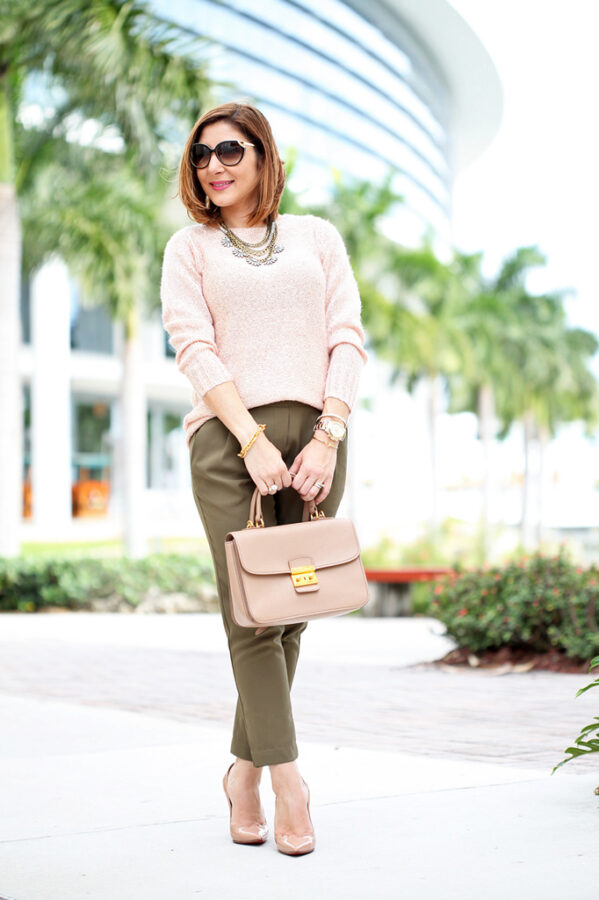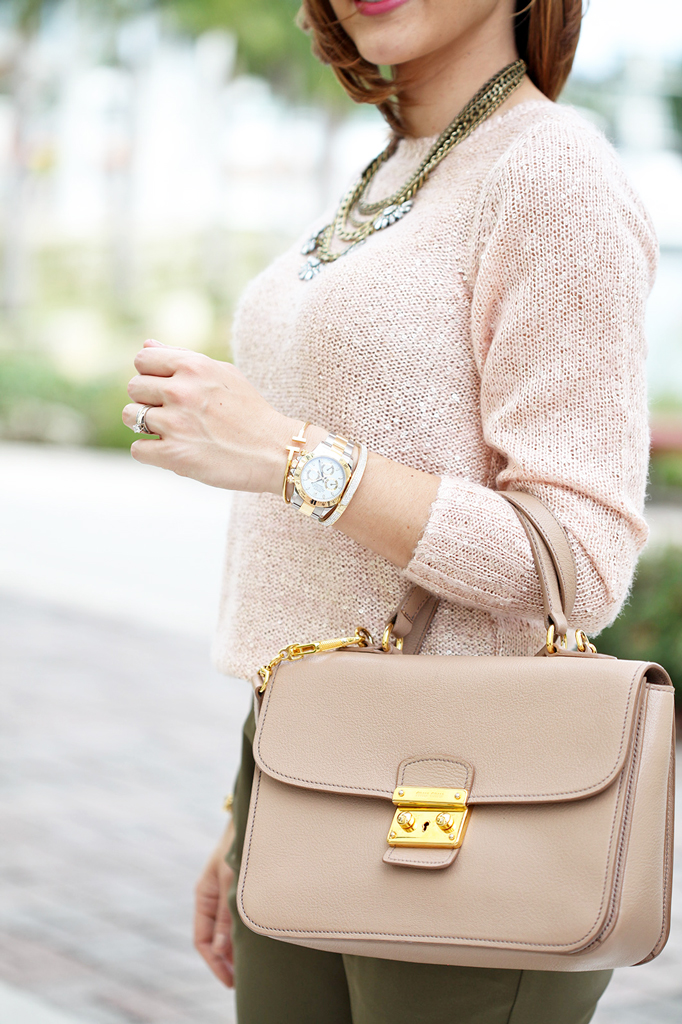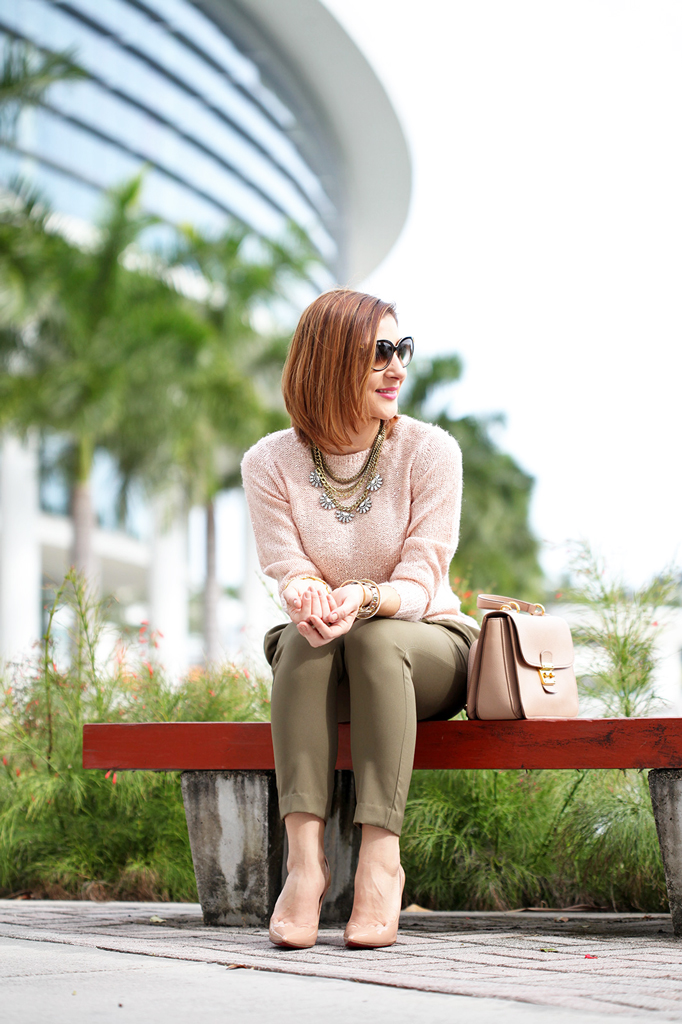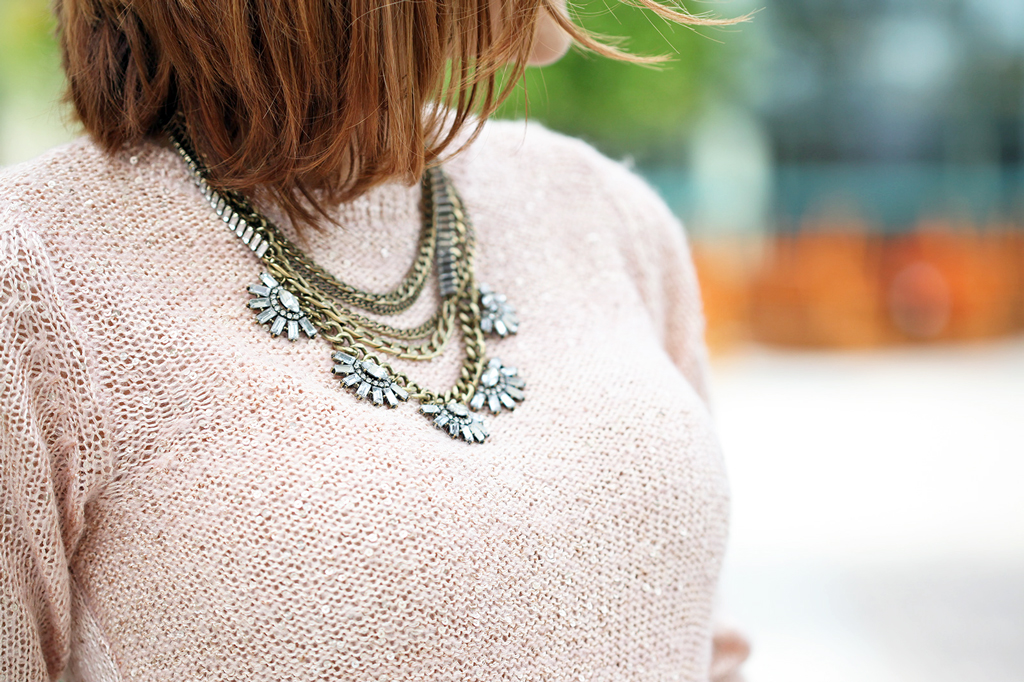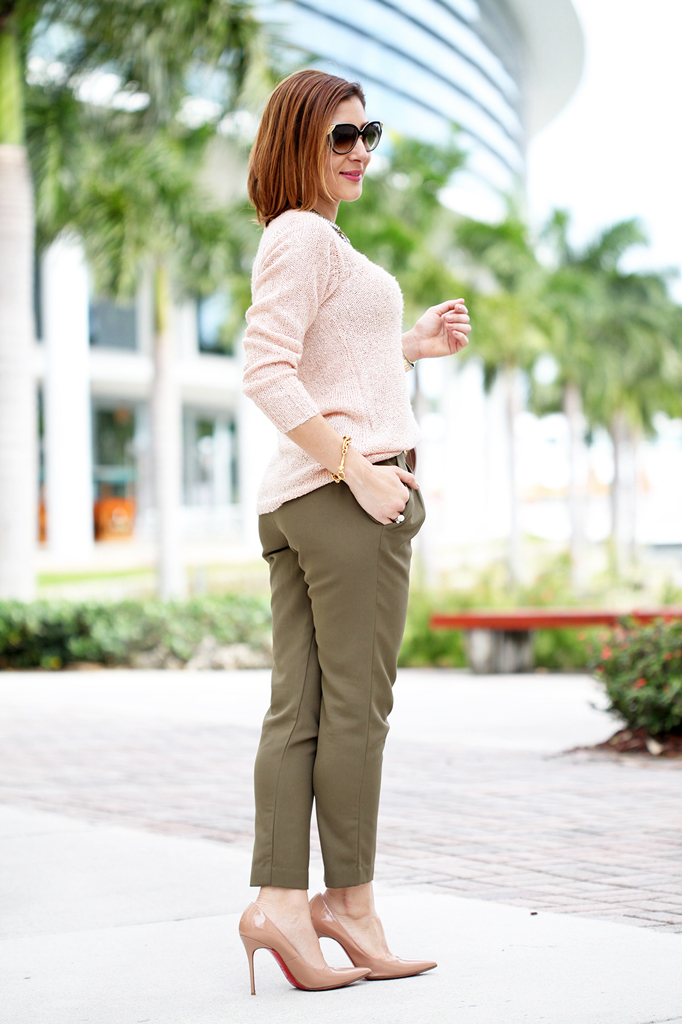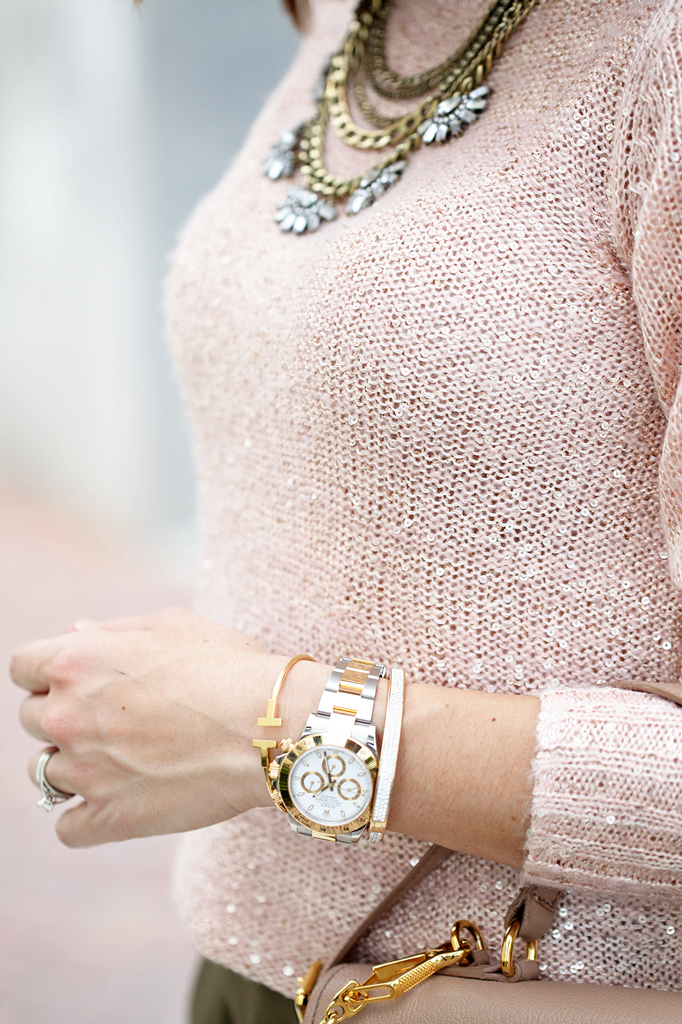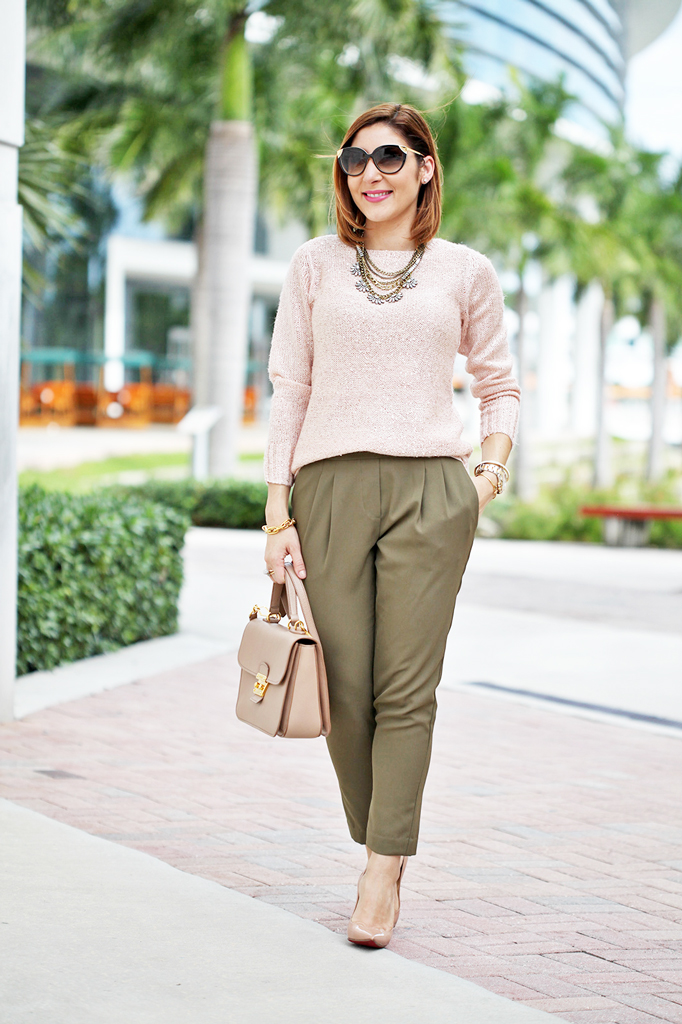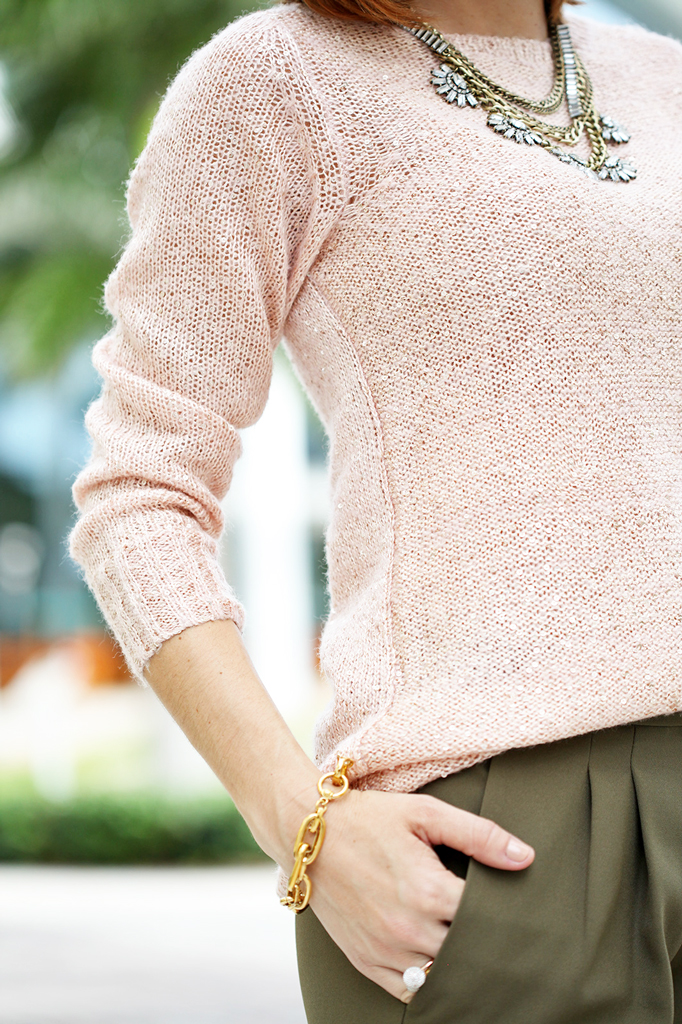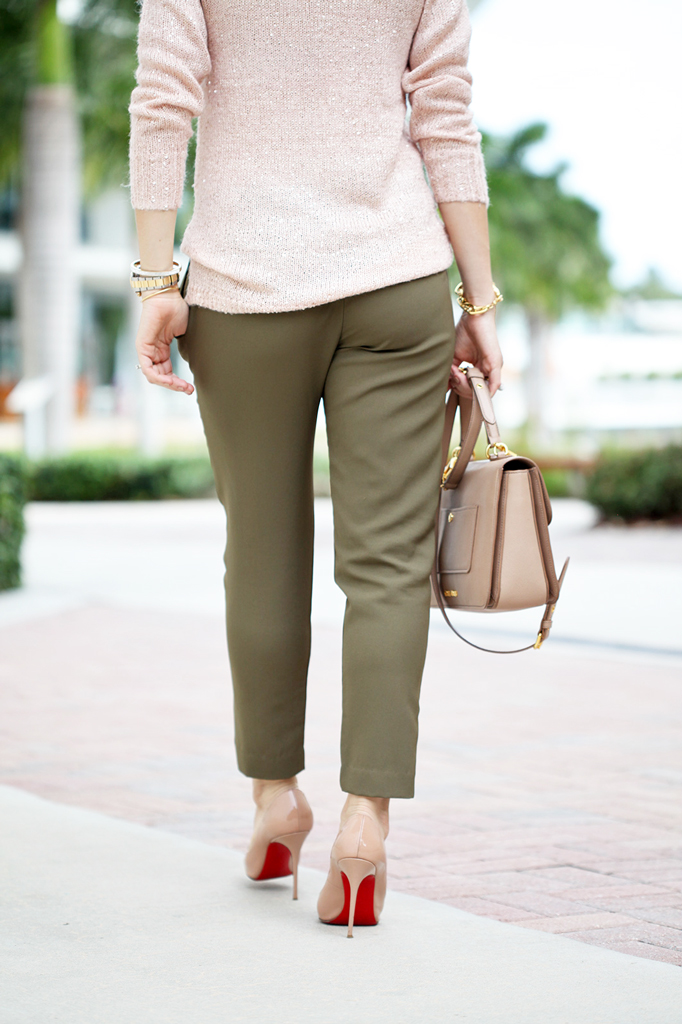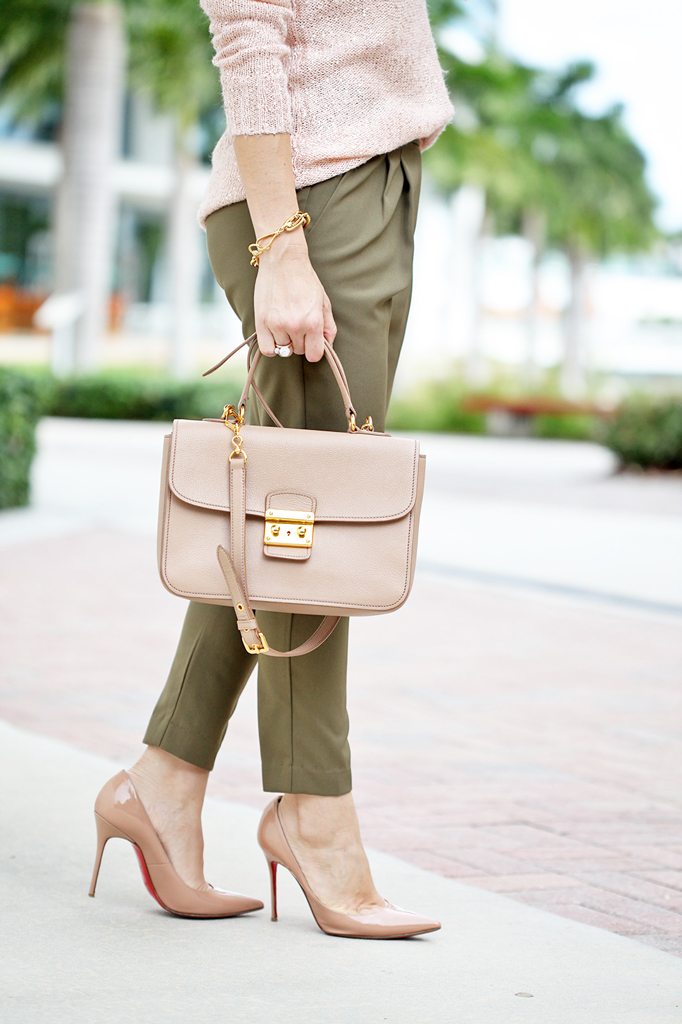 <<  SWEATER: The Limited (similar)    |    PANTS: Nordstrom (similar)  |    WATCH: Rolex  |      BRACELET: Henri Bendel ('Rox Skinny Bangle' & similar) & Tiffany & Co. 'T:wire'   |   NECKLACE: Baublebar (similar)    |    RING: Henri Bendel  (similar)   |    HANDBAG: Miu Miu (similar)   |   PUMPS: Christian Louboutin 'So Kate Patent'    |   NAIL POLISH: CND Vinylux 'Svelte Suede'    |   LIPSTICK: Milani Color Statement 'Matte Blissful'     >>
Are you excited for rose quartz making it to Pantone's color of the year? Maybe not as much as I am, but you should be, let me explain why. One, this shade is very flattering in almost all complexions; two, it pairs beautifully with darker and lighter shades alike; and third, this shade of soft pink conveys the most soothing, romantic and calm feeling to your ensemble. I have to confess though, that I usually do not gravitate towards this shade of pink, but after experimenting with it, I.HAVE.FALLEN.IN.LOVE! On another color note, aren't these olive-green pants a beauty? Check out how I've styled them in the past here.
Is there a color you now love but never experimented with in the past? Share below…

COLOR DEL AÑO: SUÉTER ACOGEDOR + PANTALONES VERDE OLIVA
¿Están emocionados por el color rosa cuarzo ser elegido como el color del año por Pantone? Tal vez no tanto como yo, pero deberían estar, permítanme explicar por qué. Uno, este tono es muy halagador en casi todos tonos de piel; dos, se combina maravillosamente con tonos oscuros al igual que claros; y tercero, este tono de color rosa transmite la sensación más relajante, romántica y tranquila a su conjunto. Tengo que confesar que por lo general no me atraía este tono de rosa, pero después de experimentar con él, ¡me he enamorado! Continuando con mis pantalones, no creen que son ¡una belleza! Me encanta su verde verde olivo. Si decea ver como los combine en el pasado haga clic aquí.
¿Hay un color que ahora usa pero nunca experimentó con el en el pasado? Comparta a continuación…