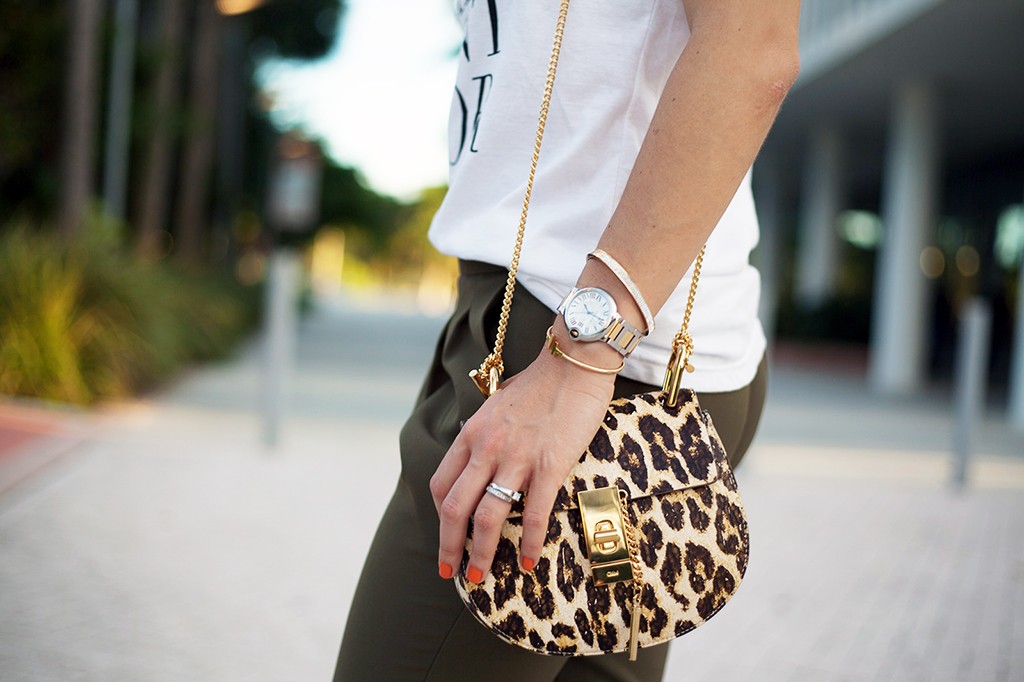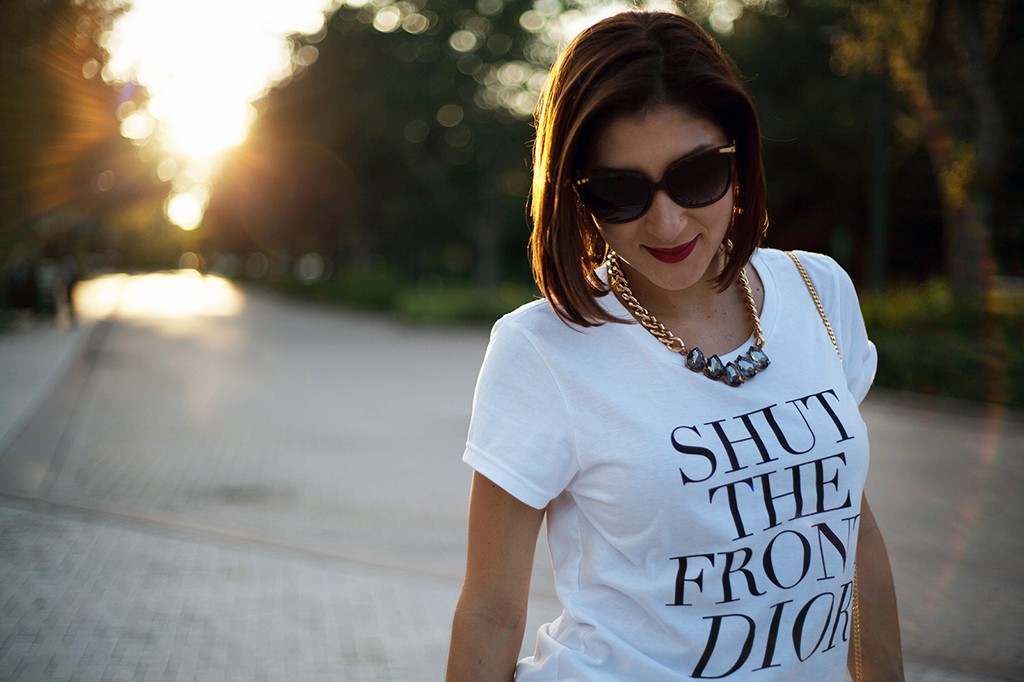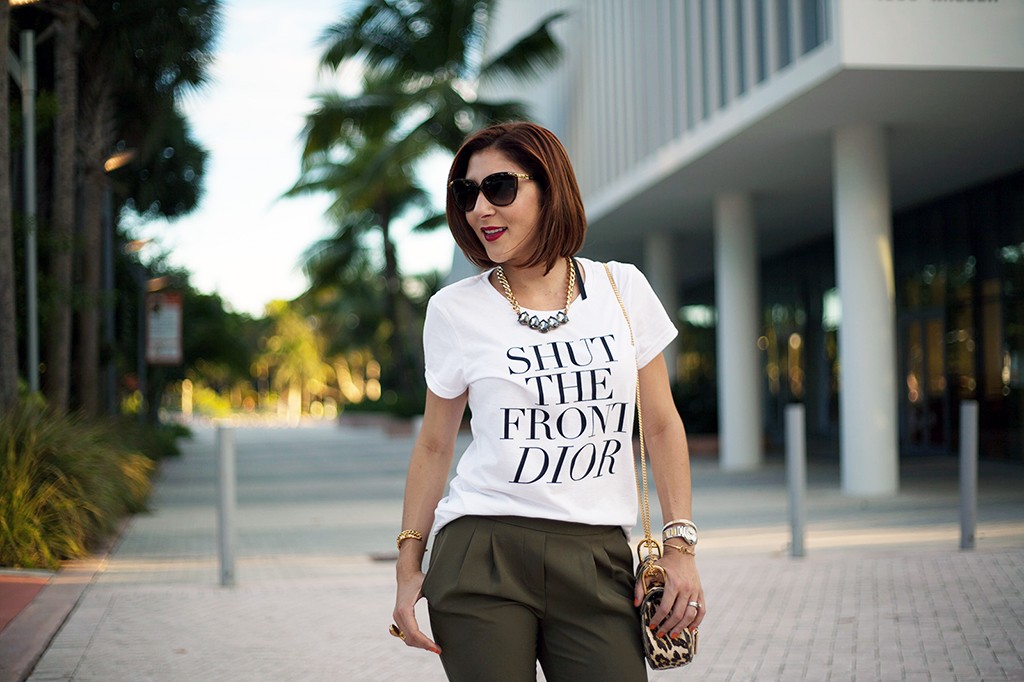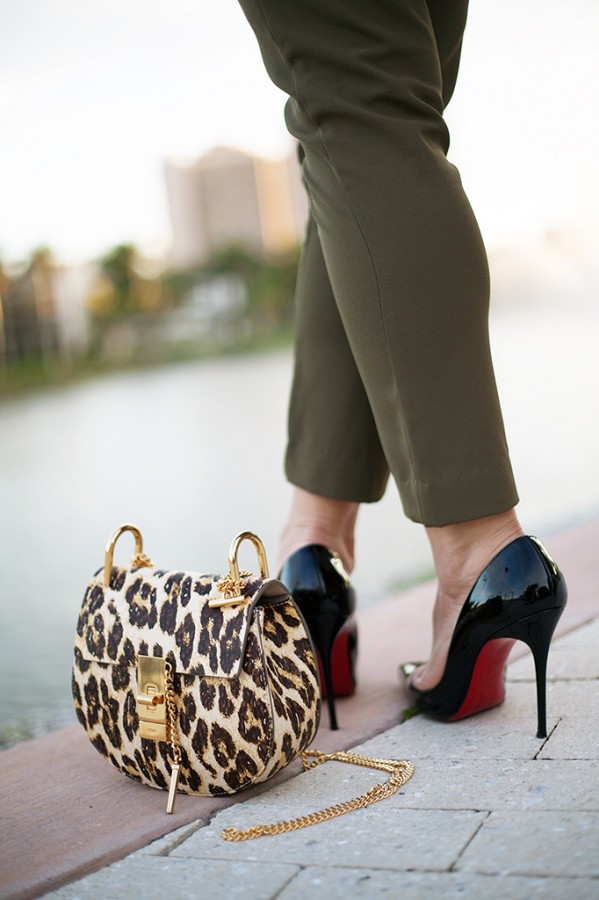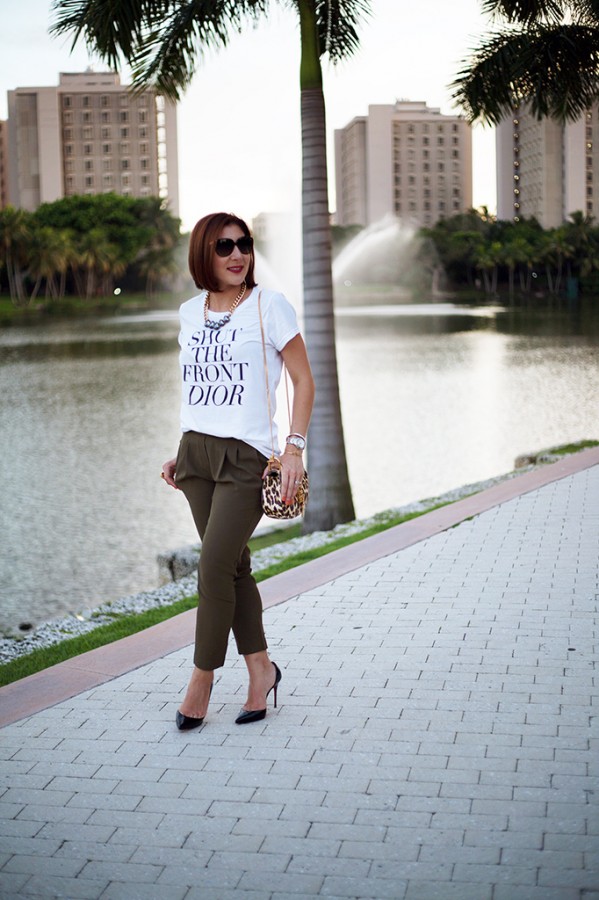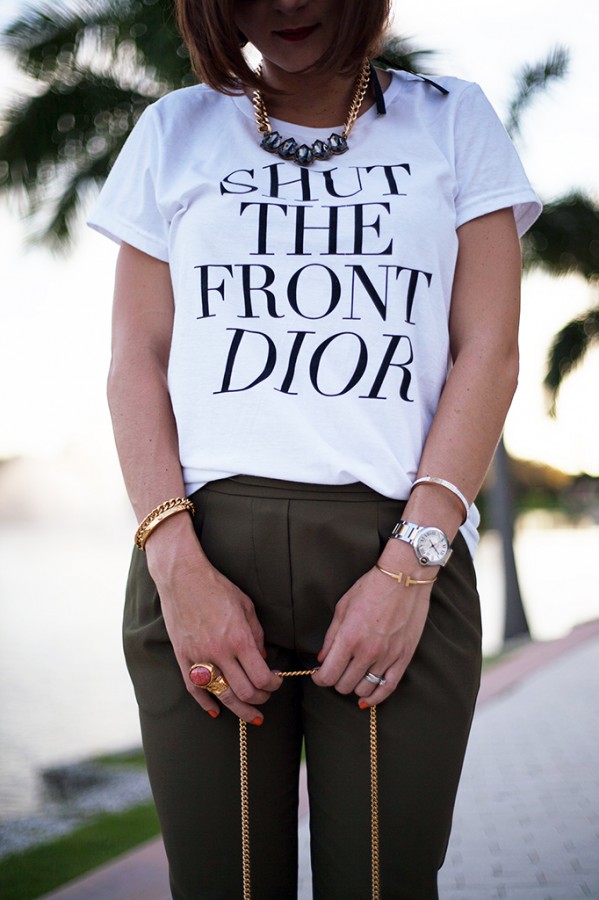 << PANTS: Wayf (similar)   |  TEE: T+J Designs (wearing size L for the loose fit/llevo puesto tamaño L para ajuste suelto)  | PUMPS : Christian Louboutin  |  CROSSBODY: Chloe Drew  |  NECKLACE : local Miami shop (similar)  |  BRACELETS: Henri Bendel (#1, & #2), Tiffany & Co.   | SUNGLASSES: D&G   |  RING: Yves Saint Laurent (similar)  |  WATCH: Cartier   |  LIPSTICK: Marc Jacobs   |  NAIL POLISH: Sally Hansen-Sun Kissed >>
How can I style the common tee you ask? Simple. Throw in some high heels and some sparkly accessories, at least that's how I do it. It just looks so effortless and comfortable right? I wore this outfit for a delicious authentic Italian dinner at a local Miami restaurant called Fratellino Ristorante (we love ANYTHING Italian… just FYI). It was our first time there, but let me share with you that they made us feel like they knew us since we were bambini. The food was amazing, the service outstanding, and the atmosphere very intimate (which we surprisingly enjoyed). My hubby and I give it two thumbs up and will definitely return! PS. In Yelp they have 5 stars with over 140 reviews hence why we had decided to give them a try.
Now, going back to the outfit. If you want to add the extra oomph, add a pattern, in this outfit the leopard crossbody does just that! If the tee trend is not yet in your radar, it should be! You can style it in so many different ways, and I will show you how in future posts. And let me tell you that I have so many pairing ideas in mind, especially for the fall season, so stay tuned.
Do you have any pairing ideas you want me to try? Share below, I am up for the challenge.

CHIC SIN EL ESFUERZO: VERDE OLIVO + CAMISETA GRÁFICA
¿Cómo puedo combinar una camiseta común y corriente? usted pregunta, ¡sencillo! Añada unos tacones altos y accesorios llamativos. Al menos así es como lo hago yo. Esta combinación me encanta porque luce como si no nos pasamos horas planeándola. Escogí este look para una auténtica cena italiana en un restaurante local de Miami llamado Fratellino Ristorante (un detalle personal… amamos TODO lo que tenga que ver con Italia). Era nuestra primera vez allí, pero les comparto que nos hizieron sentir como si nos conocían desde que éramos bambini. La comida estuvo increíble, el servicio excepcional y el ambiente muy íntimo (cual disfrutamos muchísimo) ¡Mi esposo y yo sin duda volveremos! Nota. En Yelp tienen 5 estrellas con más de 140 cometarios, por eso decidimos probarlos.
Ahora, regresando al look, para elevar esta combinación a otro nivel hazlo con un estampado y la bolsa de leopardo hace precisamente eso. Si la moda de la camiseta grafica todavía no está en su radar, ¡debería estar! Se puede combinar de muchas maneras, y les mostrare como en futuros post al blog. Y déjenme decirles que tengo tantas ideas de cómo combinarla, sobre todo para la temporada de otoño. Así que estén atentos.
¿Tiene alguna idea de combinaciones que desea que intente? Comparta a continuación, estoy lista para el reto.