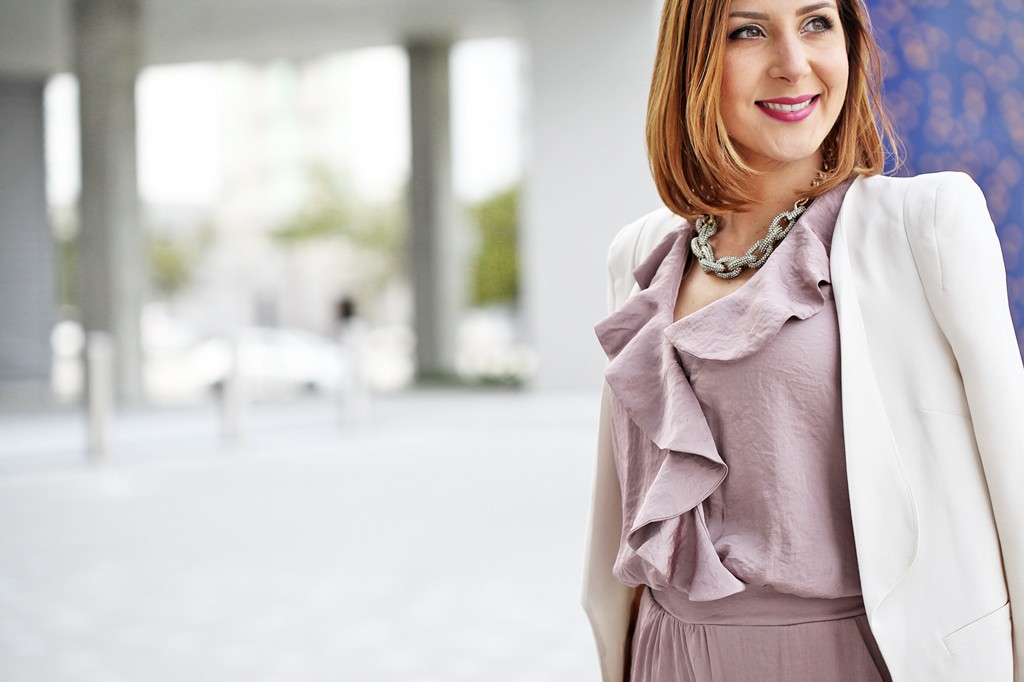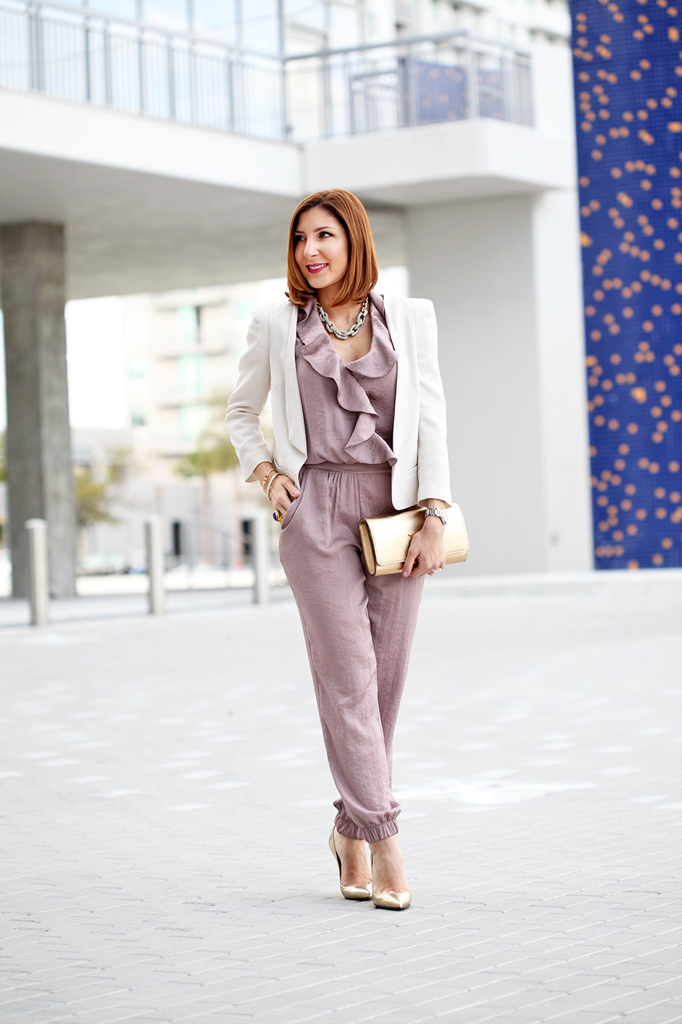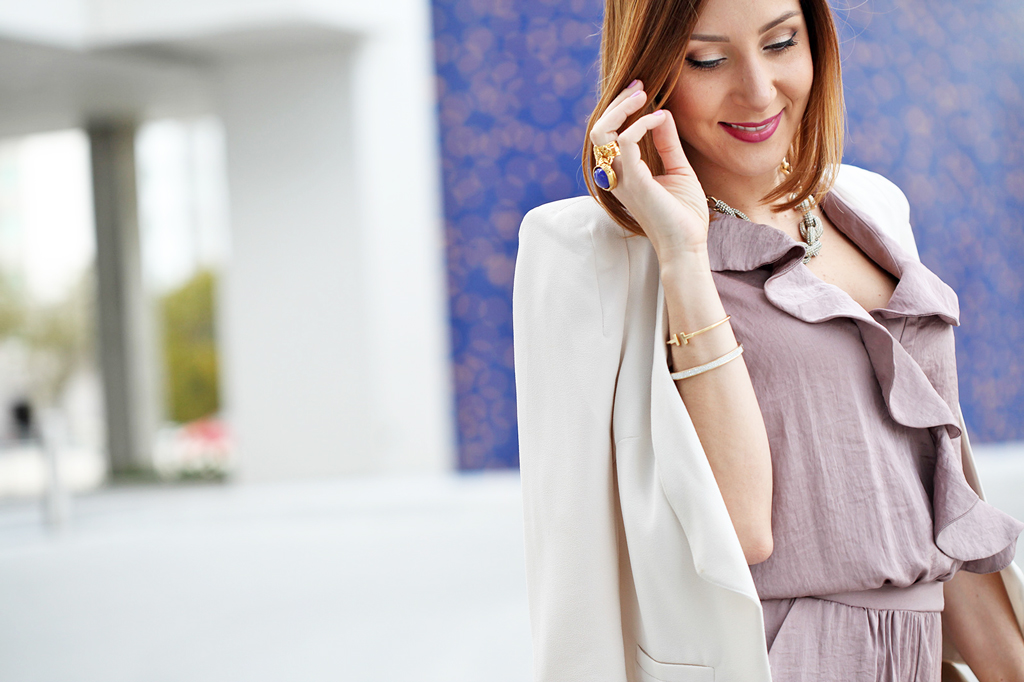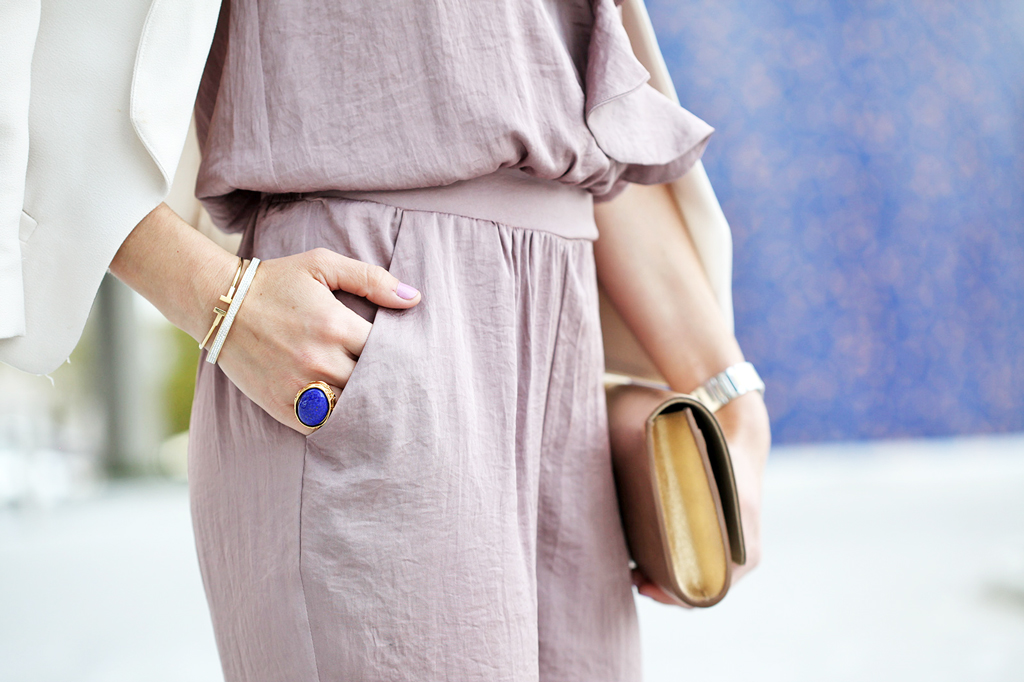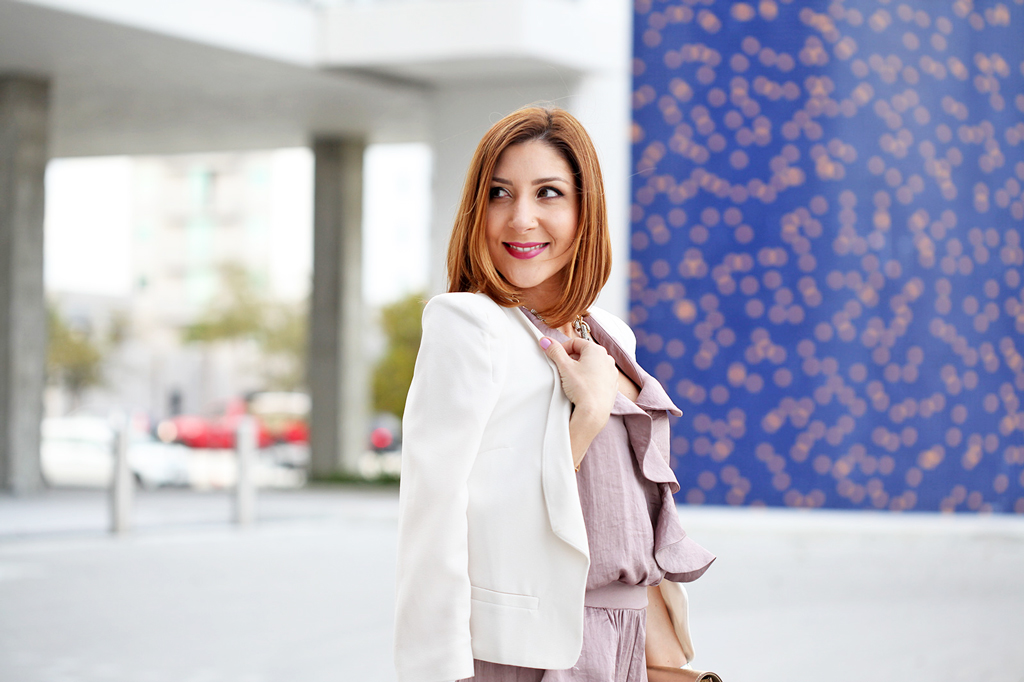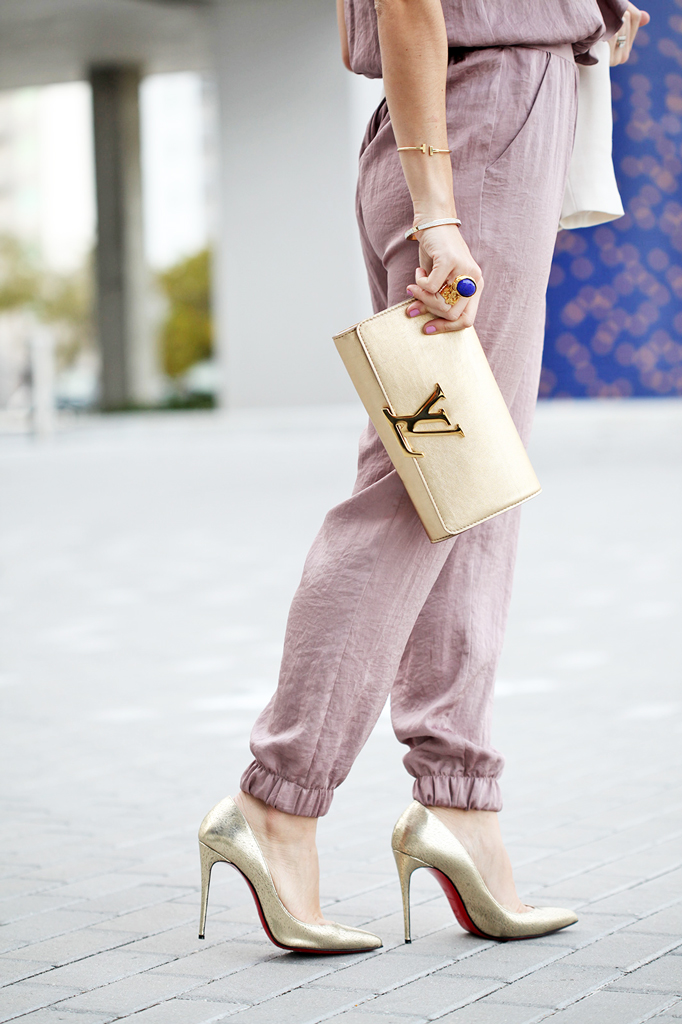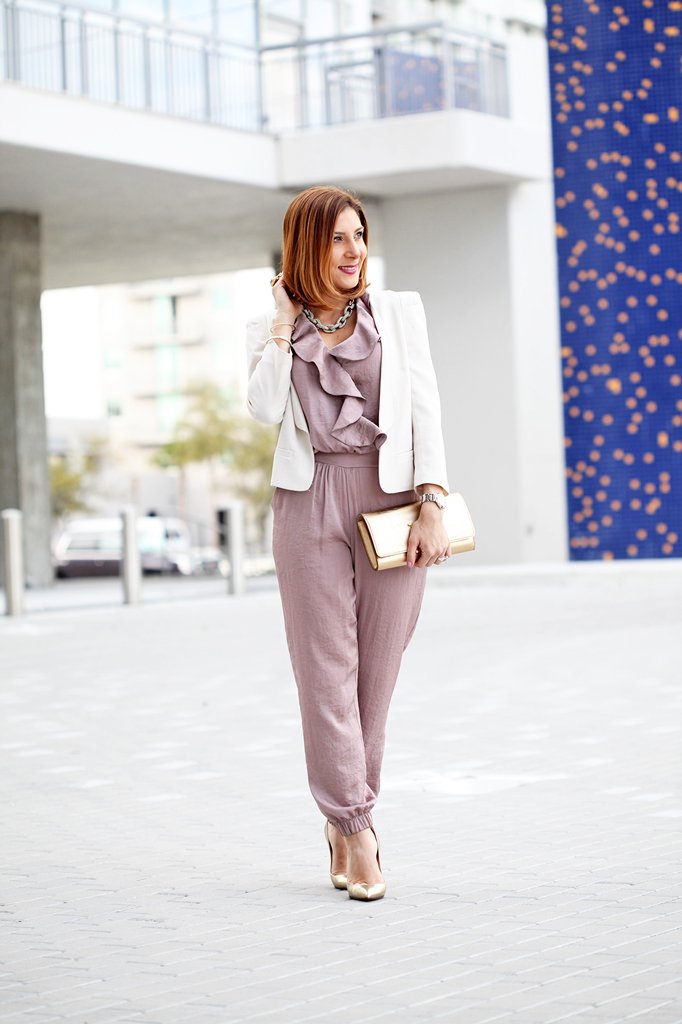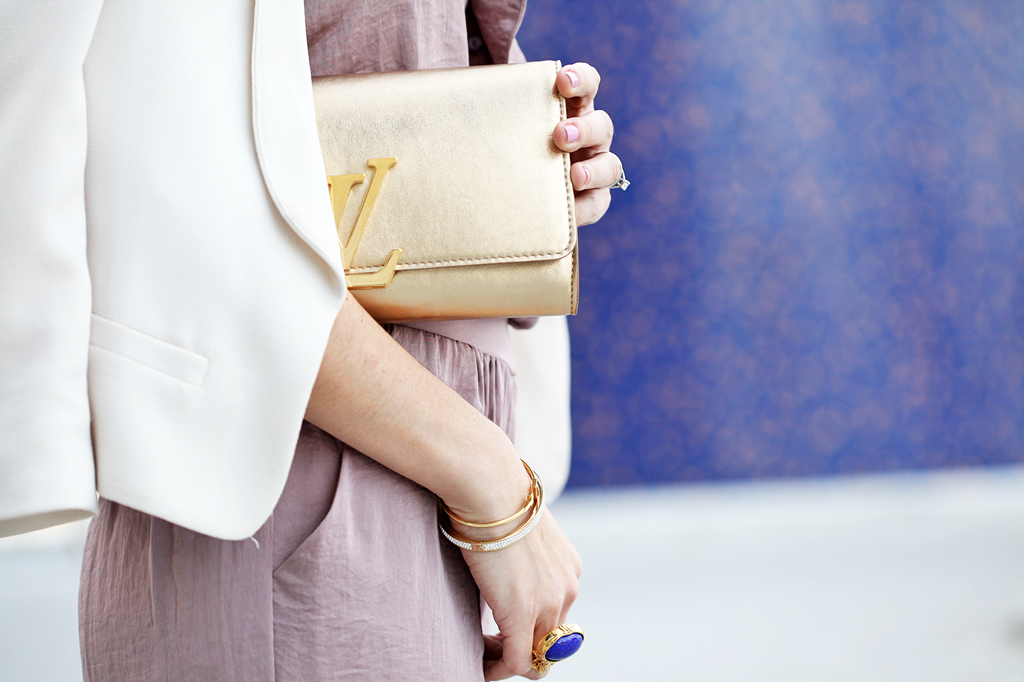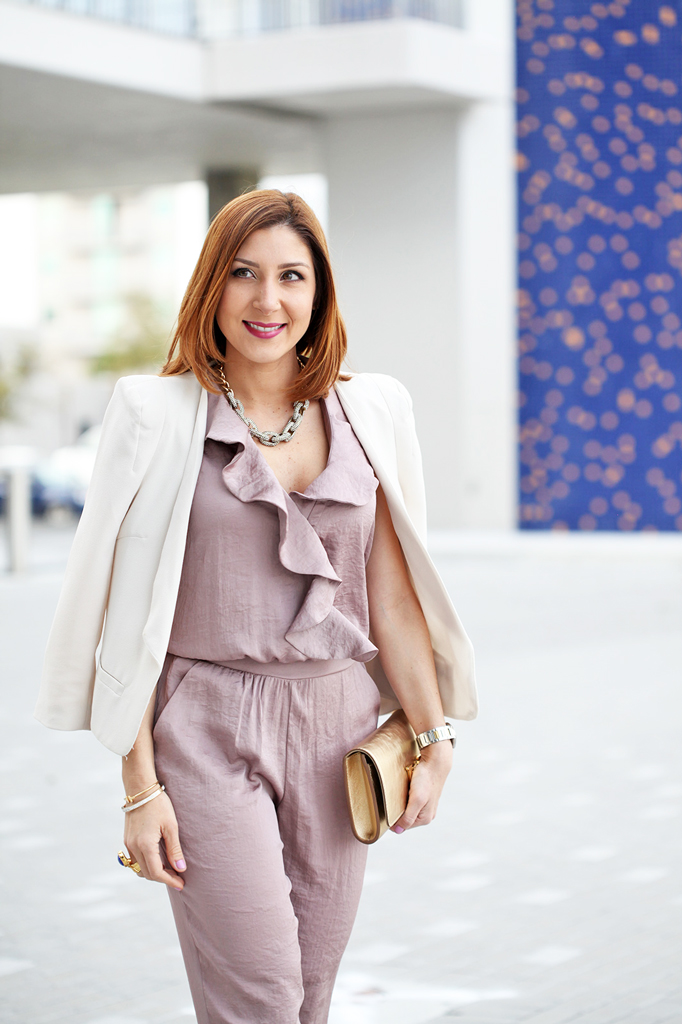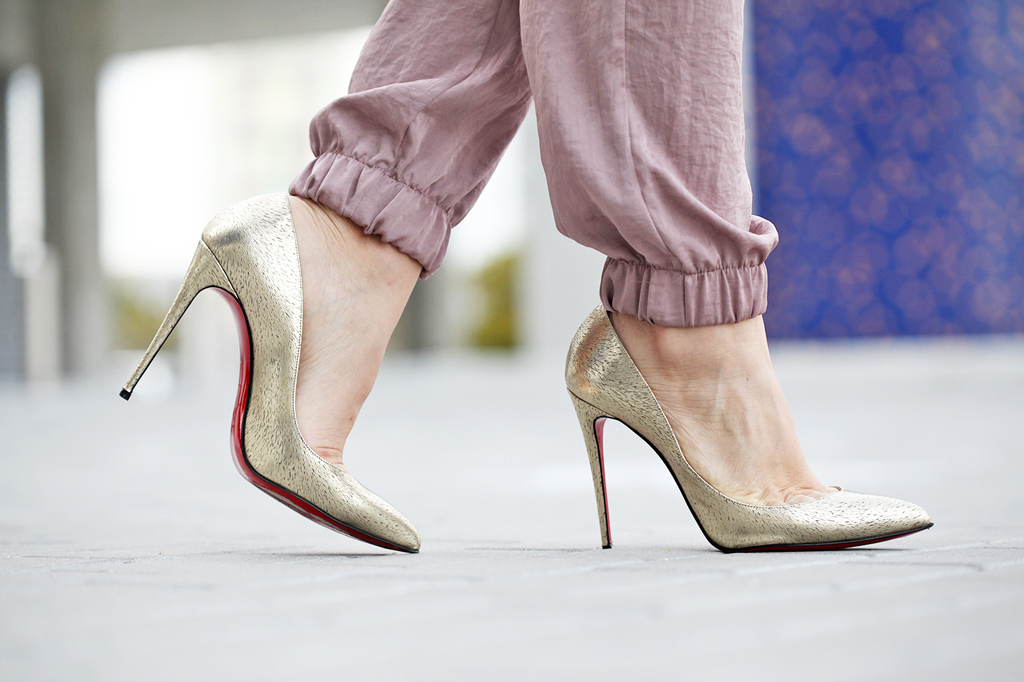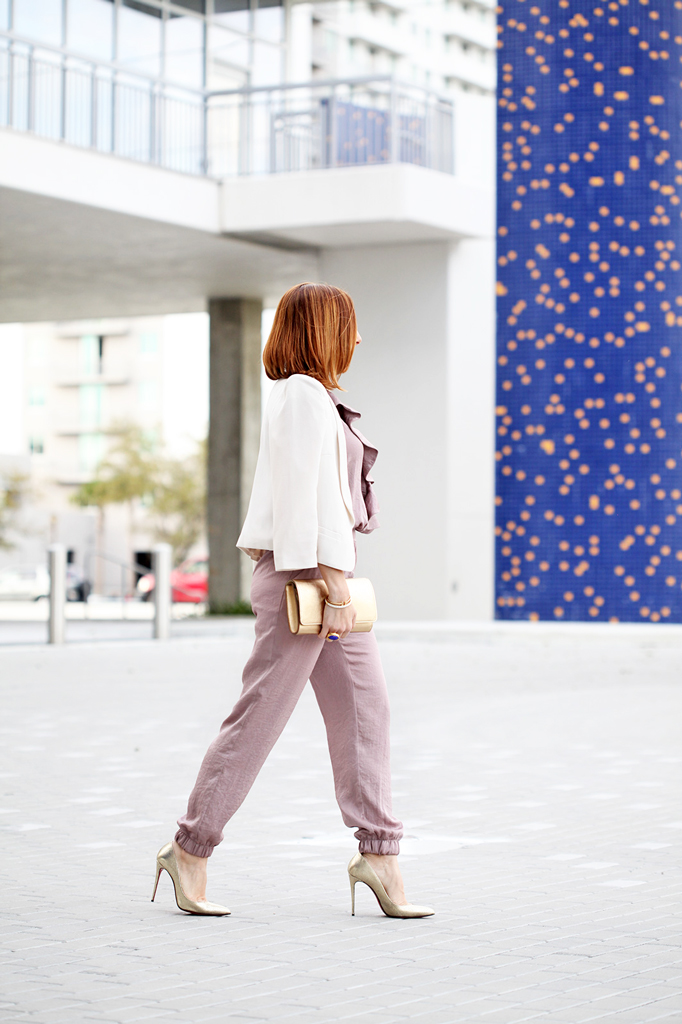 <<  JUMPSUIT: Bebe (similar #1, similar #2)   |    BLAZER: Local Boutique (similar #1, similar #2)   |    WATCH: Cartier     |   BRACELET: Henri Bendel 'Rox Skinny Bangle' & Tiffany & Co. 'T:Wire' |   RING: YSL (similar)   |   NECKLACE: Nordstrom    |  CLUTCH: Louis Vuitton (similar #1, similar #2)   |   PUMPS: Christian Louboutin   |   NAIL POLISH: Essie 'Warm & Toasty Turtleneck'   |    LIPSTICK: MAC 'New York Apple'  >>
Yes ladies I left the best (in my humble opinion) for last! I know I said it was going to be all about skirts for Valentines (here), but sorry I lied; you very well know my struggle with jumpsuits. The struggle of how much I love them. I should actually count how many I own, can you take a guess? So because I've had this beauty for a while, it had to make an appearance on the blog, pronto! And what better occasion than for a romantic night with the hubby. I have to confess though, that we do not celebrate love on a specific day, why? Because love should be celebrated, expressed and received 365 days of the year (or 366 this year). And as my dear friend, Lia from A Girl in her Thirties, recently said "Not just on a particular month or day. Every day. Strive to love and love harder."
Now back to this gorg jumpsuit, with its even more stunning ruffled top. The ruffles are exactly what makes it so different and chic, or is it its stunning Rose Quartz color (read more about my take on the color of the year here)? Either way I believe this piece is timeless (hence why I still love it after I would say 5 years now). Ladies, the secret to a great wardrobe is choosing good quality pieces with classic silhouettes. Believe it or not, jumpsuits will always be on trend.

LOOK PARA DÍA DE SAN VALENTÍN: MONO COLOR ROSA CUARZO + CHAQUETA
Sí chicas, deje lo mejor (en mi humilde opinión) para el final. Sé que comente (aquí) que los looks para el día de San Valentín iban a estar combinados solamente con faldas pero lo siento, mentí; saben muy bien mi lucha con monos enterizos. La lucha con lo mucho que me gustan.  En realidad, debería contar cuántos tengo, ¿desean adivinar? Bueno, ya que he tenido esta belleza por un tiempo, tuvo que hacer acto de presencia en el blog ¡ya! Y qué mejor ocasión que para una noche romántica con mi esposo. Tengo que confesar, sin embargo, que no celebramos nuestro amor en un día específico, ¿por qué? Porque el amor debe ser celebrado, expresado, y recibido todos los 365 días del año (o 366 este año). Y como mi querida amiga, Lia de A Girl in her Thirties, dijo recientemente "No sólo en un mes o día en particular. Cada día. Esfuérzate por amar y amar más fuerte".
Ahora, de regerso a este precioso mono, con su aún más impresionante detalle de vuelos. Los vuelos son exactamente lo que lo hace tan diferente y elegante, ¿o es su impresionante color rosa cuarzo? (lea mi post acerca del color del año aquí). De cualquier manera creo que esta pieza es eterna (de ahí por qué todavía me encanta después de tenerlo por 5 años). Chicas, el secreto de un gran armario es la elección de piezas de buena calidad con siluetas clásicas. Lo creas o no, los monos siempre estarán de moda.