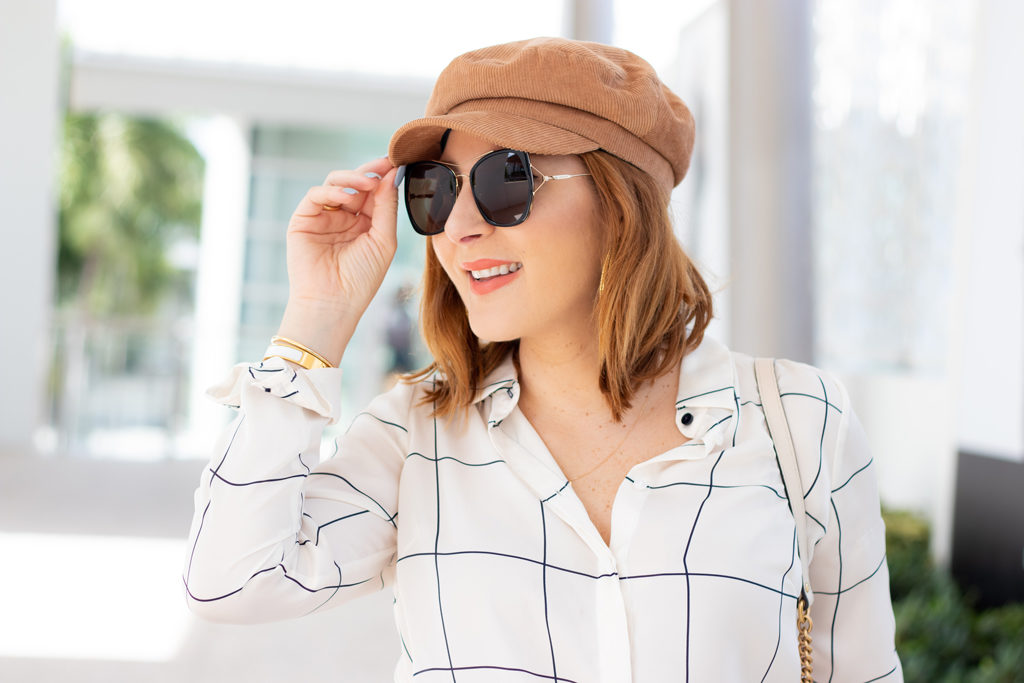 Transition To Fall. Transitioning your wardrobe to fall in warmer climates could be considered a challenge but with these tips it is totally possible. Miami Fashion Blogger, Miami Mommy Blogger.


TOP: LIMITED (similar grid-print blouse) || PANTS: Express (available in 4 other colors) || CAP: Zara (identical corduroy baker boy cap) || HANDBAG: Gucci (affordable quilted crossbody) || SUNGLASSES: Givenchy (affordable angular sunglasses) || SHOES: Miu Miu (similar gold glitter slides) || LIPSTICK: Pixi – Au Naturale
[one_half]
Transitioning your wardrobe to autumn when living in a tropical climate could be considered a challenge. BUT, by adding a few key pieces and fall-appropriate textures, it is totally possible. This past weekend the hubby and I decided to take Baby Julian to his first brunch, so I quickly grabbed my favorite pants (featured this in a recent #MeiWearsItAgain post), an all-around basic button-up top (which I have worn multiple times and once on the blog here) and a new addition to my hat collection, this corduroy baker boy's cap.
Corduroy definitely screams fall right? Except that for now, that's all the corduroy this Miami gals can wear (the average temperate lately has been 80°F). Other textures and pieces that are very autumn appropriate are suede, felt and cozy (but lightweight) knits. Continue reading for ideas on how to wear each while living in hotter climates.
[/one_half][one_half_last]
Cuando se vive en un clima tropical, transformar tus looks para el otoño podría considerarse un desafío. PERO, al agregar algunas piezas claves y texturas apropiadas para dicha temporada, es totalmente posible. El fin de semana pasado, mi esposo y yo decidimos llevar al bebe a su primer brunch, así que rápidamente agarré mis pantalones favoritos (cual fue parte de una reciente publicación de #MeiWearsItAgain donde pueden ver como lo use en 5 diferentes ocasiones), una camisa básica y versátil de botones (que he usado varias veces y una vez en el blog aquí) y una nueva adición a mi colección de sombreros, esta gorra de corderoy.
El corderoy es definitivamente una de las telas claves para el otoño ¿verdad? Excepto que por ahora, esa es todo el corderoy que puede vestir esta chicas de Miami (la temperatura promedio últimamente ha sido de 80° F). Otras texturas y piezas que son muy apropiadas para el otoño son las telas de gamuza, fieltro y de punto (pero livianas). Continúa leyendo para obtener ideas sobre cómo usar cada una mientras vives en climas más cálidos.
[/one_half_last]
[one_half]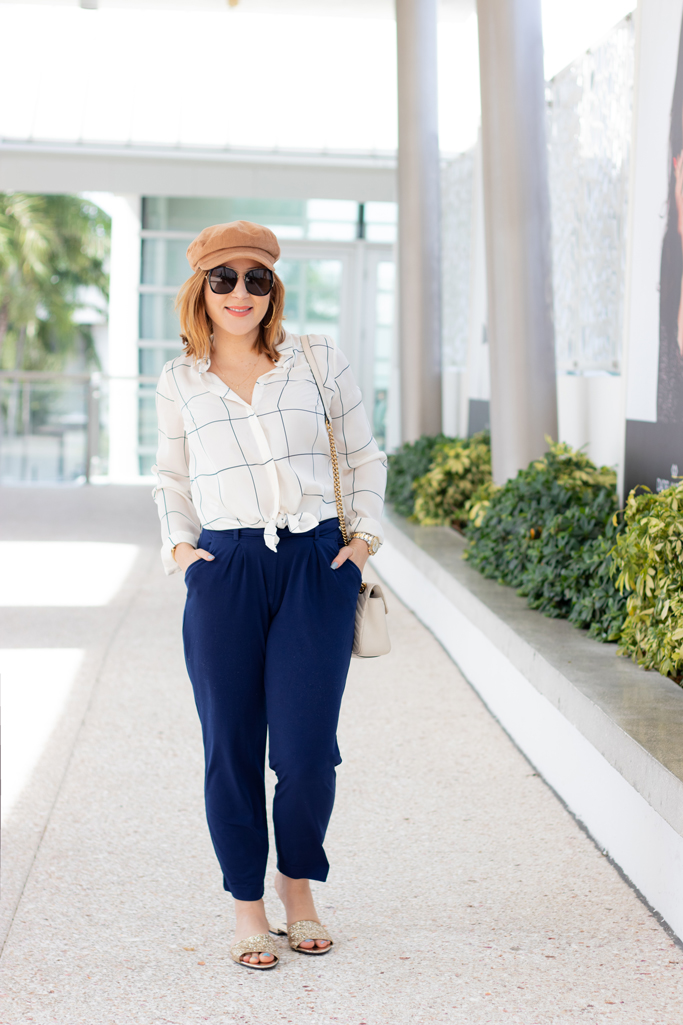 [/one_half][one_half_last]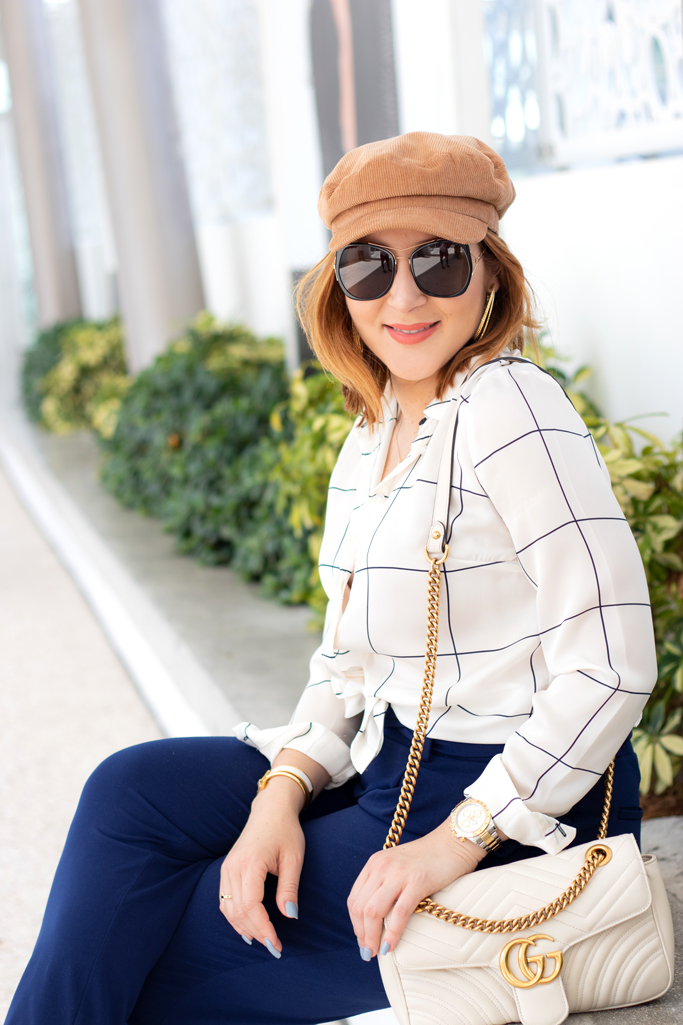 [/one_half_last]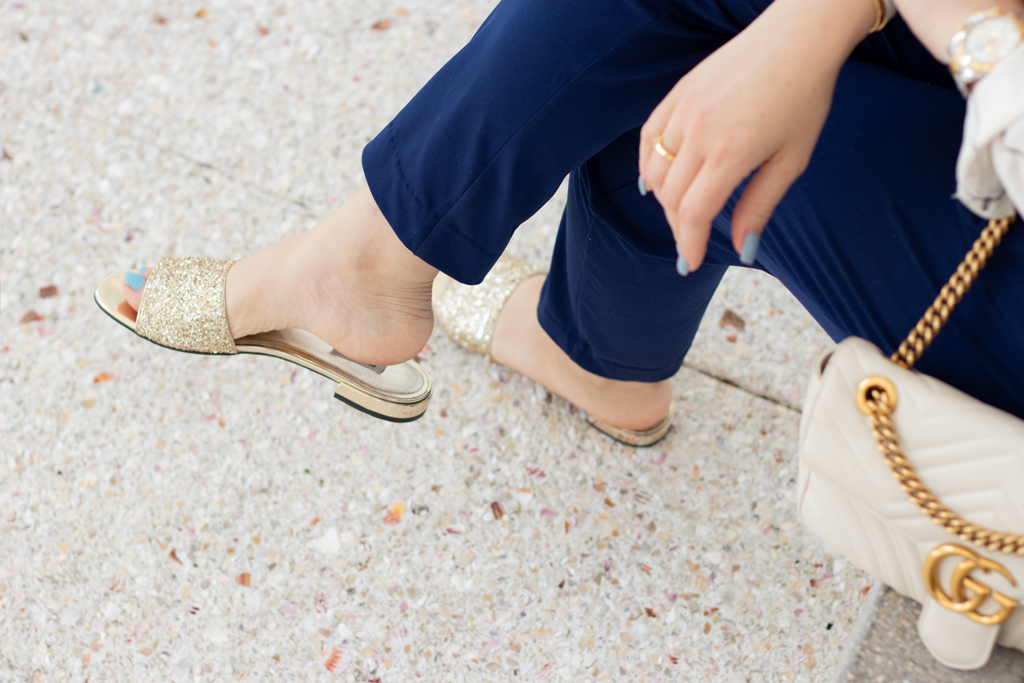 [one_half]
Suede
A way to effortlessly add suede to your autumn looks is with over-the-knee boots. Take a peek here, here and here to see how I have styled them in Miami's autumn temperatures
Felt
I am obsessed with hats! Like really, I have a lot 🙂 thus here, here and here are a few looks where I have added them to my autumn look.
Lightweight Knits
Another way to transition your looks for fall is by adding lightweight knits. Click here, here, here and here to peek at a few looks I've curated with several knit pieces.
Hope you have an amazing weekend!
[/one_half][one_half_last]
Gamuza
Una forma de agregar gamuza fácilmente a sus looks otoñales es con botas sobre la rodilla. Echen un vistazo aquí, aquí y aquí, para ver cómo las he usado en las temperaturas otoñales de Miami.
Fieltro
¡Estoy obsesionada con los sombreros! Así que echen un vistazo aquí, aquí y aquí donde pueden ver algunos outfits donde he agregado sombreros a mi looks de otoño.
Tejido de punto
Otra forma de cambiar tus outfits para el otoño es agregar tejidos de punto (pero ligeros). Hagan clic aquí, aquí, aquí y aquí para ver algunos looks que he vestido con varias piezas de punto.
¡Espero que tengan un lindo fin de semana!
[/one_half_last]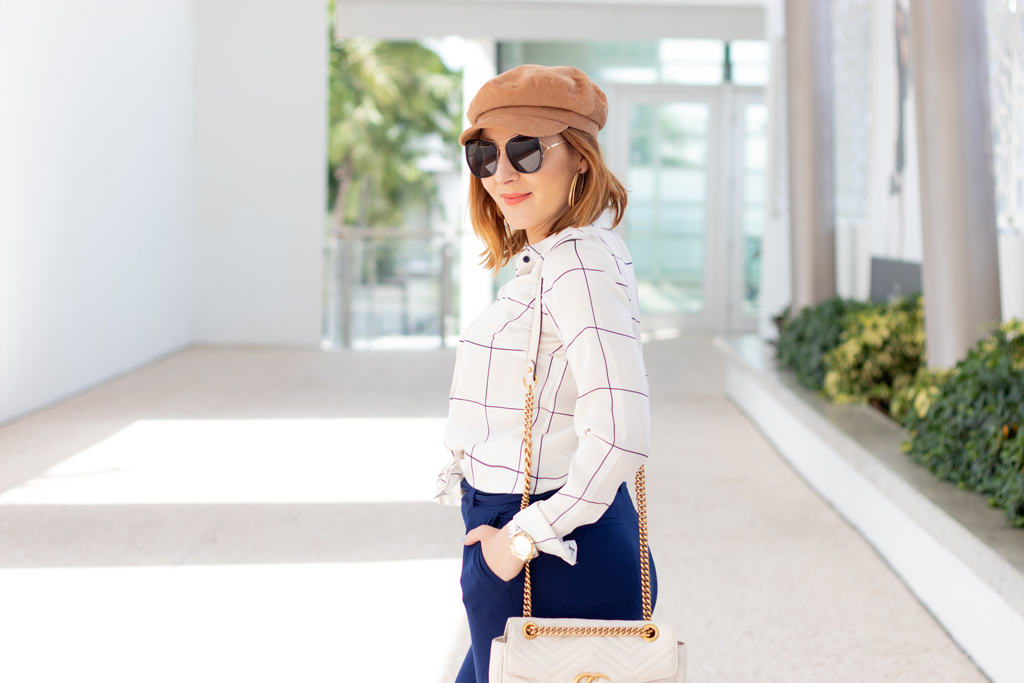 [one_half]
[/one_half][one_half_last]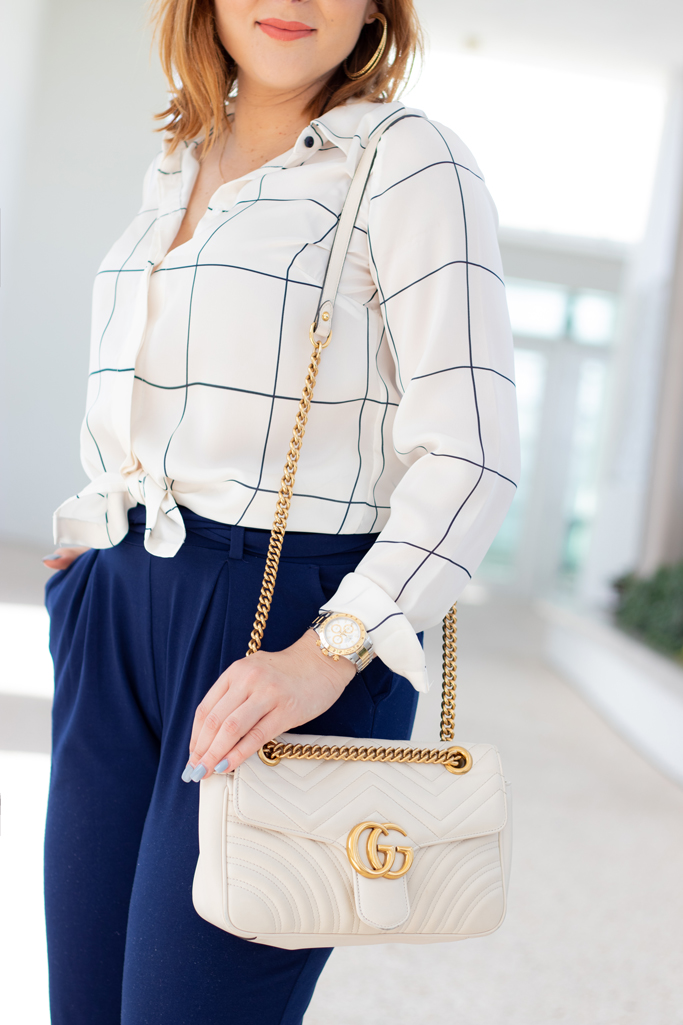 [/one_half_last]