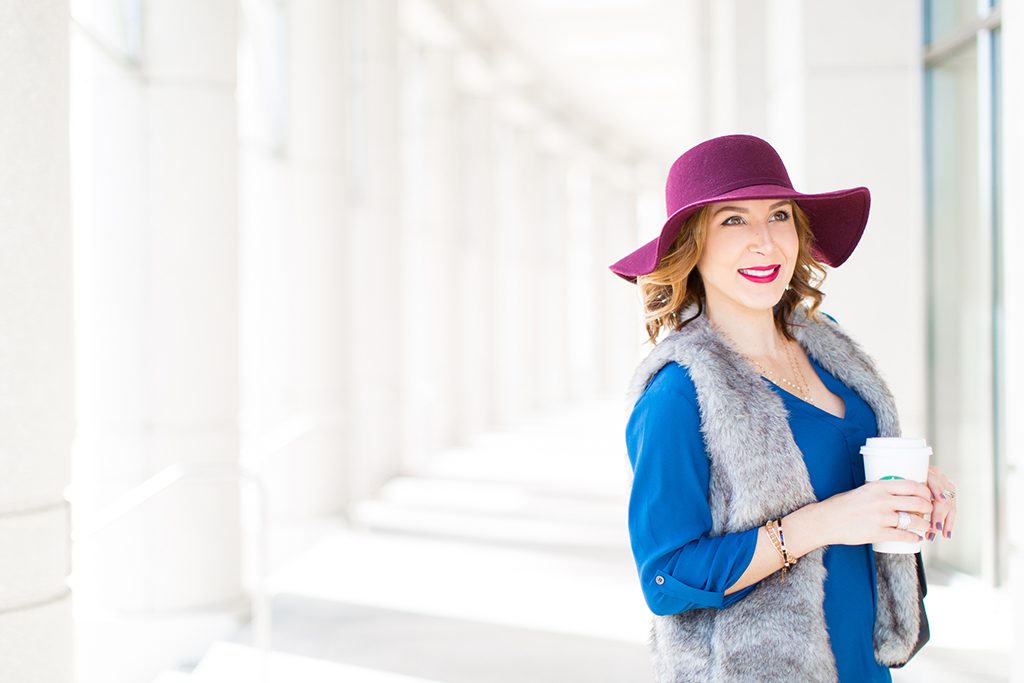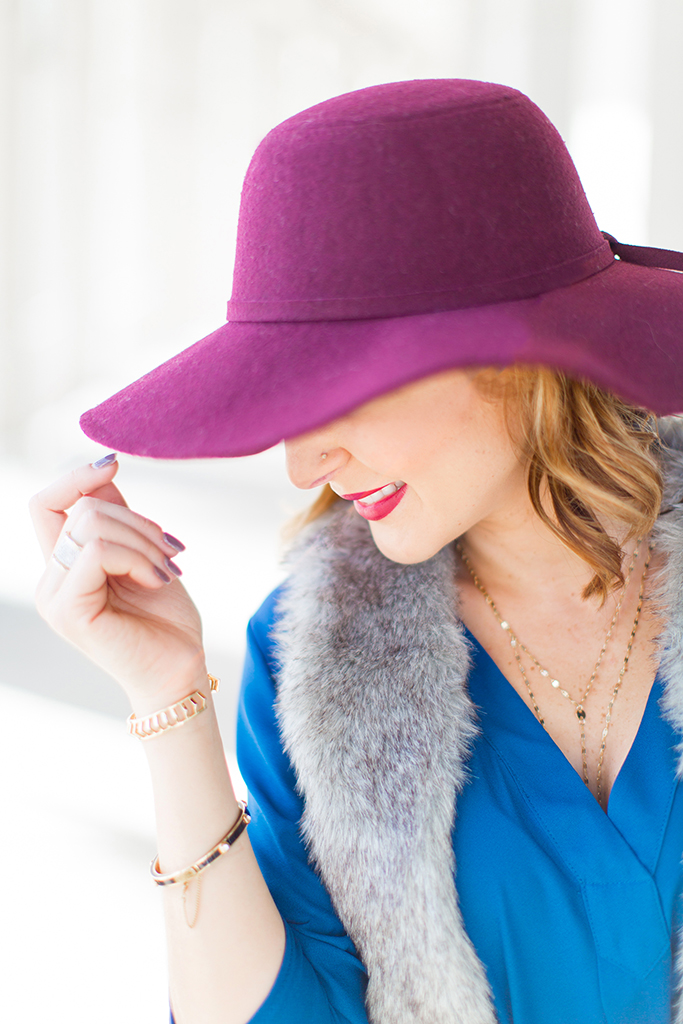 How to wear a faux fur vest with leggings. Layer your favorite long-sleeve top with a faux fur vest and a floppy hat to finish the look.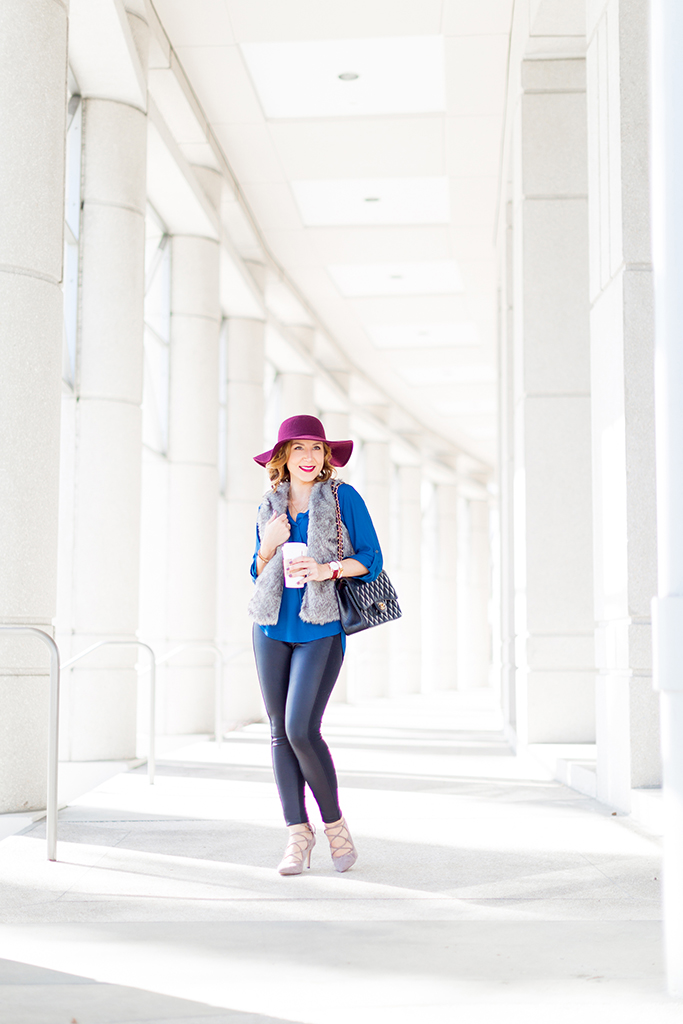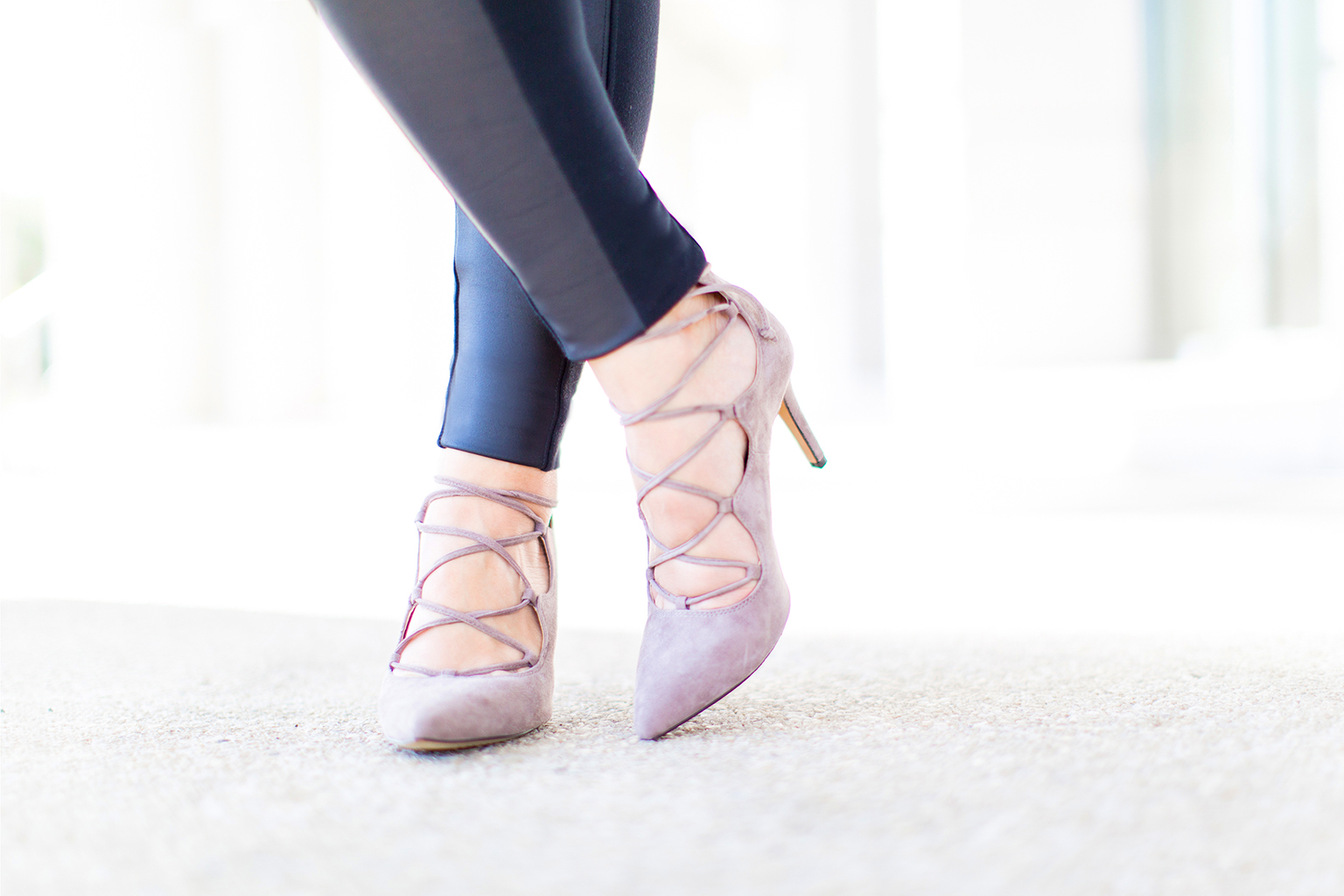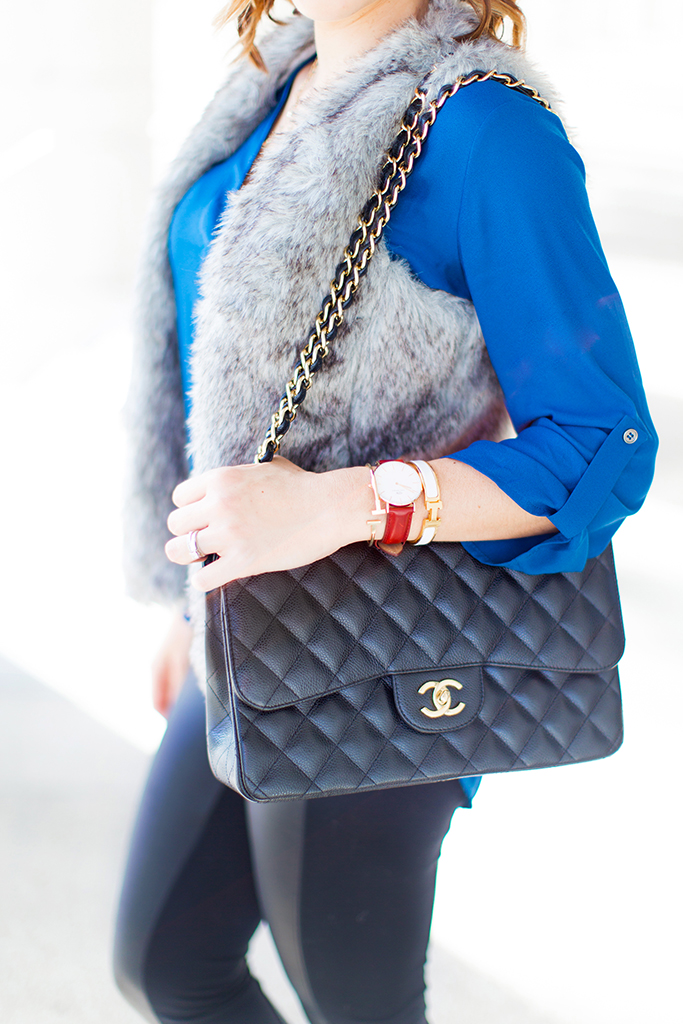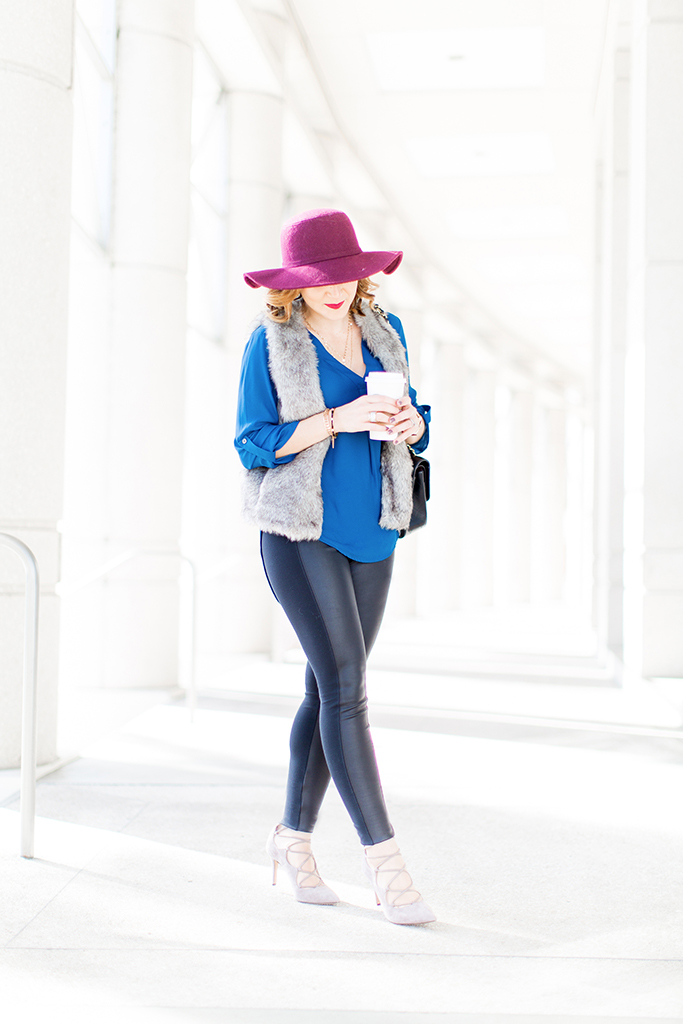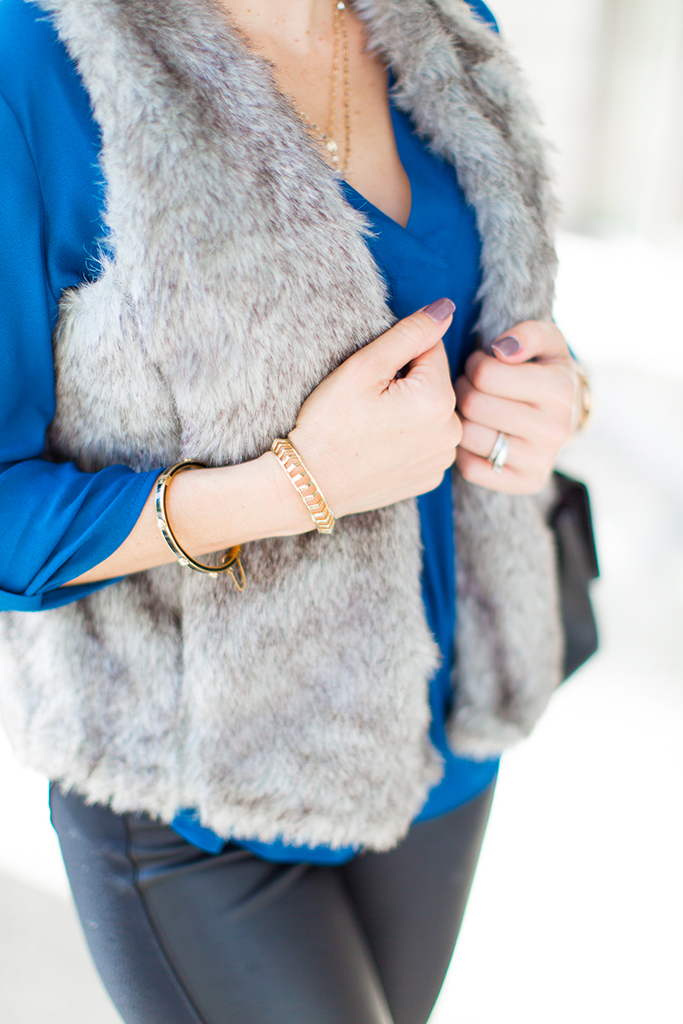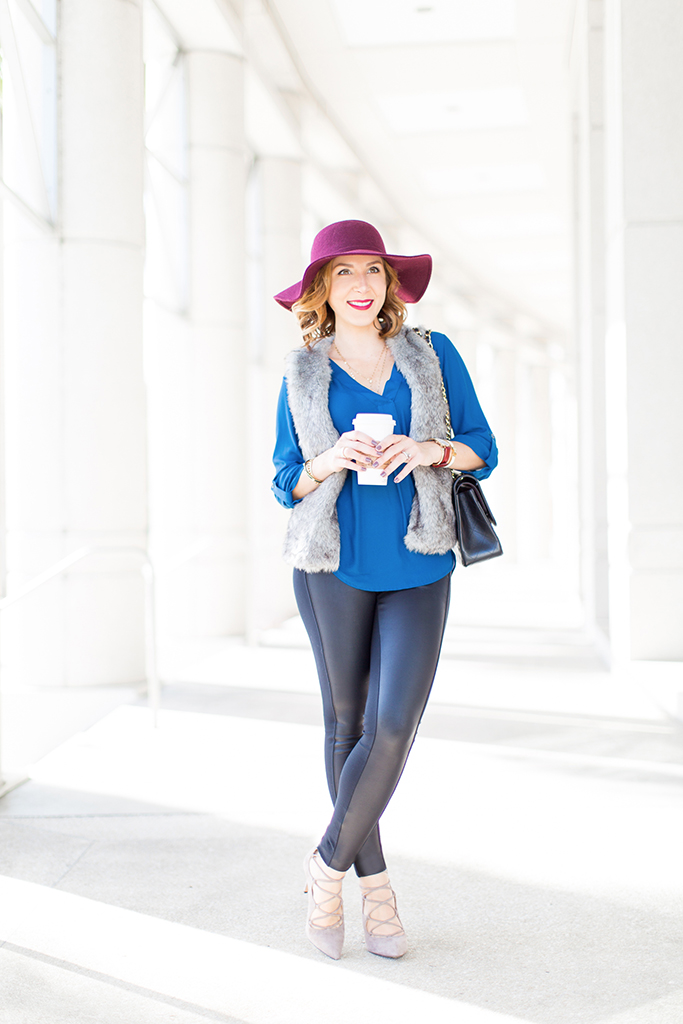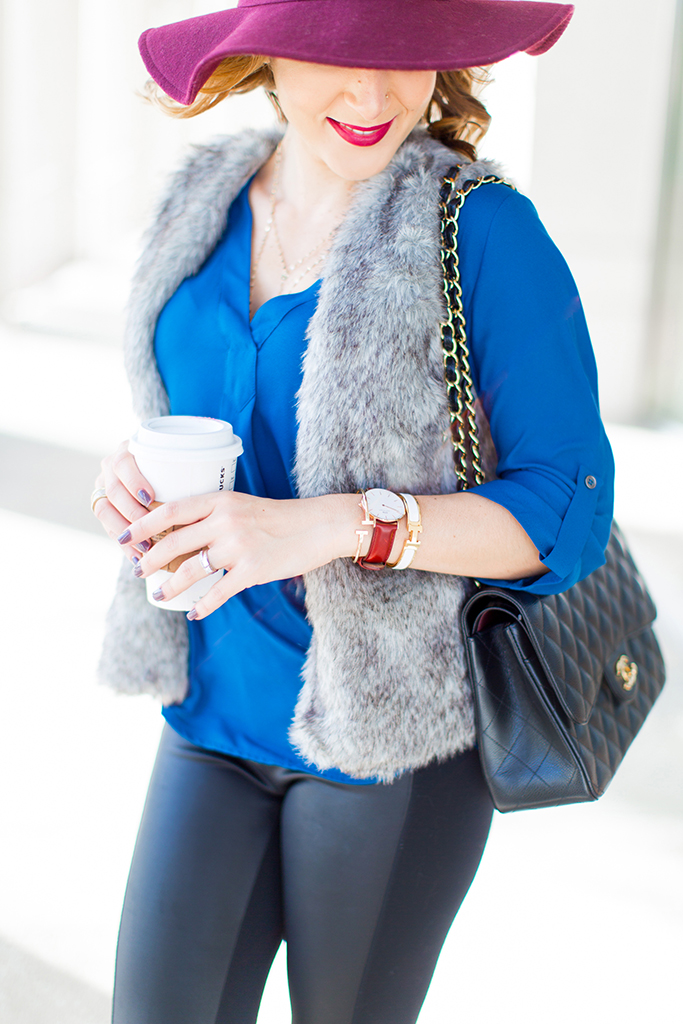 LEGGINGS: Express (similar here)  ||  TOP: Nordstrom (several colors available and only $27! || VEST: The Limited (similar here)  ||  HANDBAG:  Chanel Classic (affordable option here)   ||  HAT: Nordstrom (similar here and here)   || BRACELET: Henri Bendel (similar here),  BaubleBar, Hemès (affordable option here) and Tiffany & Co. (affordable option here)   ||   NECKLACE: Nordstrom (similar here)   ||  RING: Henri Bendel  ||   HEELS: Nordstrom (similar here)   ||    WATCH: Daniel Wellington (get 15% off with code BLAMEITONMEI15)   ||    NAIL POLISH: OPI 'You don't know Jacques'    ||   LIPSTICK: MAC 'Rebel'
Photography by: Luccia Lowenthal
Hello all the way from the land of perfect weather, gorgeous woman, colorful carnivals, incredible soccer and the beautiful sand beach of Copacabana! Did you already guess where I am? Yes I am in Rio de Janeiro for a week and can't wait to show you my adventures through my Instagram Stories.
But ladies, just because I am in another time zone and a few thousand miles away, don't think that I didn't plan holiday and NYE outfits for yah. If you don't have you holiday outfit yet, take a look here and here, where I provide you with a few ideas. Now, today's look is perfect for a few reasons; it would work great for those last minute runs to the mall where you want to look put-together but comfy, a holiday brunch with your besties, a day-date with the hubby and even a casual holiday lunch/dinner with the family. I love pairing contrasting colors (take a look here and here to see how I've done it before) and these two in specific, work well together because of their rich hue. This long tunic is actually one of my favorites, it's incredibly light-weight, comes in several colors (I have it in another color here) and it's on sale for $27. These sell out fast so make sure to get them soon (for reference, I am wearing an X-small).
Hope you have a great Monday and the next few post will be all about NYE outfits, so come back soon! I warn you, a lot of sparkles and sequins are coming your way.

CHALECO + SANDALIAS DE TIRAS
Hola desde la tierra con clima perfecto, mujeres preciosas, carnavales coloridos, increíble fútbol y ¡la hermosa playa de Copacabana! ¿Ya sabes dónde estoy? ¡Sí! estoy en Rio de Janeiro por la próxima semana y no puedo esperar para mostrarle mis aventuras a través de mis Historias de Instagram.
Pero chicas, sólo porque estoy en otra zona de horario y unos cuantos kilómetros de distancia, no piensen que no les tengo looks durante estas semanas y si no tiene su outfit para la noche de navidad todavía, echen un vistazo aquí y aquí, donde les proporciono algunas ideas. Ahora, el look de hoy es perfecto por algunas razones; funcionaría muy bien para esas compras de última hora donde quiere lucir bien pero cómoda, también para un brunch con tus mejores amigas, una cita de día con tu media naraja, e incluso un almuerzo casual con la familia.
Me encanta combinar colores opuestos (echen un vistazo aquí y aquí para ver cómo lo he hecho antes) y estos dos en específico, trabajan bien juntos debido a su tonalidad oscura. Esta túnica es una de mis favoritas; es increíblemente ligera, viene en varios colores (la tengo en otro color aquí) y está a la venta por $27. Se venden rápido, así que asegúrese de obtener la suya pronto (para referencia, estoy usando X-Small de tamaño).
Espero que tengan un feliz lunes y los siguientes posts serán sobre que vestir para la fiesta de Año Nuevo; así que regresen pronto. Y les advierto que habrá bastante brillo y lentejuelas.