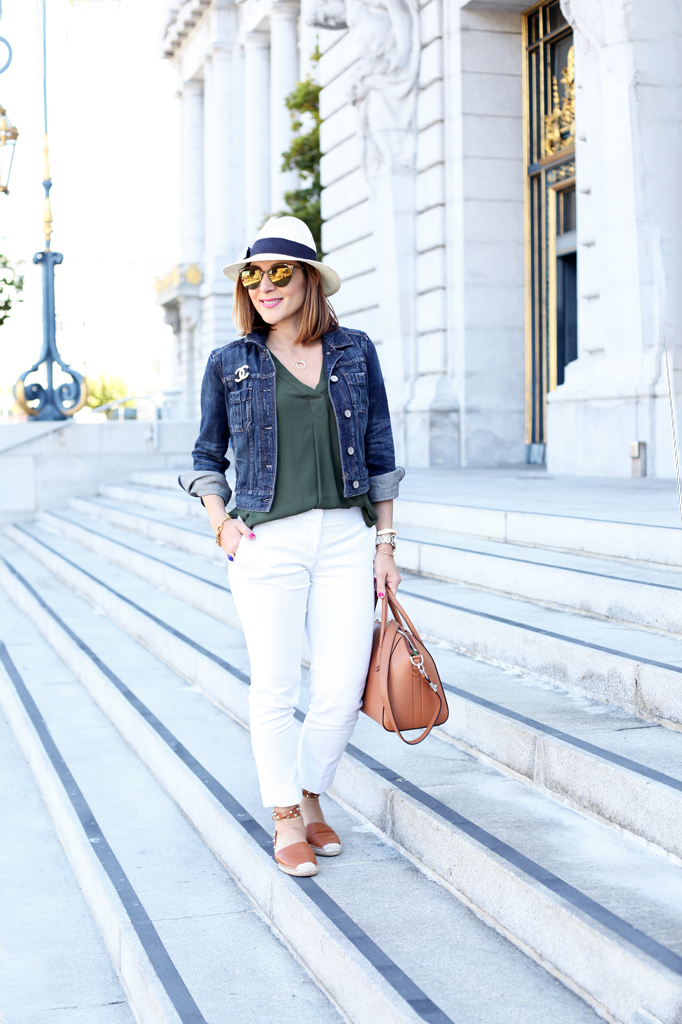 Comfortable but chic look while sighseeing . White trousers and a relaxed-fit blouse with denim jacket.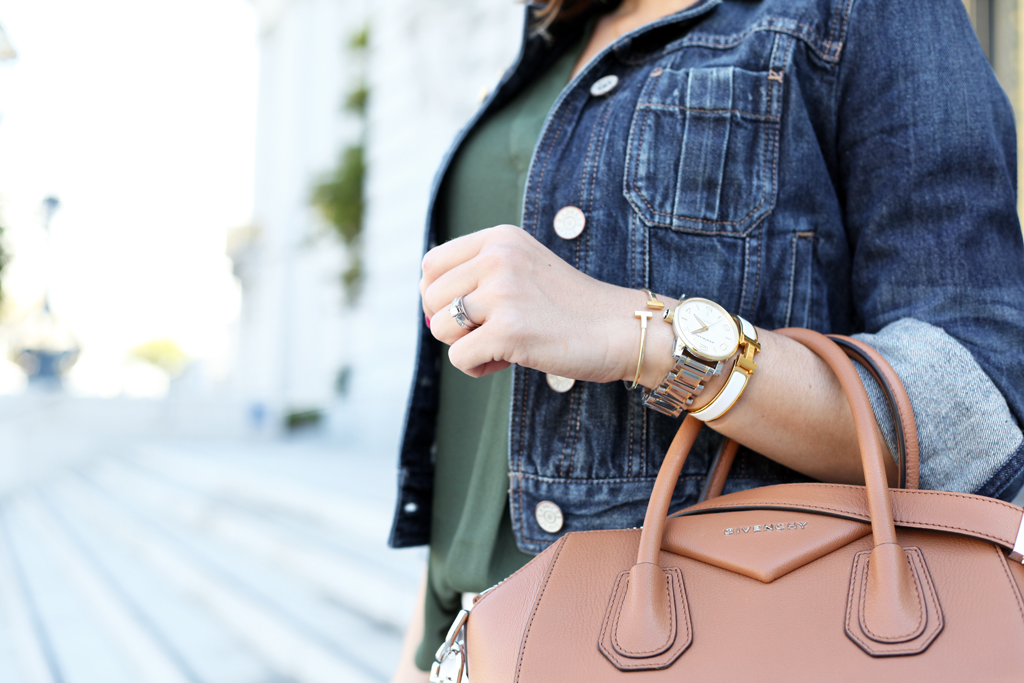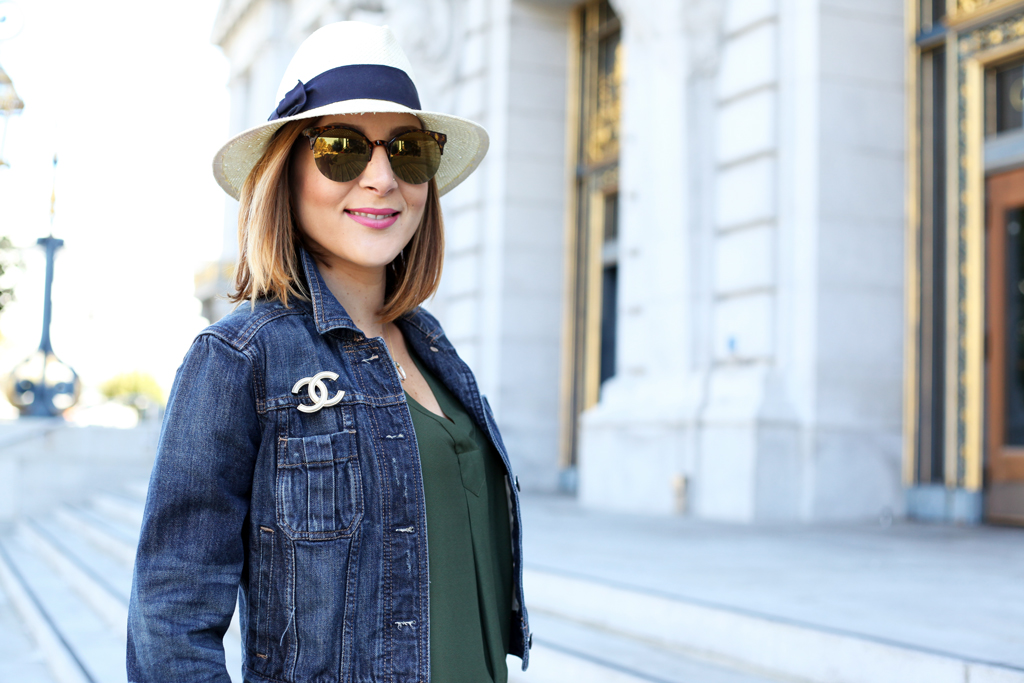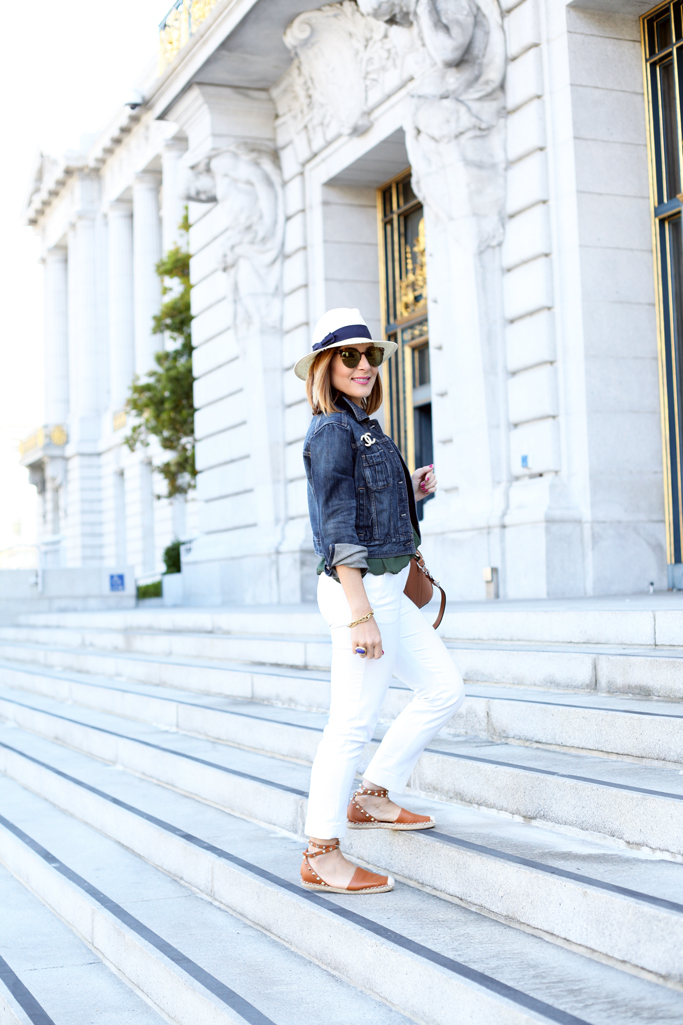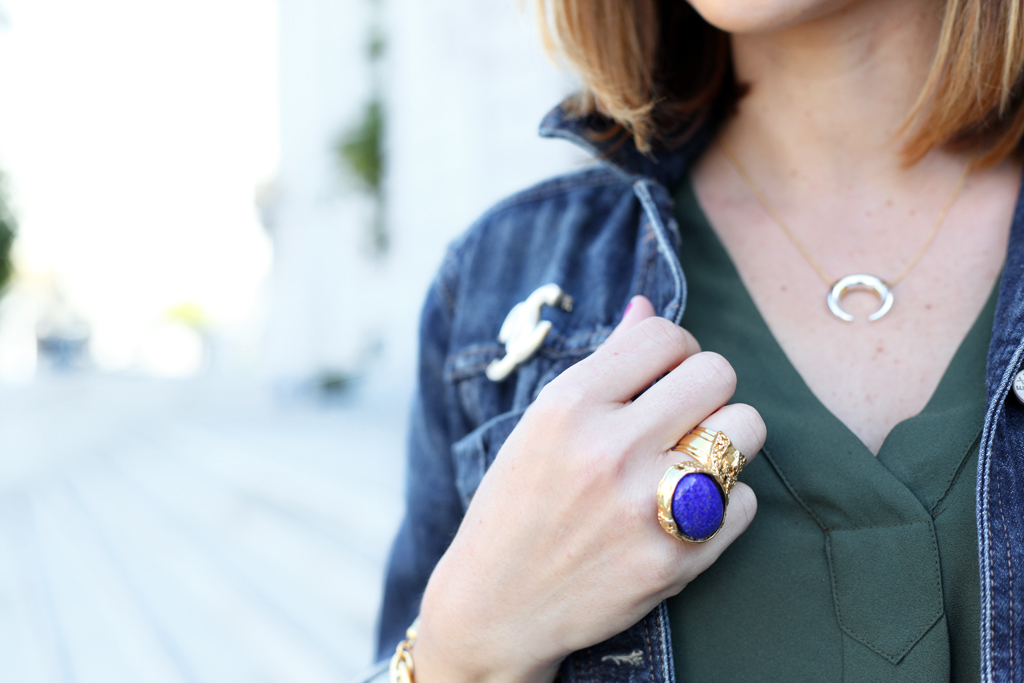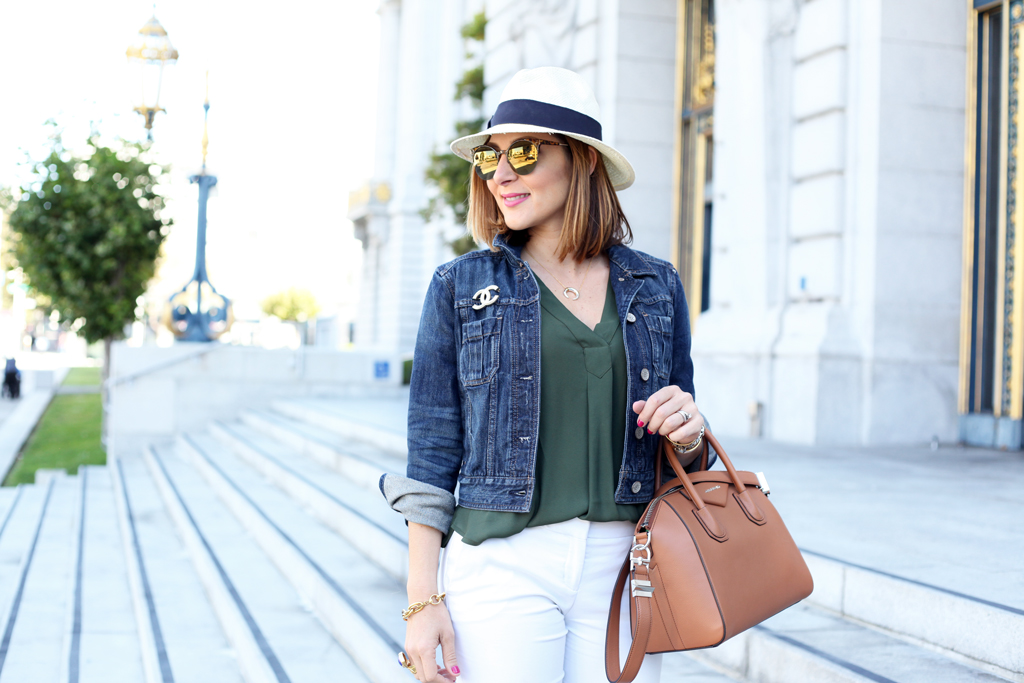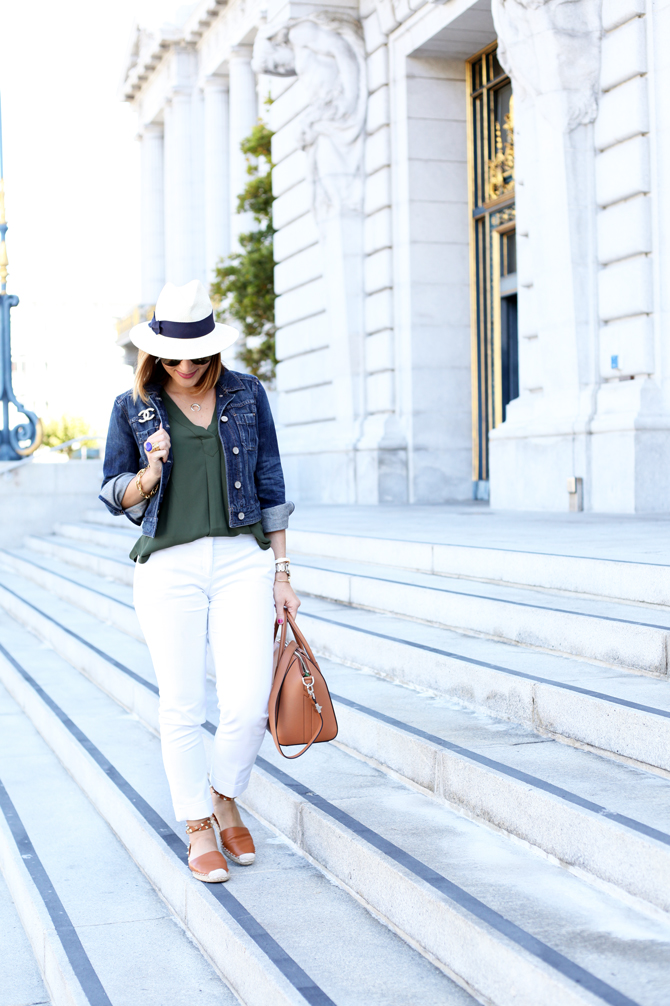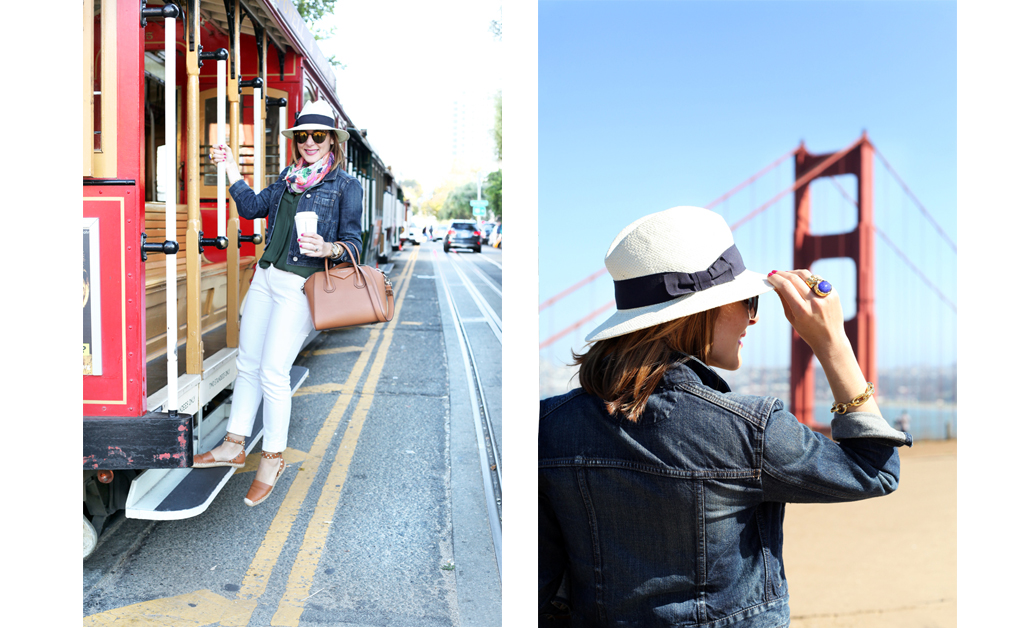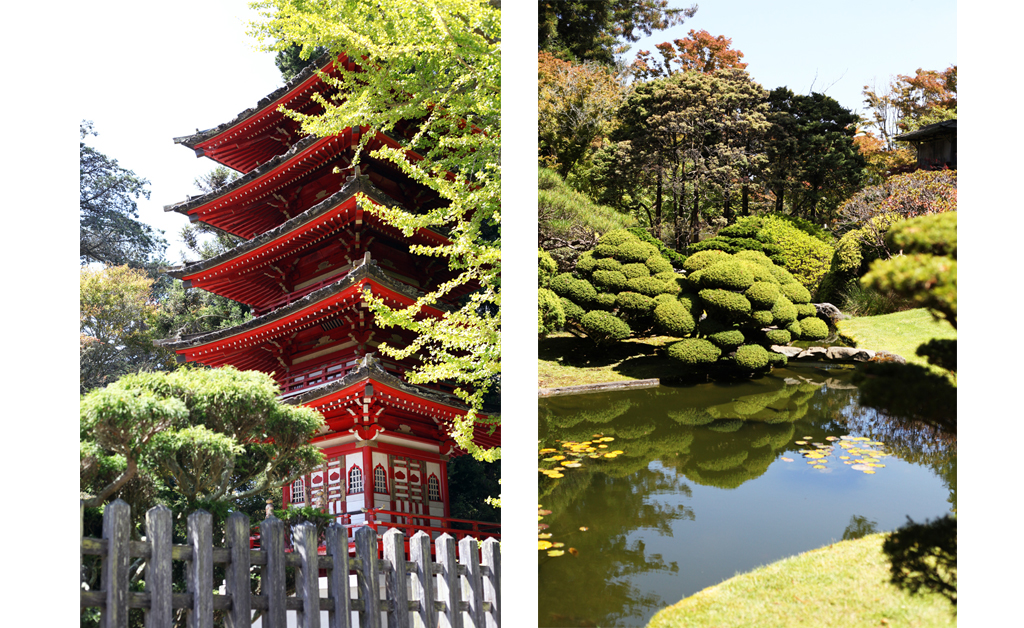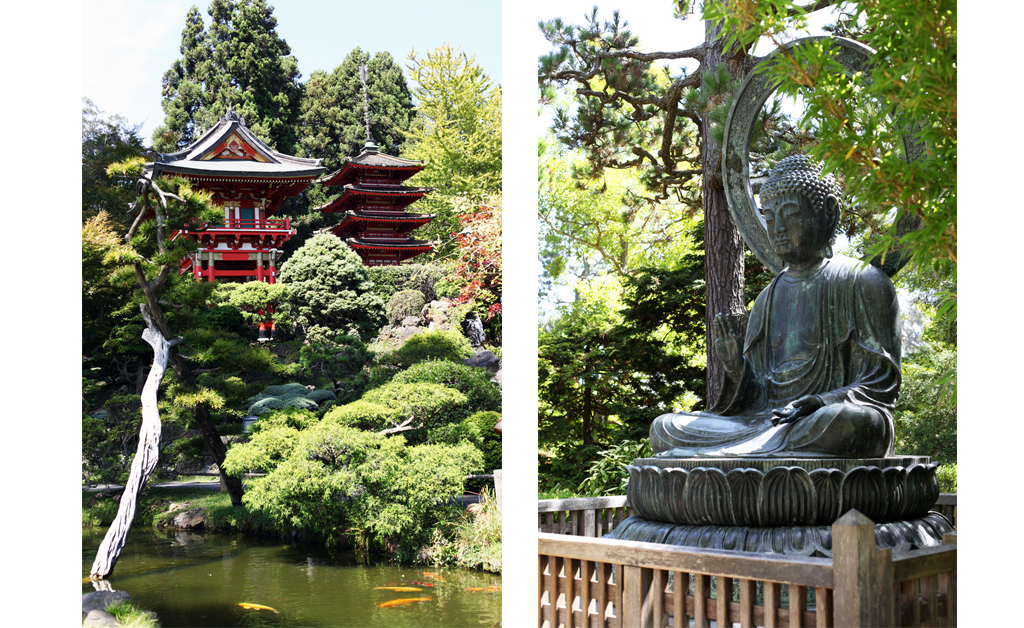 << TOP: Nordstrom ( 40% off , other colors available!) | TROUSERS: Express | DENIM JACKET: Express | NECKLACE: ℅ Stella & Dot 'Luna Pendant' | WATCH: Montblanc 'Timewalker' (affordable version) | BRACELET: Henri Bendel (similar), Hermès 'Clic Clac H' (affordable option) and Tiffany & Co. 'T-Wire' (affordable option) | RING: YSL 'Arty' (similar) | BROOCH: Chanel (similar, affordable option) | HANDBAG: Givenchy 'Antigona' (affordable option) | HAT: J.Crew Factory (similar) | SUNGLASSES: Nordstrom (similar) | ESPADRILLES: Valentino 'Rockstud Leather Ankle-Wrap' (affordable option, affordable option) | NAIL POLISH: OPI 'Berry on Forever' | LIPSTICK: ℅ Bite Beaty 'Macaroon' >>
Sometimes its hard to describe a feeling, while other times you can't seem to stop talking about someone, someplace or something that stunned you when you first saw it. The Golden Gate Bridge was one of the places that gave me that feeling, and let me humbly tell you that I have been to some incredible places but this is definitely one of the cities within the United States that I will visit again and again. San Francisco has so much to offer; there are so many things to do, see, eat and experience, that three full days were unquestionably not enough for me.
For our second day (read about our first day here), we decided to visit Golden Gate Park. When I say huge, well I mean it's gigantic; it is actually 20% larger than New York's city Central Park. And for being such a compact and populated city, The City by The Bay has a large number of green spaces.
While at the park, we visited the Japanese Tea Garden, and let me tell you that its the closest I have seen to the real thing (we visited Japan last November, read and see more about it here). If you are ever in San Francisco, I recommend you to visit this incredibly peaceful and relaxing garden. The landscaping is truly stunning yet simple, it's perfectly balanced. There you can see pagodas, stone lanterns, koi ponds, arched drum bridge and cherry blossoms (which bloom in March and April).
Afterwards, we decided to visit the Golden Gate Bridge, but this time around, from another location. One of the most beautiful views (in my opinion) is from the Battery Spencer Fort. You'll need to drive to this location unless you don't mind the 1.2-mile hike, with a 475-foot descent, but whichever way you decide to get there, the views are phenomenal. It's an unforgettable panoramic view of the bridge and San Francisco you don't want to miss.

PANTALÓN COLOR BLANCO + BLUSA ANCHA
A veces es difícil de describir un sentimiento, mientras que otras veces parece que no puedes dejar de hablar de que alguien, o que algún lugar o algo te sorprendió la primera vez que lo viste. El puente Golden Gate fue uno de los lugares que me dio esa sensación, y humildemente les digo que he visitado varios lugares también de increíbles pero definitivamente esta es una de las ciudades dentro de los Estados Unidos que regresaría y visitaría una y otra vez. San Francisco tiene mucho que ofrecer; hay tantas cosas que hacer, ver, comer y apreciar, que tres días, indiscutiblemente, no fueron suficiente para mí.
Para nuestro segundo día (lea acerca de nuestro primer día aquí), decidimos visitar el Golden Gate Park. Cuando digo enorme, bien quiero decir que es gigantesco; es 20% más grande que Central Park en la ciudad de Nueva York. Y por ser una ciudad tan compacta y poblada, San Francisco tiene un gran número de espacios verdes.
Mientras en el parque, visitamos el Japanese Tea Garden (jardín de té japonés) y déjenme decirles que es lo más cerca que he visto a lo real (visitamos Japón el noviembre pasado, leer y ver más detalles aquí). Si alguna vez esta en San Francisco, les recomiendo que visiten este bellísimo jardín, que posee una increíble sensación de tranquilidad y paz. Sus paisajes son realmente impresionantes y a la mima vez simple. Allí se puede ver pagodas, linternas de piedra, estanques de peces koi, puente arqueado y flores de cerezo (que florecen en marzo y abril).
Después, decidimos visitar el puente Golden Gate, pero en esta ocasión, desde otro lugar. Una de las más bellas vistas (en mi opinión) es desde Battery Spencer Fort. Tendrá que conducir a este lugar a menos que no le importe la caminata de 1.2 millas, con un descenso de 475 pies, pero de cualquier manera que decida llegar, las vistas son fenomenales. Es una inolvidable vista panorámica del puente y de San Francisco no querrá perderse.