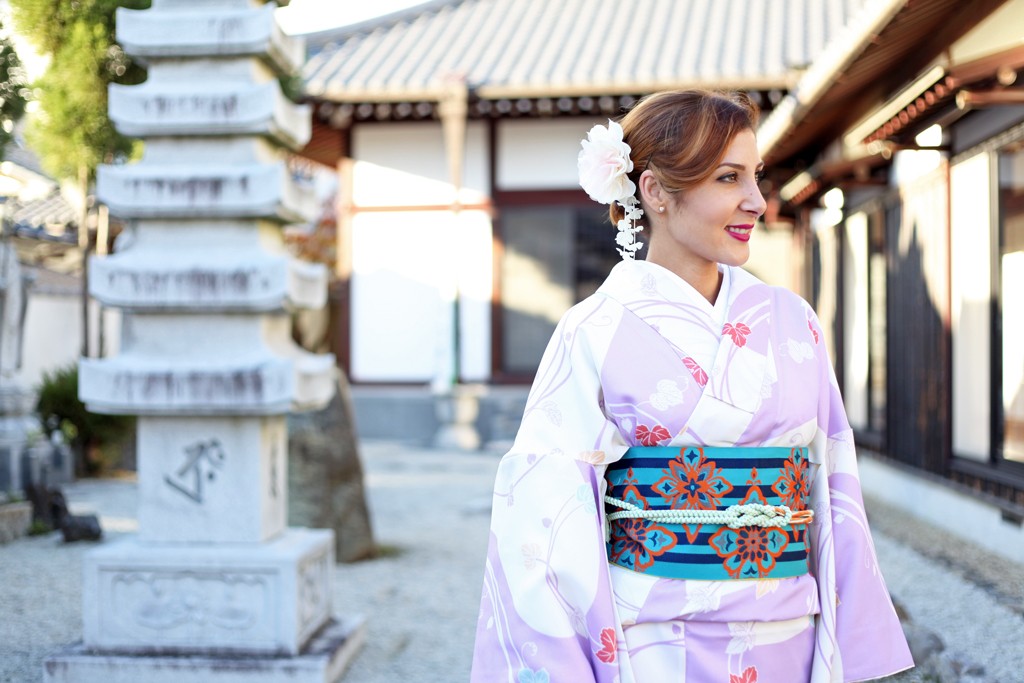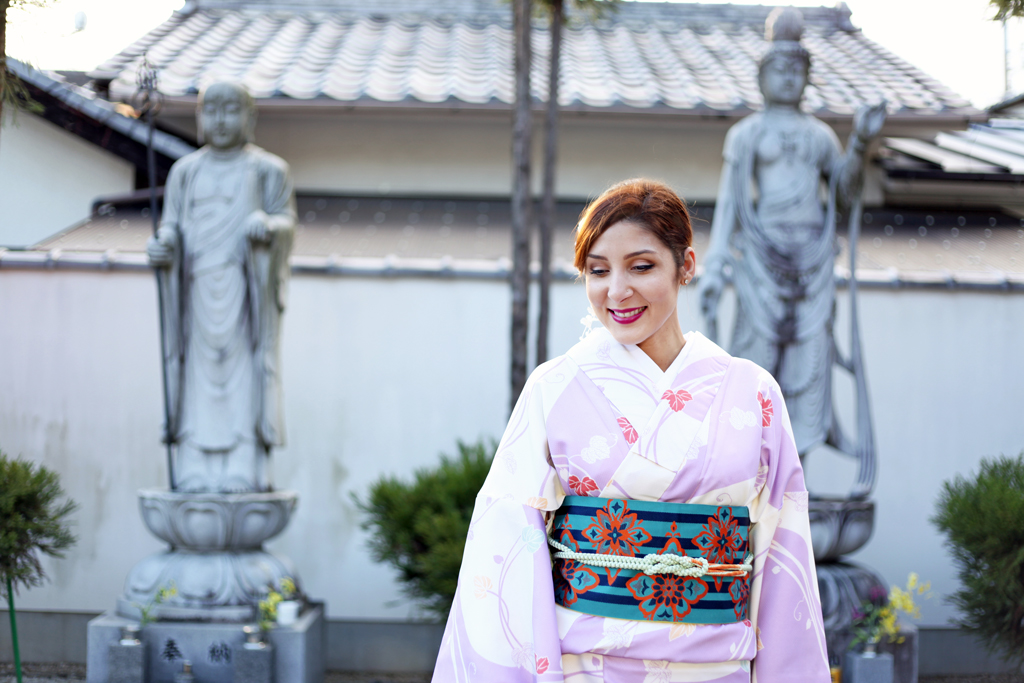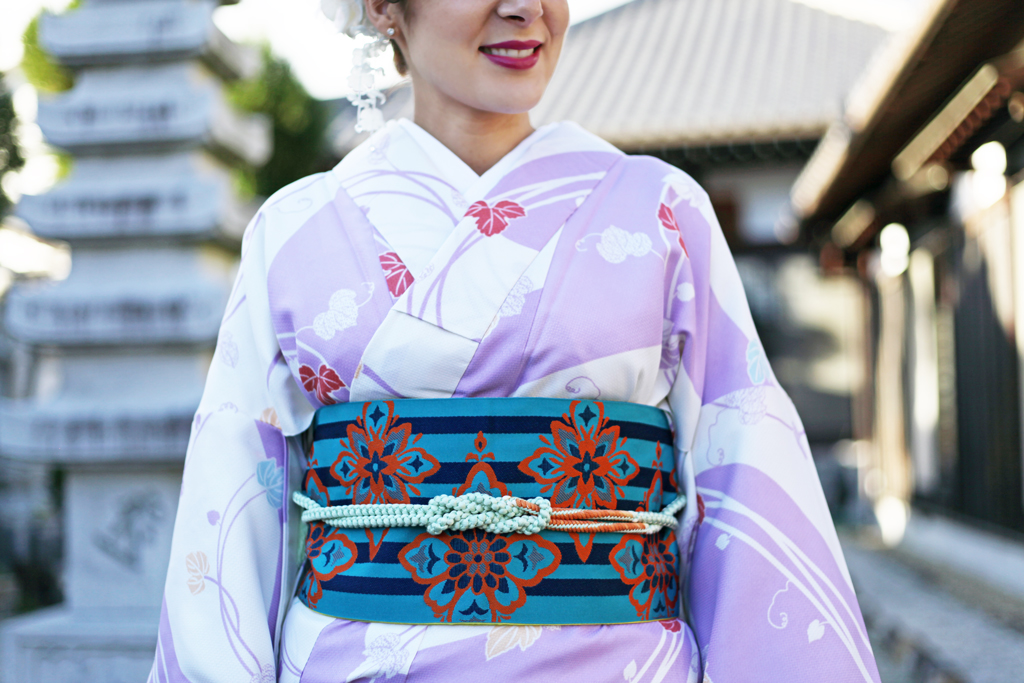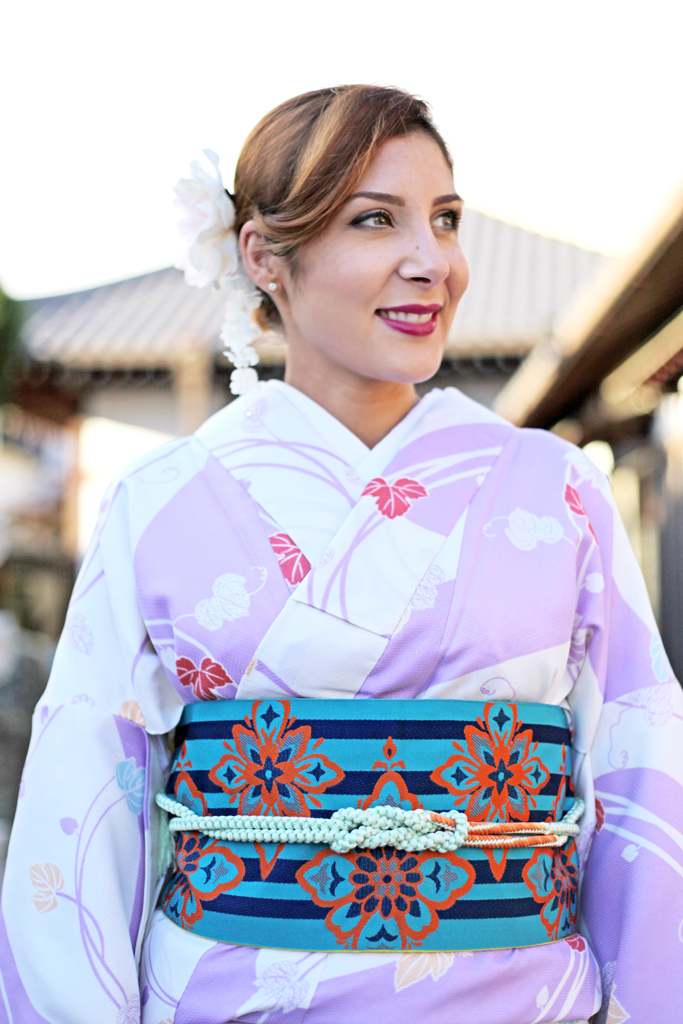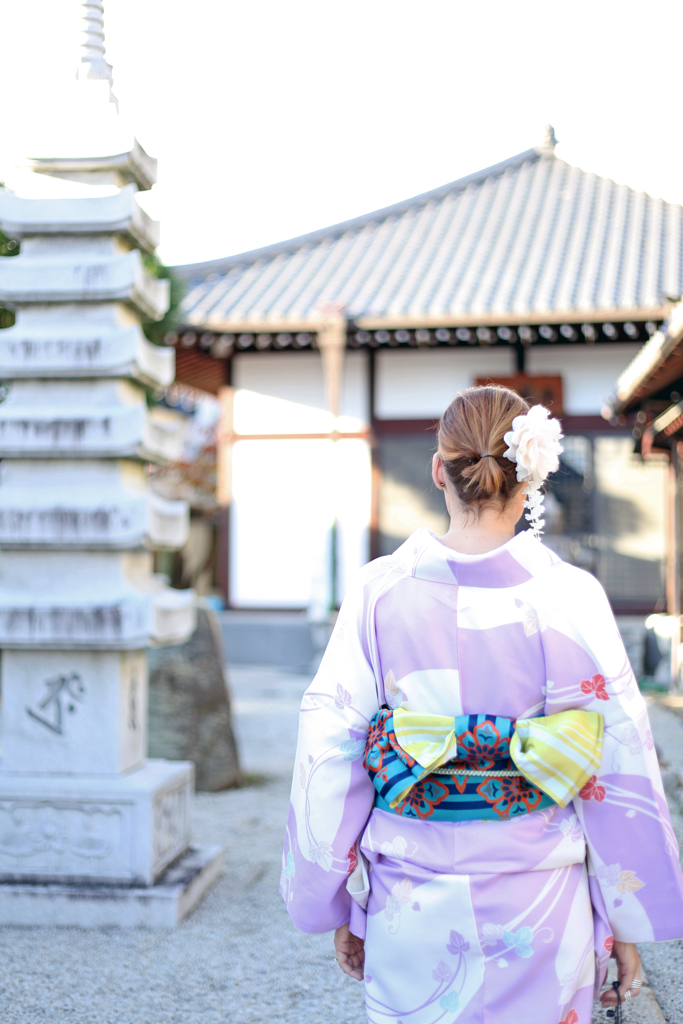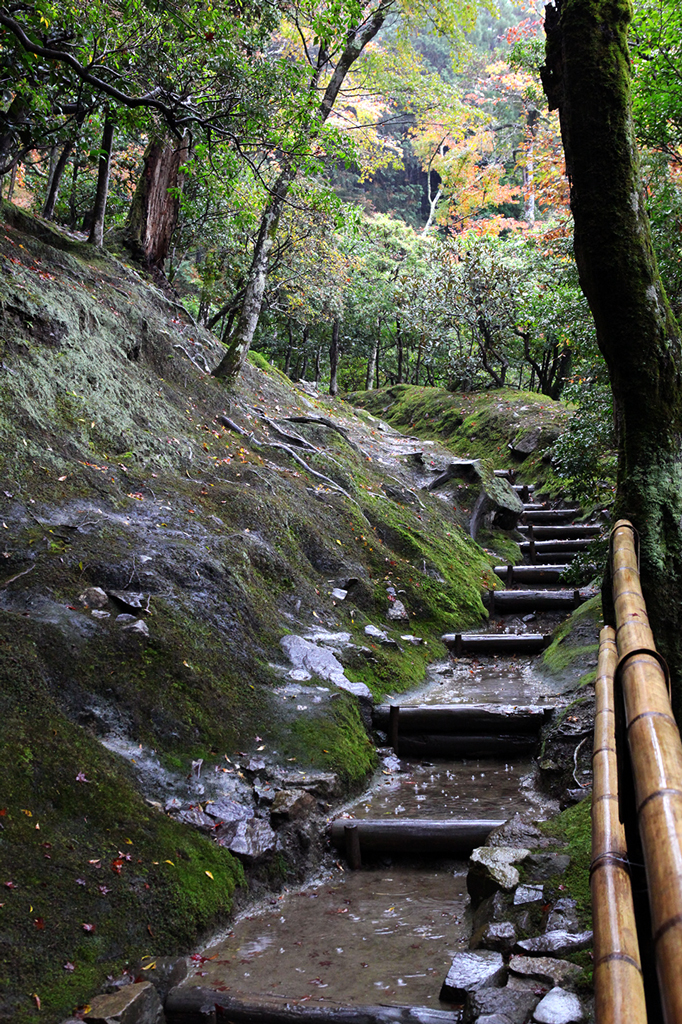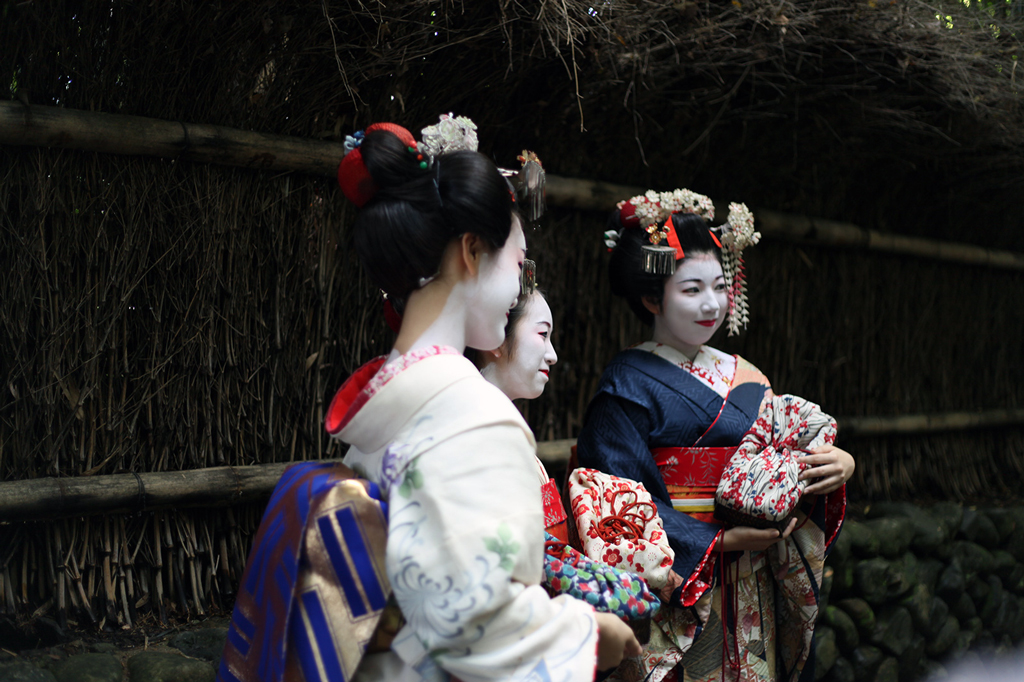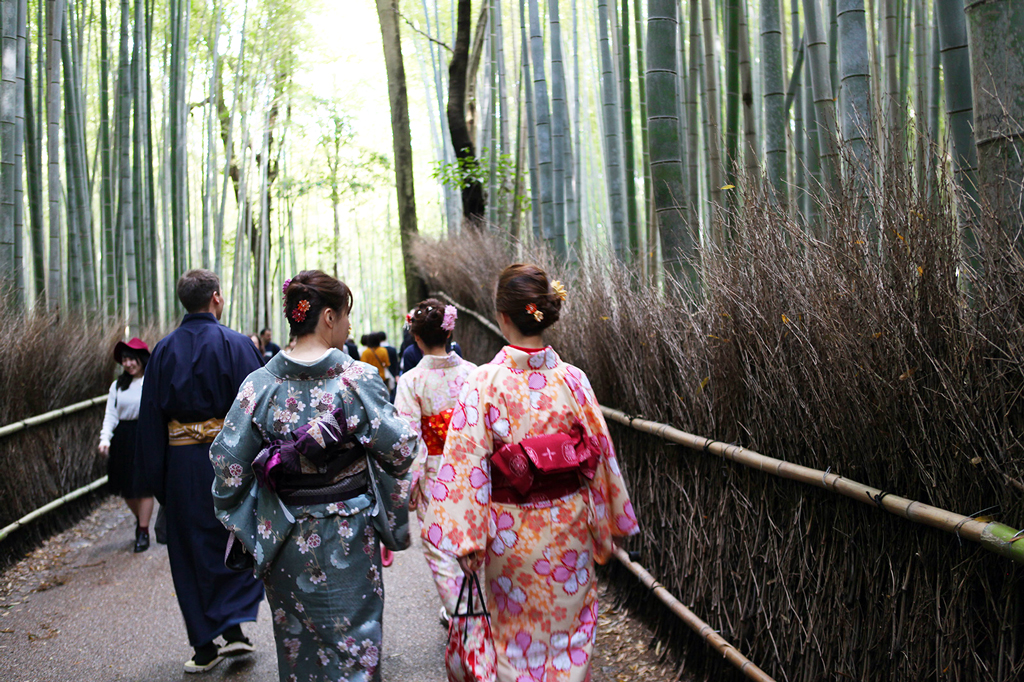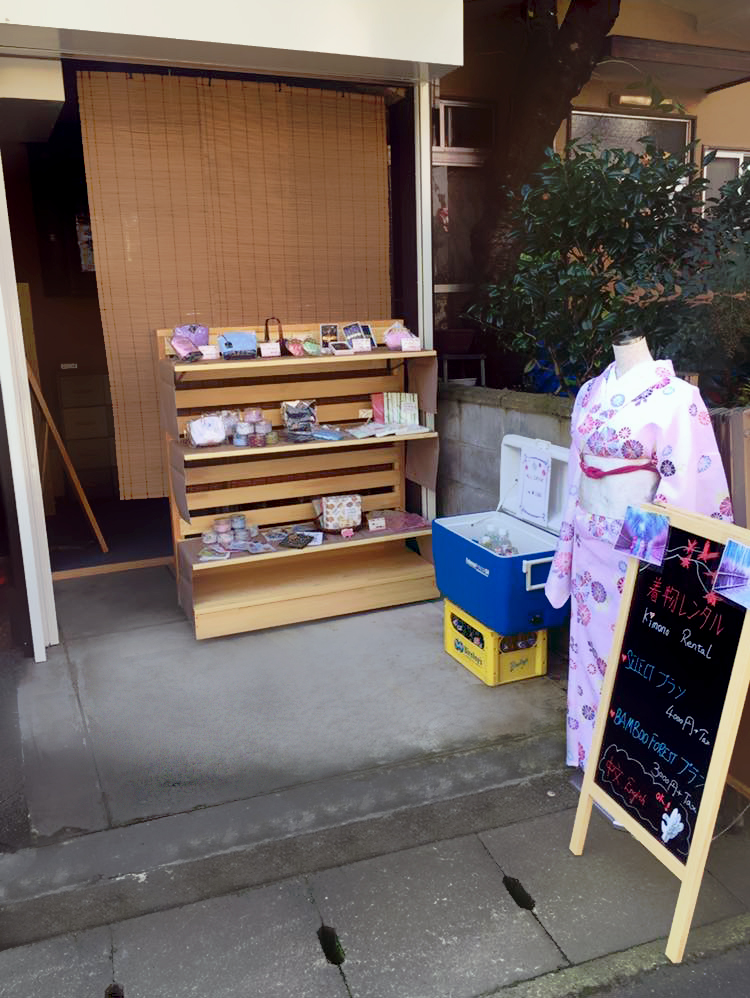 One of the things that captivated me the most about Japan is its traditional garment, the kimono. The patterns, colors, textures and intricate details are truly a work of art. So while making our way towards the Arashiyama Bamboo Grove near Kyoto, I noticed a cute little sign that read "KIMONO RENTALS". I, of course, turned to the hubby and said, "I AM DOING IT"! I am sure he had it with me by then because I had been talking nonstop since our arrival to Japan whether to actually purchase one as a souvenir, but I was concerned that like my Indian Sari, the kimono would be stored away in the darkest crevice of my closet. I continued "what a great idea! I can enjoy it for a few hours and I don't have to buy it", he just nodded. After returning from the bamboo grove, we walked up to the cute and quaint shop and were welcomed by the sweet and polite Shasha. She helped me with my kimono selection and we proceeded with the task of putting it on. And oh boy did I need help! Whilst the pulling and tucking, she explained that it is necessary for someone to help you since the entire outfit is composed of several parts (twelve to be exact). And guess what? There are even licensed professionals who are dedicated to this complicated task.
So when you visit the Arashiyama Bamboo Grove pass by Shasha's cute shop, you won't be disappointed! But don't make the same mistake I did, rent it on your way to the bamboo grove because the picture opportunities in this beautiful site are not to be missed. But don't worry ladies, because we can't travel to Japan every time we want to wear a kimono, take a look at this and this kimono-inspired look I've styled in the past.
Additional information
[one_half]
Prices*
• Kimono Experience: ¥2000 ($17) + tax
• 3-hour Plan: ¥3000 ($25.50) + tax
• All day plan: ¥4000 ($34) + tax
Contact Shasha (it is best if you contact her before your arrival)
Phone number: 080 8518 9408
Email: shashadai@gmail.com
[/one_half]
[one_half_last]
Location (picture of the shop's facade above)
Shasha's shop will be on the left, halfway between the Saga-Arashiyama JR Station and the Bamboo Grove, right before a small overpass (if you notice that you have already walked under the overpass and have a Shinto temple on your right, you have missed Shasha's shop).
[/one_half_last]
*Based on prices as of January 2016

KIOTO, JAPÓN: EXPERIENCIA CON KIMONO TRADICIONAL
Una de las cosas que más me cautivo sobre Japón fue su vestido tradicional, el quimono. Sus estampados, colores, texturas e intrincados detalles son una verdadera obra de arte. Así que mientras caminábamos hacia el bosque de bambú llamado Arashiyama Bamboo Grove cerca de Kyoto, noté un pequeño cartel que decía "KIMONO RENTALS" (Se Alquilan Quimonos). Yo, por supuesto, mire a mi esposo y dije: "¡lo voy hacer!" Estoy segura de que el ya estaba saciado de ese tema porque desde que llegamos a Japón estaba dudosa si debería o no comprar uno; temía que terminaría como mi bello Sari de india, almacenado en la parte más oscura de mi armario. Continué "¡qué gran idea, no crees! Puedo llevarlo puesto durante unas horas y no tengo que comprarlo", el solamente me miró. Después de regresar del bosque, caminamos hasta el cartel donde vi escrito sobre el alquiler de quimonos y nos dio la bienvenida una dulce y atenta chica, Shasha. Ella me ayudó a elegir mi quimono y procedimos a colocármelo ¡Su ayuda fue primordial! Porque mientras tiraba, halaba y añadía piezas, me explicó que es necesario que alguien te ayude ya que todo el conjunto se compone de varias partes (doce para ser exacta) ¿Y adivinen qué? Hay profesionales con licencia que se dedican a esta complicada tarea.
Así que cuando visiten Arashiyama Bamboo Grove asegúrese de pasar por la tienda de Shasha, ¡no se decepcionara! Pero no cometa el error que cometí yo, alquile su quimono en camino al bosque de bambú porque las oportunidades fotográficas en este hermoso sitio no se lo puede perder. Pero no se preocupen chicas, como no podemos viajar a Japón cada vez que queramos vestir un kimono, eche un vistazo a este y este look que fueron inspirados por este bello traje japones.
Información Adicional
[one_half]
Precios*
• Experiencia Kimono: ¥2,000 ($17) + impuestos
• Plan de 3horas: ¥3,000 ($25.50) + impuestos
• Plan detodo el día: ¥4,000 ($34) + impuestos
Para comunicarse con Shasha (es preferible que se comunique con ella antes de su llegada)
Numero telefónico: 080 8518 9408
Correo electrónico: shashadai@gmail.com
[/one_half]
[one_half_last]
Ubicación (imagen de la fachada arriba)
La tienda de Shasha esta a mitad de camino entre la estación de Saga-Arashiyama JR y el bosque de bambú, a la izquierda, justo antes de pasar por debajo de un puente de autopista (si vez que has pasado por debajo de este puente donde hay un templo sintoísta a la derecha, ya paso la tienda).
[/one_half_last]
* Basado en los precios de Enero 2016.