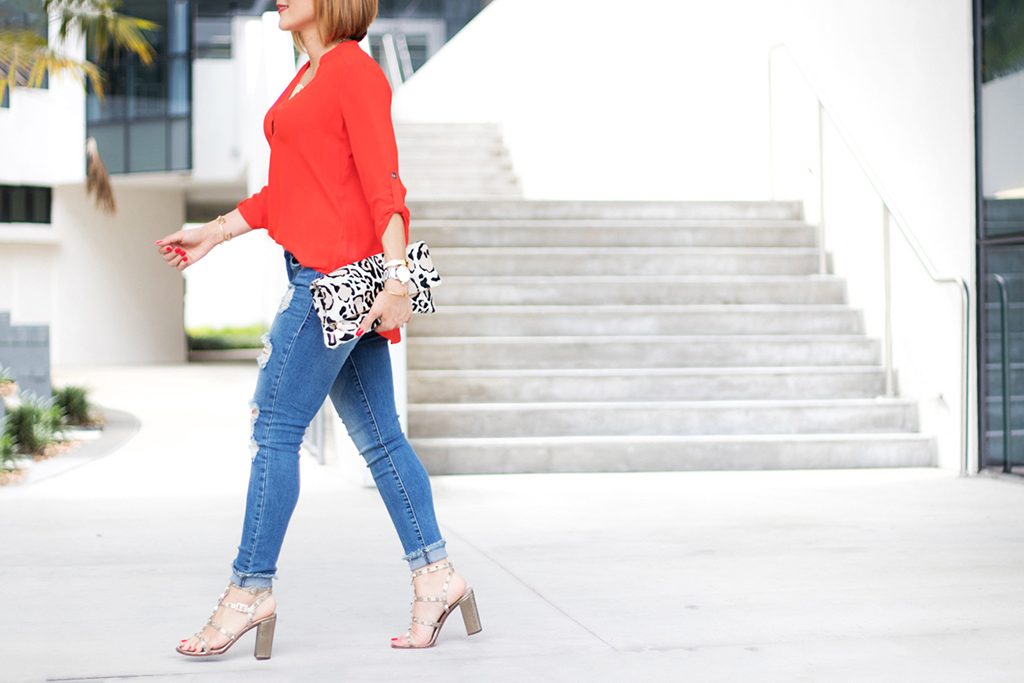 Leopard is my favorite color, so naturally, I had to pair this must-have leopard clutch with a vibrant hue & the most comfortable jeans ever! Miami Fashion Blogger


TOP: Nordstrom (less than $28 and available in 7 colors!)   ||   JEANS: Nordstrom (less than $65!)   ||   NECKLACE: Love Always  ||  BRACELETS: BaubleBar (part of this set), Cartier (affordable option here), Tiffany & Co. (affordable option here), Hermes (affordable option here)  ||  RING: YSL (affordable option here for $20)  ||   HANDBAG: Nordstrom (affordable option here)  ||   SANDALS: Valentino (affordable option here less than $80 and in several colors)   ||  WATCH: Montblanc (affordable option here)  ||   LIPSTICK: MAC – So Chaud
[one_half]Happy almost-Friday!
Today, I am sharing this casual look that I wore two weekends ago to celebrate my grandma's birthday. It was a small get-together during a very hot and humid climate, thus this basic look fit the bill. And I also wanted to debut some of the items I purchased during the #NSale. Even though the Nordstrom Anniversary sale has ended [sad face], you can still shop these pieces (and this dress, which I loved as soon as I saw it). In fact, I own the same roll-sleeve top in several colors (here, here, here and here), that I purchased last year during the same sale. This goes to show, that they are very basic pieces that can be worn year-round. The distressed jeans, well, they have become my current favorite pair. They are so comfy and the fit is spot-on!
If you have been a long-time reader [thank you by the way], you must know that I am a fan of vibrant colors and of leopard too! So why not mix both?
Let me know what you think? Have you paired your favorite shades, patterns within one look?
PS: This weekend we are heading to our annual family vacay. Every year, we pick a new tropical destination, and I am uber excited for this one, especially because of the resort. So if you want to see where we are heading, don't forget to check out my Instagram Stories.
[/one_half][one_half_last]
¡Ya es casi viernes!
Hoy, estoy compartiendo este look casual que vestí dos fines de semana atrás para celebrar el cumpleaños de mi abuelita. Fue una pequeña celebración durante un clima cálido y húmedo (algo normal para Miami). Y este aspecto, básico y cómodo, fue ideal para la ocasión. Y porque también quería estrenar algunos de los artículos que adquirí durante la codiciada venta de Nordstrom. A pesar de que esta venta ya ha terminado [cara triste], todavía pueden adquirir este top y jeans (y este vestido que ame tan pronto que lo vi). De hecho, tengo la misma blusa en varios colores (aquí, aquí, aquí y aquí), que compré el año pasado durante la misma venta. Esto demuestra que son piezas muy básicas cual se pueden usar durante todo el año. Estos pantalones se han convertido en mis favoritos. Son tan cómodos y el ajuste es ¡perfecto!
Si han sido lectores de mucho tiempo [¡gracias!], deben saber que soy un fan de colores llamativos y del ¡leopardo también! Por lo tanto, ¿Por qué no mezclar ambos? J
¿Déjenme saber lo que piensan? ¿Han combinado tonos o estampados favoritos en un outfit?
PD: Este fin de semana nos dirigiremos a nuestras vacaciones anuales junto con mi familia. Cada año, elegimos un nuevo destino tropical, y estoy muy entusiasmada por este, especialmente debido al resort donde nos hospedaremos. Así que, si desean ver a dónde nos dirigimos, no olviden de echarle un vistazo a mis Historias de Instagram.
[/one_half_last]