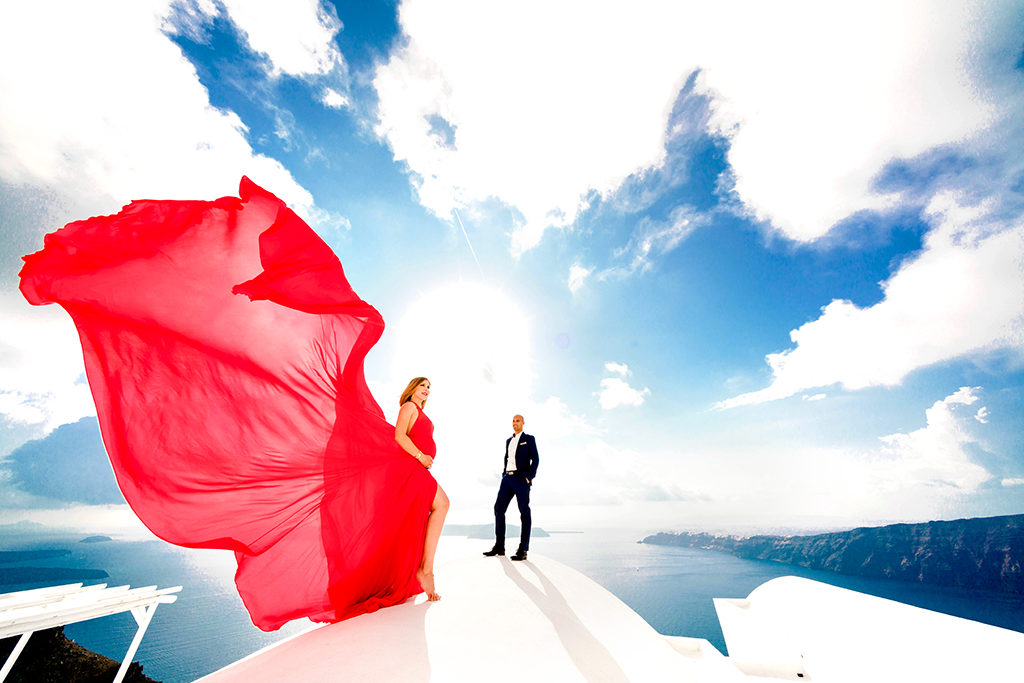 Today's post is all about the beautiful Santorini dress, or in other words, our maternity photo session in Santorini. Miami Travel Blogger Miami Fashion Blogger
[one_half]
I am finally sharing more photos from our maternity photo session in Santorini, AND I am spilling it all in regard to who, what and how we managed this fab and one-of-a-kind experience.
Let's start from the beginning. Our recent trip to Russia and Greece was planned roughly a month before we found out about my pregnancy. And one of the first things we did after spilling the secret to our parents was researching the guidelines for traveling while expecting. My best friend, Google, advised me that if there has been no complication with the pregnancy, the cutoff point to travel internationally is about 28 weeks (in other words about the second week of your 7th month). "We are safe" I told my baby daddy and all you could hear is a huge sigh of relief, because our trip was already paid for, and we had opted out from travel insurance.
Echen un vistazo a mi guía de turismo de Mykonos o Atenas si están pensando visitar Grecia.
[/one_half][one_half_last]
Finalmente, estoy compartiendo más fotos y detalles de nuestra sesión fotográfica en Santorini. Asi que continúen leyendo si desean saber como, donde y con quien llevamos a cabo esta fabulosa y única experiencia.
Vamos a empezar desde el principio. Nuestro reciente viaje a Rusia y Grecia fue planeado aproximadamente un mes antes de que descubriéramos sobre mi embarazo. Y una de las primeras cosas que hicimos después de contar el secreto a nuestros padres fue investigar las reglas para viajar. Mi mejor amigo, Google, me informó que, si no ha habido complicaciones con el embarazo, la fecha limite para viajar internacionalmente es de aproximadamente 28 semanas (en otras palabras, en la segunda semana de tu séptimo mes). "Estamos a salvo", le dije a mi esposo y un gran suspiro de alivio se escucho de ambos, porque nuestro viaje ya estaba pagado, y habíamos optado por no tener un seguro de viaje.
Check out my travel guide from Mykonos or Athens if you're thinking of visiting Greece.
[/one_half_last]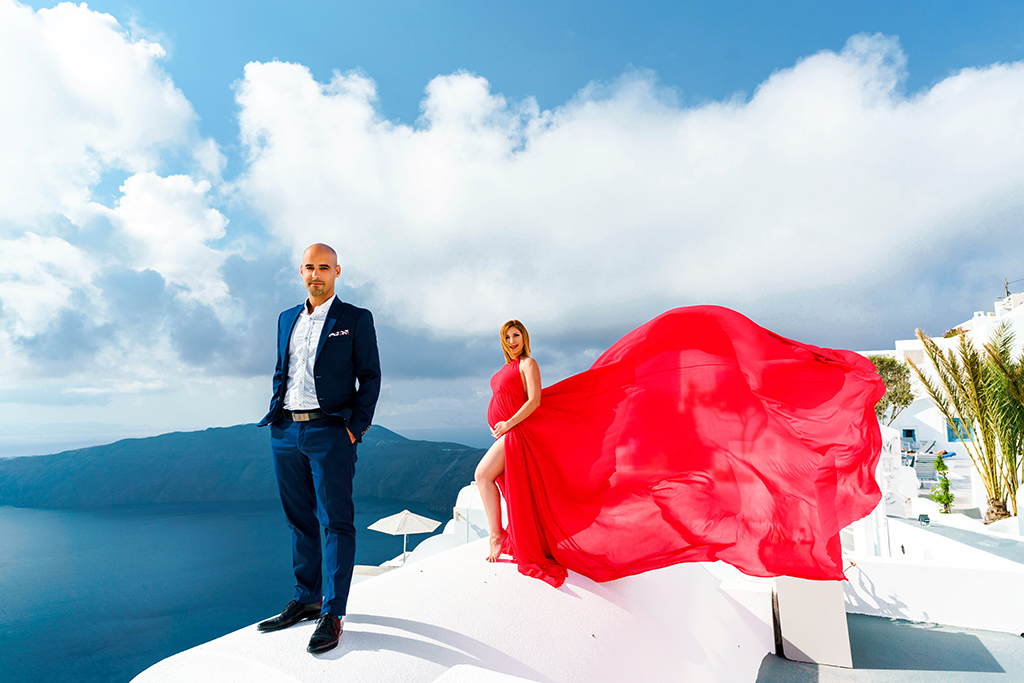 [one_half]
Now let's fast forward a bit to when it dawn to me that I had seen this spectacular photo of a dear blogger friend in the most fab bright red dress, amidst the most beautiful blue-water and white-building background. I thought, we HAVE to do our maternity shoot in Santorini, no questions asked! I quickly reached out to her and asked for all the info. I later headed to the photographers Instagram feed to see if he had done any maternity shoots in the past, and I found one. Good enough for me! Side note: I also discovered that he travels to Miami and a few other cities in the states (and abroad too). Meaning that if you ladies, want pictures like these, you can check out his Instagram page for the next travel dates. Ok back to the story; when I reached out to him, I was provided with all the information like; hourly rate, dress rental price, guidelines, number of photos we would receive, etc.
I made some decisions (like the color of the dress and date of photoshoot) and later signed the contract.
The rest is history; the photos speak for themselves right?
[/one_half][one_half_last]
Ahora vamos a adelantarnos un poco al momento cuando me acorde de que había visto esta fotos espectacular de una querida amiga bloguera con un fascinante vestido rojo, en el más hermoso fondo de agua azul y estructuras blanco. Pensé, TENEMOS que hacer nuestra sesión de maternidad en Santorini. Rápidamente le pedí a ella toda la información. Luego me dirigí a la pagina de Instagram del fotógrafo para ver si había hecho alguna sesión de maternidad en el pasado, y encontré una. ¡Suficientemente para mi! De paso, también descubrí que viaja a Miami y a algunas otras ciudades en los Estados Unidos (y también en el extranjero). Lo que significa que si ustedes, quieren fotos como estas, pueden echar un vistazo a este Instagram para sus próximas fechas de viaje. Bueno de vuelta a la historia; le envié un mensaje al fotógrafo y me proporcionaron toda la información; tarifa por hora, precio de alquilar el vestido, cantidad de fotos que recibiríamos, etc.
Después de tomar algunas decisiones (como el color del vestido y la fecha de la sesión de fotos) firmé el contrato, y ¡listo!
El resto es historia y las fotos hablan por si solas. ¿Que creen?
[/one_half_last]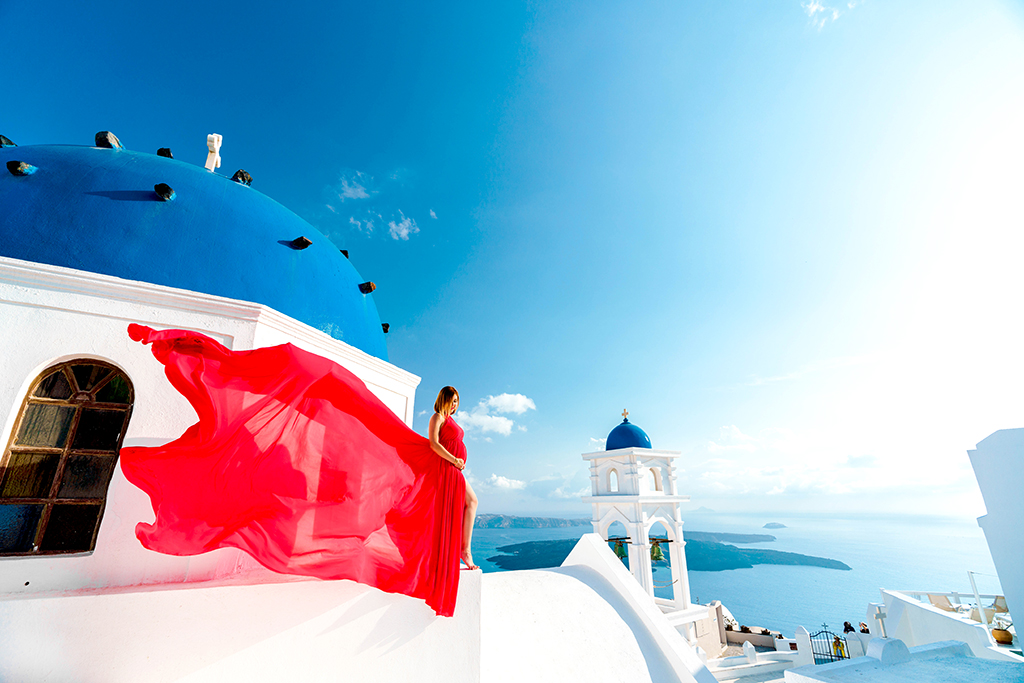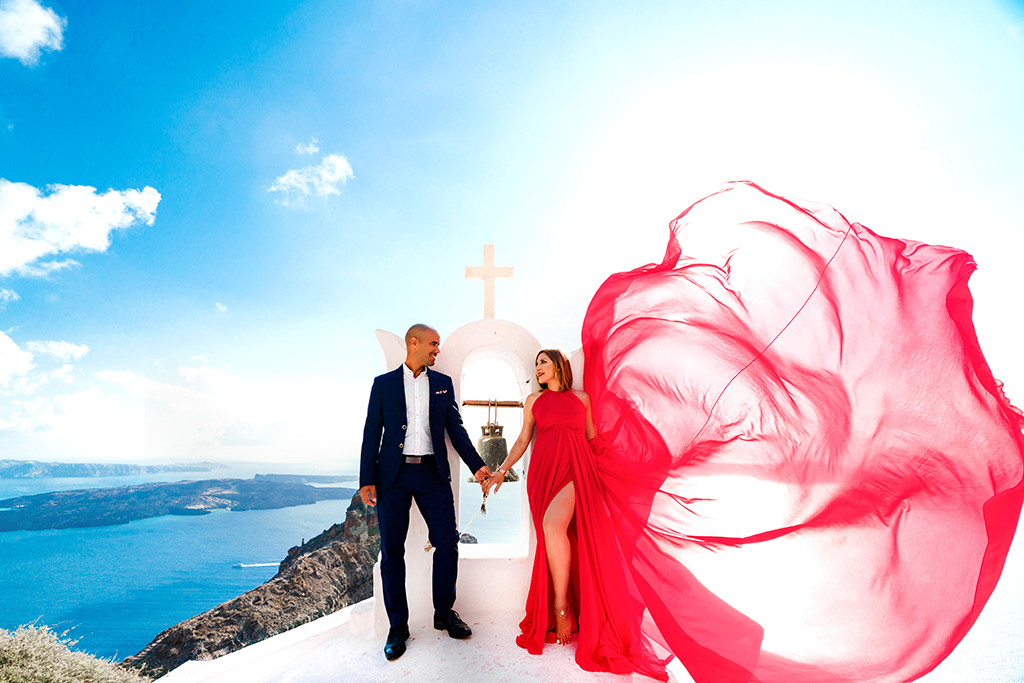 [one_half]
Overall, I had a great experience and would recommend @SantoriniDress 100%. From the initial communication to the promptness of the photographer's arrival the day of the shoot. By the way, this is in no way sponsored, we paid our photo session just like anyone else.
If you ladies have any questions, please ask away in the comment section below or feel free to send me an email: hello@www.blameitonmei.com 🙂
FULL DETAILS
Photographer
Dress
Rented directly from the photographer
There are several colors and styles available (each priced differently)
Location
Imerovigli, Santorini (less crowded than Oia and just as spectacular)
Prices
Please contact photographer
Images
Provided in digital format and were delivered earlier than promised
Payment Process
Made through PayPal
Total amount was split into two payments (one to book the photoshoot and the other after the photoshoot was done)
Other details
My photo session was 1 hour long
[/one_half][one_half_last]
En general, tuve una gran experiencia y recomendaría @SantoriniDress 100%. Desde la comunicación inicial hasta la puntualidad del fotógrafo el día de las fotos. Por cierto, esto no es patrocinado de ninguna manera. Pagamos nuestra sesión de fotos como cualquier otra persona.
Si ustedes tienen alguna pregunta, por favor pregunten en la sección de comentarios a continuación o siéntase libre de enviarme un correo electrónico: hello@www.blameitonmei.com.
TODOS LOS DETALLES
Fotógrafo
Vestido
Alquilado directamente con el fotógrafo
Hay varios colores y estilos disponibles (cada precio es diferente)
Lugar
Imerovigli, Santorini (hay menos gente que Oia y es igual de espectacular).
Precios
Por favor contacte al fotógrafo directamente.
Proceso de Pago
Hecho a través de PayPal.
Hicimos dos pagos (uno para reservar la sesión de fotos y el otro después de que se realizó la sesión).
Imágenes
Proporcionado en formato digital y entregado antes de lo prometido.
Otros detalles
Mi sesión de fotos duro 1 hora.
[/one_half_last]