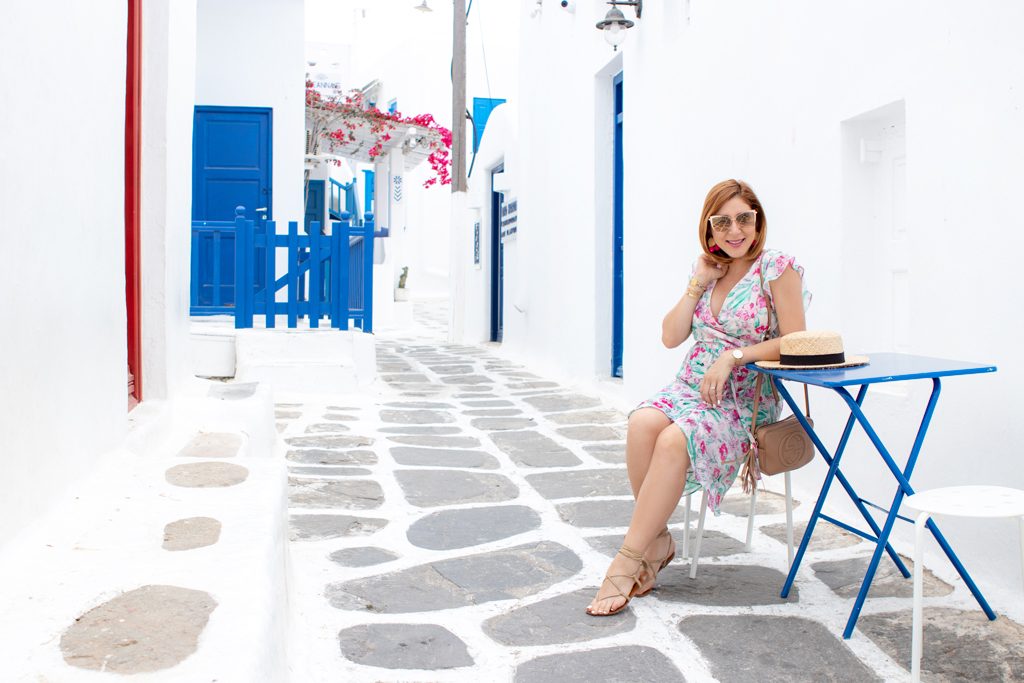 Sharing everything about Mykonos in this travel guide, like what to eat, what to do, how many days to stay and how to get around in this gorgeous Greek island. Miami Travel Blogger Miami Fashion Blogger


DRESS: Target || BRACELETS: BaubleBar (part of this set) and Taudrey (part of this set) || EARRINGS: SUGARFIX by BaubleBar (similar) || RING: Julie Vos (similar cocktail ring) || HANDBAG: GUCCI (similar) || SANDALS: Steve Madden || SUNGLASSES: c/o DIFF Eyewear (30% with code FRIENDS) || HAT: Nordstrom (similar boater hat) || WATCH: c/o Daniel Wellington || LIPSTICK: NYX – Paris
[one_half]
It's #TravelTuesday loves!
I can't believe we are half way through the year AND that it has already been a month that we visited Greece. Yikes! Times does fly, as cliché as it sounds! So, let's not let another minute pass and get straight to this travel guide.
If you haven't checked out my travel guide from Athens, you can do so by clicking here.
When to go
We visited Mykonos in early May and the weather was gorgeous; an average of 75-80°F during the day and a bit cooler, 60-65°F at night. Thus, because of our experience, I would recommend visiting during Spring (March and May) or Fall (September to November) when the temperatures are bearable. If you want more details as far as temperatures, my go-to website for checking this is holiday-weather.com. During high season of late May through August; the beaches will be crowded, prices will be higher and expect a non-top atmosphere.
How many days do you need
We were in Mykonos for 3 days (4 nights) and were able to do most of all the activities below. If you are a laid-back type of tourist or are visiting just to enjoy a relaxing vacation at the many beaches this island has to offer, you can stay a couple of more days to enjoy it at a more leisure pace.
How to get there
You can opt for a high-speed ferry, which takes approximately 3:30-4 hours from Athens and costs 55€. Or fly directly from Athens which takes about 45 minutes. When you arrive at the Mykonos airport there is no public transportation available, but you can get a taxi which can cost between 10-20€ to downtown Mykonos, which is 15 mins away.
Where to stay
If you want to stay close to town, you can rent an apartment in the downtown area, which is where all the shops, restaurants are located. You can also stay at a resort, but those are usually a little distant from the city center. There is public transportation that costs less than 2€ for a one-way ride and operate every hour (this is dependent on the season you visit though). You can also opt for a more comfortable ride in a taxi, but don't expect to pay less than 20€.
[/one_half][one_half_last]
¡Es #Travel Tuesday (o #MartesViajero)!
No puedo creer que estamos a la mitad del año y que ha pasado un mes que visitamos Grecia. ¡El tiempo vuela, tan cliché como suene, pero es verdad! Entonces, no dejemos pasar otro minuto y vayamos directamente a esta guía de viajes.
Si no han visto mi guía de viaje para Atenas, pueden hacerlo haciendo clic aquí.
Cuando ir
Visitamos Mykonos a principios de mayo y el clima era magnífico; un promedio de 75-80°F durante el día y 60-65°F en la noche. Por lo tanto, debido a nuestra experiencia, recomendaría visitar durante la primavera (entre marzo y mayo) o el otoño (entre septiembre a noviembre) cuando las temperaturas son tolerables. Durante la temporada alta de finales de mayo a agosto; las playas estarán saturadas de turistas, los precios serán más altos y la atmósfera cambia de algo tranquilo a una de fiestas. Si desean más detalles sobre el clima, mi sitio web favorito para consultar esto es holiday-weather.com.
Cuántos días necesitan
Estuvimos en Mykonos 3 días (4 noches) y pudimos hacer todo lo siguiente. Si están de visita solo para disfrutar de unas relajantes vacaciones en las diversas playas, pueden quedarse un par de días más para disfrutar a un ritmo más relajado.
Cómo llegar
Pueden optar por un ferry de alta velocidad, que tarda aproximadamente 3:30-4 horas desde Atenas y cuesta 55€. También pueden volar directamente desde Atenas, que demora 45 minutos. Cuando lleguen al aeropuerto de Mykonos, no hay transporte público disponible, pero pueden usar un taxi que puede costar entre 10-20€ hasta el centro de Mykonos, que tomara como 15 minutos.
Donde hospedarse
Si desean estar cerca de la ciudad, pueden alquilar un apartamento en el centro, que es donde se encuentran todas las tiendas y restaurantes. También pueden alojarse en un complejo turístico (resort), pero normalmente están un poco distantes del centro de la ciudad. Hay transporte público que cuesta menos de 2€ para un viaje de ida y que opera cada hora (esto depende de la temporada que visite). También pueden optar por un viaje más cómodo en un taxi, pero no esperen pagar menos de 20€.
[/one_half_last]
[one_half]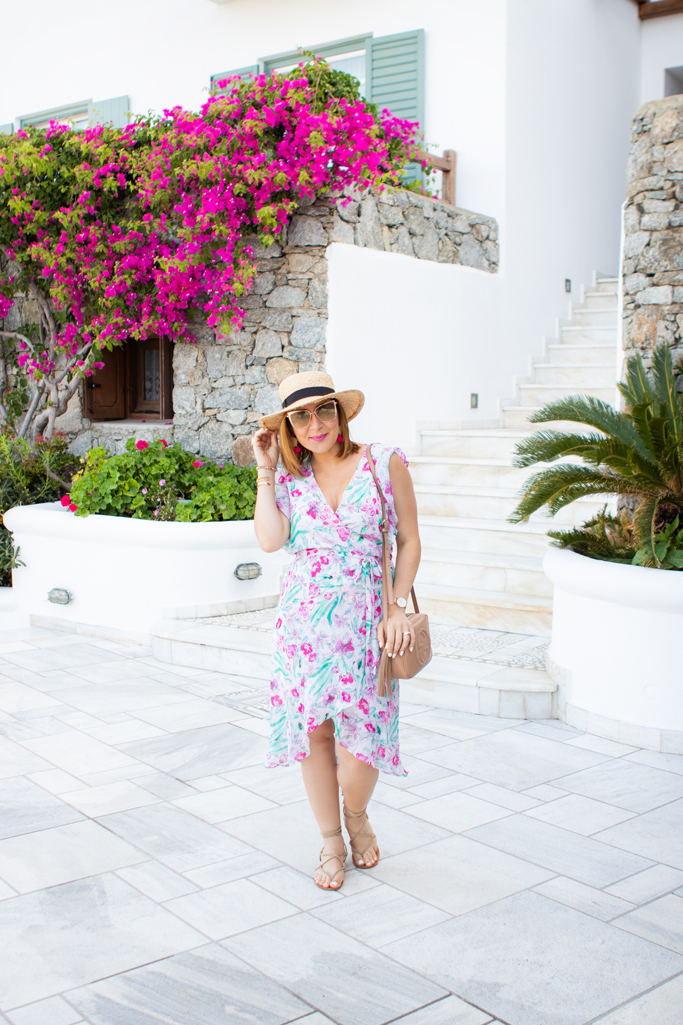 [/one_half][one_half_last]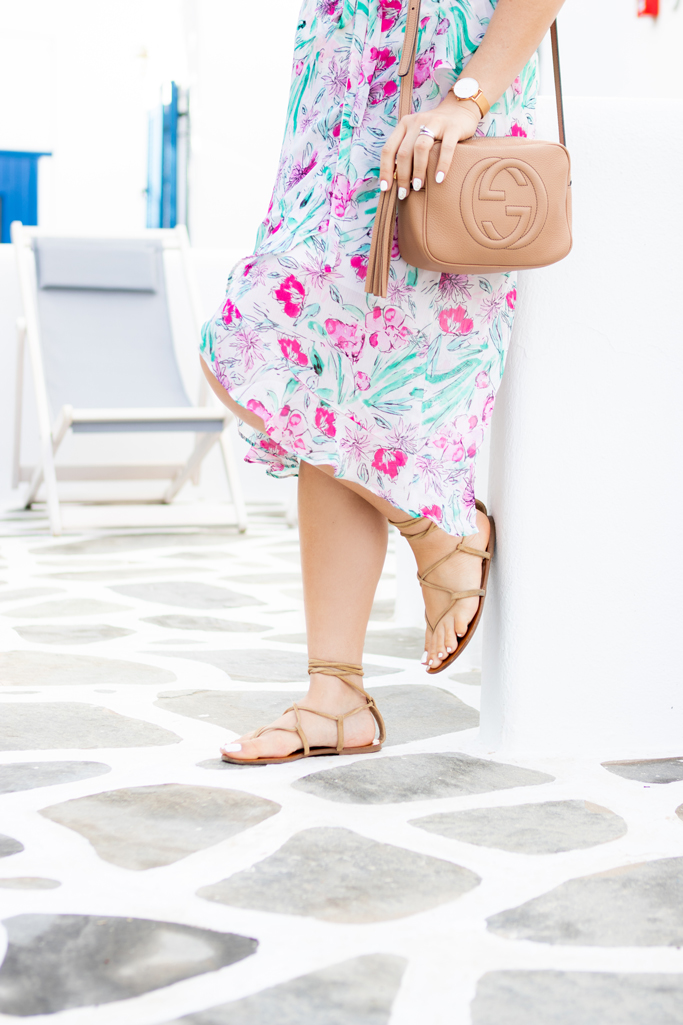 [/one_half_last]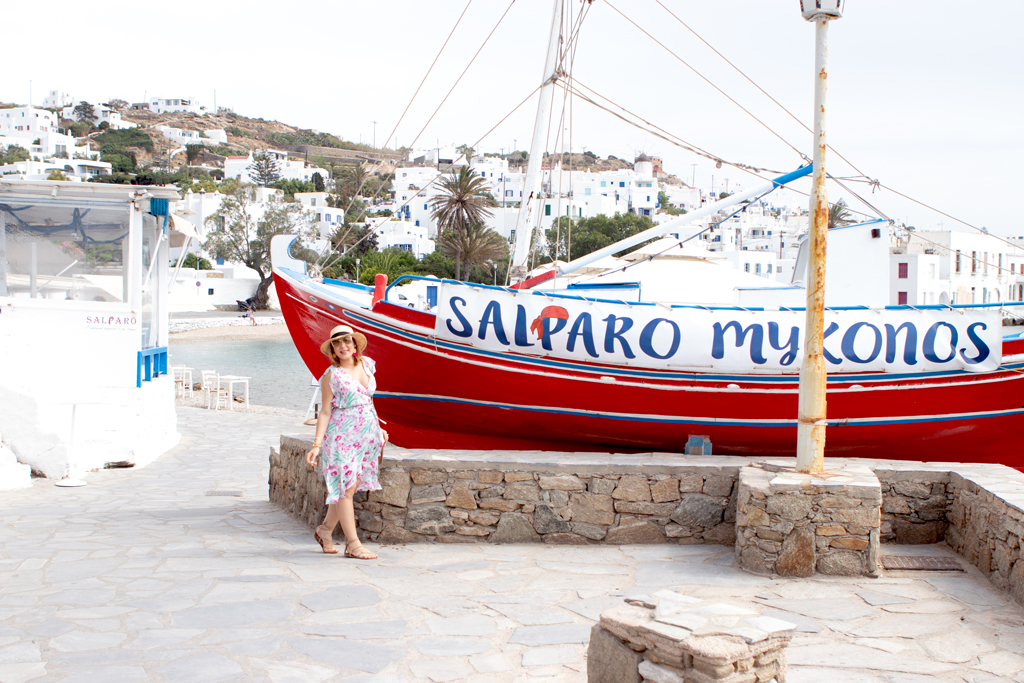 [one_half]
Where to shop
Downtown Mykonos is filled with cute little shops as well as fancier options like Pandora, Louis Vuitton, Hermes, etc. You will see lots of linen clothes, sandals, hats and jewelry, thus make sure to buy one of each 🙂
Money
Credit cards are well accepted in Mykonos, preferably Visa or MasterCard. There are a few ATMs around the city center too.
Where to eat
You'll find plenty of food options with incredible views in Mykonos! Because the island's main source of income is tourism, restaurants can be pricey, especially in Little Venice but because they are a dime a dozen, it's hard to go wrong. Traditional dishes you have to try:
Tzatziki dip – made of Greek yogurt and mixed with garlic, olive oil and fresh dill.
Moussaka – legendary vegetable lasagna
Frappé coffee – you'll see locals carrying their large clear plastic containers with this frothy and delicious drink all over the city and at all times.
Baklava – yummy dessert made with phyllo, pistachios and honey
Kolokithokeftedes or couragette balls – a veggie started made with feta cheese and fresh mint
Tomatokeftedes or tomato fritters/balls – another veggie started that is exactly what its name says
Fava dip – another vegetarian starter made with yellow split pea
Greek salad – sounds average but it surely is not, the fresh and supple tomatoes where my favorite part.
Safety
Mykonos is a very safe island but use standard caution as you would anywhere else.
[/one_half][one_half_last]
Dónde comprar regalos
El centro de Mykonos está lleno de agradables tiendecitas, así como de opciones más lujosas como Pandora, Louis Vuitton, Hermes, etc. Verán mucha ropa de lino, sandalias, sombreros y joyas, así que asegúrense de comprar uno de cada uno 🙂
Dinero
Las tarjetas de crédito son aceptadas en Mykonos, preferiblemente Visa o MasterCard. También hay algunos cajeros automáticos alrededor del centro de la isla.
Que comer
¡Encontrarás muchas opciones de comida con vistas increíbles! Debido a que la principal fuente de ingresos de la isla es el turismo, los restaurantes pueden ser caros, especialmente en Little Venice (Pequeña Venecia), pero como hay tantos, es difícil equivocarse. Platos tradicionales que deben probar:
Salsa Tzatziki– hecho de yogur griego y mezclado con ajo, aceite de oliva y eneldo fresco.
Moussaka– legendaria lasaña de verduras
Café Frappé – verán a muchos griegos llevando sus grandes recipientes transparentes con esta bebida espumosa y deliciosa por toda la ciudad y en todo momento.
Baklava – delicioso postre hecho con filo, pistachos y miel.
Kolokithokeftedes o bolas de couragette– aperitivo de vegetal hecho con queso feta y menta fresca.
Tomatokeftedes o buñuelos/bolas de tomate – otro aperitivo vegetariano que es exactamente lo que dice su nombre.
Salsa Fava– otro plato vegetariano hecho con guisante (también conocido como chícharo).
Ensalada griega– suena corriente, pero les aseguro que no lo es; los tomates son mis favoritos porque son bien frescos y con mucho sabor.
Seguridad
Mykonos es una isla muy segura, pero usen precaución común como lo harían en cualquier otra ciudad que visitan por primera vez.
[/one_half_last]
[one_half]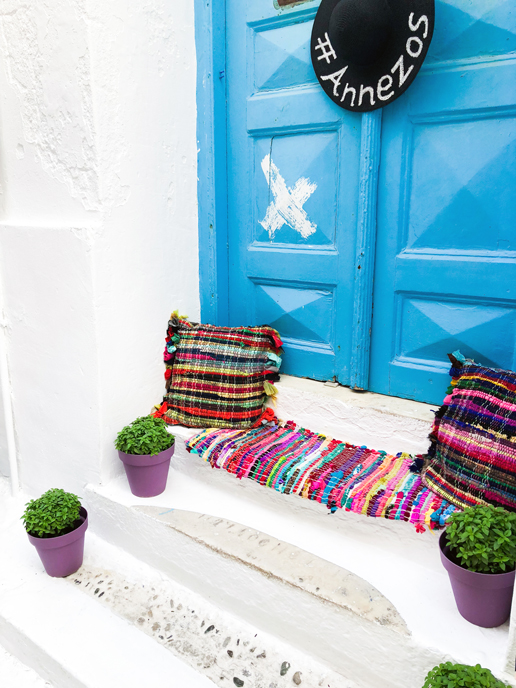 [/one_half][one_half_last]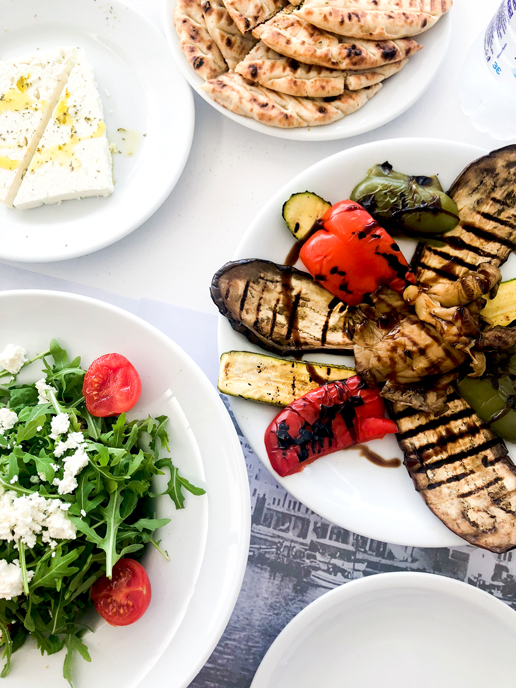 [/one_half_last]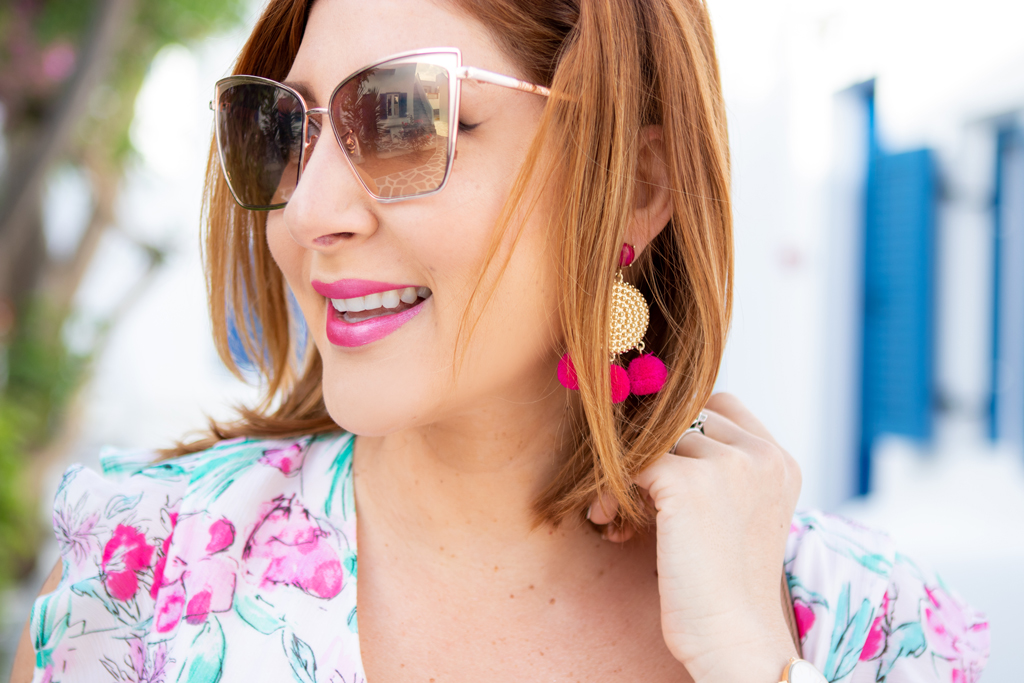 [one_half]
What to sightsee
Mykonos has the best of both worlds. It is undeniably a romantic island. The narrow streets, the pleasant sea breeze, pretty beaches, the cutest white facades with pops of blues, crimson and fuchsia. It is worth visiting just to take a walk around town. This island is also just as known for its party scene, so if you like to have fun, well, Paradise Beach is a few minutes away from Downtown Mykonos.
Below are a few things I recommend you visit but if you rather see a full list of the places you can visit, check out this app Sygit Travel. It is one of the best travel guide apps I've used (and I have tried many). You can create daily itineraries from their endless list of sights, tours, hotels, restaurants and more. I love that you can download offline city maps, so you'll never get lost even without internet access.
Windmills: This is a must see in Mykonos. They were built by the Venetians as early the 16th century and have remained the most iconic symbols of the island. One of them will soon be available to rent via rBNB, so make sure to check out if it's available when you visit.
Beaches: There are several in Mykonos, but the most known for its parties is Paradise Beach. During off season, the party begins after 4:30 pm, thus before the clock strikes 'Paradise Beach's midnight' you can enjoy a more relaxed atmosphere while enjoying a drink or appetizer at the famous Tropicana Beach Bar. If you want to work on your tan, you can visit Paraga Beach. Lounge chairs are available for rent at a low price, and you can order food and drinks beachside as well. Everything is fairly priced and yummy!
Little Venice: Very famous stretch of seaside shops and restaurants with the most beautiful views. It is worth having a drink or two (or dinner for that matter) to enjoy the gorgeous sunset.
Armenistis Lighthouse: Even though the lighthouse itself isn't that noteworthy, it has a stunning panoramic view. Rent a scooter and make it a fun day-trip.
Archeological site of Delos: Take a half-day trip to the most important site of the eastern Mediterranean. Ferries (which cost 20€) leave daily from the Old Port and the ride can take about 30 minutes each way. Ferry ticket price does not include entrance fee (12€) to the archeological site. I recommend hiring a guide while at the site or booking a guided-tour with a travel agency; it's so worth it. Due to a volcanic eruption (just like the Italian city of Pompeii), there are many things in this island that has been incredibly preserved. And to put it into perspective, Delos is dated 2nd/3rd century B.C., while Pompeii is dated 79 A.D. (that's a difference of 200-300 years; making Delos older than its Italian counterpart).
Things to consider if you visit Delos:
Wear sunscreen (there is barely any shade at the site)
Take a hat (preferably one that stays put because the wind can be strong)
Take snacks and water (there is one café at the site, but it's a bit pricey and inconvenient if you are on the other side of the site when hunger and thirst strikes)
Wear sturdy shoes (lots of walking in dirt is involved)
Take the 9 a.m. ferry to avoid the crowds
Take a good guide book if you opt out of a guided tour.
Make sure to watch for the time of the next ferry going back to Mykonos (otherwise you will be stranded in the island for 2-3 hours more)
Wonder through the narrow streets of Downtown Mykonos: it is worth getting lost in these small picturesque streets. At every turn, you will either find bright bougainvillea trees, bright blue doors, quaint mom and pop shops, or a cute café.
Windsurfing: We did not do this, but I heard that Korfos Bay is great for kitesurfers. Looks like a lot of fun!
[/one_half][one_half_last]
Qué hacer
Mykonos tiene lo mejor de ambos mundos. Es innegablemente una isla romántica; sus calles estrechas, la agradable brisa marina, las bonitas playas, las fachadas blancas con estallidos de azul, rojo y fucsia. Vale la pena visitar solo para pasear por la ciudad. Esta isla también es conocida por su ambiente de fiesta, así que, si les gusta divertirse, bueno, Paradise Beach está a pocos minutos del centro de Mykonos.
A continuación, hay algunas cosas que le recomiendo que visite, pero si prefieren ver una lista completa de los lugares que puede visitar, consulte esta aplicación Sygit Travel. Es una de las mejores aplicaciones de guías de viaje que he usado (y he probado muchas). Pueden crear itinerarios diarios de su interminable lista de lugares de interés, tours, hoteles, restaurantes y más. Me encanta que pueden bajar mapas de la ciudad para cuando no tengan conexión al internet.
Molinos de viento: esta es una visita obligada en Mykonos. Fueron construidos por los venecianos a principios del siglo XVI y se han mantenido como los símbolos más emblemáticos de la isla. Uno de ellos pronto estará disponible para alquilar a través de Airbnb, así que asegúresen de verificar si está disponible cuando planeen su visita a Mykonos.
Playas: Hay varias en Mykonos, pero la más conocida por sus fiestas es Paradise Beach. Fuera de temporada, la fiesta comienza después de las 4:30 pm, por lo tanto, antes de que el reloj marque la 'medianoche de Paradise Beach' podrán disfrutar de un ambiente más relajado mientras disfrutan de una bebida o un aperitivo en el famoso bar Tropicana Beach. Si prefieren trabajar en su bronceado, pueden visitar Paraga Beach. Los sillones lounge están disponibles para alquilar a bajo precio, y también pueden pedir comida y bebidas en la playa. ¡Todo es bastante moderado y delicioso!
Pequeña Venecia: un famoso tramo de tiendas y restaurantes junto al mar con vistas al mar increíbles. Vale la pena tomar una copa o dos (o cenar) para disfrutar de la hermosa puesta de sol.
Faro de Armenistis: Aunque el faro en sí no es digno de mención, tiene una impresionante vista panorámica. Alquile un scooter y transforme su día en un viaje divertido por todo Mykonos.
Sitio arqueológico de Delos: Haga un viaje de medio día al sitio más importante del este del Mediterráneo. Los ferries (que cuestan 20€) salen todos los días del Puerto Viejo y el viaje puede tomar unos 30 minutos. El precio del billete no incluye la entrada al sitio arqueológico (12 €). Recomiendo contratar una guía o reservar una visita guiada con una agencia de viajes; ¡vale la pena! Debido a una erupción volcánica (al igual que la ciudad italiana de Pompeya), hay muchas cosas en esta isla que han sido increíblemente preservadas. Y para ponerlo en perspectiva, Delos está fechado en los siglos II/III A.C., mientras que Pompeya está fechado en 79 D.C. (eso es una diferencia de 200-300 años, lo que hace que Delos sea más antiguo que su homólogo italiano).
Cosas de tomar en cuanto si visitan Delos:
Usen protector solar (no hay mucha sombra disponible).
Lleven un sombrero (preferiblemente uno que se quede porque el viento puede ser fuerte).
Lleven bocadillos y agua (hay un café en el lugar, pero es un poco caro e inconveniente si se encuentran al otro lado del sitio).
Usen zapatos resistentes y cómodos (se requiere mucho caminar en tierra desnivelada).
Tomen el ferry de las 9 a.m. para evitar las multitudes.
Lleven un buen libro de guía si opta por no contratar una visita guiada.
Asegúrense de mirar la hora del próximo ferry que regresa a Mykonos (de lo contrario estarán varados en la isla por 2-3 horas más).
[/one_half_last]
[one_half]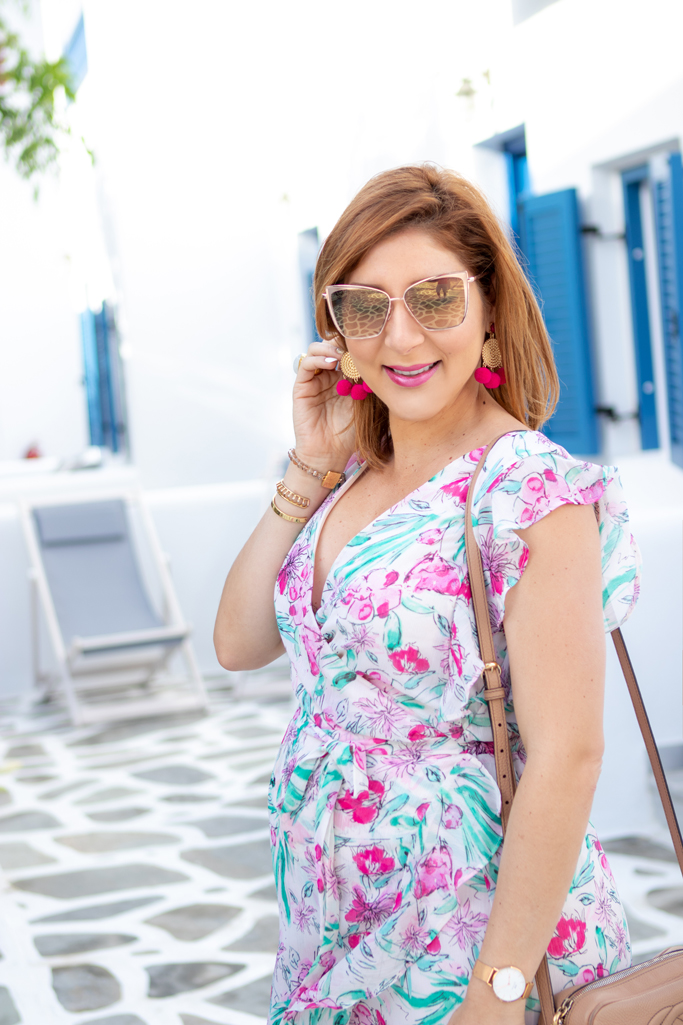 [/one_half][one_half_last]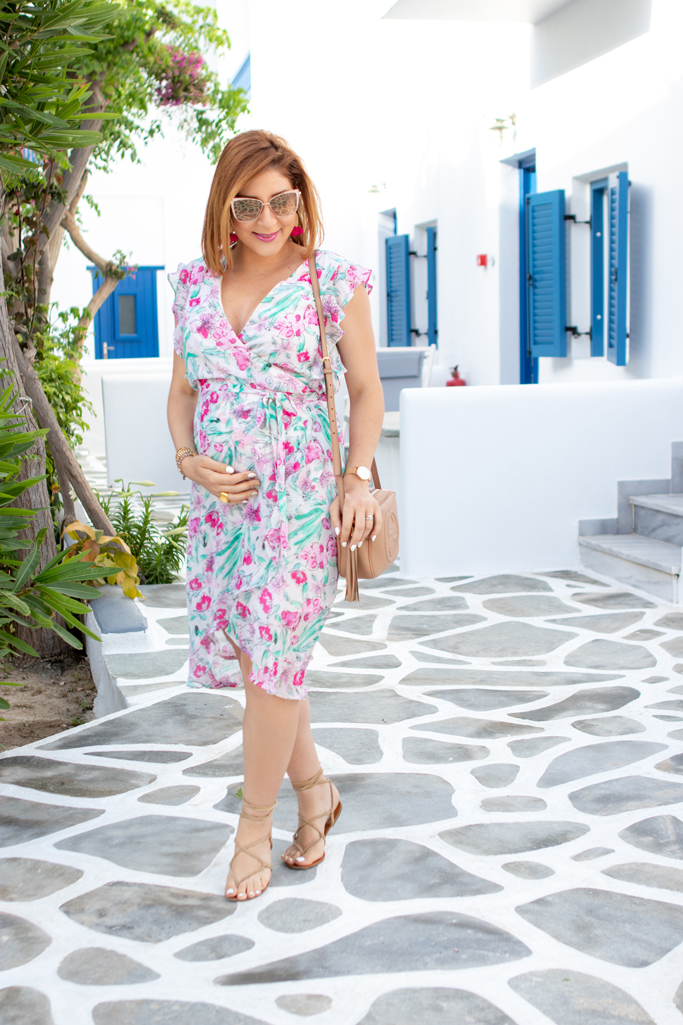 [/one_half_last]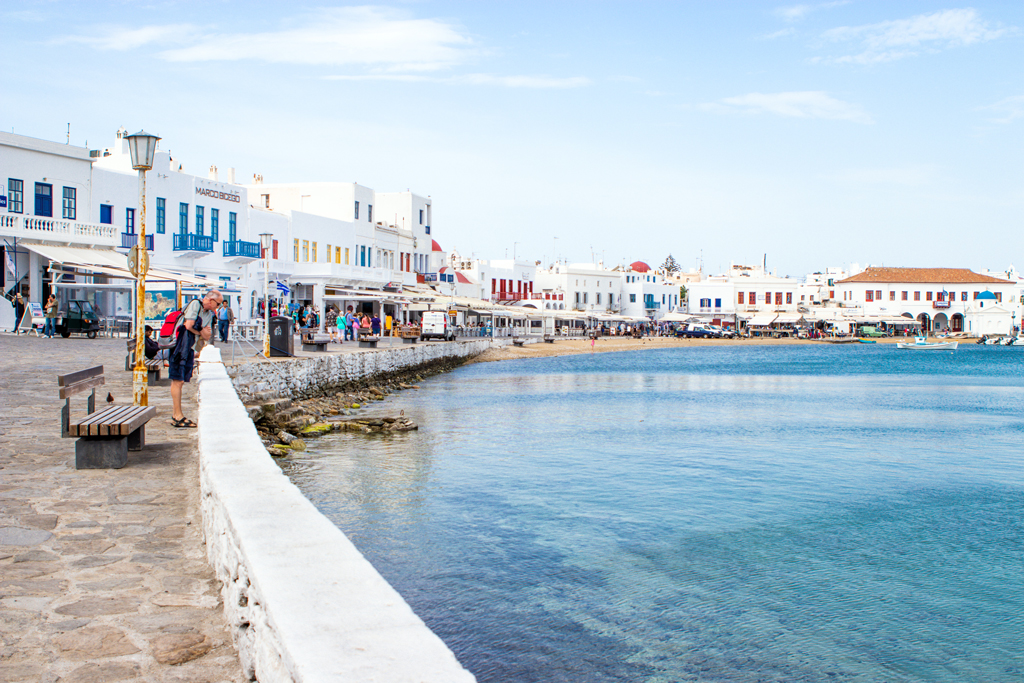 [one_half]
Getting around
There are no vehicles allowed in downtown Mykonos but there is a peripheral road which motorized traffic uses. As I mentioned above, there is a public bus with two routes; it is very reliable and convenient. It costs less than 2€ for a one-way ride and operate every hour (this is dependent on the season you visit though). You can also opt for a more comfortable ride in a taxi, but don't expect to pay less than 20€. Drivers speak basic English but carry your hotel's business card in case your driver does not.
Wi-Fi
There is free Wi-Fi in a lot of places. Most establishments (especially restaurants) and public spaces offer free Wi-Fi.
Language
We didn't have any problems with the language. Everyone speaks English, but it is nice to learn the basics like thank you and hello (see phrases below). Greeks will defiantly appreciate it.
Hello / Good bye: YAH-soo
Good morning: kah-lee-MER-ah
Thank you: eff-kha-ri-STOE
Please / You're welcome: para-kah-LOE
[/one_half][one_half_last]
Transportación
No se permiten vehículos en el centro de Mykonos, pero hay una carretera periférica que utilizan el tráfico motorizado. Como mencioné anteriormente, hay un autobús público con dos rutas; es muy confiable y conveniente. Cuesta menos de 2€ por un viaje en un solo sentido y funciona cada hora (esto depende de la temporada que visite). También puede optar por un viaje más cómodo en un taxi, pero no espere pagar menos de 20€. Los conductores hablan inglés básico, pero siempre lleven una tarjeta con dirección de su hotel en caso de que su conductor no hable su idioma.
Wi-Fi
Hay conexión Wi-Fi gratuita en muchos lugares. La mayoría de los establecimientos (especialmente los restaurantes) y los espacios públicos ofrecen conexión Wi-Fi gratuita.
Idioma
No tuvimos ningún problema con el idioma. Todo el mundo habla inglés, pero es bueno aprender los conceptos básicos como gracias y hola (ver frases a continuación). Los griegos definitivamente lo apreciarán.
Hola / Adiós: ya-su
Buenos días: ka-li-me-ra
Gracias: ef-ja-ris-to
Por favor / De nada: para-ka-loe
[/one_half_last]
[one_half]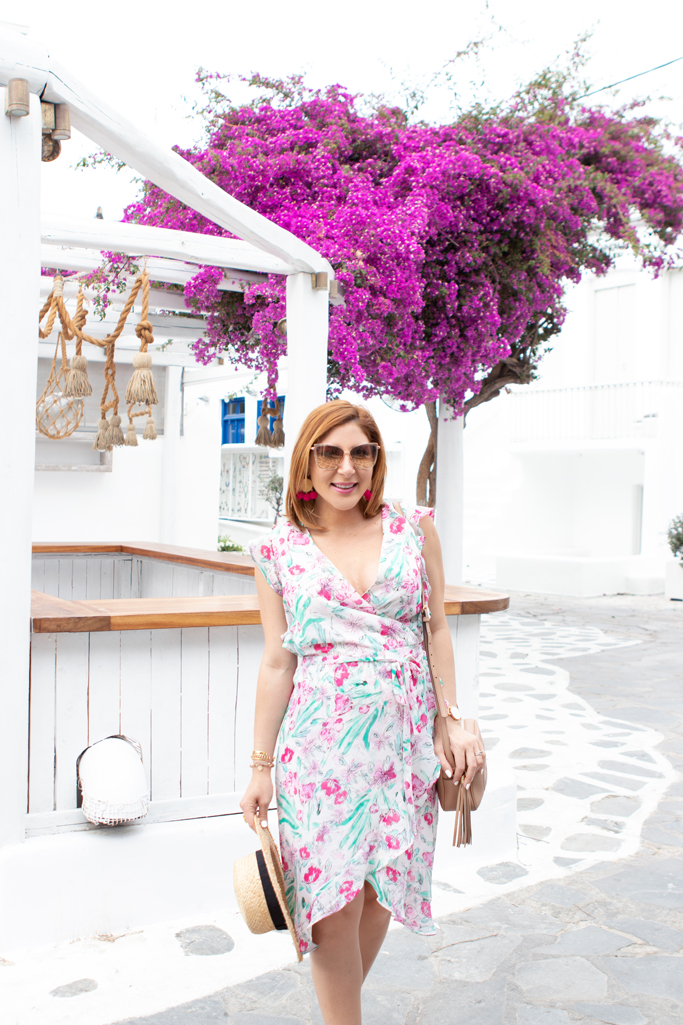 [/one_half][one_half_last]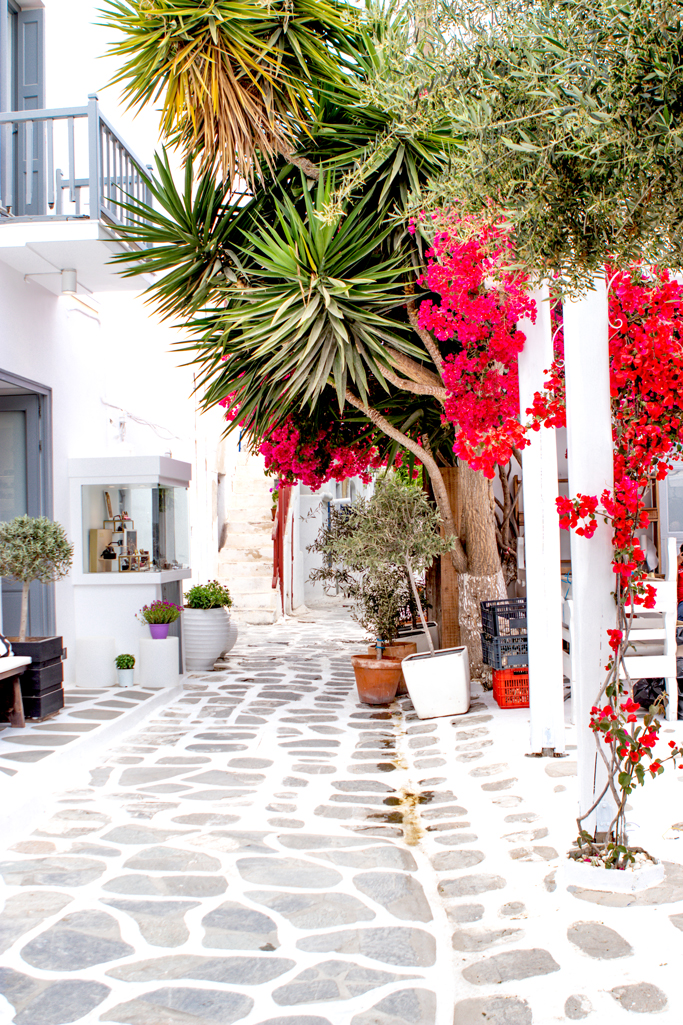 [/one_half_last]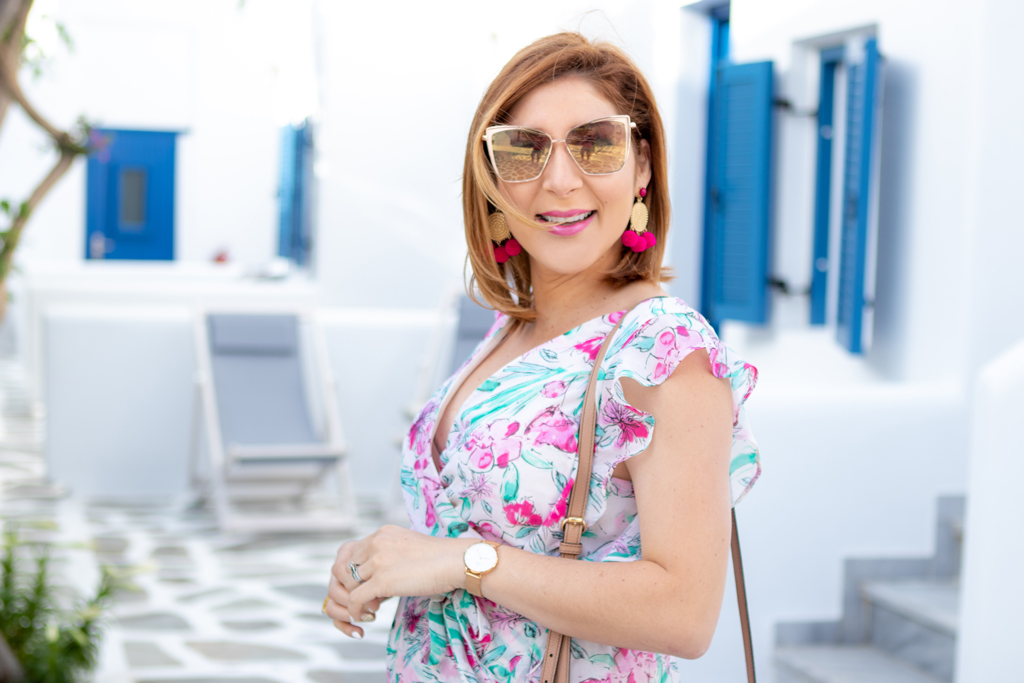 [one_half]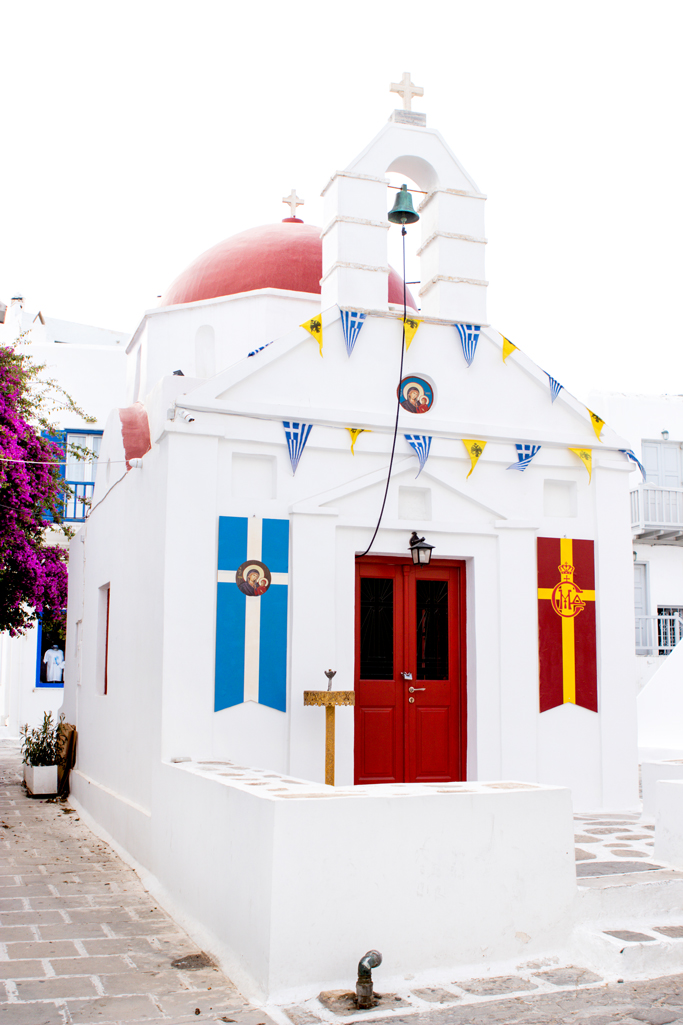 [/one_half][one_half_last]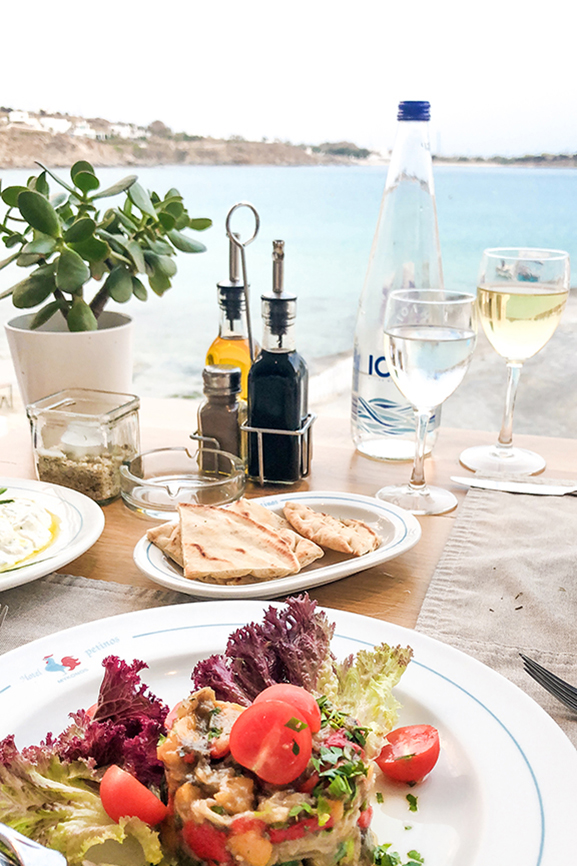 [/one_half_last]
---
PIN FOR LATER