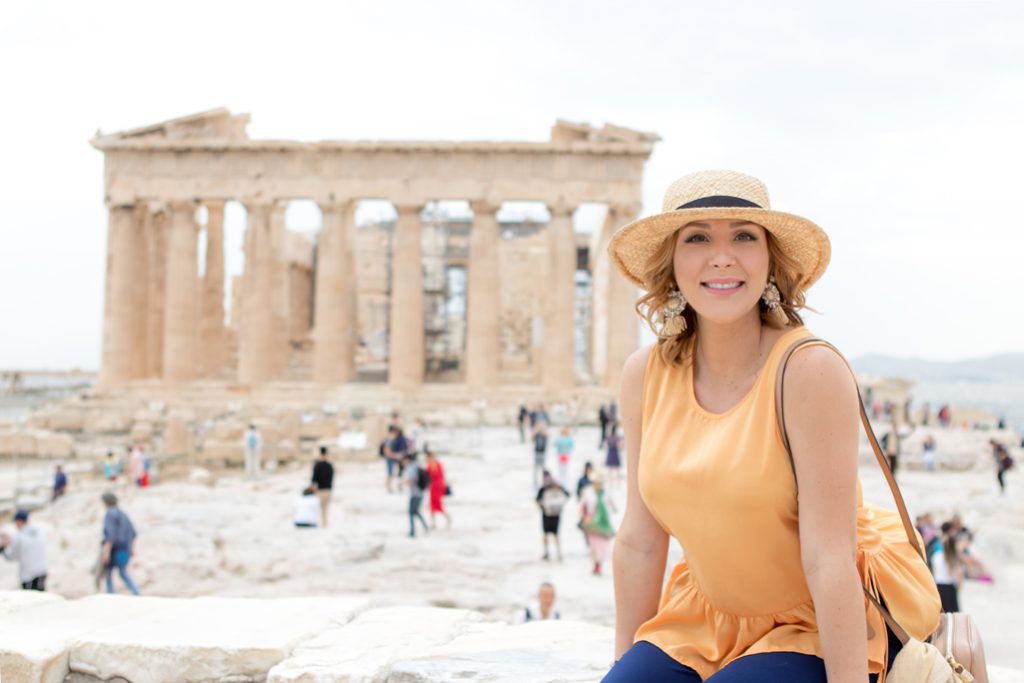 Athens is truly the historical capital of Europe. So if you don't want to miss a thing, check out my travel guide where I share when to visit, what to do, where to eat and where to shop, among other things you should know before visiting.


TOP: Target || TROUSERS: Express || BRACELETS: BaubleBar (part of this set) and Taudrey (part of this set) || EARRINGS: BaubleBar (similar) || RING: Julei Vos (similar cocktail ring) || HANDBAG: GUCCI (similar) || SANDALS: Michael Kors (similar gold sandals) || HAT: Nordstrom (similar boater hat) || WATCH: c/o Daniel Wellington
[one_half]Happy #TravelTuesday loves!
Last night I asked via my Instagram which travel guide you preferred to see first. And understandably so, Greece was the overwhelming response. So, let's get to it.
When to go
We visited in early May and the weather was great! Average of 75º-80ºF. Thus, I would recommend visiting during Spring (March and May) or Fall (September to November) when the sunlight and temperatures are bearable. During these seasons, the crowds are much less, the airfare and hotel deals are also easier to find. It is high-season from June through August; meaning it will be more difficult to sightsee because of the hordes of tourists and let's not question the eminent heat. My go-to website for checking temperature averages is holiday-weather.com.
How many days do you need
We were there for 3 days (4 nights) and were able to do all of the below. If you are a laid-back type of tourist, you can stay a couple of more days to enjoy at a more leisure pace.
Where to stay
Hotels in the areas of Plaka, Makrianni, Koukaki, Thission, Syntagma and Monastiraki are the most desirable because they border the Acropolis. Everything you need including shops, restaurants, the metro to the ferries, buses, taxis and nightlife is also within walking distance.
[/one_half][one_half_last]
¡Feliz #TravelTuesday amores!
Anoche pregunté a través de mi Instagram qué preferían ver primero en respecto a guías de nuestro reciente viaje. Y todos contestaron Grecia; así que empecemos…
Cuando ir
Nosotros visitamos a principios de mayo y el clima fue ¡genial! Algunas veces hasta in poco muy caluroso; el promedio fue de 75º-80ºF. Por esto, recomendaría visitar durante la primavera (marzo a mayo) o el otoño (septiembre a noviembre), cuando la luz del sol y las temperaturas son tolerables. Durante estas épocas, las multitudes son mucho menos, las tarifas aéreas y las ofertas de hoteles también son más fáciles de encontrar. La temporada alta es durante junio a agosto; lo que significa que será más difícil hacer turismo debido a la cantidad de personas y no cuestionemos el calor sofocante. Mi pagina web para consultar los promedios de temperatura es holiday-weather.com.
Cuántos días necesitan
Estuvimos 3 días y 4 noches en Atenas, y pudimos hacer todo lo que pueden ver en la lista más abajo. Si son el tipo de turistas que prefiere disfrutar de un paseo más relajado, puedes quedarse un par de días más.
Donde hospedarse
Los hoteles en las áreas de Plaka, Makrianni, Koukaki, Thission, Syntagma y Monastiraki son los más deseables porque bordean el Acrópolis. Todo lo que necesitan, incluyendo tiendas, restaurantes, el metro a los ferry, autobuses, taxis y vida nocturna también se encuentran a poca distancia.
[/one_half_last]
[one_half]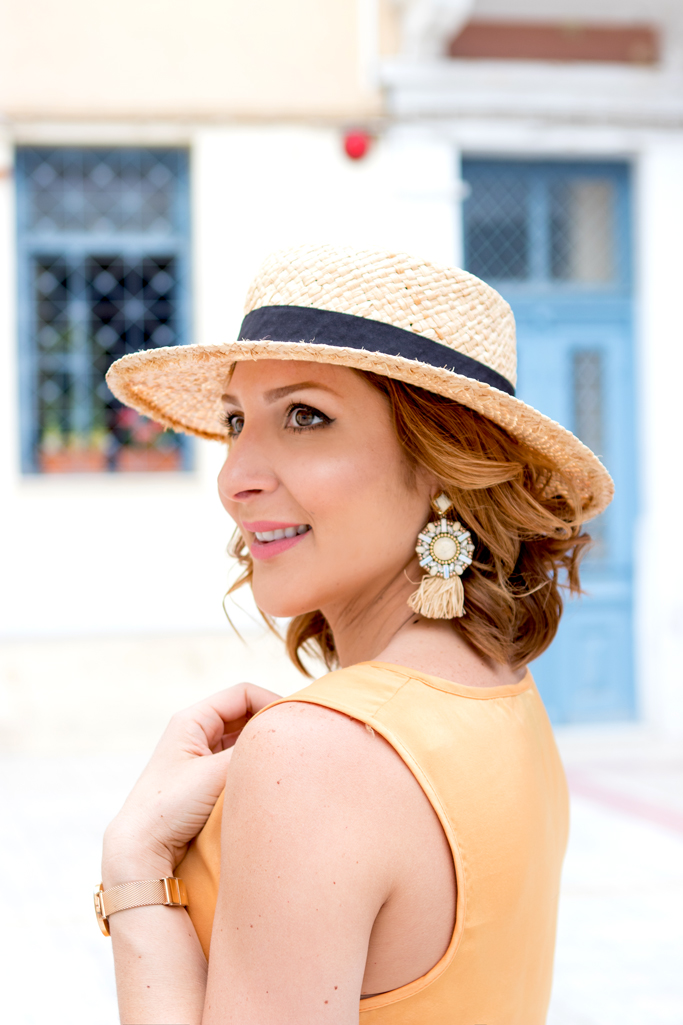 [/one_half][one_half_last]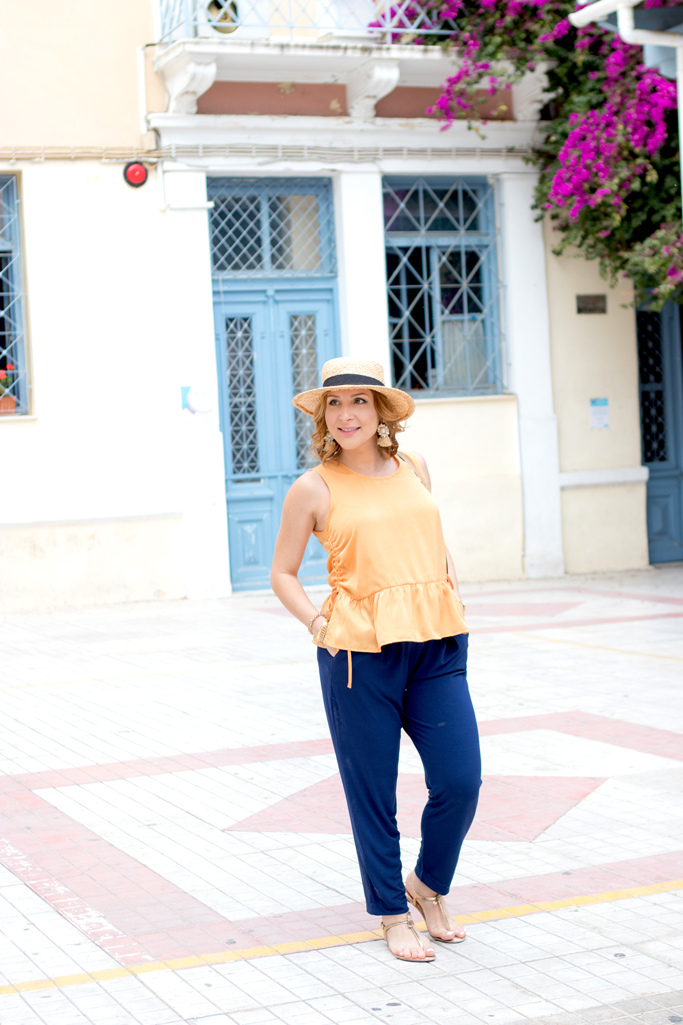 [/one_half_last]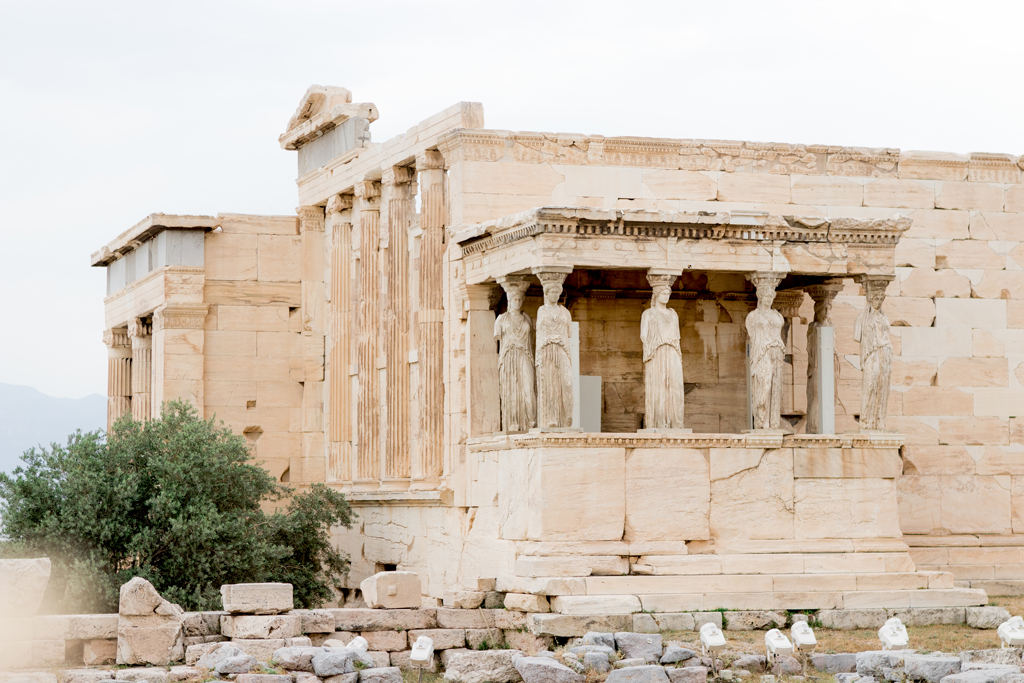 [one_half]
Where to shop for souvenirs
My favorite places for souvenir shopping was the picturesque area of Plaka. It is filled with restaurants, coffee shops, ice cream parlors, linen clothing boutiques, you name it. Within a few minutes of walking, you'll stumble upon Monastiraki Flea Market, which is another must-visit spot for souvenirs, handmade Greek sandals and iconic evil-eye-everything.
Money
Credit cards are well accepted in Athens, preferably Visa or MasterCard. There are ATMs all over the city, in commercial centers, airports and most tourist centers.
Average of what things can cost:
• Taxi from the airport to downtown Athens 35-50€
• Double room, moderate 90-110€
• Double room, inexpensive 65-85€
• Three-course dinner for one (without wine), moderate 12-20€
• Bottle of beer 2.50-3.50€
• Cup of coffee 1.50-3.50€
• 1 liter of gas 1.75€
• Admission to museums and archeological sites 2-12€
What to eat
You'll find plenty of food options in Athens! And eating out is quite affordable compared to other European cities. And because restaurants are a dime a dozen, it's hard to go wrong. Here is a list of traditional dishes you have to try:
Tzatziki dip – made of Greek yogurt and mixed with garlic, olive oil and fresh dill.
Moussaka – legendary vegetable lasagna
Frappé coffee – you'll see locals carrying their large clear plastic containers with this frothy and delicious drink all over the city and at all times.
Baklava – yummy dessert made with phyllo, pistachios and honey
Kolokithokeftedes or couragette balls – a veggie started made with feta cheese and fresh mint
Tomatokeftedes or tomato fritters/balls – another veggie started that is exactly what its name says
Fava dip – another vegetarian starter made with yellow split pea
Greek salad – sounds average but it surely is not, the fresh and supple tomatoes where my favorite part.
TIP: if you want an amazing dinner experience, not only with the gastronomy but with an incredible unobstructed Acropolis view, I recommend The Zillers Hotel Roof Garden. Its modern take on Greek cuisine blew our mind and our taste buds.
[/one_half][one_half_last]
Dónde comprar recuerdos
Mis lugares favoritos para comprar recuerdos fue la pintoresca zona de Plaka. Ahí encontraras restaurantes, cafeterías, heladerías, tiendas de ropa de lino, lo que sea. En pocos minutos a pie, tropezarán con el mercadillo de Monastiraki, que es otro lugar de visita obligada para comprar recuerdos, sandalias griegas hechas a mano y el icónico ojo azul.
Dinero
Las tarjetas de crédito son aceptadas en Atenas, preferiblemente Visa o MasterCard. Hay cajeros automáticos en toda la ciudad como en centros comerciales, aeropuertos y en la mayoría de los centros turísticos.
Promedio de lo que pueden costar las cosas:
• Taxi desde el aeropuerto hasta el centro de Atenas 35-50€
• Habitación doble, moderada 90-110€
• Habitación doble, económica 65-85€
• Cena de tres platos para uno (sin vino), moderada 12-20€
• Botella de cerveza 2.50-3.50€
• Taza de café 1.50-3.50€
• 1 litro de gasolina 1.75€
• Entrada a museos y sitios arqueológicos 2-12€

Que comer
¡Encontrará muchas opciones para comer en Atenas! Y comer en restaurantes es bastante asequible en comparación con otras ciudades europeas. Y como hay tantos, es difícil escoger uno que no termine agradándoles. Aquí tienen una lista de platos tradicionales que deben probar:
Salsa Tzatziki – hecho de yogur griego y mezclado con ajo, aceite de oliva y eneldo fresco.
Moussaka – legendaria lasaña de verduras
Café Frappé – verán a muchos griegos llevando sus grandes recipientes transparentes con esta bebida espumosa y deliciosa por toda la ciudad y en todo momento.
Baklava – delicioso postre hecho con filo, pistachos y miel.
Kolokithokeftedes o bolas de couragette – aperitivo de vegetal hecho con queso feta y menta fresca.
Tomatokeftedes o buñuelos/bolas de tomate – otro aperitivo vegetariano que es exactamente lo que dice su nombre.
Salsa Fava – otro plato vegetariano hecho con guisante (también conocido como chícharo).
Ensalada griega – suena corriente, pero les aseguro que no lo es; los tomates son mis favoritos porque son bien frescos y con mucho sabor.
SUGERENCIA: si desea una experiencia de cena inolvidable, no solo con la gastronomía pero también con una increíble vista de el Acrópolis, recomiendo Zillers Hotel Roof Garden. Su versión moderna de la cocina griega nos impresiono muchísimo y la verdad que la experiencia fue como ninguna otra.
[/one_half_last]
[one_half]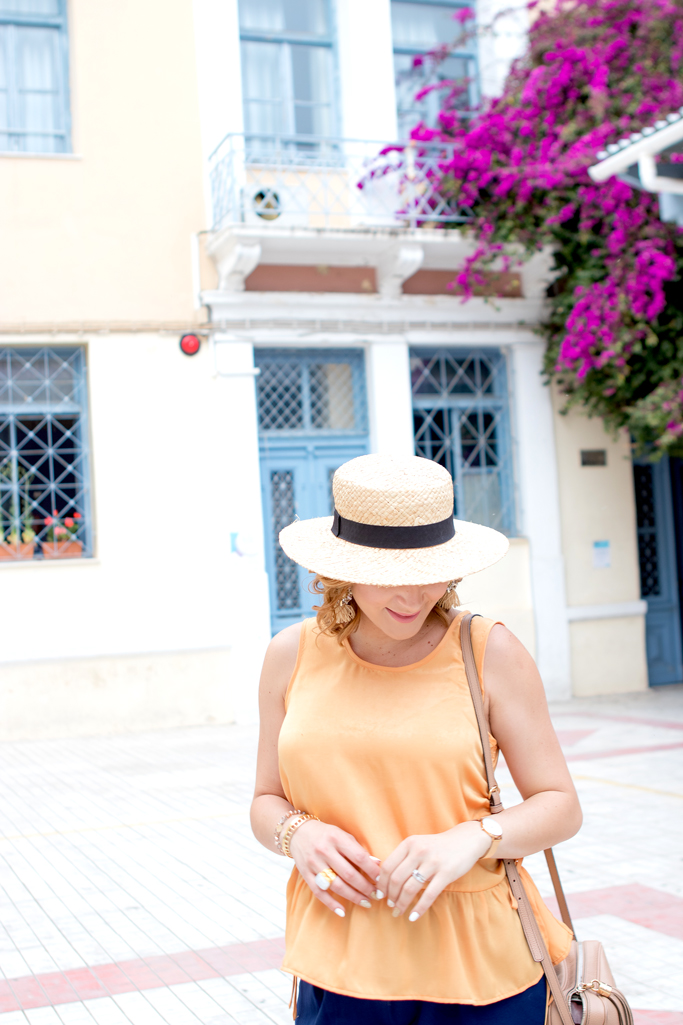 [/one_half][one_half_last]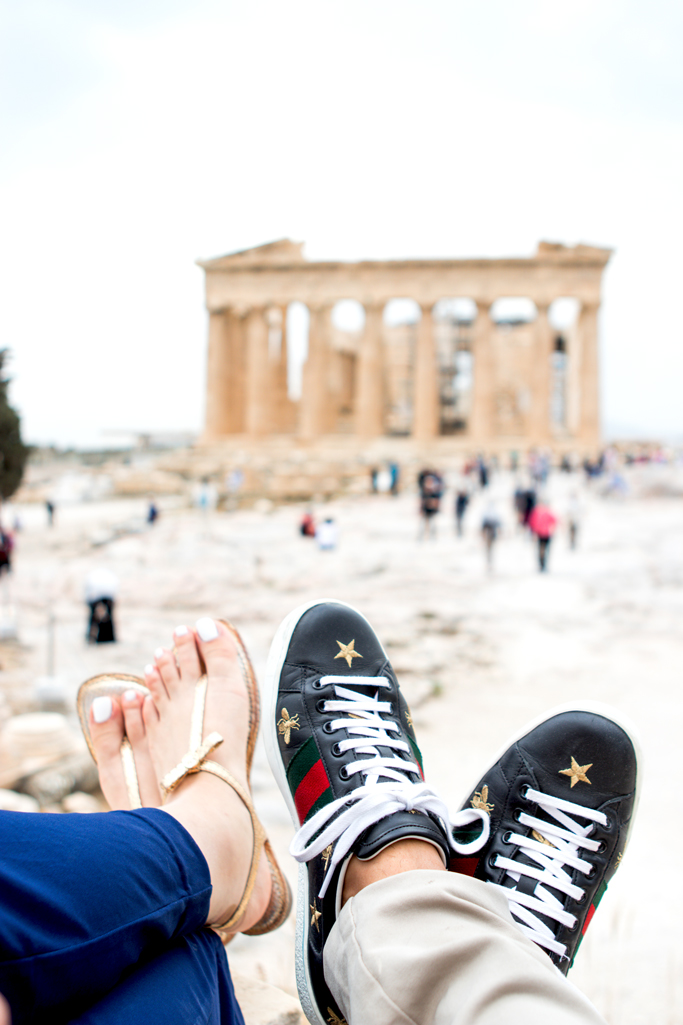 [/one_half_last]
[one_half]
Safety
Athens is a relative safe city but use standard caution as you would anywhere else. In high-touristic traffic areas, watch for pick pocketers.
What to sightsee
There are so many things to do in Athens, and because I don't want to bore you with all the sightseeing details, I will instead recommend an app that I ALWAYS use when abroad. Sygit Travel is one of the best travel guide apps I've used (and I have tried many). You can create daily itineraries from their endless list of sights, tours, hotels, restaurants and more. I love that you can download offline city maps, so you'll never get lost even without internet access.
If you want to know what we opted for from Sygit's suggestions, please see list below:
Acropolis – most notable sight in Athens where in its complex you can find the Parthenon, temple of Athena Nike and Erectheum temple.
Temple of Hephaestus – best preserved ancient Greek temples
Acropolis Museum – a beautiful modern structure that is devoted to the findings from the Acropolis archaeological site. It has an impressive view of the Acropolis on the third floor.
Arch of Hadrian – original commemorative monument erected in honor of the roman emperor Hadrian
Temple of Olympian Zeus – In the vicinity of the Arch of Hadrian, this temple used to be the greatest monuments of its age and largest in Greece
Syntagma Square – Square located in front of the Parliament building and worth visiting to experience the changing of the guard's ceremony by the Tomb of the Unknown Soldier. The official ceremony is every Sunday at 11 am, but you can still enjoy a changing of guards every hour.
Panathenaic Stadium – it hosted the first modern Olympic games in 1896
Prison of Socrates – archeologists have not confirmed the following, but it is believed that Socrates, great philosopher, was imprisoned here and later executed.
[/one_half][one_half_last]
Seguridad
Atenas es una ciudad relativamente segura, pero usen precaución común como lo harían en cualquier otra ciudad que visitan por primera vez. En áreas de alto tráfico turístico, estén atentos a los carteristas.
Qué hacer
Hay tantas cosas que hacer en Atenas, y como no quiero aburrirlos con todos los detalles de lo que hicimos, en su lugar, recomendaré una aplicación que SIEMPRE uso cuando visito una ciudad nueva. Sygit Travel es una de las mejores aplicaciones de guías de viaje que he usado (y he probado muchas). Pueden crear itinerarios diarios con su interminable lista de lugares de interés, excursiones, hoteles, restaurantes y más. Me encanta que pueden descargar mapas de la ciudad sin necesidad de conexión al internet, por lo que nunca se perderán.
Si de todas maneras desean saber los lugares qué visitamos gracias las sugerencias de Sygit, consulte la lista a continuación:
Acrópolis – la vista más conocida de Atenas, donde en su complejo se encuentran el Partenón, el templo de Atenea Nike y el templo Erectheum.
Templo de Hefesto – templo griego mejor conservado.
Museo de la Acrópolis – una hermosa estructura moderna que está dedicada a los hallazgos del sitio arqueológico de el Acrópolis. Tiene una vista impresionante de el Acrópolis en el tercer piso.
Arco de Adriano – monumento conmemorativo hecho en honor al emperador romano Adriano.
Templo de Zeus Olímpico– En las cercanías del Arco de Adriano, este templo solía ser el mayor monumento de su tiempo y el más grande de Grecia.
Plaza Syntagma – Plaza ubicada frente al edificio del Parlamento y que vale la pena visitar para ver el cambio de la ceremonia del guardia por la Tumba del Soldado Desconocido. La ceremonia oficial es todos los domingos a las 11 a.m., pero pueden disfrutar de un cambio de guardias cada hora.
Estadio Panathenaic – los primeros Juegos Olímpicos modernos en 1896 fueron inaugurados aquí.
Prisión de Sócrates – los arqueólogos no han confirmado lo siguiente, pero se cree que Sócrates, gran filósofo, fue encarcelado aquí y luego ejecutado.
[/one_half_last]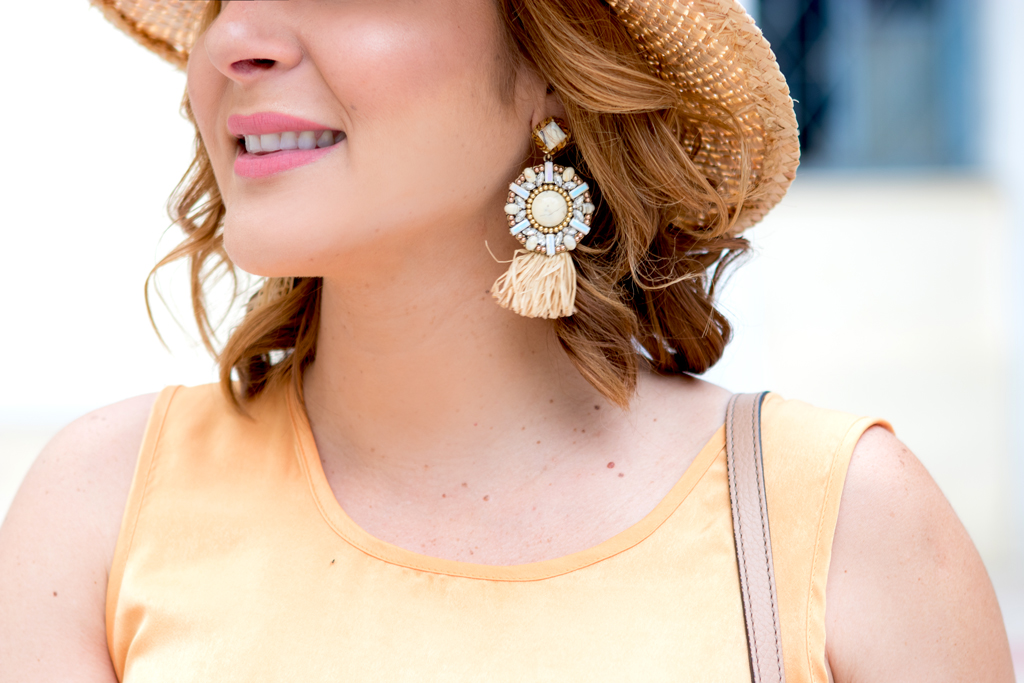 [one_half]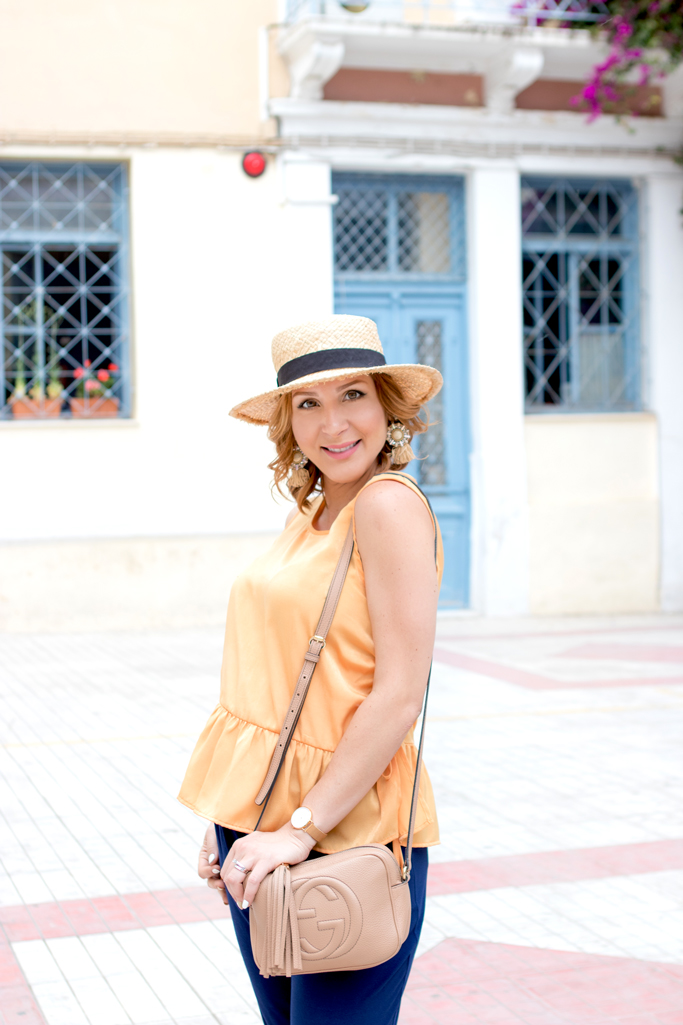 [/one_half][one_half_last]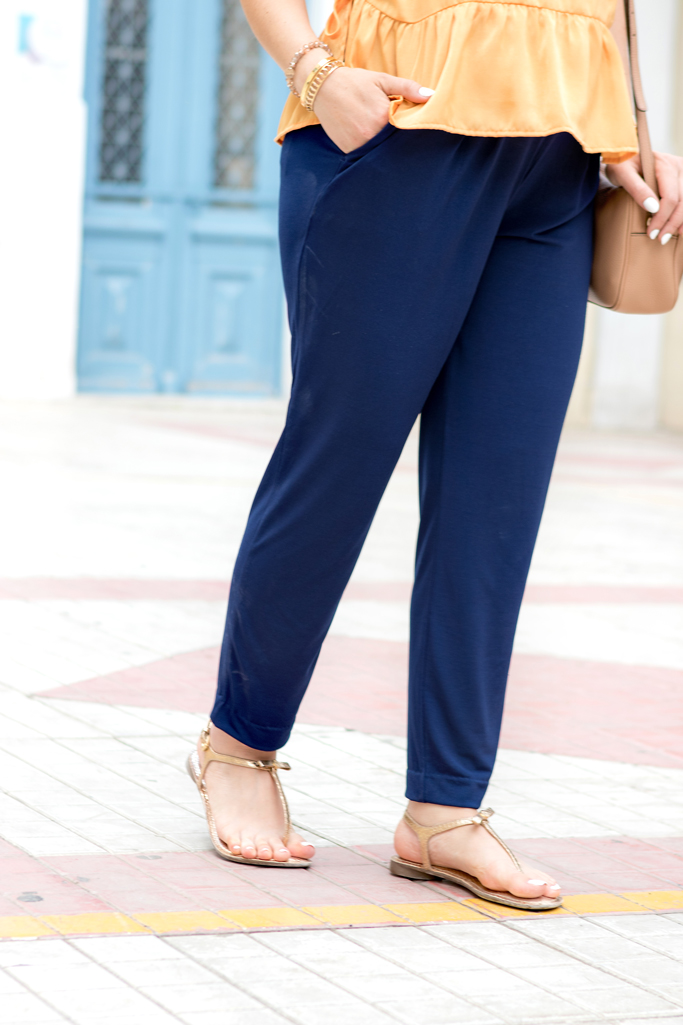 [/one_half_last]
[one_half]
Getting around
Taxis are very affordable, and most drivers speak basic English. Make sure the meter is running when you get on. The most we paid for a ride was 6€, so keep an eye out for drivers that want to share you a flat rate over 10€. Tips are not expected but if your driver has gone above and beyond a 10% tip would suffice. You can also use Uber, but we didn't because we didn't want to use our carrier's data plan.
TIP: Carry your hotel's business card in case your driver does not speak English.
Wi-Fi
There is free Wi-Fi almost everywhere. Most establishments, museums, archaeological sites and public spaces offer free Wi-Fi.
Language
We didn't have any problems with the language. Almost everyone spoke enough English to understand us, but if you feel more comfortable, learn a few phrases or download and app on your phone that can help you translate.
[/one_half][one_half_last]
Transportación
Los taxis son muy económicos, y la mayoría de los conductores hablan un inglés básico. Asegúrense de que el taxímetro esté funcionando. Lo máximo que pagamos por un viaje fue 6€, así que estén atentos a los taxistas que desean cobrarles una tarifa fija de más de 10€. Ellos no esperan propinas, pero si su conductor fue más allá de sus responsabilidades, una propina de 10% sería suficiente. También pueden usar Uber, pero no lo hicimos porque preferíamos no usar nuestro plan de data internacional.
SUGERENCIA: lleven consigo una tarjeta de su hotel en caso de que su conductor no hable inglés.
Wi-Fi
Hay Wi-Fi gratis en casi todos los lugares. La mayoría de los establecimientos, museos, sitios arqueológicos y espacios públicos ofrecen Wi-Fi gratuito.
Idioma
No tuvimos ningún problema con el idioma. Casi todos con quien conversamos, hablaban suficiente inglés para entendernos, pero si se sienten más cómodos, pueden aprender algunas frases o tener una aplicación en su teléfono que puedan ayudarlos a traducir.
[/one_half_last]
[one_half]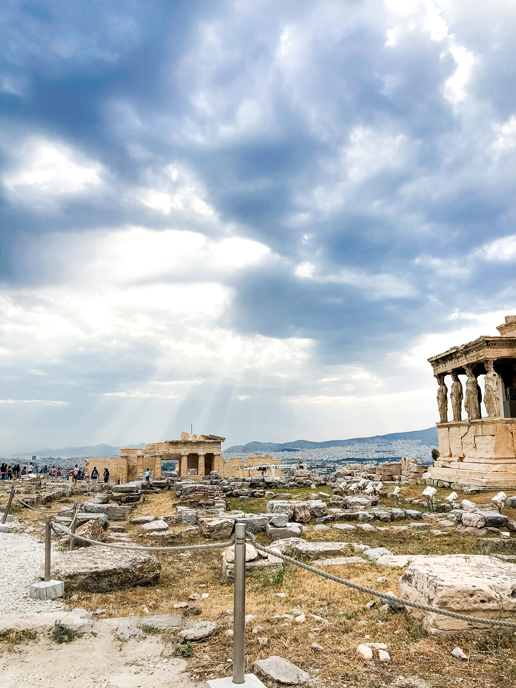 [/one_half][one_half_last]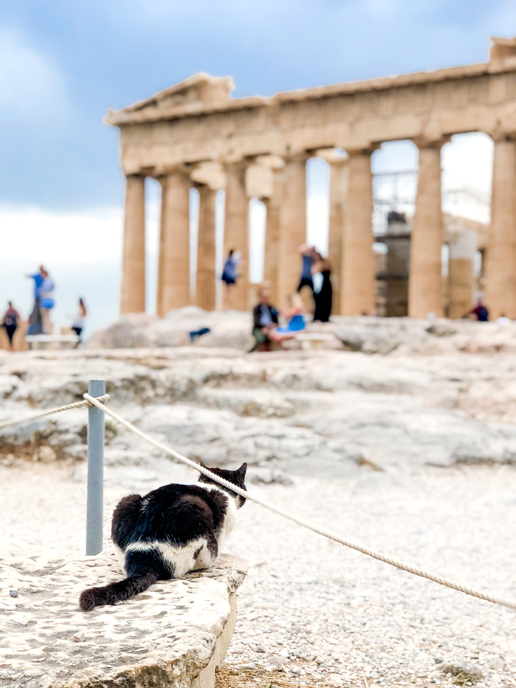 [/one_half_last]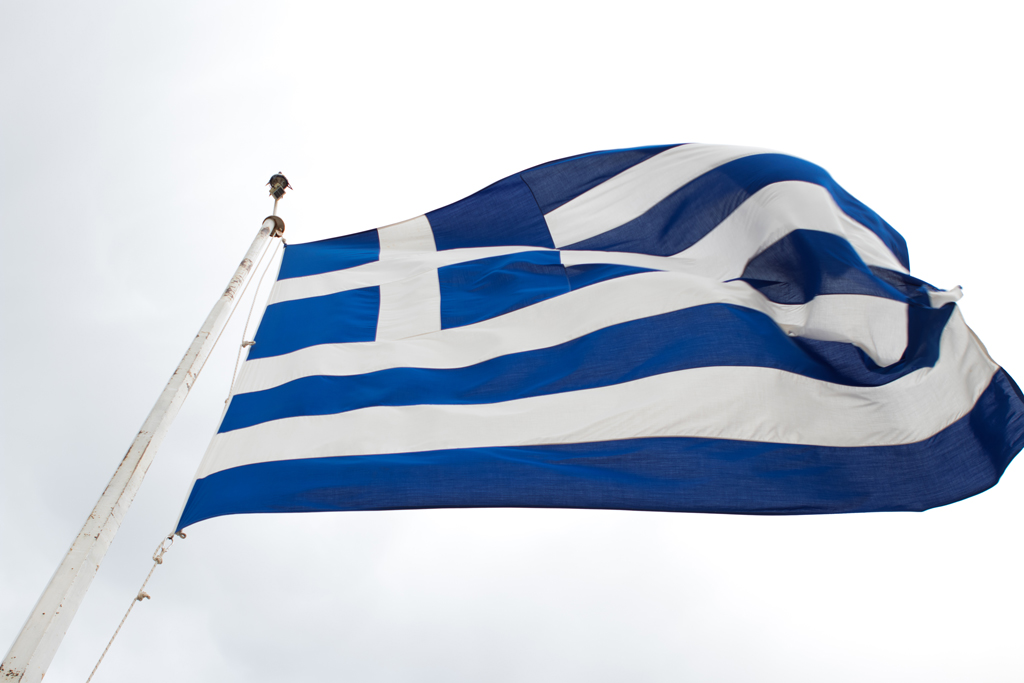 [one_half]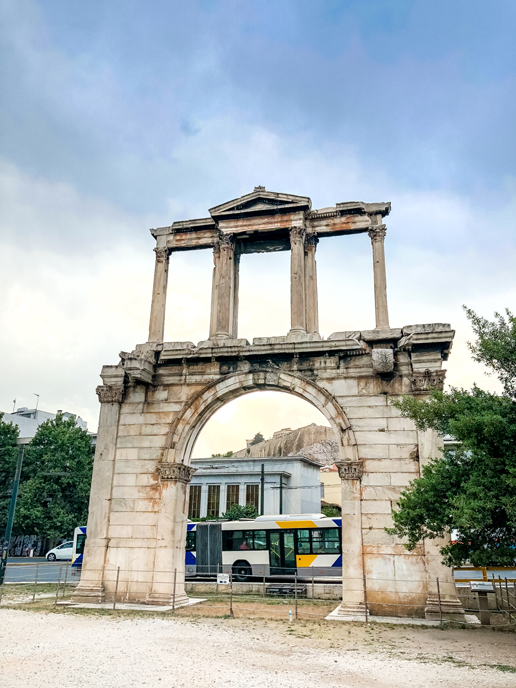 [/one_half][one_half_last]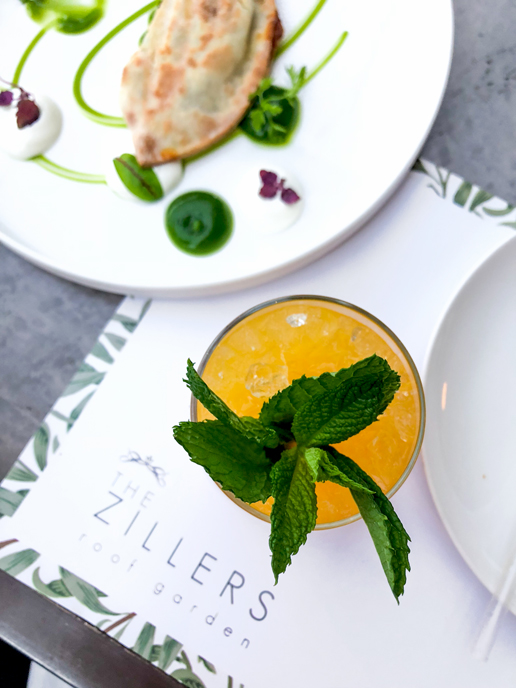 [/one_half_last]