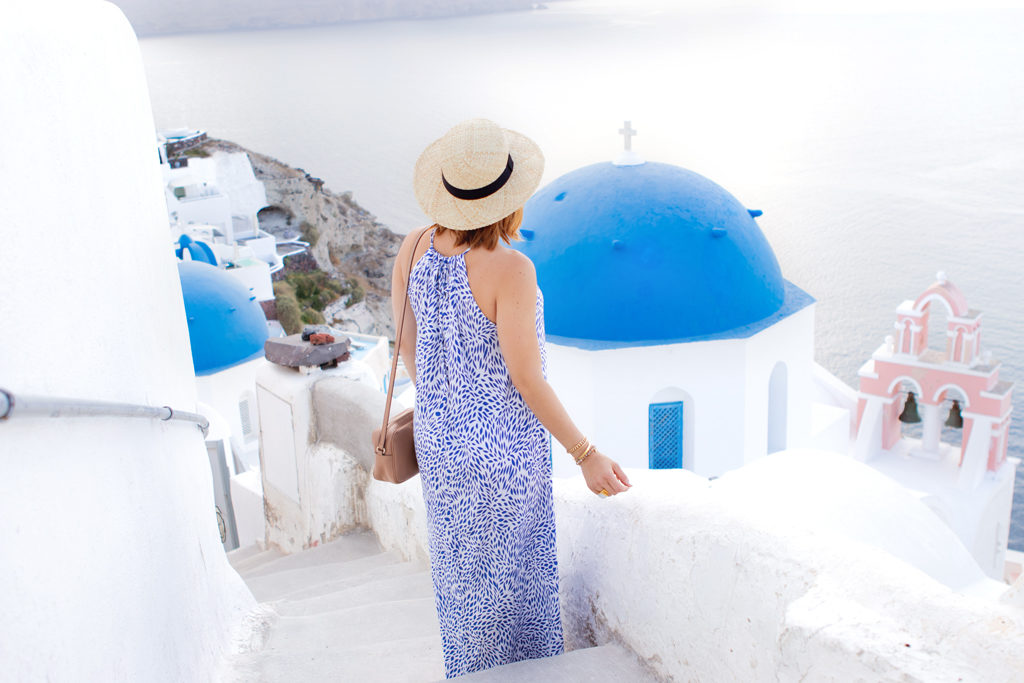 Thinking of visiting Santorini? This post is for you! I am sharing everything from when to go, what to do and where to stay. Halter maxi dress Miami Travel Blogger Miami Fashion Blogger


DRESS: Local boutique in Santorini (similar halter maxi dress) || BRACELETS: BaubleBar (part of this set) and Taudrey (part of this set) || EARRINGS: Baublebar (similar oversized flower earrings) || RING: Julio Vos (similar cocktail ring) || HANDBAG: GUCCI (similar) || SANDALS: Local boutique in Santorini (similar ruffle slide sandal) || SUNGLASSES: Henri Bendel || HAT: Nordstrom (similar boater hat) || WATCH: c/o Daniel Wellington || LIPSTICK: NYX – Paris
It's #TravelTuesday again loves, therefore I want to share the coveted travel guide to Santorini that you all have been asking for.
Let's get started.
¡Es nuevamente #Travel Tuesday (o #MartesViajero) mis amores, por lo tanto, quiero compartir la codiciada guía de turismo a Santorini que todos ustedes han estado pidiendo.
Empecemos.
When to go
We visited Santorini in early May and the weather was gorgeous; an average of 75-80°F during the day and a bit cooler, 60-65°F at night. Thus, because of our experience, I would recommend visiting during Spring (March and May) or Fall (September to November) when the temperatures are bearable. During the high season of late May through August; the beaches will be crowded, prices will be higher and restaurants will be saturated with tourists not only come flying in and through the ferries, but also from the cruises. If you want more details as far as temperatures, my go-to website for checking this is holiday-weather.com.
Cuando ir
Visitamos Santorini a principios de mayo y el clima era magnífico; un promedio de 75-80°F durante el día y 60-65°F en la noche. Por lo tanto, debido a nuestra experiencia, recomendaría visitar durante la primavera (entre marzo y mayo) o el otoño (entre septiembre a noviembre) cuando las temperaturas son tolerables. Durante la temporada alta de finales de mayo a agosto; los precios serán más altos, las playas y sitios estarán saturados de turistas que no solo llegarán por aire, pero por lo feries y cruceros también. Si desean más detalles sobre el clima, mi sitio web favorito para consultar esto es holiday-weather.com.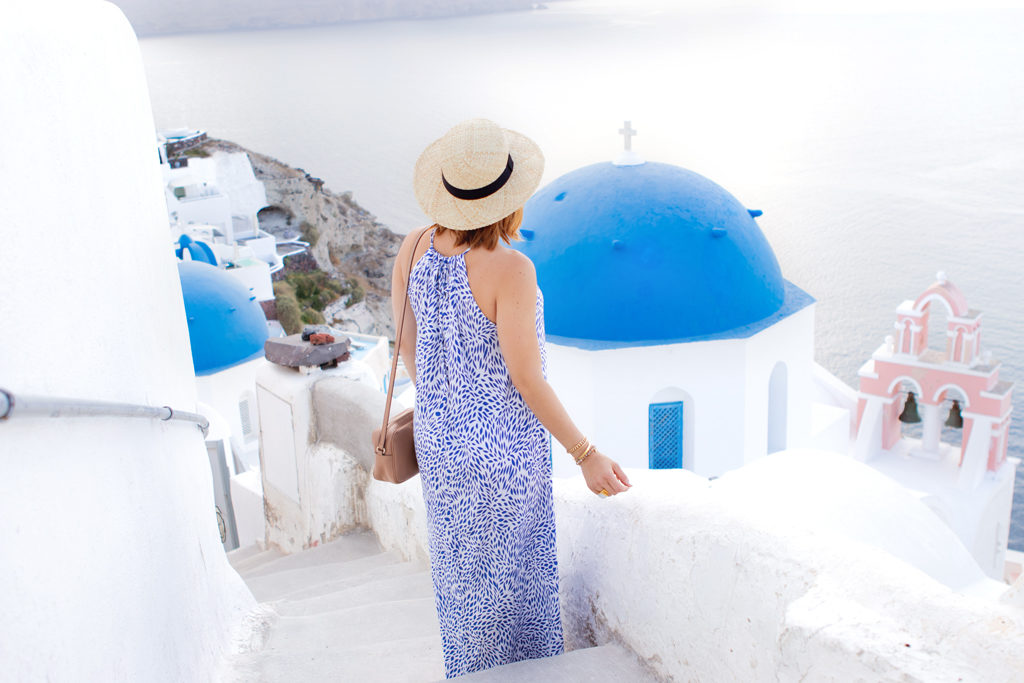 How many days do you need
We were in Santorini for 3 days (4 nights). If you are a laid-back type of tourist or are visiting just to enjoy a relaxing vacation at the many beaches, you can stay a couple of more days to enjoy Santorini at a more leisure pace. Santorini is an island with several cute towns, so it is definitely worth staying a few more days.
Cuántos días necesitan
Estuvimos en Santorini por 3 días (4 noches). Si están de visita solo para disfrutar de unas relajantes vacaciones en las diversas playas, pueden quedarse un par de días más para disfrutar a un ritmo más relajado. Santorini es una isla con varios pueblos, por lo que definitivamente vale la pena quedarse unos días más.
How to get there
You have two options. One is through high-speed ferry and the other is flying there. The ferry from Mykonos takes approximately 3:30-4 hours and costs 55€, and the one from Athens is about 5-6 hours and costs 75€. If you opt to fly directly from Athens, it takes about 45 minutes to 1 hour.
Cómo llegar
Tienes dos opciones. Una es a través de un ferry de alta velocidad y el otro es volar allí. El ferry de alta velocidad desde Mykonos tarda aproximadamente 3:30-4 horas y cuesta 55€, y el de desde Atenas es aproximadamente 5-6 horas y cuesta 75€. Si optan por volar directamente desde Atenas, tarda entre 45 minutos a 1 hora.
Where to stay
As I mentioned above, there are a few towns in Santorini. The ones that are located on the cliff are Fira (or Thira), Oia, Imerovigli and Firostefani. All of these have great views of the caldera, sunset and volcano. As far as hotels, almost all of the best ones are in these four towns. If you prefer to stay near the beaches, then you need to stay in the towns located along the eastern coast of the island.  But the caldera towns are trendier, restaurants better, clubs more sophisticated, and hotels more luxurious. The beach towns are more relaxed and less expensive though.
Donde hospedarse
Como mencioné anteriormente, hay varios pueblos en Santorini. Los que se encuentran al borde del acantilado son Fira (o Thira), Oia, Imerovigli y Firostefani. Todos estos tienen excelentes vistas de la caldera, la puesta de sol y el volcán. En cuanto a los hoteles, casi todos los mejores se encuentran en estas cuatro ciudades. Si prefiere quedarse cerca de las playas, deberían hospedarse en las ciudades ubicadas a lo largo de la costa este de la isla. Pero los pueblos de la caldera son más modernos, los restaurantes mejores, los clubes más sofisticados y los hoteles más lujosos. Los pueblos de playa son más relajados y menos costosos.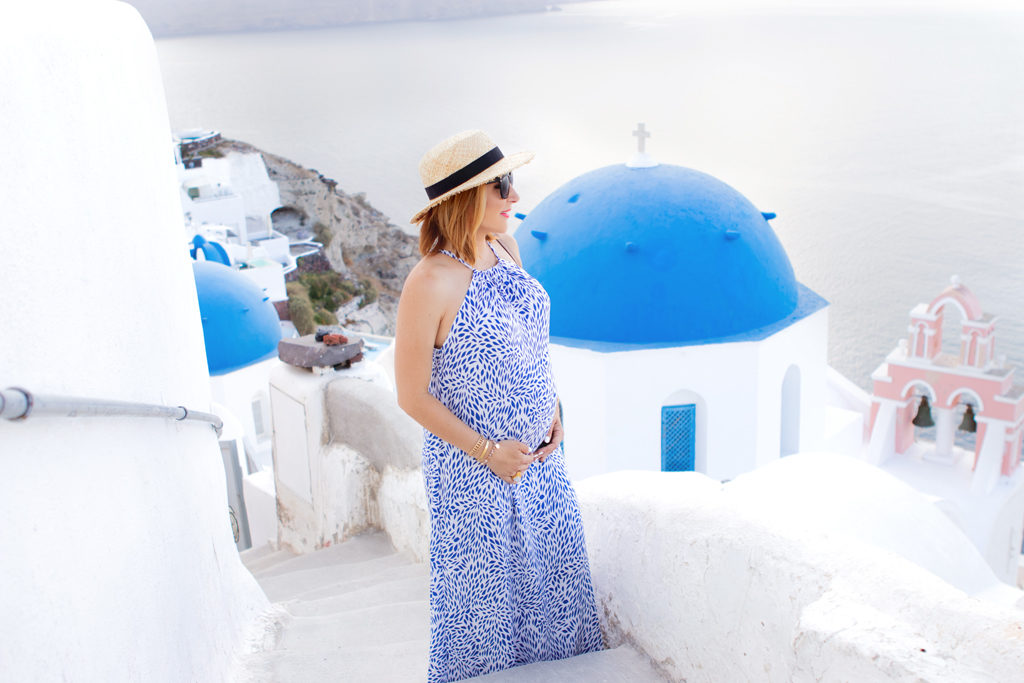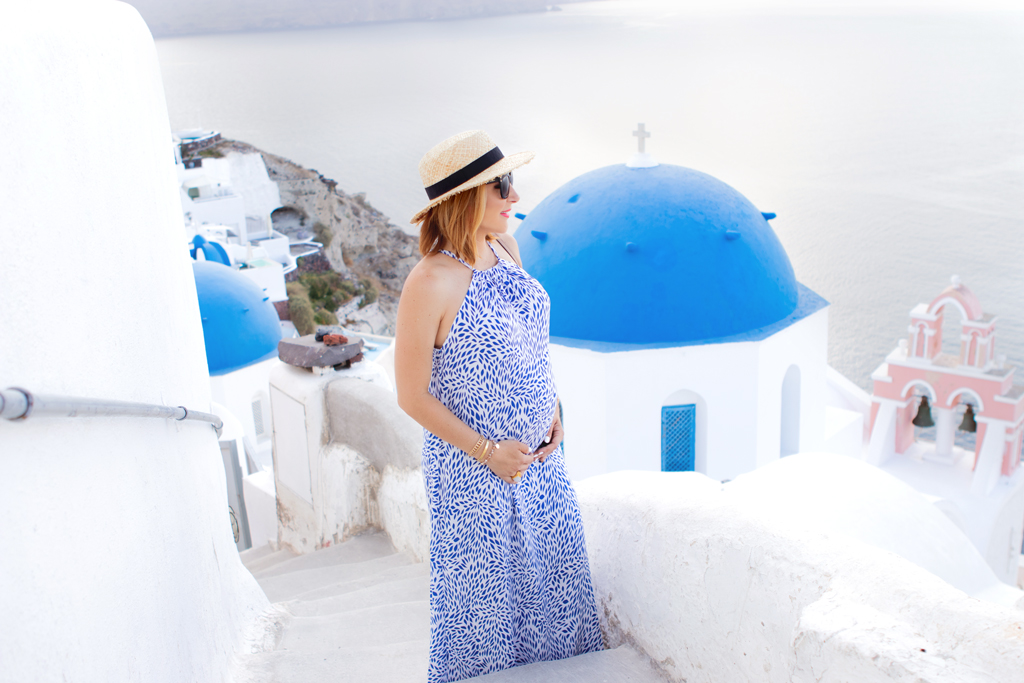 Money
Credit cards are well accepted in Santorini, preferably Visa or MasterCard. There are a few ATMs around the towns.
Dinero
Las tarjetas de crédito son aceptadas en Santorini sin ningún problema, preferiblemente Visa o MasterCard. También hay algunos cajeros automáticos alrededor de las partes céntricas de los pueblos.
Where to eat
You'll find plenty of food options with and without incredible Caldera views! Just keep in mind that if you choose the latter, it will be a bit more pricey. In my opinion it is worth it though, especially for that Oia sunset. The food is outstanding and very fresh no matter where you end up eating. Traditional dishes you have to try:
Tzatziki dip – made of Greek yogurt and mixed with garlic, olive oil and fresh dill.
Moussaka – legendary vegetable lasagna
Frappé coffee – you'll see locals carrying their large clear plastic containers with this frothy and delicious drink all over the city and at all times.
Baklava – yummy dessert made with phyllo, pistachios and honey
Kolokithokeftedes or couragette balls – a veggie starter made with feta cheese and fresh mint
Tomatokeftedes or tomato fritters/balls – another veggie started that is exactly what its name says
Fava dip – another vegetarian starter made with yellow split pea
Greek salad – sounds average but it surely is not, the fresh and supple tomatoes where my favorite part.
Que comer
¡Encontraran muchas opciones de comida con y sin increíbles vistas de la caldera! Solo tenga en cuenta que si eligen uno con vista, será un poco más caro. En mi opinión, vale la pena, especialmente por esa puesta de sol de Oia. La comida es excelente y fresca sin importar dónde elijan comer. Platos tradicionales que deben probar:
Salsa Tzatziki: hecho de yogur griego y mezclado con ajo, aceite de oliva y eneldo fresco.
Moussaka – legendaria lasaña de verduras
Café Frappé: verán a muchos griegos llevando sus grandes recipientes transparentes con esta bebida espumosa y deliciosa por toda la ciudad y en todo momento.
Baklava: delicioso postre hecho con filo, pistachos y miel.
Kolokithokeftedes o bolas de couragette: aperitivo de vegetal hecho con queso feta y menta fresca.
Tomatokeftedes o buñuelos/bolas de tomate – otro aperitivo vegetariano que es exactamente lo que dice su nombre.
Salsa Fava: otro plato vegetariano hecho con guisante (también conocido como chícharo).
Ensalada griega: suena corriente, pero les aseguro que no lo es; los tomates son mis favoritos porque son bien frescos y con mucho sabor.
Safety
Santorini is a very safe island but use standard precaution as you would anywhere else.
Seguridad
Santorini es una isla muy segura, pero usen precaución común como lo harían en cualquier otra ciudad que visitan por primera vez.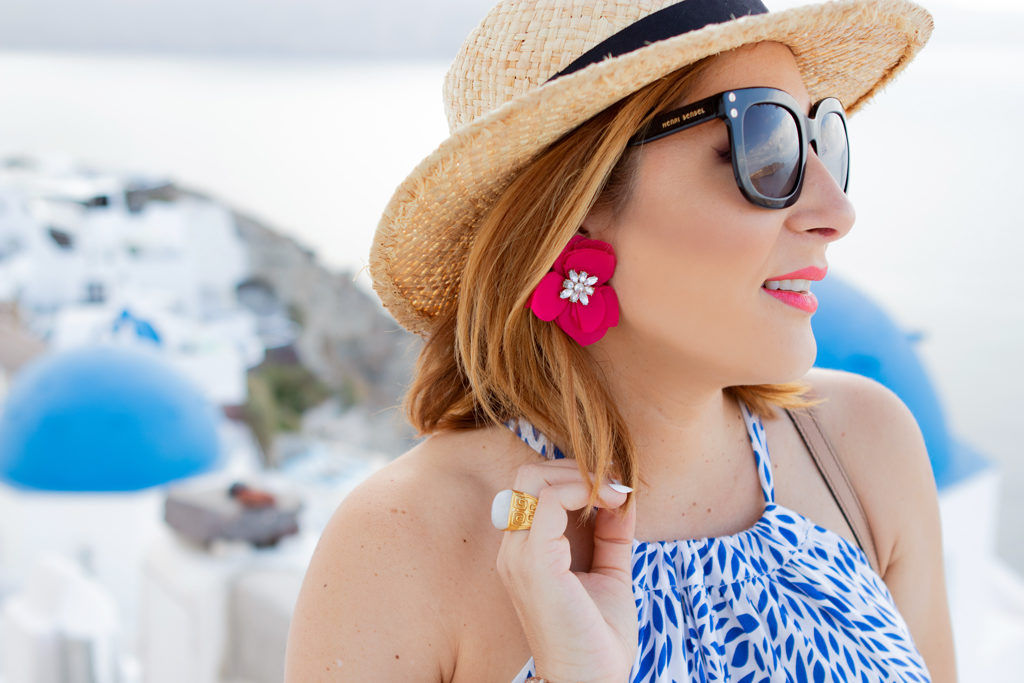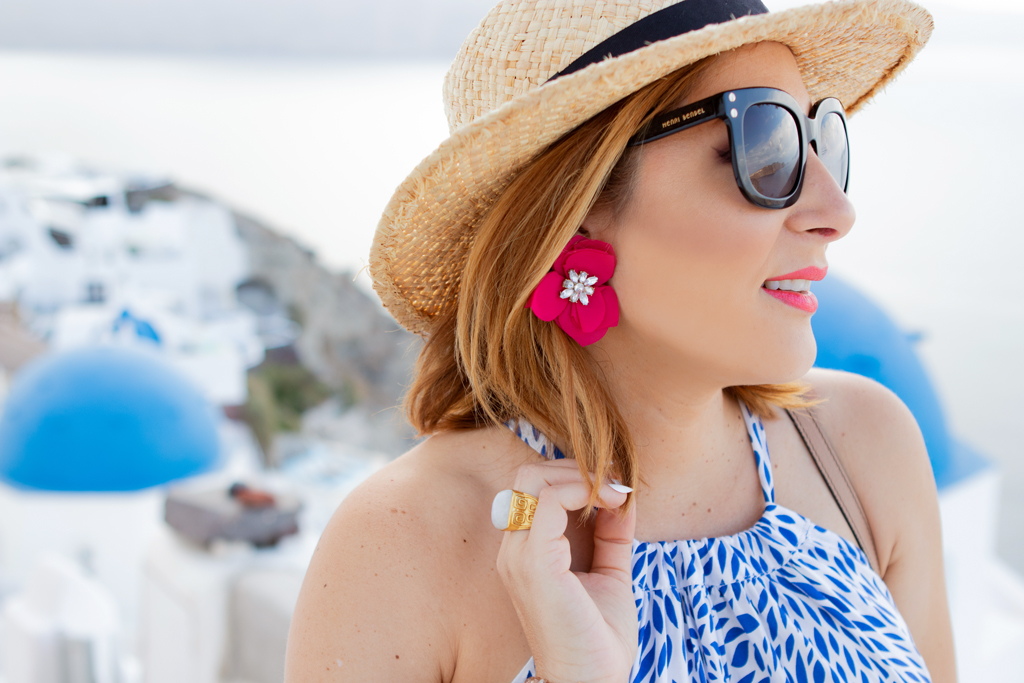 What to do
The best things to do while in Santorini are:
Hike the incredible caldera foot path or opt for a donkey ride instead
Tour their one-of-a-kind wineries – Santorini cultivates its grape unlike any other –low to the ground– take a peek here.
Boat tour of the caldera – usually includes a volcano hike, hot spring swimming and seeing the sunset.
Take the cable car from the Old Port to Fira
Helicopter tour
Photography tour
Cooking class
Watch the sunset in Oia – this experience is phenomenal, but I suggest to enjoy it from one of the restaurants terraces [book in advance though] otherwise you'll have to arrive at your desired spot at least 30 minutes before sunset and don't move, it will be very crowded!
Ancient Akrotiri – village left behind after a devastating volcanic eruption. The site is very well taken care of; it is covered and air-conditioned. I recommend hiring a guide that will show and explain to you the site, history and culture at that time.
Food Tour
Visit a wine bar or dance club.
PS: If you want more info as to what to do and where to go, check out my favorite app Sygit Travel. It is free and one of the best travel guide apps I've used (and I have tried many). You can create daily itineraries from their endless list of sights, tours, hotels, restaurants and more. I love that you can also download offline city maps, so you'll never get lost even without internet access.
Qué hacer
Las mejores cosas para hacer en Santorini son:
Caminar por el increíble sendero de la caldera o optar por un paseo en burro
Recorrer sus vineras cuales son únicas en su tipo – Santorini cultiva su uva como ningún otro lugar del mundo, bajo la tierra, echen un vistazo aquí.
Paseo en bote por la caldera – generalmente incluye una caminata por el volcán, bañarse en aguas termales y ver el atardecer.
Tome el teleférico desde el Puerto Viejo hasta Fira
Tour en helicóptero
Visita de fotografía
Clase de cocina
Ver la puesta de sol en Oia – esta experiencia es fenomenal, pero sugiero disfrutarla desde una de las terrazas de los restaurantes [reserve con anticipación], de lo contrario, tendrán que llegar al lugar deseado al menos 30 minutos antes del atardecer y no moverse, ¡estará muy lleno de personas!
Ciudad antigua Akrotiri – pueblo dejado atrás después de una devastadora erupción volcánica. El sitio está muy bien cuidado; está cubierto y con aire acondicionado. Recomiendo contratar una guía que les muestre y explique el sitio, la historia y la cultura de ese momento.
Tour de comida
Visite un bar de vinos o un nightclub
Nota: Si desean obtener más información sobre qué hacer y dónde ir, consulte mi aplicación favorita Sygit Travel. Es una de las mejores aplicaciones gratuitas de guías de turismo que he usado (y he probado muchas). Pueden crear itinerarios diarios de su interminable lista de lugares de interés, tours, hoteles, restaurantes y más. Me encanta que pueden bajar mapas de la ciudad para cuando no tengan conexión al internet.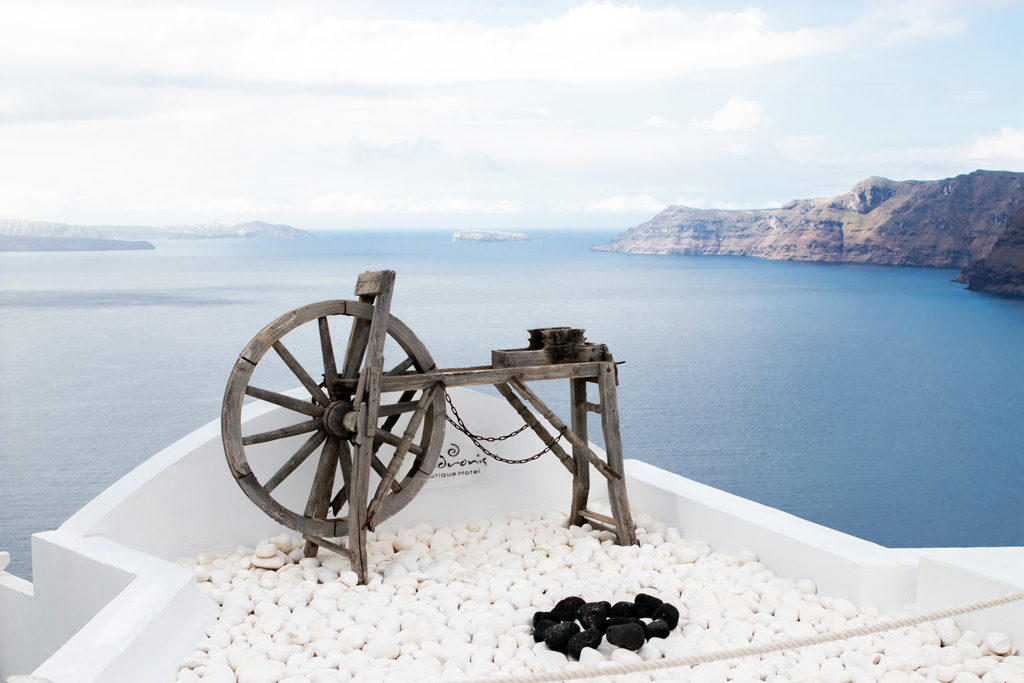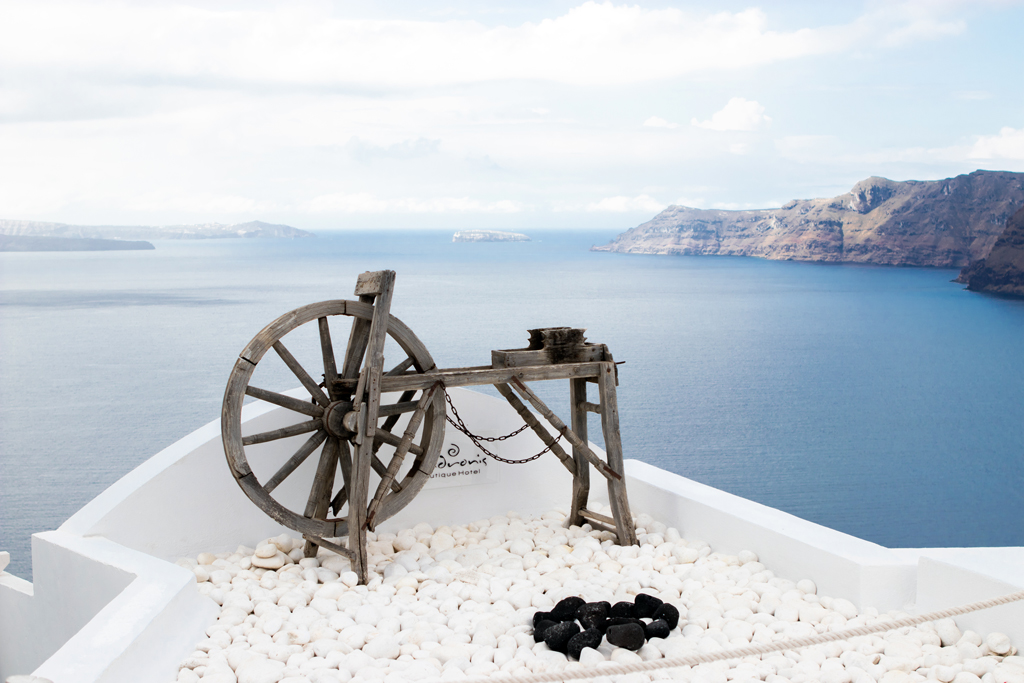 Getting around
Santorini is a relatively small island. Getting around from one town [or beach] to the next is quick and easy. Therefore, don't feel limited by town you pick to stay on. The farthest you'll travel by bus or taxi is 30 minutes from Fira to the beaches and 20 minutes from Oia. The public buses [which is what we used most of the time to get from town to town] have a very good website with its schedules and prices (around 1.80€). You purchase your ticket on the bus and I recommend you check the schedule and pickup locations in advance.
Transportación
Santorini es una isla relativamente pequeña. Moverse de una ciudad [o playa] a la siguiente es rápido y fácil. Por lo tanto, no se sientan limitados por la ciudad que eligen al hospedarse. Lo más lejos que viajarán en autobús o taxi es 30 minutos de Fira a las playas y 20 minutos de Oia. Los autobuses públicos [que es lo que usamos la mayor parte del tiempo para ir de pueblo en pueblo] tienen un sitio web muy bueno con sus horarios y precios (alrededor de 1.80€). Se compran los boletos en el autobús y les recomiendo que verifiquen el horario y los lugares de encuentro con anticipación.
Wi-Fi/Internet
There is free Wi-Fi in a lot of places. Most establishments (especially restaurants) and public spaces offer free Wi-Fi.
Wi-Fi
Hay conexión Wi-Fi gratuita en muchos lugares. La mayoría de los establecimientos (especialmente los restaurantes) y los espacios públicos ofrecen conexión Wi-Fi gratuita.
Language
We didn't have any problems with the language. Everyone speaks English, but it is nice to learn the basics like thank you and hello (see phrases below). Greeks will defiantly appreciate it.
Hello / Good bye: YAH-soo
Good morning: kah-lee-MER-ah
Thank you: eff-kha-ri-STOE
Please / You're welcome: para-kah-LOE
Idioma
No tuvimos ningún problema con el idioma. Todos hablaban inglés, pero es bueno aprender algunas frases básicas como gracias y hola (ver frases a continuación). Los griegos definitivamente lo apreciarán.
Hola/Adiós: ya-su
Buenos días: ka-li-me-ra
Gracias: ef-ja-ris-to
Por favor/De nada: para-ka-loe
Check out this map for all the places mentioned ↓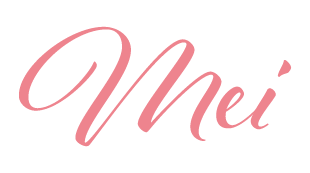 ---
PIN FOR LATER