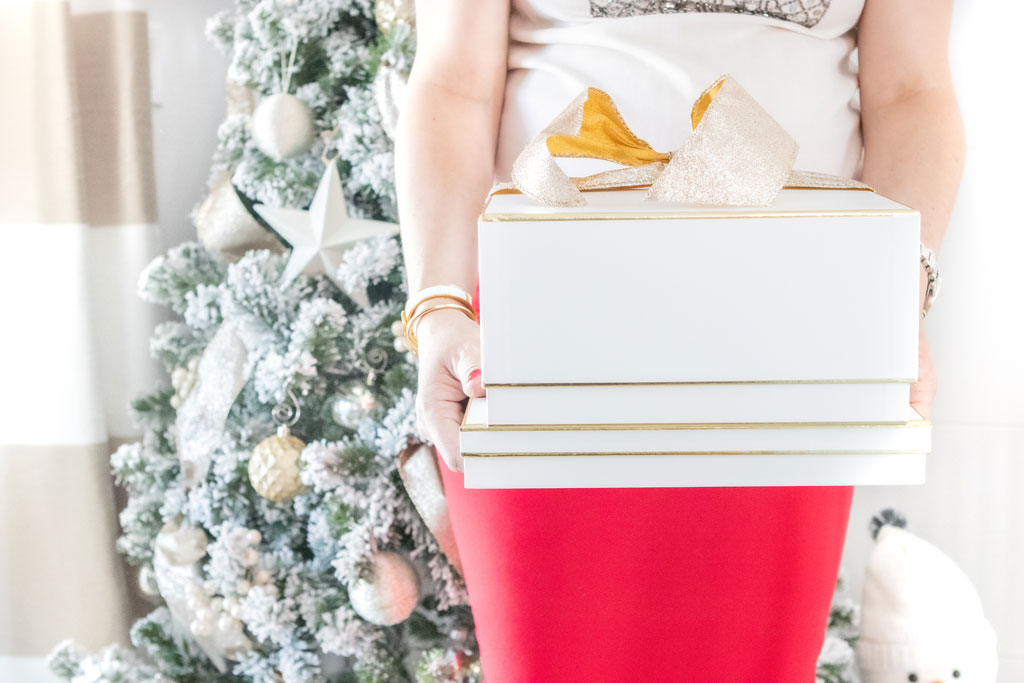 Holiday Gift Guide: For The Accessory Queen. Here are my top products for that someone in your list who loves to accessorize their outfits.
[one_half]
Hi loves!
We all have that someone in our lives that loves to accessorize their look with either a chic hat, trendy earrings or those one-of-a-kind sunglasses. So for my second gift guide I am sharing a few personal favorites that will surely satisfy any accessory queen's desires.
Need gift ideas for the beauty guru? Check out this post.
Don't forget to come back often as I will be sharing more guides in the weeks to come. To make it easy for you to find all these guides, I created a dedicated page on the main menu titled ? Holiday.
Let's get started…
[/one_half][one_half_last]
Hola amores,
Todos tenemos a esa persona en nuestras vidas a la que le encanta personalizar su look con un sombrero elegante, aretes de moda o esas gafas de sol únicas. Entonces, para mi segunda guía de regalos, comparto algunos favoritos personales que seguramente satisfarán los deseos de cualquier reina de accesorios.
¿Necesita ideas de regalos para aquellas obsesionadas con productos de belleza? Echen un vistazo a este post.
No olviden regresar con frecuencia, ya que compartiré más guías en las próximas semanas. Para facilitarle la búsqueda de todas estas guías, dedique una página en el menú principal titulada ? Holiday.
Empecemos…
[/one_half_last]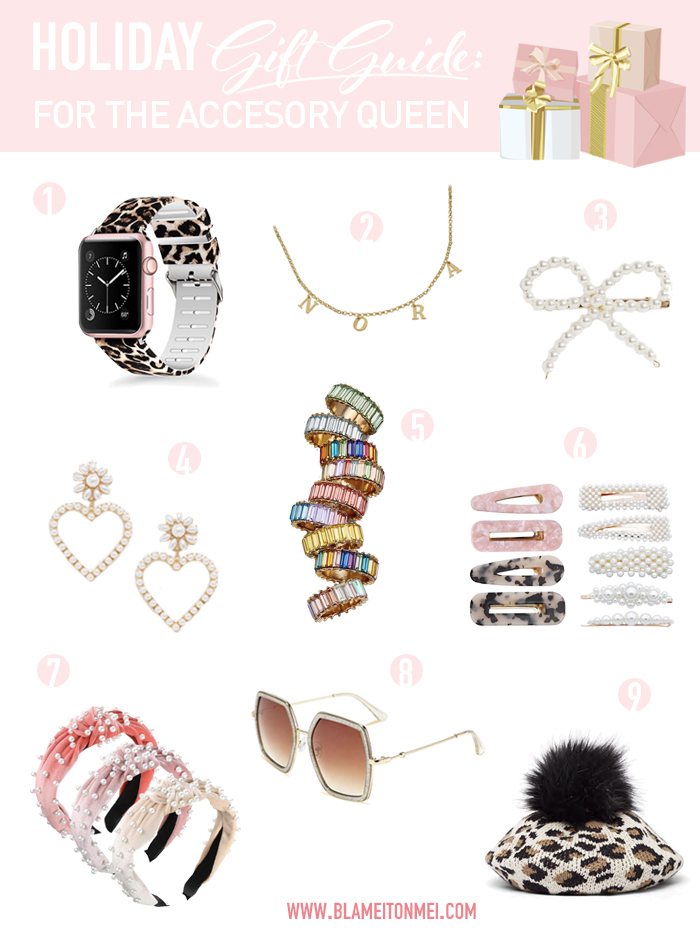 [one_half]
1. LEOPARD PRINT APPLE WATCH BAND | Accessory fashionistas dress up their wrists too! That's why I included this band from Amazon…. Yep Amazon, with more than 1,000 reviews and less than $11. Leopard print, in my book, is a timeless classic and one that can be styled many ways (check out this recent blog post where I share several looks with animal print). But if leopard print is not your (or your gift recipient) cup of tea, this band is available in several other patterns.
2. PERSONALIZED NAME NECKLACE | Need your gift to be personalized for that extra touch? Well this online shop has great quality jewelry pieces that will wow you. And you won't have to wait months to receive it. I came upon it when looking for a gold necklace that I could layer with another that I already own. This is the set I feel in love with. Don't need it personalized? No problem; you can still find the ideal jewelry piece for your bestie, co-worker or simply yourself.
PS: Did you check out my previous post? I shared some style solutions where I included this item that saves you the headache of the multiple tangling necklaces chronicles.
3. PEARL BOW HAIR CLIP | Another pearl piece that is sure to impress. This adorable hair clip will be a gift-giving success!
4. FAUX PEARL HEART EARRINGS | Pearls are one of the season's undeniable accessory, and that's no surprise! Pearls are timeless, classic and go with everything. And when you add it to heart shape anything, well, it's a hit among the accessory queen community. Below are a few options I found, because I couldn't pick just one.

5. BAGUETTE RING | This ring will complete anyone's look by adding the perfect touch of chicness. It's available in several shades and a multi -color option as well. It happens to be one of Baublebar's best-selling accessory (sold out in 3 days after it was first launched)
6. ASSORTED HAIR CLIPS | Here is another hair accessory that will cause endless good hair days. This set contains 15 hair barrettes, from a few with faux pearls to blush and tortoise acrylic resin. You really can't beat the $7 price tag.
7. FAUX PEARL HEADBANDS | Can you see the trend? Yep! It's pearls and leopard J Headbands have been the rave as of late and for this season, the pearl touch adds that extra holiday oomph for the holiday. I've worn all three from this Amazon set and they are really great quality for the $12 price tag. There are several color choices so take your favorite pick!
8. OVERSIZE CHAMPAGNE-COLOR SUNGLASSES | Affordable, great quality and a personal Amazon favorite (I happen to have two of them). There are other colors available and since they are under $15, you can binge and get yourself a pair as well.
9. LEOPARD PRINT BERET | #SorryNotSorry for yet another animal print. But chances are, your gift recipient loves animal print as the next trendy fashionista out there. And because I couldn't pick just one, below you can find a few options, all under $30.

[/one_half][one_half_last]
1. BANDA DE APPLE WATCH DE ESTAMPADO DE LEOPARDO | ¡Las fachionistas también necesitan adornar sus relojes! Por eso incluí esta banda de Amazon … Sí, Amazon, con más de 1,000 comentarios y menos de $11, esta banda es un éxito total. El estampado de leopardo, en mi libro, es clásico, atemporal y se puede combinar de muchas maneras (echen un vistazo a este reciente post donde comparto varios looks con estampado animal). Pero si el estampado de leopardo no es su preferencia (o la del destinatario del regalo), esta banda está disponible en varios otros estampados.
2. COLLAR PERSONALIZADO | ¿Necesitan que su regalo sea personalizado para añadir ese toque extra? Bueno, esta marca tiene piezas de joyería de gran calidad que te sorprenderán. Y no tendrán que esperar meses para recibir su compra (como en otros lugares cuando decides personalizar alguna prenda). Encontré esta marca cuando buscaba un collar de oro que pudiera combinar con otro que ya poseía. Este es el set del que me enamoró. ¿No lo necesitan personalizado? No hay problema; aún pueden encontrar la pieza de joyería ideal para tu mejor amiga, compañera de trabajo o simplemente para ti.
PD: ¿Revisaste mi post anterior? Compartí algunas soluciones de estilo donde incluí este producto que les ahorra el dolor de cabeza de tener los collares enredados al usar varios.
3. CLIP DE PERLA PARA EL CABELLO | Otra pieza de perla que seguramente impresionará. ¡Esta adorable pinza para el cabello será un éxito para regalar!
4. PENDIENTES DE CORAZÓN DE PERLA | Las perlas son uno de los accesorios innegables de la temporada, ¡y eso no es una sorpresa! Las perlas son atemporales, clásicas y van con todo. Y cuando lo agregas a cualquier cosa en forma de corazón, bueno, es un éxito entre la comunidad de las reina de accesorios. A continuación, hay algunas opciones que encontré, porque no pude elegir solo una.

5. ANILLO DE BAGUETTE | Este anillo completará el look de cualquier persona al agregar el toque perfecto de elegancia. Está disponible en varios tonos y también en una opción de varios colores. Es uno de los accesorios más vendidos de Baublebar (se agotó en 3 días después de su lanzamiento)
6. CLIPS DE CABELLO VARIADOS | Aquí hay otro accesorio para el cabello que causará días interminables y buenos. Este conjunto contiene 15 pasadores para el cabello, desde unos pocos con perlas de imitación hasta resina acrílica para rubor y tortuga. Realmente no puedes superar el precio de $ 7.
7. DIADEMAS CON PERLAS | ¿Pueden ver la tendencia? ¡Sí! Las perlas y el estampado de leopardo han sido muy favorables en los últimos tiempos y para esta temporada, el toque de perlas agrega ese toque adicional en las navidades. He usado los tres de este conjunto de Amazon y son de muy buena calidad por el precio de $12. ¡Hay varias opciones en respecto a los colores disponibles, así que elige tu opción favorita!
8. LENTES DE SOL GRANDES COLOR CHAMPAN | Asequibles, de gran calidad y unos de mis productos favoritos de Amazon (tengo dos de ellos). Hay otros colores disponibles y, dado que cuestan menos de $15, también puedes darte un gusto y comprar un par para ti.
9. BERET DE ESTAMPADO DE LEOPARDO | ¡Sí! Otra opción de estampado de leopardo porque es probable que a su recibidor le guste el estampado de animal como a la próxima fashionista de moda. Y debido a que no podía elegir solo uno, a continuación pueden encontrar algunas opciones, todas por menos de $30.

[/one_half_last]