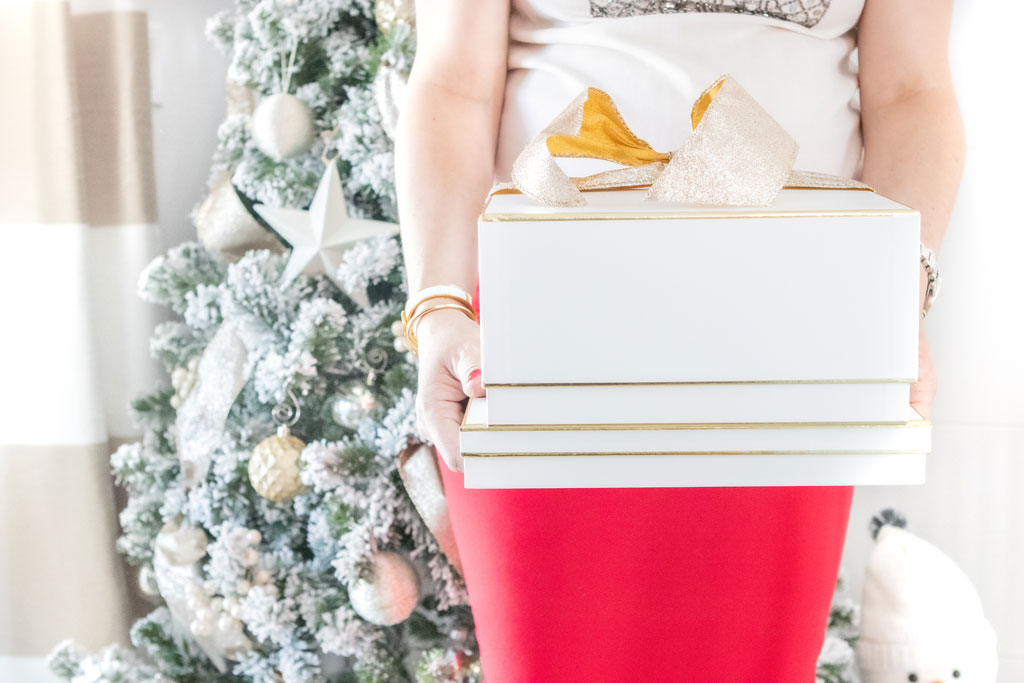 Hi loves!
This is the first time I am doing a whole series on holiday shopping, why? Because I polled you all via my Instagram Stories a few weeks ago and there was an overwhelming response that you need help shopping for that special someone.
My first gift guide is for those ladies in your life that are beauty-obsessed! I've personally tried all these products and that's the only reason why I recommend them 100%.
And don't forget to come back often as I will be sharing more guides in the weeks to come. To make it easy for you to find all these guides, I created a dedicated page on the main menu titled🎁 Holiday.
¡Hola amores!
Esta es la primera vez que hago una serie completa de compras navideñas, ¿por qué? Porque hice una encuesta a través de mis historias de Instagram hace unas semanas y todas necesitan ayuda cuando se trata de comprar el regalo perfecto para esa persona especial.
¡Mi primera guía de regalos es para aquellas damas de tu vida obsesionadas con la belleza! He probado personalmente todos estos productos y esa es la única razón por la que los recomiendo al 100%.
No olviden pasar por aquí con frecuencia, ya que compartiré más guías en las próximas semanas. Para facilitarle la búsqueda de todas estas guías, dedique una página en el menú principal titulada🎁 Holiday.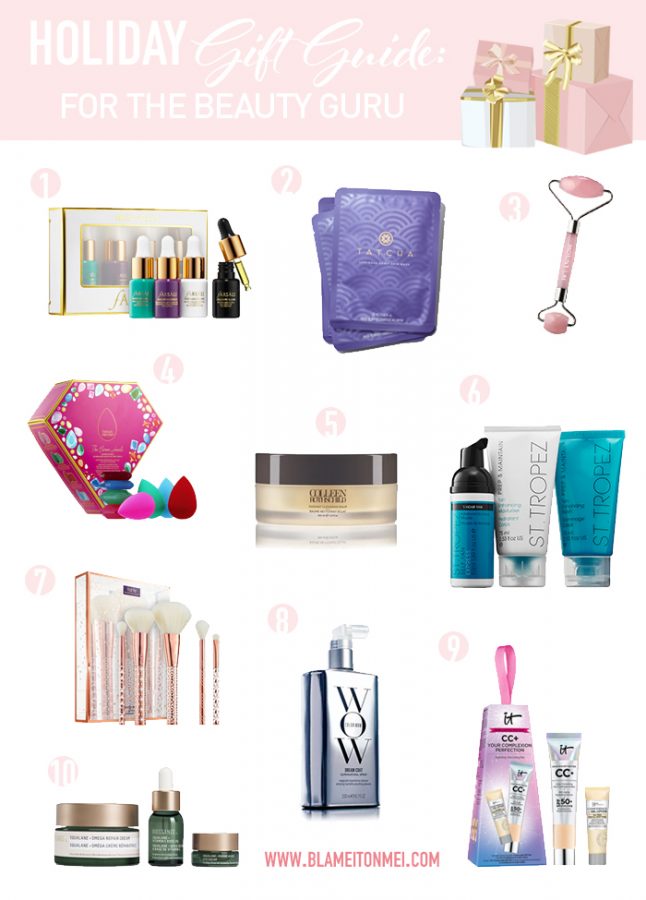 1. FARSÁLI SKIN GOALS SET | FARSÁLI is a hybrid beauty brand that bridges the gap between makeup and skincare, and it is NOT hype ladies! It really works ?. This set contains four FARSÁLI faves to smooth, prime, hydrate, and soothe—each can be used alone, layered, or with makeup. I've only had the chance to use the Unicorn Essence (which it's their primer and part of this set) and I can't wait to try the rest, hint hint Santa.
2. TATCHA LUMINOUS DEWY SKIN SHEET MASK | With just one use, you will feel your skin hydrated! This silky soft, skin-fitting sheet mask delivers ultra-hydrating botanical oils and extracts for a dewy glow.
3. MOUNT LAI DE-PUFFING ROSE QUARTZ FACIAL ROLLER | I've had this roller for more than year, and it is my goal to use it more often because I can't recommend it enough. A facial roller promotes drainage from the face and reduces facial tension. In the mornings (when I feel like I need it) I use it to de-puff my undereye area and it really works. For an extra boost, leave it in your refrigerator overnight!
4. BEAUTYBLENDER THE CROWN JEWELS BLENDER ESSENTIALS | I can't stress enough how much I love and use a beautyblender. It is my go-to for applying foundation, undereye concealer and setting powder. This set is perfect because not only does it include limited edition colors, but it also comes with gemstone-shaped cleansers.
5. COLLEEN ROTHSCHILD RADIANT CLEANSING BALM | I have raved about this cleanser for years now. Even though I give other brands a try, I always happen to reach out to this one at the end. This balm removes impurities while dissolving all traces of makeup, leaving skin balanced, soft, and radiant. Another great gift idea is their Discovery Collections set, which includes the brands' most sought-after products.
6. TROPEZ TANNING ESSENTIALSSELF TAN EXPRESS STARTER KIT | This brand has got to be my favorite for self-tanning. This four-piece set of self-tanning essentials, features their hydrating bronzing mousse, moisturizer and polish to maximize results, and a tanning mitt for easy application.
7. TARTE MERRY METALS BRUSH SET | Makeup application would not be the same without great brushes. And if you want your makeup to look flawless, the way you apply it is as important as the products you use. Tarte has always been one of the brands on the forefront of great brushes and this set will not disappoint your gift recipient. This set includes all the tools you need for a full face of glam, highlighting, blending to defining.
8. COLOR WOW DREAM COAT SUPERNATURAL SPRAY | Another product I was hesitant to try and exceeded my expectations. This spray uses new technology to cover each hair strand with an invisible waterproofing cloak to make your hair immune to weather-related frizz. And for my Miami gals, this is a must-have! Unlike typical humidity-guard serums, this spray will not weigh hair down, build up, or make it greasy. By the way, it lasts up to 2-3 shampoos.
9. IT COSMETICS YOUR COMPLEXION PERFECTION | When I was on the hunt for a CC cream with SPF I stumbled upon this one and I have been using it as my day-to-day foundation ever since. It is a bestselling, award-winning, color-correcting, full-coverage cream that among the obvious reasons why I love it, it last for most of the day and does not cake or set awkwardly. This set includes a travel-size CC+ Cream and a mini Confidence in a Gel Lotion that promises to leave skin hydrated and primed for the perfect makeup application.
10. BIOSSANCE THE CLEAN FAVORITES TRIO | I recenlty began using this skincare brand, but to say that I am in love so far is an understatement because I am obsessed! When knowing that I was expecting, one of my main concerns was the ingredients in my skincare routine. That is why after much research I decided on Biossance. This line is 100% plant based and incredibly effective and safe. This trio of skin-loving bestsellers deeply moisturizes, boosts radiance, and visibly firms to keep skin glowly strong all winter long.
1. FARSÁLI SKIN GOALS SET | ¡FARSÁLI es una marca de belleza híbrida que combina perfectamente el maquillaje y el cuidado de la piel, y ¡NO es solo publicidad chicas! Realmente funciona ?. Este set contiene cuatro favoritos de FARSÁLI para suavizar, preparar, hidratar y calmar la piel. Cada uno se puede usar solo, en capas o con maquillaje. Solo he tenido la oportunidad de usar el Unicorn Essence (que es su pre-base y parte de este conjunto) y no puedo esperar para probar el resto, aquí le estoy dejando una pista a Santa.
2. TATCHA LUMINOUS DEWY SKIN SHEET MASK | ¡Con un solo uso, sentirás tu piel hidratada! Esta mascarilla suave y sedosa que se ajusta a la piel ofrece extractos botánicos ultra hidratantes para un brillo hermoso.
3. MOUNT LAI DE-PUFFING ROSE QUARTZ FACIAL ROLLER | He tenido este rodillo durante más de un año, y mi objetivo es usarlo con más frecuencia porque no puedo recomendarlo lo suficiente. Un rodillo facial promueve el drenaje del rostro y reduce la tensión facial. Por las mañanas (cuando siento que lo necesito) lo uso para quitar la hinchazón del área debajo de los ojos y realmente funciona. ¡Para un estimulo adicional, déjenlo en su refrigerador durante la noche!
4. BEAUTYBLENDER THE CROWN JEWELS BLENDER ESSENTIALS | No puedo dejar de decir cuánto amo y uso estas esponjas. Es mi opción preferida para aplicar mi base, corrector y sellar debajo de los ojos con polvo. Este conjunto es perfecto porque no solo incluye colores de edición limitada, sino que también viene con limpiadores en forma de piedras preciosas.
5. COLLEEN ROTHSCHILD RADIANT CLEANSING BALM | Este ha sido mi limpiador durante años. Aunque pruebo otras marcas, siempre termino usando este. Este bálsamo elimina las impurezas mientras disuelve todos los rastros de maquillaje, dejando la piel equilibrada, suave y radiante. Otra gran idea de regalo es su conjunto Discovery Collections, que incluye los productos más destacados de las marcas.
6. TROPEZ TANNING ESSENTIALSSELF TAN EXPRESS STARTER KIT| Esta marca tiene que ser mi favorita como autobronceador. Este conjunto de cuatro piezas incluye su espuma hidratante bronceadora, humectante y abrillantador para maximizar los resultados, y un guante de bronceado para una aplicación fácil.
7. TARTE MERRY METALS BRUSH SET | La aplicación de maquillaje no sería la misma sin excelentes brochas. Y si desean que su maquillaje se vea impecable, la forma en que lo aplica es tan importante como los productos que usan. Tarte siempre ha sido una de las marcas a la vanguardia de las excelentes brochas y este conjunto no decepcionará a quien se lo regale.
8. COLOR WOW DREAM COAT SUPERNATURAL SPRAY | Este es otro producto que dudaba en probar y superó mis expectativas. Este spray utiliza una nueva tecnología para cubrir cada mechón de cabello con una capa impermeable e invisible para que su cabello sea inmune al frizz relacionado con el clima. ¡Y para mis chicas de Miami, esto es imprescindible! A diferencia de los sueros típicos de protección contra la humedad, este spray no pesará el cabello ni lo engrasará. Por cierto, dura hasta 2-3 champús.
9. IT COSMETICS YOUR COMPLEXION PERFECTION | Cuando estaba buscando una crema CC con protección solar, me topé con esta y la he estado utilizando como base diaria desde entonces. Es una crema con corrección de color y cobertura total que, entre las razones obvias por las que me encanta, dura la mayor parte del día y no se pega ni se torna incómodamente en la piel. Este conjunto incluye la crema CC de tamaño de viaje y una mini locion Confidence in a Gel que promete dejar la piel hidratada y preparada para una aplicación de maquillaje perfecta.
10. BIOSSANCE THE CLEAN FAVORITES TRIO | Recién comencé a usar esta marca de cuidado de la piel, pero decir que estoy enamorada es no hacerle justicia, porque en realidad estoy obsesionada. Al saber que estaba embarazada, una de mis principales preocupaciones era los ingredientes en los productos que usaba. Es por eso por lo que después de mucha investigación me decidí por Biossance. Esta línea está 100% basada en plantas e increíblemente efectiva y segura. Este trío de bestsellers hidrata profundamente la piel, aumenta la luminosidad y mantiene la piel brillantemente y saludable durante todo el invierno.
Holiday Gift Guide: For the Beauty Guru Here are my top 10 products for that special someone who is obsessed with beauty! Miami Fashion Blogger