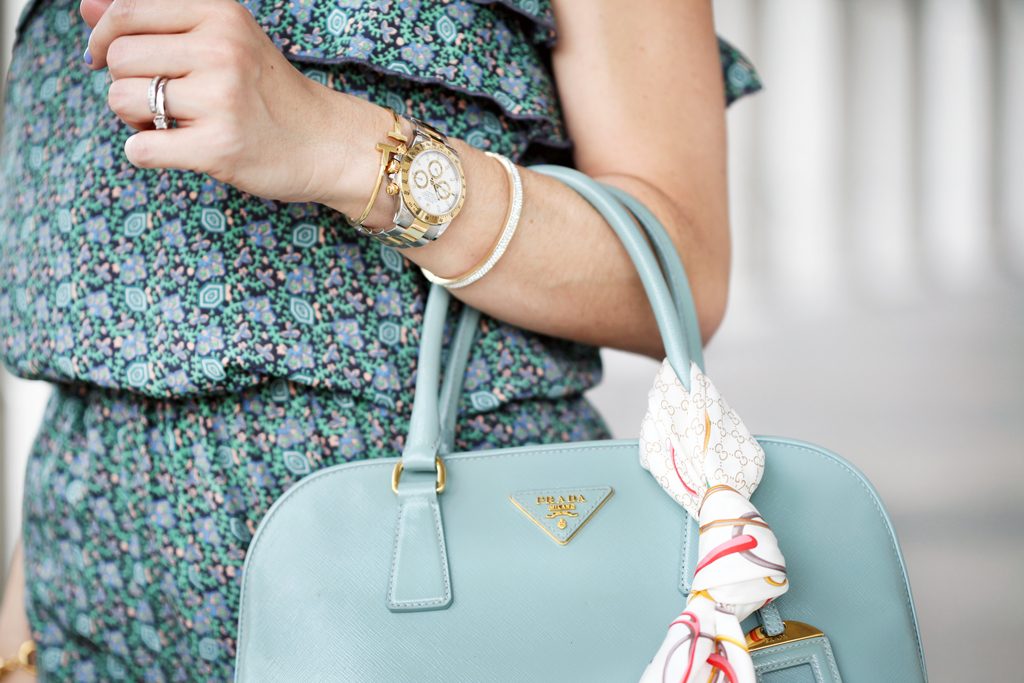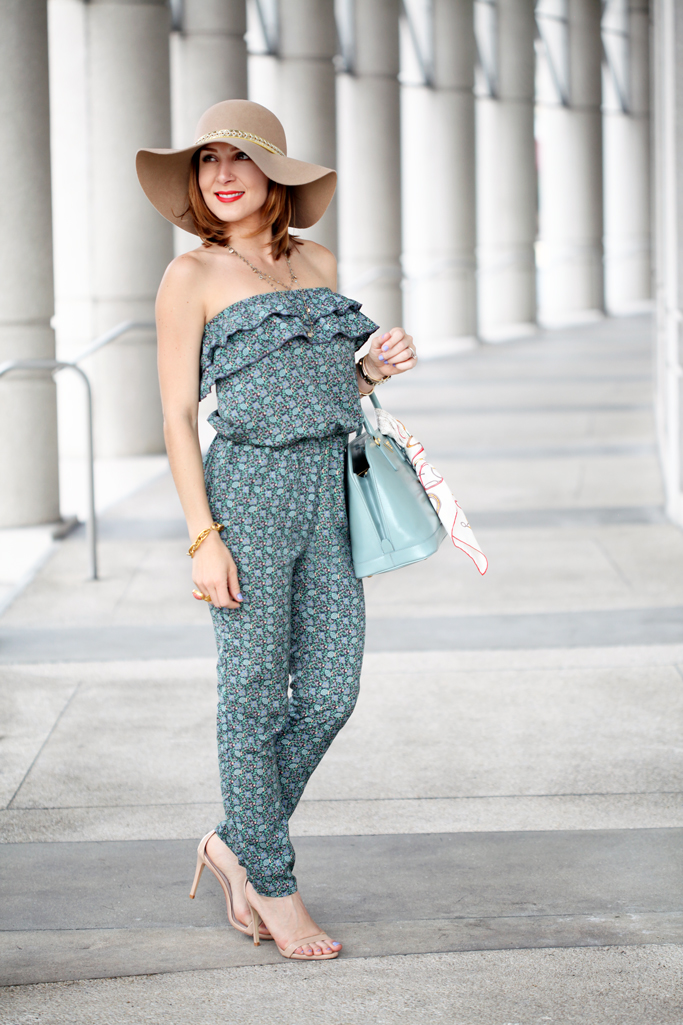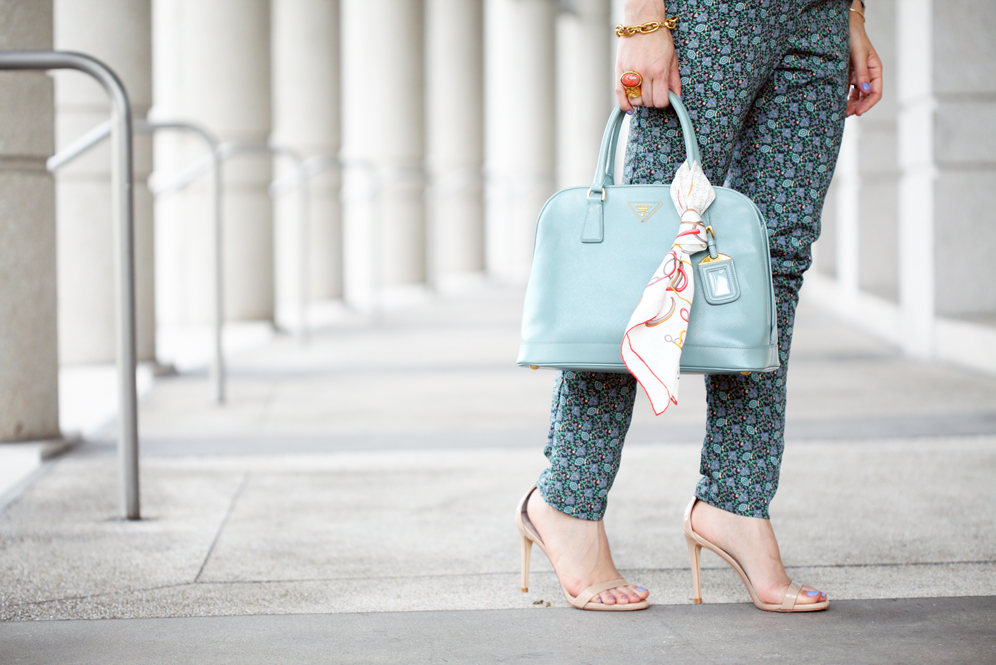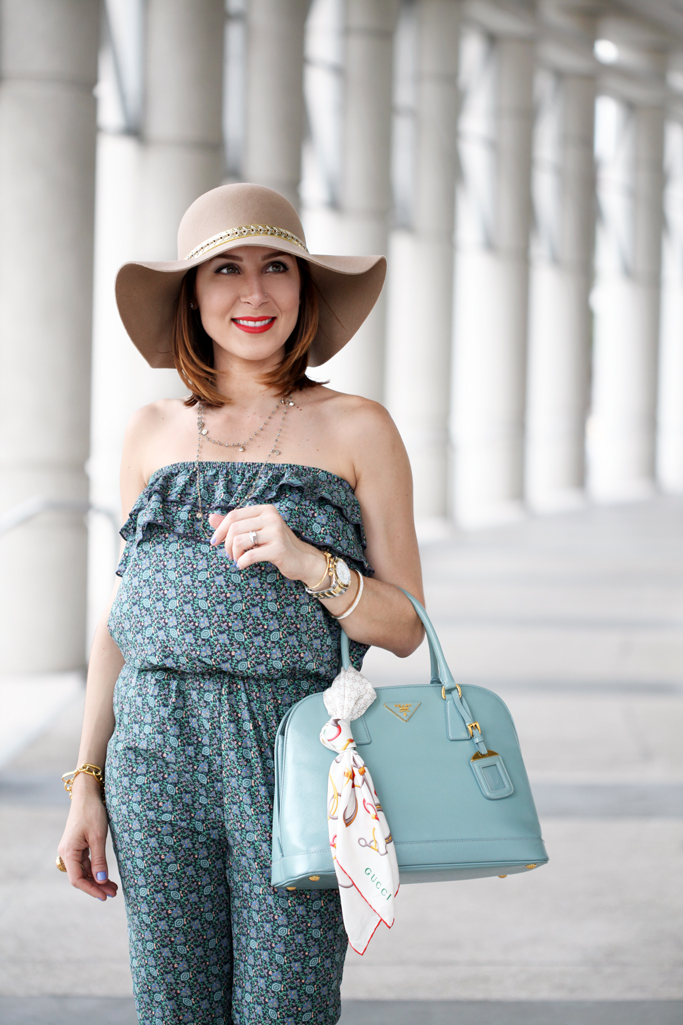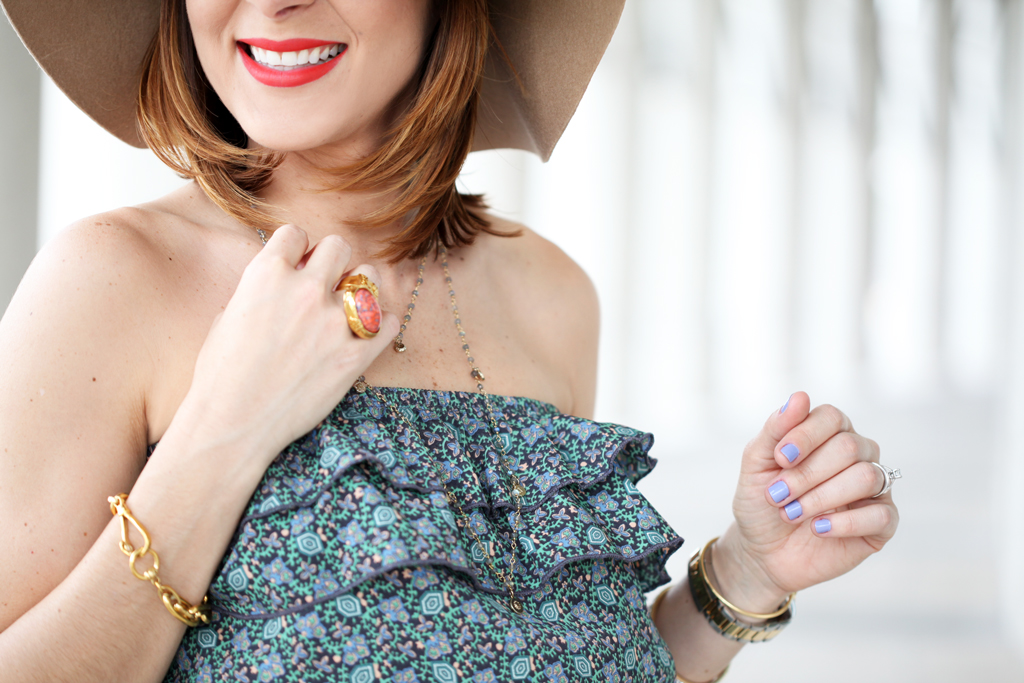 <<   JUMPSUIT:  Lulu's (similar #1, similar #2)  |   HAT: Anthropologie (similar)  |   RING: YSL 'Arty' (similar)    |    HANDBAG: Prada (similar, affordable option)    |  WATCH: Rolex (affordable option) |    BRACELET: Henri Bendel (Bendel Rox Skinny Bangle & similar) and  Tiffany & Co. 'T-Wire' (affordable option)   |    NECKLACE: Henri Bendel (similar)     |     SANDALS: Steve Madden 'Stecy'   |  SCARF: Gucci (similar, affordable option)   |     NAIL POLISH: Essie 'Warm and Toasty Turtleneck'   |   LIPSTICK:  MAC 'So Chaud'   >>
My never-ending obsession with jumpsuits is very evident, as you can see here, here, here and now in this post. I am pretty much the trend's biggest advocate because I yet haven't found a jumpsuit I don't like (even if it needs to be hemmed for my small stature). Now I do have to confess that there is definitely some work involved when needing to go to the ladies room while wearing this flattering piece, but hey if that's the only price for wearing this beauty I'll pay it till eternity! Recently I noticed this gorgeous baby blue handbag needed some attention (read its story here), so I've been wearing it non-stop! Well, truth be told, the wind and bad hair day weren't a good convo, so I had to opt for my all time favorite floppy hat (it literally goes with everything and always saves me in times of despair).
SALE ALERT: Nordstrom is having its half-yearly sale RIGHT NOW! You definitely do not want to miss it #YoureWelcome 🙂

MONO ENTERIZO + SOMBRERO DE ALA ANCHA
Mi interminable obsesión con el mono enterizo es bastante evidente, como puede ver aquí, aquí, aquí y ahora en este post. Creo que soy la mayor defensora de esta tendencia, ya que todavía no he encontrado un enterizo que no me guste (incluso si tiene que ser ajustado por mi pequeña estatura). Tengo que confesar que definitivamente lleva algo de trabajo en la habitación de las chicas mientras cuando viste esta favorecedora pieza, pero bueno, si ese es el único precio por llevar esta belleza pagaré ¡hasta la eternidad! Hace poco me di cuenta que este precioso bolso color azul necesitaba un poco de atención (lea su historia aquí), así que lo he estado usando ¡sin parar! Bueno, siéndosle honesta, el viento y mi cabello no hacían una buena combinación, así que tuve que optar por mi sombrero de ala ancha favorito (que literalmente va con todo y siempre me salva en los tiempo de desesperación).
ALERTA DE VENTA: ¡Nordstrom está teniendo su venta semestral AHORA MISMO! Definitivamente no la puedes perder #PorNada 🙂