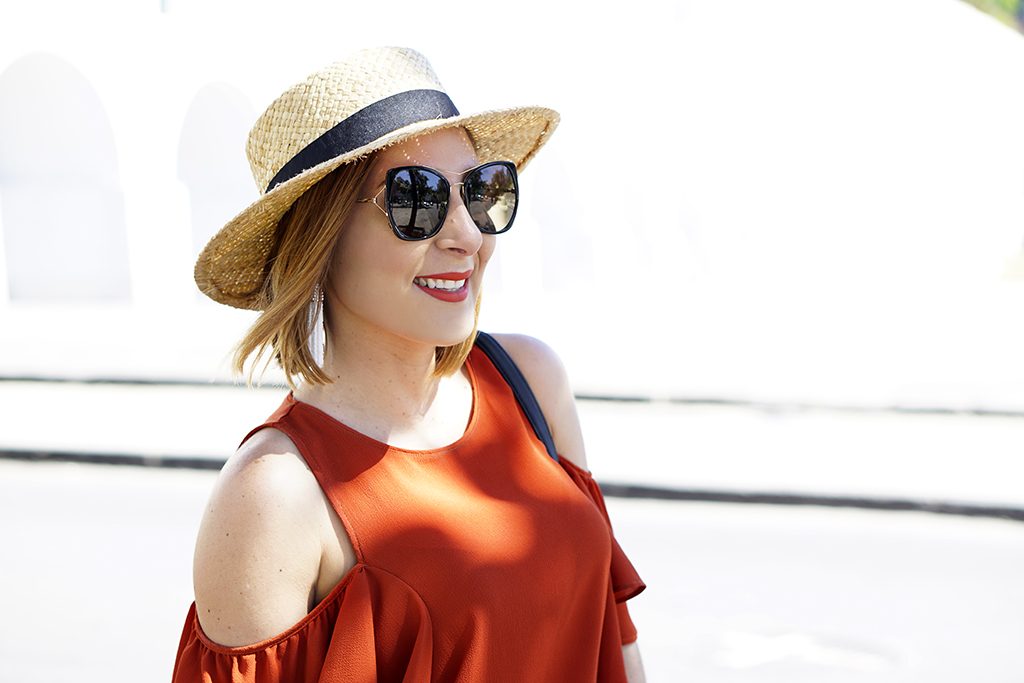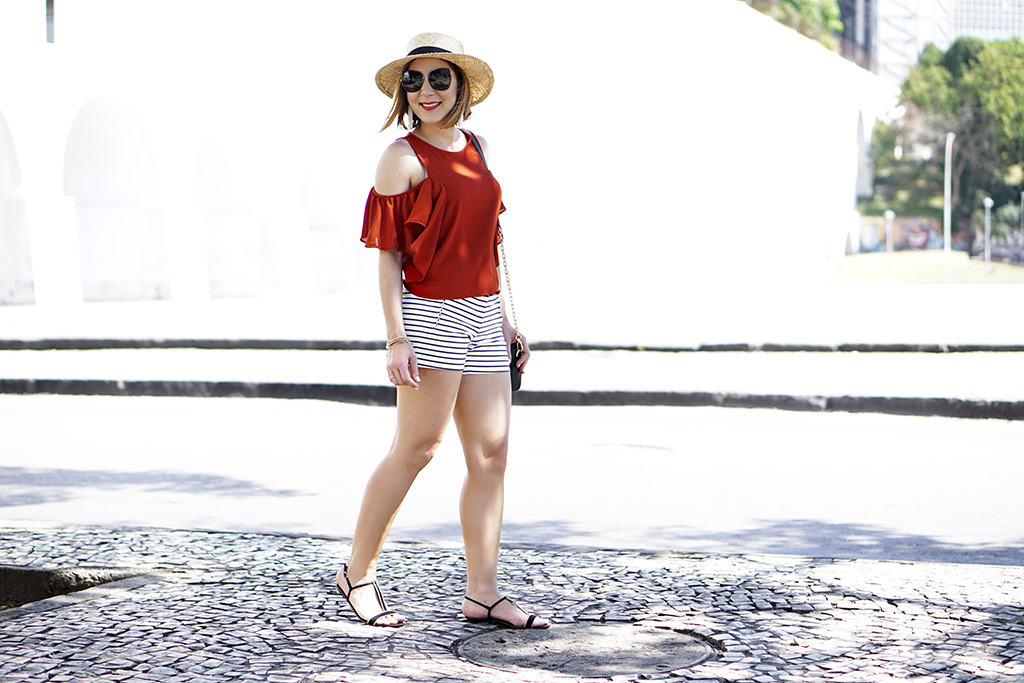 The perfect travel look for sightseeing in Rio de Janeiro. We visited Selaron Steps in the Lapa neighborhood and the Carioca Aqueducts.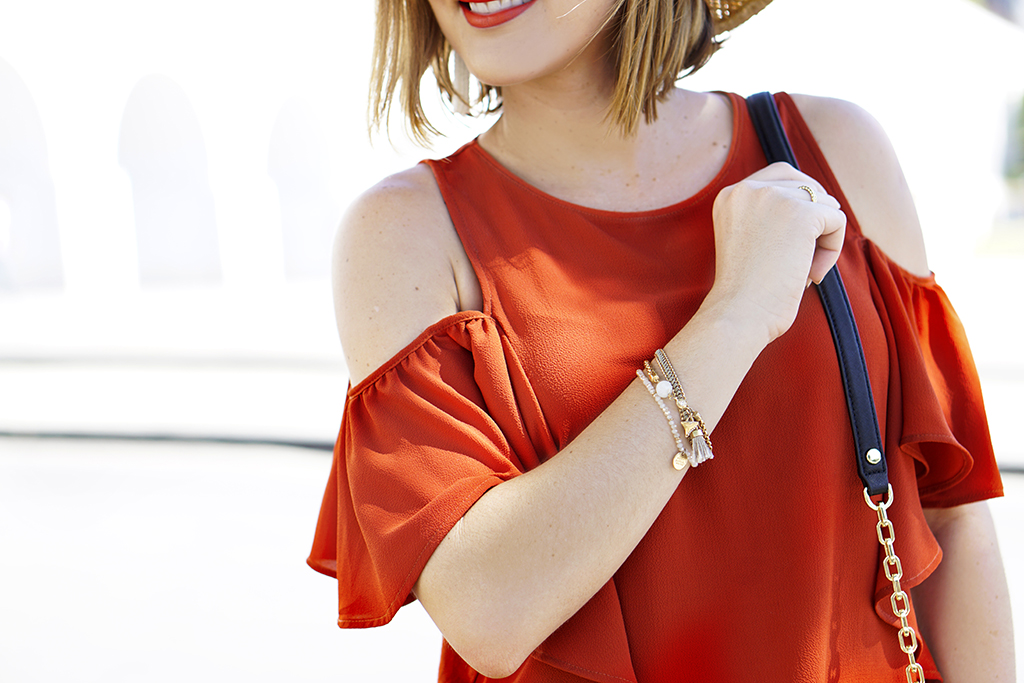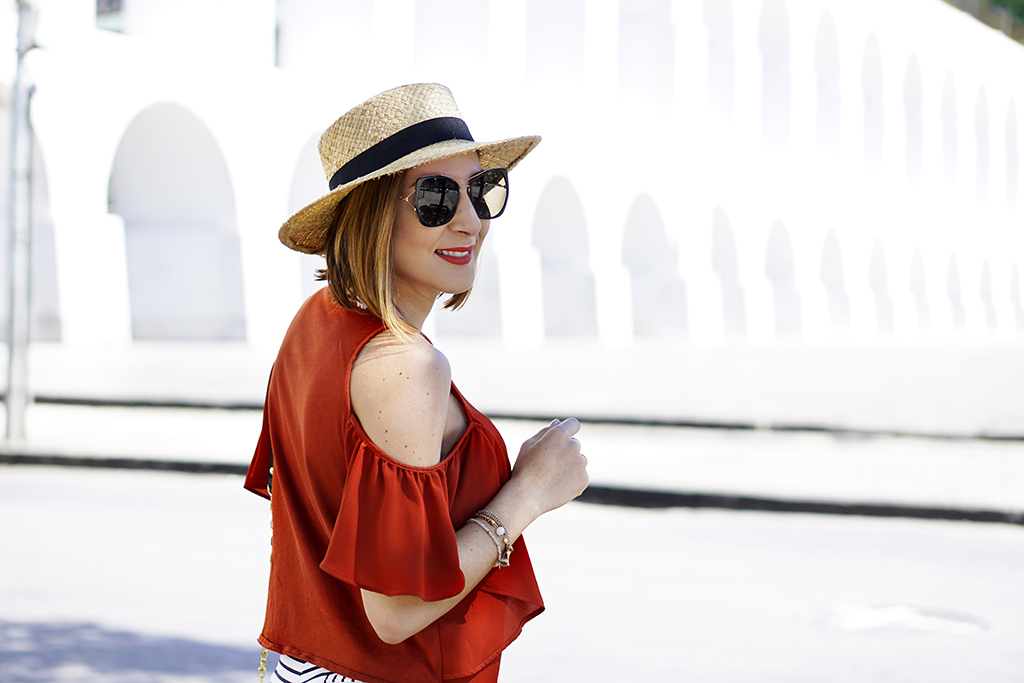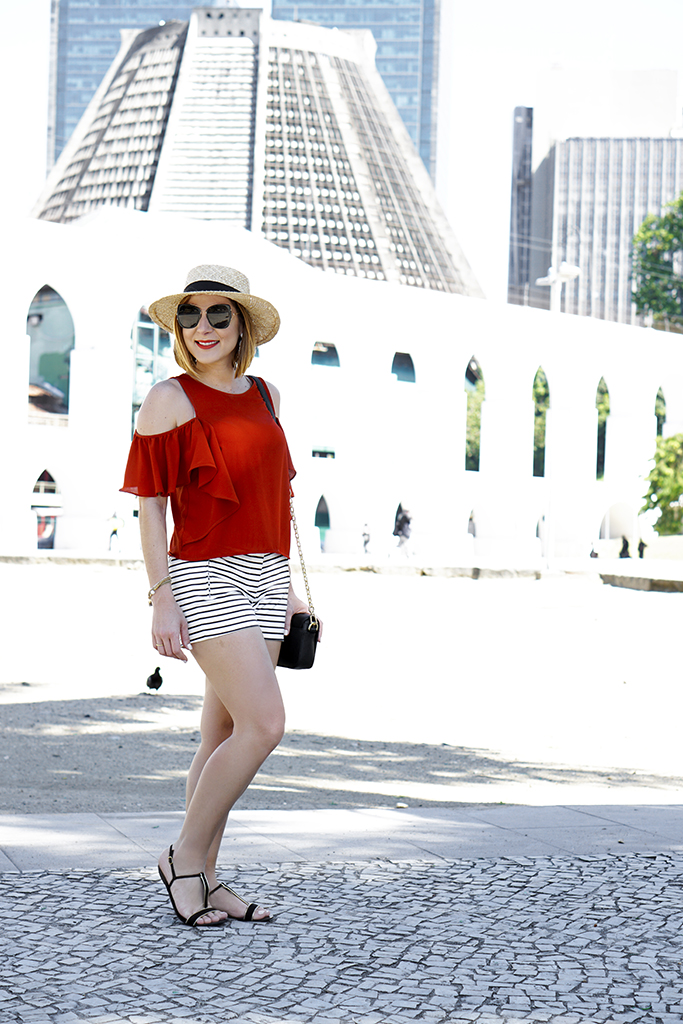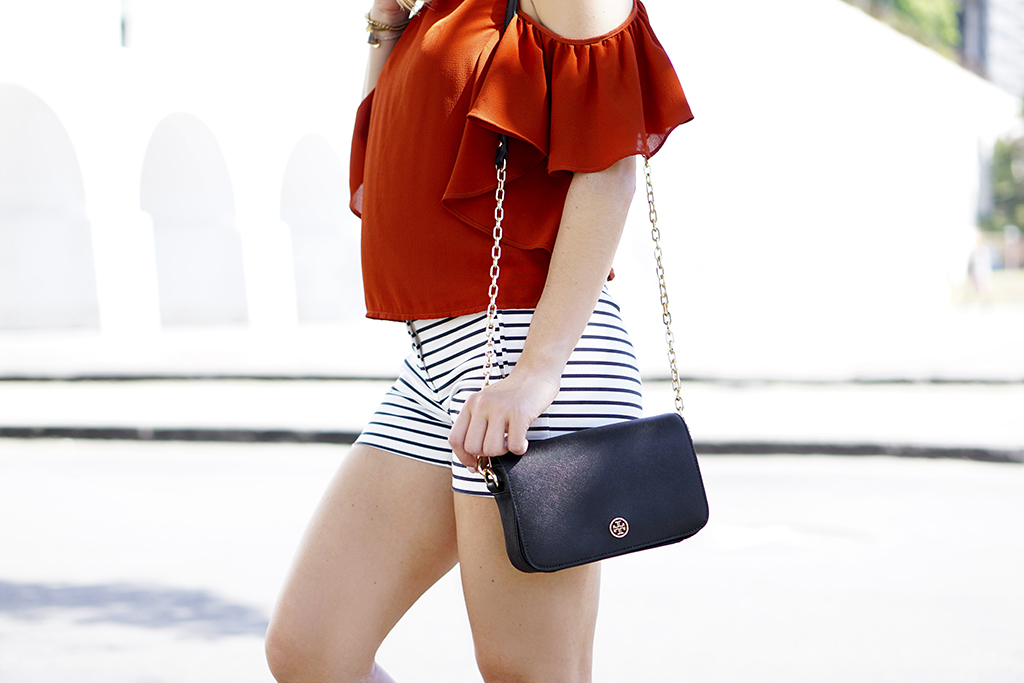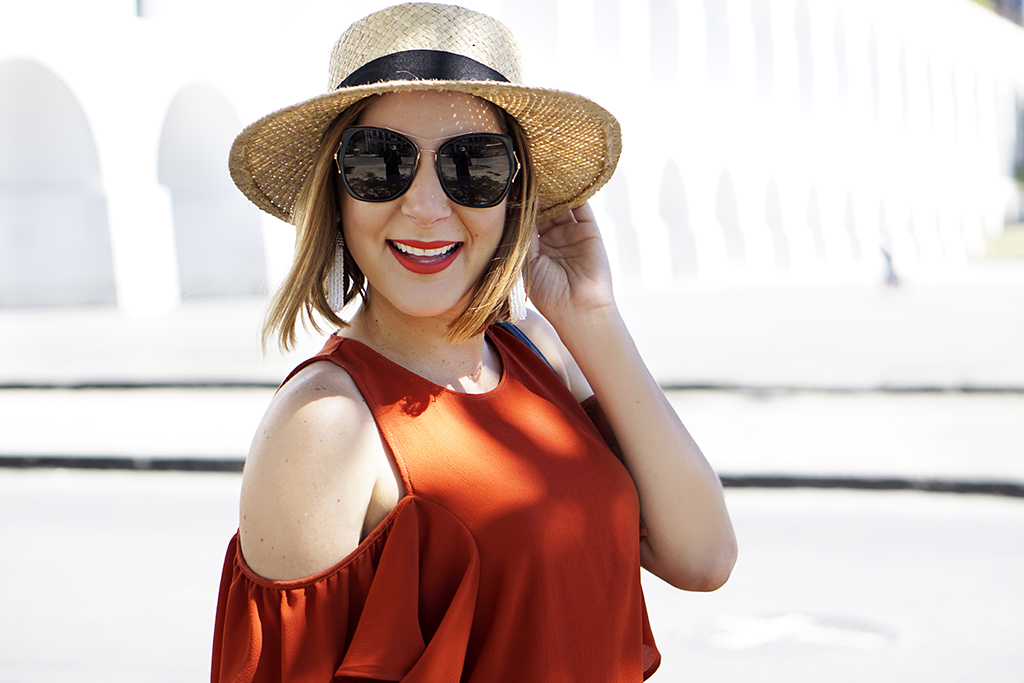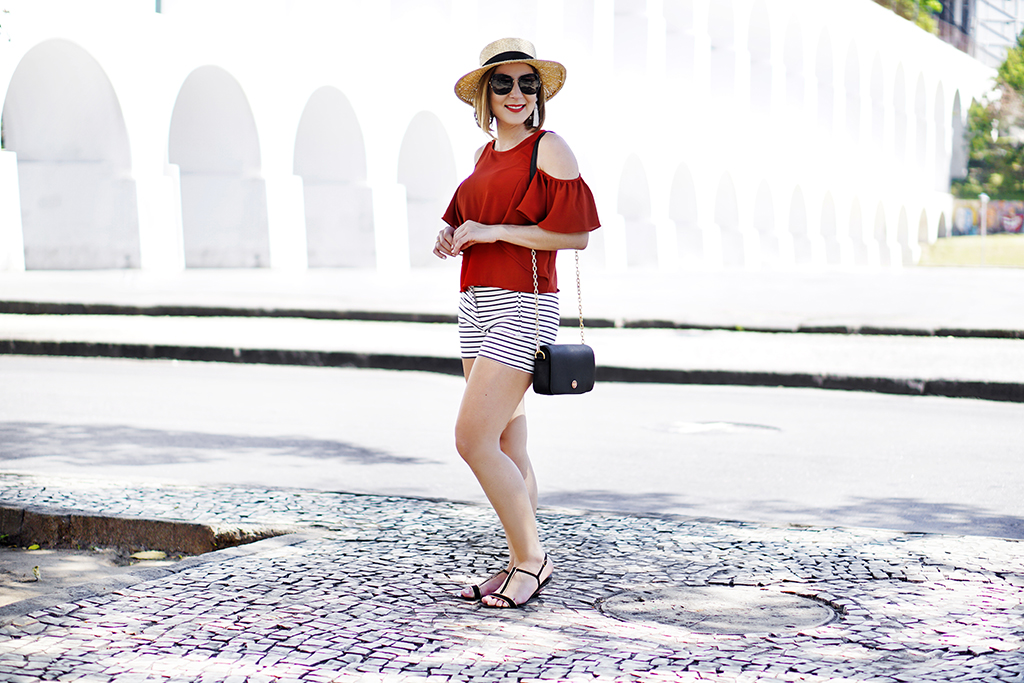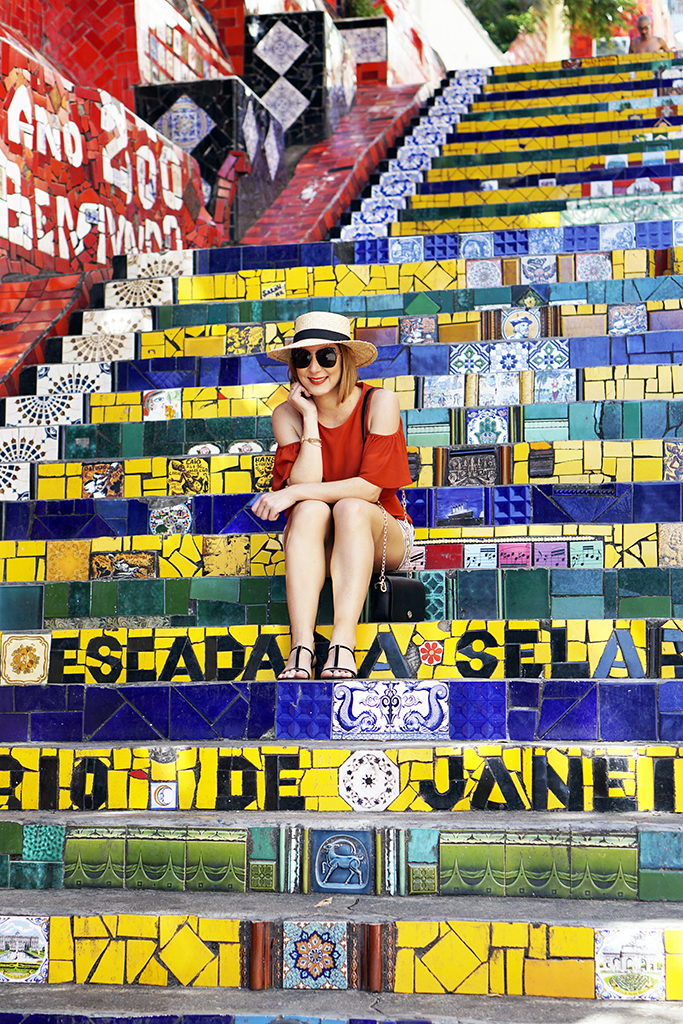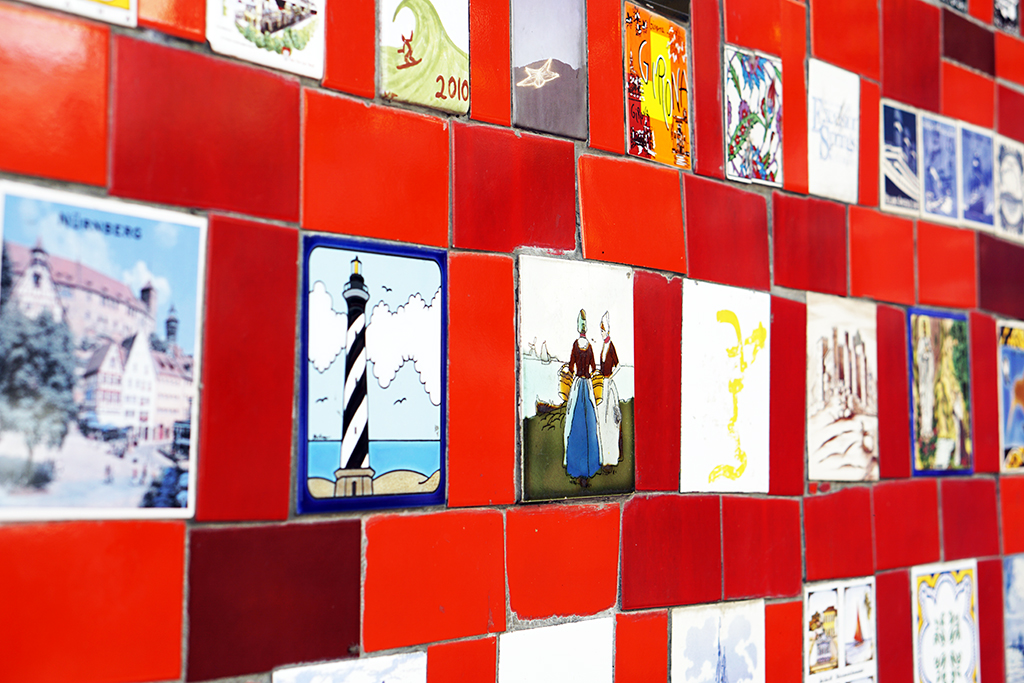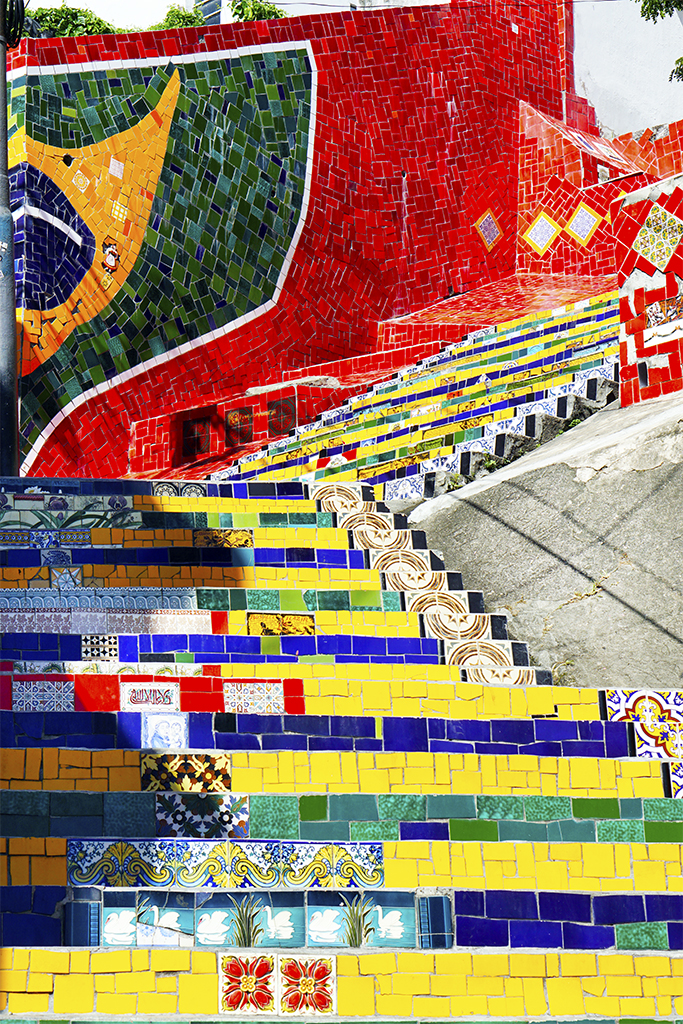 TOP: Zara (similar here, here in white, here and here) || SHORTS: Zara (similar here) || HANDBAG: Tory Burch (very similar here) || HAT: Nordstrom (similar here) || RING: c/o Mejuri (similar option here) || BRACELET: Henri Bendel (similar here and here) || EARRINGS: BaubleBar (affordable option here) || SANDALS: Zara (similar here, here and here) || SUNGLASSES: Givenchy || NAIL POLISH: OPI || LIPSTICK: MAC 'So Chaud'
It's Friday loves and it's time to share the second day from our trip to Brazil. Not only am I loving reminiscing about the great time we had in Rio de Janeiro, but I am seriously jeally at those (locals) that got to stay and enjoy the stunning weather and intoxicating beach vibes. I know, I know! I know that I live in a sunny location, but hey it is officially summer in the Southern hemisphere and the water in Miami Beach is a bit on the cold side during this season.
We began our day by visiting Escadaria Selarón, also known as Selaron Steps in the Lapa neighborhood. You might not know it by name, but I am sure you will once you look at the pictures. These world-famous steps are the work of Chilean-born artist Jorge Selaron, that claimed it as his' tribute to the Brazilian people". He settled in Rio de Janeiro in 1983 after having lived in over 50 some countries. In 1990 he decided to beautify the dilapidated steps in front of his home with colorful tiles, but this small project soon grew into an obsession. His main passion was painting and found himself selling his paintings to fund the steps and by accepting donations from locals and travelers. It's said that he was often threaten to be evicted from his home because he couldn't afford the living cots, and his phone was cut off many times too. He was finally able to finish the work and it's truly mesmerizing. It gained world-wide recognition and has been featured many times in magazines, newspaper, films, travel shows, documentaries and commercials. Sadly, Selaron was found dead in 2013 on the famous steps he loved so much; he was 60 years old. Not much is known about his death but there are several rumors.
After admiring the colorful steps, we walked about 5 minutes to the Carioca Aqueduct, also known as Arcos da Lapa by locals (which is where some of these photos were taken). It is an aqueduct built in the 18th century to carry fresh water to the population of the city. Because new alternatives were developed during the 19th century, it was transformed to a tram line. It transports tourist and locals alike, as it is popular for its picturesque ride.
As for my look, I opted for one of my most versatile shorts (that I've already worn here and here) and one of my all-time favorite cold-shoulder tops (that I have also worn in the past, here). Finished the look with my boater hat and these sandals that I have had for quite some time and always tend to pair perfectly with all my travel looks.
Stay tuned to next week's post, which is my last from Rio!

BLUSA DE HOMBROS AL DESCUBIERTO + PANTALONES CORTOS DE RAYAS
Es viernes mis amores y es hora de compartir nuestro segundo día de nuestro viaje a Brasil. No sólo me encanta recordar sobre la increíble experiencia de Río de Janerio, pero estoy seriamente celosa de aquellos (locales) que se quedaron a disfrutar del impresionante clima y vibras intoxicantes de la playa. ¡Lo sé, lo sé! Sé que vivo en un lugar donde el clima es casi perfecto, pero bueno es oficialmente verano en el hemisferio sur y el agua en Miami Beach es un poco fría durante esta temperada.
Comenzamos nuestro día visitando Escadaria Selarón, también conocido como Escalera de Selarón en el barrio de Lapa. Puede que no lo conozca por su nombre, pero estoy segura que lo hará una vez que mire las fotos. Estos escalones de fama mundial son la obra del artista chileno Jorge Selarón, que lo reclamo como su "homenaje al pueblo brasileño". Selarón se localizó en Río de Janeiro en 1983 después de haber vivido en más de 50 países. Para embellecer los escalones frente a su casa, decidió cubrirlos con azulejos de diferentes colores; pero este pequeño proyecto pronto se convirtió en una obsesión. Su principal pasión fue la pintura y se encontró vendiendo su arte para financiar los escalones además de aceptar donaciones de los locales y personas de otros países. A menudo era amenazado de ser desalojado de su casa porque no podía pagar los gastos, y su teléfono fue cortado muchas veces también. Finalmente fue pudo terminar el trabajo y es realmente fascinante. El ganó el reconocimiento mundial y estos escalones han sido presentados muchas veces en revistas, periódicos, películas, shows de viajes, documentales y comerciales. Lamentablemente, Selarón fue encontrado muerto en 2013 en los famosos escalones que tanto amaba, tenía 60 años de edad. No se sabe mucho sobre su muerte, pero hay varios rumores.
Después de admirar estos coloridos escalones, caminamos unos 5 minutos al Acueducto de Carioca, también conocido como Arcos da Lapa por los locales (que es donde algunas de estas fotos fueron tomadas). Es un acueducto construido en el siglo XVIII para llevar agua fresca a la población de la ciudad. Debido a que se desarrollaron nuevas alternativas durante el siglo XIX, se transformó en una línea de tranvía. Transporta turistas y locales por igual, ya que es popular por su pintoresco paseo.
En cuanto a mi look, opté por uno de mis pantalones cortos más versátiles (que he usado aquí y aquí) y una de mis blusas favoritas de hombros al descubierto (que también he usado en el pasado, aquí). Finalice el look con mi sombrero de ala ancha, y estas sandalias que he tenido durante mucho tiempo y siempre tienden ser escogidas para varios de mis looks cuando viajo.
¡Estén atentos al post de la próxima semana, que es mi último de Río!