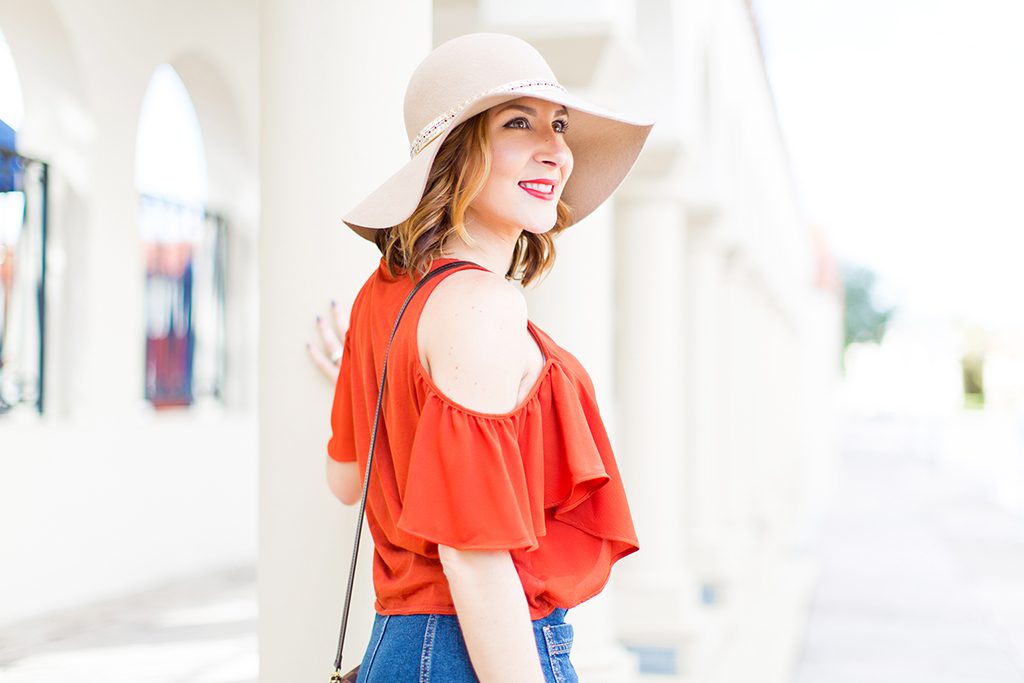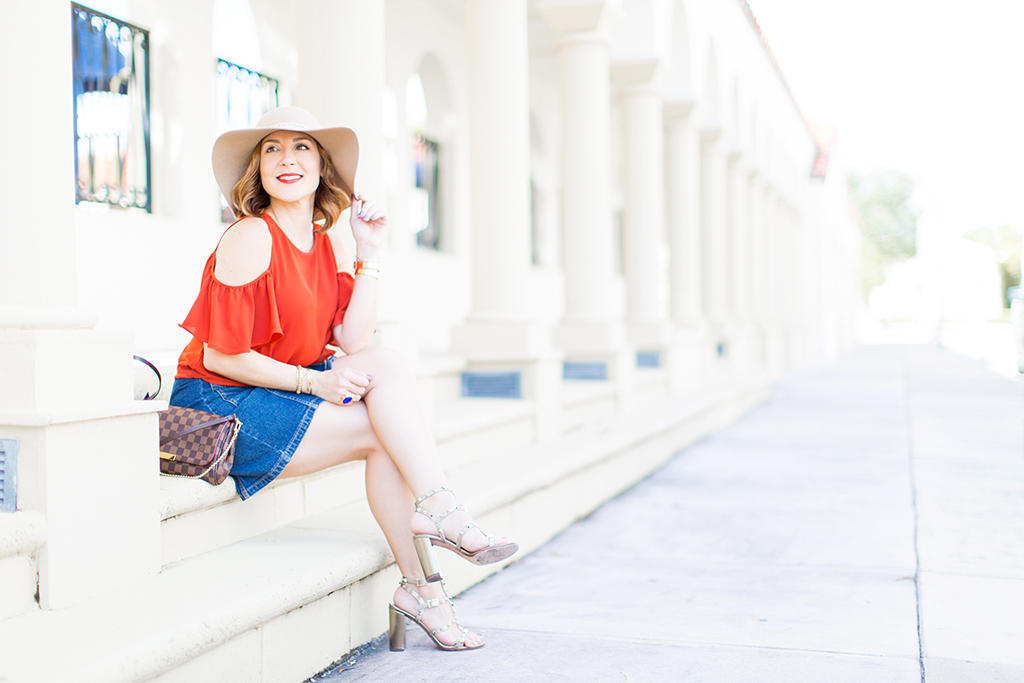 Fall inspired look for warmer temperatures. How to transition into fall with a button front denim skirt, cold-shoulder top and floppy hat.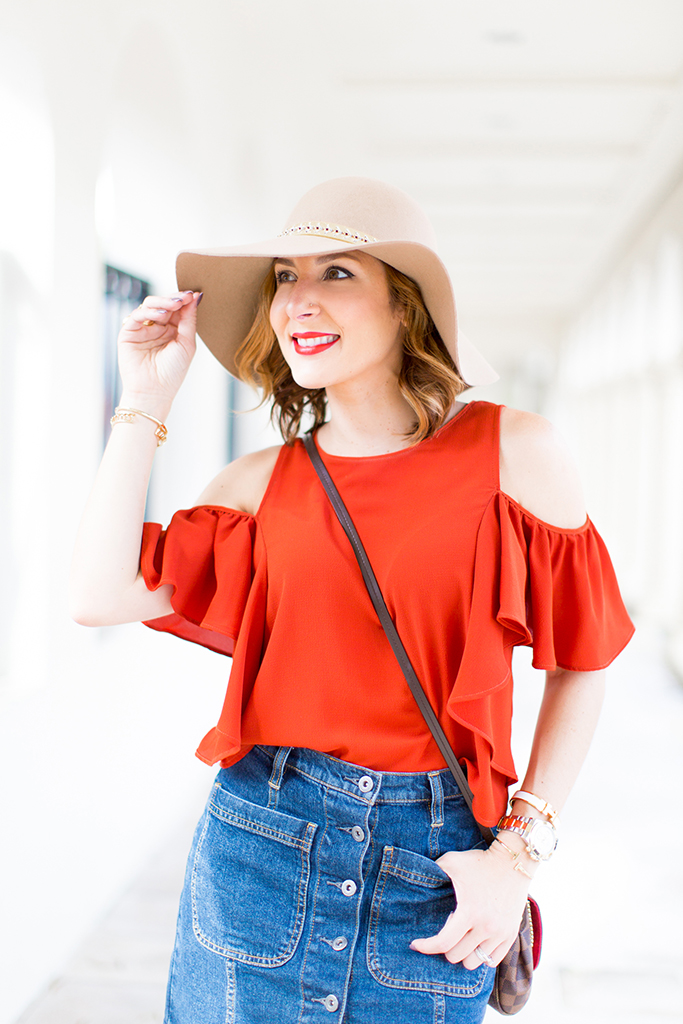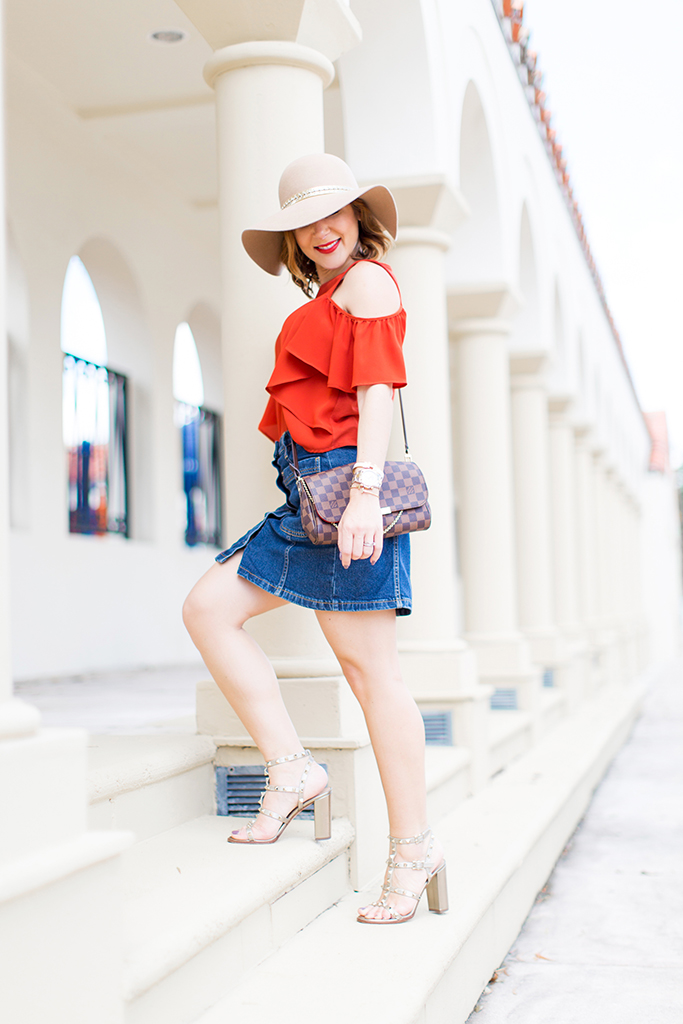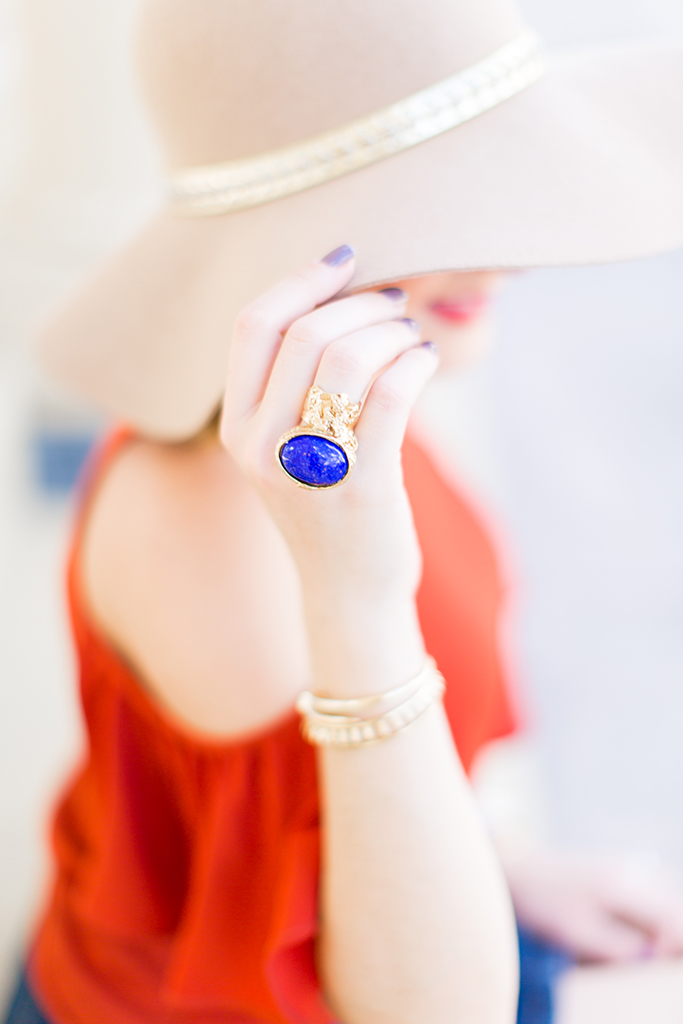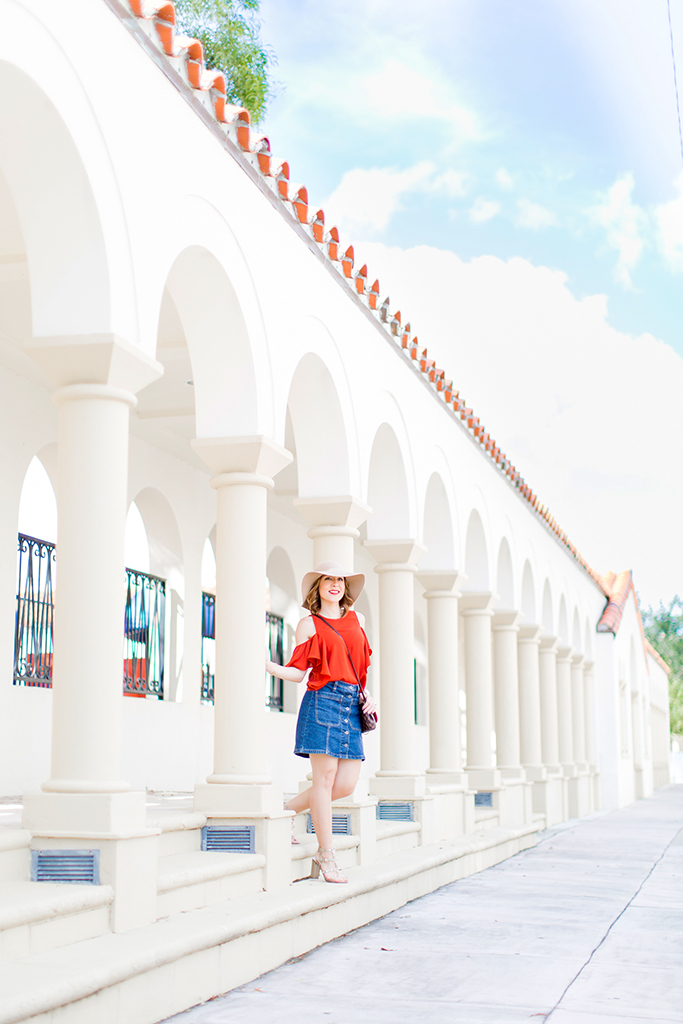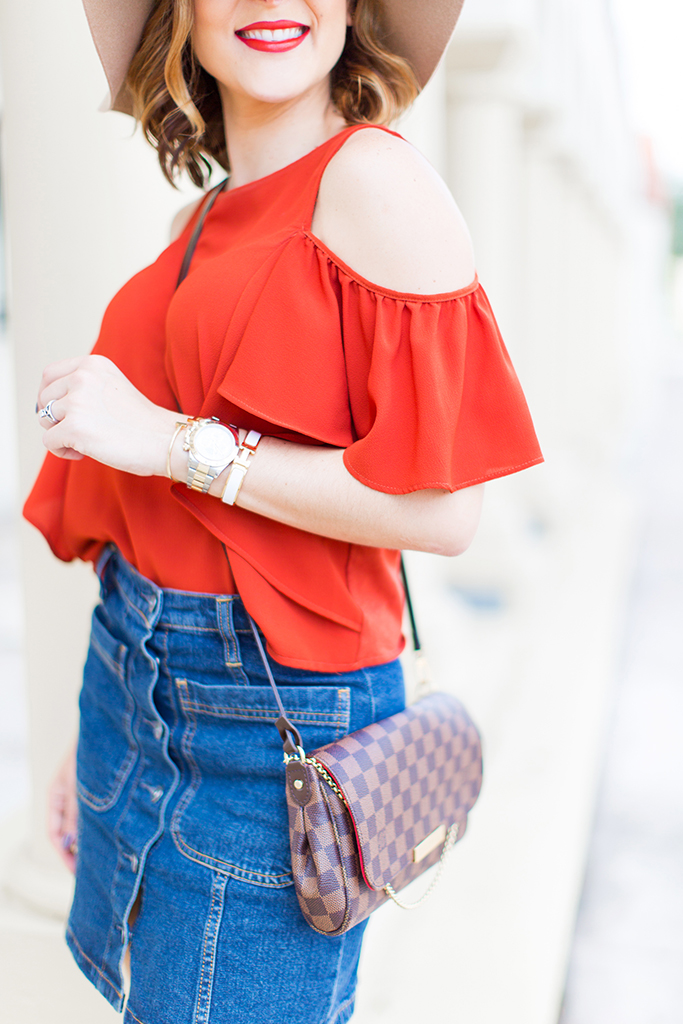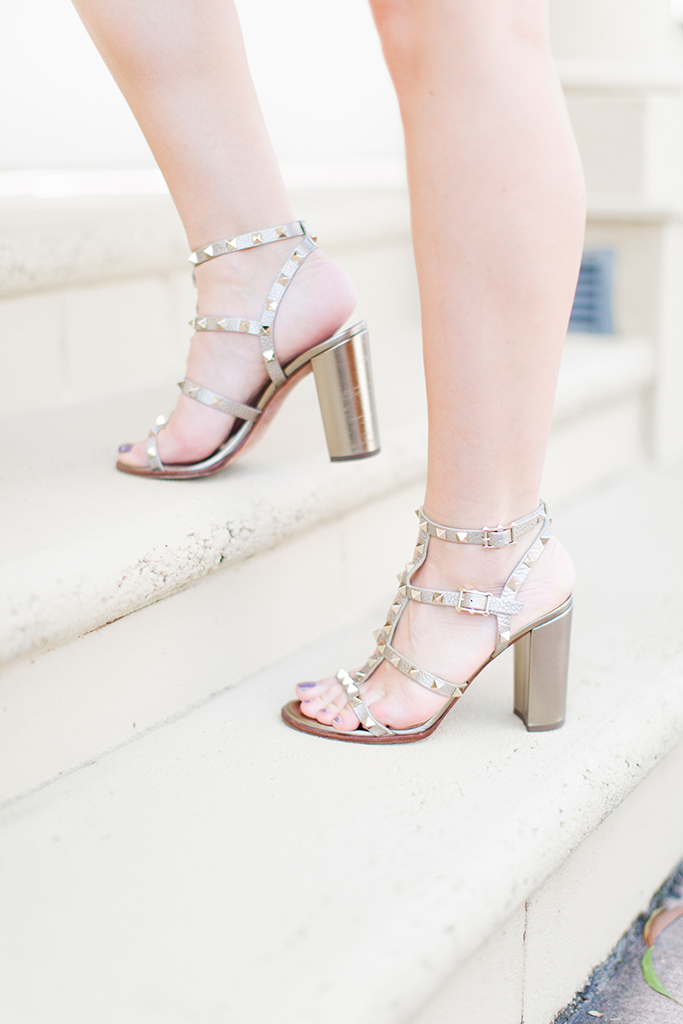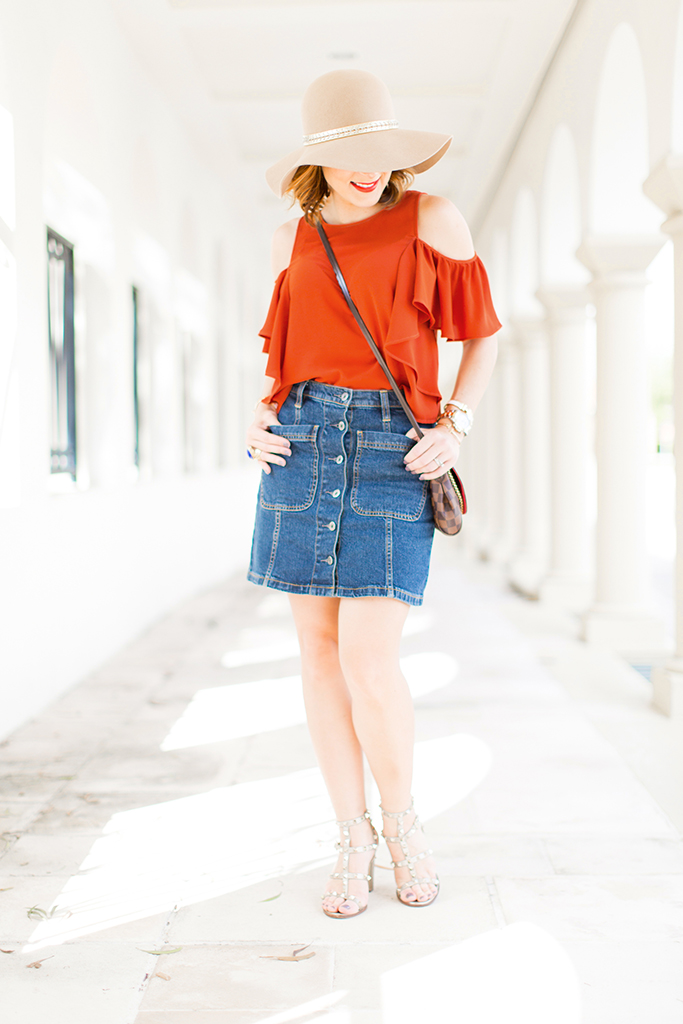 <<   SKIRT:  Nordstrom Rack (similar here and here, loving this suede version)   |  TOP: Zara (similar here, here and here)   |   BRACELETS: BaubleBar 'Ladder cuff', Cartier 'Juste Un Clou' (affordable version here), Hermès 'Clic Clac H' (affordable option here),  and Tiffany & Co. 'T-Wire' (affordable option here)   |   WATCH: Rolex (affordable version here)  |   RING: YSL 'Arty' (same but another color here, affordable option here, here and here)   |    HANDBAG: Louis Vuitton 'Favorite PM' (similar option here, affordable option here)   |   SANDALS: Valentino Rockstud City (affordable option here and here)  |   HAT: Anthropologie (similar option here)  |    NAIL POLISH: OPI 'You don't know Jacques'   |    LIPSTICK: MAC 'So Chaud' >>
Photography by: Luccia Lowenthal 
Hi loves!
I am ready to celebrate that is Friday with this fall-inspired look. Not only are the temperatures in Miami a little cooler but the time to take out the floppy hats and fax fur vests from storage has arrived. For now though, only the floppy hats have made the cut (remember I reside in the sunshine state, where the average is 80°F all year round).
I love dark and vibrant hues as much as I love bright (and almost neon) ones, so when I put together this look, I couldn't resist adding a contrasting color with a pop of blue and some metallic accents. The trick to a fall theme, is to opt for darker colors that you would normally see in nature, just like this cute top, that reminds me so much of the foliage I so long for.
This button front denim skirt has been on serious rotation ladies! It has been extremely versatile making me regret not owning one sooner! So far I've worn it with these studded espadrilles and with these sandals, making it so easy to go from day to night.
Would you like to see a more elegant or even date-night look with this skirt? Let me know.
Have a great weekend!

BLUSA DE HOMBROS AL DESCUBIERTO + SOMBRERO DE ALA ANCHA
¡Hola amores!
Estoy lista para celebrar que es viernes con este look inspirado por el otoño. No sólo las temperaturas en Miami se sienten un poco más frescas, pero el momento de sacar los sombreros de ala ancha y chalecos de piel de almacenamiento ha llegado. Por ahora, sólo los sombreros llegaran hacer su debut (recuerden que resido en el estado del sol, donde el promedio es de 80°F durante todo el año).
Ya saben que me encantan los colores llamativos, pero igualmente me encantan los tonos oscuros que al mismo tiempo sean vibrantes, así que cuando me combine este look, no podía resistirse de añadir un toque de azul y tonos metálicos. El truco para un look otoñal, es optar por colores más oscuros que normalmente vemos en la naturaleza, como en esta linda blusa, que me recuerda tanto del follaje que tanto anhelo.
Chicas, esta falda ha tenido serio uso. Ha sido extremadamente versátil, llegando al punto de sentir arrepentimiento de no haberla adquirido ¡antes! Hasta ahora la he combinado con estas alpargatas de tachuelas y con estas sandalias, por lo que la hace súper fácil de usar tal como de día como para la noche.
¿Le gustaría ver un outfit más elegante con esta falda? Déjenmelo saber.
¡Que tengan un excelente fin de semana!