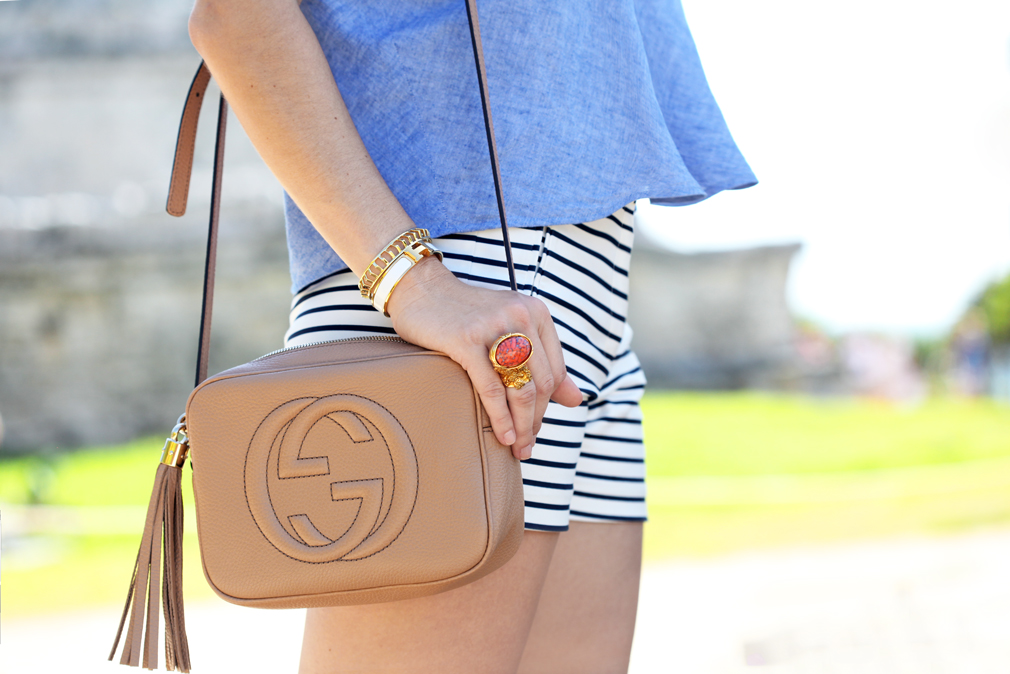 TOP: Zara (similar #1, similar #2) | SHORTS: Zara (similar #1 less than $12, similar #2) | HAT: J. Crew Factory | HANDBAG: Gucci 'Soho Disco' (affordable option #1, affordable option #2) | EARRINGS: Saks Off 5th 'Cara' | WATCH: Movado 'Bold' (affordable option) | BRACELET: Henri Bendel (Bendel Rox Skinny Bangle & similar), Hermès 'Clic Clac H' (affordable option) and Tiffany & Co. 'T-Wire' (affordable option) | SANDALS: Sam Edelman 'Oliver' | SUNGLASSES: Louis Vuitton 'Amber' (similar #1, similar #2) | NAIL POLISH: Opi 'You Pink Too Much' | LIPSTICK: Huda Beauty 'Bombshell'
[one_half]
Despite having visited the Tulum Mayan ruins two times before (one of my top favorite ruins after Egypt), I convinced the hubby to go once more. We usually opt for a guided tour but this time we rented a vehicle and were totally carefree. The Tulum ruins are definitely a must-see in everyone's bucket list. Tulum was one of the last cities built and inhabited by the Maya. It survived about 70 years after the Spanish began occupying Mexico. It happens to be one of the best-preserved Maya sites and is the only Mayan city built on a coast.
To get to the ruins, you can either purchase a guided tour in your hotel, which includes transportation, or when you arrive at the ruins. We have done both and preferred the latter. Why? Well, because basically it is you, your significant other and the tour guide. And the fee you pay, goes directly to the guide and not a fancy shmancy tour company. The good thing about choosing the first option though, is that most likely you will opt for a full-day tour, that includes a dip in a cenote (a natural sinkhole, resulting from the collapse of limestone bedrock that exposes groundwater underneath), lunch and probably another nature-related destination.
Whatever option you choose, make sure to pack, or wear, your bathing suit. After the tour ends, which could take 30-45 minutes, make sure to take a dip in one of the most stunning beaches in the Riviera Maya. The water temperate averages 82°F, its water is crystal clear and the sand is the whitest most powdered-like I have ever touched.
These ruins are truly breathtaking no matter how many times you visit it, so if you ever travel to Mexico make sure to pass by Tulum, take a refreshing dip in its beautiful beach and if you have time, visit Chichén Itzá, which is about 2 hours away and holds the number five spot in the New Seven Wonders of the World list (you won't regret it). As for my look, I made sure to wear something light and comfy, because the heat was real ya'll. My favorite Panama hat was a total life-saver in addition to a lot of sunscreen of course.
Have you visited Tulum or any other Mayan ruins? Share below, I would love to hear your thoughts. Check out my other posts from the Riviera Maya here.
[/one_half][one_half_last]
A pesar de haber visitado las ruinas Mayas de Tulum dos veces antes (una de mis favoritas después de las de Egipto), convencí a mi esposo para visitarlas una vez más. Solemos a optar por una excursión con guía, pero en esta ocasión alquilamos un vehículo. Tulum fue una de las últimas ciudades construidas y habitadas por los mayas. Sobrevivió unos 70 años después que los españoles comenzaron a ocupar México. Resulta que es uno de los sitios mayas mejor conservados y es la única ciudad maya construida en una costa.
Para llegar a las ruinas, puedes comprar una visita guiada en tu hotel, que incluye transporte, o también puedes hacerlo cuando llegas a las ruinas. Hemos hecho las dos y preferimos la ultima opción. ¿Por qué? Bueno, porque básicamente eres tú, tu pareja y el guía turístico. Y la cantidad que pagas va directamente a la guía y no a una lujosa compañía de viajes. Sin embargo, lo bueno de elegir la primera opción es que lo más probable vas a optar por una excursión de un día completo, que incluye visitar un cenote, almuerzo y probablemente otro destino relacionado con la naturaleza.
Cualquiera sea la opción que elijan, asegúrense de llevar su traje de baño. Después de que termine el recorrido, que podría tomar de 30 a 45 minutos, tienen que darse un chapuzón en una de las playas más impresionantes de la Riviera Maya. El agua tiene un promedio de 82° F (28°C), su agua es cristalina y la arena es la más blanca y suave que he tocado.
Tulum es realmente impresionante, no importa cuántas veces lo visites, así que si alguna vez visita México asegúrese de pasar por Tulum, refrésquese en su hermosa playa y si tiene tiempo, visite Chichén Itzá, que esta aproximadamente 2 horas de distancia y tiene el número cinco en la lista de las Siete Nuevas Maravillas del Mundo (no se arrepentirá ¡se lo garantizo!). En cuanto a mi look, aseguré de llevar algo ligero y cómodo, ya que la temperatura estaba cerca de los 105° F (41° C). Mi sombrero preferido me salvo la vida, además de una gran cantidad de protector solar, por supuesto.
¿Ha visitado Tulum o cualquier otras ruinas mayas? Comparte a continuación, me gustaría saber sobre su experiencia.
Echen un vistazo a mis otros posts sobre de la Riviera Maya aquí.
[/one_half_last]