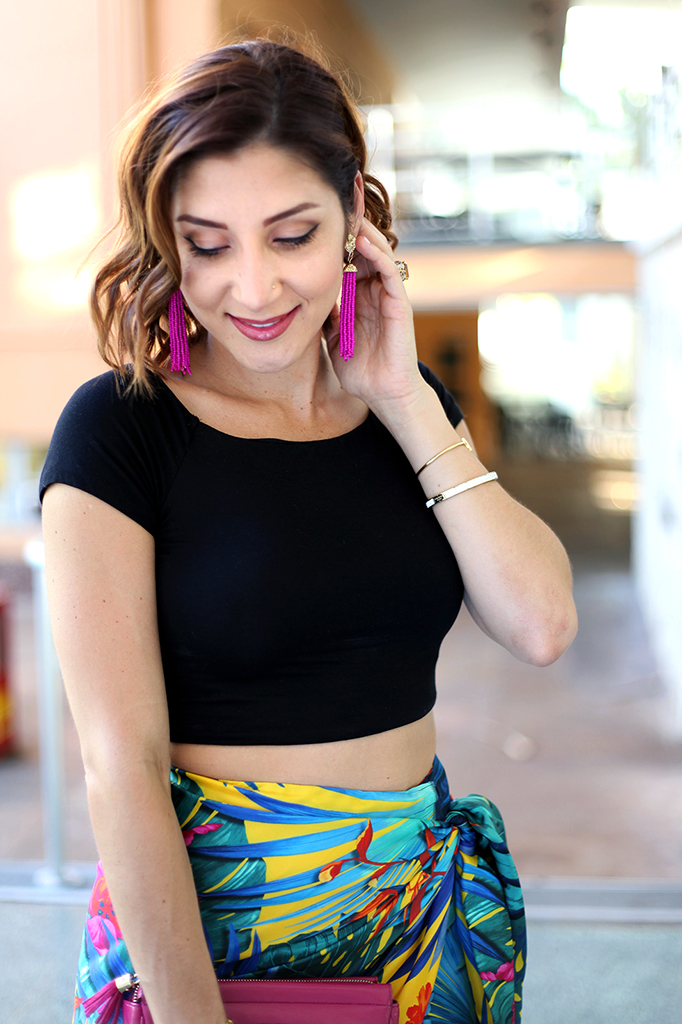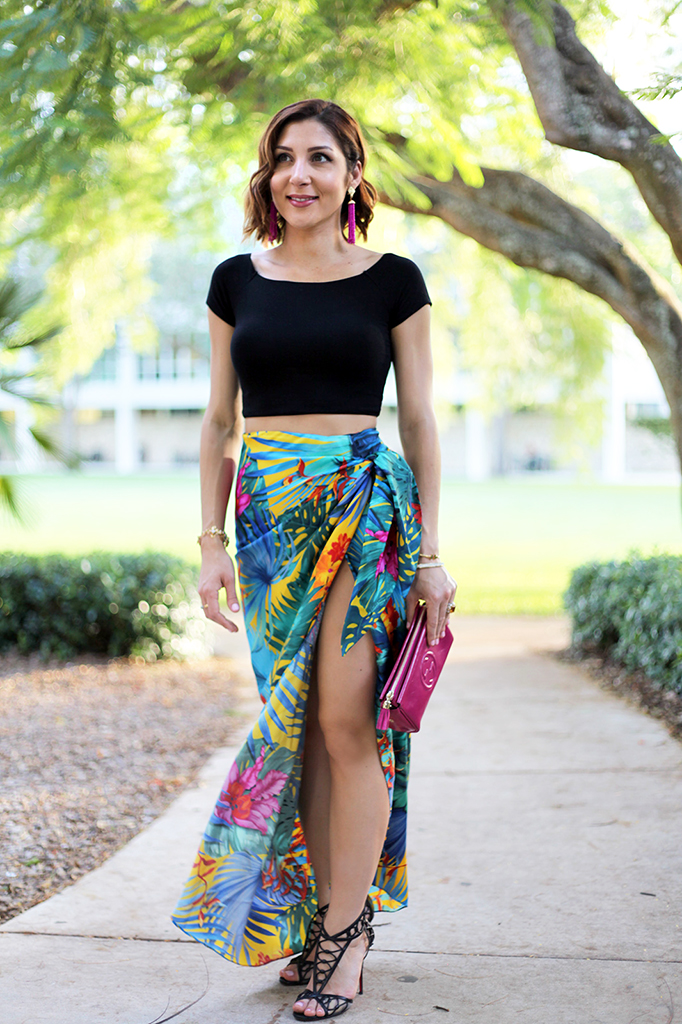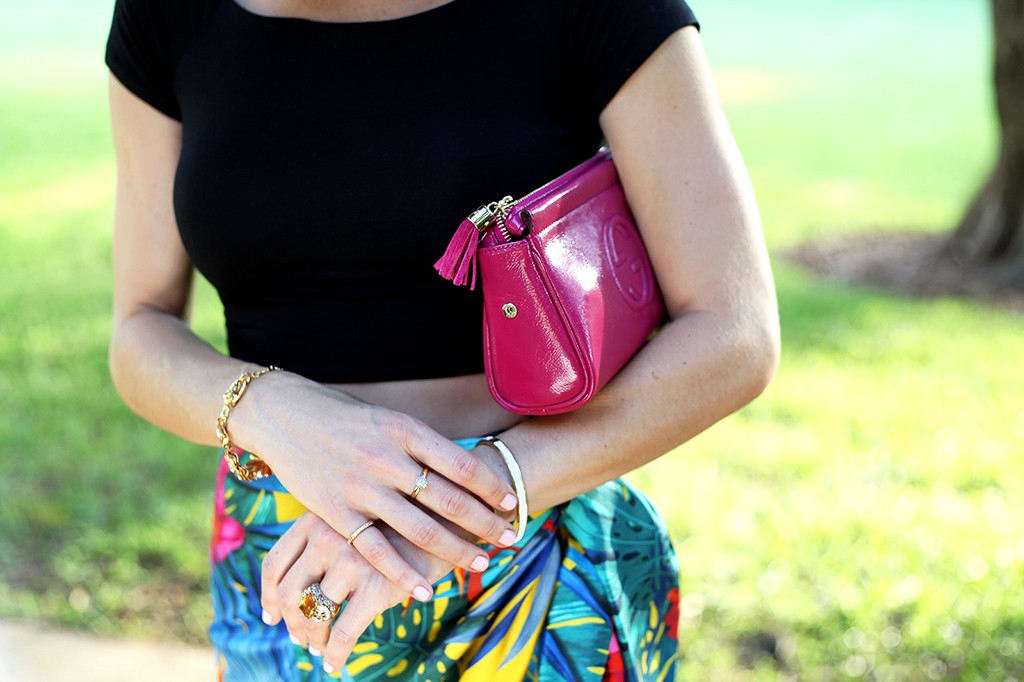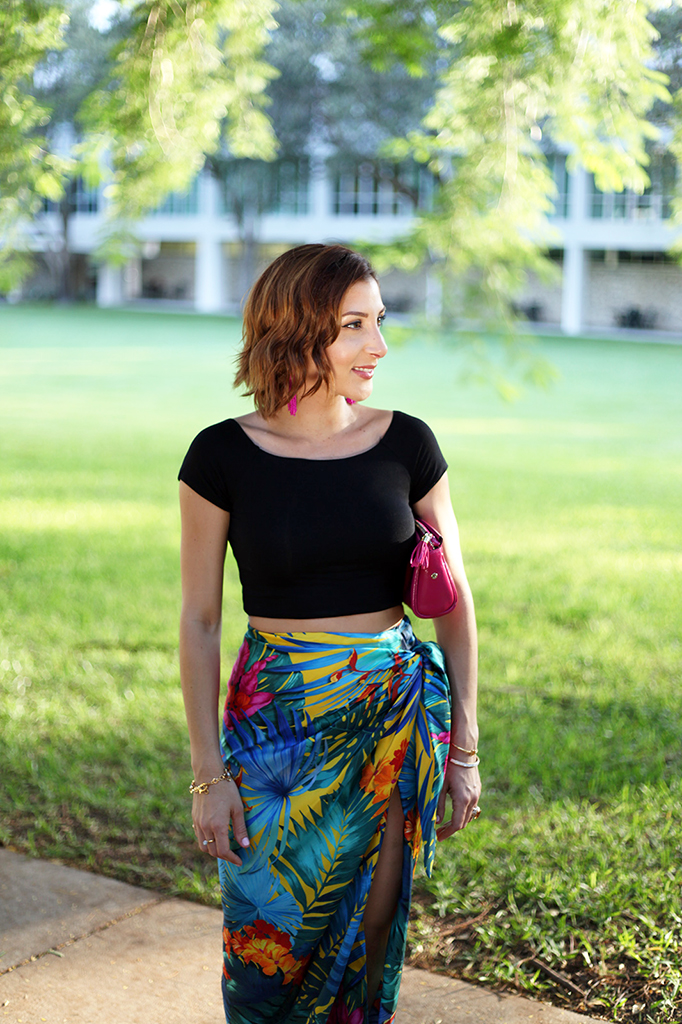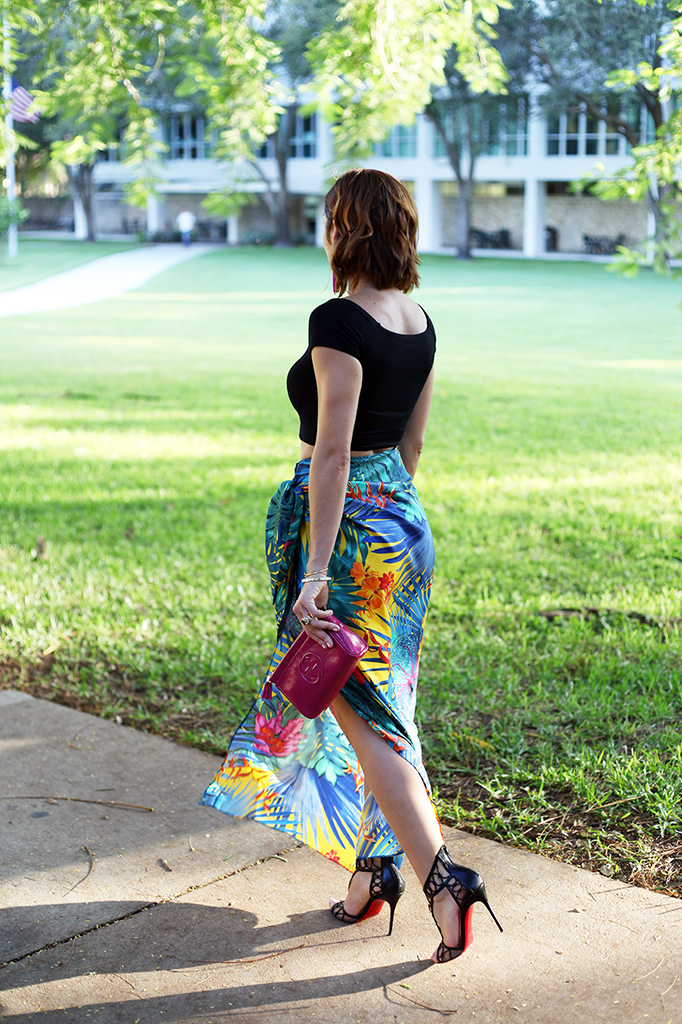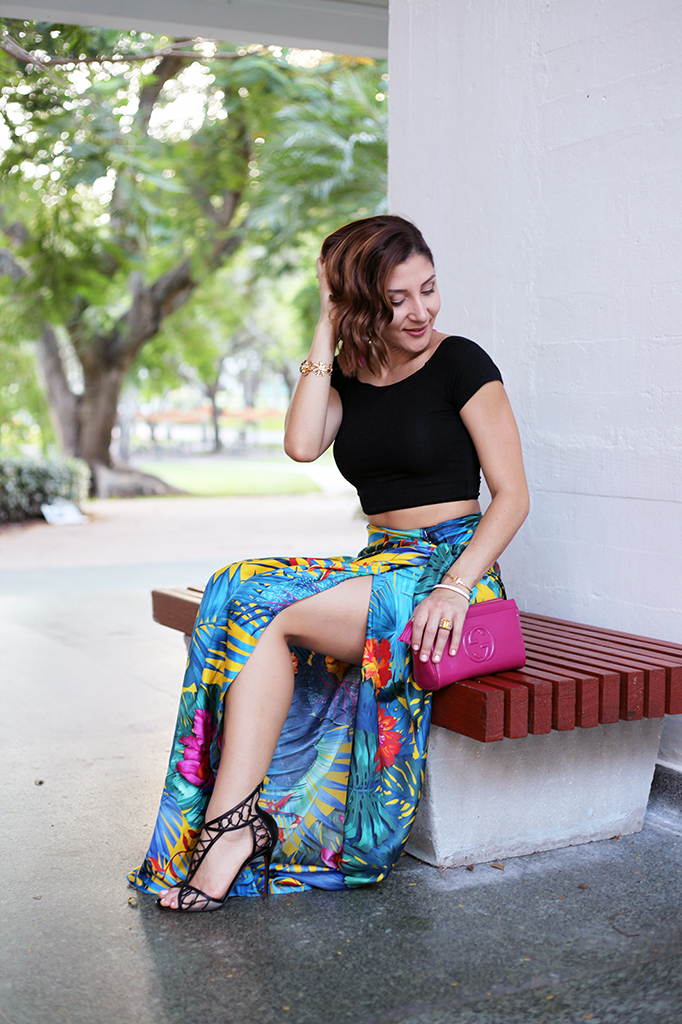 << SKIRT: Salvatore Ferragamo (similar)  |  CROP TOP: local Miami shop (similar)  |  SANDALS: Christian Louboutin (similar)   |   CLUTCH: Gucci (similar)   |  DROP TASSEL EARRINGS: Blomingdale's (similar)  |  BRACELETS: Henri Bendel (up to 30% off until Oct. 23/hasta un 30% de descuento que termina el 23 de octubre ) & Tiffany & Co.  |  LIPSTICK: Make Up For Ever – N9 Copper Pink   |   LIP GLOSS: Urban Decay – Liar  |  NAIL POLISH: Essie – Tying the Knotie >>
As I've shared before here I adore color and never pass on an opportunity to show it. Hence the reason why I finally decided to style this stunning silk skirt. I had purchased it on a trip to Italy over a year ago (yes #TRUESTORY ) and it was love at first sight! And what about that slit! But whenever I would attempt to wear it my hubby always commented that it reminded him of Chiquita Banana #ALSOTRUESTORY. Nonetheless, I grew the courage and wore it for our recent date night. Because of the vibrant colors, I opted for black shoes and a black crop top, which I purposely chose to create a break from the long length of the skirt.
What do you all think? Yay or nay to Chiquita Banana (so far the scorecard is: Hubby 1 | Mei 1)

RESPLANDOR TROPICAL: BLUSA CORTA + FALDA DE SEDA
Como les he compartido antes aquí me encantan los colores y nunca paso la oportunidad para demostrarlo. De ahí la razón por la que finalmente me decidí a usar esta hermosa falda de seda. La había adquirido en un viaje a Italia hace más de un año, sí #HISTORIAREAL y fue ¡amor a primera vista! Y ¿qué me dicen de esa abertura! Pero cada vez que la usaba mi esposo comentaba que le recordaba a Chiquita Banana #TAMBIENHISTORIAREAL. Sin embargo, me llene de valor y finalmente la usé para nuestra cita romántica la otra noche. Debido a los colores llamativos, opté por zapatos negros y una blusa corta también negra, que a propósito elegí para crear un pausa visual por la falda ser de cuerpo entero.
¿Qué piensan ustedes, sí o no a Chiquita Banana? (hasta ahora, la puntuación es: Esposo 1 | Mei 1).

You might also like