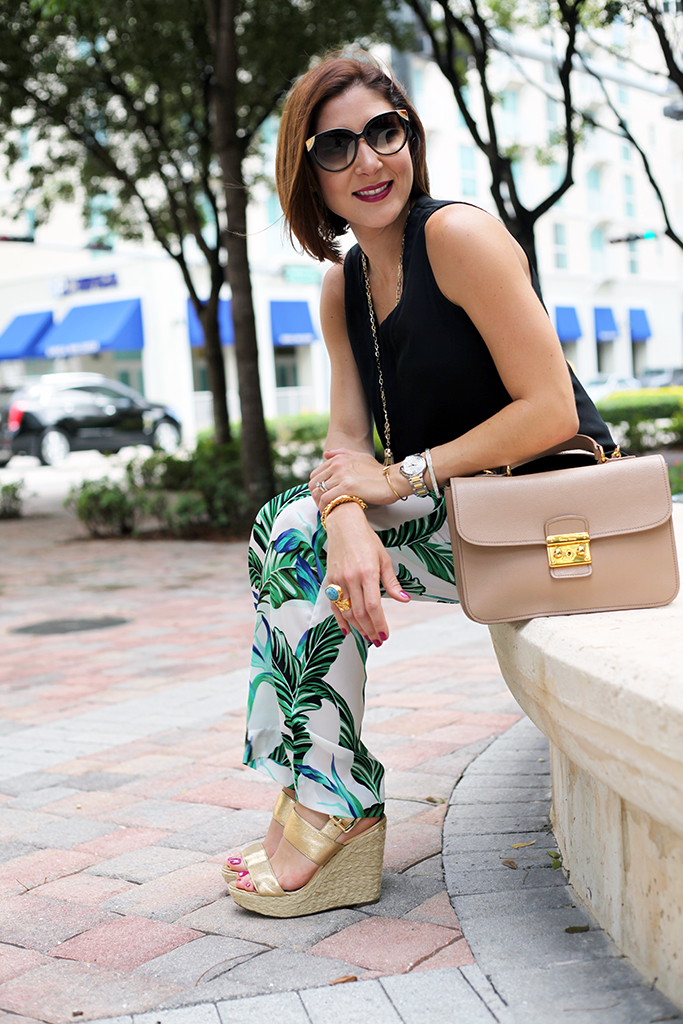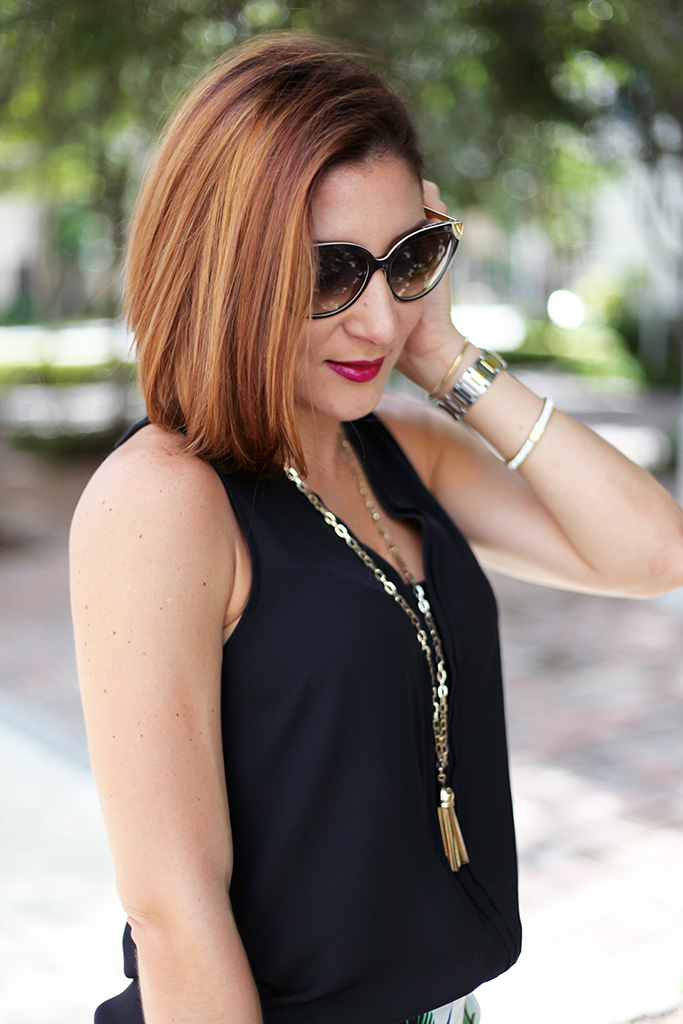 << SLEEVELESS TOP: Nordstrom (similar)  |  PANTS: Zara (similar)  |  WEDGES: Michael Kors (similar on sale/en venta)  |  NECKLACE: Baublebar   |  BRACELETS: Henri Bendel (#1 & #2 similar), Tiffany & Co.  |  RING: Yves Saint Laurent (similar)  |  WATCH: Cartier  |  HANDBAG: Miu Miu (similar)  |  SUNGLASSES: Louis Vuitton  |  LIPSTICK: Urban Decay – Naked  |  NAIL POLISH: Essie – Big Spender >>
Even though it is no longer summer, I can't deny a nice pair of palm-tree printed pants! This trend exploded during the summer months but don't remove it from your wardrobe yet. Why? Because as long as it is paired with a darker piece (like the sleeveless top I selected), it is very much fall appropriate. I have always enjoyed color and do not believe in #NoWhiTeAfterLaborDay or #CoolerMonthsDarkerShades fashion faux pas. So color away if you enjoy it, as long as YOU feel great, wear it sistah!
I wore this outfit for a delicious lunch with the hubby at our favorite Mexican fast-food spot. Let me tell you, I enjoyed this outfit as much as I enjoyed my delicious taco & guac, I guess you can say I dressed for the occasion (unintentionally of course… NOT! Lol).
 
ESTAMPADO DE PALMERAS: PANTALONES ANCHOS + TOP SIN MANGAS

A pesar de que ya no es verano, no puedo negar un par de pantalones con estampado de palmeras. La moda con este estampado estalló durante los meses de verano, pero no deberías eliminarlo de tu armario todavía ¿Por qué? Debido a que mientras se combine con una pieza oscura (como el top que seleccione), es apropiado para el otoño. Siempre he disfrutado los colores y no creo en #NoAlBlancoDespuesDelDiaDelTrabajo o #MesesFrescosTonosOscuros. Así que si les gustan los colores como a mí, úsenlo si les hace sentir bien.
Opté por este look para un delicioso almuerzo con mi esposo a nuestro restaurante favorito de comida rápida mexicana. Les cuento que me gustó este look igual o más que mi delicioso taco y guacamole, supongo que se puede decir que me vestí para la ocasión (involuntariamente por supuesto).

You might also like