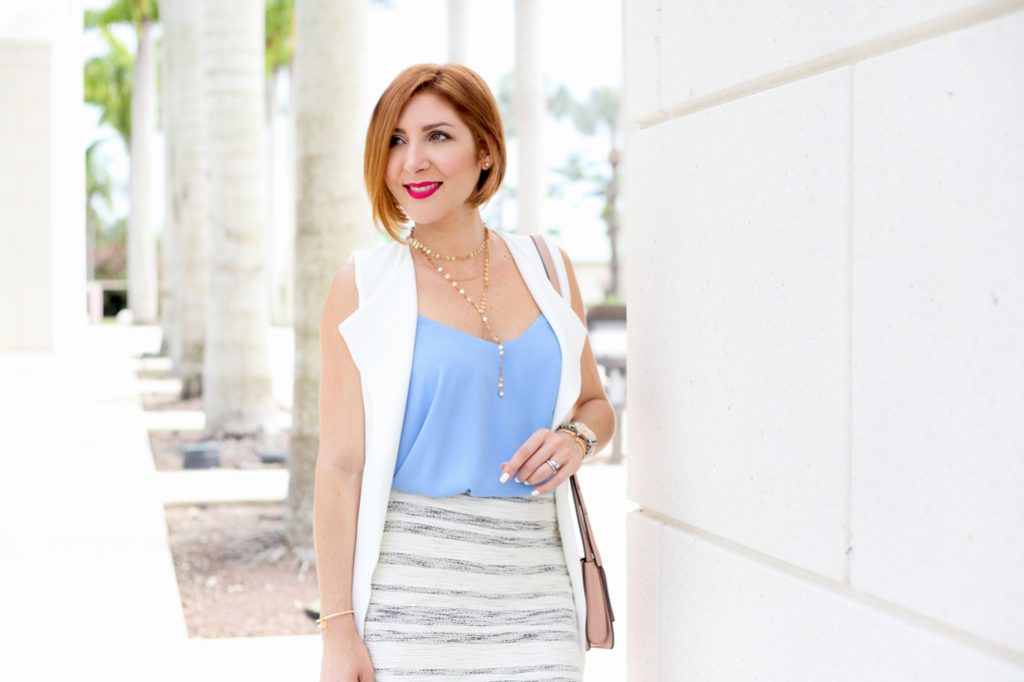 TOP: Nordstrom (available in 14 other colors!) ||   SKIRT: Nordstrom (40% off!) ||   LONG VEST: Zara (similar here and here)    ||  NECKLACE: The Styled Collection (on sale!)  ||   BRACELET: Cartier (affordable option here), Tiffany & Co. (affordable option here), Hermes (affordable option here)   ||    WATCH: Montblanc (affordable option here)   ||   HANDBAG: Chloe (exact affordable option here)  ||  RING: YSL (affordable option here on sale!)  ||   SANDALS: Alexandre Birman (affordable options here, here and here)  ||    LIPSTICK: Anastasia Beverly Hills – Party pink
[one_half]
First things first, I returned to the states yesterday from what has been, to say the least, an amazing trip. I probably say this at the culmination of every travel journey but ever since the travel bug bit me, I can't get enough of this incredible wanderlust high. Let me leave the travel talk for when I share everything from these incredible two weeks I Northern Europe and instead chat about this classy yet edgy ensemble. I actually put this look together at the last minute, which goes to show that you don't have to spend hours trying to decide what to wear. If you have a few staple pieces in your closet, you just need a little imagination. I have paired long vests many times before (here, here and here), but never with a skirt. Let me just say that I felt in love with this look as soon as I saw it all together and might even replicate it with other pieces from my closet.
And as for this skirt, well, it's a recent you-can't-go-wrong-with-it purchase. The fabric is very forgiving and lightweight (perfect for Miami's heat and humidity). The fit is perfect (not to tight nor too loose), and the soft striped pattern is my favorite thing about it. Don't feel intimidated with horizontal stripes ladies! because unlike a maxi skirt, dress or top, there isn't a lot of material, thus the stripes on the skirt don't overwhelm the look. The soft gray shade also helps with this illusion, as opposed to a harsh and more defined stripe.
What's your favorite striped piece? This skirt might actually be mine.
[/one_half][one_half_last]Primero les comparto que ayer regrese a casa de lo que ha sido un viaje increíble. Probablemente digo esto en la culminación de cada viaje, pero desde que mi amor por viajar comenzó, ansio por conocer una nueva ciudad, cultura y comida a menudo. Pero bueno, dejo la charla de mi viaje para cuando comparta acerca estas increíbles dos semanas en el centro de Europa y en cambio compartiré sobre este conjunto. En realidad, combine este look en el último minuto, cual demuestra que no tienen que pasar horas tratando de decidir qué ponerse. Si tienen algunas piezas claves o esenciales en su armario, sólo necesita un poco de imaginación. He combinado esta y otras chaqueta largas otras veces (aquí, aquí y aquí), pero nunca con una falda. Y déjenme decirles que me enamore del resultado tan pronto cuando lo vi todo junto y podría incluso re-crearlo con otras piezas en mi armario.
Y en cuanto a esta falda, bueno, es una compra reciente que les aseguro ser una pieza de la cual no se arrepentirán. La tela es favorecedora y ligera (perfecta para el calor y la humedad de Miami). El estilo es perfecto (no tan apretado ni demasiado desajustado), y el estampado de rayas claras es mi detalle preferido. No se sientan intimidadas con las rayas horizontales chicas. Porque a diferencia de una falda maxi, vestido o blusa, que tiene mucho más material que una mini falda, hace que las rayas en esta falda no agobian sus figuras. El color gris claro también ayuda con esta ilusión, a diferencia de una línea más oscura y definida.
¿Cuál es su pieza de rayas favorita? Esta falda podría ser la mía.[/one_half_last]