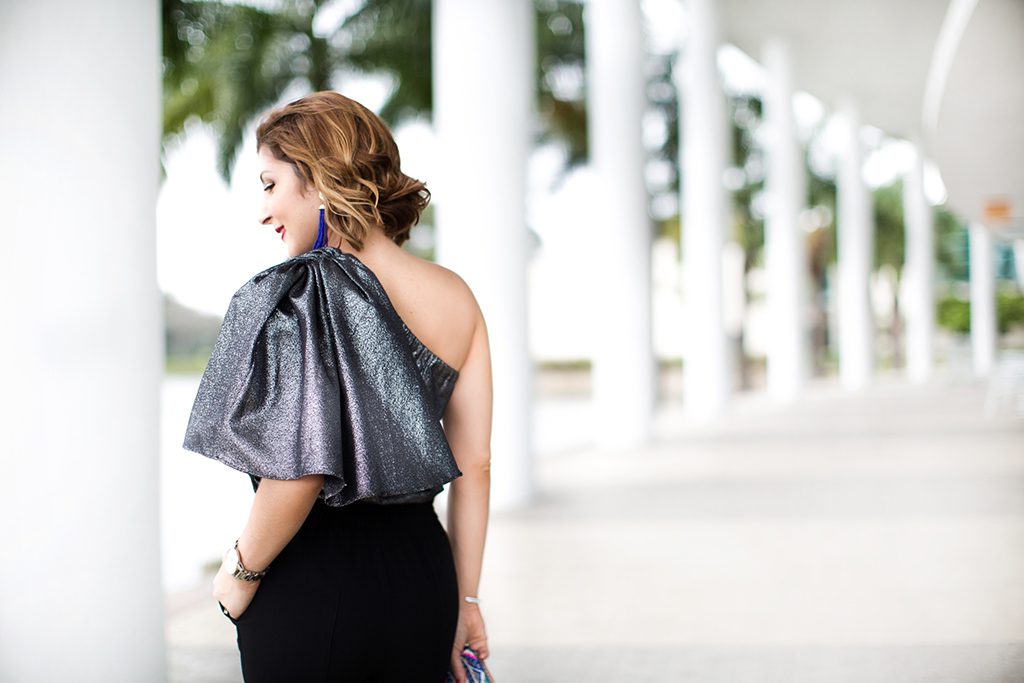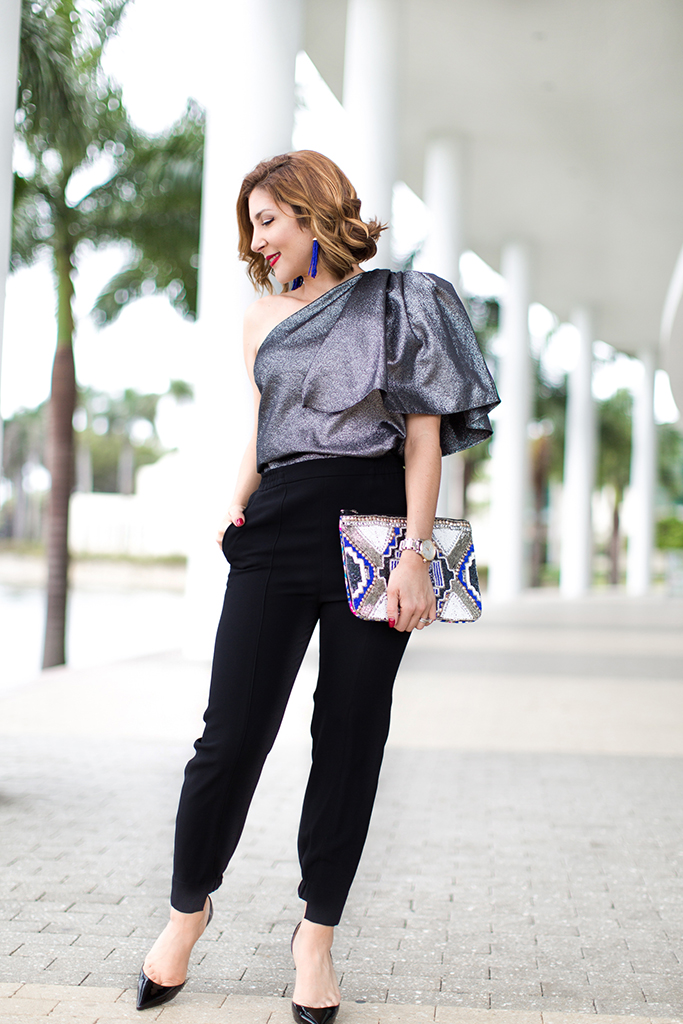 Be a show stopper this New Year's Eve with a unique asymmetrical top, but make sure to pair it with a bottom that will elongate your figure.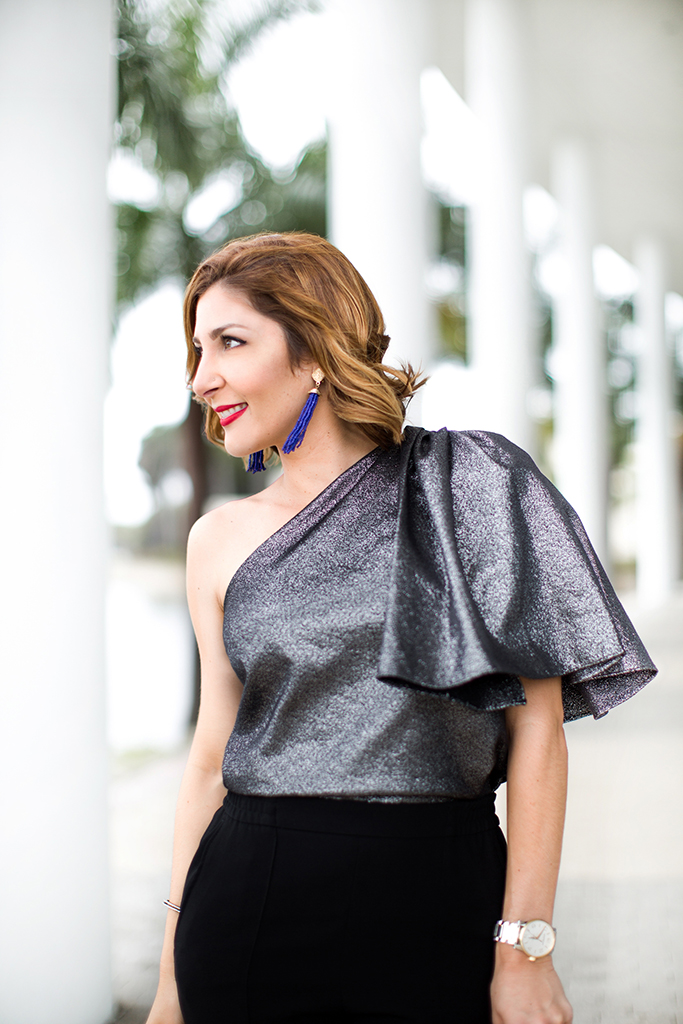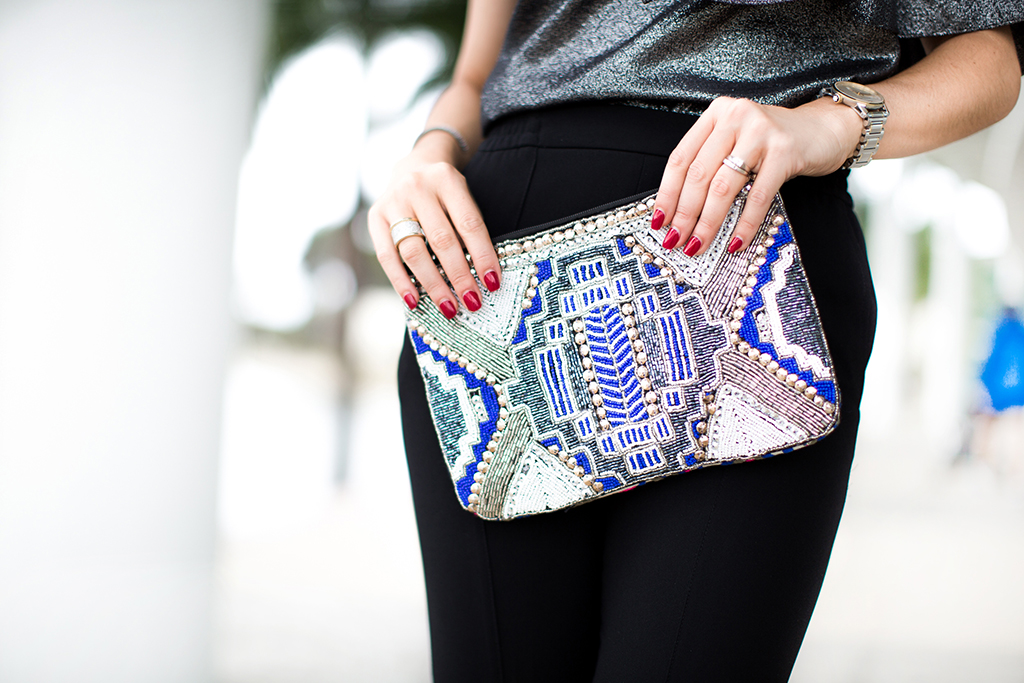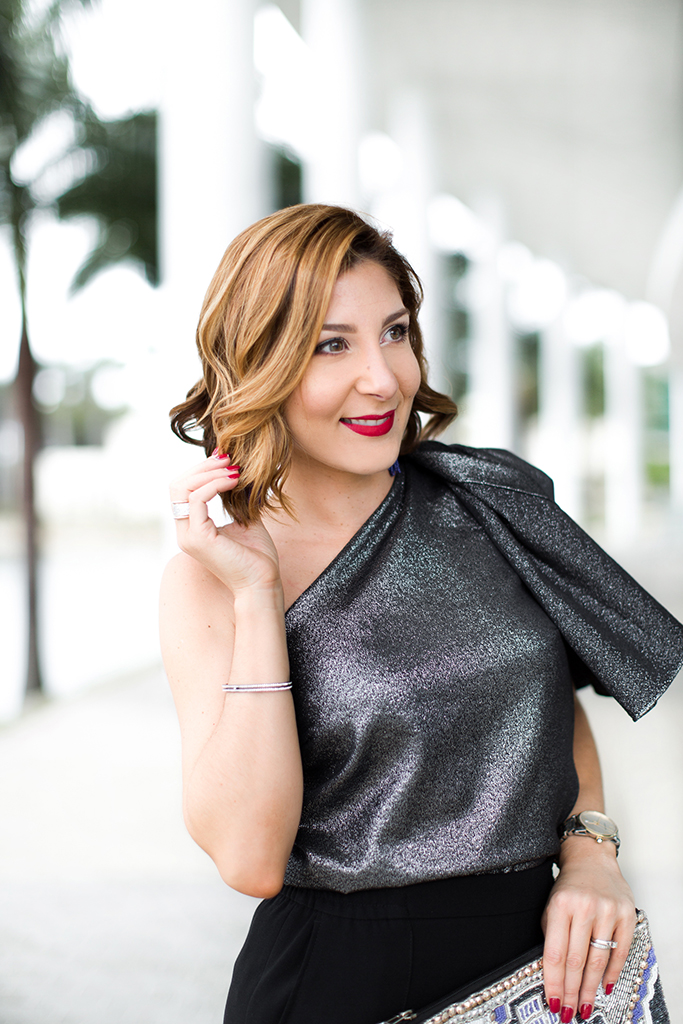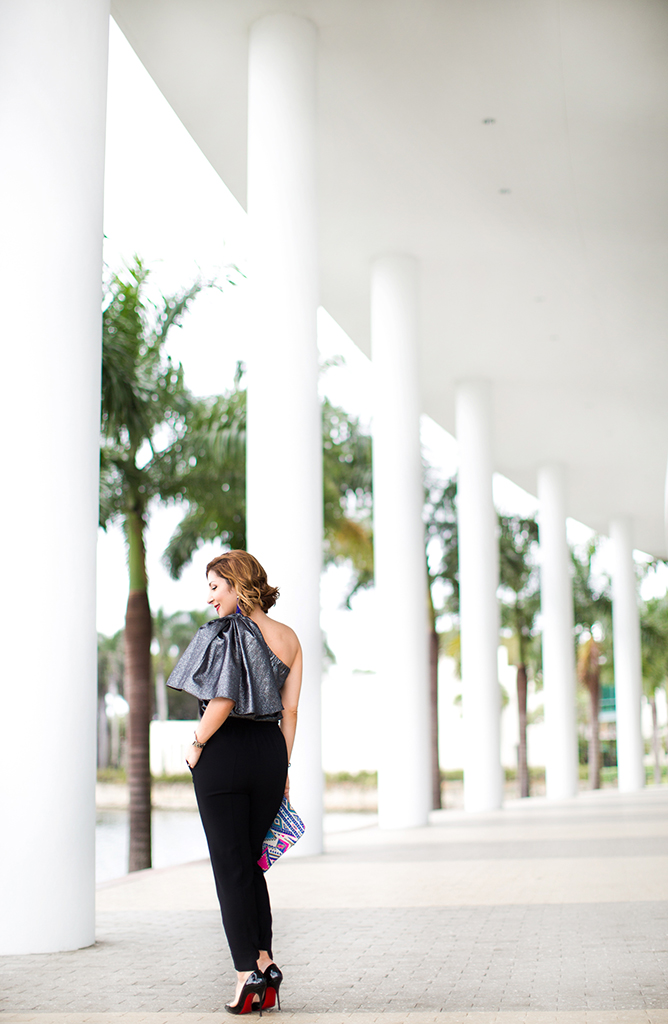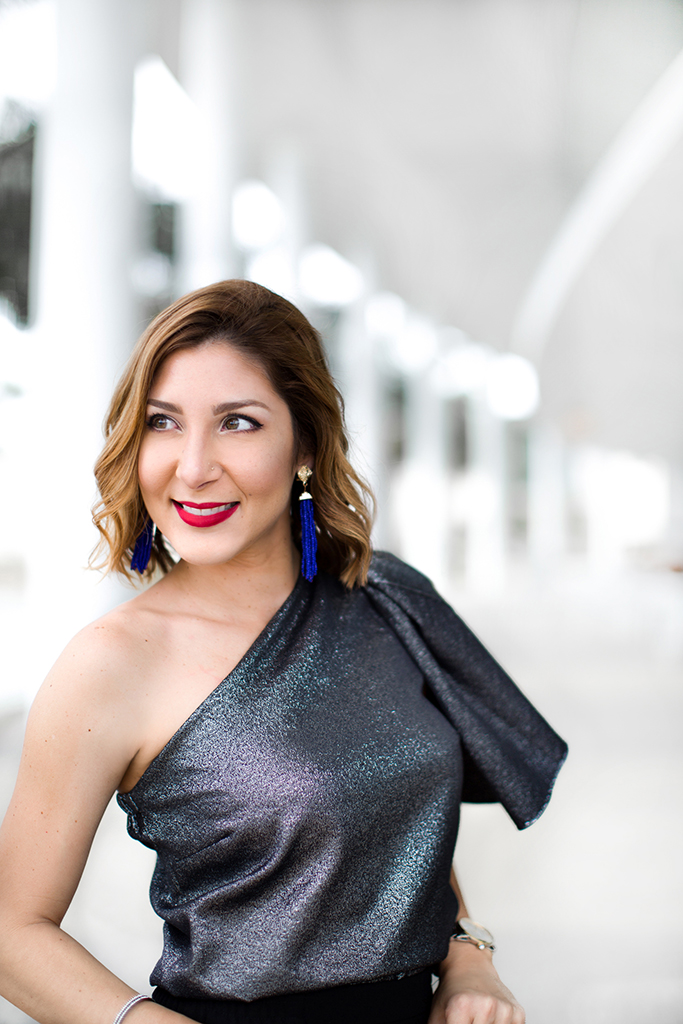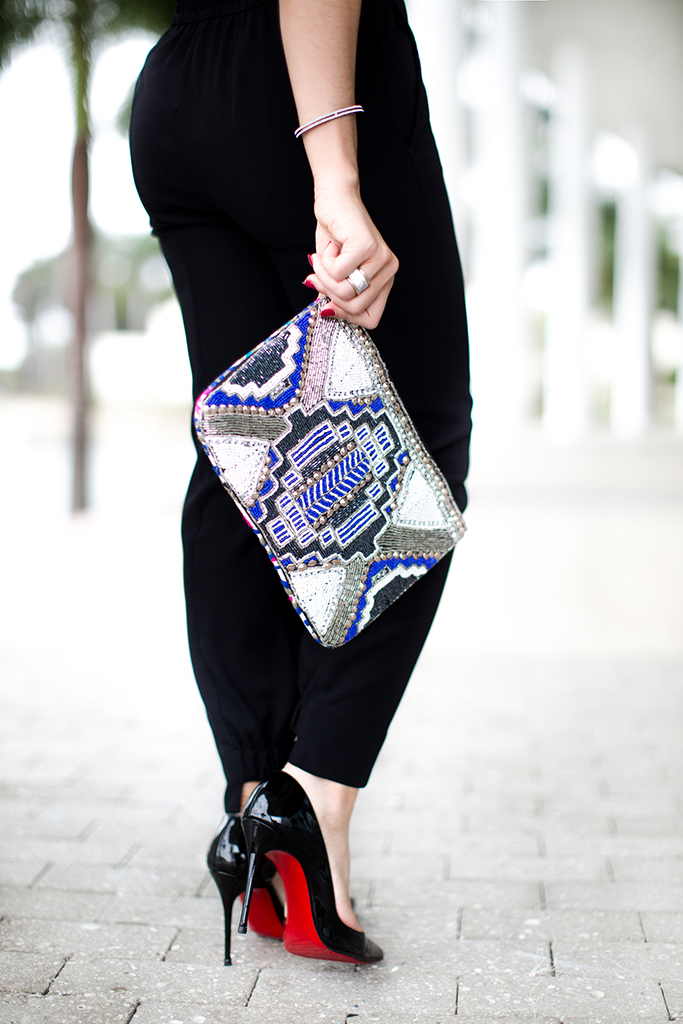 TOP: Zara (similar here and here)  ||  JOGGERS: Zara (similar here and here)  ||   HANDBAG:  Local shop while abroad (almost identical here and here)   ||  RING: Henri Bendel  ||  BRACELET: Henri Bendel (similar here, affordable option here)  ||  EARRINGS: Bloomingdale's (similar here)   ||  HEELS: Christian Louboutin (affordable option here)   ||    WATCH: MontBlanc (affordable option here)   ||  NAIL POLISH: OPI 'Ring the Buzzer Again'    ||   LIPSTICK: MAC 'Ruby Woo'
Photography by: Luccia Lowenthal
Hi loves!
How was your holiday weekend? Did you get everything you wished for? Hopefully mostly hugs, kisses and lots of laughs with your loved ones. Not sure if we are the only ones, but the hubby and I don't expect a gift from each other during the holidays, just like during Valentine's. We feel that sometimes we forget why these holidays originated and to be completely honest, it feels like a chore or homework having to buy someone something just because society has made us think that way. However, if we really want to get something for one another, we do, but there is no pressure at all to have to.
Now, let's talk about today's New Year's Eve ensemble. Despite my hesitation with this top, I took the plunge and purchased it. I wasn't sure if it was going to work out for my petite frame, but I made sure it did because I just loved the unique large ruffle detail. I achieved this by pairing it with these joggers (wore them before here) which gives an elongated illusion to my figure. Ladies I am only 5'3"! But I sure don't look like it in this outfit. Moral of the story: even though you are hesitant about it, make sure to wear something unique (and sparkly), because it is definitely a must-do for a night to remember. Have you seen my last two NYE looks? You can do so here (casual but chic) and here (sassy but oh-so classy).
PS: Here is another update of our trip… Today we are in Buenos Aires, Argentina. We will visit the Casa Rosada (Pink House, equivalent of US' White House), Teatro Colon (Colon Theater, which a must-see in Argentina) among others places. And the highlight of the night will be having dinner over a Tango show (with lessons included). Don't forget to see our shenanigans in my Instagram Stories.

BLUSA DE COLOR METÁLICO + PANTALONES ESTILO JOGGERS
¡Hola amores!
¿Cómo estuvo su fin de semana de navidad? ¿Obtuvieron todo lo que deseaban? Espero que hayan recibido más que regalos, como abrazos, besos y muchas sonrisas de sus seres queridos. No estoy segura si somos los únicos, pero mi esposo y yo no esperamos un regalo de cada uno durante las navidades, al igual que durante el día de los enamorados. Creemos que a veces nos olvidamos por qué estos días festivos se originaron y para ser completamente honesta, siento que es una tarea tener que comprar algo a alguien sólo por que la sociedad nos ha hecho pensar de esa manera. Sin embargo, si realmente queremos regalarnos algo, lo hacemos, pero no hay presión en absoluto para tener que hacerlo.
Hablemos del conjunto de hoy, que ya es el tercero que he creado para la víspera de Año Nuevo. A pesar de mi incertidumbre con esta blusa, tomé la inesperada decisión y la compré. No estaba segura si iba a funcionar para mi pequeña estatura, pero me aseguré de hacerlo porque me encanto su enorme vuelo (volante como se conoce también) haciéndola una pieza muy original. Hice esto al combinarla con estos pantalones (los vestí recientemente aquí) que dio la ilusión de alargar mi figura. ¡Chicas mido solo 1.6 metros! Pero no lo parece en este outfit, ¿verdad? Moraleja de la historia: a pesar de que tengan duda de una pieza en específico, asegúrese de usar algo único (y brillante) porque es definitivamente necesario para una noche como la de Año Nuevo.
¿Han visto mis dos últimos looks para celebrar el Año Nuevo? Lo puede hacer aquí (casual pero elegante) y aquí (atrevido pero muy clásico).
PD: aquí les tengo otras noticias de nuestro viaje… Hoy estamos en Buenos Aires. Visitaremos la Casa Rosada, el Teatro Colón (muy conocido y obligatorio de visitar cuando visitas Argentina), entre otros lugares. Y lo más destacado de la noche será cenar mientras disfrutamos un show de Tango (con lecciones incluidas). No se olviden de ver nuestras travesuras en mis Historias de Instagram.