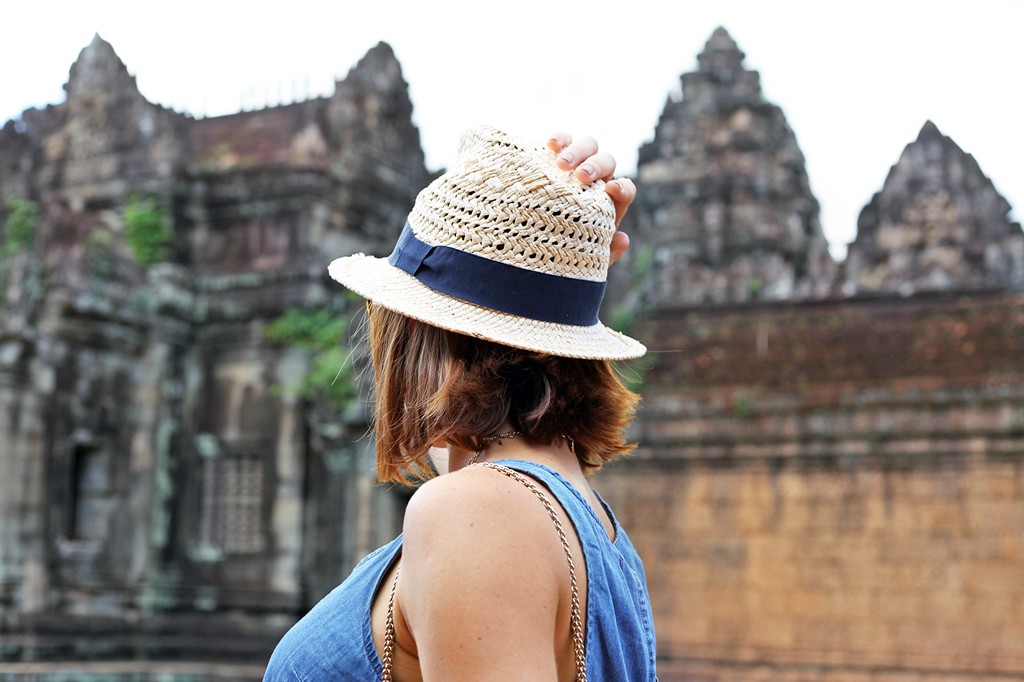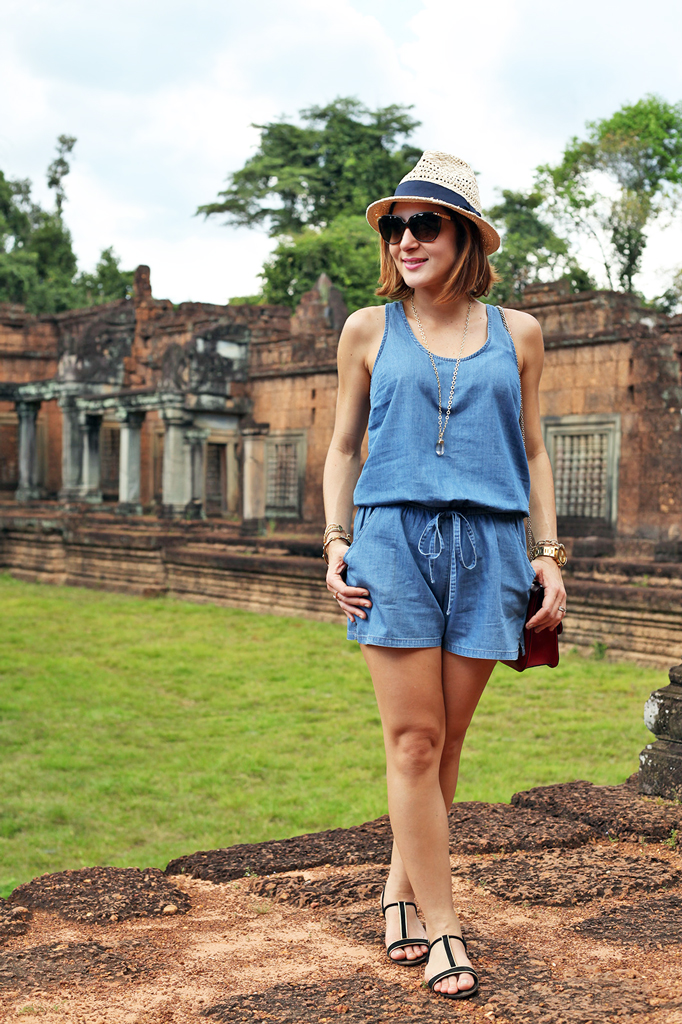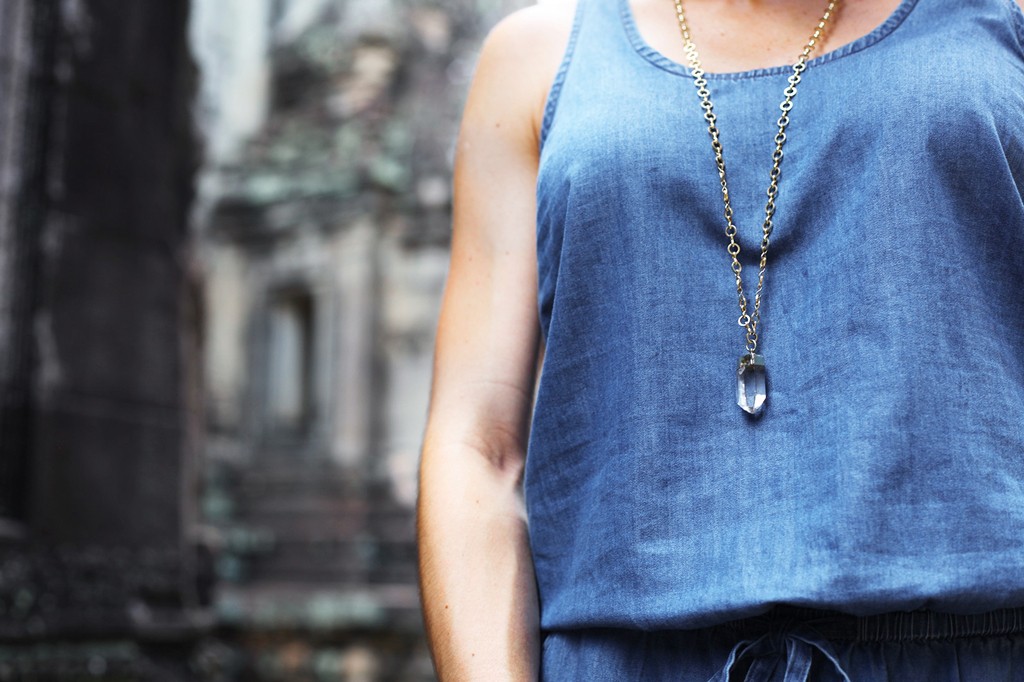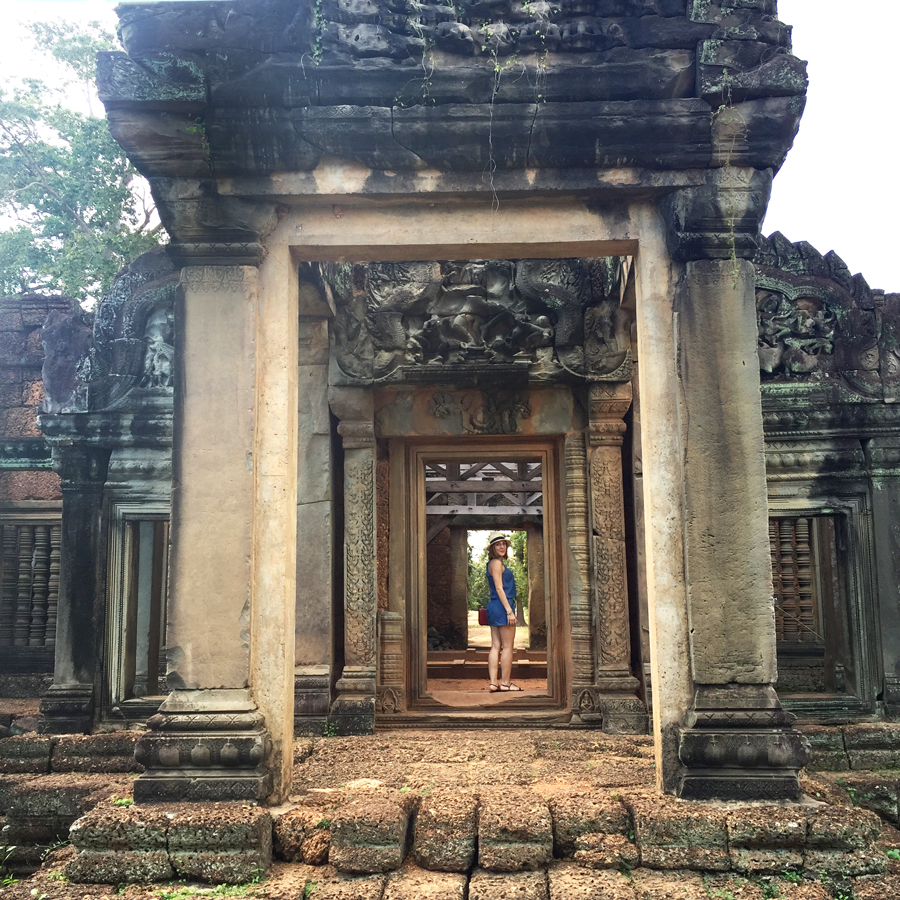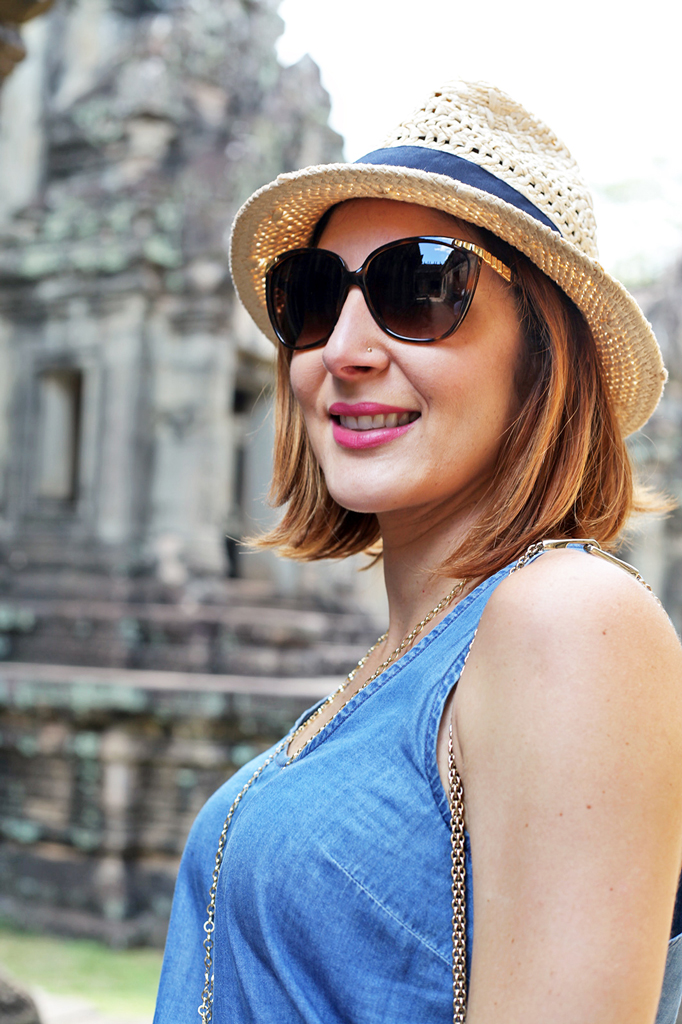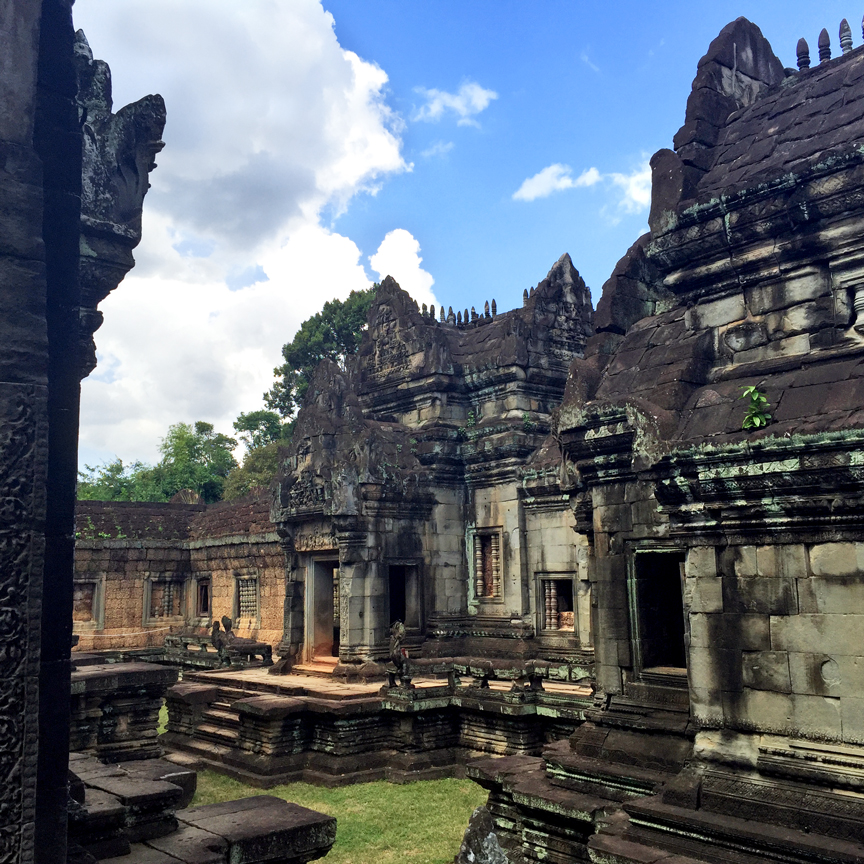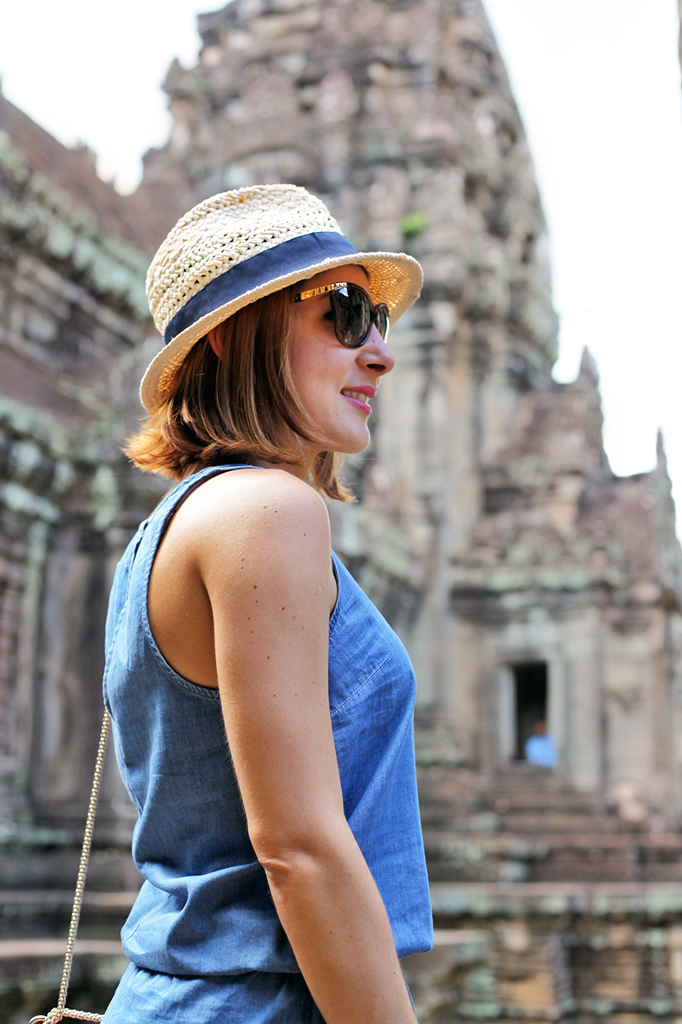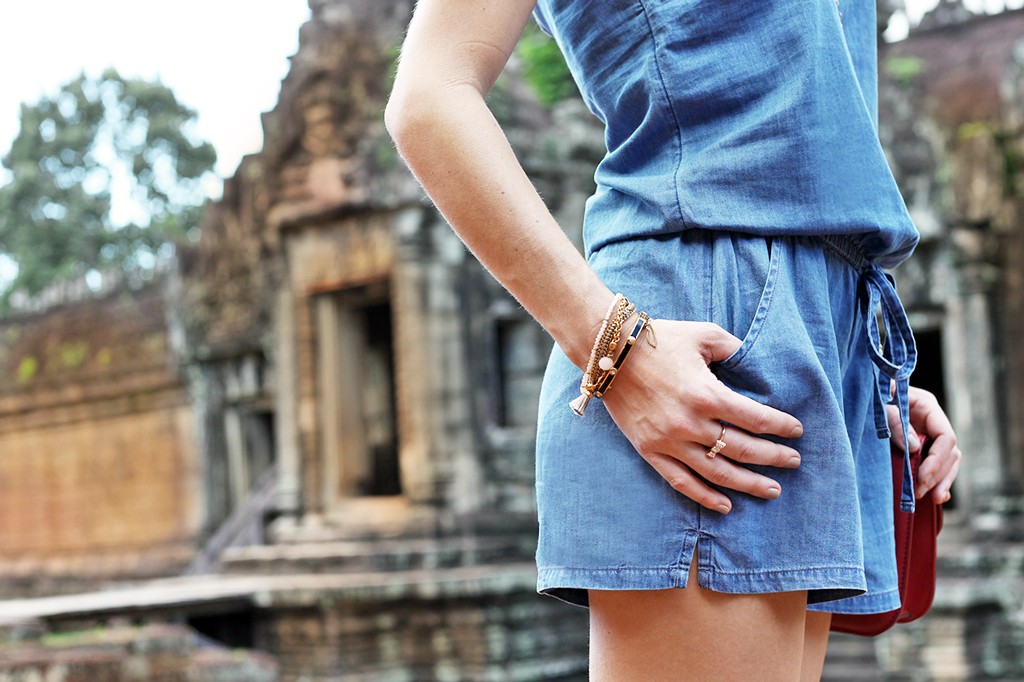 << ROMPER: Old Navy (similar #1 & similar #2) | FEDORA: J.Crew Factory (similar) | NECKLACE: Nordstrom (similar) | WATCH: Movado 'Bold' | HANDBAG: Valentino 'Lock Rockstud' | RING: Henri Bendel (similar) | BRACELET: Henri Bendel ('East Hampton Charm Bracelet' & 'Miss Bendel Rivet Bangle') & J.Crew Factory 'Factory gold and crystal link' | SUNGLASSES: D&G | SANDALS: Zara (similar) | LIPSTICK: Milani Color Statement 'Matte Blissful' | NAIL POLISH: CND Vinylux 'Svelte Suede' >>
Among the many things in my to-do list when preparing to travel abroad, is checking the average weather for that destination. So when I realized the anticipated temperatures of high 80's with humidity of 80% I made sure to pack lots of rompers and comfy dresses for Cambodia. Boy was I glad I did! As expected, the heat and humidity were pretty much unbearable, but I don't want to discourage you from visiting so as consolation just ponder that you will miss one of the most beautiful, natural scenery and interesting culture otherwise.
In this occasion we visited what I nicknamed the 'Red Temple', Banteay Samre. Despite its age (was built in the middle of the 12th century), its carvings and elaborate architecture have been finely preserved. The quality of its bas-reliefs and stonework is among the best at Angkor and surprisingly is one of the least visited because of its remote location, making it a total must-see!
This look is not only perfect for warm destinations but it is also great for those times when you don't want to be wasting time trying to figure out an outfit (take a look at how I've styled rompers in the past here and here). A romper is one of those pieces that you NEED in your wardrobe; it is chic, simple and versatile because it can be easily paired with sandals (like I did), pumps with blazers for a night out or even with wedges for a yummy weekend brunch.

SIEM RIEP, CAMBOYA: MONO CORTO + BOLSA ROJA
Entre las muchas cosas en mi lista de tareas cuando me preparo para viajar, está informarme sobre el promedio del clima en el país donde me dirijo. Así que cuando me di cuenta que las temperaturas en Cambodia estarían en los 85's (29°C) con una humedad de 80% me aseguré de empacar suficientes monos cortos y vestidos cómodos ¡Qué bueno que lo hice! Como se anticipaba, el calor y la humedad eran casi intolerable, pero no quiero desalentarle de visitar este país, mi consuelo es de reflexionar que dejará de conocer los paisajes más naturales y bellos de lo contrario.
En esta ocasión visitamos lo que apode el 'Templo Rojo', Banteay Samre. A pesar de su edad (fue construido a mediados del siglo 12), sus esculturas y elaborada arquitectura han sido finamente preservadas. La calidad de sus relieves y trabajos de piedra están entre los mejores en Angkor y sorprendentemente es uno de los menos visitados debido a su remota ubicación.
Este look no sólo es perfecto para destinos turísticos cálidos, pero también es ideal para aquellos momentos en que no quiere perder el tiempo tratando de combinar un outfit (eche un vistazo a como he combinado monos cortos en el pasado aquí y aquí). Chicas, un mono es una de esas piezas que necesita en su armario; es elegante, sencillo y versátil, ya que puede ser fácilmente combinado con sandalias (como lo hice yo), tacones con chaquetas para salir de noche o incluso con cuñas para un delicioso almuerzo casual.