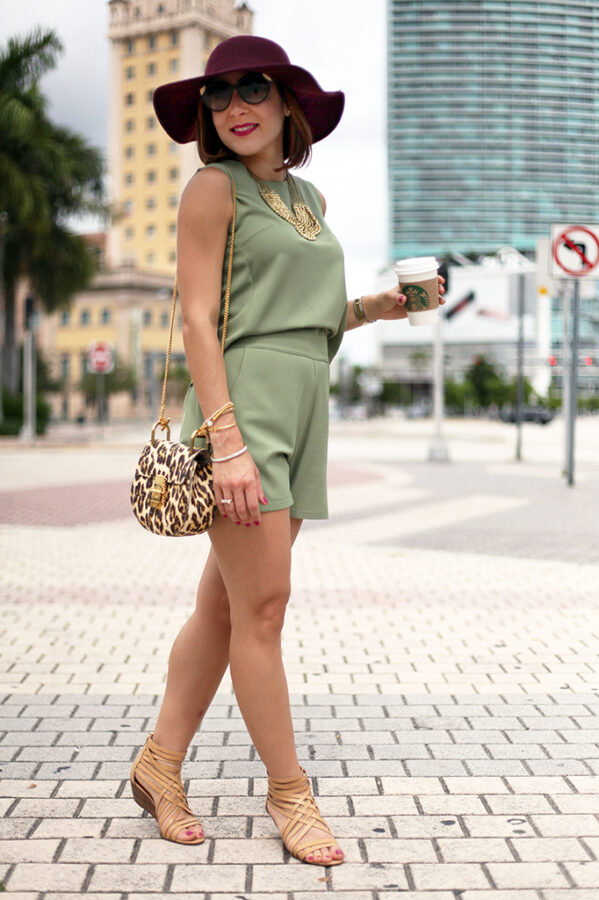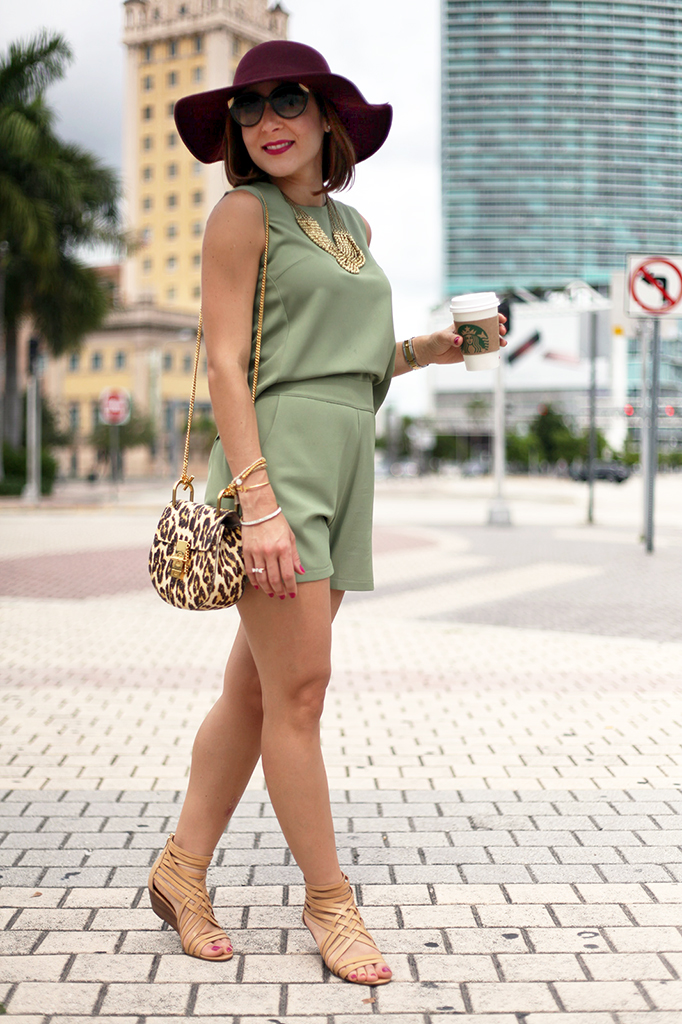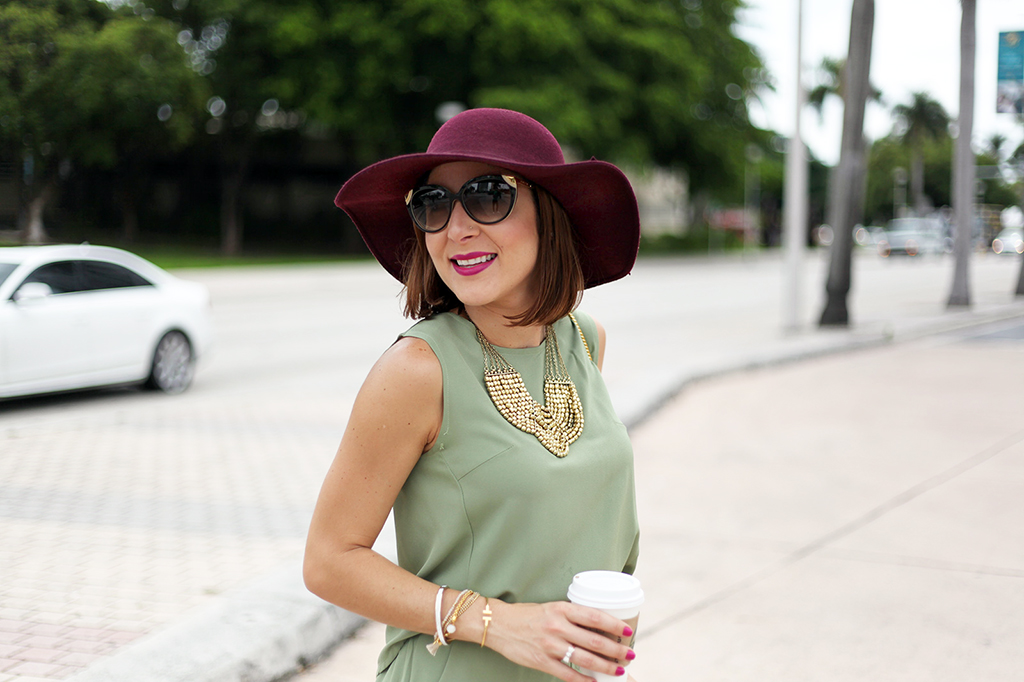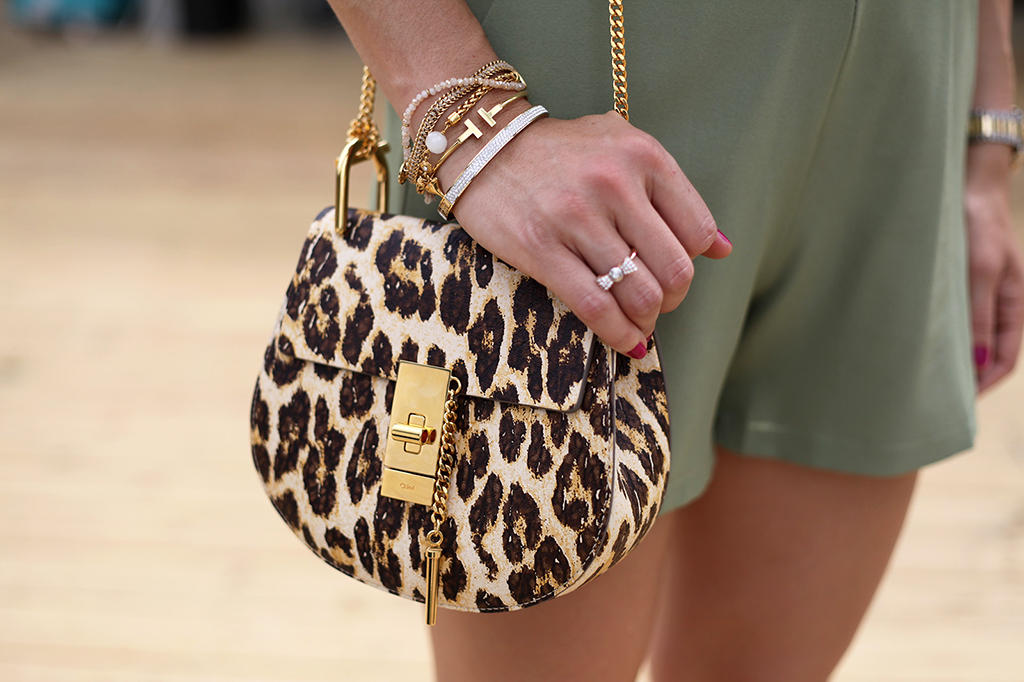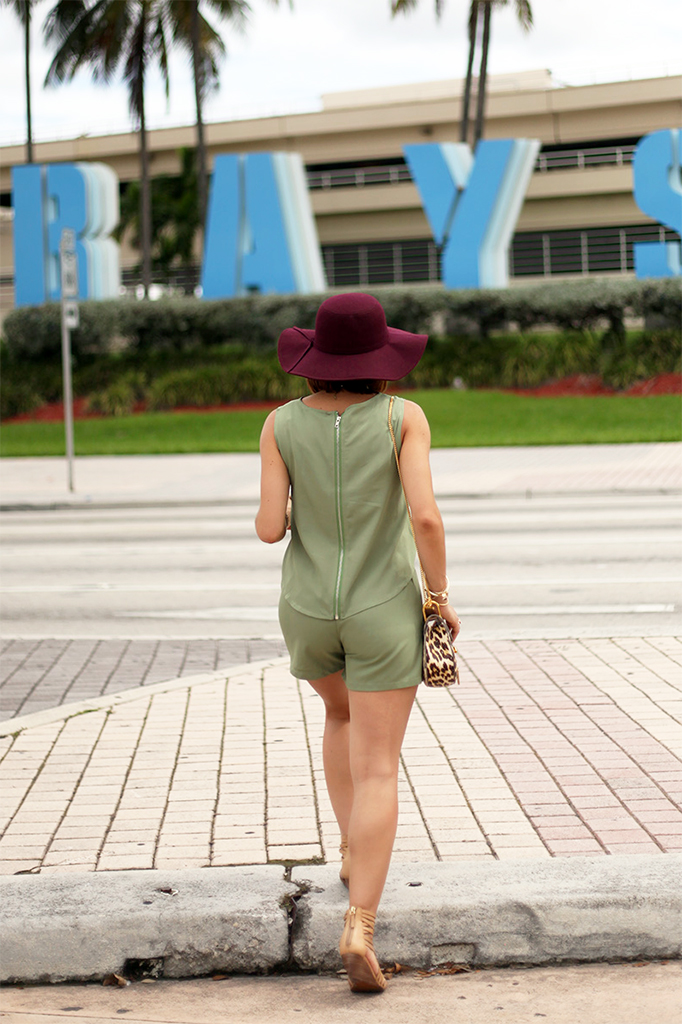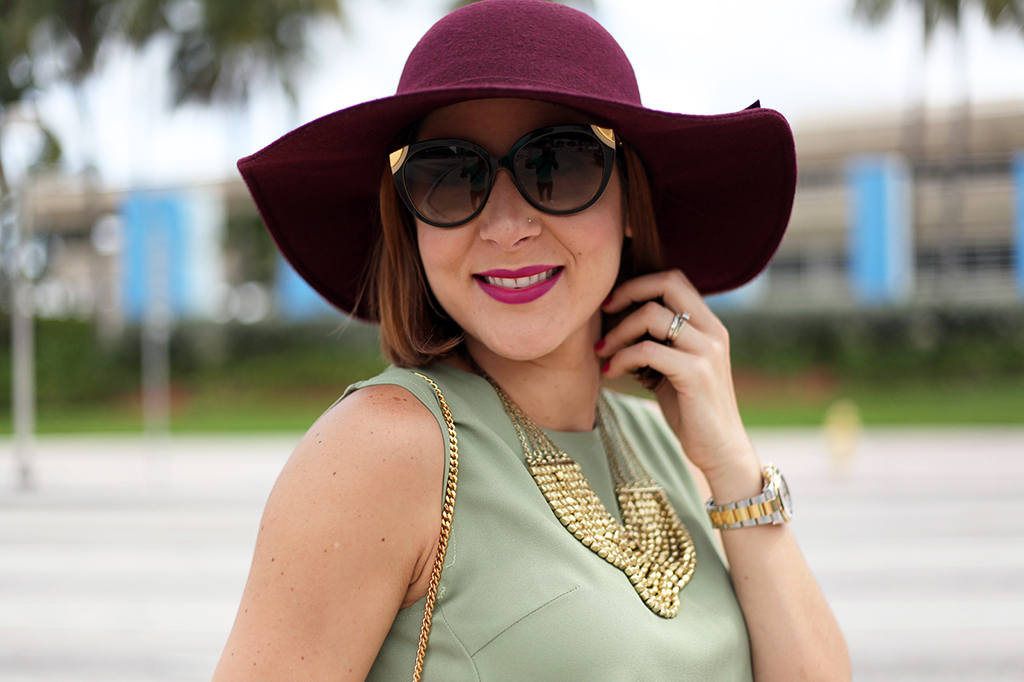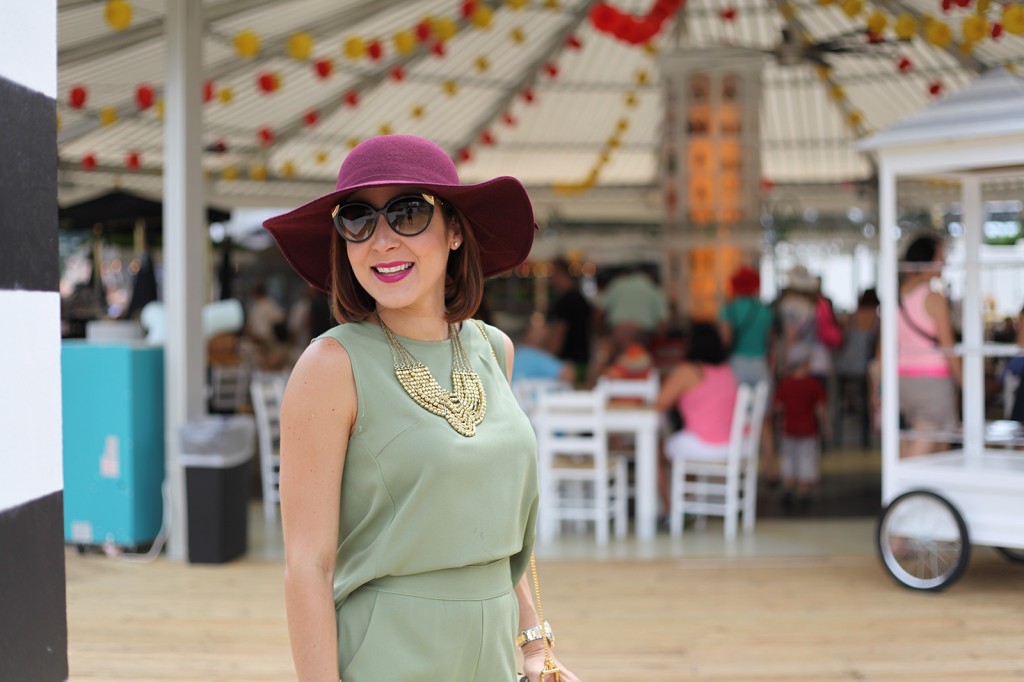 << ROMPER: SheIn  |  SANDALS: Hinge (via Nordstrom)  |  NECKLACE: local Miami shop (similar)  |  HAT: (via Nordstrom)  |  BRACELETS: Henri Bendel (#1 & #2), Tiffany & Co.  |   RING: Henri Bendel (similar)  |  WATCH: Rolex  |  CROSSBODY: Chloe Drew   |  SUNGLASSES: Louis Vuitton   |  LIPSTICK: Urban Decay – Jilted   |  NAIL POLISH: Essie – Big Spender >>
This weekend my hubby and I decided to try the very talked-about La Feria del Mercado de San Miguel which is a traveling spin-off of Madrid's 100-year-old El Mercado de San Miguel. The food market is currently located in the grounds of Bayfront Park in Miami's Downtown area. The concept is simple; visitors can enjoy yummy Spanish tapas and drinks (Sangria pitcher for me please) in the various kiosks throughout the tent.
Since this is an outdoor venue and the fall temperatures haven't catch up with Miami's coordinates as of yet I opted for this oh-so-very-comfy romper. The beautiful shade of light olive green goes perfect with the burgundy floppy hat (making it a gorgeous fall-appropriate color combination). And of course, I couldn't pass on pairing it with a leopard crossbody (by now you should all have noticed that I. LOVE.LEAPORD, you can see why here & here). If you see me on the weekends, I ALWAYS chose to carry a crossbody because it's small enough to fit just the right amount of items when you are out and about.

MONO PARA EL OTOÑO: VERDE OLIVO + SOMBRERO VINO TINTO
Este fin de semana mi esposo y yo decidimos asistir a la muy comentada Feria del Mercado de San Miguel, que es una versión itinerante de El Mercado de San Miguel establecido en Madrid hace 100 años. El mercado se encuentra actualmente instalado en el parque Bayfront Park de Downtown Miami. El concepto es simple; los que visitan pueden disfrutar de deliciosas tapas y bebidas españolas (una jarra de sangría para mí por favor) en los diferentes quioscos de la feria.
Dado que este es un lugar al aire libre y las temperaturas de otoño aún no han alcanzado las coordinadas de Miami, opte por este mono que es sumamente cómodo. El hermoso color verde olivo va perfecto con el sombrero color vino tinto (haciendo la combinación de colores muy apropiada para el otoño). Y, por supuesto, no podía evitar combinarlo una bolsa de estampado de leopardo (ya deben haber notado que ME ENCANTA EL ESTAMPADO DE LEOPARDO, puede ver porque aquí y aquí). Si me ves en los fines de semana, siempre elijo llevar una bolsa pequeña porque es perfecta para llevar lo suficiente cuando estoy fuera de casa.