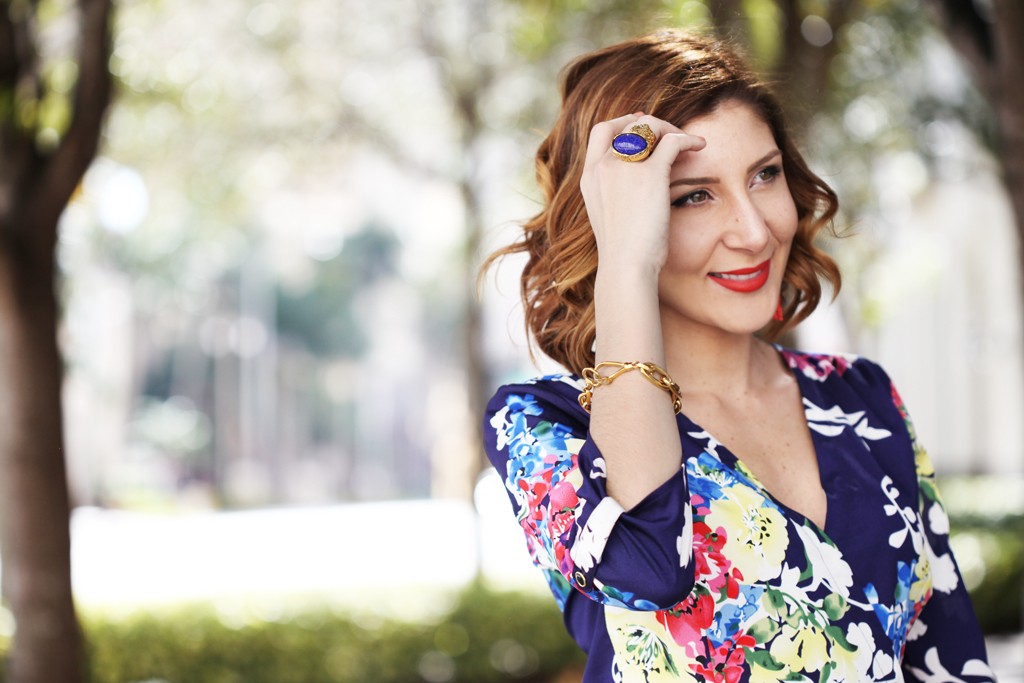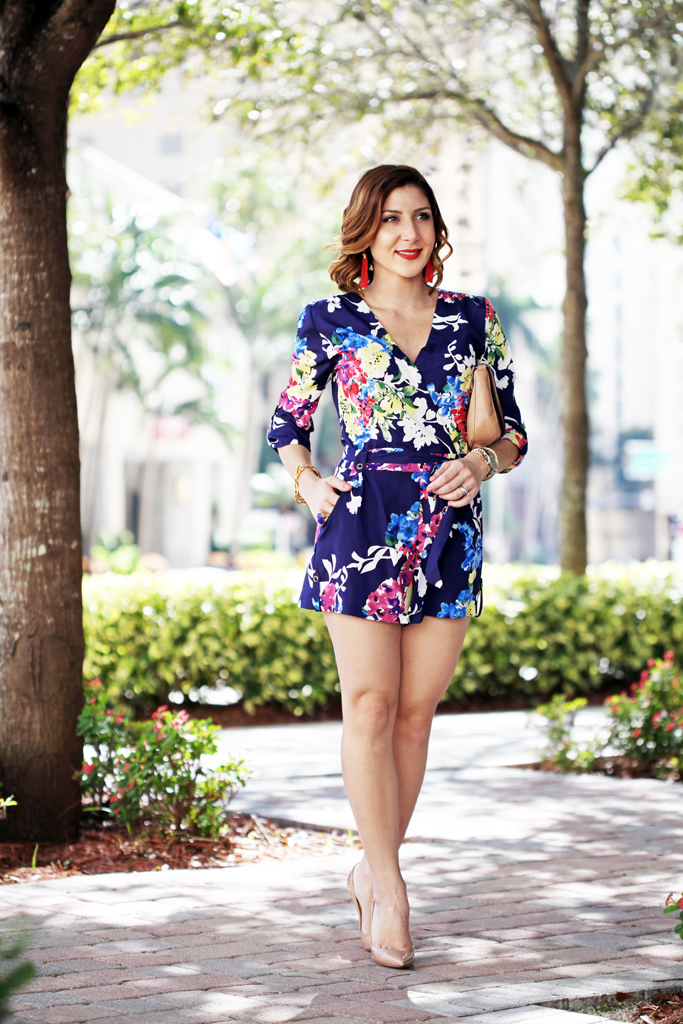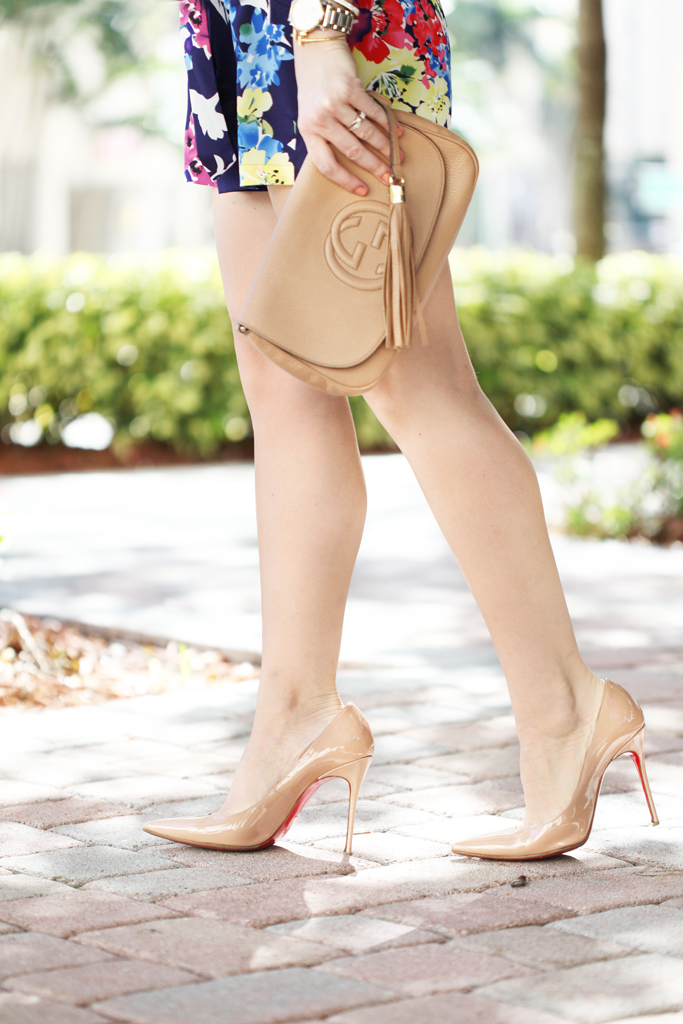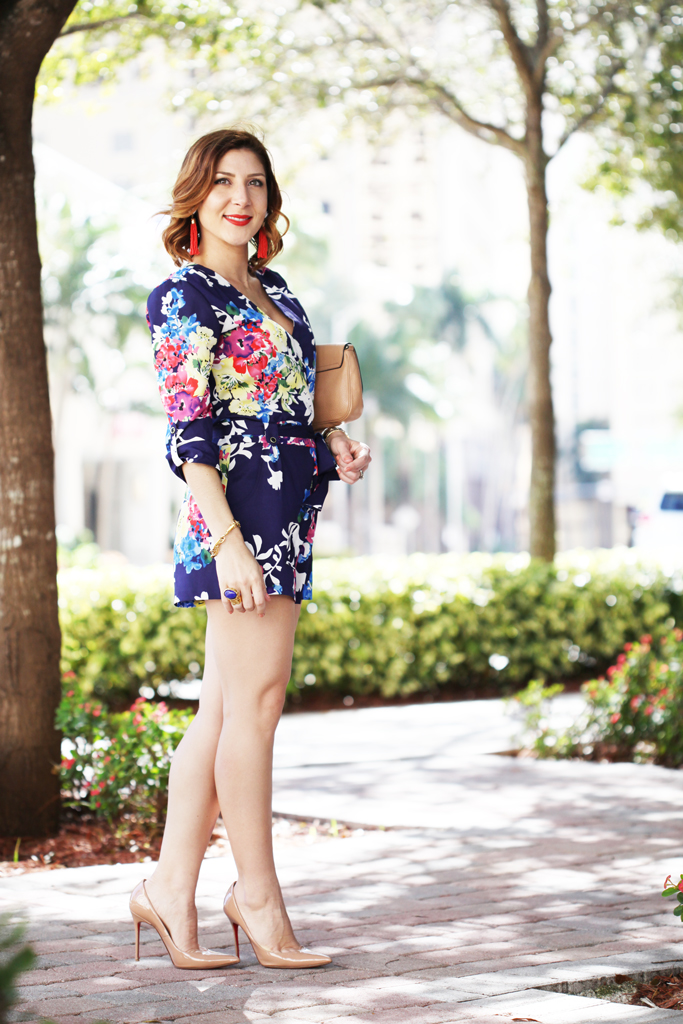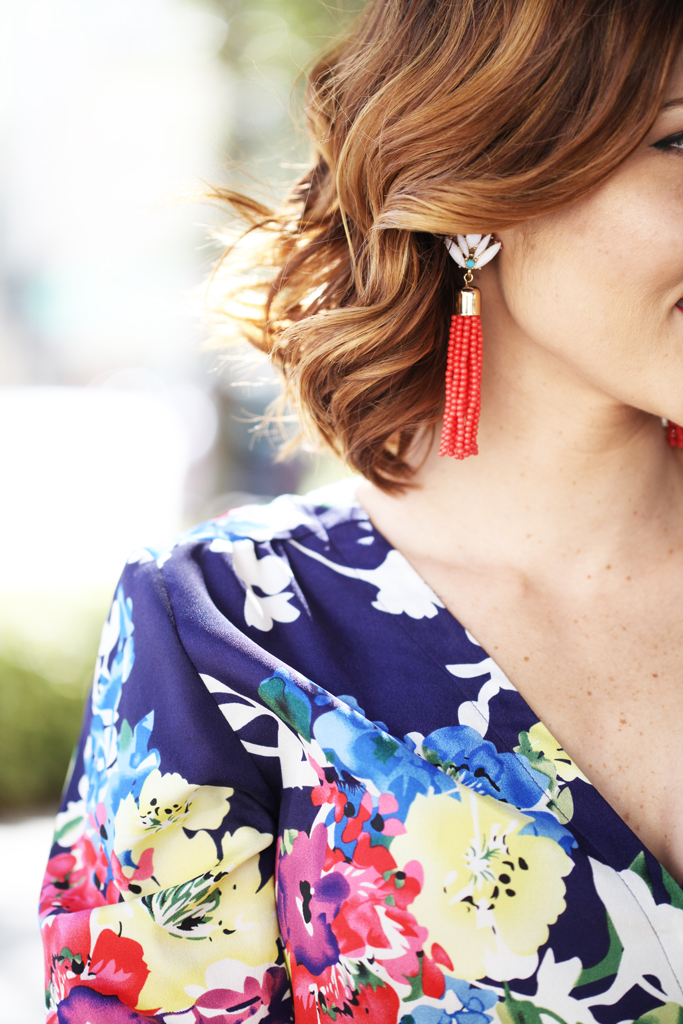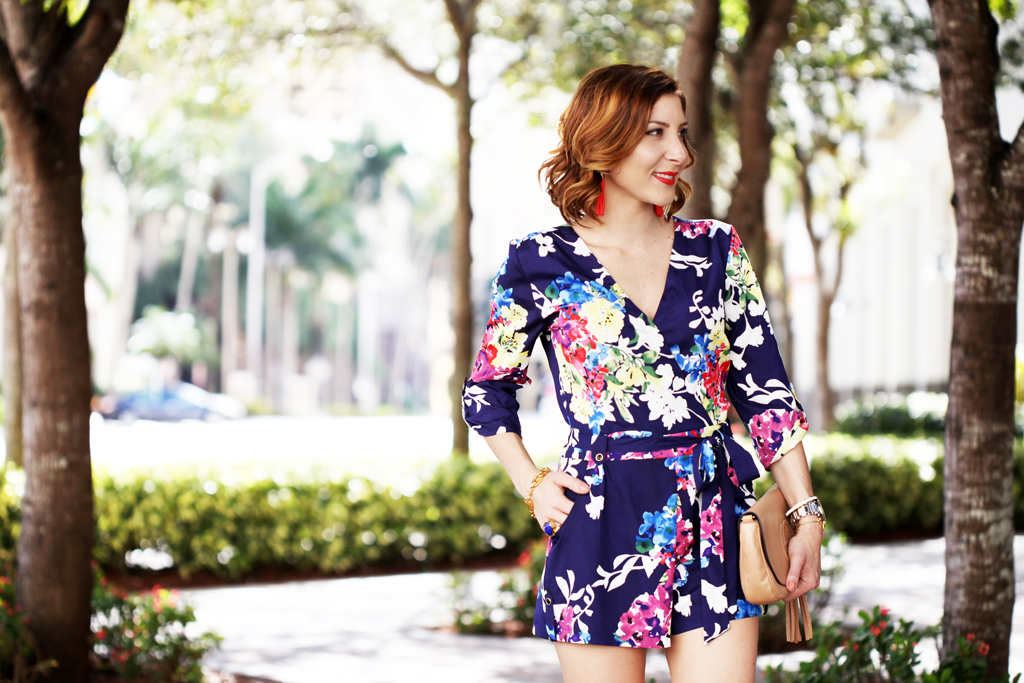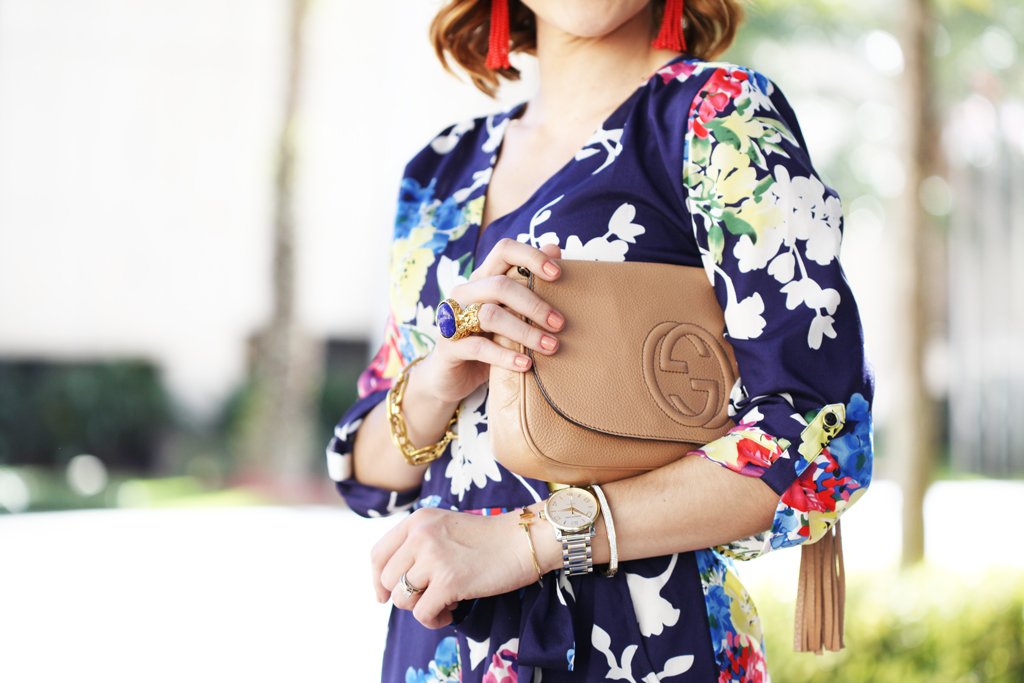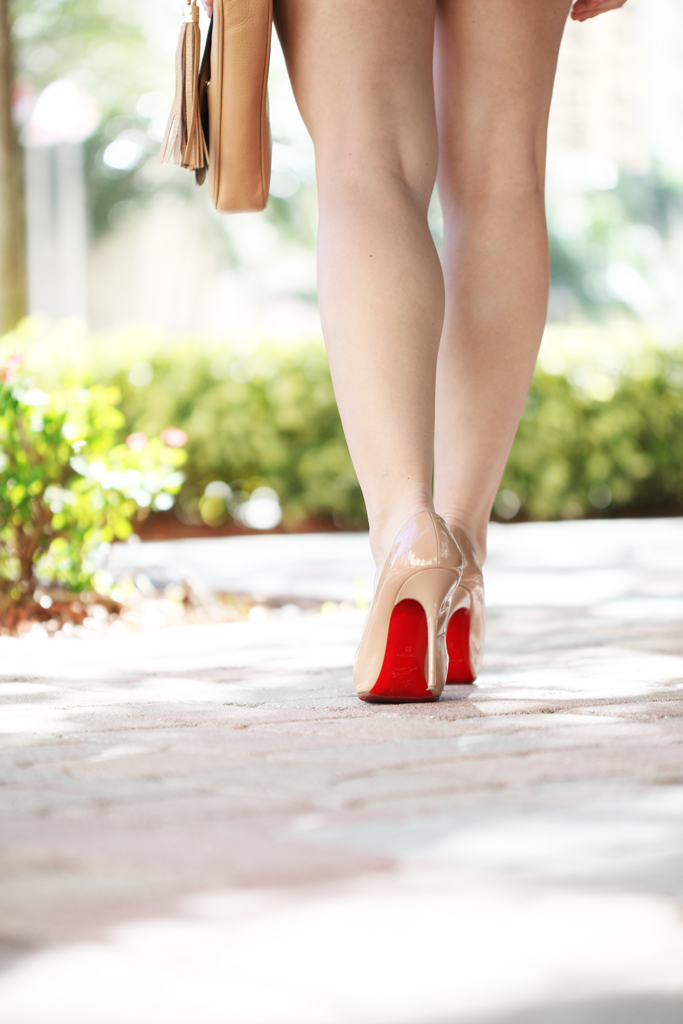 <<   ROMPER: Off the 5th (similar)    |    HANDBAG: Gucci 'Soho Medium' (affordable option)    |    EARRINGS: BaubleBar (similar)  |   RING:  YSL 'Arty Oval' (similar #1, similar #2)  |   BRACELETS:  Henri Bendel (Rock Box Skinny Bangle & similar) and Tiffany & Co. 'T:Wire' (affordable option)    |    PUMPS: Christian Louboutin 'So Kate'  (affordable option)   |    WATCH: Montblanc 'TimeWalker' (affordable option)   |   NAIL POLISH: Opi 'Crawfishin For A Compliment'    |   LIPSTICK: Mac 'So Chaud'    >>
If you've read some of my previous post where I spill the beans about my adoration with vibrant colors (here), well spring and summer are the personification of all things colorful, breezy warmer afternoons and oh so gorgeous romper ensembles. I have also shared my love for rompers and jumpsuits in the past, which I can't seem to stay off even in cooler Miami temperatures (here and here). But hey there is something so effortless and at the same time so put-together with this popular wardrobe piece. This specific beautiful Miami afternoon was planned to be enjoyed over a delish sushi dinner-date with the hubby, hence why I opted for a bit more elegant pieces like my go-to nude heels and clutch. Both of neutral shades to keep it simple and chic, with of course a pop of color by my fav ring #EVER (I may have it in two different colors, see here).
Wouldn't you agree that rompers are perfect for spring and summer? Share below or even tag me on Instagram (@blameitonmei) to see your romper #selfie.

CONTEMPLANDO FLOREADOS: PENDIENTES DE BORLA + MONO CORTO
Si ha leído mis posts anteriores donde les confieso mi adoración con los tonos llamativos (aquí), pues la primavera y el verano son la personificación de todas las cosas de coloridos, tardes plenas de brisas cálidas y alucinantes conjuntos de monos cortos. También he compartido mi amor por los monos, ambos, largos y cortos, y como no puedo dejar de vestirlos incluso con las temperaturas más frescas de Miami (aquí y aquí). Pero es que hay algo tan especial de esta popular pieza que emite un look fresco, moderno y sin duda elegante.
Esta hermosa tarde de Miami fue prevista para disfrutarla con una cena deliciosa junto a mi esposo, por lo tanto, opté por mis tacones y bolsa color piel. Ambos de tonos neutros para mantener el look sencillo y elegante, por supuesto, con la adición de mi sortija de color favorito #SinDuda (les confieso que puedo tenerla en varios colores aquí).
¿No les parece que los monos son perfectos para la primavera y verano? Compartan a continuación o incluso me pueden hacer un tag (etiqueta) en Instagram (@blameitonmei), me encantaría ver su #selfie con su colorido mono corto.