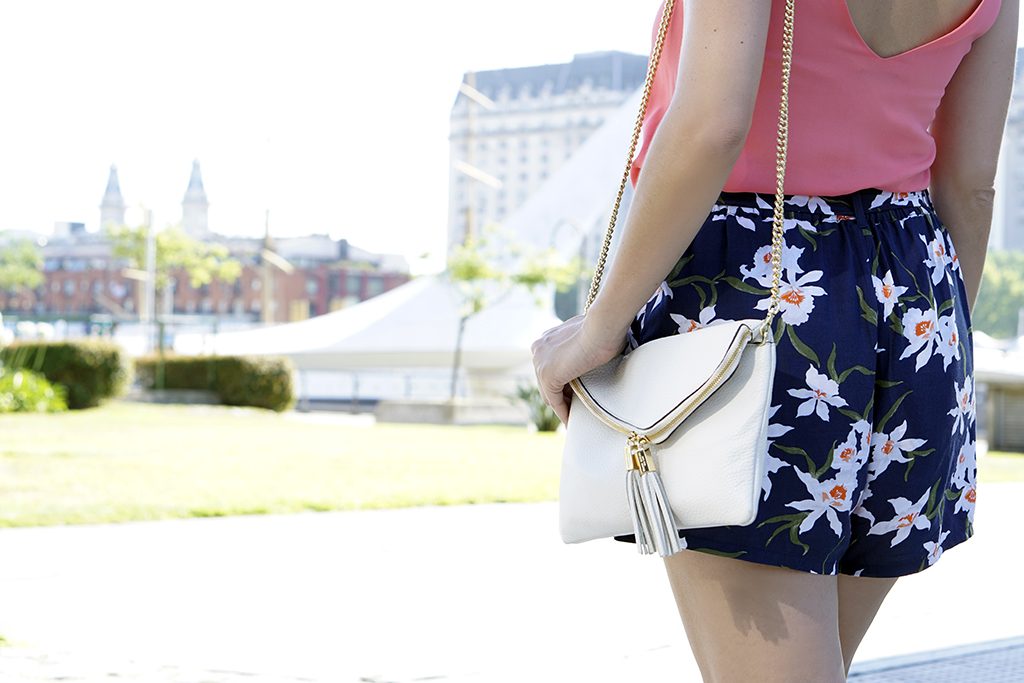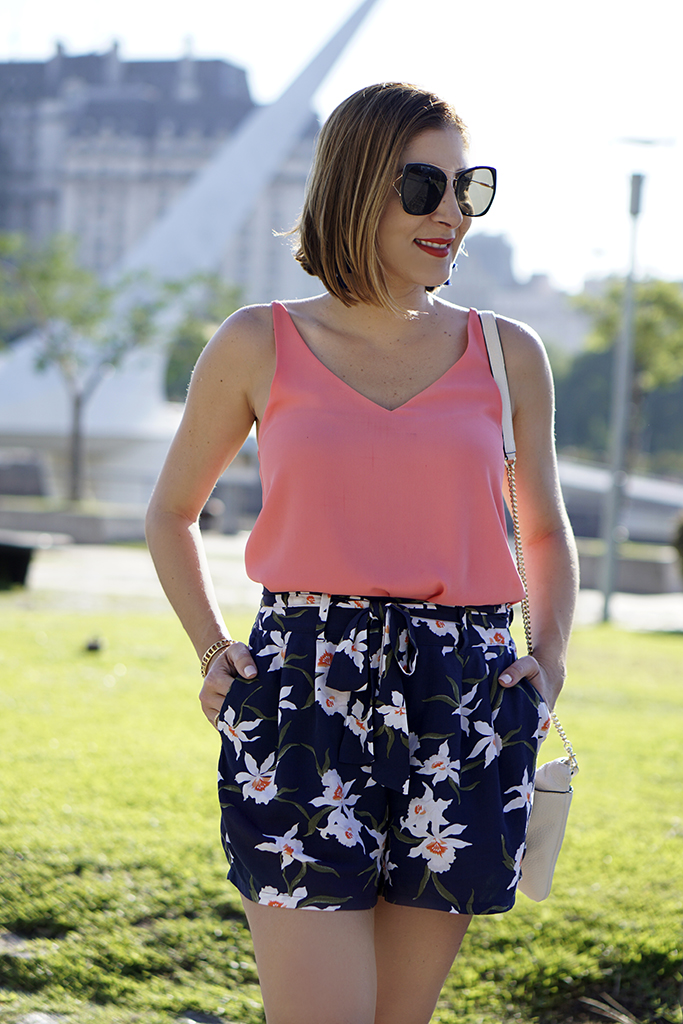 A comfy travel look is a must when abroad. So make sure to pack your floral short and colorful cami when you travel to hotter climates.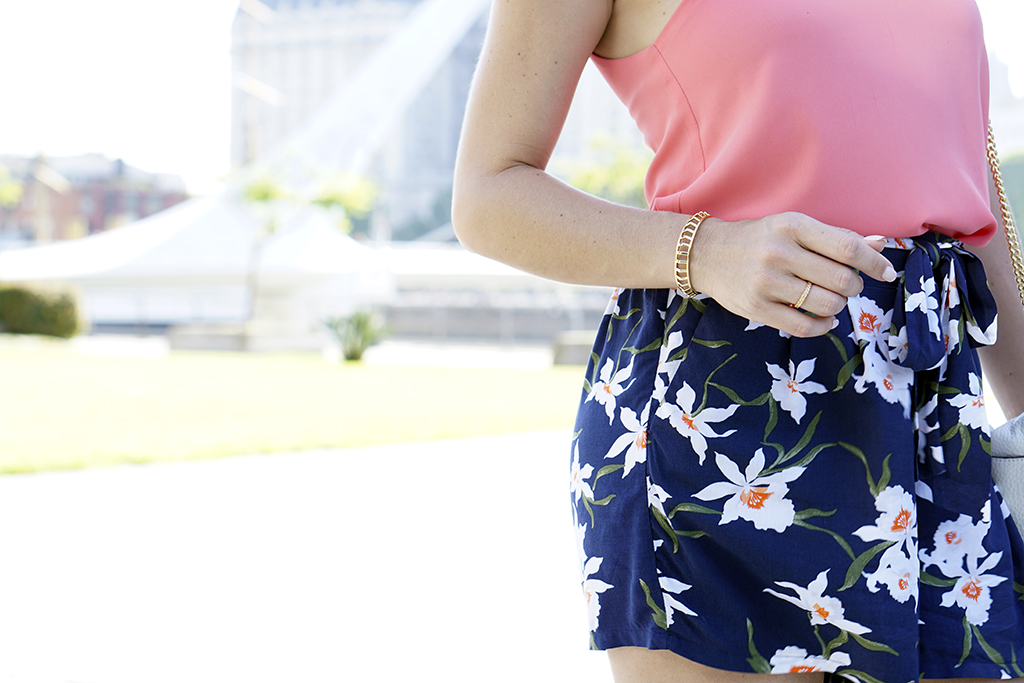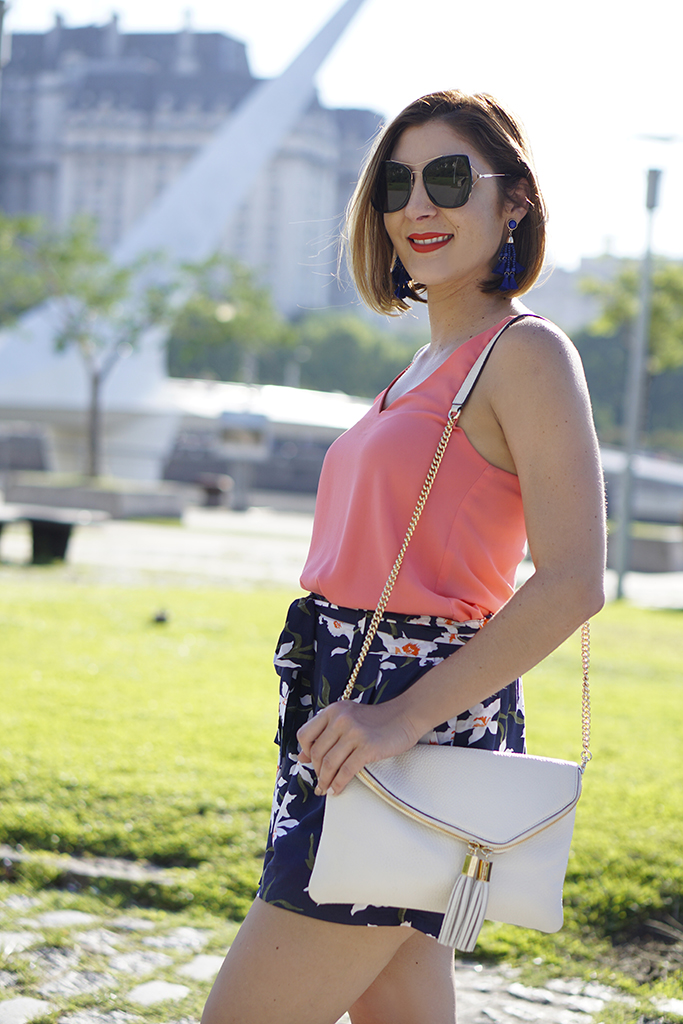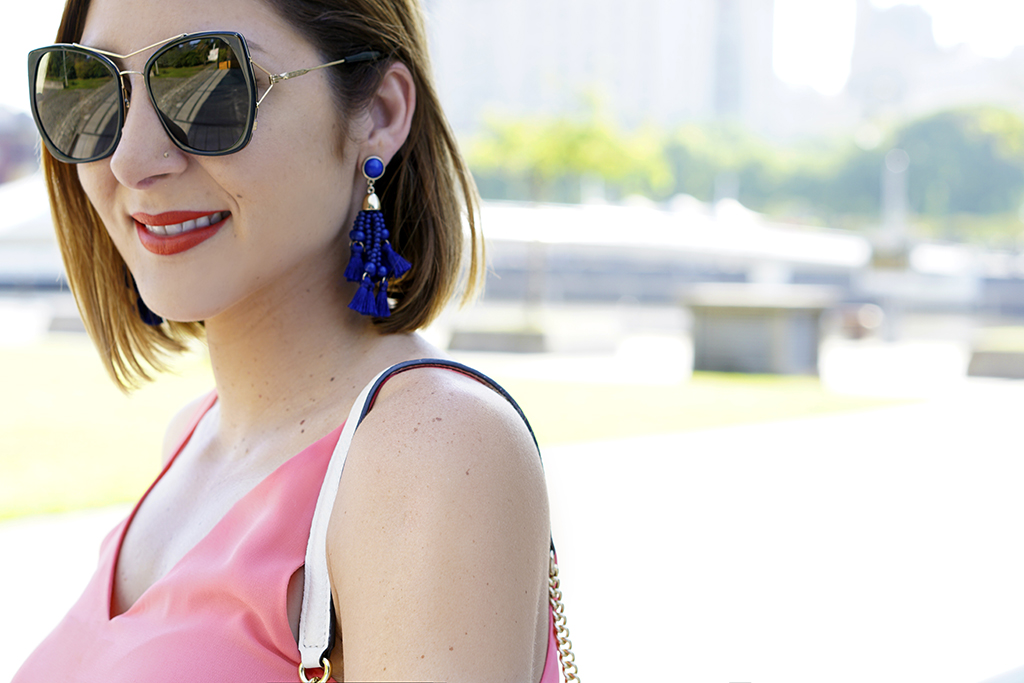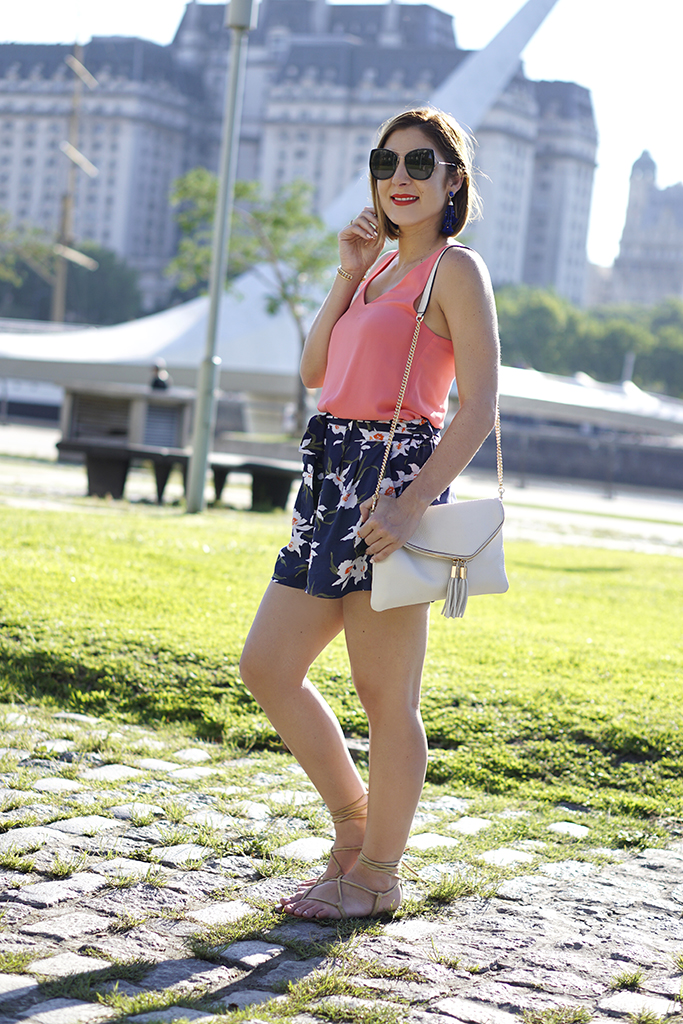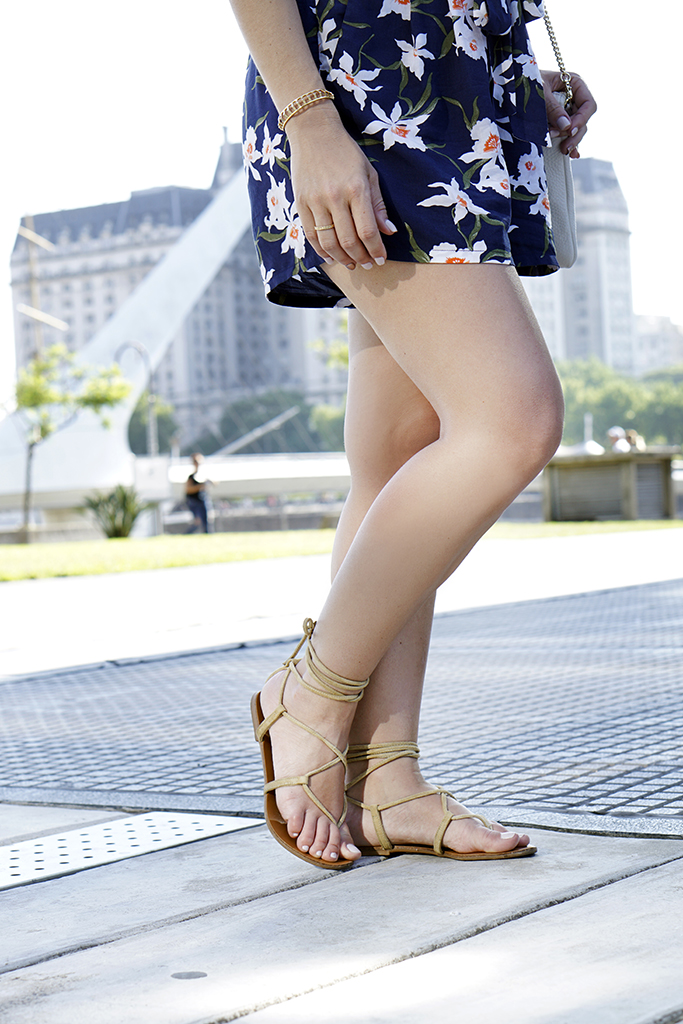 TOP: Nordstrom (other colors here) || SHORTS: Old Navy (similar here and here) || HANDBAG: Henri Bendel (same but other colors here) || RING: c/o Mejuri (similar option here) || BRACELET: BaubleBar (part of this set) || EARRINGS: BaubleBar (similar here and here) || SUNGLASSES: Givenchy || SANDALS: Steve Madden (similar here and here) || NAIL POLISH: OPI || LIPSTICK: MAC 'So Chaud'
Hi loves!
Do you recognize this top? I am sure you do because it was featured in this recent post from Brazil. When I travel, I always pack key items that pair well together with other pieces. That way I avoid over packing and overstressing. This has always been my trick for traveling with one carry on and it has never failed me. Would you like to see a "How I Pack" post? Let me know in the comments below.
Now let's talk about this outfit and why it worked so well for a fun day in Buenos Aires. During the morning, we walked for a while along Avenida 9 de Julio, which is named after Argentina's independence day. It is the city's biggest artery and happens to be the widest in the world. The avenue has up to 9 lanes in each direction and one that is strictly for the metrobus. The avenue's focal point is its obelisk, which can be seen from miles away.
We then headed to a lunch cruise, which besides serving us a delicious 3-course meal (with an even more delicious Malbec), took us around Rio de la Plata, which was once mistaken as sea when discovered because of its vast size. After docking, we decided to walk over to the famous modern bridge, Puente de la Mujer (Spanish for Women's Bridge), which is where these photos were taken. This is a rotating footbridge located in Puerto Madero, a waterfront boardwalk lined with high-rise apartments and restaurants.
Afterwards, we headed to the hotel to change since we had some tango lessons to attend. And oh boy was I impressed, never in a million years did I think it would be as fun as it was. I can honestly say that I have a whole new respect for this art form. Not only are there basic steps but there is a lot of improvising involved, however, the audience would never know because the couple's moves are as light as air. Unfortunately, I could not capture the moment of us trying to learn, but at least I have the certificates to prove it. After the lessons, we were treated to an impressive tango show accompanied by a delightful dinner.

PANTALONES CORTOS FLOREADOS + BLUSA COMODA
¡Hola amores!
¿Reconocen esta blusa? Estoy segura que sí porque la use en este reciente post un día en Brasil. Cuando viajo, siempre escojo piezas clave que se combinen facilmente junto con otras. De esa manera evito el estrés y, por supuesto, empacar de más. Esto siempre ha sido mi truco para viajar con maleta pequeña y nunca me ha fallado. ¿Le gustaría ver un post sobre cómo empaco? Déjenme saber en los comentarios.
Ahora, vamos a hablar de este look y por qué funcionó tan bien para un día de diversión en Buenos Aires. Durante la mañana, caminamos un rato por la Avenida 9 de Julio, que lleva el nombre del Día de la Independencia de Argentina. Es la arteria más grande de la ciudad y resulta ser la más amplia del mundo. La avenida tiene hasta 9 carriles en cada dirección y uno que se utiliza estrictamente para el metrobus. El punto principal de la avenida es su obelisco, que se puede ver a kilómetros de distancia.
Luego nos dirigimos a un pequeño crucero, que además de servirnos un delicioso almuerzo de tres tiempos (con un Malbec aún más delicioso), nos llevó alrededor del Río de la Plata, que una vez fue pensado como mar cuando fue descubierto debido a su gran tamaño. Después de llegar a tierra, decidimos caminar hacia el famosísimo puente de estilo moderno llamado Puente de la Mujer, que es donde se tomaron estas fotos. Se trata de un puente peatonal giratorio ubicado en Puerto Madero, un paseo marítimo bordeado de bellos edificios de apartamentos y restaurantes.
Después, nos dirigimos al hotel para cambiarnos ya que teníamos clases de tango que asistir. Nos divertimos muchísimo y puedo decir honestamente que tengo un nuevo respeto por esta forma de arte. No sólo posee pasos básicos, pero hay mucha improvisación involucrada, sin embargo, la audiencia nunca se daría de cuenta porque los movimientos de la pareja son tan o más ligeros que el aire. Por desgracia, no pude capturar el momento de nosotros tratando de aprender, pero al menos tengo los certificados para demostrarlo. Después de las lecciones, disfrutamos de un impresionante show de tango acompañado de una deliciosa cena.