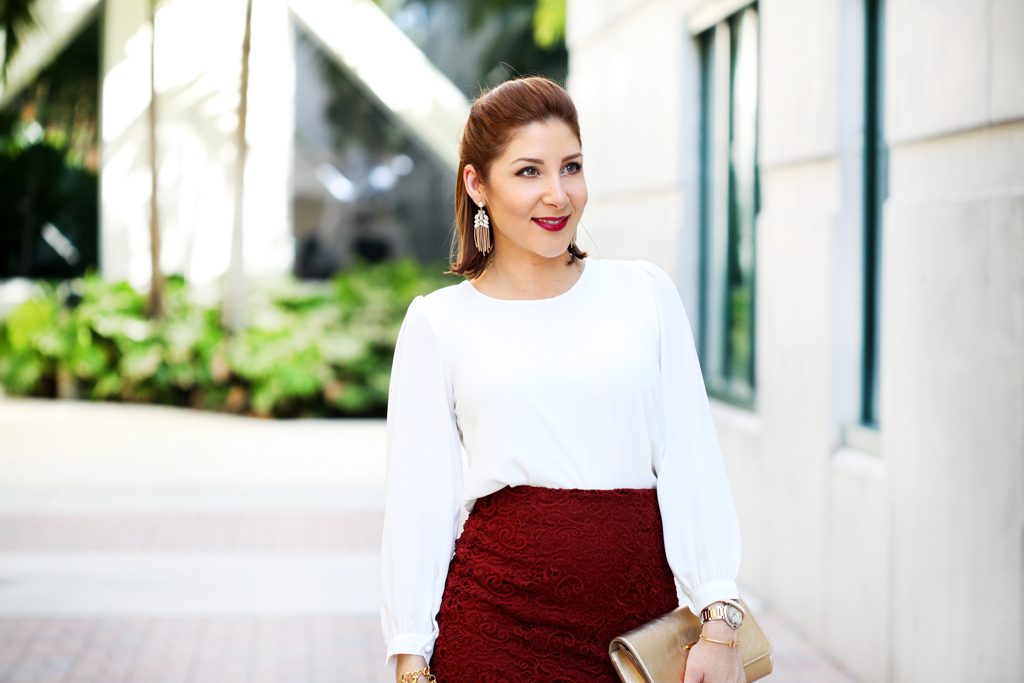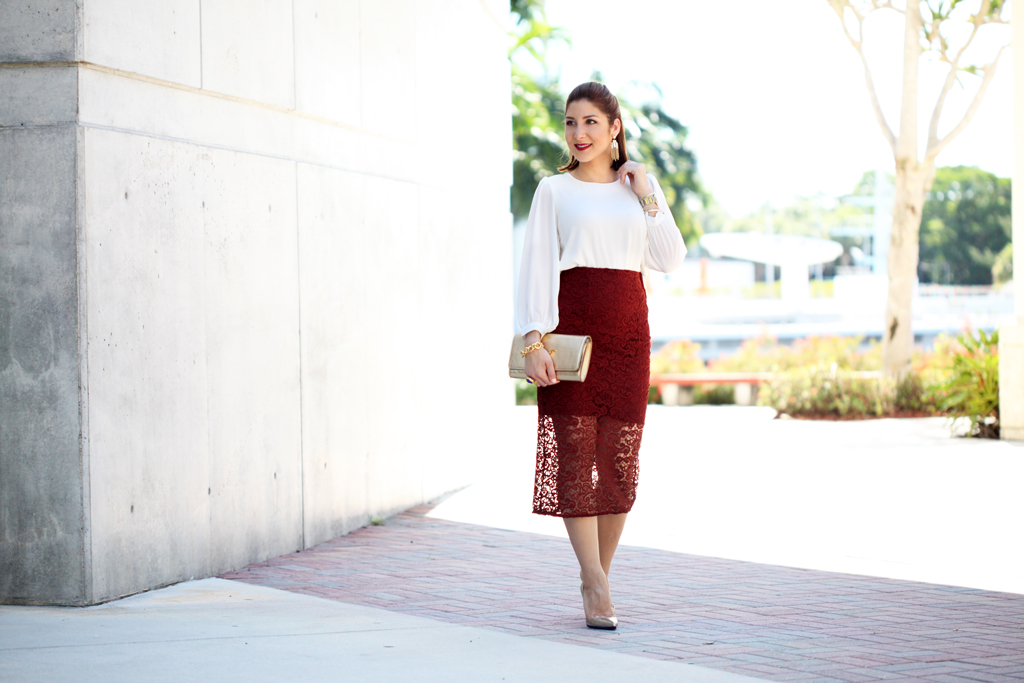 Wedding guest look: What to wear for a special occasion can be difficult but not with key pieces like an elegant pencil skirt, basic blouse and gold accents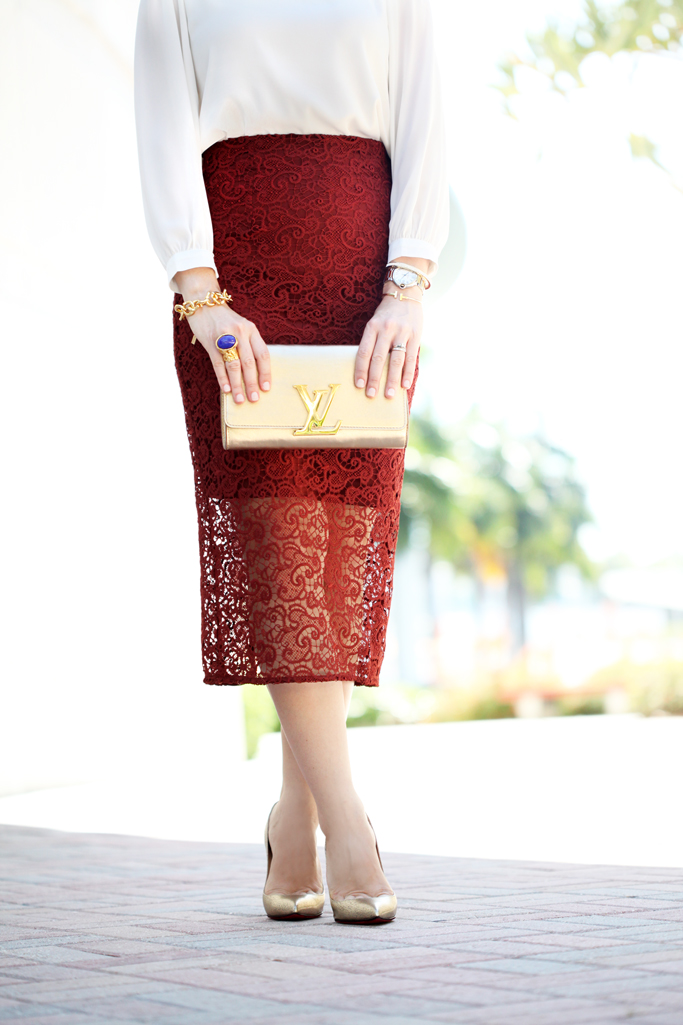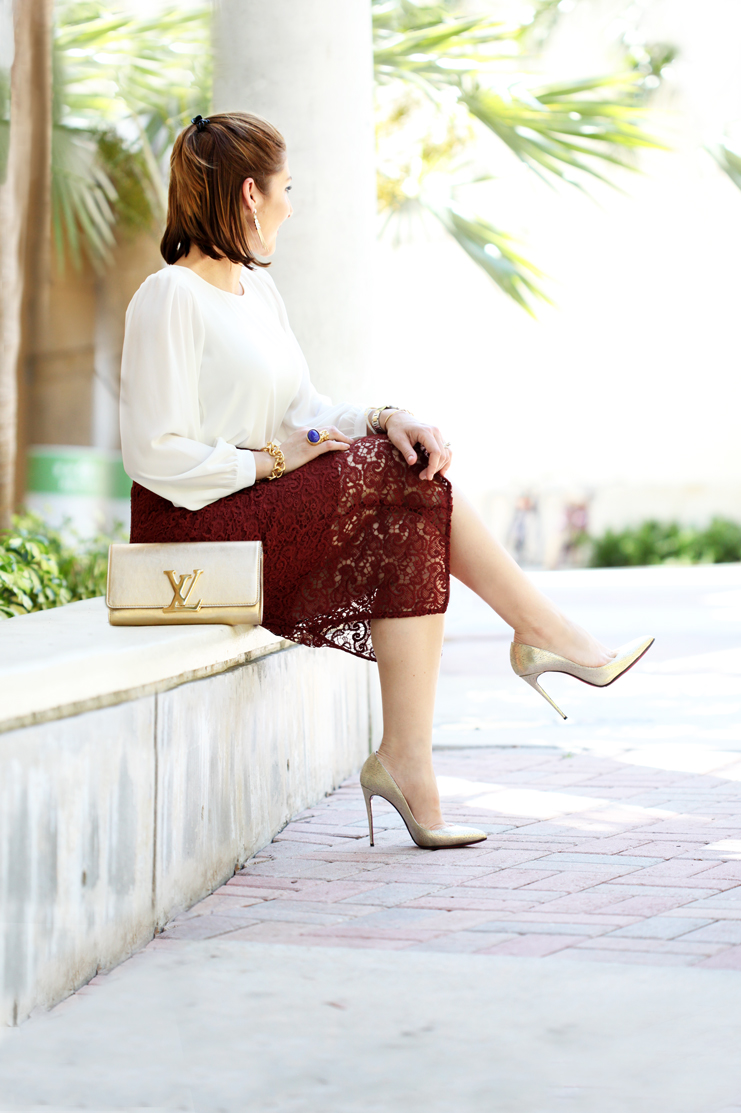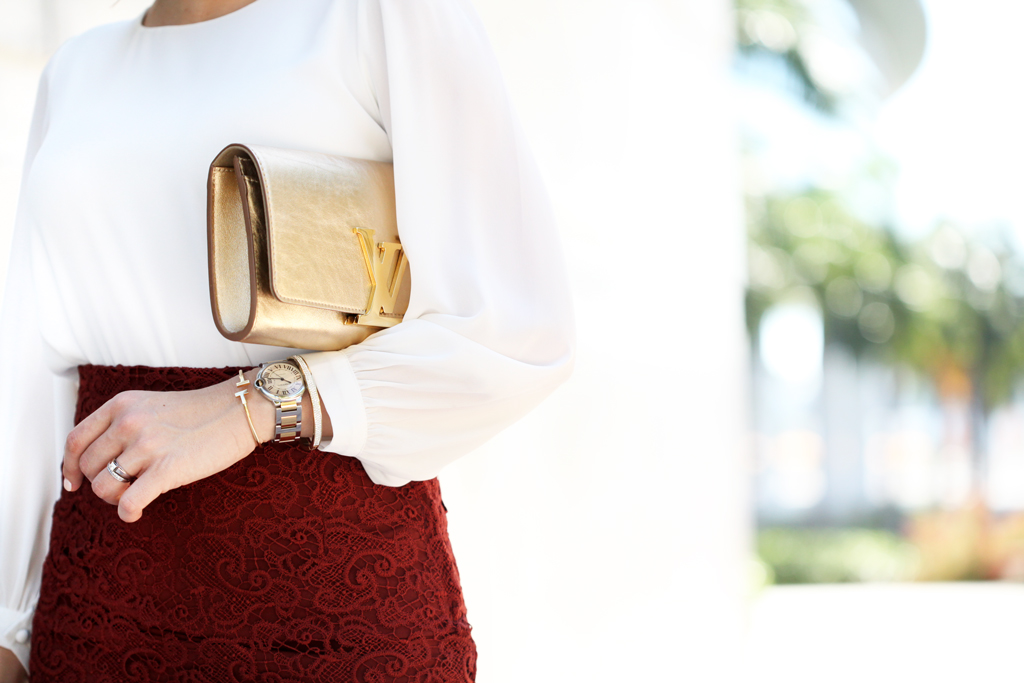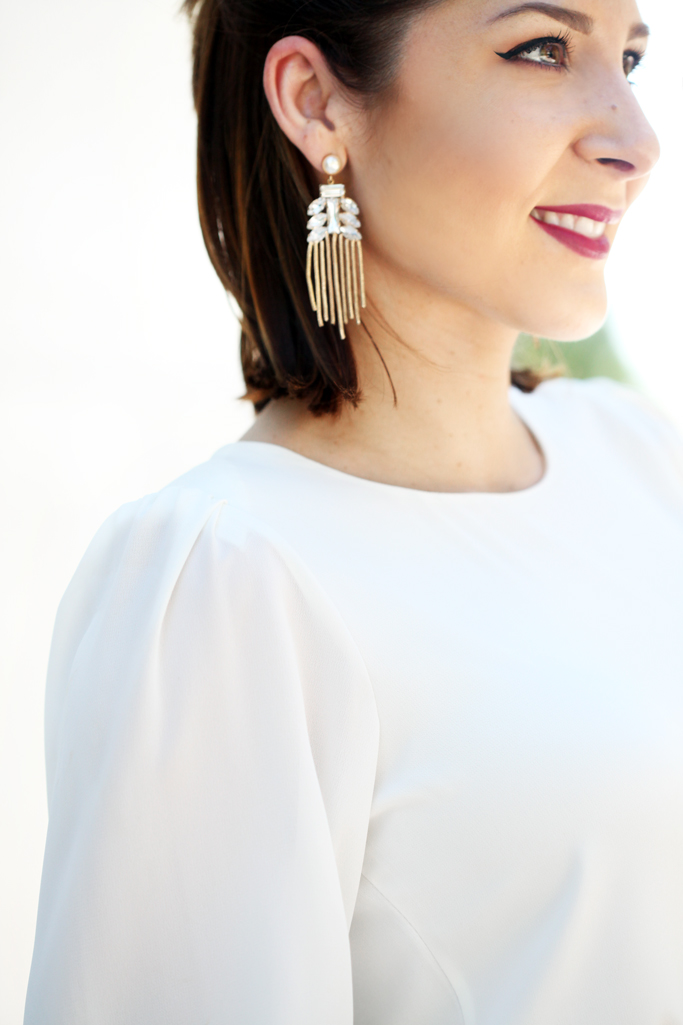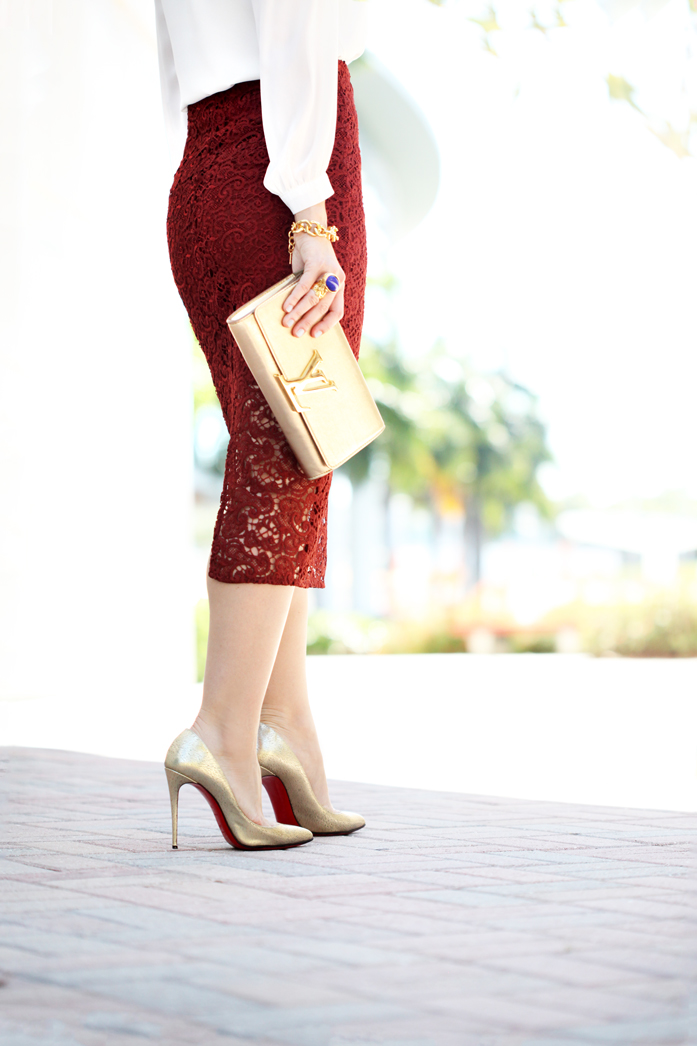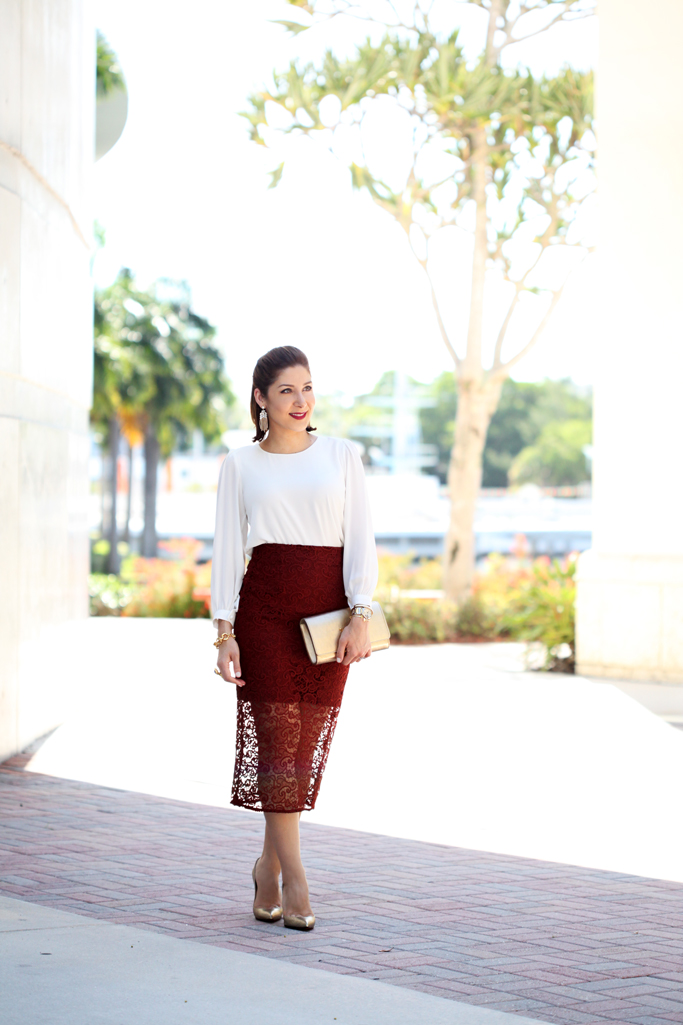 <<   SKIRT:  Zara (similar here, here and here)  |   BLOUSE: Chicwish (similar here, loving this one here)  |   WATCH: Rolex (affordable version here)  |    EARRINGS: Nordstrom (similar here and here)   |   BRACELET:  BaubleBar 'Gold Mary Links' , Henri Bendel 'Rox Skinny Bangle',  and Tiffany & Co. 'T-Wire' (affordable option here)   |  RING: YSL 'Arty' (affordable options here, here and here) |    HANDBAG:  Louis Vuitton 'Louise' (similar here, affordable option here and here)   |   HEELS: Christian Louboutin (similar here, affordable option here and here)  |    NAIL POLISH: CND 'Cream Puff'   |    LIPSTICK:  MAC 'D for Danger'  >>
Happy Monday loves!
Wedding season is upon us for the second time this year and I couldn't be happier! I love showcasing my classic and oh-so-elegant pieces every once in a while, plus a love celebration deserves that and so much more. There is something so special about a wedding; could be that it reminds me so much about mine or that I love seeing the groom's face when he sees his bride for the first time, no matter the reason, I feel giddy every time I attend this specific festivity.
As far as the wedding guest outfit goes, I've already shared my trick (here) for a stress-free emsamble. But as you can tell in this look, it's all about elegant separates. I always try to opt for the latter because having alterations done to a gown can pricey as well as time consuming. Plus you get to wear beautiful pieces that you seldomly do, like I did with this gorgeous burgundy lace pencil skirt. One of the reasons why I love fall is the darker and metallic hues, so for this look I opted for both.
Do you have a fashion secret for special occasion? Share below, only I would know, I promise!

FALDA AJUSTADA DE ENCAJE + BLUSA DE MANGAS LARGAS
¡Feliz lunes mis amores!
La temporada de bodas está de nuevo aquí haciendo su segunda aparición del año y admito que ¡no podría estar más feliz sobre ello! Me encanta vestir mis piezas clásicas y oh-tan-elegantes de vez en cuando, y además, una celebración de amor merece eso y mucho más. Pienso que hay algo muy especial sobre una boda; podría ser que me recuerda de la mia o que me encanta ver la cara del novio cuando ve a su futura esposa por primera vez, sin importar la razón, me siento cautivada cada vez que asisto a este tipo de conmemoración.
En cuanto al outfit de dicha ceremonia, ya he compartido mi truco (aquí) para vestir un conjunto libre de estrés. Pero como pueden ver en este look, se trata de vestir piesas separadas. Siempre trato de guiarme por este criterio debido a que tener que llevar un vestido al sastre tiende hacer costoso, así como puede tomar mucho tiempo de confeccionar. Además te da la oportunidad de usar hermosas piezas que pocas veces vistes, como lo hice con esta hermosisima falda de encaje de color vino. Una de las razones por las que amo el otoño es por sus tonos oscuros y metálicos, por cual en este look he optado por ambos.
¿Tiene un secreto de moda para ocasiónes especial? Compartan a continuación.