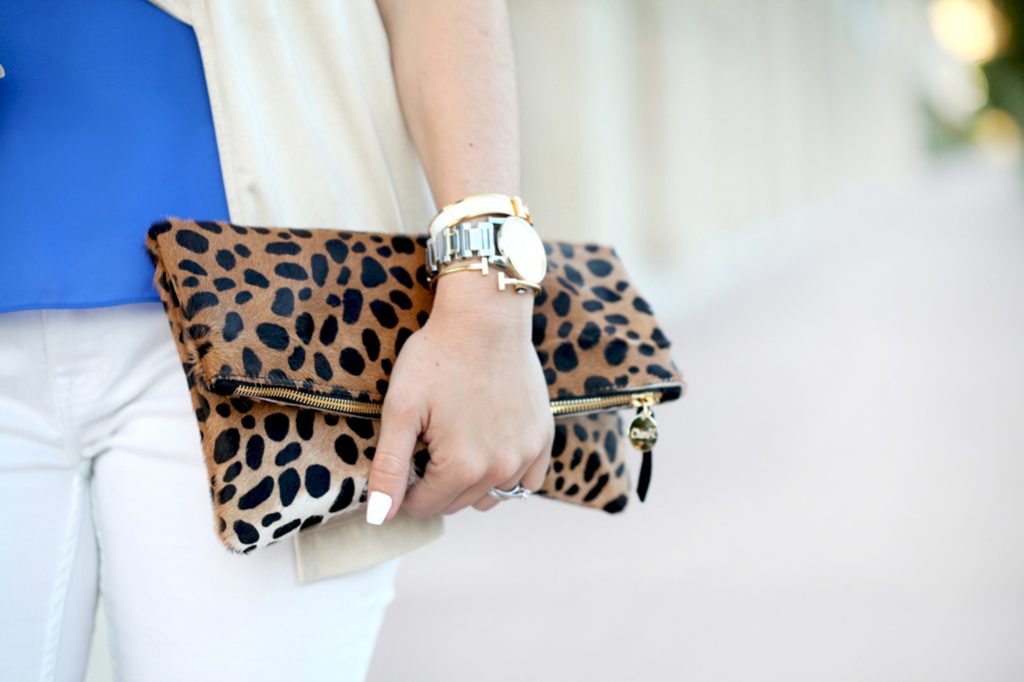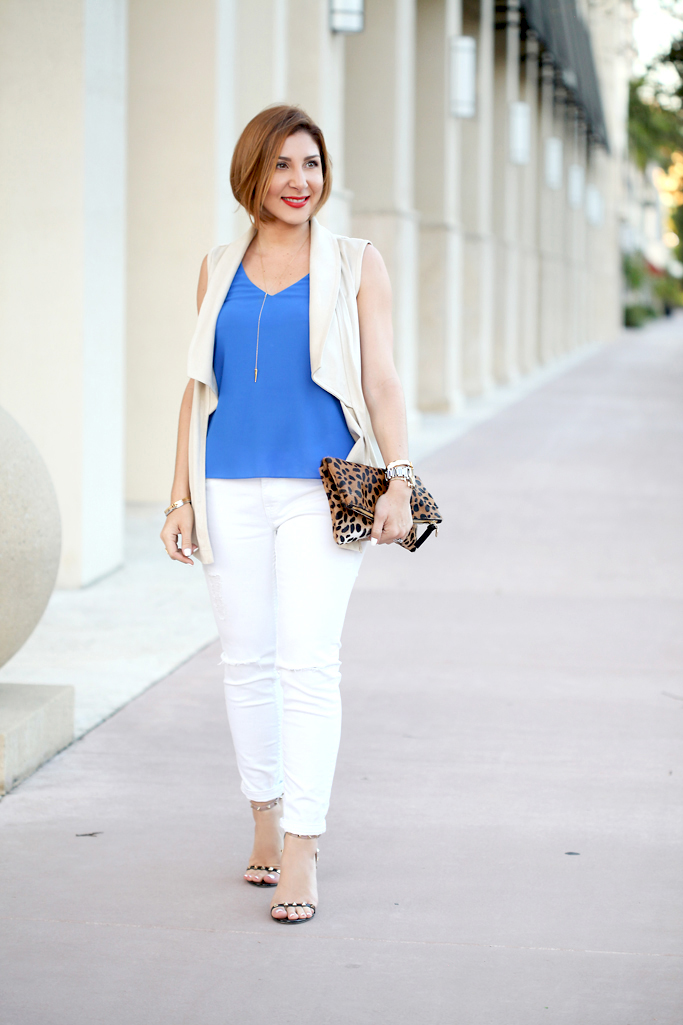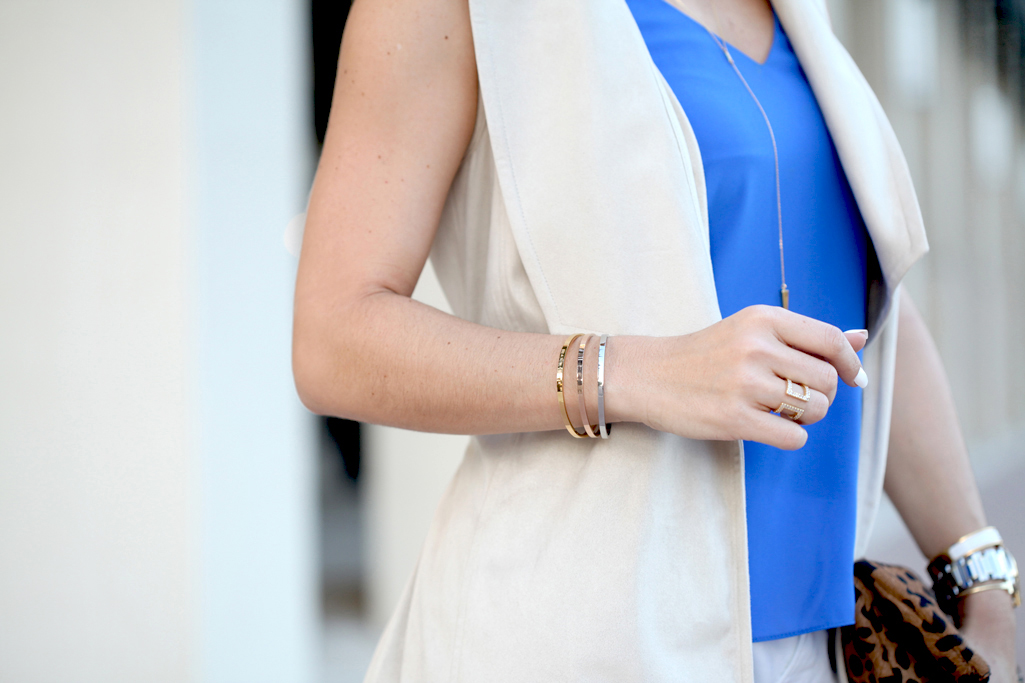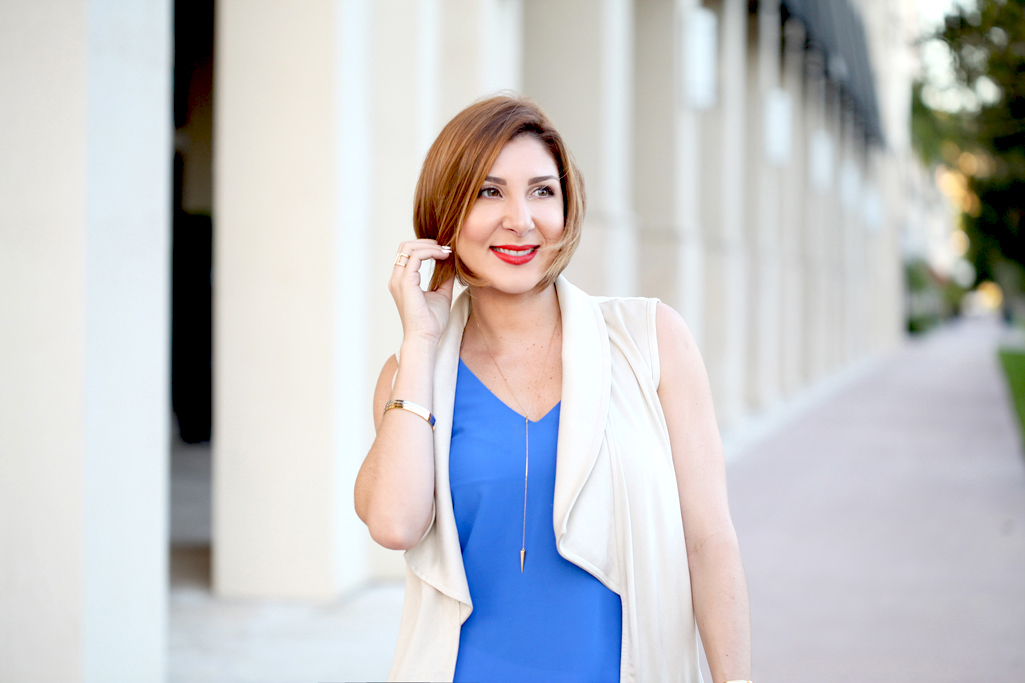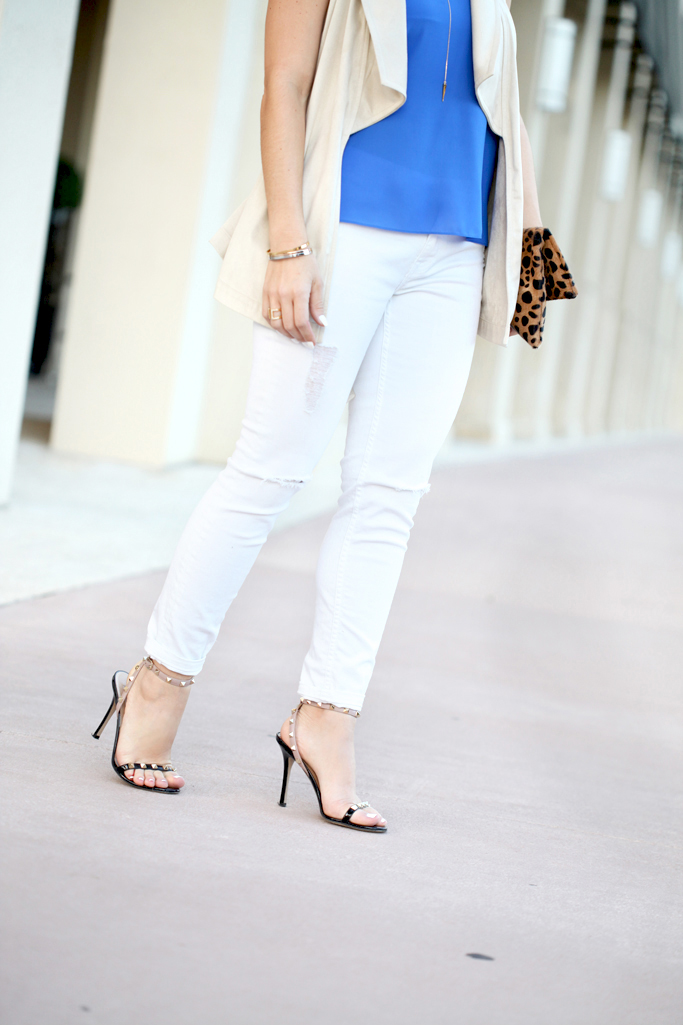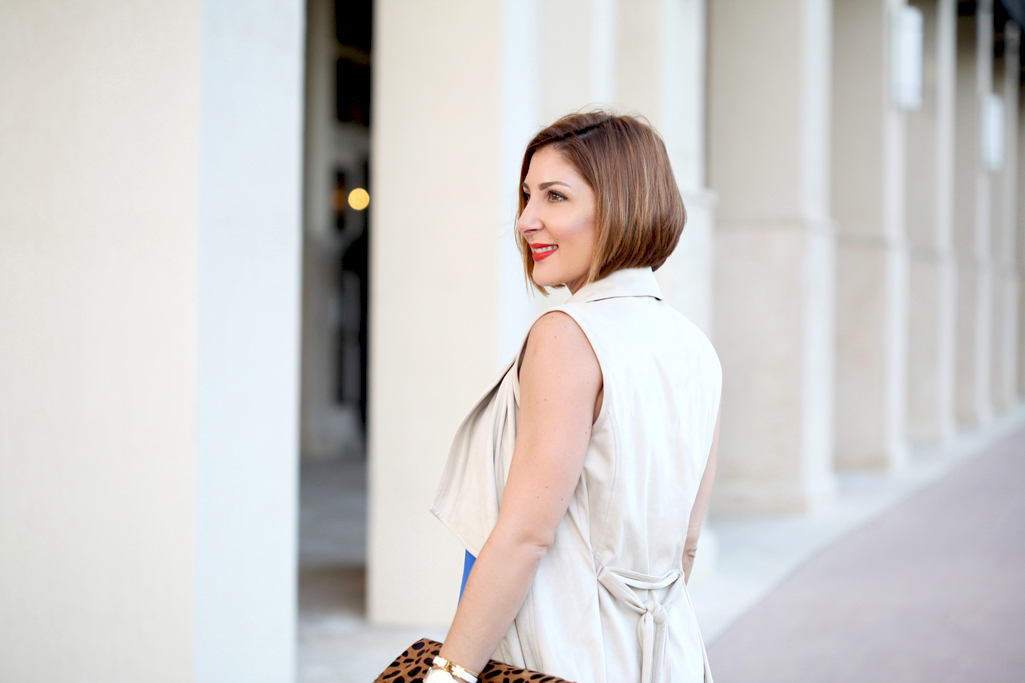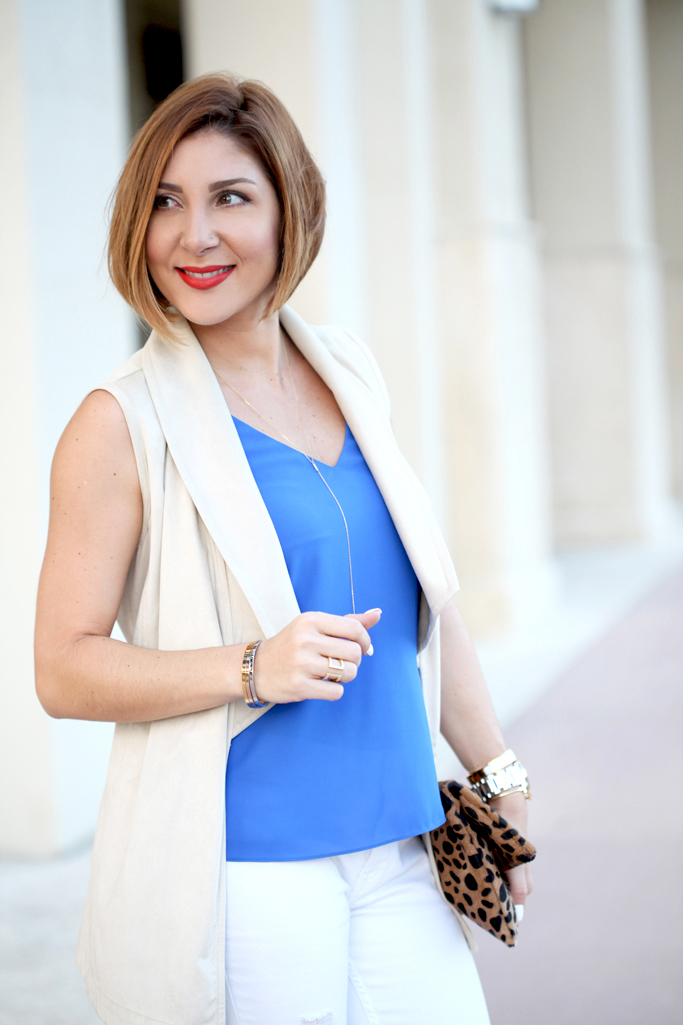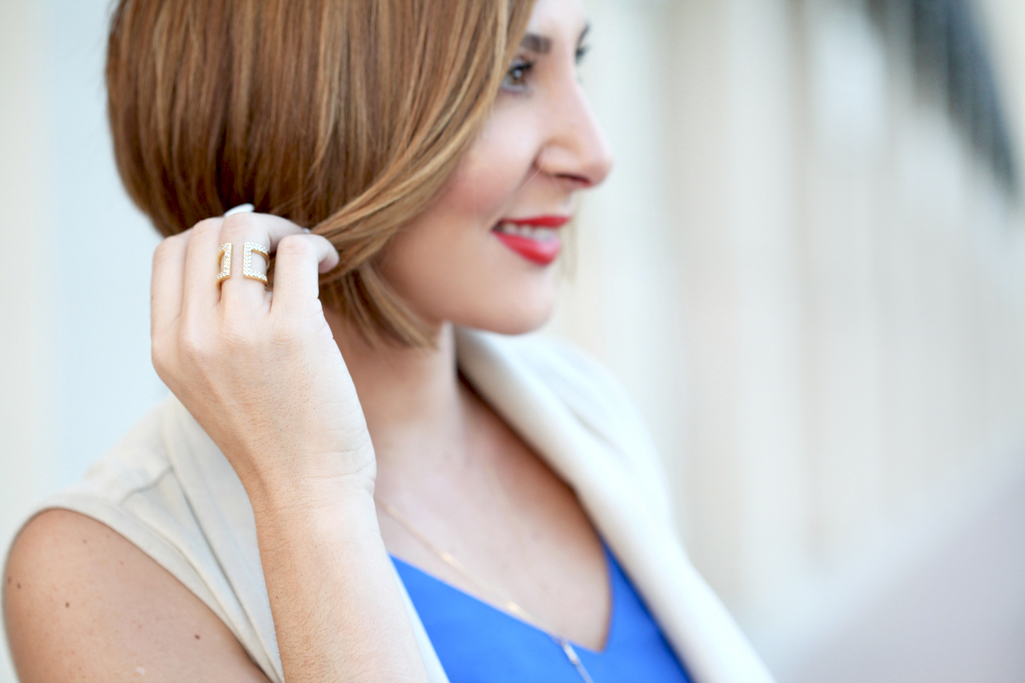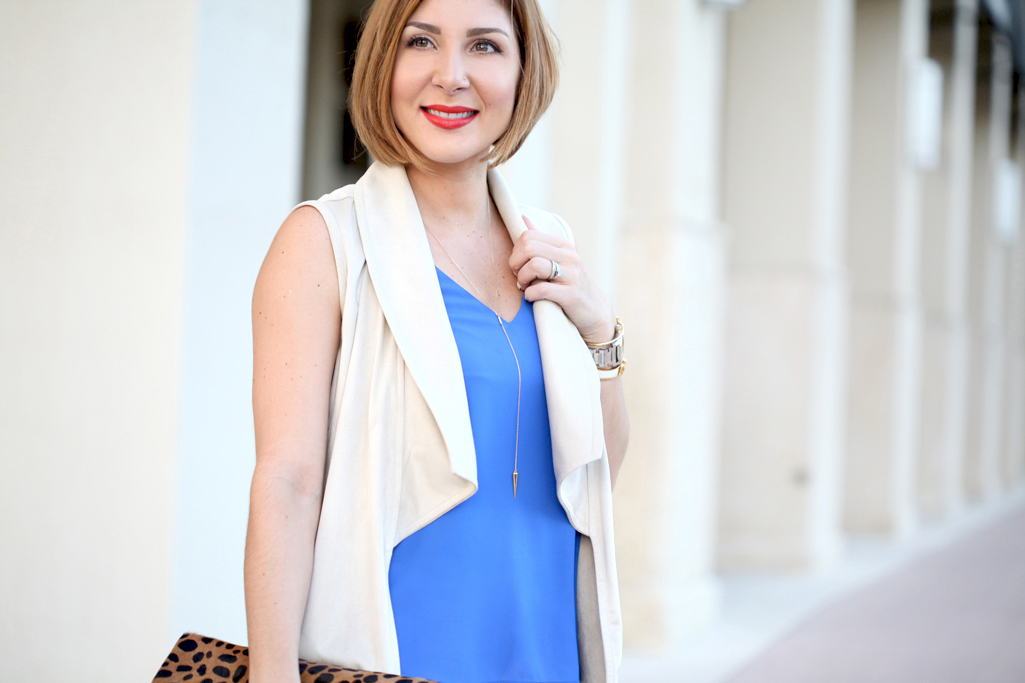 VEST: Kohl's (similar here, here, here and here)   ||  CAMI: Nordstrom (similar here)  ||   JEANS: Nordstrom   ||   NECKLACE: c/o Baublebar   ||   Bracelet: c/o Taudrey, Hermès (affordable option here) and Tiffany & Co. (affordable option here)   ||   RING: Henri Bendel (similar option here and here)   ||   HANDBAG: Shopbop (affordable option here)   ||    WATCH: MontBlanc (affordable option here)   ||   SANDALS: Valentino (similar here, affordable option here)   ||   LIPSTICK: MAC
Happy Thursday loves!
Not sure if you've noticed the shorter doo, but I cut my hair a few weeks ago compliments of Sean Donaldson Hair Salon.  I was easily convinced to do it while attending the salon's grand opening which was hosted by one of my blogger besties. As a matter of fact, I used to have it this short a few years ago and loved it. In one hand, it's easy to maintain (it dries and I can style it very fast) but it's nearly impossible if I want to achieve other looks, like the soft waves I am so fond of. And while it grows a bit more, I will surely enjoy the little time it takes me to wash, dry and style it straight (a whole 15-20 minutes), as opposed to 30-45 minutes when I want to curl it.
Now enough of my hair and onto this look, which was the chosen ensemble for a casual date with the hubby.  I love layering items, especially when they are lightweight and neutral in color. Thus, when I saw this cutie at Kohl's, I knew I had to have it. I usually opt for a longer vest (like I wore here, here and here) but the suede material and belt detail (which I tied at the back) effortlessly persuaded me.
I also implemented other of my basic principles to the look, which are; a pop of color (with the blue cami underneath) and the leopard-print clutch. Even though the vest anchors the look, the leopard clutch ties everything in, wouldn't you agree?
Do you have a favorite vest, duster or even trench coat? Is it long, short, belted, sleeveless? Let me know in the comments section below…

CHALECO DE GAMUZA + JEANS COLOR BLANCO
¡Feliz jueves mis amores!
¿Ya notaron mi nuevo corte de pelo? me lo corté hace unas semanas gracias a Sean Donaldson Hair Salon. Fui convencida muy fácilmente de hacerlo mientras asistía a su inauguración. De hecho, solía tener este corte hace unos años atrás. De una forma, es fácil de mantener (puedo secarlo muy rápido), pero es casi imposible si quiero lograr otros estilos, como las ondas que tanto me gustan.  Pero durante me crece, disfrutare del poco tiempo que demoro (como unos 15-20 minutos) para lavarlo y secarlo, ya que si pudiera hacer otro estilo me puede llevar más de 45 minutos mínimo.
En cuanto a este look, fue el conjunto elegido para una cita casual con mi esposo. Me encantan artículos que puedan servir para añadir capas, especialmente cuando son ligeros y de colores neutrales. Y, cuando vi esto en Kohl's, sabía que tenía que tenerlo. Por lo general, opto por un chaleco más largo (como he llevado aquí, aquí y aquí), pero el material de gamuza y su detalle de cinturón (que me ate en la espalda) me convenció. También añadí otros de mis elementos básicos al outfit, un color llamativo (con la blusa azul) y el estampado de leopardo. Aunque el chaleco es el ancla del look, la bolsa de leopardo une todo, ¿no lo creen?
¿Tienes un chaleco favorito? ¿Es largo, corto, con cinturón, sin mangas? Déjenme saber en los comentarios a continuación…