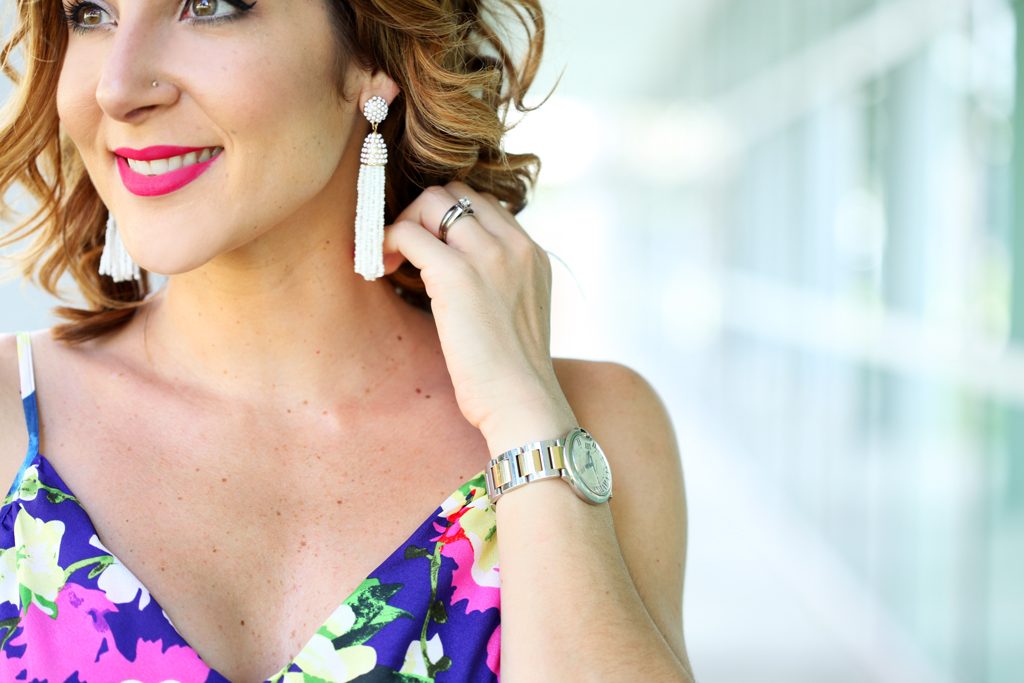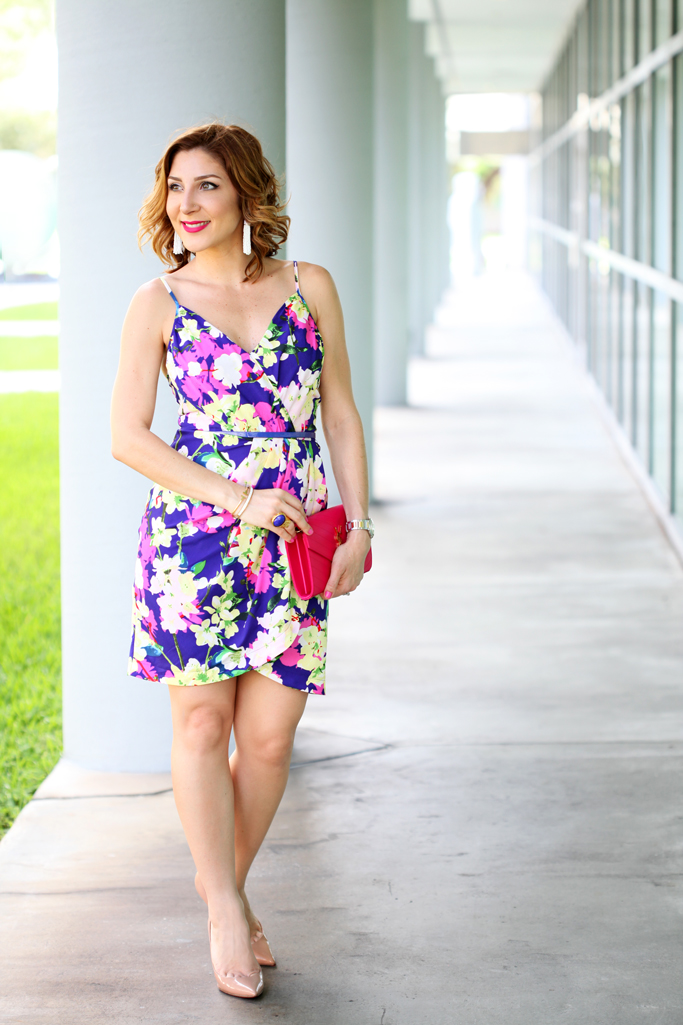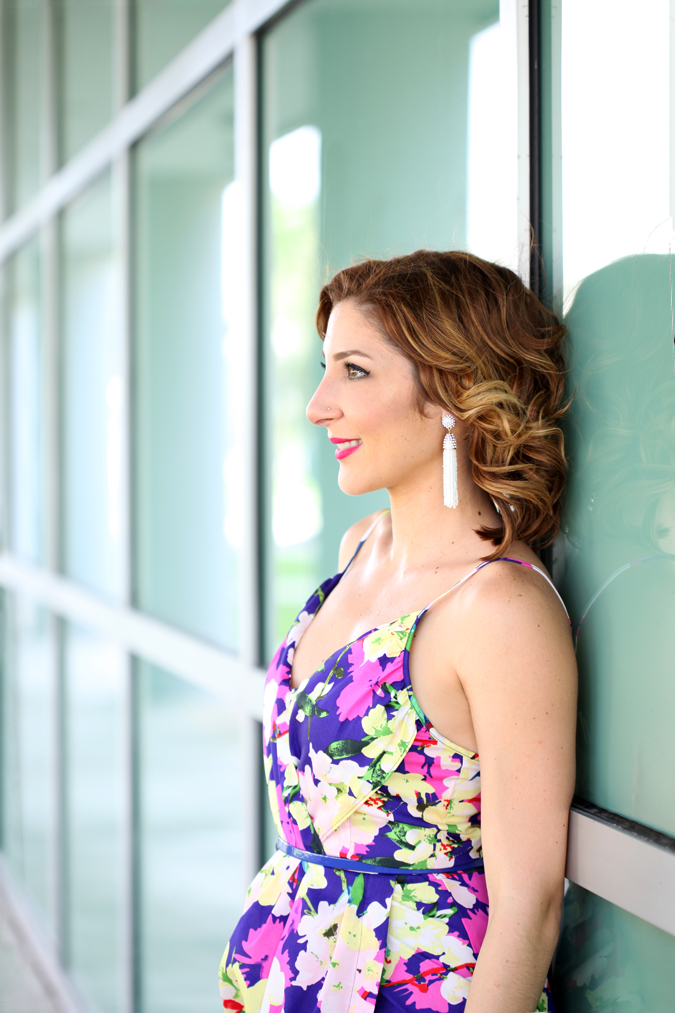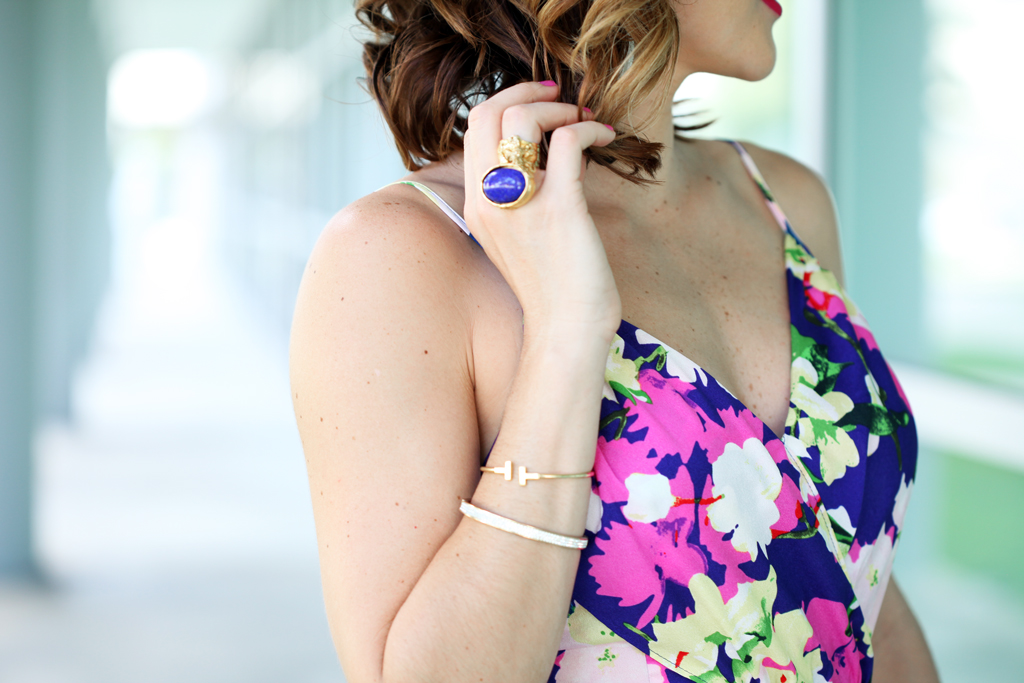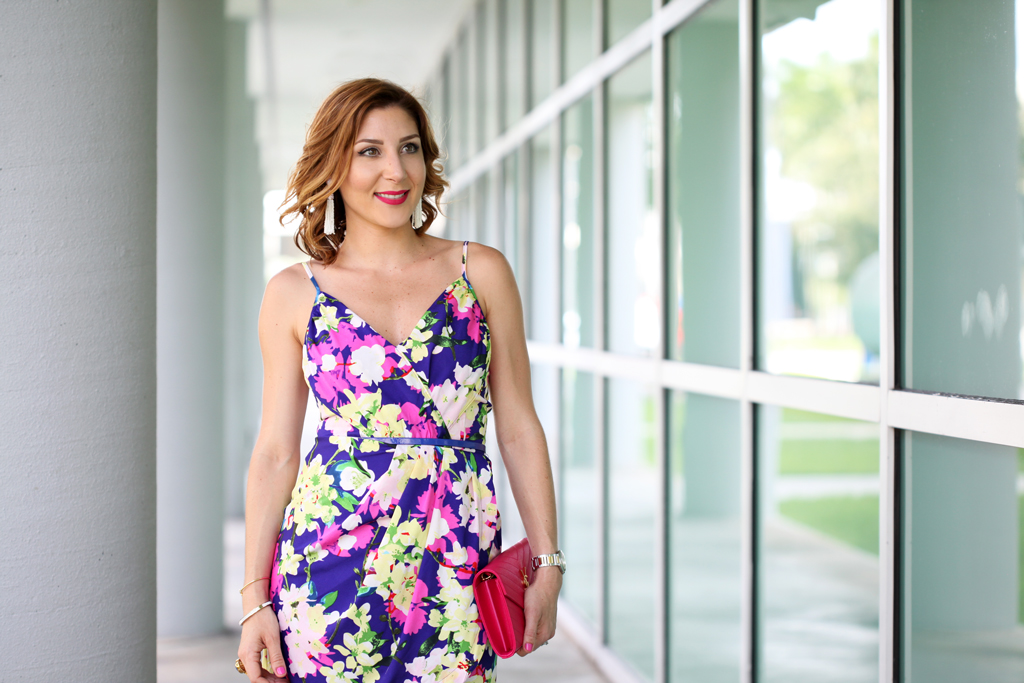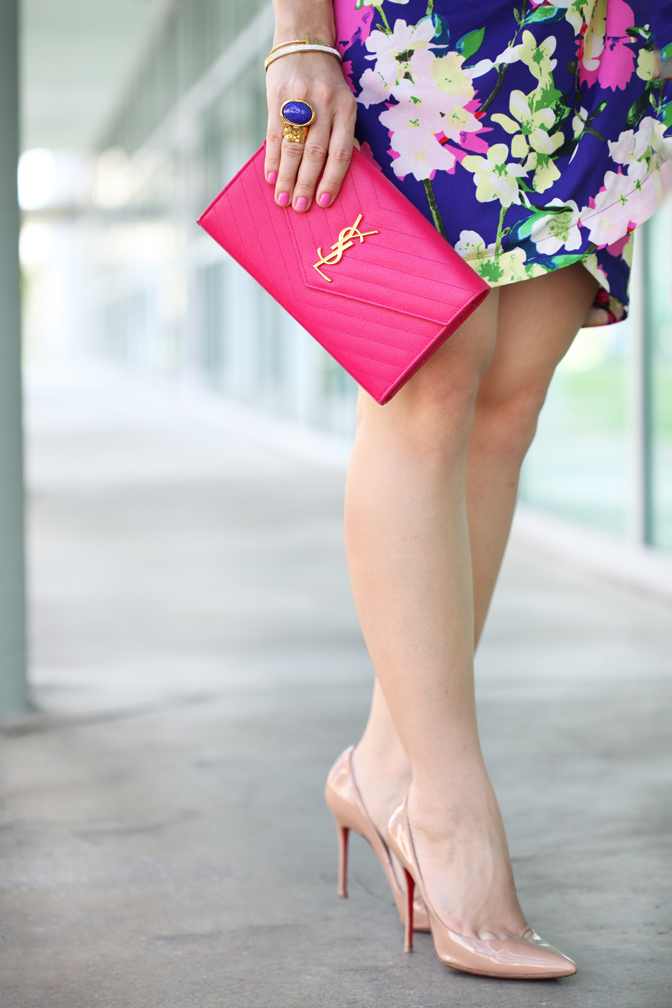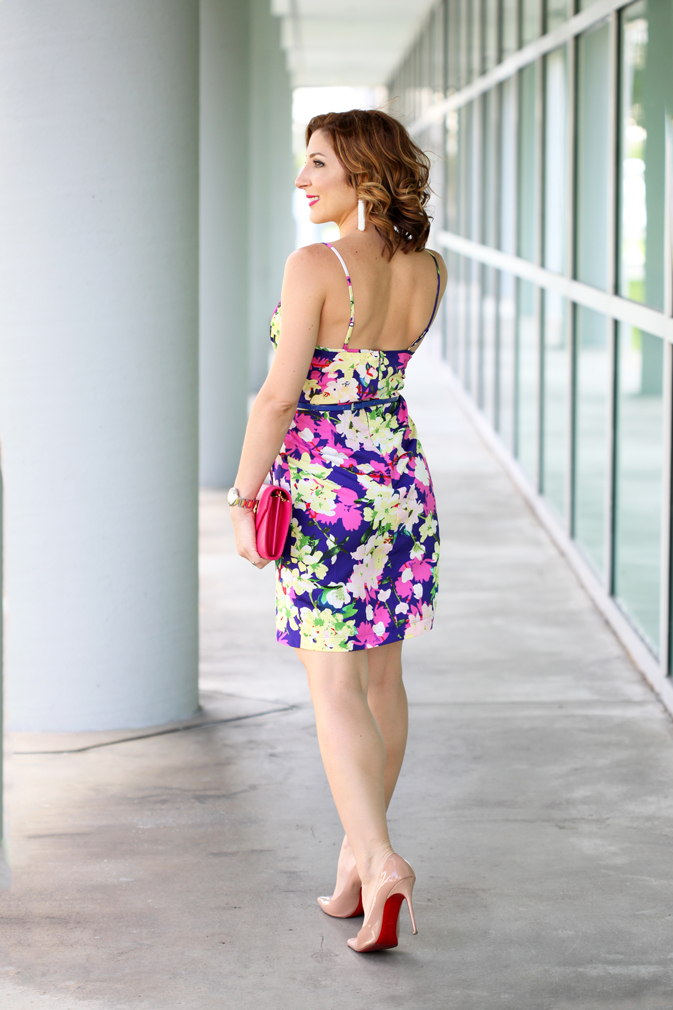 <<   DRESS: Yumi Kim  |    EARRINGS: Baublebar 'Piñata Tassel' (similar)   |   WATCH: Cartier 'Ballon Blue' (affordable option)    |   BRACELET: Henri Bendel 'Bendel Rox Skinny' and Tiffany & Co. 'T-Wire' (affordable option)    |  RING: YSL 'Arty' (affordable option #1, affordable option #2)    |  CLUTCH: Saint Lauren 'Monogram Matelasse Medium' (affordable option)  |  HEELS: Christian Louboutin 'So Kate' (affordable option)  |   NAIL POLISH: Essie 'Fiesta'   |    LIPSTICK:  Huda Beauty 'Video Star'   >>
Finding the right wedding-guest dress could be a very stressful situation, but today I want to share a few tricks that personally make my experience more pleasing. Thinking of which color, style or length is in our minds months before the actual event, making it even more worrisome, but in the other hand, procrastination is definitely a no-no when dress shopping. Think if you might need to tailor it; something as simple as correcting the hemline or even fixing the shoulder straps could take a few days. So rule number one, do not procrastinate. Rule number two, opt for a mid-length dress, which evades the hassle and additional $ of having it tailored. This for me is one of my most-used trick, even for black tie events. Just ensure the dress' fabric, pattern and embellishments are appropiate for such fancy occasion (take a look at this previous post where I share a more elegant wedding-guest look). Rule number three, make it fun and try something different! Would you have tried on this floral and very colorful beauty if you saw it on the rack? Probably not, so take a gamble, it will only take you a few more minutes to try it on. Rule number four, while in the fitting room try to imagine how you can elevate the look with accessories you already own. I knew I wanted to style this tulip-shaped dress with my favorite tassel earrings (which are still available by the way), and a few contrasting pieces like the skinny cobalt blue belt and fuchsia clutch.
Hope these few simple but significant tricks make it a bit easier for you while dress shopping. Do you have any other tricks you live by? Let me know in the comment section below.

VESTIDO FLOREADO + PENDIENTES DE BORLA
Encontrar el vestido adecuado para asistir una boda podría ser una tarea muy estresante, pero hoy quiero compartir algunos trucos que personalmente hacen mi experiencia más agradable. Pensando en qué color, estilo o si debería ser de cuero entero está en nuestras mentes meses antes del evento, por lo que lo hace aún más preocupante, pero al contrario, aplazando esta decisión es definitivamente algo que debes evitar. Imagine si tuviera que llevarlo a un sastre; algo tan simple como corregir el dobladillo u otro pequeño arreglo podría tardar días. Así que mi regla número uno es, no posponer las cosas. Regla número dos, optar por un vestido de media pierna, que evita la molestia y $ adicional de tener que llevarlo a un sastre. Esto para mí es uno de mis mejores trucos, incluso para los eventos de gala. Sólo asegurarse que la tela, modelo y adornos del vestido sean adecuados para una ocasión de lujo (eche un vistazo a este post donde comparto un look más elegante para asistir una boda u otra ocasión elegante). Regla número tres, diviértase y experimente con algo diferente ¿Se hubieran probado esta belleza floreada y muy colorida si lo hubiera visto en la tienda? Probablemente no, así que tome un riesgo, sólo le tomaría unos minutos más. Regla número cuatro, mientras en el probador trate de imaginar cómo pudiera elevar el look con accesorios que ya posee. Yo sabía que quería combinar este con mis pendientes de borla favoritos (que por cierto, aún están disponibles), y unas piezas de contraste como este delgado cinturón azul y bolso color fucsia.
Espero que estos trucos, simples pero significativos, le sirvan para ir de compras cuando necesite su próximo vestido ¿Tiene algunos otros trucos que son esenciales? Déjenme saber a continuación…