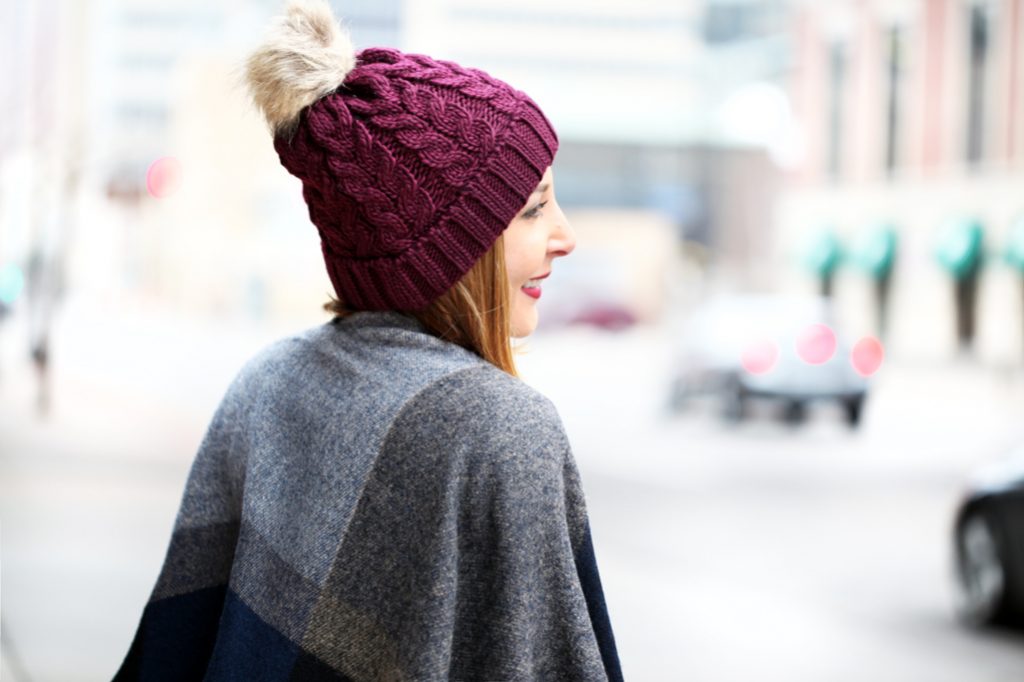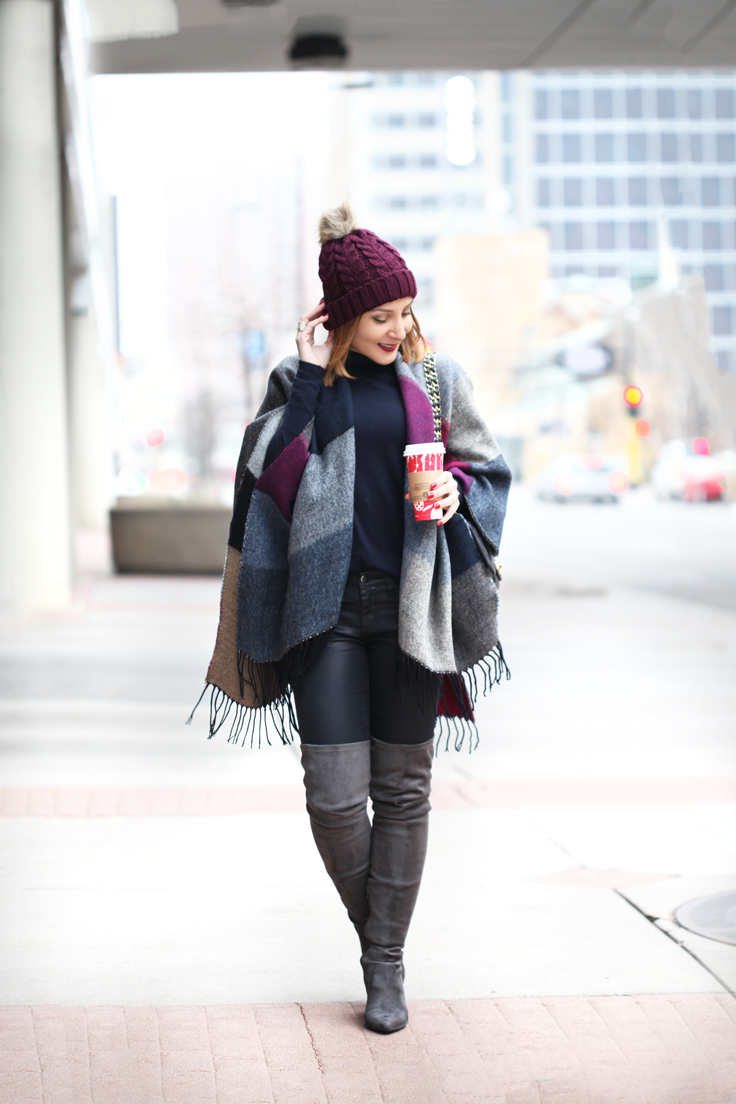 How to wear a poncho in cooler temperatures. Pair your favorite long cape with a fabulous pom-pom beanie and over the knee boots.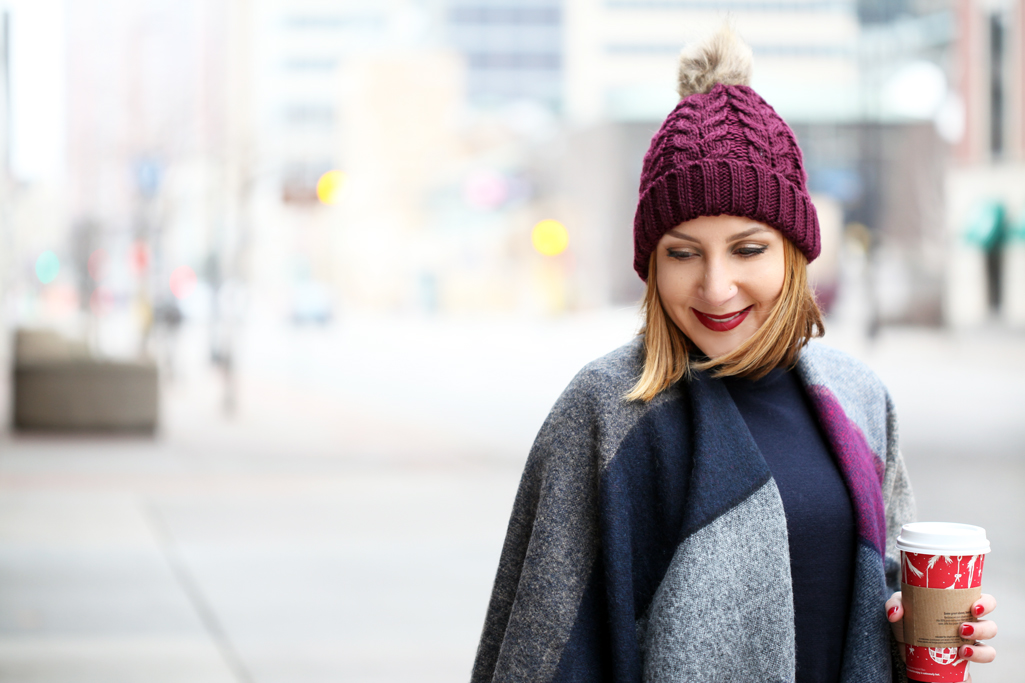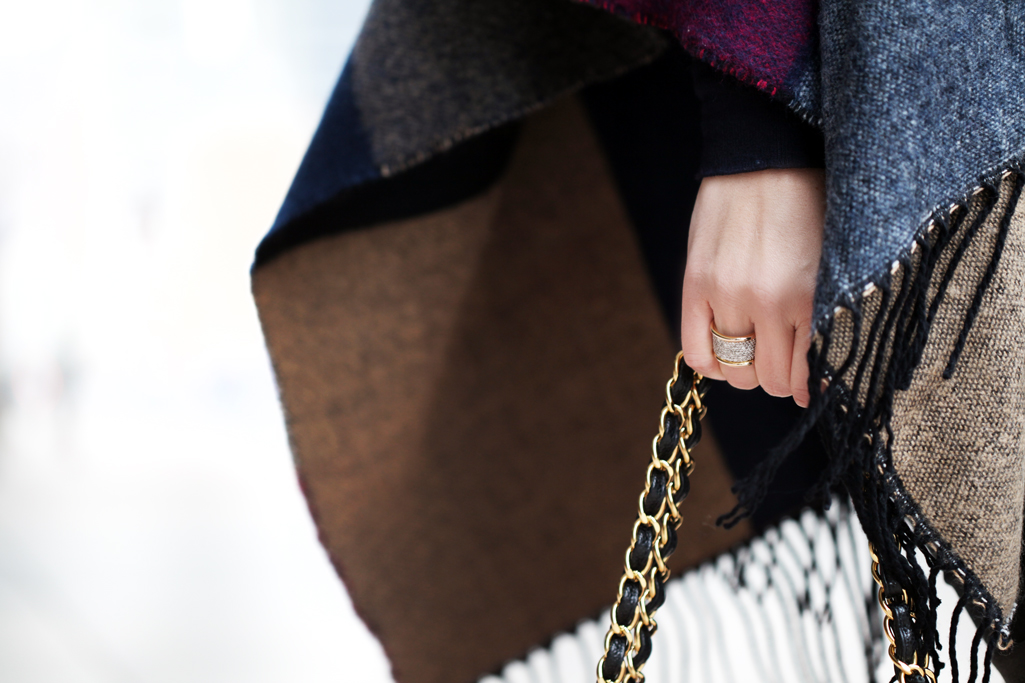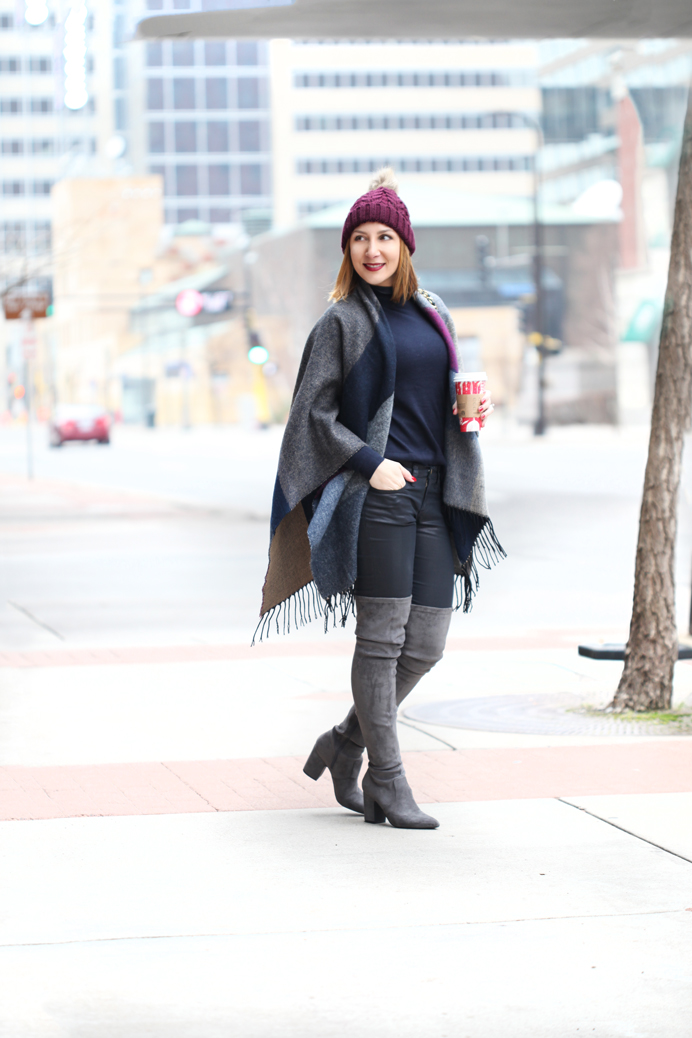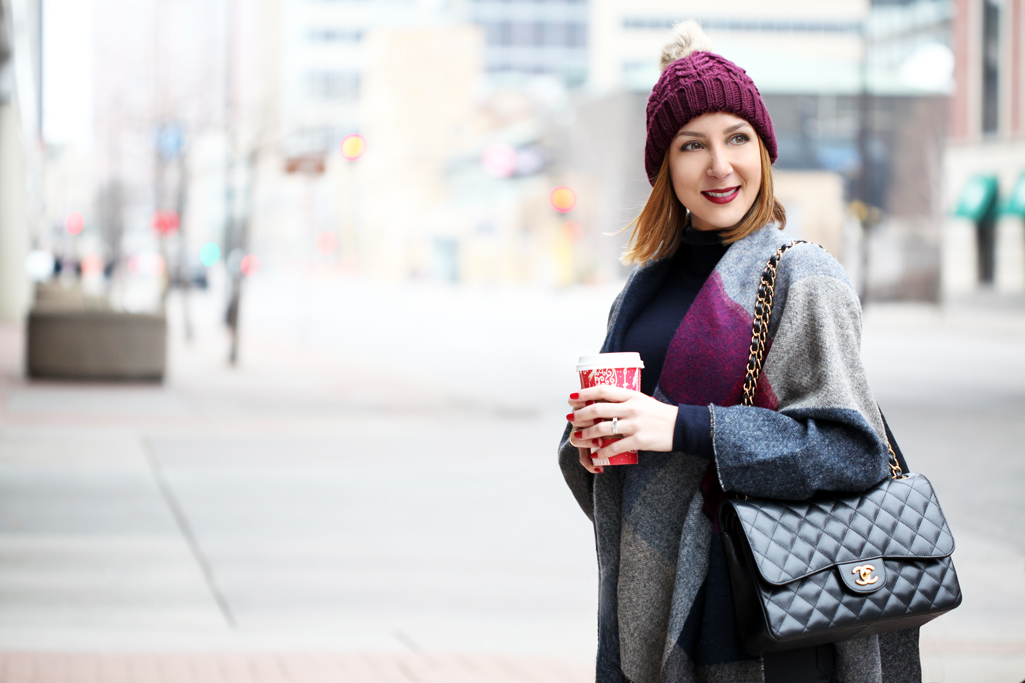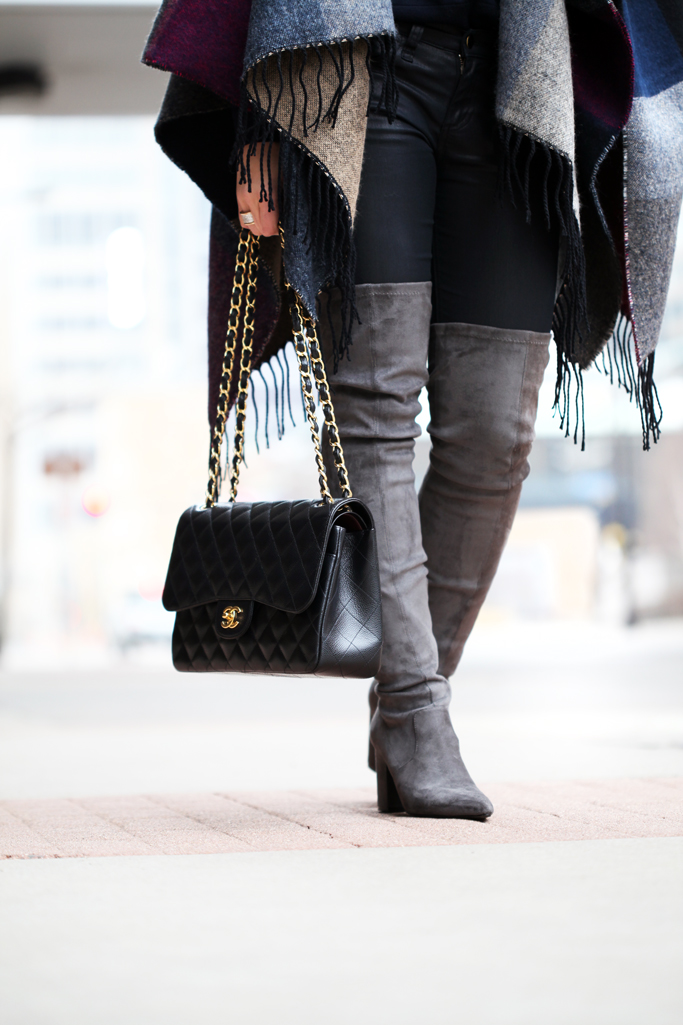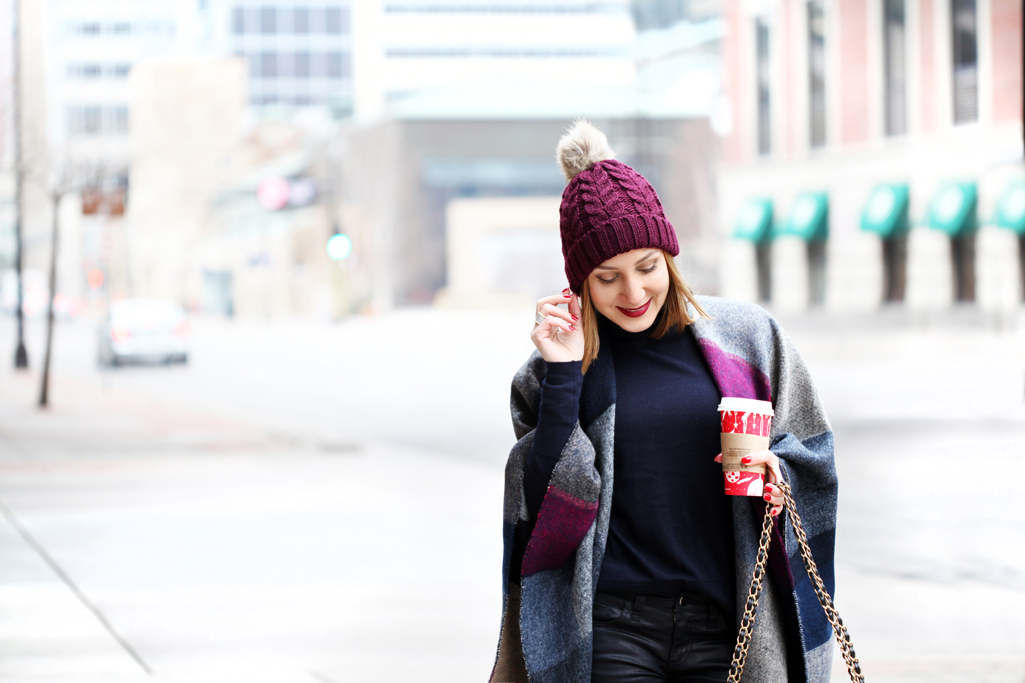 SWEATER: Zara (similar here, less than $15!) || PONCHO: Nordstrom (similar here and here) || BEANIE: Nordstrom (similar here and here) || JEANS: Forever21 (similar here and here) || RING: Henri Bendel (affordable option here) || HANDBAG: Chanel Classic (affordable option here 25% off with code FRIENDS) || BOOTS: Steve Madden (extremely comfortable!) || NAIL POLISH: OPI 'Ring the Buzzer Again' || LIPSTICK: MAC 'D for Danger'
As our trip was coming its end, I was a bit sad to leave behind the memories of cozy outfits and snow angels. But I have to confess that cold temperatures are unquestionably not meant for this tropical-weather girl who loves to wear rompers, skirts and off-the-shoulder cuties most of the year.
Because our flight was relatively early, we just had breakfast and headed to the airport, but not before changing my OTK boots for something more airport friendly. You can't blame me though for wanting to wear these boots one last time. And yes, I know I can wear them in Miami, but honestly, it doesn't feel as right or as appropriate as in actual cold weather. As I've shared in my other travel post (here), I am obsessing over ponchos (or capes as it's also referred to). And in this case, because the look was a bit dark, I wanted to add pop of color and this my pom-pom beanie did the trick (I ordered in this basic color too).
Will you be heading to cold temperatures for your holiday travels? Consider adding a poncho in your suitcase, it's definitely cozy and oh-so chic!

PONCHO + BOTAS ALTAS
Como nuestro viaje llegaba a su final, yo estaba un poco triste de dejar atrás los recuerdos de outfits acogedores y ángeles de nieve. Pero tengo que confesar que las temperaturas frías no son para esta chica de clima tropical que le encanta usar enterizos, faldas y hermosas blusas de hombros al descubierto la mayor parte del año.
Ya que nuestro vuelo era relativamente temprano, sólo tomamos el desayuno y nos dirigimos al aeropuerto, pero no antes de cambiar mis botas para algo más apropiado para viajar. Pero no me puede culpar al querer usar estas botas una última vez. Sé que puedo usarlas en Miami, pero honestamente, no se siente tan adecuado como en el clima de Minneapolis. Como compartí en mi otro post (aquí), estoy obsesionada con ponchos. Y en este caso, porque el look era un poco oscuro, añadí un poco de color con esta gorrita de frio (que también ordene en este color).
¿Viajara a temperaturas frías durante las vacaciones de fin de año? Considere añadir un poncho en su maleta, es definitivamente acogedor y ¡muy elegante!