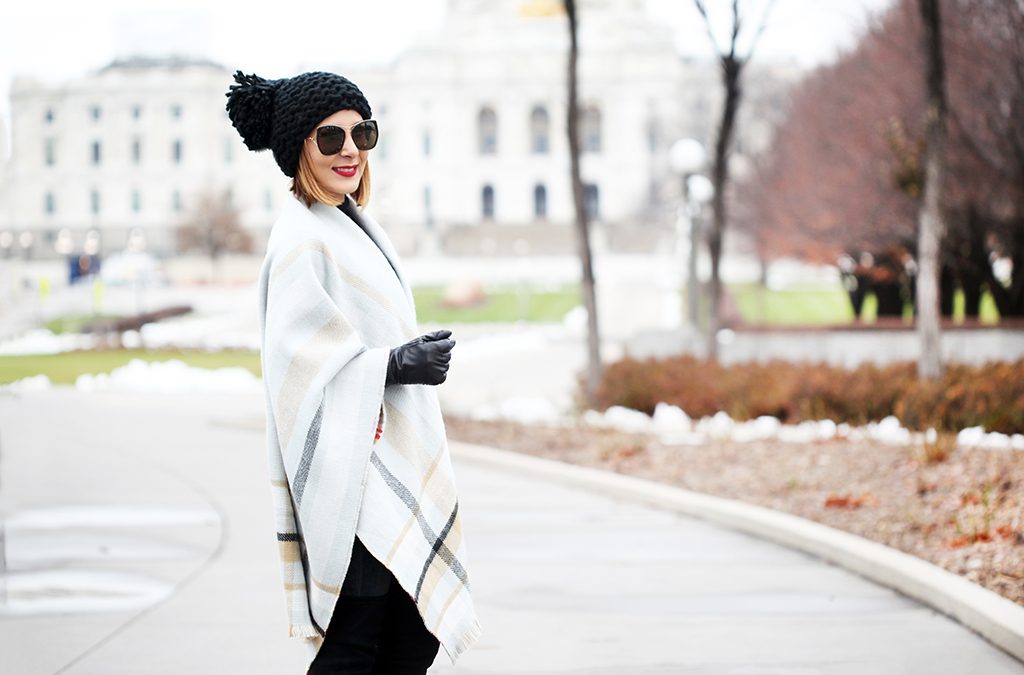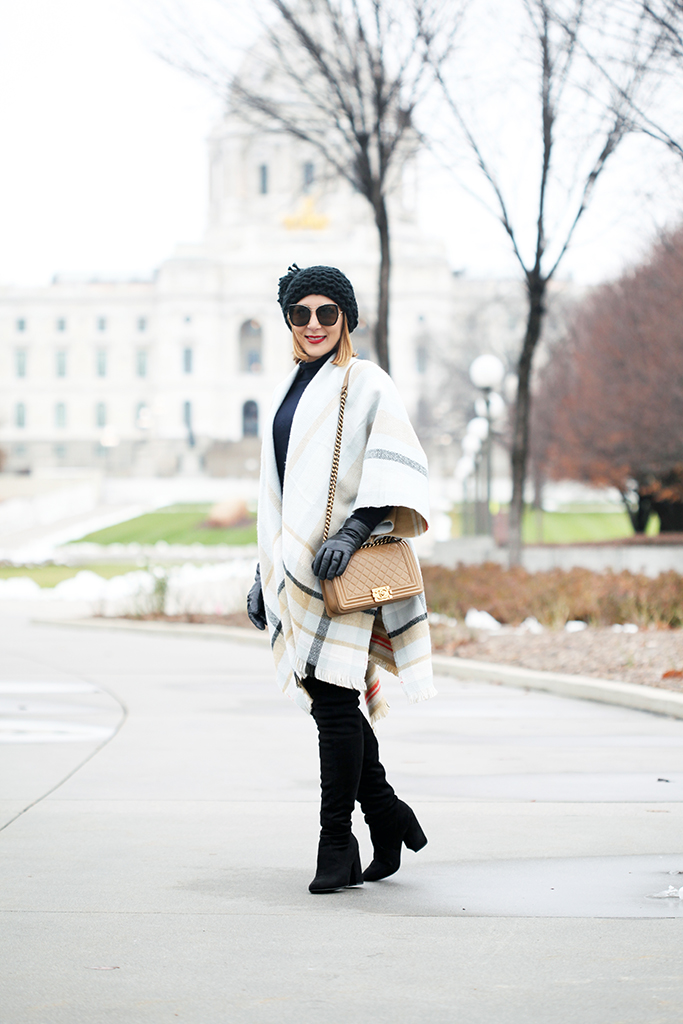 How to style a cape in the winter season. Ponchos (as is also referred to) is a great addition to your fall and winter wardrobe.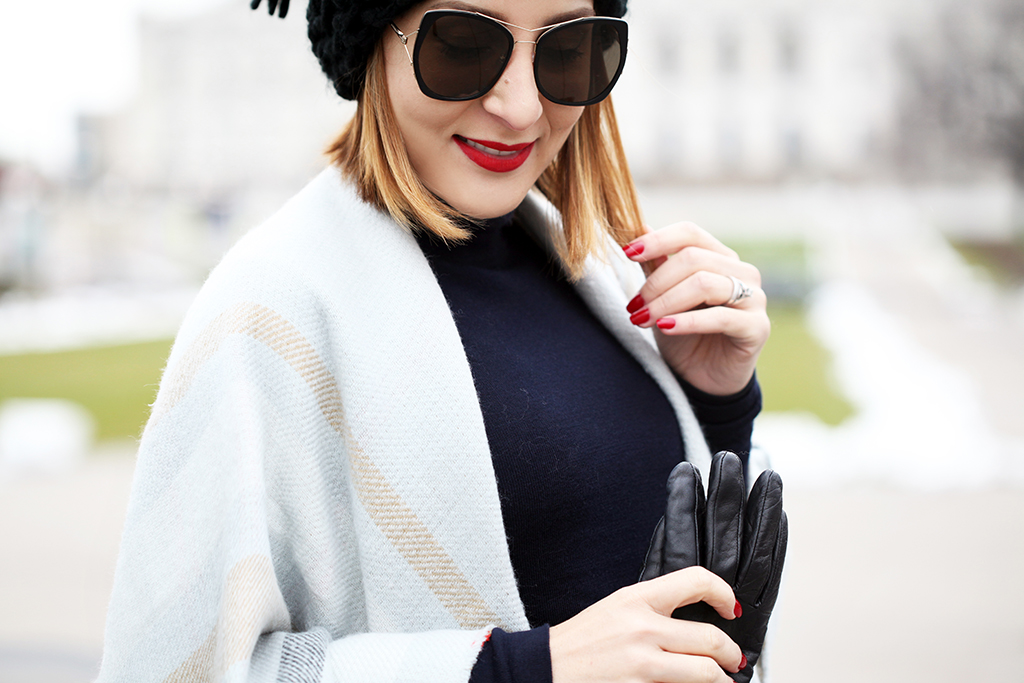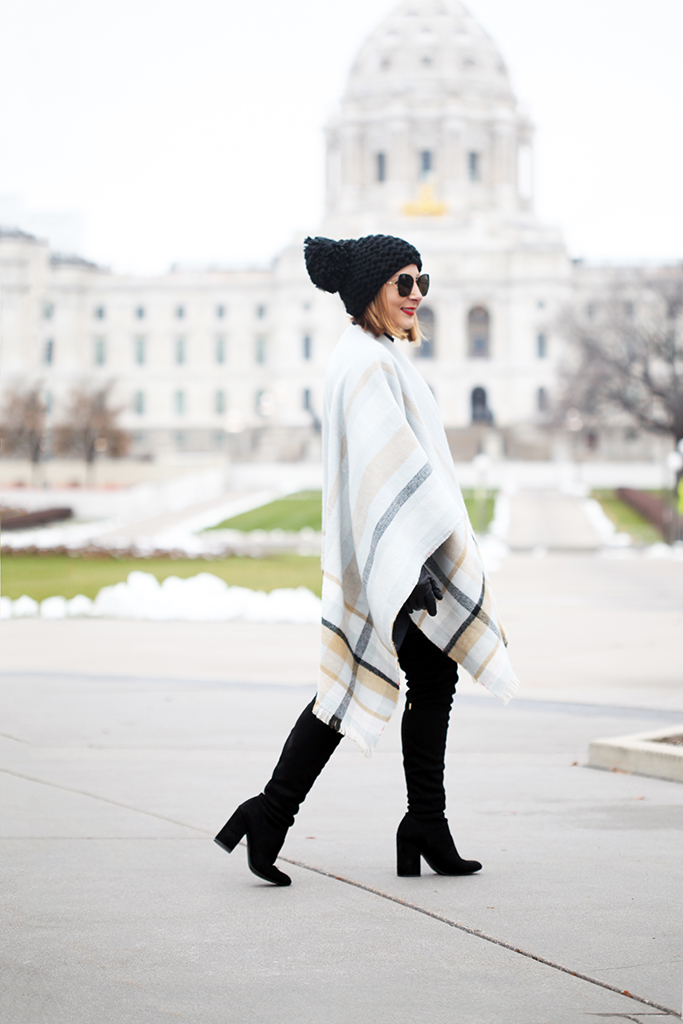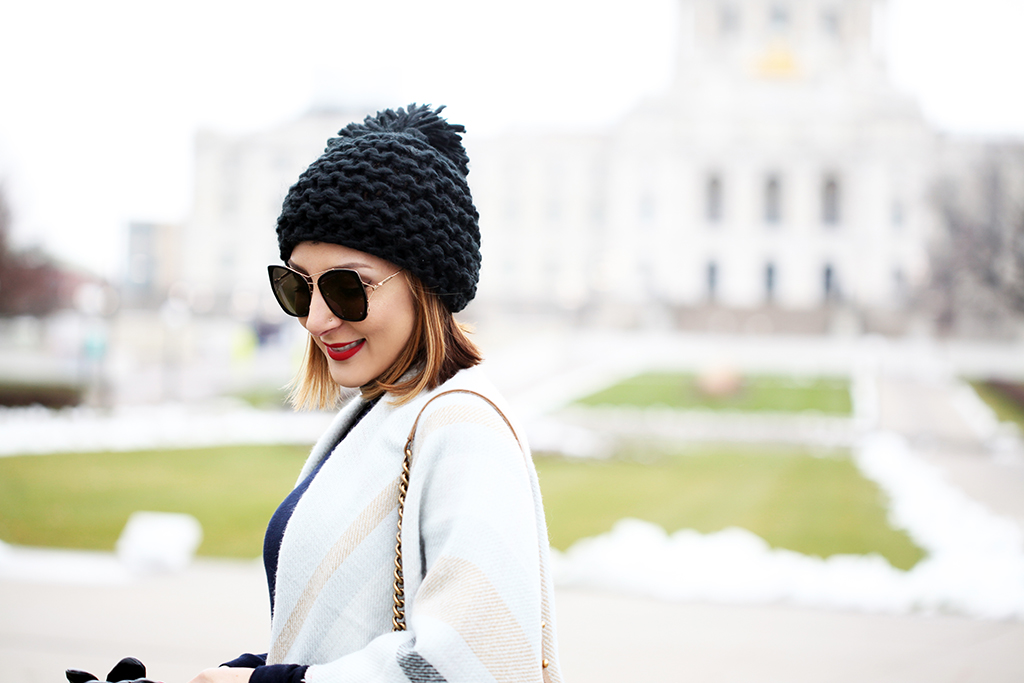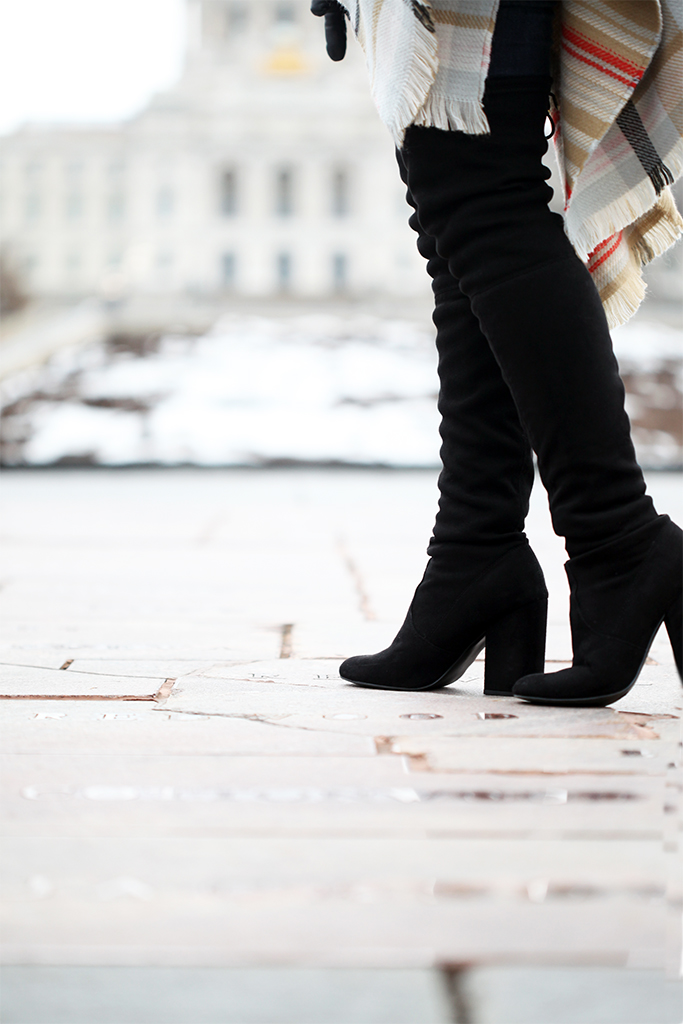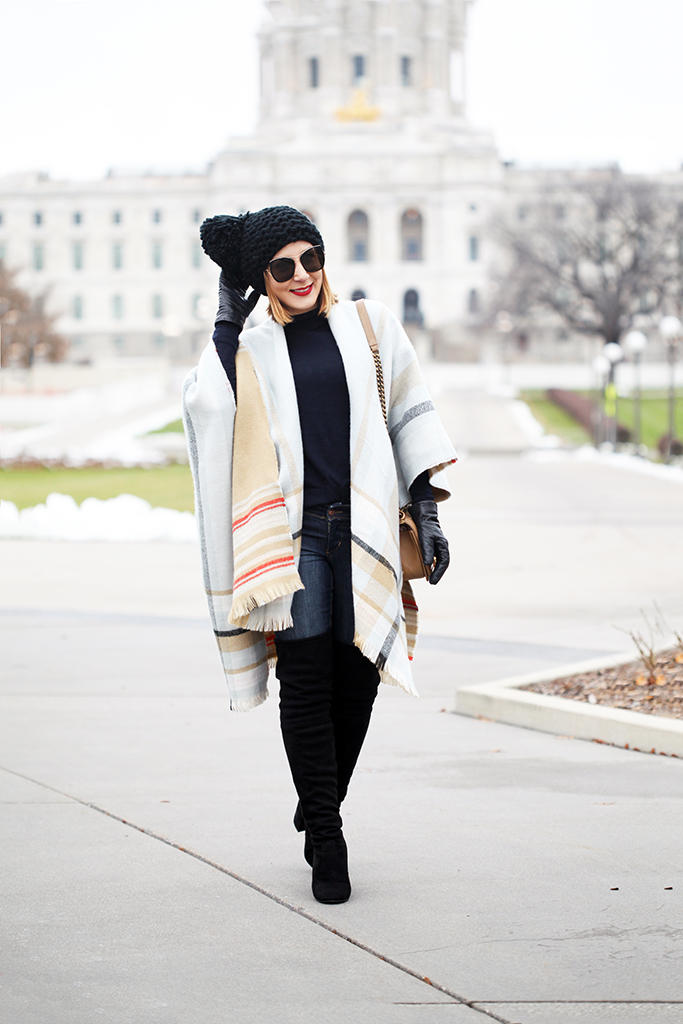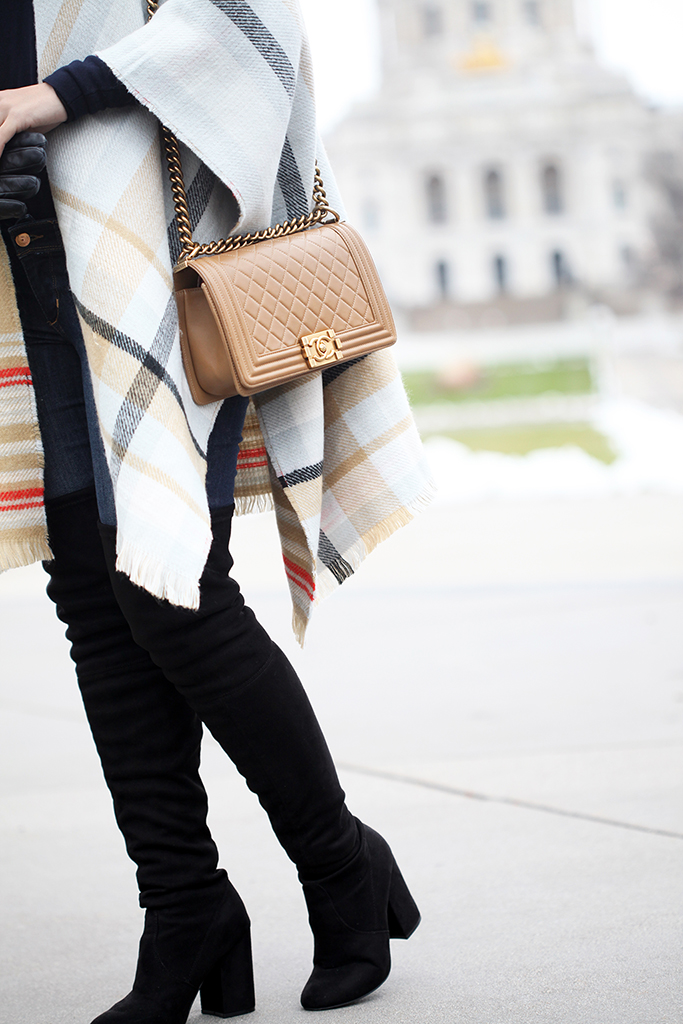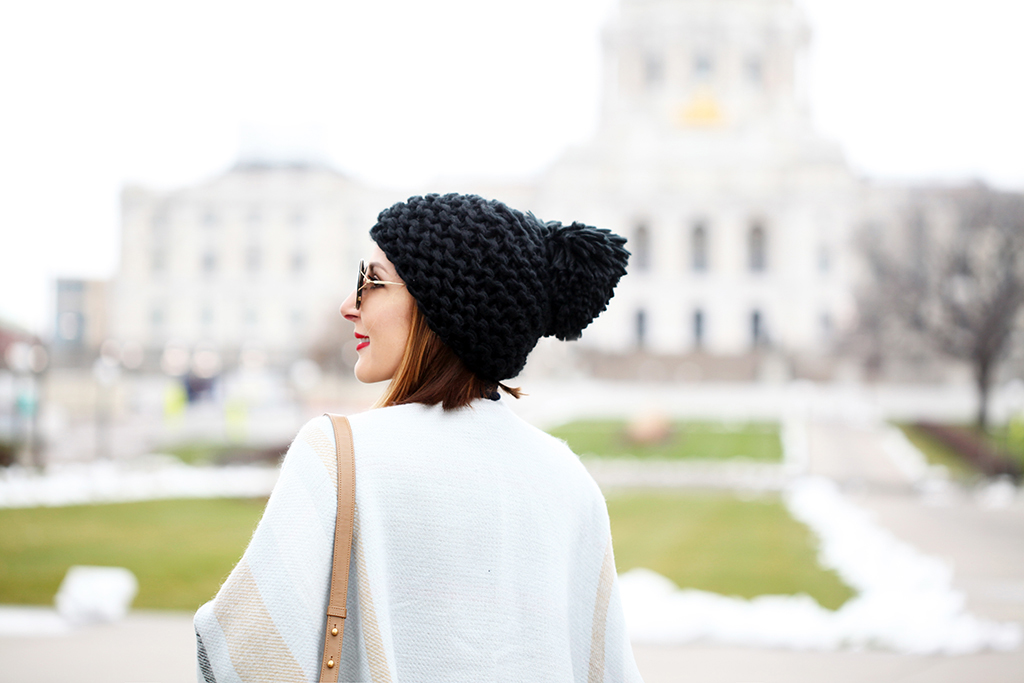 SWEATER: Zara (similar here, less than $15!) || CAPE: Lord & Taylor (20% off till tonight with code SPECTACULAR) || BEANIE: Nordstrom (similar here) || JEANS: Express || GLOVES: Nordstrom (similar here) || SUNGLASSES: Givenchy || HANDBAG: Chanel Boy (affordable option here) || BOOTS: Steve Madden (extremely comfortable!) || NAIL POLISH: OPI 'Ring the Buzzer Again' || LIPSTICK: MAC 'Ruby Woo'
Happy Wednesday loves!
So now that I am settled into warmer temperatures, I am sharing my first outfit from my weekend trip to Minneapolis. I must admit that the cooler climate was a bit extreme from what I am accustomed to, and that sometimes I was even overwhelmed with all the layers, but nonetheless it was fun playing dress up, especially with cute pom-pom beanies and OTK boots. And ladies, I recommend these boots 100%! Surprisingly so, they were the most comfortable and I was able to go through my sightseeing-day without a problem.
Now, let's talk about Minneapolis! The itinerary for our first day was filled with museum visits, starting at the Weisman Art Museum and then at the Walker Art Center (which houses one of Chuck Close's most iconic art piece measuring over 8' tall and 7' wide; titled Self Portrait). We then crossed the Stone Arch Bridge (former railroad bridge), which overlooks the Mississippi river at St. Anthony Falls. Can you believe that it is the only arched bridge made of stone on the entire length of Mississippi River? Afterwards, we walked a few blocks and admired the modern façade and interior of Guthier Theater (which has the most stunning observatory called Endless Bridge, that extends more than half a block, overlooking the Mississippi River). As we made our way to downtown, we visited the State Capitol, which is where these photos were taken. Sadly, it is going through some major renovations and we were unable to get up-close.
As you can tell, we did a lot in one day but there is still so much more I want to share, so come back Friday for more 🙂
Until next post!

PONCHO + BOTAS ALTAS
¡Feliz miércoles mis amores!
Ya que estoy en casa y en temperaturas más cálidas, estoy compartiendo mi primer outfit de mi viaje a Minneapolis. Tengo que admitir que el clima no era nada de lo acostumbrado, y que a veces incluso estaba desencantada con todas las capas que tenía que vestir para mantenerme abrigada, pero, no obstante, disfrute muchísimo vestir con gorritas de pompones y botas altas. Y chicas, les recomiendo estas botas 100%! Sorprendentemente fueron bien cómodas para andar de turismo sin problema.
Ahora, hablemos de Minneapolis. El itinerario para nuestro primer día estuvo lleno de visitas a museos; comenzando en el Weisman Art Museum (Museo de Arte Weisman) y luego en el Walker Art Center (Centro de Arte Walker) (que alberga una de las obras más emblemáticas de Chuck Close, que mide más de 8' de alto y 7' de ancho, titulado Self Portrait). Luego cruzamos el Puente de Arco de Piedra (antiguo puente de ferrocarril), que da al río Mississippi en las cataratas de St. Anthony. ¿Pueden creer que es el único puente arqueado hecho de piedra en toda la longitud del río Mississippi?
Después caminamos un poco para admirar la fachada moderna y el interior del Guthier Theater (Teatro Guthier) (que tiene el observatorio más impresionante que he visto, llamado Endless Bridge, que se extiende más de media cuadra, con vistas al río Mississippi). Más tarde, continuamos hacia el centro de la ciudad y visitamos el capitolio estatal (State Capitol), que es donde estas fotos fueron tomadas. Desafortunadamente, está bajo renovación y no pudimos acercarnos mucho.
Como pueden ver, hicimos mucho en un día, pero todavía hay mucho más que quiero compartir con ustedes, así que regresen el viernes para más.
¡Hasta el próximo post!