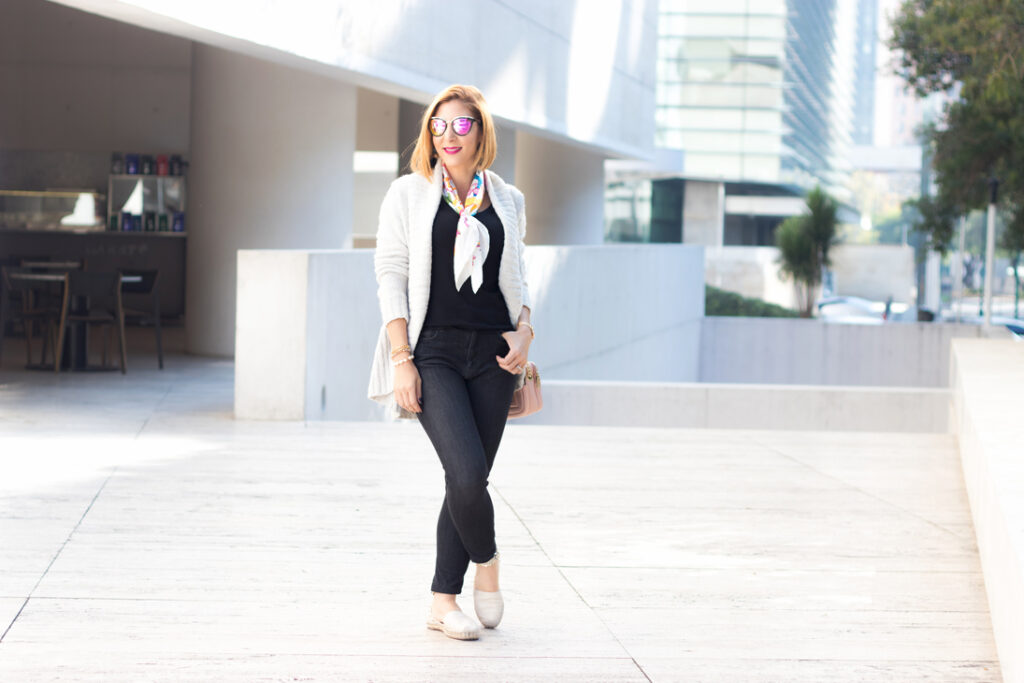 Traveling to a city where the temperature varies throughout the day, calls for cozy layers. Hence why this flattering cardigan is perfect! Miami Fashion Blogger



TOP: Target (only $8) || CARDIGAN: Target (less than $23) || JEANS: Nordstrom (40% off, making it less than $41!) || EARRINGS: c/o BaubleBar (similar geometric cuff) || SCARF: Gucci (affordable lightweight scarf 40% off) || BRACELETS: Taudrey (pearl & beaded), BaubleBar || HANDBAG: Henri Bendel (40% off) || ESPADRILLES: Valentino (affordable studded sandals for less than $70!) || SUNGLASSES: c/o DIFF Eyewear || WATCH: c/o Daniel Wellington || LIPSTICK: Kat Von D – Bauhau5
[one_half]
Hi loves!
Hope you are enjoying your week and are gearing up to, one, the holidays; two, Black Friday! I can't believe how fast this year has gone by, in fact, it has already been over 2 years that I created this blog. Yep two years! Can you believe it?!
But anyway, let's get straight to the travel post, because I can't wait to share more about our trip to Mexico. If you didn't notice from this previous post, we were truly impressed with this city. Despite having visited (and loved) the Yucatan Peninsula in the past, we enjoyed the city just as much. Everything about it was fun, colorful and yummy! The people, culture, food, archaeological sites, customs and art were truly exceptional.
[/one_half][one_half_last]
¡Hola amores!
Espero que estén pasando una linda semana y también preparándose para las fiestas que se aproximan (Día de Acción de Gracias, Navidad, etc.). No puedo creer lo rápido que ha pasado este año, de hecho, hace más de 2 años que empece este blog. ¡Sí, dos años! ¡¿Pueden creerlo?!
Bueno, vamos a ir directamente al post de hoy, porque no puedo esperar para compartir más sobre nuestro viaje a México. Si no lo notaron en este post anterior, quedamos realmente impresionados con esta ciudad. A pesar de haber visitado (y amado) la Península de Yucatán en el pasado, disfrutamos de la ciudad por igual. ¡Todo fue divertido, colorido y delicioso! La gente, la cultura, la comida, los sitios arqueológicos, las costumbres y el arte fueron verdaderamente excepcionales.
[/one_half_last]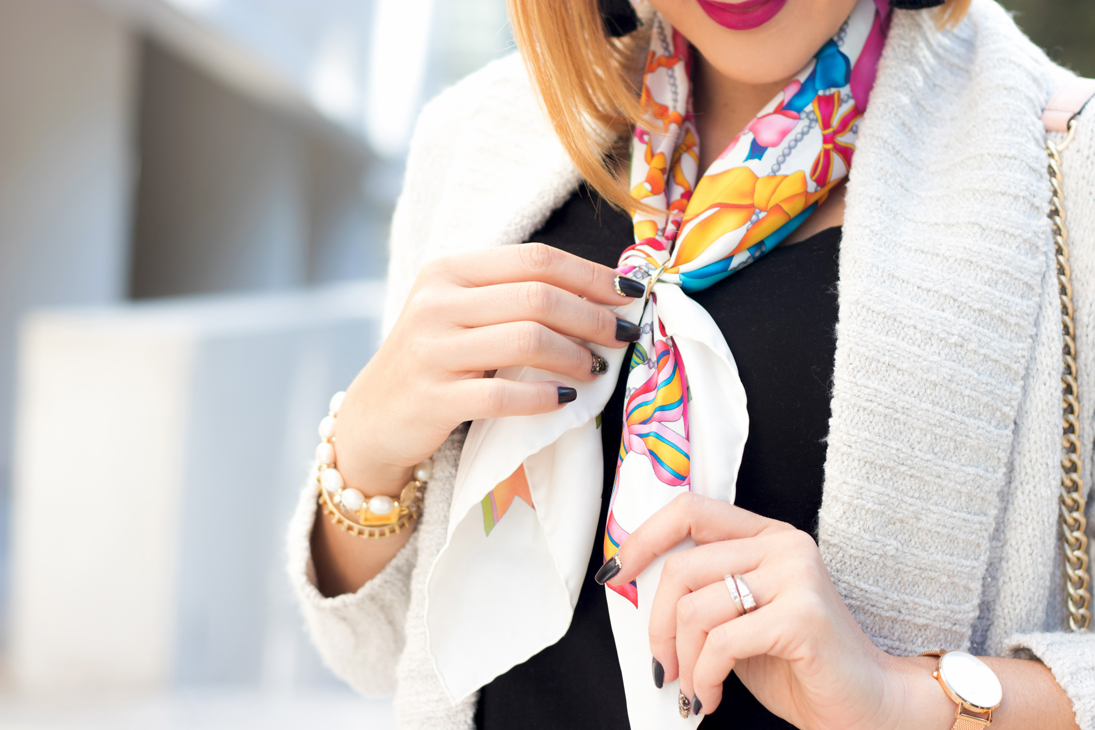 [one_half]
Because the morning was a bit chilly, I decided to pair the only jeans I packed (yep, I only took one pair of jeans) with the most comfortable cardigan EVER! It's only $23 and it will be my go-to when traveling and when Miami gets a little cooler. I purchased it at a last-minute Target run before the trip where I also took home this adorable ruffled long sleeve top (which I already shared in this previous post). Because I wanted to add some color to the look, I opted for this soft scarf that I packed just in case. Ladies, this is a great trick when traveling. Lightweight scarves are a great accessory to take with you because they are incredibly versatile and add a hit of chicness to any outfit.
As far as our itinerary, below you can find what we did for day #2:
Corazon de Maguey Restaurant – for breakfast (address: Jardín del Centenario No.9A, Coyoacán)
Frida Kahlo Museum – I suggest getting your tickets online
Mexican Craft Market – you will find every souvenir you will need here. It is very affordable and everything is made locally (address: Felipe Carrillo Puerto 25, Coyoacán TNT)
El Cardenal Restaurant – for lunch (address: Marconi 2, Centro Histórico, Centro)
Postal Palace of Mexico City – Beautiful building that still houses Mexico City's post office.
Palace of Fine Arts – cultural center of the city with striking architecture.
Alameda Central – public municipal park where on Saturdays, near Diego Rivera's Museum, you can find a market where there are many yummy food spots & local artisan kiosks.
Museum of Remembrance and Tolerance – museum devoted to all genocides of history, not only to the Holocaust.
Monument to the Revolution – stunning landmark that also has an observation deck. You can walk up the 125 steps where you can enjoy the interior of the building's structure or you can also use the elevator.
National Museum of Anthropology – the largest and most visited in Mexico. Its architecture is truly mesmerizing and among many significant archeological artifacts, you can awe at Lucy's skeleton (dated about 3.2 million years old, and represents evidence of an upright walking ape). There is also a beautiful and gigantic fountain when you walk to the center patio, you can't miss it.
I would love to know if you've visited Mexico, share your experience in the comments section below.
[/one_half][one_half_last]
Debido a que la mañana era un poco fría, decidí combinar los únicos jeans que empaqué (sí, solo llevé un par de jeans) con este comodísimo abrigo. Solo cuesta $23 y ​​será mi pieza esencial cuando viaje y cuando el clima en Miami este mas frio. Lo compré de último momento en Target cuando necesitaba algunas cosas para el viaje. También me llevé a casa esta adorable blusa de manga larga con volantes (que ya compartí en este post anterior). Como quería agregar un poco de color al look, opté por esta ligera bufanda que lleve por si acaso. Chicas, este es un buen truco cuando viajen. Las bufandas ligeras son un buen accesorio de empacar, ya que son increíblemente versátiles y añaden un toque de elegancia a cualquier outfit.
En cuanto a nuestro itinerario, a continuación, pueden encontrar lo que hicimos el segundo dia:
Restaurante Corazón de Maguey – para desayunar (dirección: Jardín del Centenario No.9A, Coyoacán).
Museo Frida Kahlo– sugiero obtener sus boletos en línea.
Mercado Artesanal Mexicano – encontrarás todos los suvenir que necesitarás aquí. Es muy económico y todo se elabora localmente (dirección: Felipe Carrillo Puerto 25, Coyoacán TNT)
Restaurante El Cardenal – para almorzar (Marconi 2, Centro Histórico, Centro)
Palacio de Correos – Hermoso edificio que aún alberga la oficina de correos de la Ciudad de México.
Palacio de Bellas Artes – centro cultural de la ciudad con una arquitectura impresionante.
La Alameda Central – parque municipal público donde los sábados, cerca del Museo Diego Rivera, puedes encontrar un mercado donde hay muchos lugares deliciosos para comer y quioscos de artesanía local.
Museo Memoria y Tolerancia – museo dedicado a todos los genocidios de la historia, no solo al Holocausto.
Monumento a la Revolución – impresionante monumento que también tiene una plataforma de observación. Pueden subir los 125 escalones para percibir el interior de la estructura del edificio o también pueden utilizar el ascensor.
Museo Nacional de Antropología – el más grande y visitado de México. Su arquitectura es realmente cautivadora y entre muchos artefactos arqueológicos importantes, pueden admirar el esqueleto de Lucy (con fecha de aproximadamente 3.2 millones de año, y representa evidencia de un mono que camina erguido). También hay una hermosa y gigantesca fuente cuando caminas hacia el patio central, no se la pueden perder.
Me encantaría saber si han visitado México, compartan su experiencia en la sección de comentarios a continuación.
[/one_half_last]