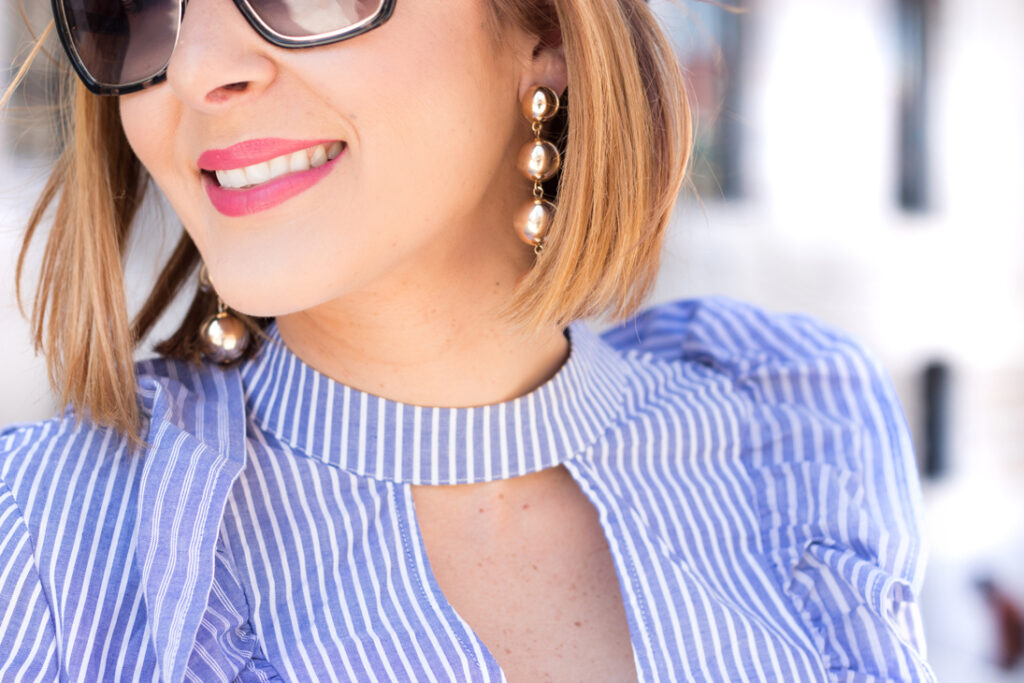 The IT accessory of the fall season is not only cute but versatile for traveling. Get this newsboy (or fisherman's) hat for less than $13.Miami Fashion Blogger



TOP: Target (only $20 and available in another color) || JEANS: Nordstrom (40% off, making it less than $41!) || EARRINGS: BaubleBar || HAT: Target (less than $13) || HANDBAG: Henri Bendel (40% off) || ESPADRILLES: Valentino (affordable studded sandals for less than $70!) || SUNGLASSES: Derek Lam || LIPSTICK: Huda Beauty – Gossip Girl
[one_half]
About three weeks ago, the hubby came up with a last-minute idea to celebrate our 9-year wedding anniversary in Mexico (read why here) so we did; and honestly it was one of the most fun and authentic experiences we've been part of. Mexico loves life; you can see it in their food, bright colored clothing and in its celebration to honor those who are no longer with us. This to some, might seem peculiar, but if you read the post I mentioned above (also here) you'll understand why to them, we should commemorate the memory our loved ones on a happy note. If you peeked at my InstaStories, you must have seen that we joined Mexico's Day of The Dead celebrations by dressing up as a Catrina (sugar skull) couple, but if you missed it, you can find a glimpse below.
[/one_half][one_half_last]
Hace aproximadamente tres semanas, a mi esposo se le ocurrió una idea de último minuto para celebrar nuestro aniversario de 9 años de casados en México (lean por qué aquí), y así lo hicimos; y, sinceramente, fue una de las experiencias más divertidas y auténticas de las que hemos formado parte. Los mexicanos aman la vida; lo pueden ver en sus comidas, ropa de colores llamativos y en su celebración al honrar a aquellos que ya no están con nosotros. Sé que esto para algunos, puede parecer peculiar, pero si leen el post que mencioné anteriormente (también aquí) entenderán por qué, para ellos, debemos conmemorar la memoria de nuestros seres queridos en una nota feliz. Si echaron un vistazo a mis Stories, deben haber visto que nos unimos a las celebraciones del Día de los Muertos vistiéndonos como Catrina y Catrin, pero si se lo perdieron, pueden verlo a continuación.
[/one_half_last]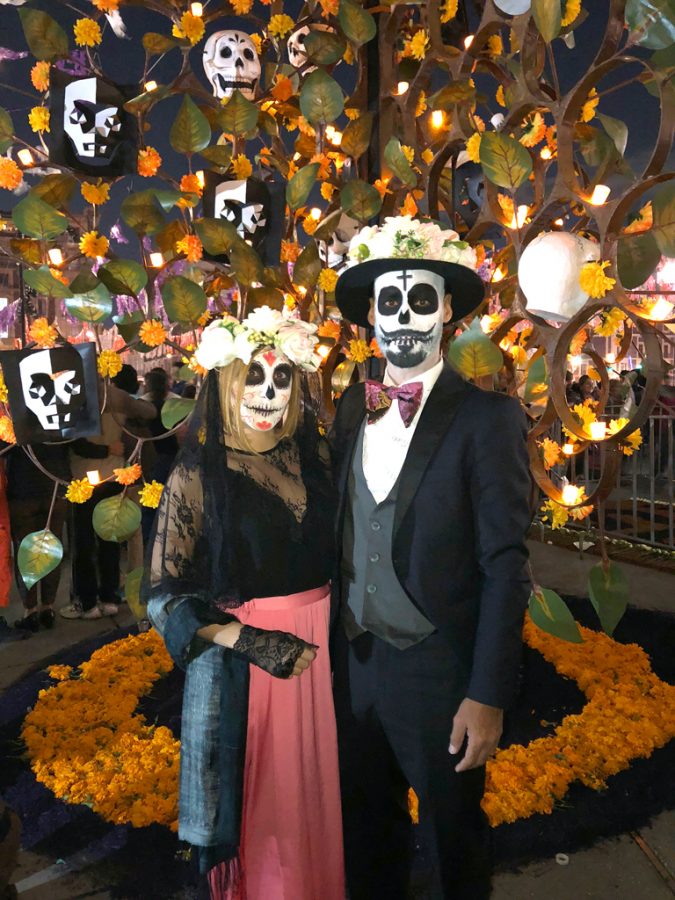 [one_half]
The weather while we were there (early November) was almost perfect. It was chilly during the early morning and late night (average 65°F), while the afternoon was warm and cozy. I recommend to pack layers in order to add or remove pieces as the day progresses. We moved a lot with Uber; very reliable, affordable and fast (drivers never took more than 5 minutes to arrive, honestly most of the time they took 2 minutes or less). We stayed at Presidente InterContinental Mexico City Hotel in Polanco, which was the neighborhood most recommended. The service was top notch, the room was spacious and modern, and it was close to the city center (which is where you'll find most points of interests).
Below you can find our itinerary for day one:
Bajio Restaurant – for breakfast (address: Alejandro Dumas No. 7, Col. Polanco)
Zocalo – main square in central Mexico City
Templo Mayor – one of the main temples of the Aztecs
National Palace – you will find many of Diego Rivera's mural here (I recommend getting a local guide which are outside the building; very affordable and very worth it)
Mexico City Metropolitan Cathedral – largest cathedral in the Americas
House of Tiles (Casa de los Azulejos) – for lunch (is an 18th century palace built by a Count (address: Av Francisco I. Madero 4, Centro).
Paseo de la Reforma – wide avenue that runs across the heart of Mexico City and is often adorned with temporary outdoor art exhibits. When we were there, we enjoyed the giant and beautiful decorated skulls (MexiCraneos) and the alebrijes, which are brightly colored folk art sculptures of fantastical creatures.
TuriBus Nocturno – a night tour aboard an open-top two-decker bus taking you to most places of interest (tickets can be purchased at Zocalo and runs from 9pm-1am but actual tour is 1 hour long).
Agua y Sal Seafood Restaurant – for dinner (address: Campos Elíseos 199-A, Polanco).
Stay tuned for more of our trip to Mexio in the next post. Hope you have a great Tuesday!
[/one_half][one_half_last]
El clima mientras estuvimos allí (principios de noviembre) fue casi perfecto. Hacía frío durante la mañana y la noche (promedio de 65°F), mientras que la tarde era cálida y acogedora. Recomiendo empacar capas para agregar o quitar piezas a medida que avanza el día. Nos transportamos la mayor parte del viaje en Uber; muy confiable, asequible y rápido (los conductores nunca tardaron más de 5 minutos en llegar, la mayoría de las veces demoraron 2 minutos o menos). Nos alojamos en el Hotel Presidente Intercontinental en Polanco, que era el barrio más recomendado por amigos y el mundo web. El servicio era de primera categoría, la habitación era espaciosa y moderna, y estaba cerca del centro de la ciudad (que es donde encontrarán la mayoría de los puntos de interés).
A continuación, pueden encontrar nuestro itinerario para el primer día:
Restaurante Bajío (en Polanco) – para el desayuno (dirección: Alejandro Dumas No. 7, Col. Polanco).
Zócalo – plaza principal en el centro de la ciudad de México.
Templo Mayor – uno de los principales templos de los aztecas.
Palacio Nacional – aquí encontrarán muchos de los murales de Diego Rivera (recomiendo conseguir un guía local que se encuentran afueras del edificio; son muy asequible y vale la pena).
Catedral Metropolitana de la Ciudad de México – la catedral más grande de América.
Restaurante Casa de los Azulejos – para el almuerzo (es un palacio del siglo XVIII construido por una familia condesa (dirección: Av Francisco I. Madero 4, Centro).
Paseo de la Reforma – una amplia avenida que cruza el corazón de la Ciudad de México y que a menudo está adornada con exposiciones temporales de arte al aire libre. Cuando estuvimos allí, disfrutamos de las gigantes y gigantes y coloridas calaveras (MexiCraneos) y los alebrijes (que son esculturas de arte de criaturas fantásticas pintadas de colores brillantes)
TuriBus Nocturno: un recorrido nocturno a bordo de un autobús descapotable de dos pisos que lo lleva a la mayoría de los lugares de interés (los boletos se pueden comprar en Zócalo y los tours funcionan desde las 9 p.m. hasta la 1 a.m., pero el recorrido dura 1 hora).
Restaurante Agua y Sal – para la cena (dirección: Campos Elíseos 199-A, Polanco).
Estén atentos para más de nuestro viaje a México en el próximo post. ¡Espero que pasen un lindo martes!
[/one_half_last]