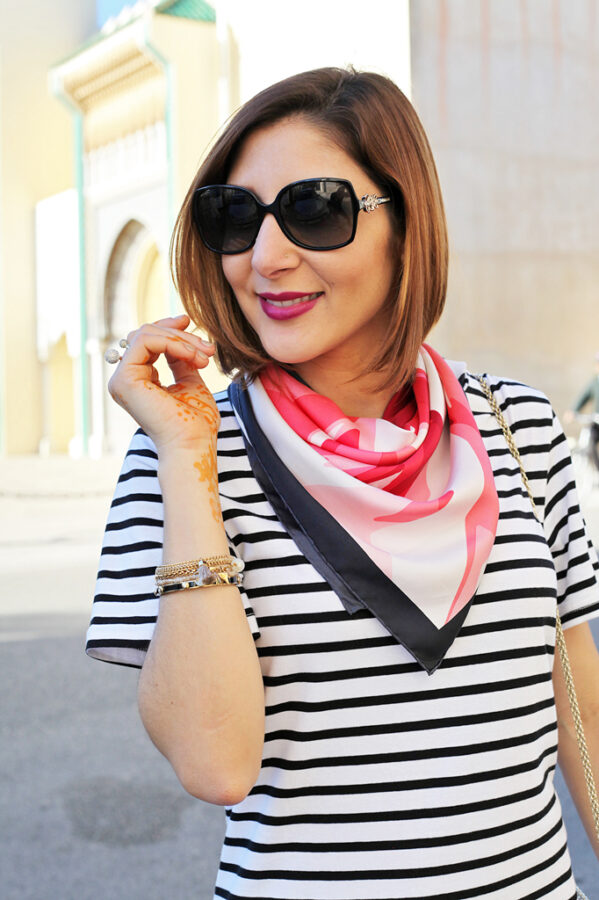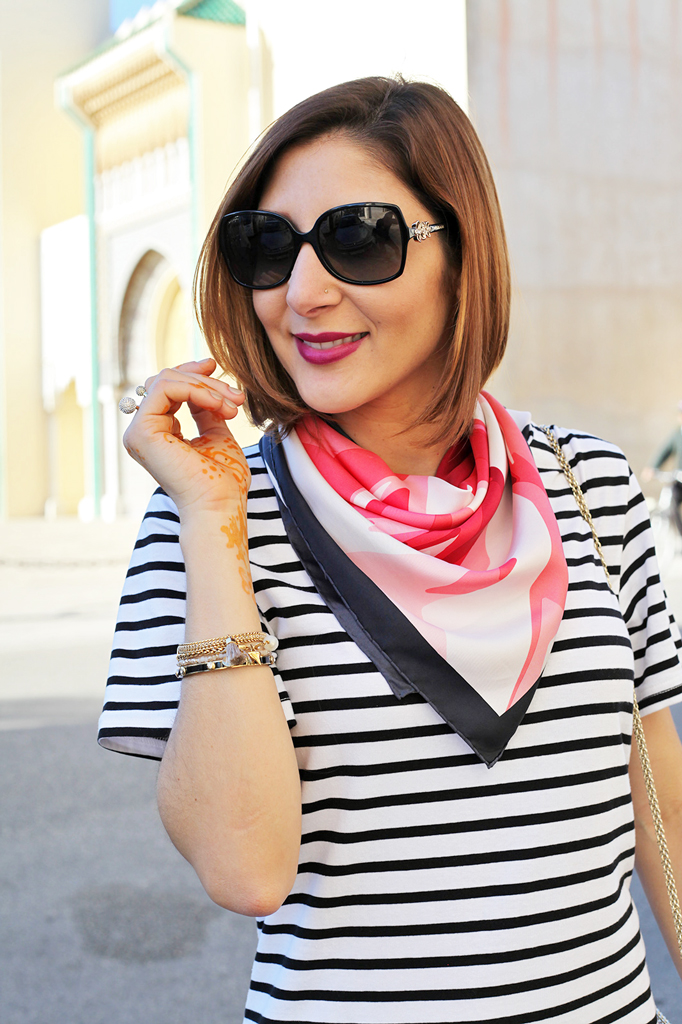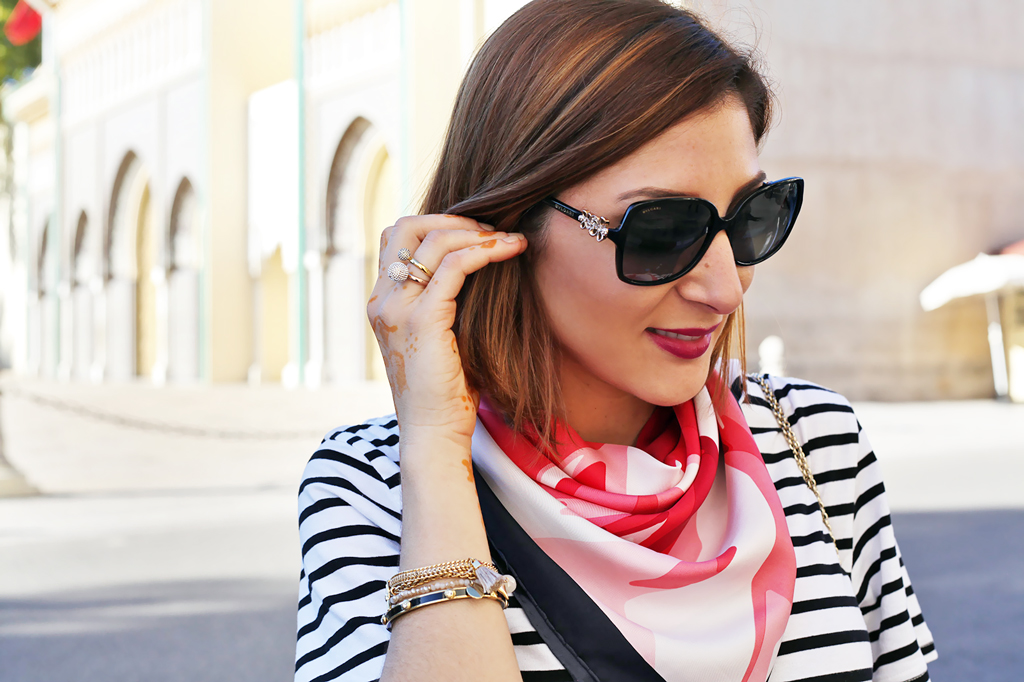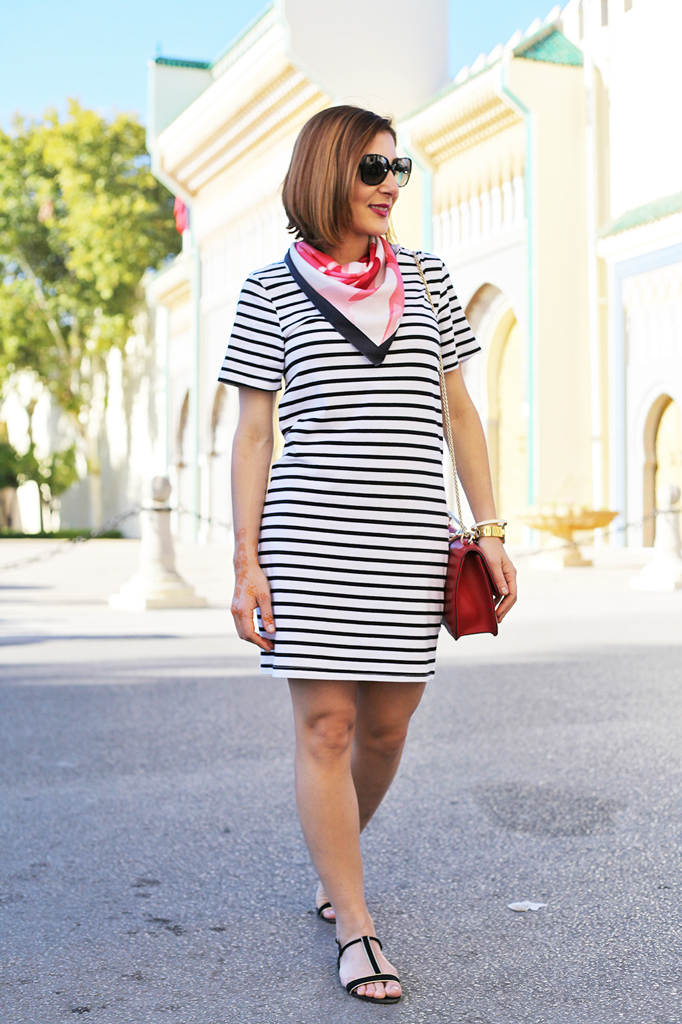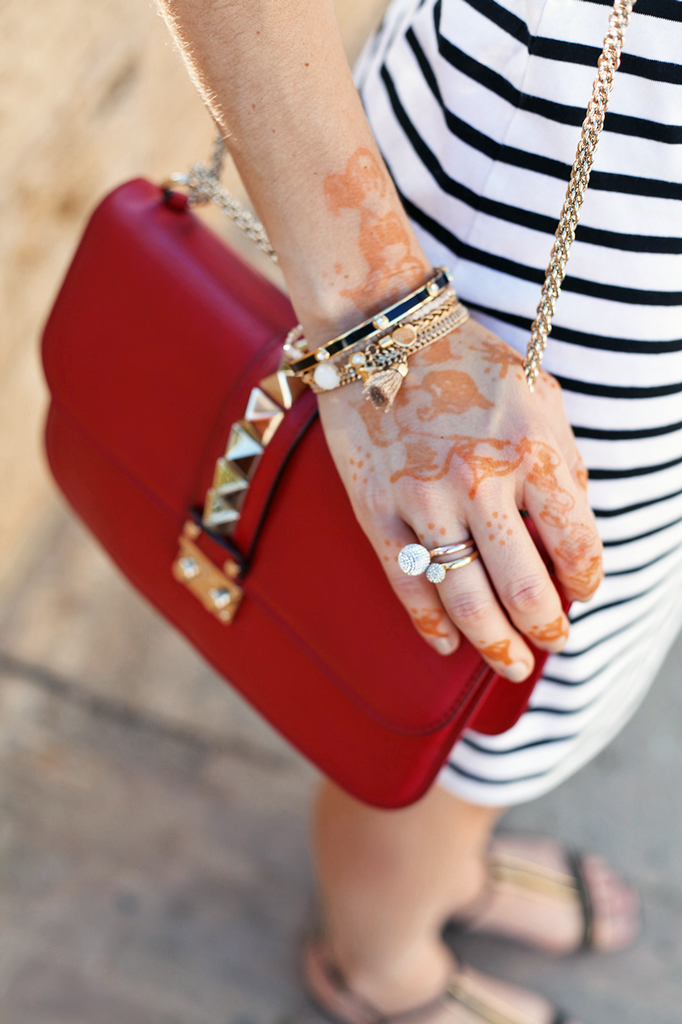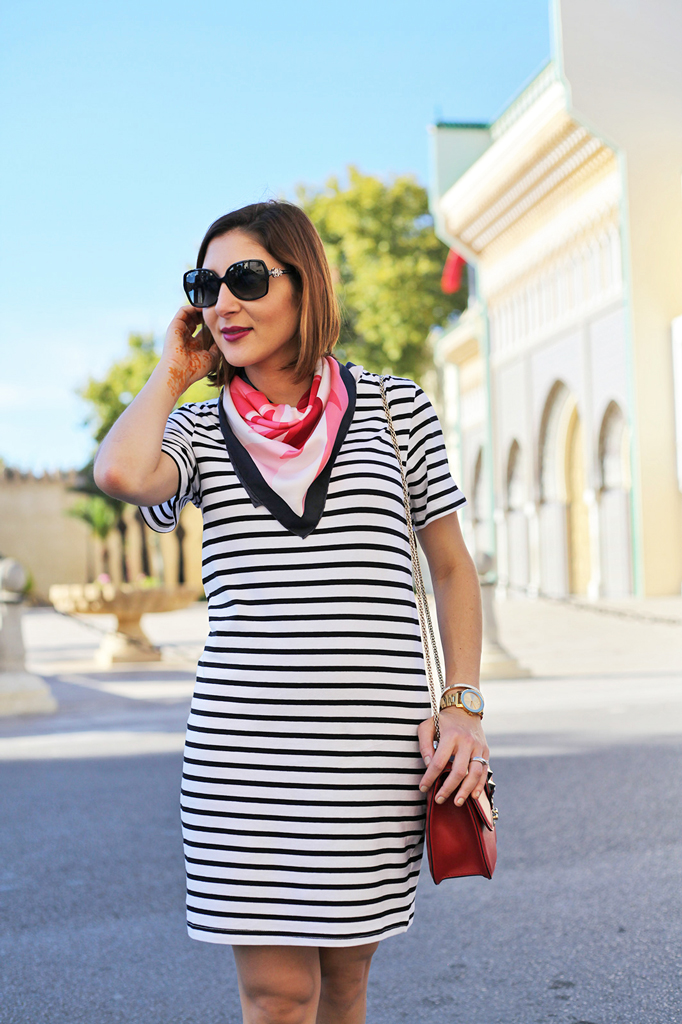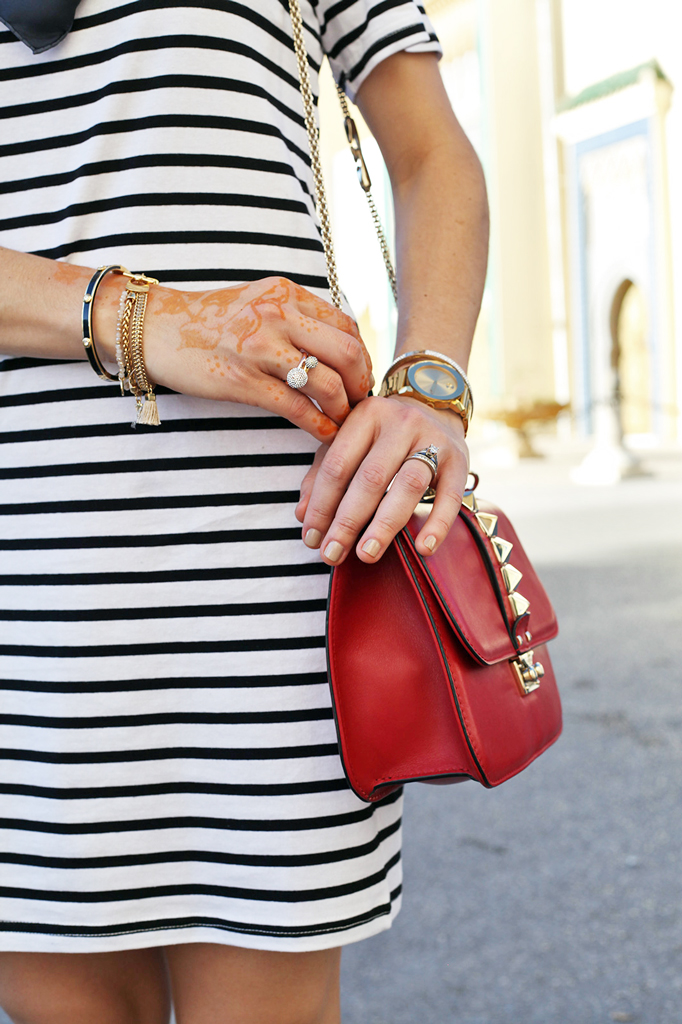 << DRESS: SheIn | SCARF: Clive Christian (similar) | WATCH: Movado 'Bold' | BRACELETS: Henri Bendel ('Rox Skinny Bangle' & 'East Hampton Charm' & 'Miss Bendel Rivet Bangle') | RING: Henri Bendel (similar) | HANDBAG: Valentino 'Lock Rocktud' | SANDALS: Zara (similar) | NAIL POLISH: CND Vinylux 'Svelte Suede' | LIPSTICK: Milani 'Upton Mauve' >>
Hello again Wednesday!
So today I am sharing the last post from our trip to Morocco (you can see more here & here), strictly dedicated to the do's and don'ts when traveling to this incredible spice-scented, labyrinthine-filled and colorful country. Morocco is truly a beautiful country, full of history and with stunning architecture. It's people are true hosts, where they make you feel welcomed and very special. I very much recommend this as your next travel destination!
[tg_divider style="faded"]
Tips
[tg_divider style="faded"]
[one_half]Do's
Try the mint tea (with or without sugar; depends on your sweet tooth).
Wi-Fi is very reliable and available in hotels.
If you can splurge, stay in a riad (

traditional Moroccan mansion or palace that has been converted into a hotel).

Tipping is expected for every service provided to you;

In public and private restrooms a small fee is expected for the attendant that's keeping them clean.

Overall is inexpensive to visit (by Western standards).
Dress modestly;

men: collared shirt or T-shirt covering the shoulders, long pants or jeans.
women: pants and long skirts, short-sleeve shirts (but as you can see, I wore a knee-length dress and didn't have any unfavorable experiences).

Haggling is expected (negotiate 30-40% less from asking price).
Take cash; credit cards are difficult to use.

Request a

VAT

(

Value Added Tax) receipt

on

purchases over

$246

.

At the airport

, you can request

this tax

back

, provided

you have

your

official

VAT

receipt.




The

currency

(

dirhams)

is restricted

and cannot

be traded

outside the

country.

Change

currency

when you arrive

at the airport or

hotel.

Be aware of pickpockets when in large crowds.
Get a guide, they will help you navigate through the area and worth the history lesson.
Get a henna tattoo (it's temporary).
[/one_half]
[one_half_last]Don'ts
Best not to travel during Ramadan (holy month of fasting); check the dates before traveling since it is determined by the lunar calendar.
Avoid public consumption of alcohol.
Avoid public displays of affection (holding hands is OK).
Don't take pictures of people without their permission, specially of Moroccan women in traditional clothing and imams (male figure who leads prayer in a mosque).
It's best if women don't travel alone; however single travelers (like backpakers) are seen very often.
Don't drink tap water; its best to buy bottled drinking water.
[/one_half_last]

FEZ, MARRUECOS:

VESTIDO DE RAYAS

+

PAÑUELO

COLORIDO
Hola de nuevo miércoles!
Así que hoy estoy compartiendo el último post de nuestro viaje a Marruecos (puede leer más aquí & aquí), dedicado estrictamente a 'el hacer' y 'qué no hacer' cuando viaje a este increíble, laberíntico y colorido país. Marruecos es verdaderamente un país hermoso, lleno de historia y con impresionante arquitectura. Su gente es verdaderamente gran anfitriones, donde te hacen sentir como en casa y muy especial. Sin duda, recomiendo este destino para su próximo viaje.
[tg_divider style="faded"]
Sugerencias
[tg_divider style="faded"]
[one_half]Que puede hacer
Pruebe el té de menta (con o sin azúcar; depende de su gusto por lo dulce).

Wi

–

Fi

es

disponible

en los hoteles.

Si puede

, alojese en

un riad

(

mansión o palacio

tradicional marroquí

que ha sido

convertido en un hotel

)

.
De propina; la propina es agradecida para cada servicio que le proporcionen;

En los baños públicos y privados se espera una pequeña tarifa para el encargado de mantenerlos limpios.

En general

,

es barato

para visitar

(para los estándares

occidentales

)

.
Vístase modestamente;

hombres: camisa con cuello o una camiseta que cubre los hombros, pantalones largos o jeans)

mujeres:

pantalones

y faldas largas

, camisas de

manga corta

(

pero como puede

ver, yo

llevaba

un vestido

largo hasta la rodilla

y no tuve

ninguna mala experiencia

)

Es bien aceptado por los Marroquíes que

regatees

(pide

al menos el 40

% de descuento

)

.



Lleve dinero en efectivo; tarjetas de crédito son difíciles de usar.
Solicite el recibo de IVA o VAT en ingles (Impuesto al Valor Agregado) por compras de más de $246. En el aeropuerto, puede obtener este impuesto de vuelta, siempre y cuando tiene su recibo de IVA oficial.
Las divisa (dirhans) está restringida y no puede ser objeto de comercio en el exterior del país. Cambie la moneda en el aeropuerto u hotel.

Esté al tanto de

los carteristas

cuando

en

grandes multitudes.

Consiga

un guía

, le ayudará

a navegar por la zona y merece la pena la lección de historia.

Obtenga un tatuaje henna (es temporaral).
[/one_half]
[one_half_last]Qué no hacer
Es mejor no viajar durante el Ramadán (mes sagrado del ayuno); compruebe las fechas antes de viajar ya que este se determina por el calendario lunar.
Evite el consumo público de alcohol.
Evite las demostraciones públicas de afecto (tomándose de la mano está bien).
No tome fotos de personas sin su permiso; especialmente de las mujeres marroquíes en vestidos tradicionales ni de los imanes (figura masculina que dirige la oración en una mezquita).
Es mejor si las mujeres no viajan solas; sin embargo los viajeros individuales (como mochileros) se ven muy a menudo.
No beba agua del grifo; es mejor compra agua potable embotellada.
[/one_half_last]