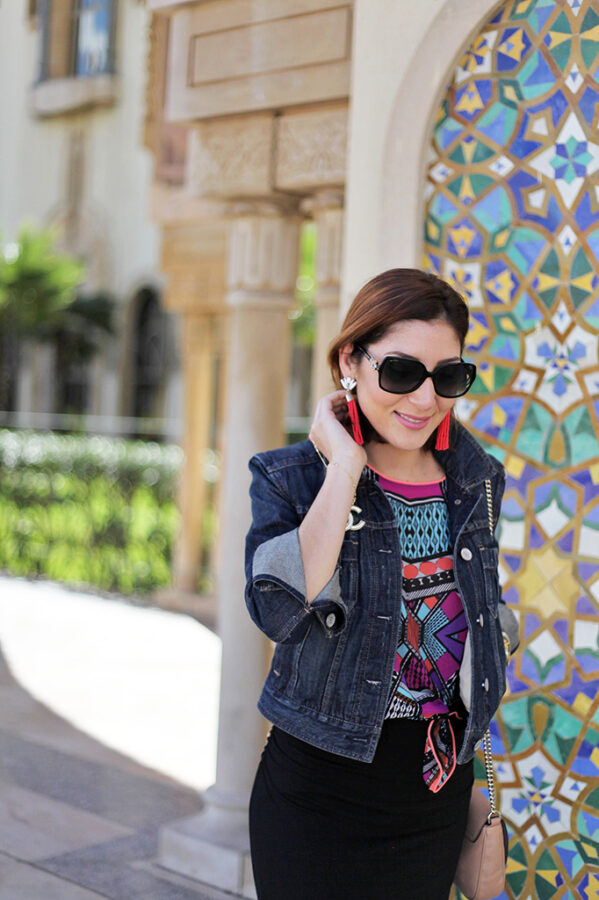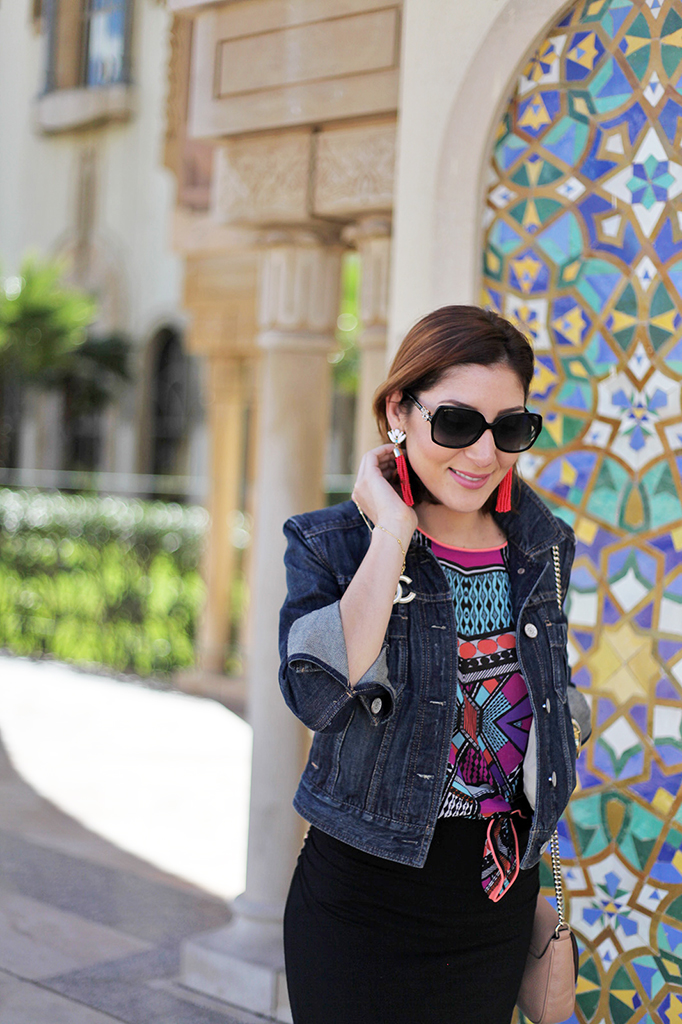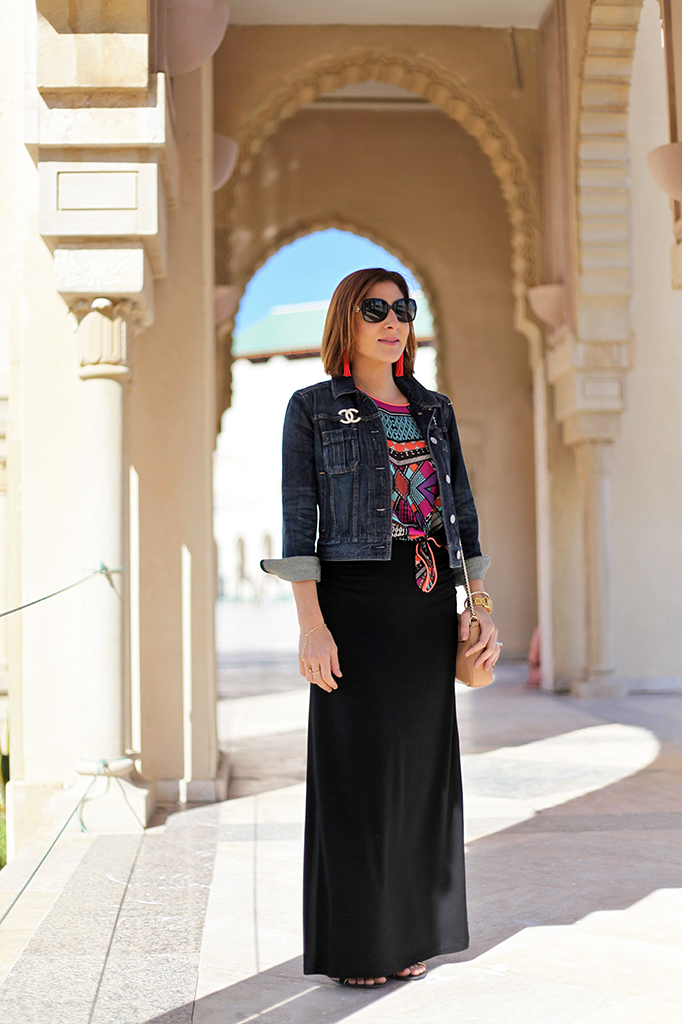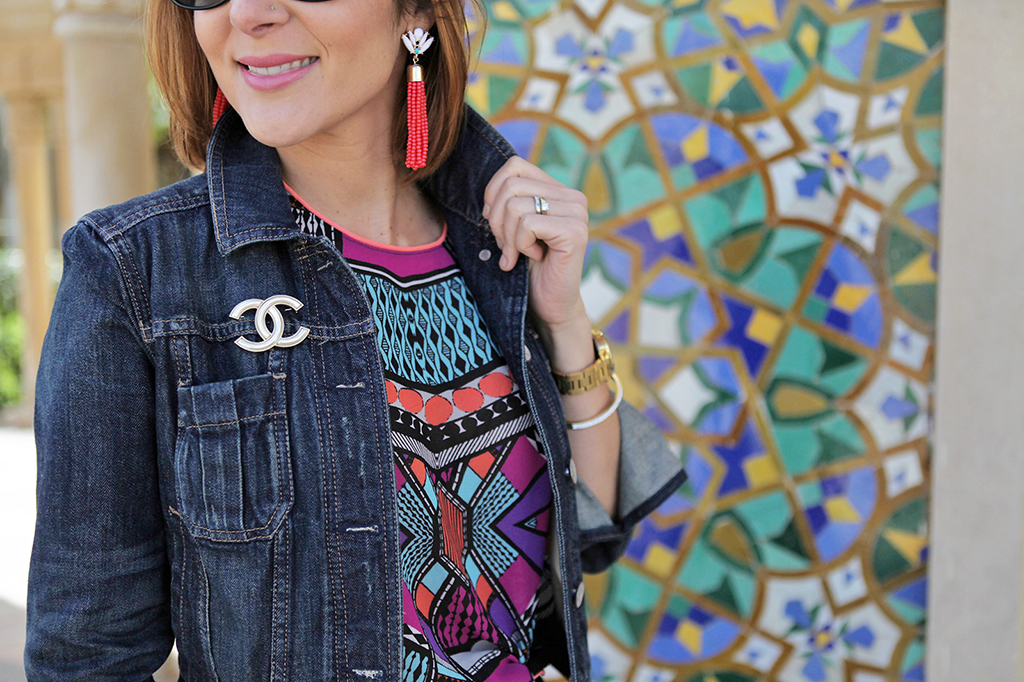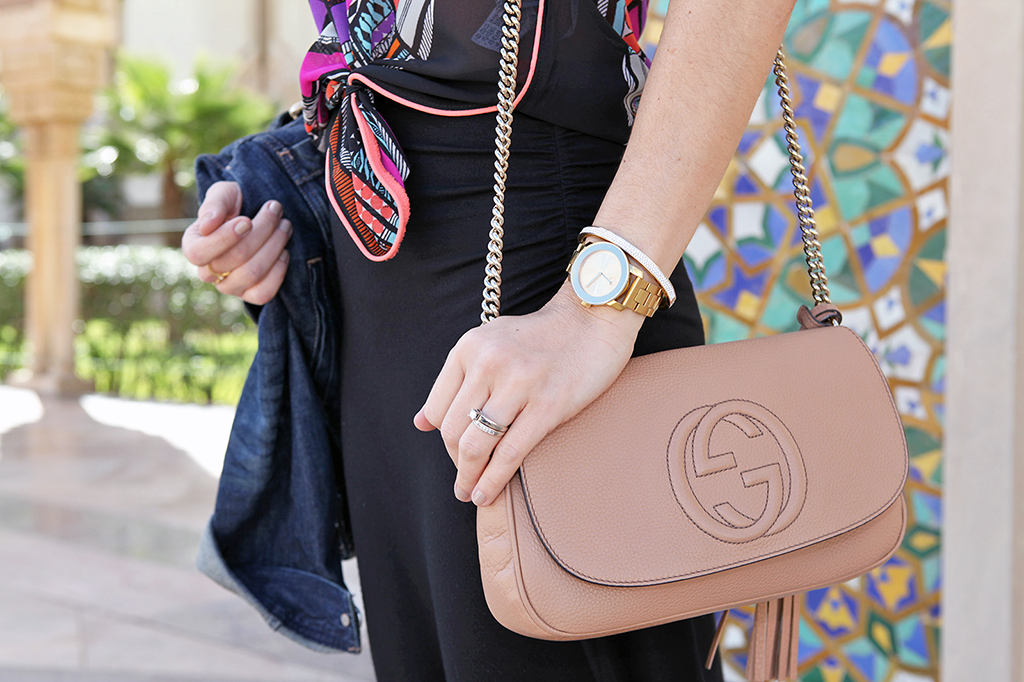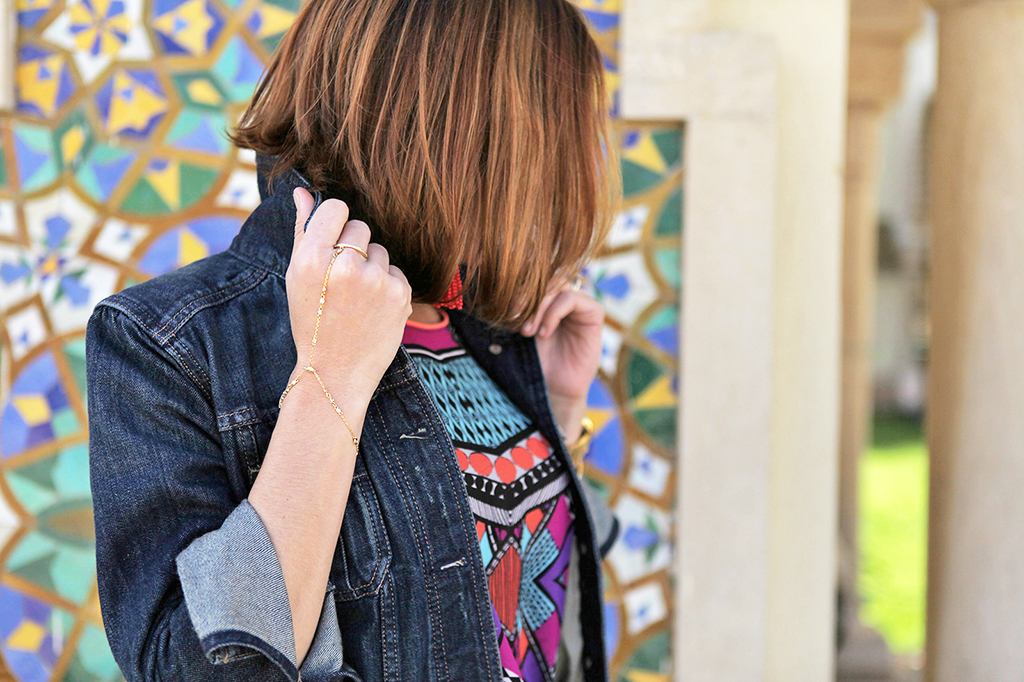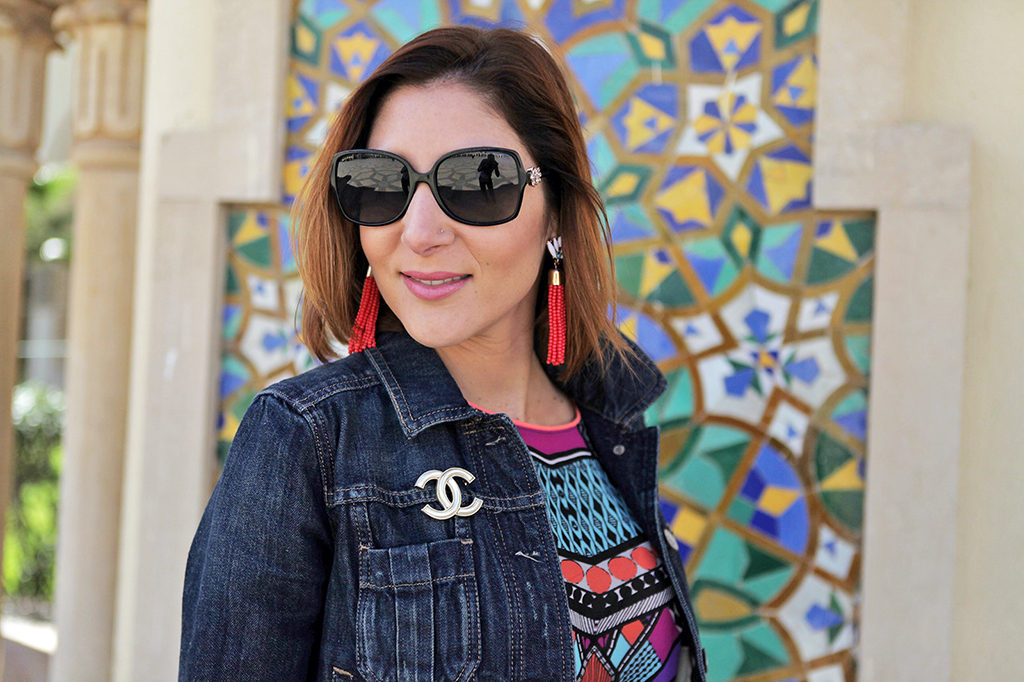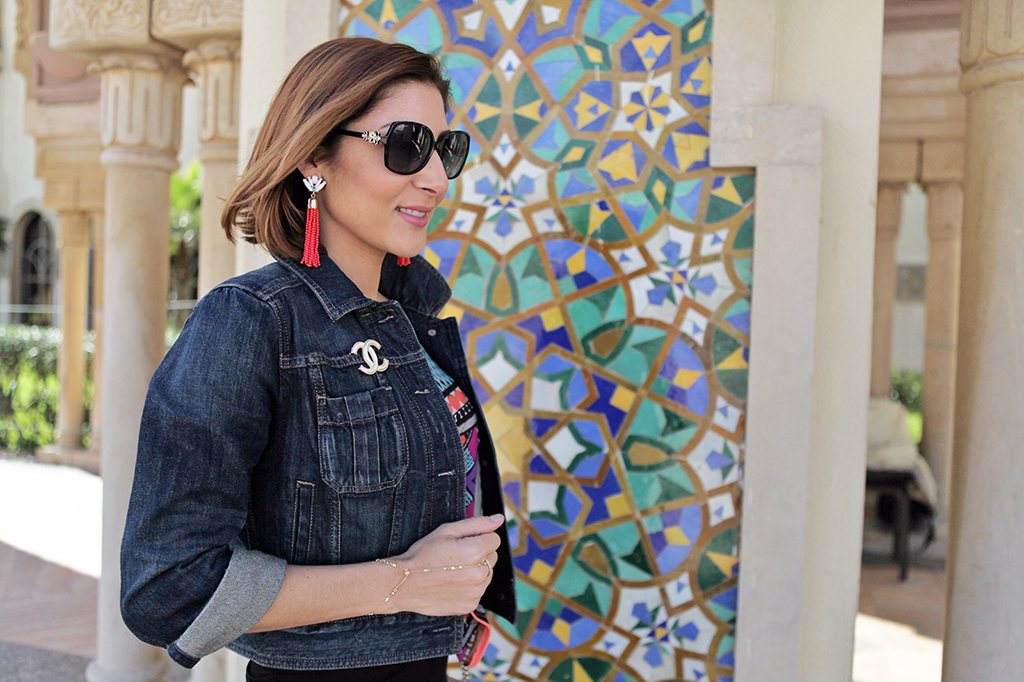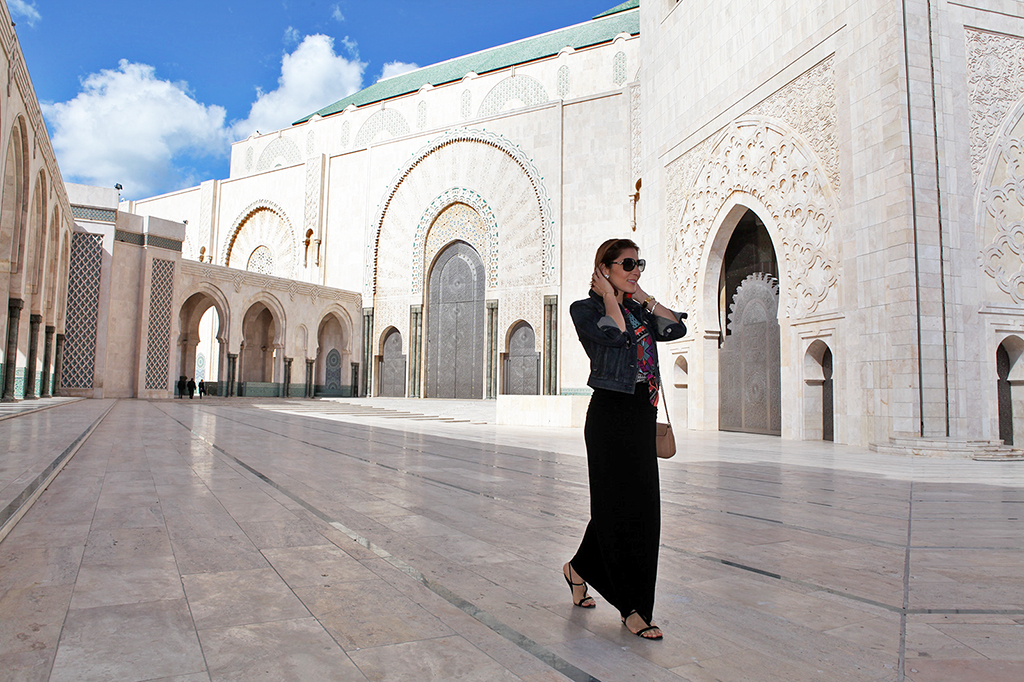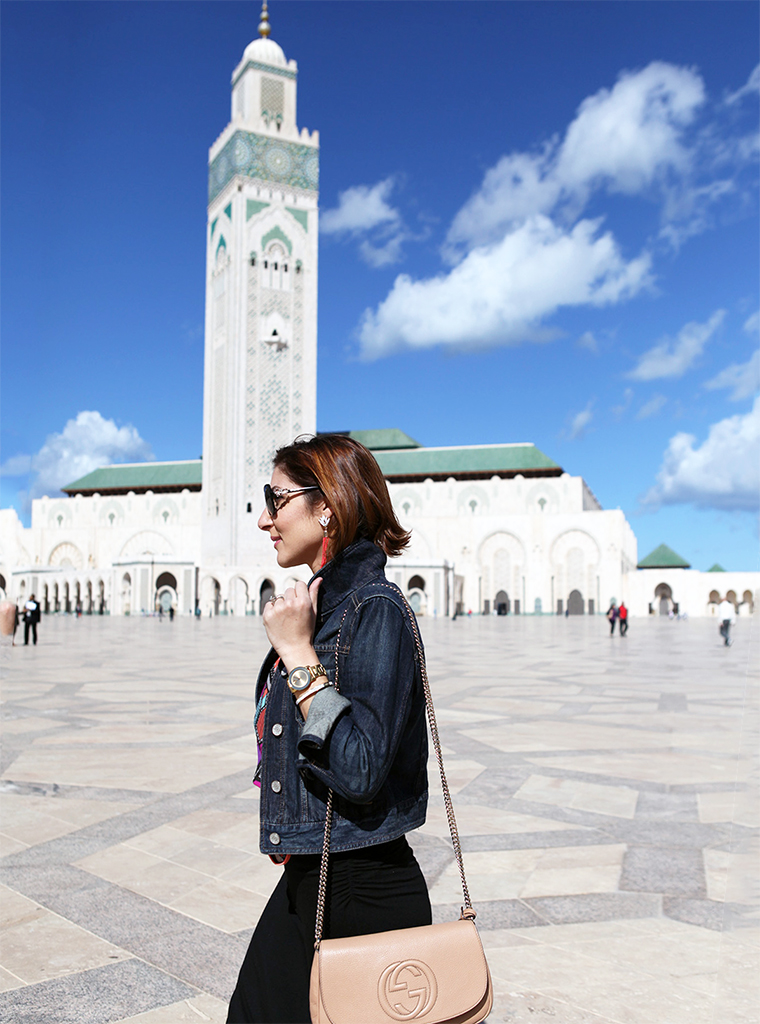 << BLOUSE: Forever 21 (similar) | MAXI SKIRT: Nordstrom (similar) | JACKET: Express | WATCH: Movado 'Bold' (on sale!) | EARRINGS: Baublebar | BRACELET: Henri Bendel 'Rox Skinny Bangle' | BROOCH: Chanel (similar) | RING: Henri Bendel (similar) | HANDBAG: Gucci 'Soho' Crossbody | SANDALS: Zara (similar) | SUNGLASSES: Bvlgari | NAIL POLISH: Vinylux 'Svelte Suede' >>
Morocco, a country full of colorful mosaics, stunningly soft textiles and limitless diversity was the first destination for our month-long trip abroad. We have always been fascinated with the Moroccan culture and architecture, and although we have traveled to other Arab countries in the past; the Arabian lust always leaves us longing for more. Our trip consisted of a week-long tour in the following cities; Tangier, Casablanca, Marrakesh and Fez, and each one we visited was as fascinating as the previous one. Morocco's beauty is in the combination of its modern society with its timeless heritage.
The background for this outfit was the Hassan II Mosque, in Casablanca; it's the largest in Morocco and its minaret (tower) is the tallest in the world at 689 ft. (it's roof is also retractable!). The weather was near perfect (we visited during the first week of November), it was just the right amount of sun with cooler but comfortable temperatures; hence the reason why I opted for this long and comfy skirt with this Express demin jacket. I always tend to pack my demin jacket when traveling; it is such a versatile piece! You will see why in my future post. AND remember, versatility is key when traveling; we can't carry our entire wardrobe in one 50 lb. luggage, especially if you are sharing it with the hubby.
I will be sharing some of my Morocco traveling tips in an upcoming post, stay tuned!

MARRUECOS, CASABLANCA: FALDA LARGA + CAMISA CON ESTAMPADO TRIBAL
Marruecos, un país surtido de mosaicos coloridos, textiles increíblemente suaves e ilimitada diversidad fue el primer destino para nuestro viaje de un mes en el extranjero. Siempre nos ha atraído la cultura y arquitectura marroquí y aunque hemos viajado a otros países árabes en el pasado; la lujuria Arábica siempre nos deja deseando por más. Nuestro viaje consistió en una gira de una semana en las siguientes ciudades; Tánger, Casablanca, Marrakech y Fez, y cada uno que visitamos era tan fascinante como el anterior. La belleza de Marruecos se encuentra en la combinación de su sociedad moderna con su antigua herencia.
El fondo para este look fue la Mezquita de Hassan II, en Casablanca; que es la más grande de Marruecos y su minarete (torre) es el más alto del mundo con 210 m. (también su techo se puede retraer, increíble ¿no creen?). Visitamos durante la primera semana de noviembre y el clima estuvo casi perfecto, estaba soleado con temperaturas frescas y confortables; de ahí la razón por la cual opte por esta larga y cómoda falda con mi chaqueta de mezclilla. Siempre tiendo a empacar mi chaqueta de mezclilla cuando viajo; es una pieza ¡tan versátil! Verán por qué en los próximos post. Y recuerde, la versatilidad es clave cuando se viaja; no podemos llevar todo nuestro armario en un equipaje de 50 libras, sobre todo si vas a compartirlo con tu pareja.
Pronto compartiré sugerencias de mi viaje a Marruecos, así que estén atentos a mi próximo post.