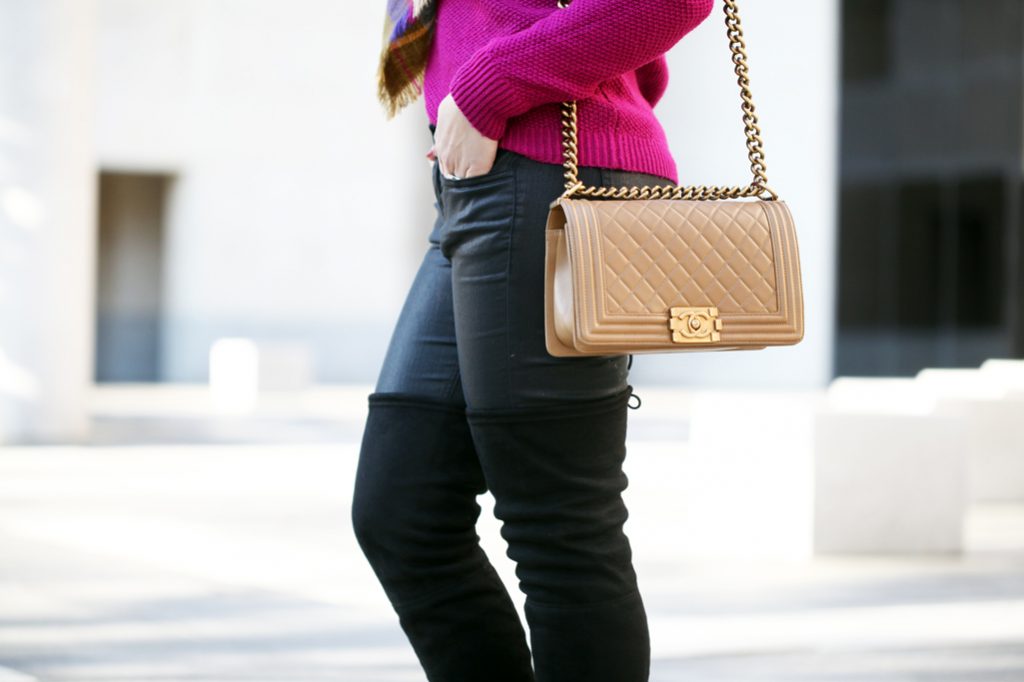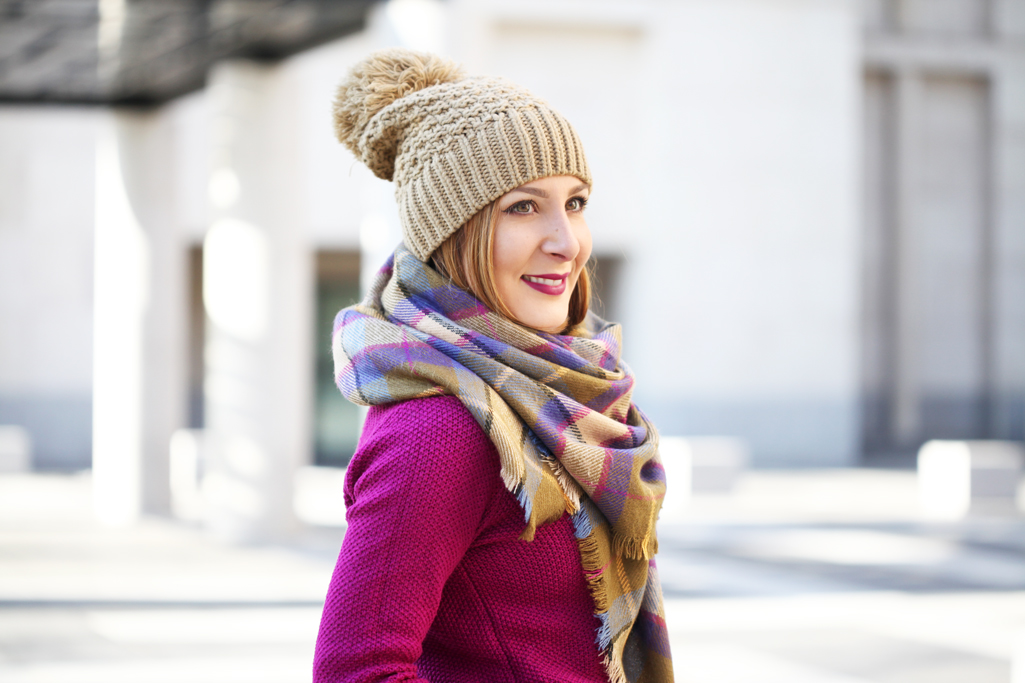 How to wear a blanket scarf with a vibrant-colored sweater. It's time to take out your favorite scarf, pom pom beanie and over-the-knee boots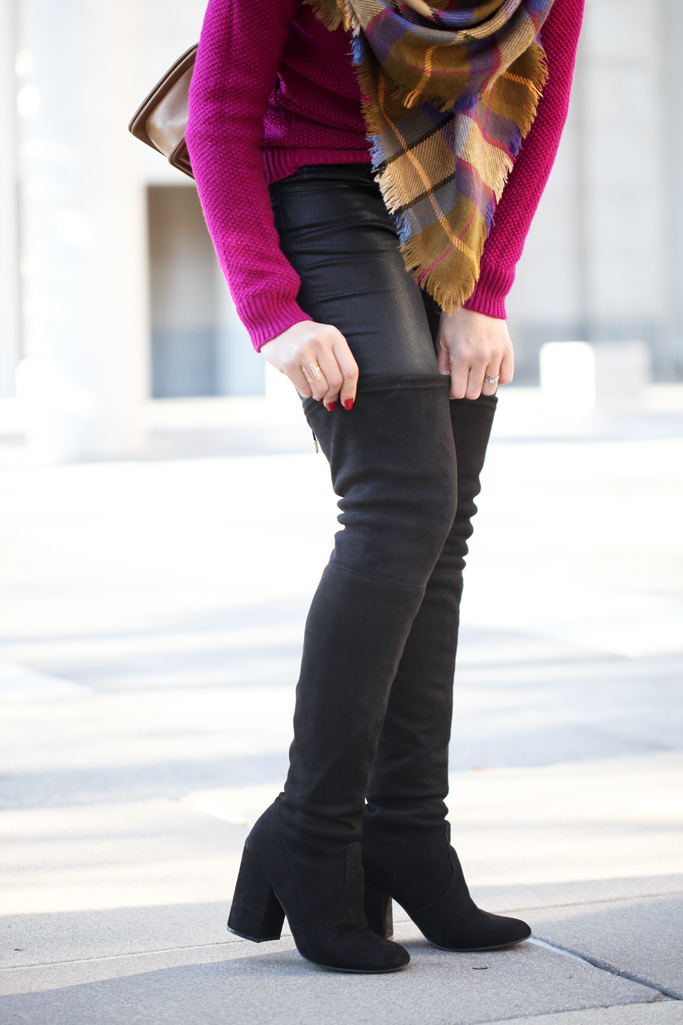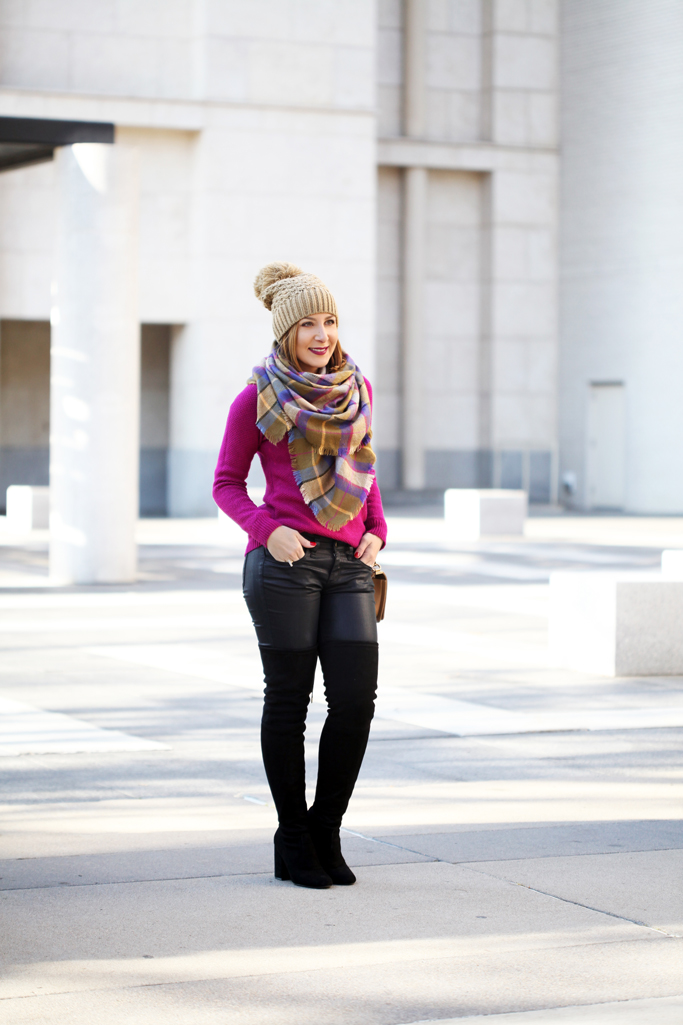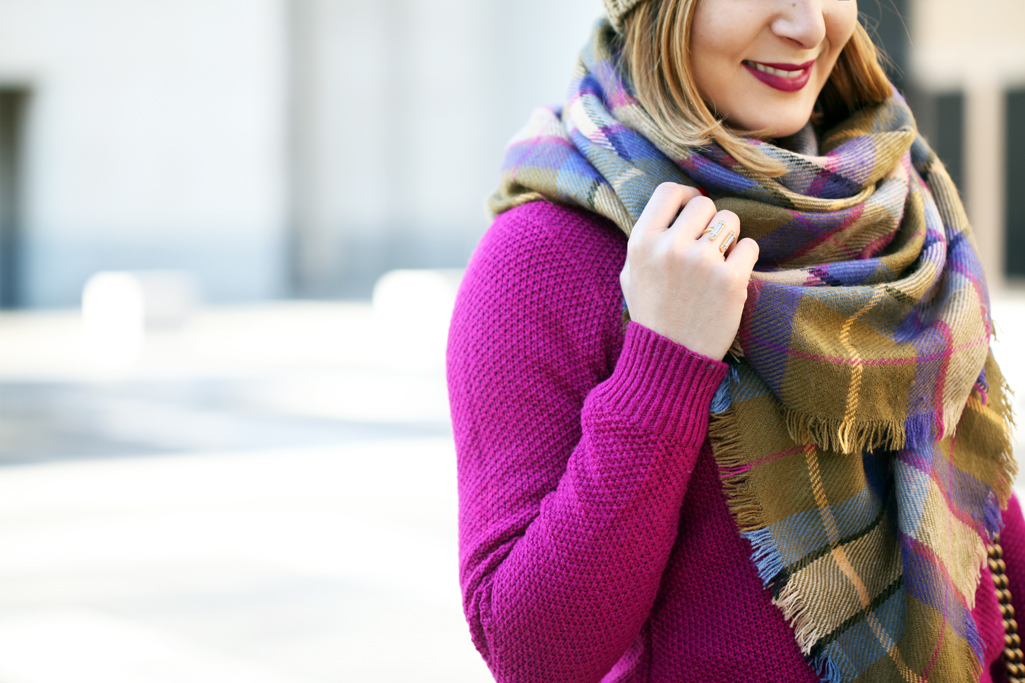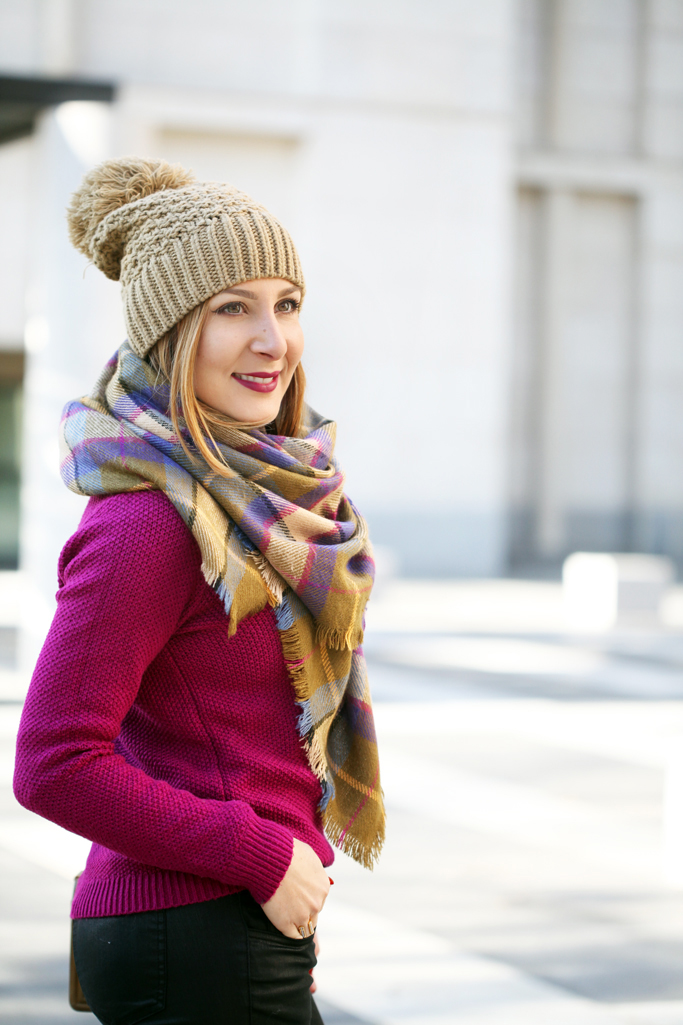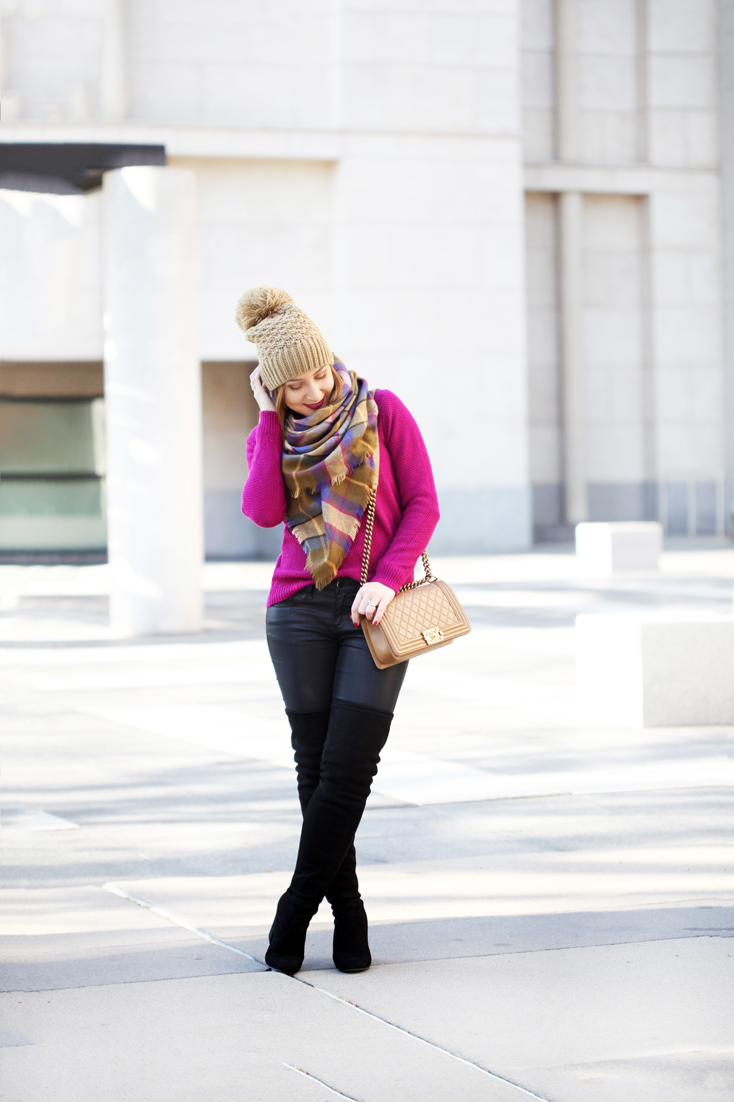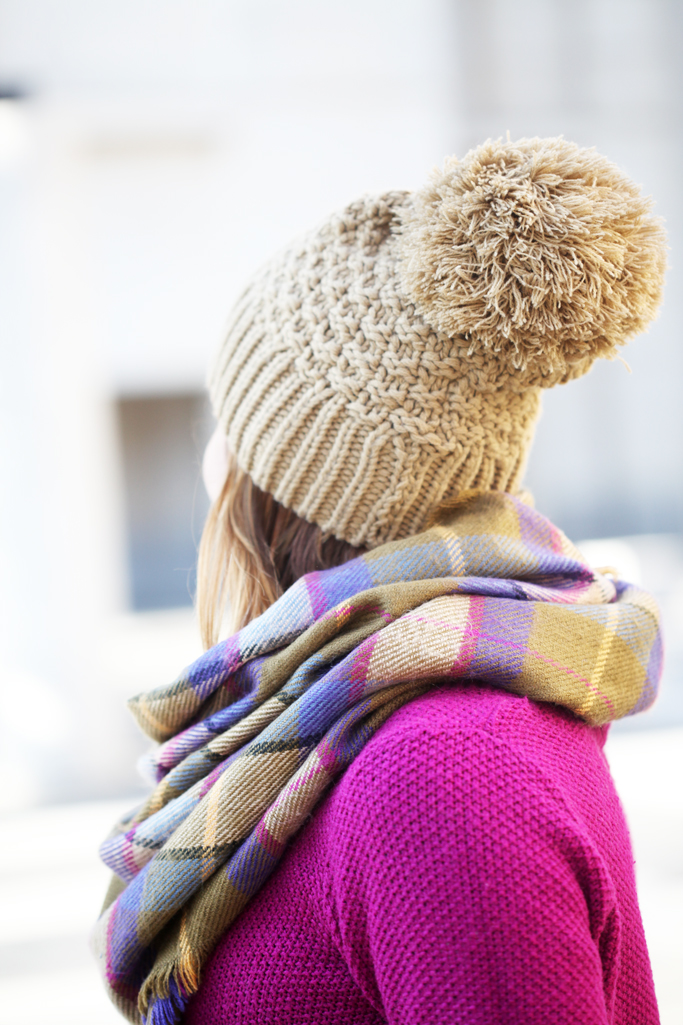 SWEATER: Nordstrom (similar here, less than $35!) || SCARF: Target (similar here) || BEANIE: Nordstrom Rack (similar here) || JEANS: Forever21 (similar here and here) || HANDBAG: Chanel Boy (affordable option here) || RING: BaubleBar (similar here) || BOOTS: Steve Madden (extremely comfortable!) || NAIL POLISH: OPI 'Ring the Buzzer Again' || LIPSTICK: MAC 'D for Danger'
One of the things that I love most about visiting a new city is the art that is kept within its borders. Each city, no matter how small or large, always has its one artistic treasure, and Minneapolis truly has a few. If you read my post (here) about our first day in this city, you must know that we visited some great creative places as well as historic ones but that wasn't enough to feed our desire. So, for our second day we visited the Minneapolis Institute of Art, which houses one of the largest Asian collections I have seen. It also contains a beautiful painting by one of my favorite impressionist artist, Claude Monet.
We then visited the Foshay Tower and its 30th floor observation deck. At its prime, this tower marked a significant local landmark towards skyscrapers. When it was completed in 1929, it was the tallest building in the city, and remained so until 1972. Today, it's interior has been completely remodeled to become the W Minneapolis Hotel, but its beauty, essence and art-deco architectural details are untouched. After drinking a good cup of coffee to keep warm, we drove by the U.S. Bank Stadium (since you can only admire its impressive architecture from a far) and ended our sightseeing visits inside the beautiful cathedral of Saint Paul. This Roman Catholic cathedral is the third largest completed church in the United States, and the fourth tallest. It is dedicated to Paul the Apostle and was designated as the National Shrine of the Apostle Paul by the Vatican.
Let's talk about fashion for a bit! And because it wasn't as cold as the day prior, I was able to just wear a sweater, this beautiful blanket scarf and the most comfortable OTK boot ever! Ladies, I am being 100% honest when I say that these boots are by far worth the price. And don't think that the quality is lacking because they are not as expensive as others, on the contrary, the microsuede is the softest and I adore it's drawstring detail is adorable.
Do you own a pair of over-the-knee boots yet? OTK boots elongate your legs and are extremely flattering in all body types.

BUFANDA COLORIDA + BOTAS ALTAS
Una de las cosas que más me gusta de visitar una nueva ciudad es el arte que conserva dentro de sus fronteras. Cada ciudad, no importa cuán pequeña o grande, siempre tiene su tesoro artístico, y Minneapolis realmente tiene varios. Si han leído mi post anterior (aquí) sobre nuestro primer día en la ciudad, deben saber que visitamos algunos lugares con mucha arte tal como sitios históricos, pero eso no fue suficiente para alimentar nuestro deseo. Así que, para nuestro segundo día, visitamos el Instituto de Arte de Minneapolis, que alberga una de las mayores colecciones asiáticas que he visto. También contiene una pintura hermosísima por uno de mis artistas preferido del periodo impresionista, Claude Monet.
Después visitamos Foshay Tower (torre) y su terraza panorámica en el piso número 30. En su prosperidad, esta torre marcó un importante punto de referencia local, hacia los rascacielos. Cuando se terminó en 1929, era el edificio más alto de la ciudad, y permaneció así hasta 1972. Hoy en día, su interior ha sido completamente remodelado para convertirse en el W Hotel Minneapolis, pero su belleza, esencia y los detalles arquitectónicos de art-deco están intactos.
Después de tomar un café para combatir el frio, pasamos en el coche por el U.S. Bank Stadium (ya que de lejos es como mejor se puede apreciar su impresionante arquitectura) y terminamos nuestra visita turística en el interior de la hermosa catedral de Saint Paul. Esta catedral católica romana es la tercera iglesia más grande terminada en los Estados Unidos, y la cuarta más alta. Está dedicada a Pablo el apóstol y fue designada como el Santuario Nacional del Apóstol Pablo por el Vaticano.
¡Vamos a hablar de la moda un poco! como el clima no estaba tan frio como el día anterior, pude usar sólo un suéter, esta hermosa bufanda y las botas altas ¡más cómodas del mundo! Chicas, estoy siendo 100% honesta cuando digo que vale la pena el precio. Y no crean que porque no son tan caras como otras, la calidad es menor, a lo contrario, su material de gamuza es el más suave, y el detalle del cordón detrás me encanta.
¿Ya Tienen un par de botas altas hasta las rodillas? Este estilo de botas alarga las piernas y son extremadamente halagadoras en todas figuras.