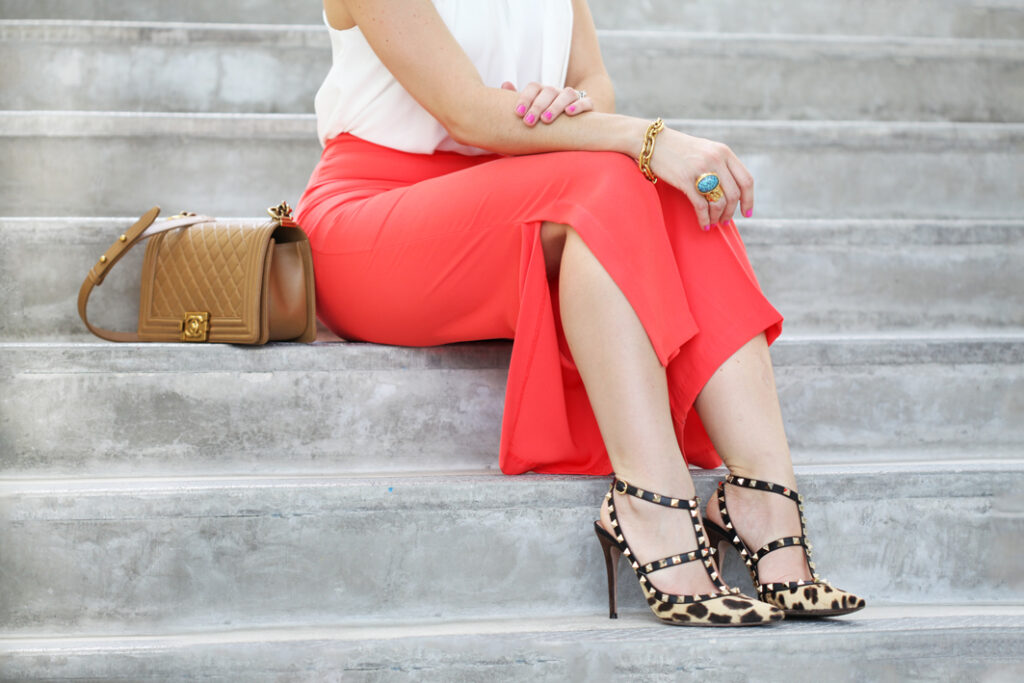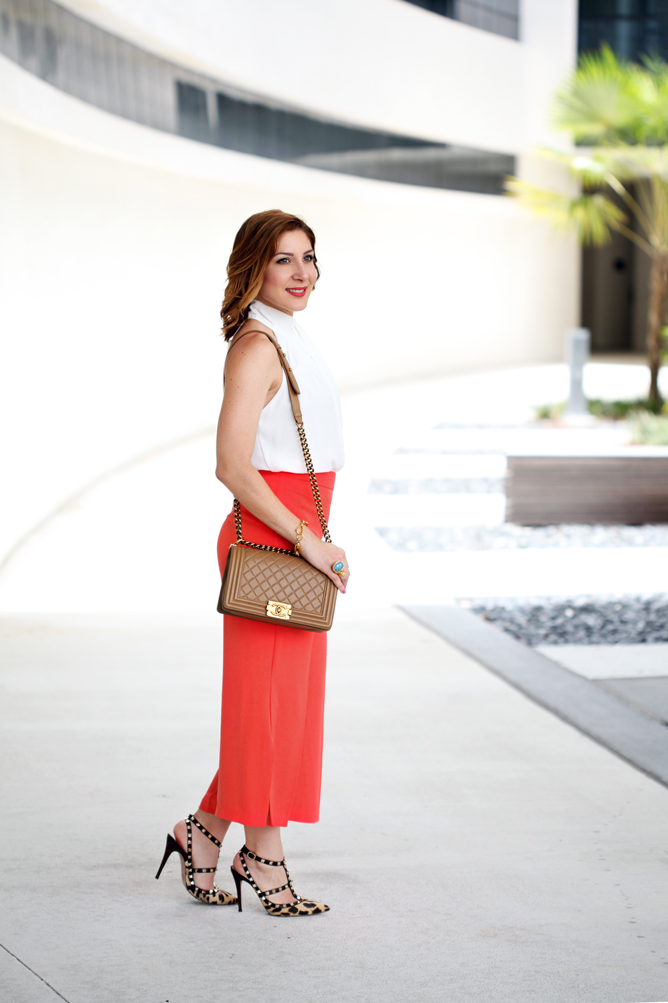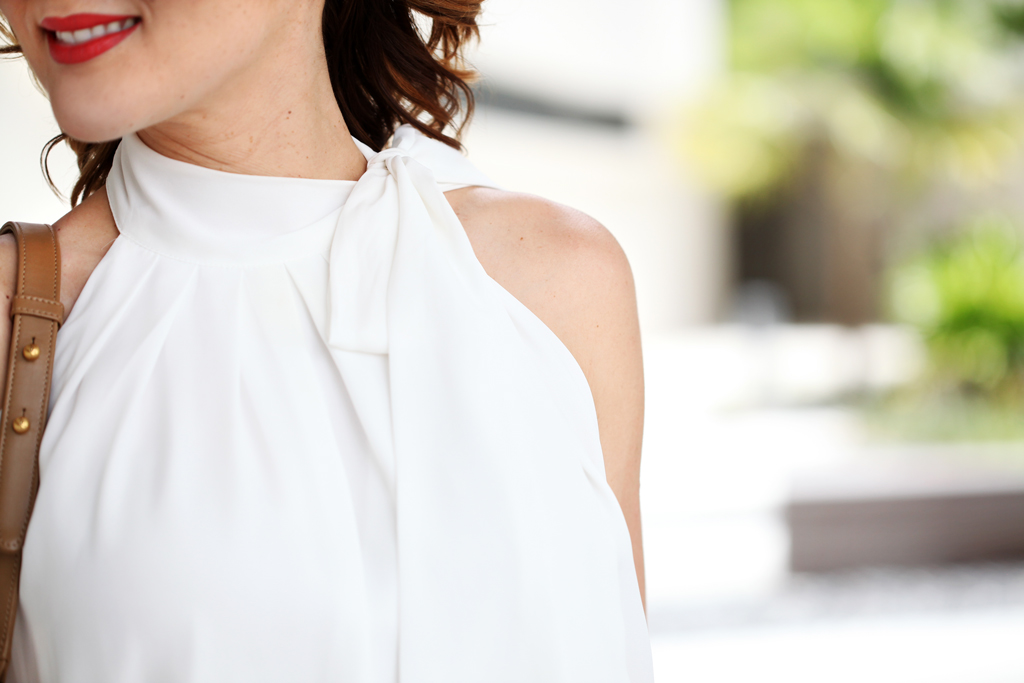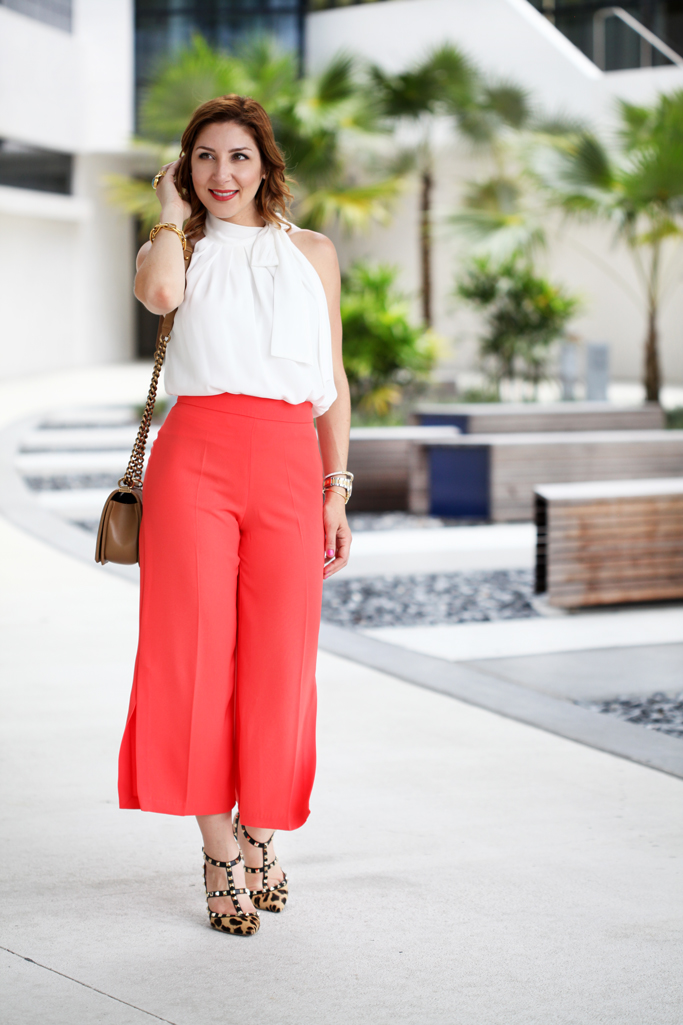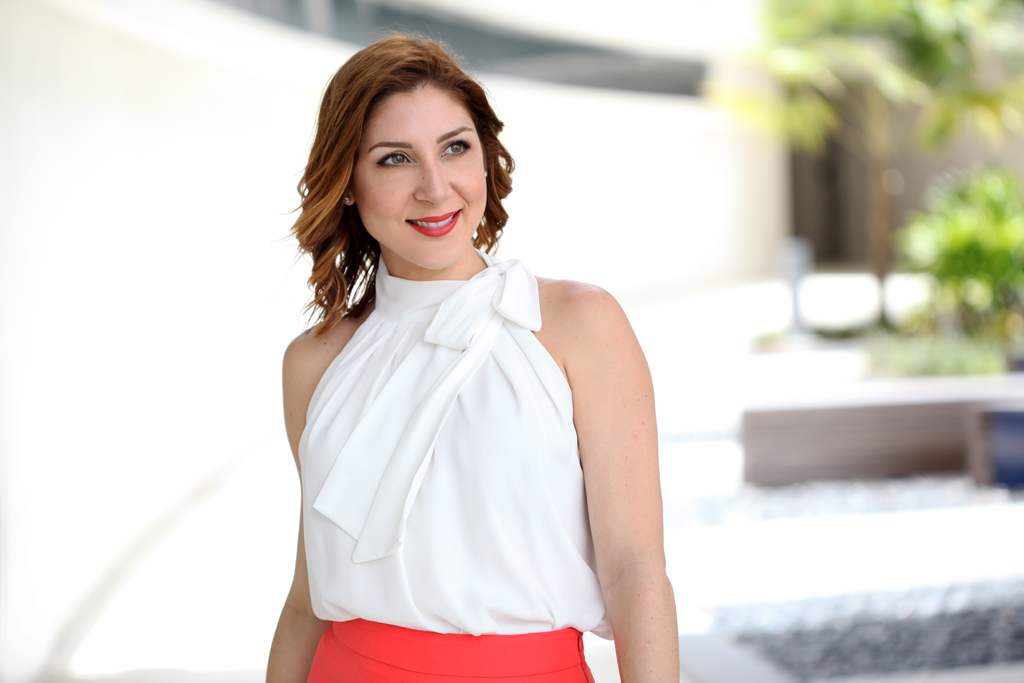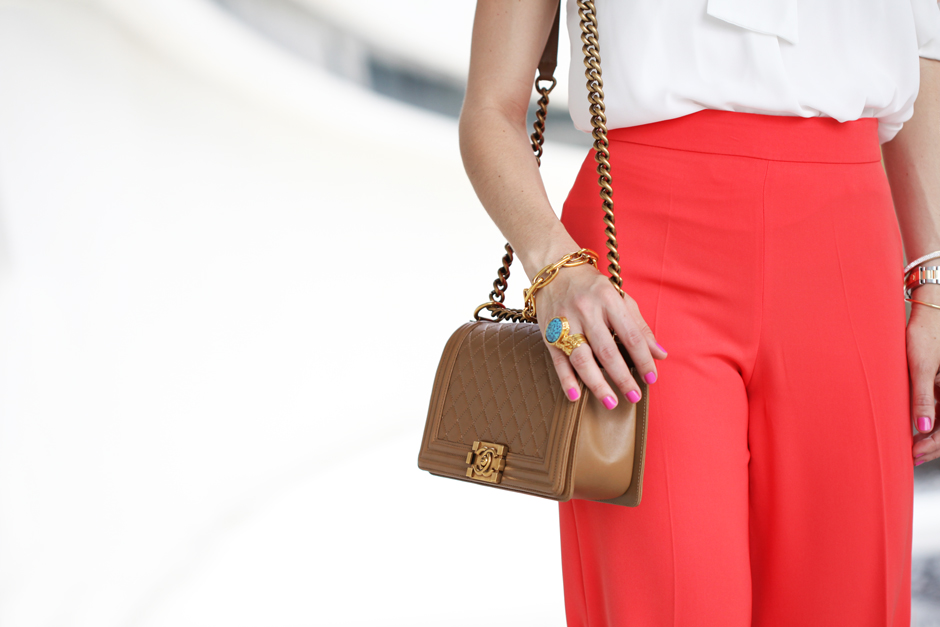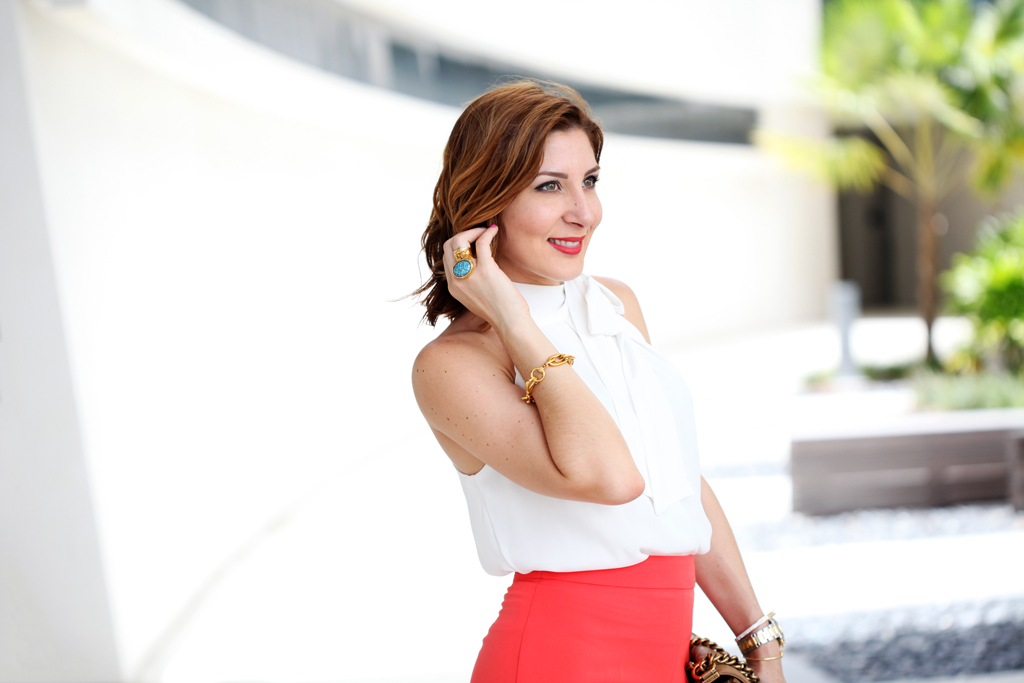 <<   TOP:  Chichwish (similar)   |    PANTS: Zara (similar #1, similar #2)   |   RING: YSL 'Arty' (similar #1, similar #2)    |   HANDBAG: Chanel Boy ( affordable option #1, affordable option #2)  |   BRACELET: Henri Bendel (Bendel Rox Skinny Bangle & similar) and  Tiffany & Co. 'T-Wire' (affordable option)   |   HEELS: Valentino 'Rockstud' (affordable option #1, affordable options #2)   |   NAIL POLISH: Essie 'Fiesta'  |   LIPSTICK:  MAC 'So Chaud'   >>
Happy Wednesday loves!
Being in their thirties is not as bad as others make it seem, especially when you are strutting in some killer leopard heels and these culottes (want to see how I styled this beauty before? check out this previous post). The color was the initial reason why I decided that I needed them in my life, but as I got closer and noticed the slit, it was game over. I love love love pairing bright hues with leopard #TotalLeopardObsession over here! So how am I not going to celebrate my birthday with my favorite color, #IDontThinkSo!
Thanks so everyone for the birthday wishes, I celebrated it at one of my favorite sushi spots, ZUMA. If you are a local and haven't tried it, you are DEFINITELY missing out. Word of advice though, make reservations at least one week and a half in advance, you'll thank me later.
Hope everyone has a great week!
SALE ALERT: BaubleBar's two-day only earring sale started yesterday (Tuesday, 6/28). Shop the latest styles in earrings and get 25% off 2 or more pairs of earrings with code EARRING25. This code is valid on all full-price earring styles! Check out my favs below:


PANTALONES ANCHOS + TACONES DE LEOPARDO
¡Feliz miércoles amores!
Estar en sus treinta no es tan malo como otros lo hacen parecer, especialmente cuando vistes tacones de leopardo y estos pantalones anchos (¿quieren ver cómo los combine anteriormente en otro post? Echen un vistazo aquí). El color fue la razón inicial por la que decidí que los necesitaba en mi vida, y apenas me acerque y note su apertura al costado, no cabía duda que sería mío. Me encanta combinar colores llamativos con el estampado de leopardo ¡mi obsesión con leopardo es seria! Por lo tanto ¡de qué otra manera celebraría mi cumpleaños sin mi color favorito!
Muchas gracias a todos por las felicitaciones, lo celebre en uno de mis restaurantes de sushi favorito, Zuma. Si viven en Miami y no lo ha probado, se lo esta perdiendo. Un consejo, hagan sus reservaciones al menos una semana y media de antelación, me lo agradecerán.
¡Espero que todos tengan una bella semana!
¡ALERTA DE VENTA!: Baublebar está teniendo por dos días (comenzó ayer Martes, 6/28) un 25% de descuento en dos o más pares de pendientes con el código EARRING25. Este código es válido en todos los estilos de precio regular. Echa un vistazo a mis favoritos a continuación: