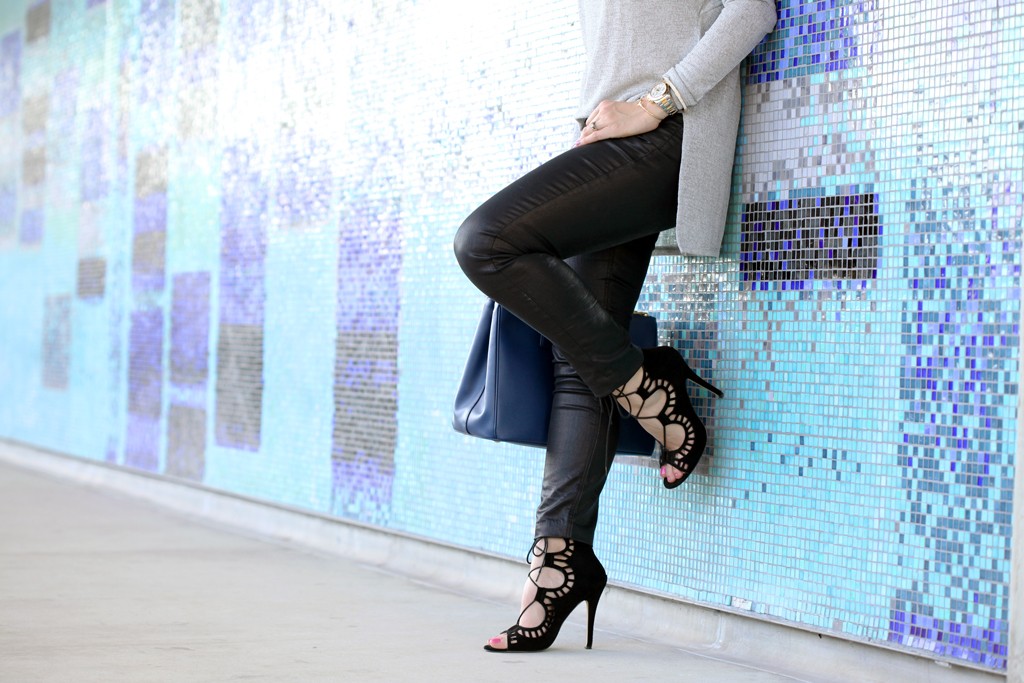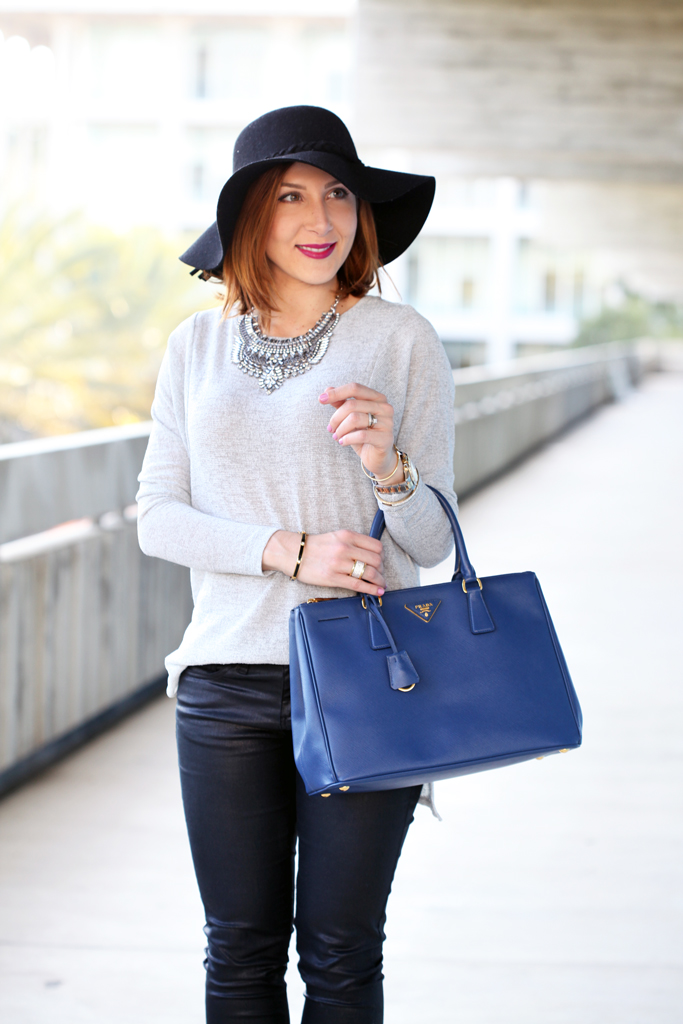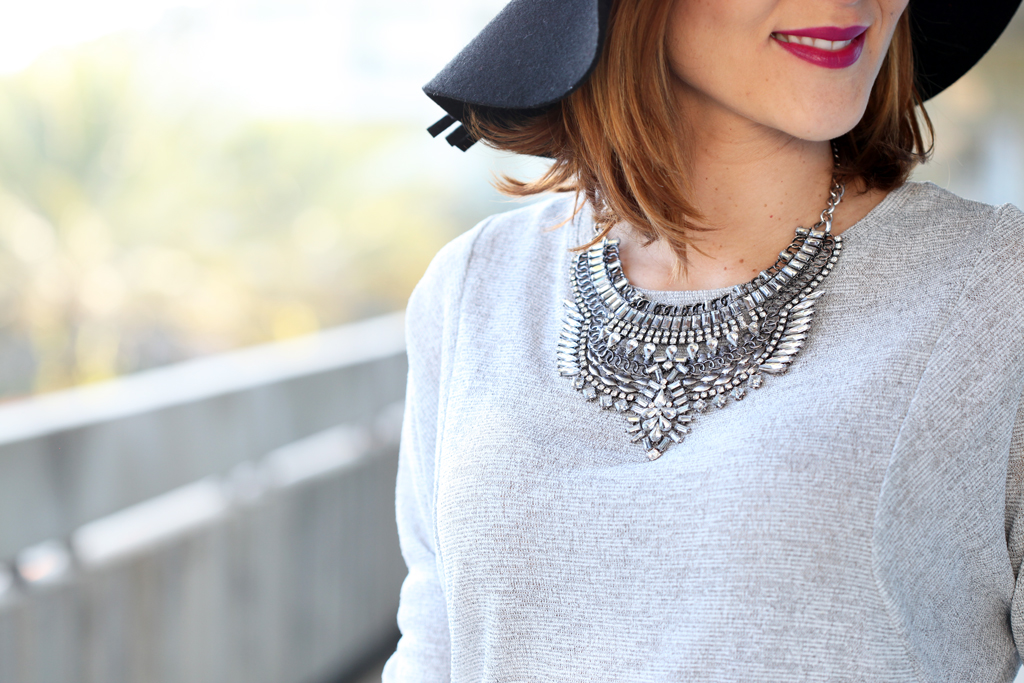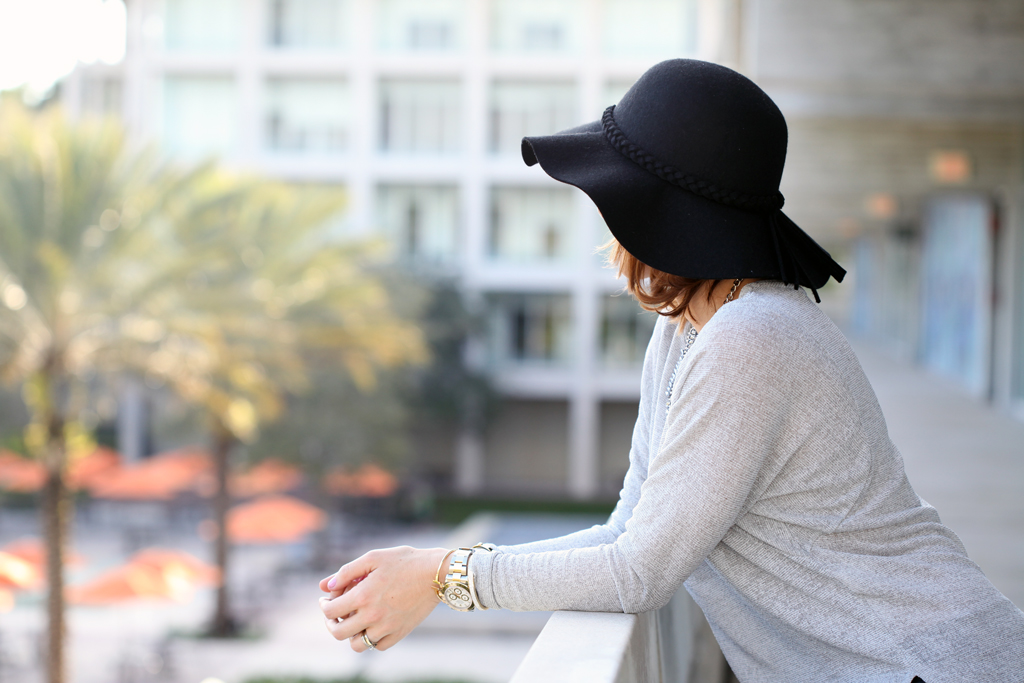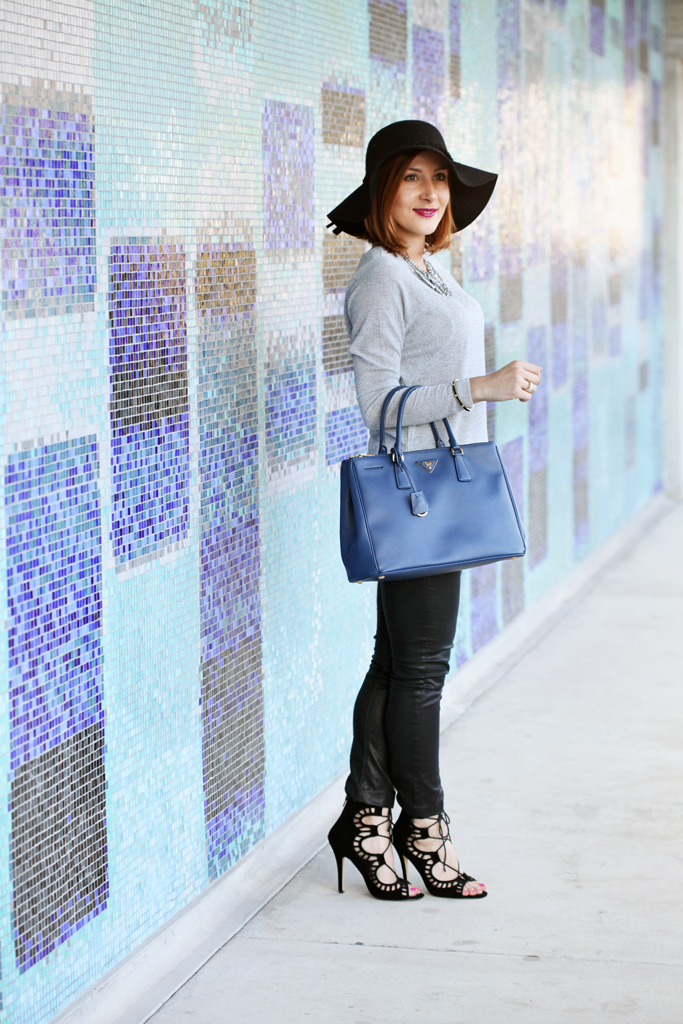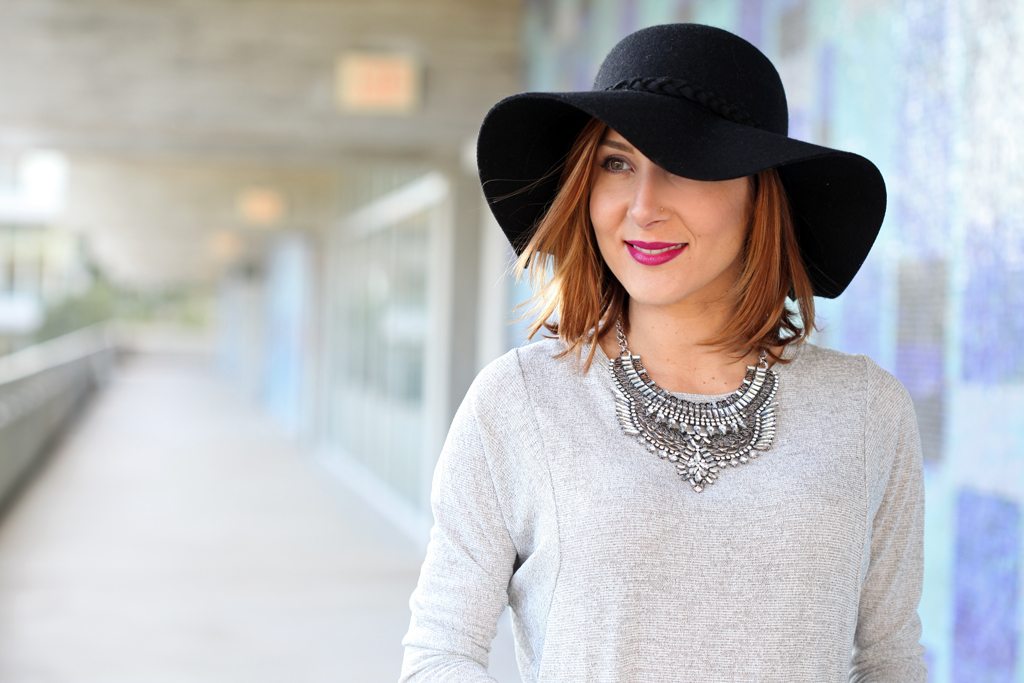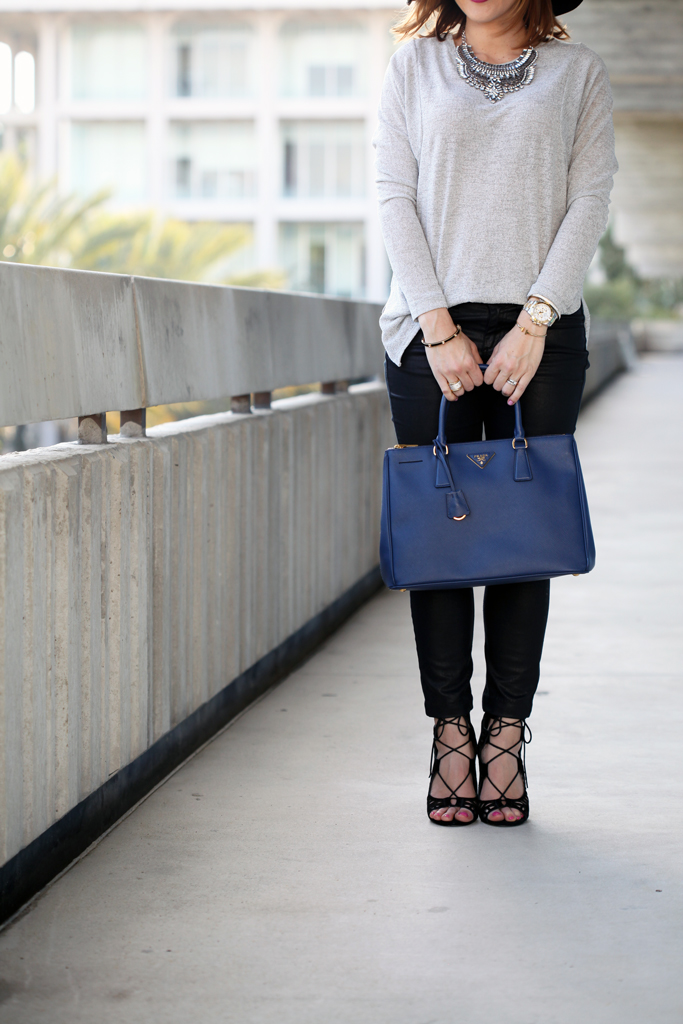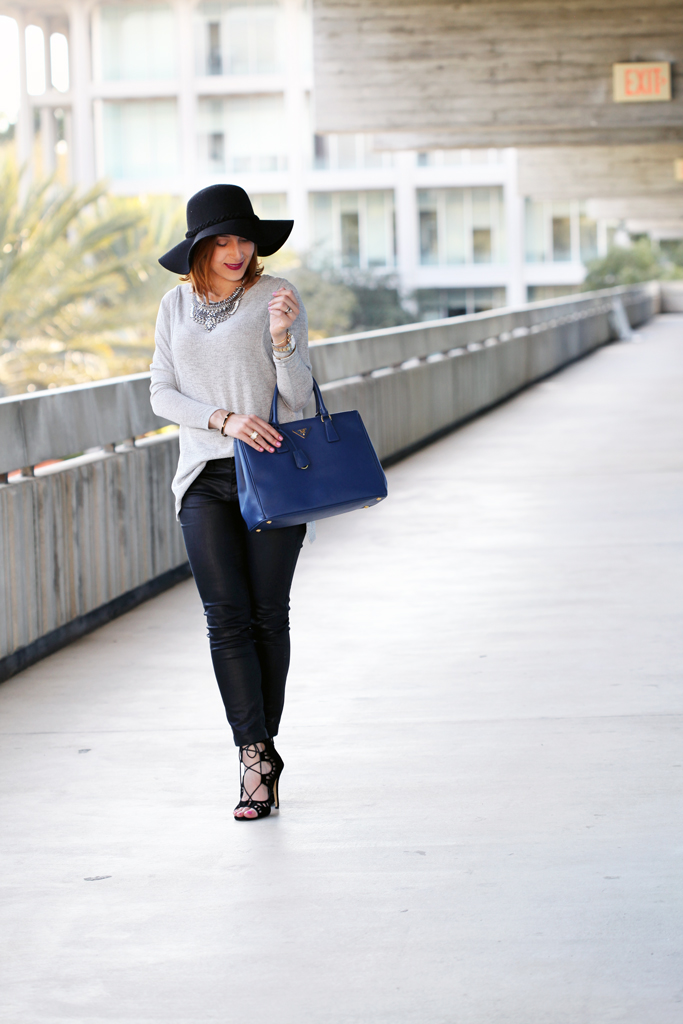 <<   SWEATER: Zara (similar)    |   PANTS: Forever 21 (similar)  |   HAT: Nordstrom (similar)   |    NECKLACE: Mirina Collections 'Max' (get 20% off with code Mei20)   |    HANDBAG: Prada Saffiano Double Zip Executive Tote 'Bluette' (affordable option)  |    SANDALS: Nordstrom (similar)  |    RING: Henri Bendel (similar #1, similar #2)    |    WATCH: Rolex  (similar) |    BRACELET: Henri Bendel (Bendel Rox Skinny Bangle, similar) & Tiffany & Co. (affordable option)   |   NAIL POLISH: Essie 'Tying the Knotie'   |   LIPSTICK:  Milani 'Uptown Mauve'    >>
Remember my recent post where I explained Miami's unpredictable weather? Well case in point, this past week. We began with heavy showers then proceeded with a drop in temperatures. Don't get me wrong, it is actually pretty fun to be able to wear your winter and spring ensembles back to back without having to wait months for a specific season but hey my closet needs some structure ( #NEEDMORESPACE). Enough of the Miami weather nonsense and more of this basic yet chic look, right? OK, so this comfy sweater was a recent purchase and can't believe I hesitated on buying it. I really thought I wouldn't get much use out of it because, let's face it, it is almost always summer in Miami. But as I already described, I was wrong and was able to actually wear it a lot these past few weeks. Before leaving you today, can we talk about this gorgeous necklace and how I can't seem to stop wearing it (get 20% off from this and other Mirina Collections beauties using code Mei20)? check out a previous post here to see how I styled it with a faux fur vest and coated leggings. What are you waiting for?

MONOCROMATICO BÁSICO: SUÉTER LIGERO + COLLAR LLAMATIVO
¿Recuerdan mi post anterior donde expliqué acerca del impredecible clima en Miami? La semana pasada fue un buen ejemplo (de nuevo). Comenzamos con fuertes lluvias que procedieron con una caída en las temperaturas. No me malinterpreten, en realidad es bastante divertido tener la oportunidad de usar piezas de invierno y primavera sin tener que esperar meses por una temporada en específica, pero siéndoles honesta mi armario necesita un poco de estructura (#MASESPACIOPORFAVOR). Suficiente con la charla sobre el clima y más de este look básico pero muy chic ¿verdad? Este comodísimo suéter fue una reciente compra y no puedo creer que dudé en comprarlo. Realmente pensé que no iba a tener mucho uso porque, seamos sinceros, casi siempre es verano en Miami. Pero, como ya describí, estaba equivocada y tuve la oportunidad de vestirlo en varias ocasiones estas últimas semanas. Antes de dejarlos ¿podemos hablar de este alucinante collar y como no puedo dejar de usarlo (obtenga 20% de descuento de esta y otras bellezas de Mirina Collections utilizando el código Mei20)? echa un vistazo a este post para ver cómo lo combine con un chaleco de piel sintética y leggings negros ¿Que esperas?