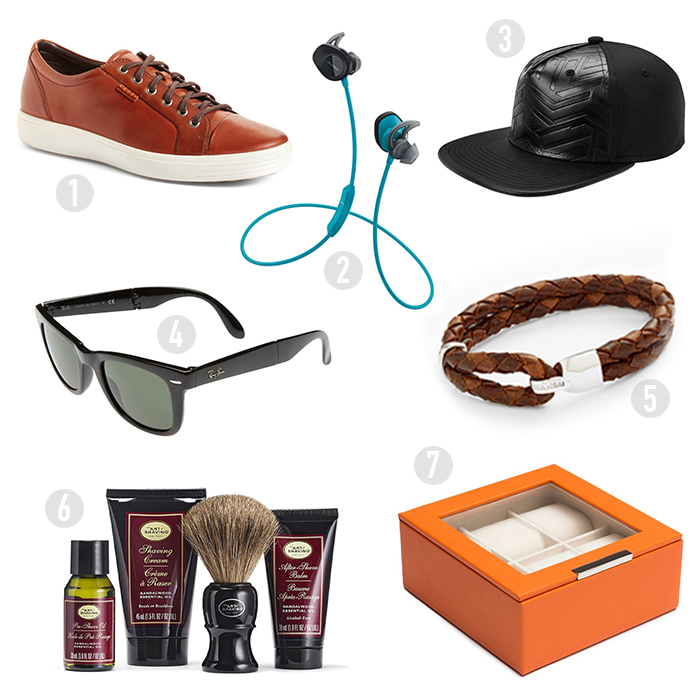 Valentine's Gift Guide for Him: Still thinking of what to get your hunny? Check out this gift guide full of items he will surely love.


Happy Wednesday my loves!
Since Valentine's is just two weeks ahead, I have compiled a few things I think would make great gifts for your hunnies. I must be honest though; the hubby and I do not celebrate love on a specific day nor do we exchange gifts. Why? Because we believe love should be celebrated, given and received 365 days of the year. But that doesn't mean if we want to give something to the other, we frown upon it. If we want to gift something, we do, but there is no pressure to do so.  Now, let's jump right to it.
1. Sneakers
These sophisticated cap toe leather lace-up sneakers are perfect to add a touch of sophistication to your guy's outfit. I specially love the color! you can't never go wrong with cognac. I can image them with jeans and a casual button-down shirt for a lunch date, a special occasion during the day or brunch.
2. Wireless Headphones
Bose® is the pioneer of sound quality in the industry and I am sure your better half would adore a brand-new pair of headphones. The convenience of having a wireless pair is beyond fathom (I didn't think so until I got a pair of my own). They are great for working out, traveling or even while sitting in the computer at work. This set includes 3 pairs of tips (small, medium & large) and a handy carrying case.
3. Faux Leather Cap
I yet have to meet a guy who does not wear caps. And the geometric embossing of the front panel screens modern and oh-so perfect for those days he wants to look edgy yet casual.
4. Folding Wayfarer Sunglasses
These are my hubby's absolute favorite sunnies. I gave them to him more than 3 years ago, and he still wears them despite having other styles. He particularly likes that they fold to conveniently fit in a pocket. Guys hate fussing around with sunglasses, specially when putting them back in their carrying case.
5. Braided Leather Bracelet
Guys need to accessorize too! So why not gift them something that is both unique and versatile. If your hunny is not into bracelets, no worries, this one will pave the way for a bracelet obsession (just how it happened with my hubby).
6. Shaving Kit
You may think that a shaving kit makes for an ordinary gift, but ladies, if your guy shaves often, I can assure you he will LOVE this brand. Ever since I introduced The Art of Shaving to my hubby, he does not use anything else; and I mean it! He literally refuses to use anything else, he loves the quality, smells, ingredients and array of products. He even began using their line of skincare. This set includes the basics, pre-shave oil, shaving cream, brush and after shave; and will last your hunny about 3 months.
7. Watch Case
Guys love watches, at least my hubby does! So when gave him a similar watch case, he flipped with excitement. He loves that they are organized, well-kept, and stored safely. This one feature a tempered-glass lid and lined with soft faux suede. It holds up to 6 watches and is available in 2 other shades.

GUÍA DE REGALOS PARA ÉL EN EL DÍA DE SAN VALENTÍN
Feliz miércoles mis amores
Dado que el día de los enamorados está a sólo dos semanas de hoy, he seleccionado algunas cosillas que creo que fueran unos excelentes regalos para sus parejas. Sin embargo, debo ser honesta; mi esposo y yo no celebramos el amor en un día específico, ni intercambiamos regalos. ¿Por qué? Porque creemos que el amor debe ser celebrado, dado y recibido los 365 días del año. Pero eso no significa que, si queremos regalarnos algo no lo hacemos. Si lo hacemos, la única diferencia es que no tenemos esa presión de tener que hacerlo. Ahora, continuemos con mis selecciones.
1. Zapatillas de Piel
Estas sofisticadas zapatillas de cuero son perfectas para añadir un toque de sofisticación al outfit de tu chico. ¡Amo especialmente el color! Nunca puedes equivocarte con coñac. Puedo imaginarlos con jeans y una camisa casual de botones para una cita de almuerzo y hasta para una ocasión especial durante el día.
2. Auriculares Inalámbricos
Bose® es el pionero del sonido en la industria y estoy segura de que su media naranja adoraría un nuevo par de auriculares. La conveniencia de tener un par inalámbrico va más allá de lo que se pueda explicar (no lo pensé hasta que tuve mi primer par). Son ideales para hacer ejercicio, viajar o incluso mientras estás sentado en la computadora trabajando (si te lo permiten). Este conjunto incluye 3 pares de diferentes tamaños (pequeñas, medianas y grandes) y una súper práctica funda para mantenerlos a mano.
3. Gorra de Piel Sintética
Todavía tengo que conocer a un chico que no usa gorras. Y el estampado geométrico es moderno y perfecto para aquellos días que quiere lucir a la moda pero casual.
4. Lentes de Sol Plegables
Estos son los lentes de sol favoritos de mi esposo. Se los regale hace más de 3 años, y todavía los usa a pesar de tener otros estilos. Le gusta especialmente que se pliegan convenientemente al tamaño de un bolsillo. Los chicos odian la incomodidad con las gafas de sol, especialmente cuando tienen que guardarlas en su estuche.
5. Pulsera de Cuero Trenzado
¡Los chicos también necesitan usar accesorios! Por lo tanto, ¿por qué no regalarles algo que sea único y versátil? Si su chico no le atraen las pulseras, no se preocupen, ésta es la pieza perfecta para crear una nueva obsesión (que fue lo que sucedió con mi esposo).
6. Kit de Afeitado
Usted puede pensar que un kit de afeitar hace un regalo ordinario, pero chicas, si su media naranja se afeita a menudo, puedo asegurarles que le encantará esta marca. Desde que mi esposo usó estos productos, no utiliza otra cosa ¡y hablo en serio! Él se niega a usar otra marca, le encanta la calidad, los olores, los ingredientes y la variedad de productos. Incluso comenzó a usar su línea de cuidado de la piel. Este conjunto incluye lo básico, aceite de pre-afeitado, crema de afeitar, cepillo y crema para después del afeitado; y durará su hunny cerca de 3 meses.
7. Caja de Reloj
Los chicos aman los relojes, al menos mi esposo si lo hace. Así que cuando le regalé una caja de reloj similar a esta, le encantó. Le gusta que los relojes se mantienen organizados, bien mantenidos y almacenados de manera segura. Éste cuenta con una tapa de vidrio templado y forrado con una suave gamuza. Puede guardar hasta 6 relojes y está disponible en otros 2 tonos.