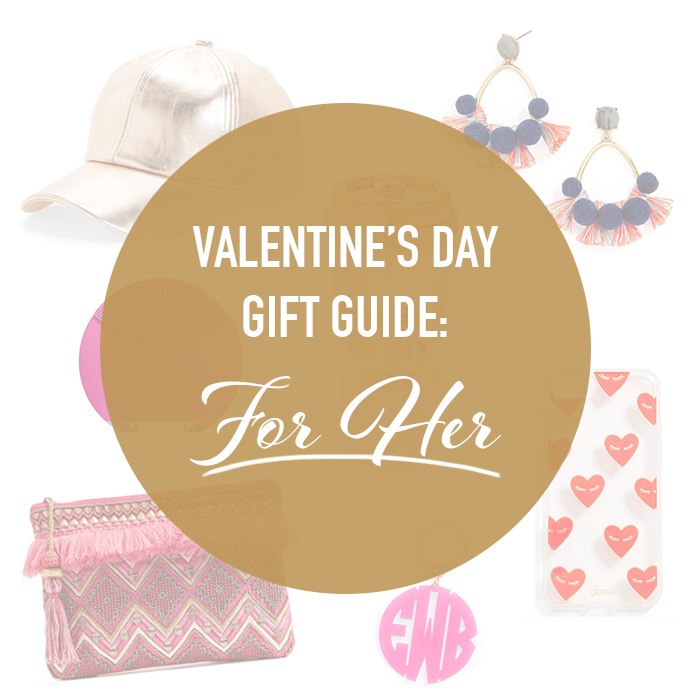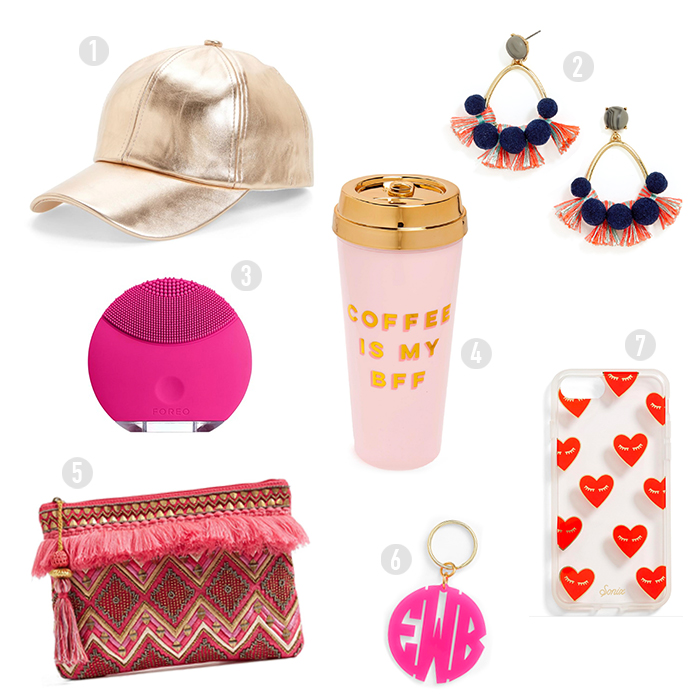 Who says Valentine's Day is just for couples. I am sure we can all agree that gifting a little something to our besties is more acceptable these days and let's not forget oh so cute! So I have put together a few things that I am sure your BFF and even yourself would love. Let's get the Galentine's Day shopping started!
This classic yet modern baseball cap will definitely give your bestie's casual outfit a gilded upgrade. Who doesn't want to add a touch of glam to an otherwise neutral look and at only $19, it is win-win!
2. Tassel and Pom Pom Earrings
Veer off the ordinary and gift this adorable tassel and pompom combo hoops. I adore tassels, I know it has become evident by now, but these are definitely the epitome of spring and summer fashion. Pair with contrasting colors or flowy layers to achieve that effortless chic look.
Who doesn't love to have flawless and healthy skin? You can now achieve it in the convenience of your home. Facials is one of the ways you can accomplish this (in addition to a good skincare regime), and this little hand-held device delivers deep yet gentle cleansing with just one minute of use twice a day. It has been raved about in magazines and beauty bloggers have given it great reviews. And at only $99, it is a steal compared to $150 for one facial.
4. Coffee Mug
Don't let your bestie get jelly with this travel mug. I am sure she will also agree that most of the time, coffee IS our BFF. So I am sure she will appreciate to jazz up her morning cuppa with this playfully mug. And hello! Can we address the gold cap!!! #LOVEIT.
Let's be real… the fringe, tassel and pom pom trend is nowhere near over. So what fashionista would refuse this embellished beauty? Which by the way, is also available in blue. Even though I have a similar one in blue, sans the fringe, I am totally considering adding the pink one to my clutch collection.
6. Personalized Monogram Keychain
We girls love anything and everything monogramed. So why not surprise your bestie with a personalized key chain? This one is available in nine shades and it's made of sturdy acrylic.
The perfect addition to an iPhone case hoarder's collection (like myself). Sonix makes great quality cases and this one is no exception. The print is adorable and very appropriate for Galentine's.
Hope you have an amazing Valentine's/Galentine's. Would love to know what you have planned!

GUÍA DE REGALOS PARA ELLA EN EL DÍA DE SAN VALENTÍN
¿Quién dice que el Día de San Valentín es sólo para parejas? Estoy segura de que todas podemos estar de acuerdo que regalar un pequeño obsequio a nuestras mejores amigas es más que apropiado. Así que aquí comparto algunas cositas que estoy segura que le gustara as sus besties e incluso hasta ustedes mismas. ¡Comencemos las compras!
La gorra clásica de béisbol se ha modernizado. Esta gorra definitivamente hará que un look casual se convierta en uno glamoroso sin esfuerzo alguno ¿A que chica no le gustaría agregar un toque de glamour a su outfit?!Y a tan  sólo $19!
Desvíese de lo ordinario y no dude en regalarle esta adorable combinación a su mejor amiga. Personalmente, adoro los pompones, pero éstos son definitivamente la personificación de primavera y verano. Combínelo con colores llamativos o con blusas y vestidos fluidos para lograr un look divertido pero elegante.
3. Dispositivo de Limpieza Facial
¿A quién no le gustaría tener la piel bella y saludable? Ahora puede lograrlo en la comodidad de su hogar. Faciales son una de las maneras en que puede lograr esto (además de un buen régimen de cuidado de la piel), y este pequeño dispositivo ofrece limpieza profunda pero suave con sólo un minuto de uso dos veces al día. Ha sido aplaudido en varias revistas y bloggers de belleza le han dado excelentes críticas. Tiene un precio de $99; casi un regalo comparado con $150 para un facial.
No permita que su mejor amiga tenga celos de esta taza. Estoy segura que ella también estará de acuerdo con la frase, el café es nuestro mejor amigo. Y de igual estoy segura que ella apreciará el toque de glamour a su café mañanero. Y que me dicen de la tapa color dorado.
Vamos a ser realistas… la tendencia de los flecos y pompones continúa en su esplendor. Entonces, ¿qué chica se negaría a esta belleza? Que por cierto, también está disponible en azul y a pesar de que tengo una similar, estoy considerando la adición de esta a mi colección.
Las chicas amamos todo con nuestras iniciales. ¿Por qué no sorprender a su mejor amiga con un llavero personalizado? Este está disponible en nueve tonos y está hecho de acrílico muy resistente.
7. Estuche de Corazones para iPhone
La adición perfecta para la colección de aquellas que aman cambiar de estuche (como yo). Sonix tiene productos de gran calidad y éste no es una excepción. El estampado de corazones es adorable y muy apropiada para San Valentín.
Espero que tengan un increíble día de San Valentín ¡Me encantaría saber lo que tienen planeado!