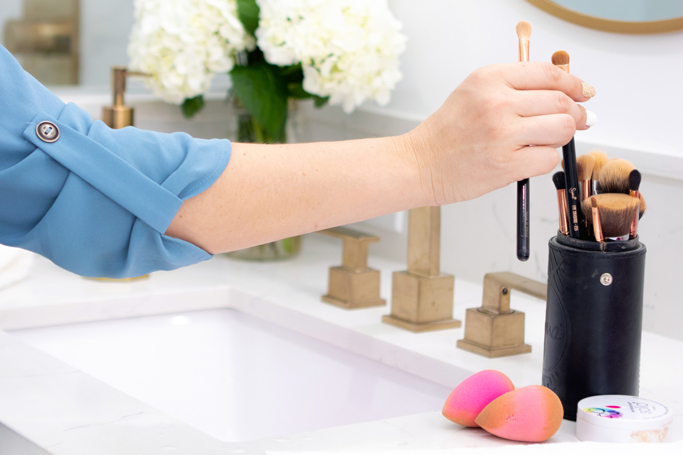 Keeping your makeup brushes clean helps with a flawless application, so here is how I inexpensively clean my makeup brushes and BeautyBlender. Miami Fashion Blogger


CLEANING MAT: Sigma Beauty || BRUSH HOLDER: Sigma Beauty || SPONGE CLEANSER: BeautyBlender || TOP: Nordstrom || SKIRT: Nordstrom (similar jersey maxi skirt) || NECKLACE: LoveAlways (can be monogrammed, I am wearing size X-Large 1.75″)
[one_half]
I have been getting lots of compliments about my makeup lately. Not sure if it's due to the pregnancy boost of natural estrogen but it can also be the brushes I use. I have been a firm believer that the proper brushes, especially clean ones, are also the cause of a good makeup application. That is why today I want to share an updated routine of how I inexpensively clean my brushes and which products I use.
Why is it important to clean our brushes? Well, because bits of makeup, oil, dirt and even bacteria can get trapped in the bristles. Dirty brushes can lead to clogged pores, pesky breakouts and even unwanted makeup application; so follow the following simple steps to protect them and your skin.
I used to lather and clean my brushes on the palm of my hand, but alas this wonderful little gadget by Sigma Beauty –my fav makeup brush brand. Sigma actually has several types of brush-care gadgets if this specific one is not to your liking.
[/one_half][one_half_last]
Últimamente he recibido muchos halagos sobre mi maquillaje. Puede ser mi piel, ya que el aumento de estrógeno natural durante el embarazo tiende a relumbrar el cutis. Pero también pueden ser las brochas que uso. Siempre he creído que las brochas de maquillaje adecuadas, y especialmente limpias, también son la cause por una buena aplicación de maquillaje. Es por eso, por lo que hoy, quiero compartir mi rutina actualizada de cómo limpio económicamente mis brochas y qué productos uso.
¿Por qué es importante limpiar nuestros pinceles? Bueno, porque pedazos de maquillaje, aceite, suciedad e incluso bacterias pueden quedar atrapados en las cerdas. Los cepillos sucios pueden provocar la obstrucción de los poros, los molestos brotes e incluso la aplicación de maquillaje no deseado; así que siga los siguientes pasos simples para protegerlos y proteger su piel.
Solía limpiar mis brochas en la palma de la mano, pero gracias a esta maravillosa invención por Sigma Beauty –mi marca favorita de brochas–, es mucho más fácil y rápido de hacer. Sigma tiene varios artículos para el cuidado de sus brochas, por si este no es de tu agrado.
[/one_half_last]
[one_half]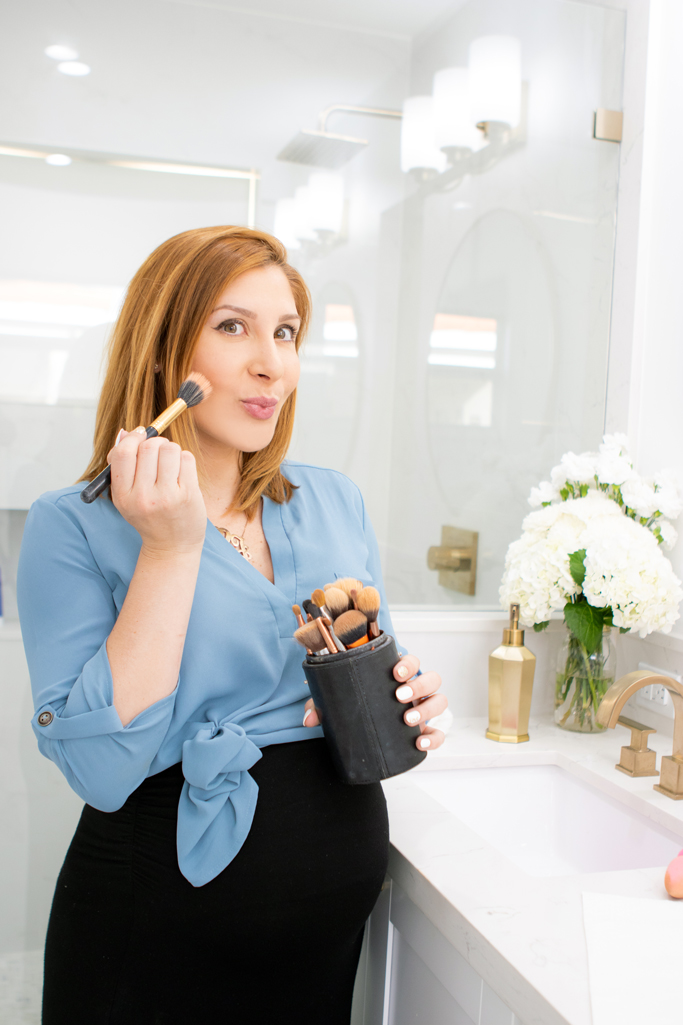 [/one_half][one_half_last]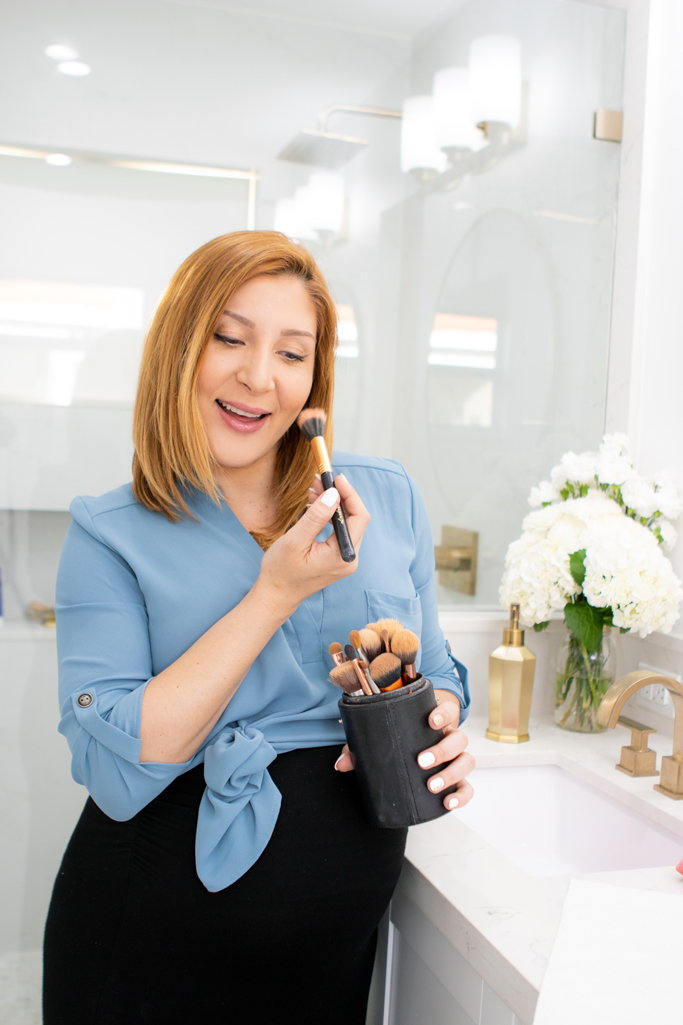 [/one_half_last]
[one_half]
What you'll need
Dish soap/liquid detergent (great for oil-based makeup) or baby shampoo (contains less harsh chemicals).
Cleaning gadget (today I am using Sigma Spa® Express Brush Cleaning Mat, but I recommend all of Sigma's brush-care items here).
Towel or kitchen paper towel.
Instructions (for brushes)
WET. Wet the bristles of your brushes under warm water. Try to avoid fully submerging the brush handle to prevent damage.
WASH. Add a small amount of your chosen cleaning solution to your gadget (in my example, the mat), swirl and lather to deep clean the brush.
RINSE. Rinse under running water until the water runs clear. Repeat steps 2 and 3 for maximum clean.
SQUEEZE. Gently squeeze brush head to remove excess water by pressing your thumb and index fingers together.
RE-SHAPE. Reshape the brush head with your fingers.
DRY. Lay makeup brushes flat on your preferred drying material; cloth or paper towel.
[/one_half][one_half_last]
Lo que necesitarás
Detergente líquido (ideal para el maquillaje con base de aceite) o champú para bebés (contiene productos químicos menos dañinos).
Artículos de limpieza (hoy estoy usando Sigma Spa® Express Brush Cleaning Mat pero recomiendo todos los artículos para limpiar las brochas de Sigma aquí).
Toalla o papel toalla.
Instrucciones (para brochas)
MOJAR. Mojar las cerdas de las brochas con agua tibia. Trate de evitar totalmente sumergir el mango de la brocha para evitar dañarlas.
LAVAR. Añadir una pequeña cantidad de detergente líquido al artículo de su elección (en mi ejemplo, el guante), enjabone y gire para limpiar el cepillo profundidad.
ENJUAGAR. Enjuague con agua hasta que el agua salga clara. Repita los pasos 2 y 3 para obtener máxima limpieza.
EXPRIMIR. Exprima suavemente la cabeza de cepillo para eliminar el exceso de agua. Si está usando este guante, presionando el dedo pulgar y el dedo índice juntos mientras pase la brocha.
FORMAR. Volver a dar forma a las cerdas de la brocha con los dedos.
SECAR. Coloque las brochas sobre una toalla para secar.
[/one_half_last]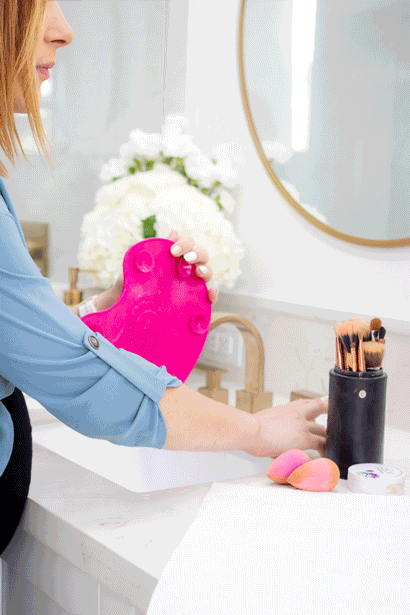 [one_half]
Instructions (for beautyblender)
USE. Use a cleanser, soap or liquid detergent that's to your liking. I use the theblendercleanser solid, which is a soap travel-friendly alternative to the liquid blendercleanser. This is the second time I have purchased it because it's very convenient even when you are not traveling.
WET. Wet beautyblender.
RUB. Rub beautyblender over the soap, creating a lather. Repeat if necessary.
SQUEEZE. Gently squeeze beautyblender to let the makeup reside out.
RINSE. Rinse to remove any excess cleanser and water.
DRY. Set beautyblender to dry. The theblendercleanser solid comes with a custom grid to dry beautyblender and deep clean brushes.
[/one_half][one_half_last]
Instrucciones (para el beautyblender)
UTILIZAR. Use un limpiador, jabón o detergente líquido que sea de su agrado. Yo utilizo el theblendercleanser solid, que es una alternativa para el blendercleanser liquido. Esta es la segunda vez que loa he comprado porque es muy conveniente incluso cuando no estás viajando.
MOJAR. Moje el beautyblender.
FROTAR. Frote el beautyblender sobre el jabón, creando una espuma. Repita si es necesario.
EXPRIMIR. Exprima suavemente el beautyblender para extraer el residuo de maquillaje.
ENJUAGAR. Enjuague para eliminar cualquier exceso de limpiador y agua.
SECAR. Coloque beautyblender en una toalla de para secar.
[/one_half_last]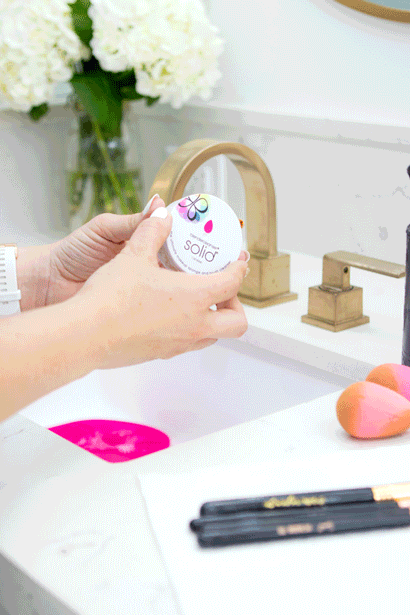 ---
PIN FOR LATER