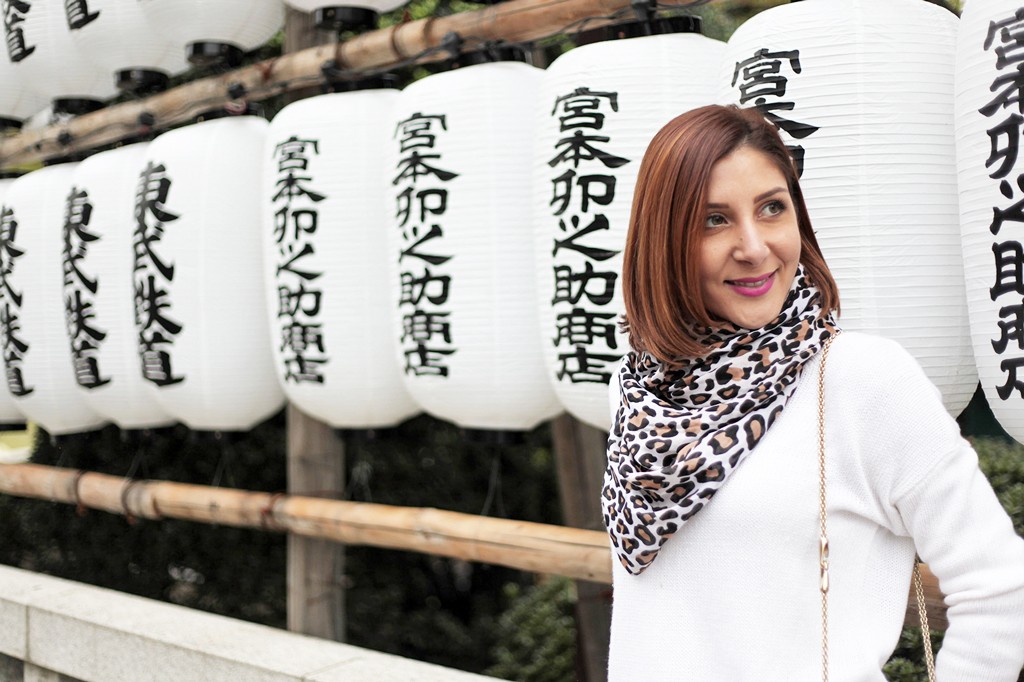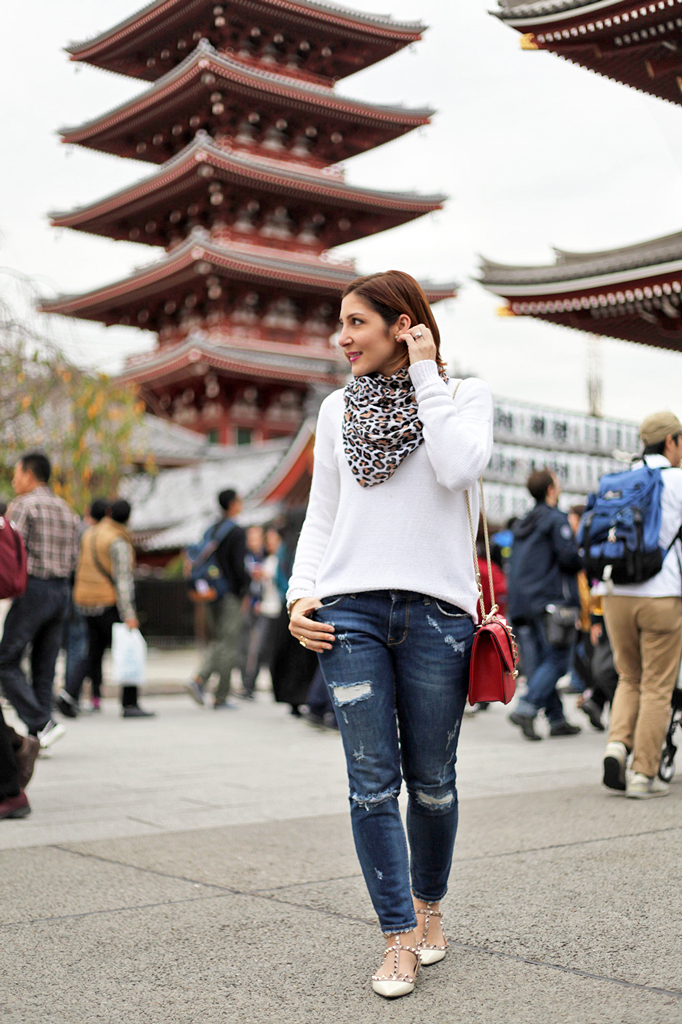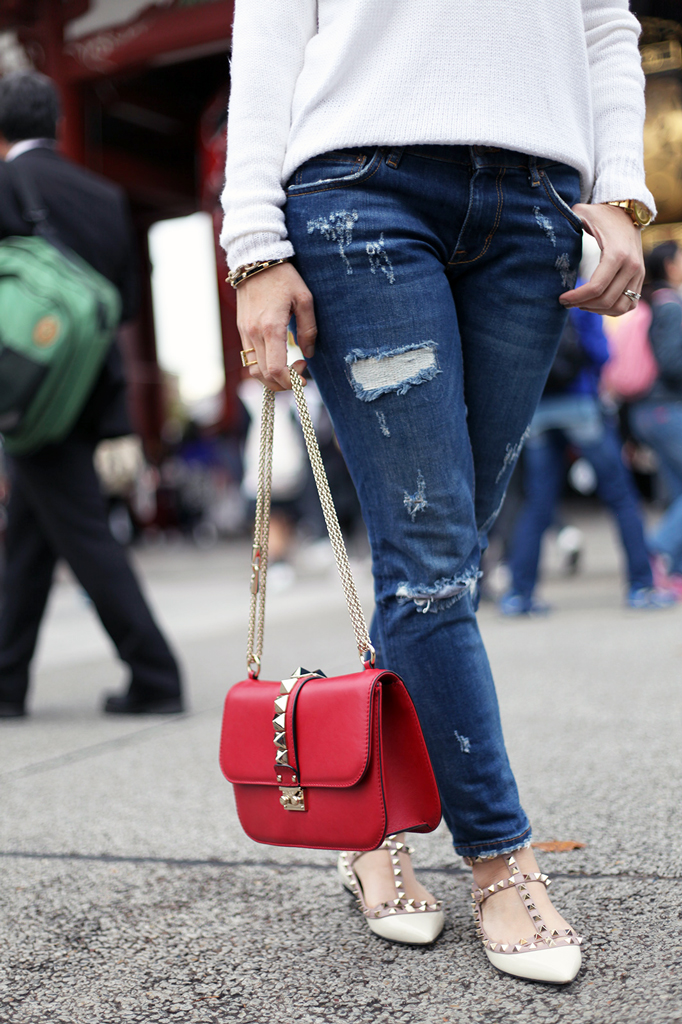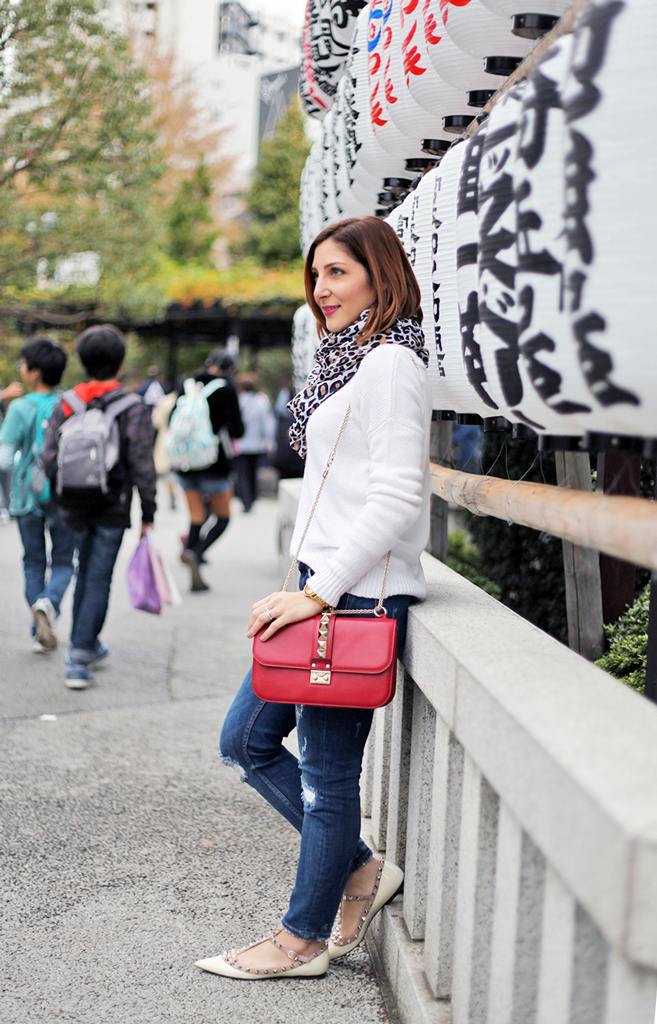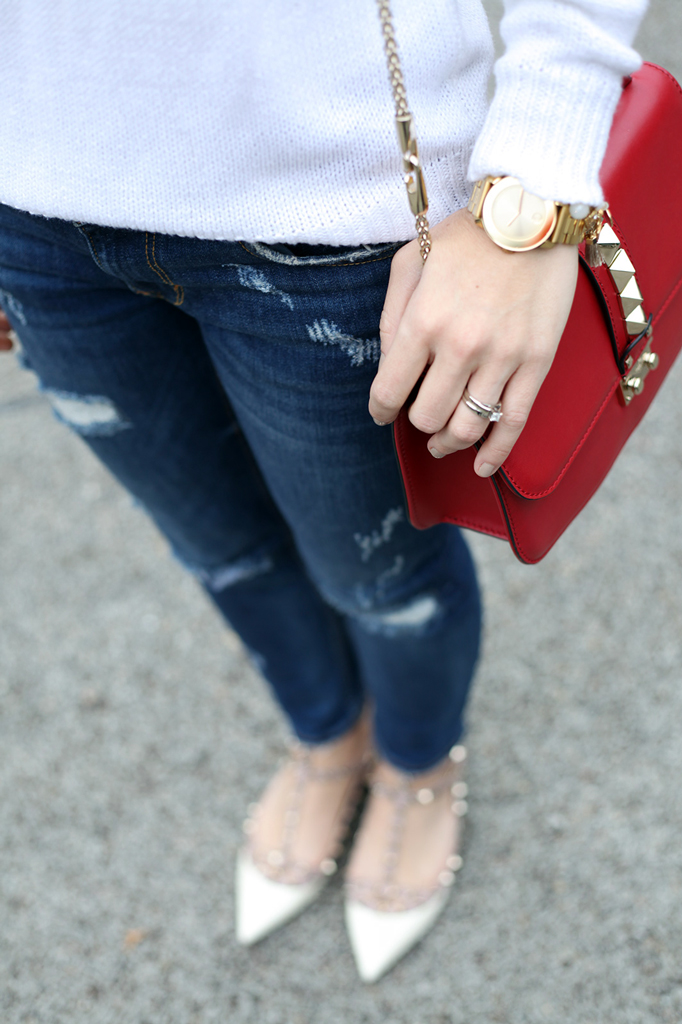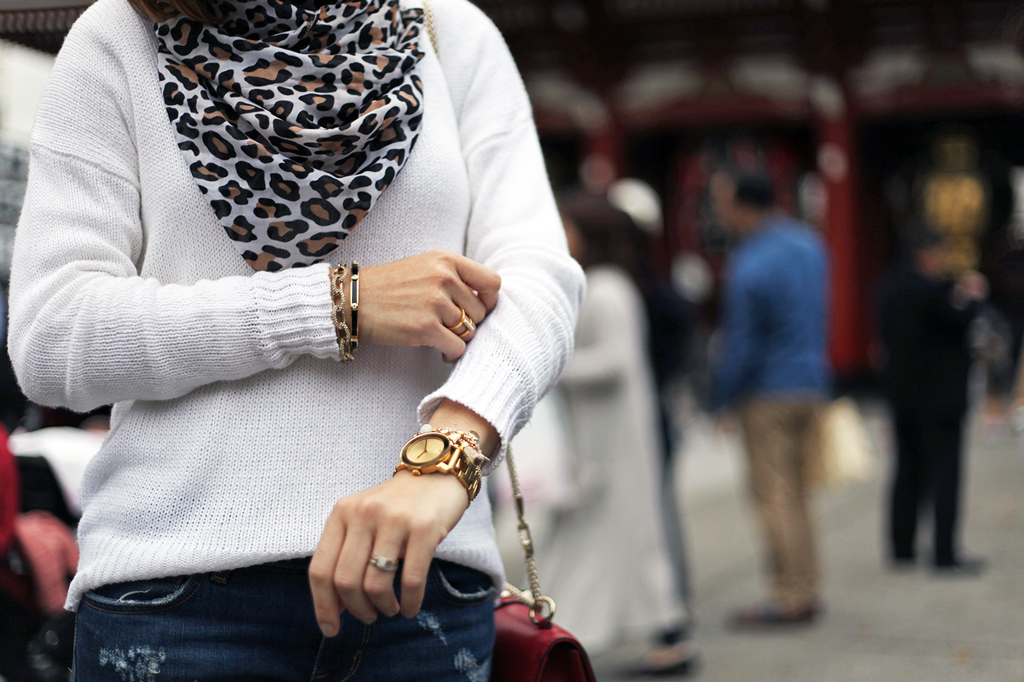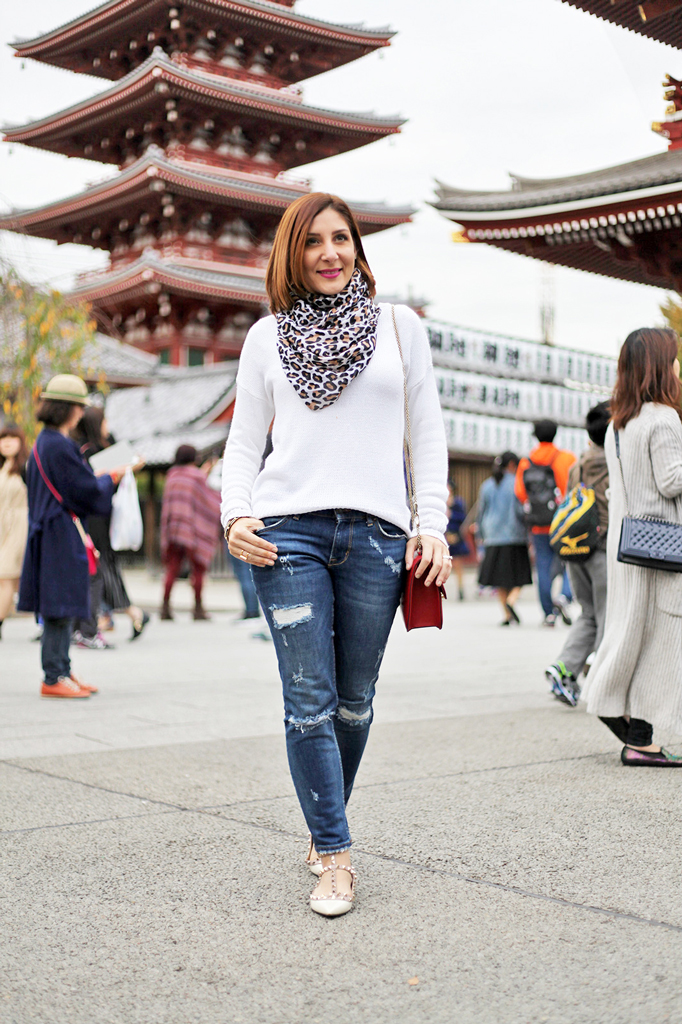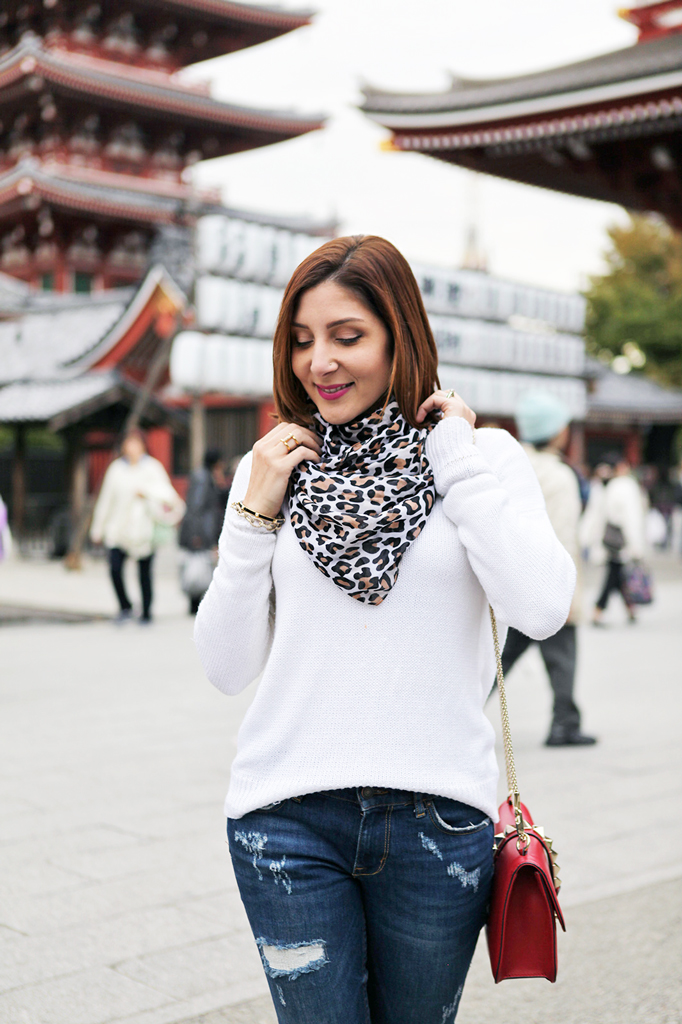 << SWEATER: Forever 21 (similar) | DENIM: Zara (similar) | SCARF: Forever 21 (similar) | RING: Henri Bendel (similar) | BRACELETS: Henri Bendel ('Miss Bendel Rivet Bangle', 'East Hampton Charm Bracelet') & J.Crew Factory 'Gold and Crystal Link' | FLATS: Valentino 'Rockstud Patent Cage Ballerina Flat' | HANDBAG: Valentino 'Lock Rockstud Crossbody' | NAIL POLISH: CND Vinylux 'Svelte Suede' | WATCH: Movado 'Bold' | LIPSTICK: Milani 'Matte Blissful' >>
Hello 2016!!! I want to wish you all good health and happiness this year. And don't forget to go out there and make it a very memorable one because we all have the potential to make it the best year to date!
Due to all the holiday festivities, which required lots of blog posts with sparkly outfits, I did not have the chance to share more of my trip across Asia. And oh boy, do I have pictures, recommendations and outfits to share! Japan, overall, has been one of my favorite countries thus far. Tokyo's high-energy and visual overload makes even New York seem like a laid-back town. But what makes Japan truly exceptional is its people; they are truly the most helpful, polite, honest and hardworking individuals I have met. Another special characteristic is its serene and traditional atmosphere, despite its overpopulated trait ­­—more than 12 million reside in its capital. And real estate happens to be more valuable than gold, making Tokyo a megalopolis of a concrete jungle.
Stay tuned for more of my Japanese experience in another post, but for now let's talk a little about fashion. Since the weather was a little chilly for our visit to the Asakusa Shrine, one of the most famous Shinto temples in Japan and oh so beautiful, I opted for a simple oversized sweater and my favorite color… animal print. And I can't stress enough how great these flats have been, they are the perfect combination of comfort and chic. Ladies, that is one of my top tricks when traveling; I choose a pair (or two) of versatile and comfortable flats. So, there is no need to compromise being comfortable with looking chic when sightseeing.

TOKIO, JAPÓN: SUÉTER CÓMODO + BUFANDA DE ESTAMPADO
¡¡¡Hola 2016!!! Quiero desearles a todos salud y felicidad en este año. No se olviden de hacerlo memorable y que todos tenemos el potencial para que sea el mejor año hasta la fecha.

Debido a todas las celebraciones navideñas, cual requirió una gran cantidad de post con vestuarios relucientes, no tuve la oportunidad de compartir más de mi viaje a través de Asia ¡Y como tengo fotos, recomendaciones y looks que compartir! Japón, en general, ha sido uno de mis países favoritos hasta el momento. La alta energía y sobrecarga visual de Tokio hace incluso a Nueva York parecer una ciudad tranquila. Pero lo que hace Japón verdaderamente excepcional es su gente; son realmente las personas más atentas, educadas, honestas y trabajadoras que he conocido. A pesar de ser una ciudad distintivamente superpoblada, otra característica muy especial es su ambiente tradicional pleno de serenidad —más de 12 millones residen en Tokio. Las bienes raíces tienden a poseer más valor que el oro, por lo que Tokio es conocido como una megalópolis y jungla de cemento
¿Desean saber más sobre mi experiencia Japonesa? Estén atentos a los próximos post, pero por ahora vamos a hablar un poco acerca de moda. Como el clima estuvo un poco frío para nuestra visita al Santuario de Asakusa, uno de los más famosos templos sintoístas en Japón y bien hermoso, opté por un suéter desajustado y mi color preferido… el estampado de leopardo. Y no puedo expresar con palabras lo genial que estos zapatos estilo bailarina han sido, son la combinación perfecta de comodidad y elegancia. Chicas, uno de mis mejores trucos cuando viajo es elegir un par (o dos) de zapatos estilo bailarina que sean versátiles y confortables. Por lo tanto, no hay necesidad de comprometer estar cómoda con lucir a la moda cuando se viaja.