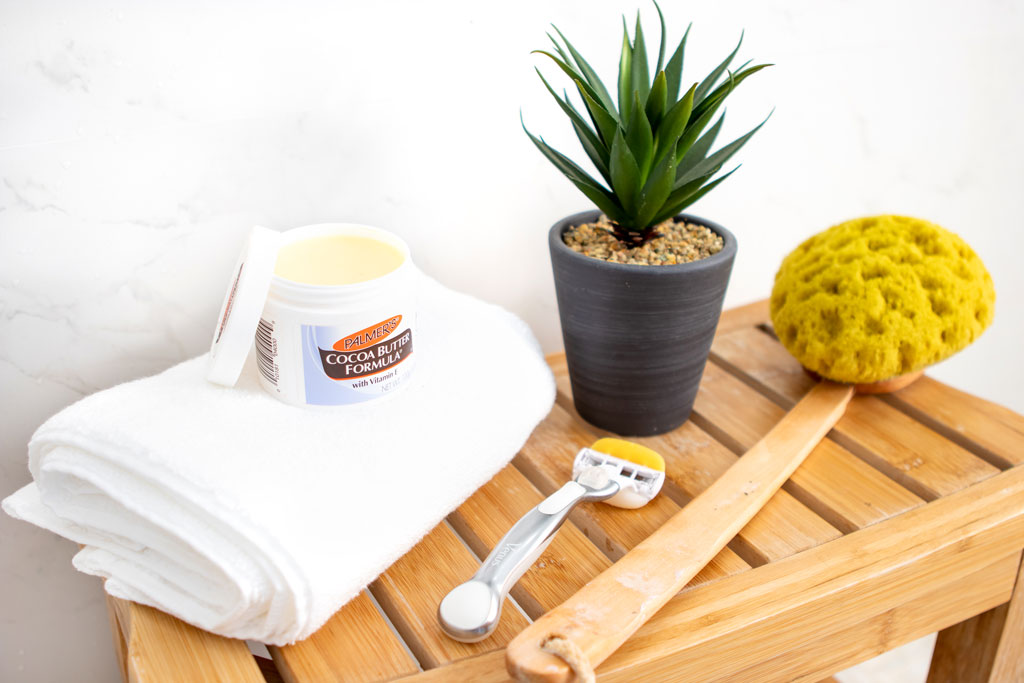 Finding the right solution for dry skin is hard, but when you find a product that takes care of this AND many other things, you jump on it.Miami Fashion Blogger, Miami Mommy Blogger.


[one_half]
Along with the post-partum hair loss, dry skin has been also a struggle after pregnancy. From my lips to my heels, elbows and even dry patches on my arms.
I often find myself using 3+ different lotions throughout the day to avoid this. But to be honest, this is not practical for me or anyone for that matter, why? For starters, there's no reason why I should be buying three different products to treat my dry skin. One should be able to do its job; wouldn't you think so? Which leads me to the second reason, as a busy new mom I rather be enjoying the time with my baby instead of using it to apply products to my skin day in and day out (nobody got time for that!).
[/one_half][one_half_last]
Junto con la pérdida de cabello después del parto, la piel seca también ha sido un problema después del embarazo. Desde mis labios hasta mis talones, codos e incluso parches secos en mis brazos.
A menudo me encuentro usando más de 3 lociones diferentes a lo largo del día para evitar esto. Pero para ser honesta, esto no es práctico, para mí, ni para nadie, ¿por qué? Para empezar, no hay ninguna razón por la que deba comprar tres productos diferentes para tratar mi piel seca. Solo uno debería hacer su trabajo; ¿No les parece? Lo que me lleva a la segunda razón, como mamá primeriza y muy ocupada, prefiero disfrutar el tiempo con mi bebé en lugar de usarlo para aplicar productos a mi piel día tras día (¡nadie tiene tiempo para eso!).
[/one_half_last]
[one_half]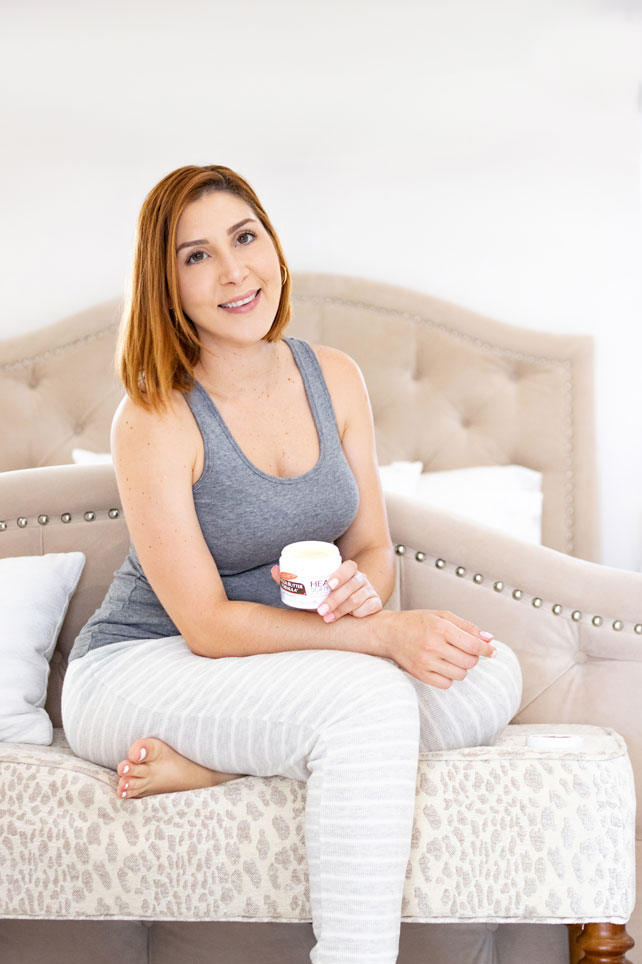 [/one_half][one_half_last]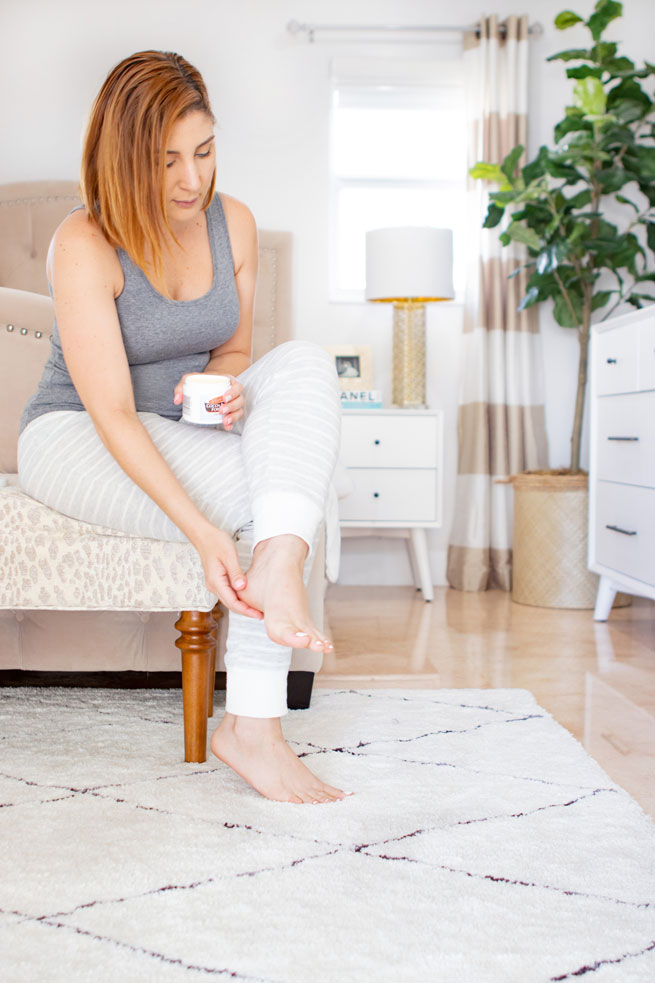 [/one_half_last]
[one_half]
Thus, when Palmer's® reached out to try its Cocoa Butter Formula Original Solid Jar I couldn't resist. Especially after reading that it's a multipurpose product with over 101 uses. Don't believe me? Click here! And it sells for less than $6 #SayWhat!? Double whammy! Things like softening cuticles, hydrating split ends and removing makeup are just a few unexpected ways of using it. But my favorite is as lip balm, substitute for shaving cream and to smooth my dry heels (along with the rest of my dry skin).
[/one_half][one_half_last]
Por lo tanto, cuandoPalmer's® me pidió que probara su Cocoa Butter Formula Original Solid Jar (fórmula sólida de manteca de cacao), no pude resistir. Especialmente después de leer que es un producto con más de 101 usos. ¿No me creen? ¡Haga clic aquí! Y que se vende por menos de $6. Cosas como suavizar las cutículas, hidratar las puntas abiertas del cabello y quitar el maquillaje son solo algunas formas inesperadas de usarlo. Pero mi favorita es como bálsamo para los labios, como sustituto de crema de afeitar y para mantener suaves mis talones (junto con el resto de mi piel seca).
[/one_half_last]
[one_half]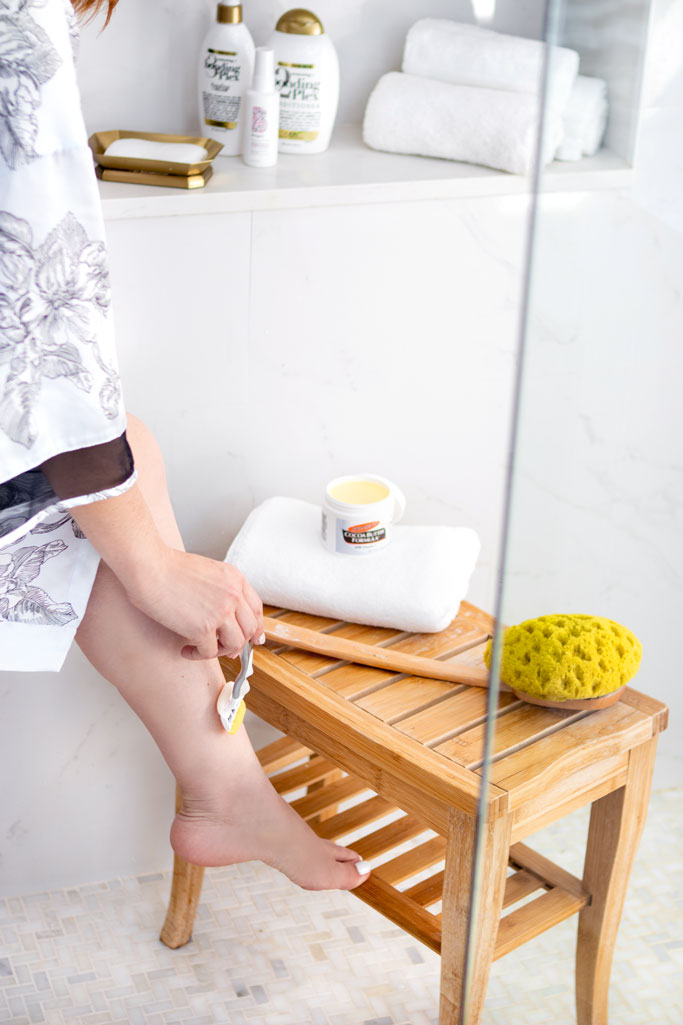 [/one_half][one_half_last]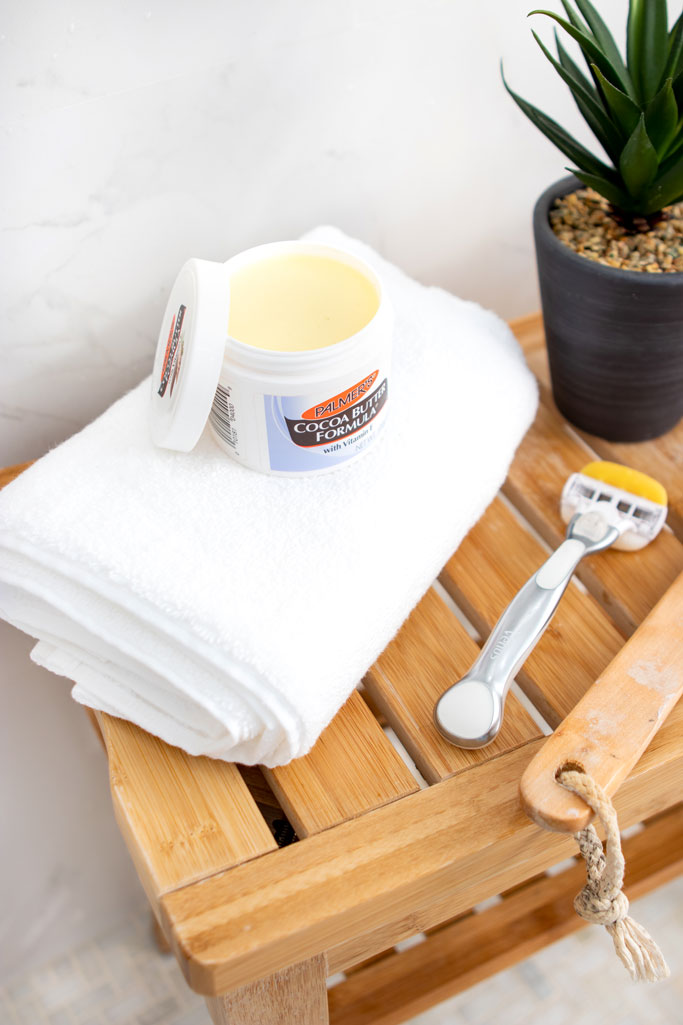 [/one_half_last]
[one_half]
The unique formula melts into the skin and creates a protective barrier that locks in moisture. Its two main ingredients are vitamin E (a powerful antioxidant that helps improve the appearance of scars, stretch marks and imperfections on the skin) and cocoa butter (a rich natural moisturizer that leaves skin soft, silky and smelling delicious). Its soft chocolate scent is perfect; not strong but just good enough to love and possibly eat (but I highly advise against it, as will Palmer's®).
Want one for yourself? I know you do 🙂
[/one_half][one_half_last]
La fórmula única se funde en la piel y crea una barrera protectora que mantiene la piel hidratada. Sus dos ingredientes principales son la vitamina E, un poderoso antioxidante que ayuda a mejorar la apariencia de cicatrices, estrías e imperfecciones en la piel; y manteca de cacao, un humectante natural que deja la piel suave, sedosa y con un olor delicioso. Su suave aroma a chocolate es perfecto; ¡no es fuerte, pero lo suficientemente para encantar!
¿Quieren uno para ustedes? yo sé si 🙂
[/one_half_last]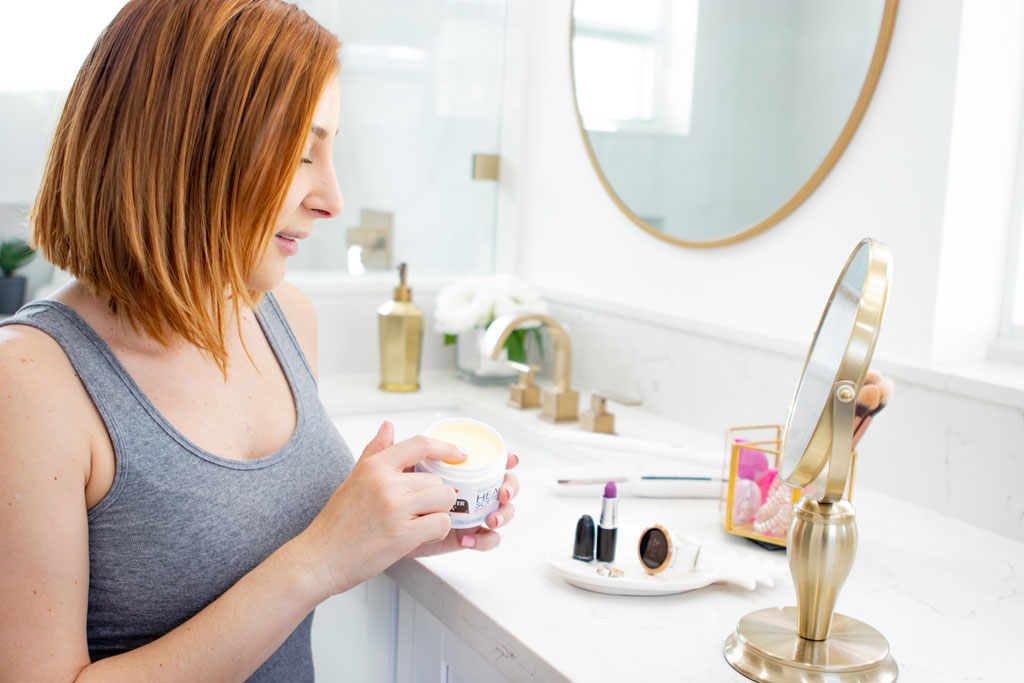 [one_half]
As a special treat to my readers, Palmer's® is giving you the chance to win one of your own. Just enter the giveaway below… the more tasks you complete, the greater your chance of winning one of the three jars is!
Don't forget to take a peek at Palmer's® website to see the other uses of this jar!
I participated in this sponsored campaign for Palmer's® on behalf of One2One Network. All the opinions expressed are, as always, honest and my own. Thanks for supporting the brands that make this blog possible.
[/one_half][one_half_last]
Como un regalo especial para mis lectores,Palmer's® les da la oportunidad de ganar uno para ustedes. Solo tienen que participar en el sorteo que aparece a continuación para su oportunidad de ganar. Y recuerden, mientras más tareas finalicen, mayor será la posibilidad de ganar este producto.
¡No se olviden de echar un vistazo a la pagina web dePalmer's® para ver los otros usos de esta fórmula!

Participé en esta campaña patrocinada para Palmer® en nombre de One2One Network. Todas las opiniones expresadas, como siempre, son honestas y propias. Gracias por apoyar a las marcas que hacen este blog posible.
[/one_half_last]
GIVEAWAY / SORTEO
Must be 18 years and older to enter and be a resident of the United States. No purchase necessary. Giveaway open to readers in U.S. only and is in no way sponsored, endorsed or administered by, or associated with Facebook, Instagram or Twitter. We hereby release Facebook, Instagram and Twitter of any liability. Winner will be announced 24 hours after the giveaway ends. If you have any additional questions feel free to send me an email to hello@www.blameitonmei.com.
Debe tener 18 años o más para participar y ser residente de los Estados Unidos. No se requiere compra. Sorteo abierto solo para lectores en los EE. UU. y no está patrocinado ni administrado de ninguna manera por, o está asociado con Facebook, Instagram o Twitter. Por este medio liberamos a Facebook, Instagram y Twitter de cualquier responsabilidad. El ganador será anunciado 24 horas después de que termine el sorteo. Si tiene alguna pregunta adicional, no dude en enviarme un correo electrónico a hello@www.blameitonmei.com.