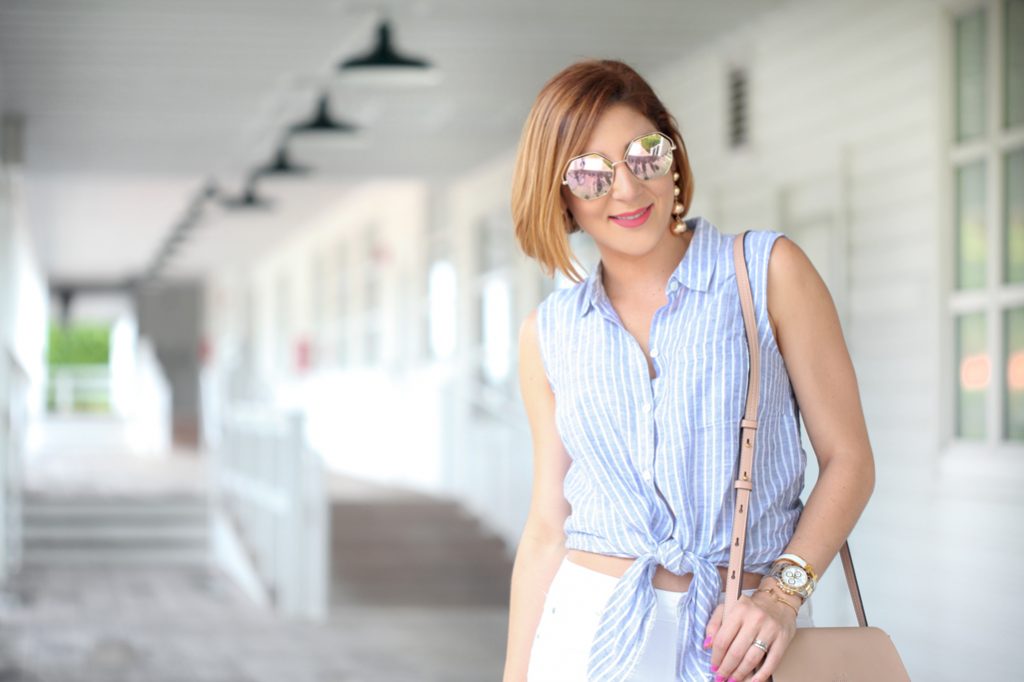 This linen tie-front top is the perfect summer addition to your wardrobe. It's available in five other colors and the fit is a dream


TOP: c/o J.Jill (available in 5 other colors) ||   JEANS: Nordstrom (40% off!) ||   EARRINGS: BaubleBar   ||   BRACELET: Cartier (affordable option here), Tiffany & Co. (affordable option here), Hermes (affordable option here)   ||    WATCH: Rolex (affordable option here)   ||   SUNGLASSES: Nordstrom (under $25)  ||   HANDBAG: Chloe (exact affordable option here)  ||  RING: YSL (affordable option here and here)  ||   SANDALS: Stuart Weitzman (affordable option here)  ||    LIPSTICK: Anastasia Beverly Hills – Lovely
[one_half]
Hi loves!
I am such a fan of short hair, can't you tell?! In fact, I always encourage everyone (yes everyone!) to chop it off at least once in their lifetime. I know I may not be the most convincing, but I assure you that at least I am planting the little "what if" seed. Besides my love for short locks, this endearing hair style is the one I have found that works best for my thin and volume-less locks. Yes, I've said it; my hair always tends to lack volume no matter what I do #TheStruggleIsReal! Except when I go to the hairdresser!
That is why I have partnered with Kérastase to share about my recent visit to Studio-D to experience a new treatment customized just for my hair. The Fusio-Dose treatment works in just 5 minutes and with over 20 combinations to target your hair's needs, it will deliver instant hair transformation for basically anyone. Vitor, my hairdresser at Studio-D, formulated the Concentré Vita-ciment™ for strength and Booster Densité for volume. And let me tell you ladies, it definitely made a difference. If you peeked my InstaStories you must have noticed that it was raining the day of my treatment (it's been raining non-stop for the past weeks). But as you can tell from these pictures, my hair was nearly as perfect as when I left the salon. Yep despite the humidity, my hair survived! The treatment only costs about $30 and as I mentioned prior, it just takes an extra 5 minutes to your usual hair salon visit.
And now, on to this adorable top (which I brought with me to my trip)! As I've already mentioned, and styled, a few times before (here and here), stripes and blue have become a recent adoration of mine. So undoubtedly, this sleeveless cutie was a total winner!
Update from our trip: It's our second day in Prague, and ladies, this city is spectacular! Today we will visit the Royal Palace and the street known as the Golden Lane. The houses on this street are the smallest and most colorful houses in Prague. And its name derived from the goldsmiths that lived there in the 17th century.
[/one_half][one_half_last]¡Hola mis amores!
Soy un fan del cabello corto, ¿no pueden notar? De hecho, siempre animo a todos (sí a ¡todos!) a cortarse el cabello al menos una vez en su vida. Sé que no seré la mejor al persuadir, pero les aseguro que por lo menos estoy plantando la semillita de "que pasaría sí…". Además de mi amor por el cabello corto, este estilo de corte es el que funciona mejor para mi cabello que es fino y sin volumen. Sí, lo he confesado; mi cabello siempre tiende a carecer de volumen no importa lo que hago. Excepto cuando voy a la peluquería.
Es por eso que me he unido con Kérastase para compartir sobre mi visita a Studio-D donde experimenté un nuevo tratamiento escogido específicamente para mi cabello. El tratamiento de Fusio-Dose funciona en sólo 5 minutos y con más de 20 combinaciones para las necesidades de tu cabello, proporcionará una transformación instantánea para básicamente cualquier persona. Vitor, mi peluquero durante la visita, formuló el Concentré Vita-Ciment™ para fortalecer, y ​​el Booster Densité para volumen. Y chicas, definitivamente hizo la diferencia. Si ojearon mi InstaStories del fin semana pasado, deben haber notado que estaba lloviendo el día de mi tratamiento (ha estado lloviendo sin parar durante las ultimas semanas). Pero como pueden ver en estas fotos, mi cabello se mantuvo casi igual de perfecto como cuando salí del salón. ¡Si chicas! a pesar de la humedad, mi pelo sobrevivió. El tratamiento sólo cuesta alrededor de $30 y como mencione anteriormente, sólo toma unos 5 minutos adicionales a su visita habitual.
Y ahora, continuo con este adorable top (que, de paso, traje conmigo a mi viaje). Ya he mencionado, y también combinado, varias veces (aquí y aquí) las rayas y el color azul. Así, que sin dudas, esta belleza sin mangas fue todo ¡un ganador!
Noticias de nuestro viaje: es nuestro segundo día en Praga, y chicas, esta ciudad es ¡espectacular! Hoy visitaremos el Palacio Real y la calle conocida como el Callejón de Oro. Las casas en esta calle, son las más pequeñas y coloridas de Praga. Y su nombre deriva de los orfebres que vivieron allí en el siglo XVII.
[/one_half_last]