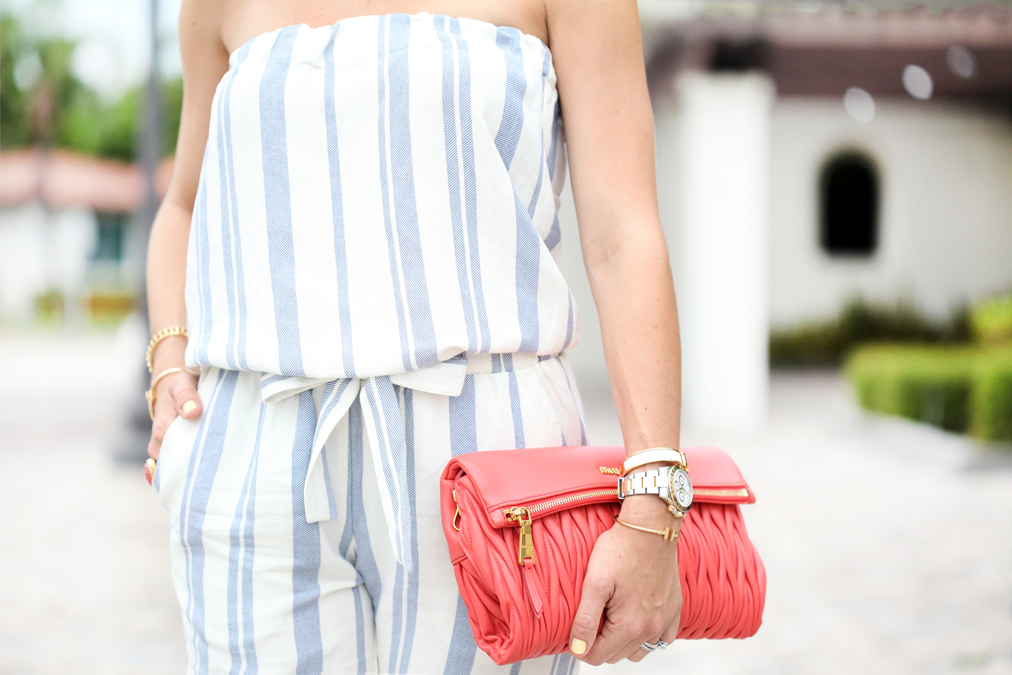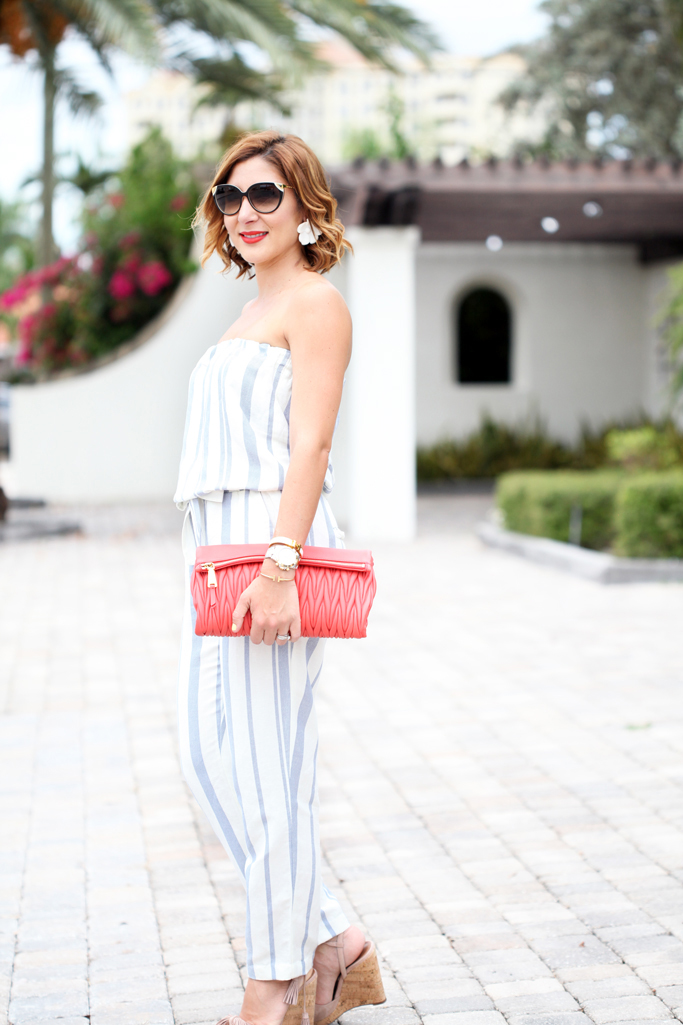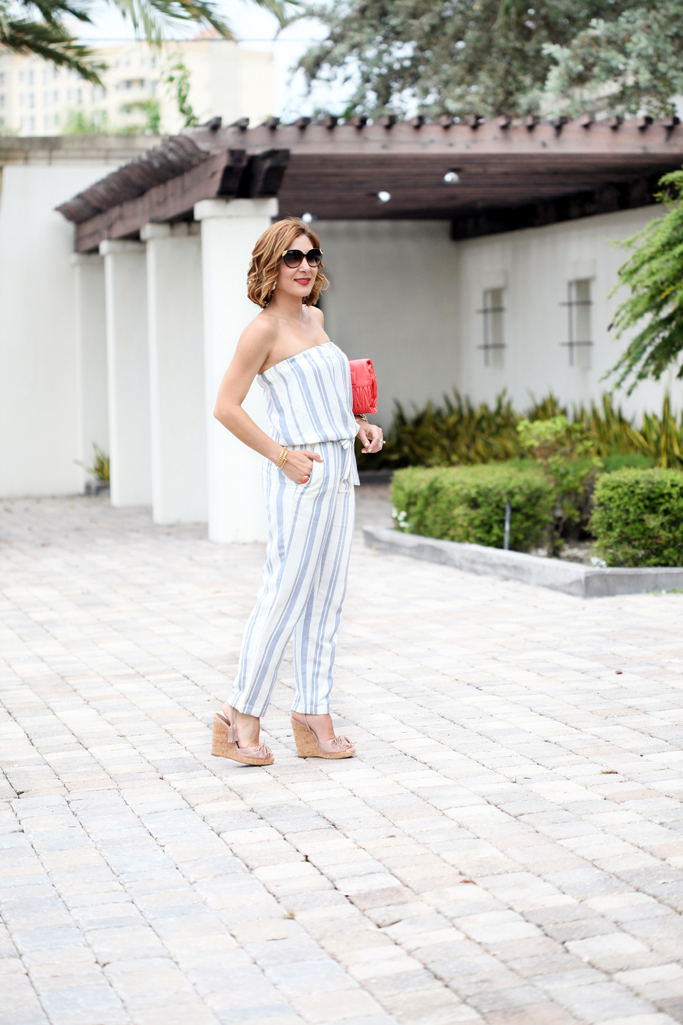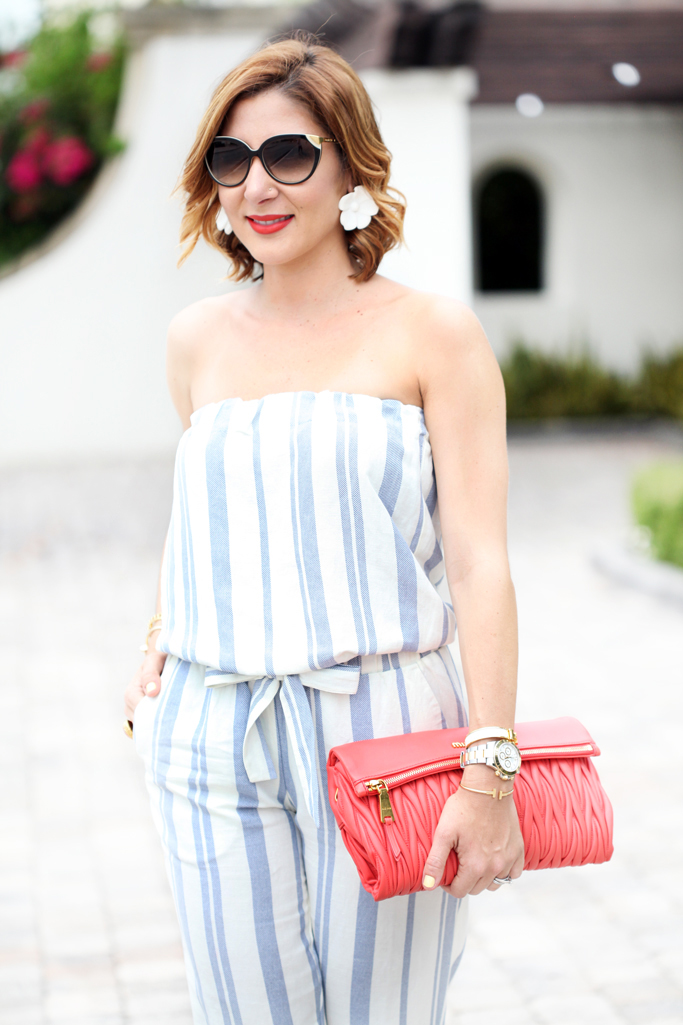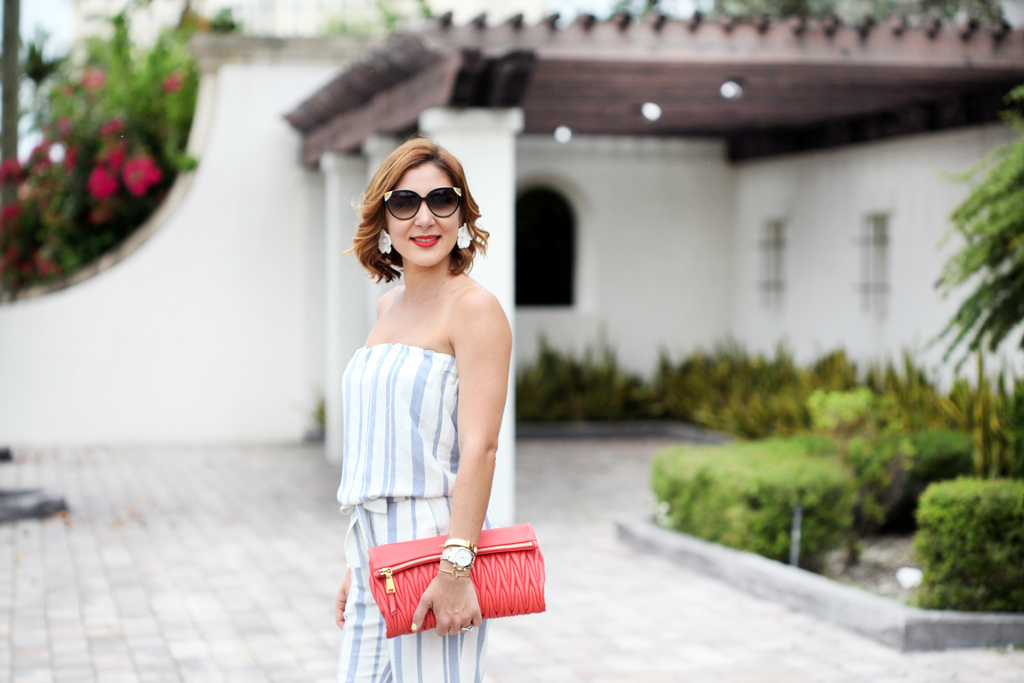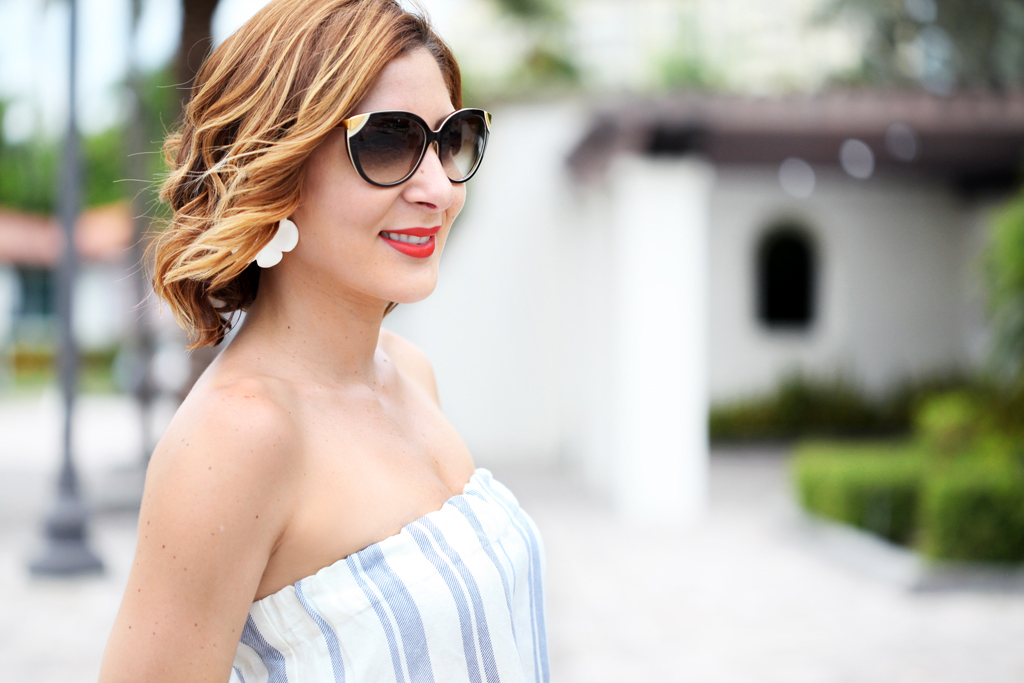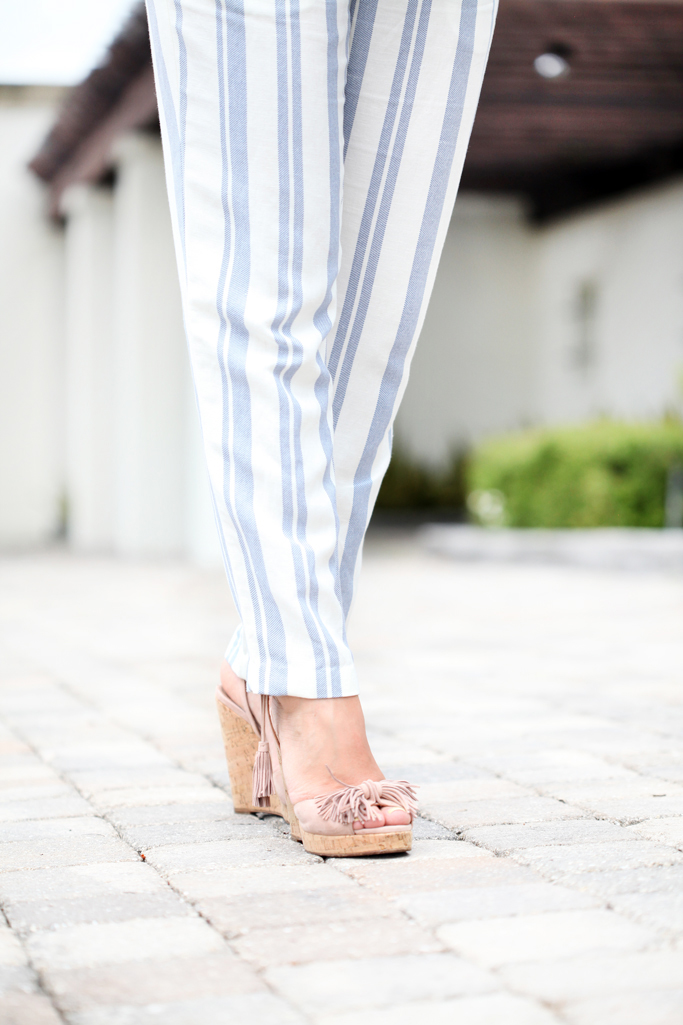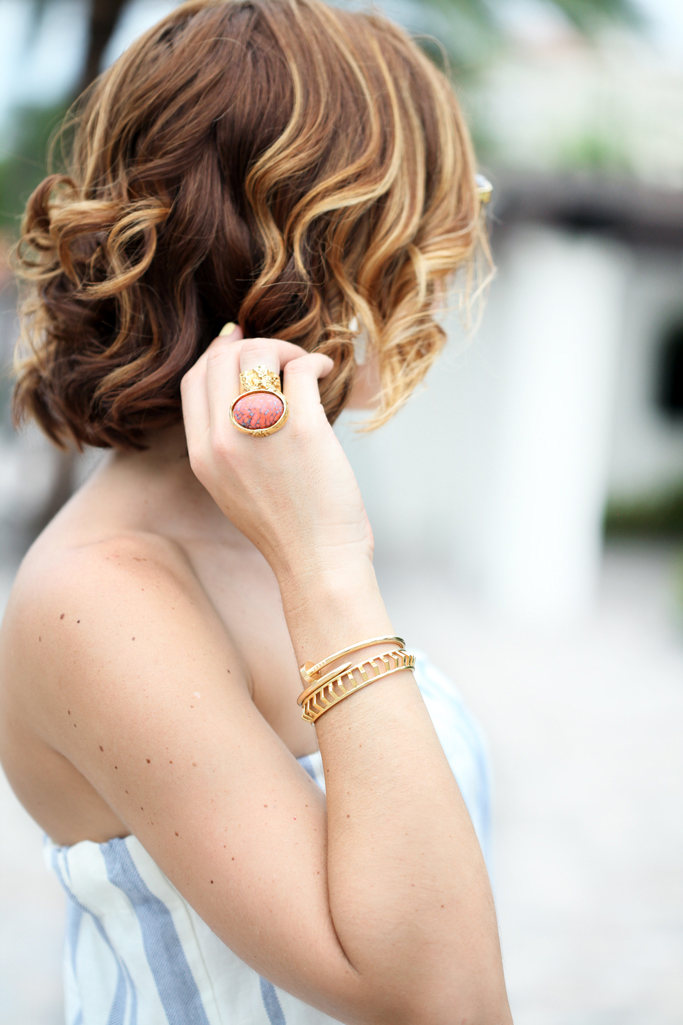 << JUMPSUIT: Loft (similar #1, similar #2, similar #3, similar #4) | EARRINGS: Baublebar 'Geranium Studs' | WATCH: Rolex (affordable option) | BRACELET: Hermès 'Clic Clac H' (affordable option), Cartier 'Juste un Clou' (affordable option), Baublebar 'Ladder Cuff' and Tiffany & Co. 'T-Wire' (affordable option) | RING: YSL 'Arty' (affordable option) | HANDBAG: Miu Miu (similar, affordable option) | WEDGES: Aquazzura 'Wild One' (affordable option) | SUNGLASSES: Louis Vuitton 'Amber' (similar) | NAIL POLISH: OPI 'Don't talk bach to me' | LIPSTICK: MAC 'So Chaud' >>
Summer is still going strong in South Florida, but in all honesty, our lack of seasons only remind me of how lucky I am to be able to wear strapless beauties like this year round #SoNotComplaining. So bring on all rompers, jumpsuits, shorts and miniskirts! I fell in love with this cutie as soon as I saw it online (yes I am an avid online shopper). And what I love most about it, is that you don't need much to make it stand out. I have always shared my glorification of jumpsuits and rompers because of that same reason, it's easy to style and chic to wear. The strapless top, striped pattern and cinched waist (complete with an adorable bow) create an effortlessly relaxed, yet entirely put together look. I, of course needed to add my personal touch with a pop of color and what better shade than coral.
Want to see other jumpsuit looks? Take a look here, here and here.

MONO ENTERIZO DE RAYAS + CUÑAS
El verano se mantiene fuerte en el sur de la Florida, pero siéndoles honesta, nuestra falta de estaciones sólo me recuerda sobre lo afortunada que soy de vestir hermosuras sin tirantes como esta. Por lo tanto, monos cortos, blusas de hombros al descubierto, pantalones cortos y minifaldas son el vestuario apropiado durante todo el año. Me enamoré de esta belleza tan pronto cuando la vi en línea (sí, me encanta hacer las compras desde la comodidad de mi computadora). Ya he comentado en varias ocasiones mi amor a los enterizos, debido a que son fáciles de combinar, simples de vestir y elegantes de llevar. Y lo que más me gusta de este, es que no se necesita mucho para hacer que destaque. El top sin tirantes, sus rayas azules y la cintura ajustada (acabada con un adorable lazo) crean un look relajado, pero muy chic. Yo, por supuesto, tuve que añadir mi toque personal con un color llamativo, y qué mejor que con uno de mis tonos favoritos, el coral.
¿Quieren ver otros looks con enterizos? Echen un vistazo aquí, aquí y aquí.