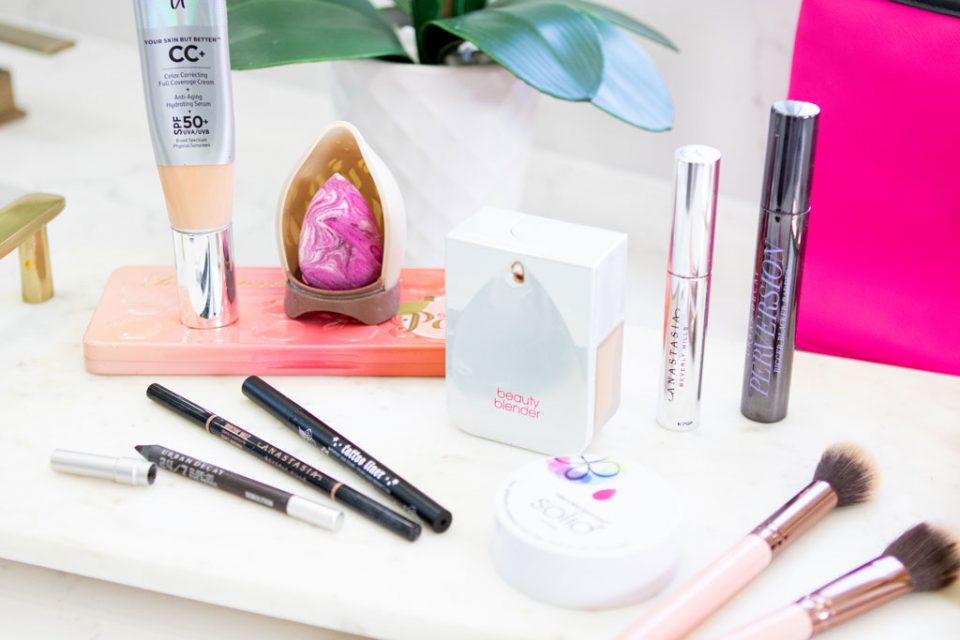 Take advantage of the Sephora Summer Sale to stock up on your favorite products or try new ones. Here is a list of my top 11 products to try! Miami Fashion Blogger.


I can't deny that I am a makeup junkie. And I often try new products (high-end and drugstore alike) to find my next favorite. And that is why when I heard that Sephora is having an exclusive sale for their Beauty Insider members, well, I simply HAD TO stock up on new and old favorites. Not a member yet? No worries! you can sign up for free today and begin earning points today!
Below you can find key info in regard to the sale:
Dates: Tuesday, Aug. 20 till Tuesday, August 27
Rouge members: 20% off
VIB members: 15% off
Discount code: SUMMERSAVE
No puedo negar que soy adicta al maquillaje. Y a menudo pruebo nuevos productos (de alta gama y también de farmacia) para encontrar mi próximo favorito. Y por eso cuando escuché que Sephora está teniendo una venta exclusiva para sus miembros Beauty Insider, bueno, simplemente TENÍA que re-abastecer mis productos preferidos, ambos nuevos y viejos. ¿No son miembros todavía? ¡No se preocupen! ¡pueden registrarse gratis aquí y comenzar a acumular puntos hoy!
A continuación, pueden encontrar información sobre la venta:
Fechas: martes 20 de agosto hasta martes 27 de agosto
Miembros Rouge: 20% de descuento
Miembros VIB: 15% de descuento
Código de descuento: SUMMERSAVE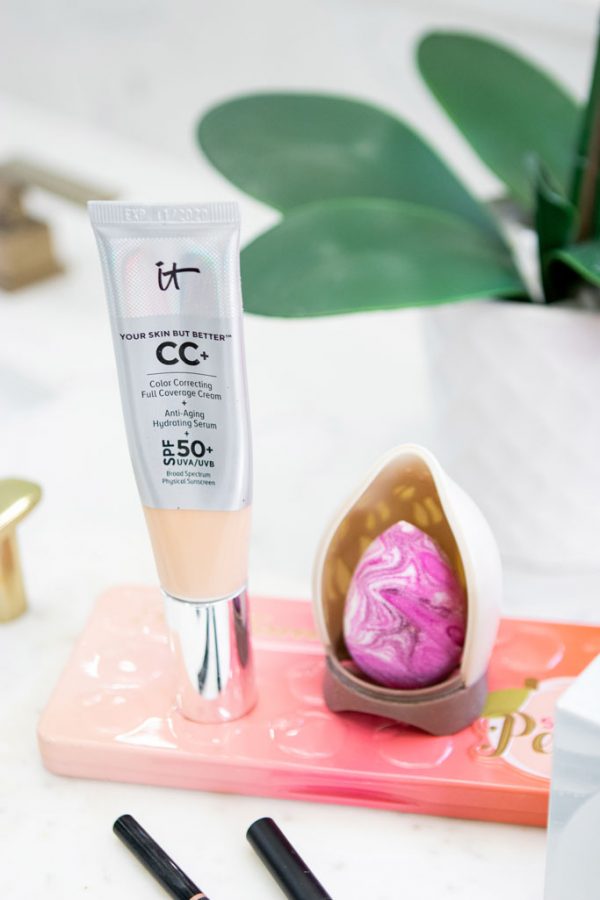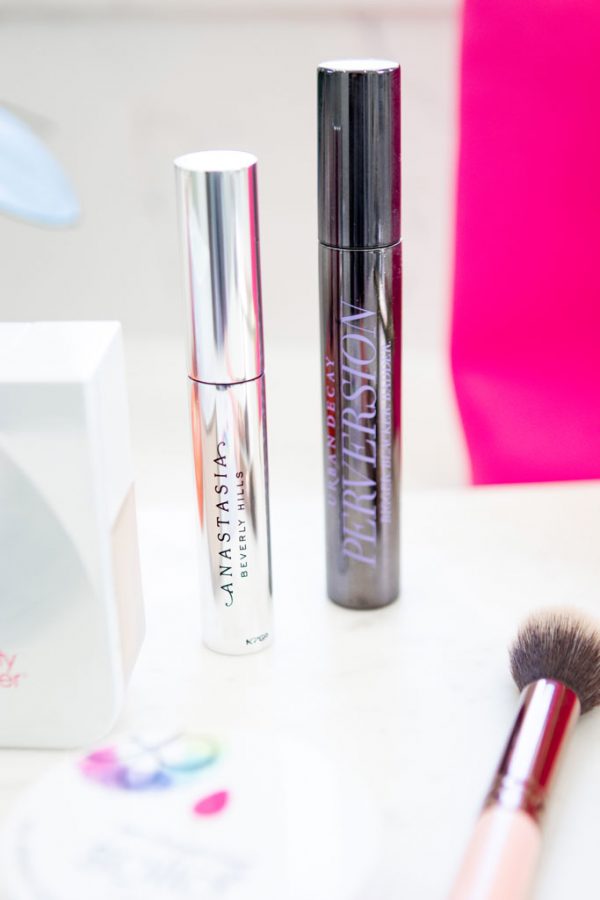 Now let's get to the list and why they are my top must-haves (there are 11 by the way):
Anastasia Beverly Hills Brow Wiz (in the color Soft brown) | I've used this eye-brow pencil for years and I don't even think of trying anything else. I love it because it lasts throughout the day, it's easy to apply and blends easily with the spooley that has at its other end.
Anastasia Beverly Hills Brow Gel | This is another longtime favorite. After filling in my brows, this is a step I don't miss. this clear gel is THE best I have found on the market. It defines and keeps my brows in place through the day.
BeautyBlender | One of the best inventions in makeup. This little pink sponge (now available in several other shades) revolutionized the makeup market and my routine. Many brands have tried to replicate its success, but there's a lot of mixed reviews about their quality. I love the natural finish it produces and it's really a holy-grail item I can't live without.
Ahora vamos a la lista y por qué son mis principales productos imprescindibles (por cierto, hay 11):
Anastasia Beverly Hills Brow Wiz (en el color Soft brown) | He usado este lápiz durante años y ni siquiera pienso en probar otros. Me encanta porque dura todo el día, es fácil de aplicar y se difumina fácilmente con el pequeño cepillo que tiene en su otro extremo.

Anastasia Beverly Hills Brow Gel | Este es otro favorito desde hace mucho tiempo. Después de maquillar mis cejas, este es un paso que nunca olvido, y este gel transparente es EL MEJOR que he encontrado en el mercado. Define y mantiene mis cejas en su lugar a través del día.
BeautyBlender | Uno de los mejores inventos en maquillaje. Esta pequeña esponja color rosa (ahora disponible en varios otros tonos) revolucionó el mercado del maquillaje y mi rutina. Muchas marcas han tratado de replicar su éxito, pero hay muchas críticas sobre la calidad de sus competencias. Me encanta el acabado natural que produce y es realmente un producto que no puedo hacer mi maquillaje sin él.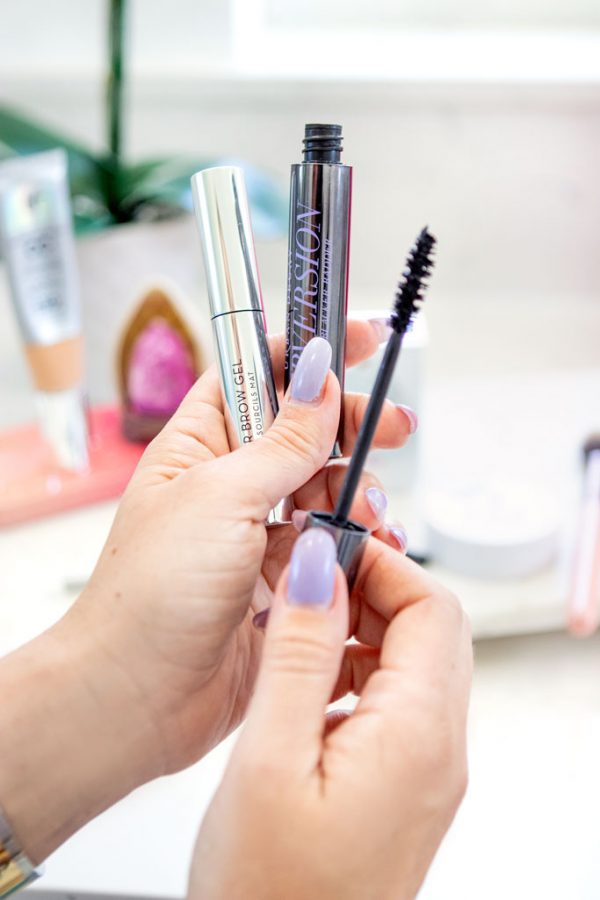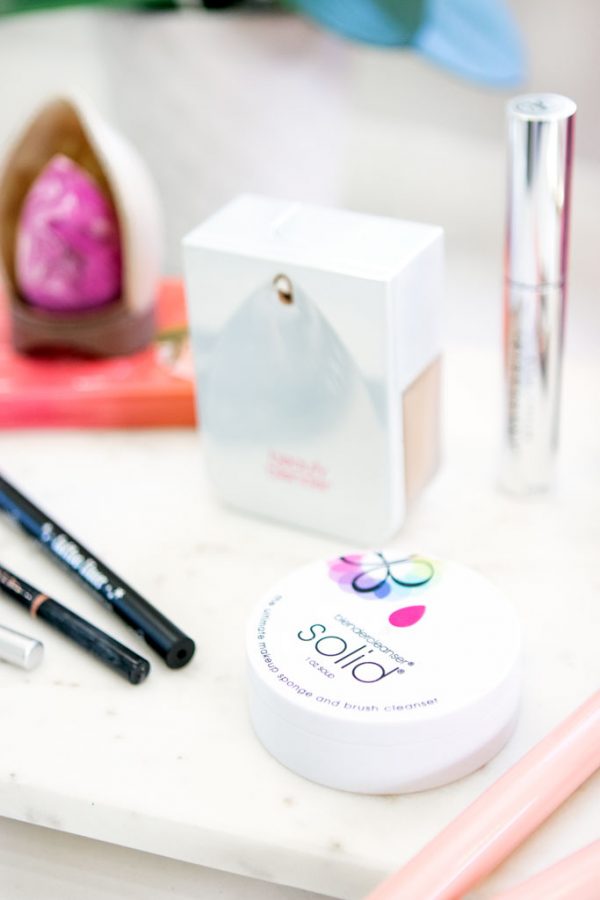 Urban Decay 24/7 Glide-On Eye Pencil (in the color Demolition) | I opt for this eyeliner more often than a liquid version. I use it the most for my casual daytime looks, or when I am in hurry at night and can't afford to spend minutes trying to perfect a winged eyeliner look. It glides on very smooth, does not transfer and lasts throughout the day. It is available in several shades if you want to try something more fun or vibrant.
Kat Von D Tattoo Liner | For the days when I do have the time to create a fearless and spotless winged eyeliner look, I opt for this liquid gold. I recently attempted a new brand, and it was such a fail. Instead, this liner is easy to use, glides on effortlessly and lasts FOREVER!! Oh and it can be easily removed with a makeup-wipe or balm leaving no ugly residue.
IT Cosmetics CC+ Cream with SPF50+ (in the shade Natural finish) | This is a new product I have been loving. What originally sold me was the CC cream and the SPF combo. Don't know what a CC cream is? It stands for beauty balm and is generally designed to serve as a foundation, moisturizer and sunscreen all at once. I usually use it as my everyday foundation since I don't have the time nor wish to spend more than 15 minutes on my makeup. It is also color-correcting and glides on very nicely. One thing I have noticed is that by the end of the day I have a few dry patches and areas where it has worn off.
Urban Decay 24/7 Glide-On Eye Pencil (en el color Demolition) | Opto por este delineador con más frecuencia que una versión líquida. Lo uso más para mis looks del día-a-día, o cuando tengo prisa en las noches y no puedo permitirme perder unos minutos tratando de perfeccionar el delineado forma cat-eye. Se desliza suavemente, no se transfiere y dura todo el día. Está disponible en varios tonos, si desean probar algo más divertido o vibrante.
Kat Von D Tattoo Liner | Para los días en que tengo tiempo para crear un aspecto de delineado cat-eye perfecto, opto por este oro líquido. Recientemente intenté una nueva marca, y fue un fracaso. ¡En cambio, este es fácil de usar, se desliza sin esfuerzo y dura TODO EL DIA! Ah, y se puede quitar fácilmente con una toallita de maquillaje o bálsamo sin dejar residuos feos.
IT Cosmetics CC+ Cream with SPF50+ (en la tono Natural Finish) | este es un producto nuevo que he estado amando. Lo que originalmente me convenció en comprarlo fue la combinación de crema CC y protección solar de 50. ¿No saben qué es una crema CC? Es sinónimo de bálsamo de belleza y generalmente está diseñado para servir como base, humectante y protector solar de una vez. Por lo general, lo uso como base diaria, ya que no tengo tiempo ni deseo pasar más de 15 minutos maquillándome. También corrige el tono de tu piel y se aplica muy bien. Una cosa que he notado es que al final del día tengo algunos parches secos y áreas donde se ha caído el producto.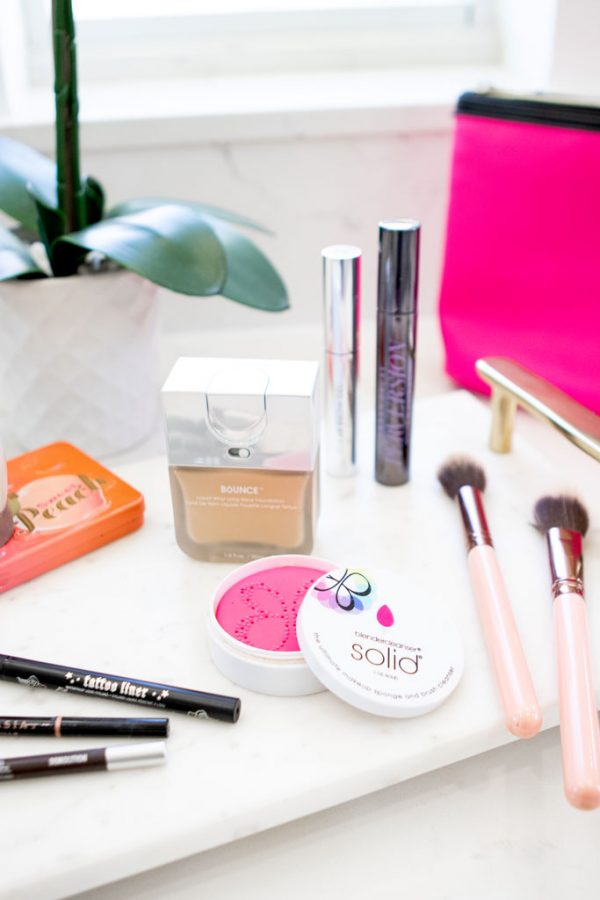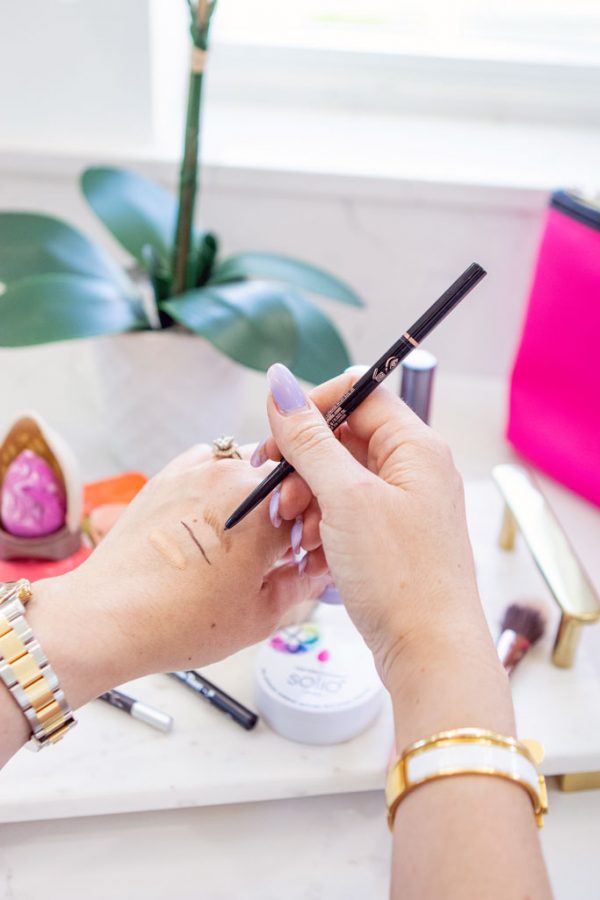 BeautyBlender Bounce Liquid Whip Long Wear Foundation (in the shade 3.2) | This is another new item I have been using for the past 6+ months. It is available in a wide range of shades, ensuring that you find the right one for you. I often reach out for this one instead of the IT Cosmetics because of its full coverage. I use it when I want my makeup to last the whole day and my skin to look like a million bucks! Its texture is velvetty and the finish matte. The only thing I don't like about this product is the way the products collects around the crevices of the pump area where it comes off from.
Urban Decay Perversion Mascara | This is a new favorite! I really like that it does not clump and the brush glides through my eyelashes like perfection every single time. Before discovering this formula, I used this one from Tarte, which I still recommend undoubtably.
Farsáli Unicorn Essence Antioxidant Primer Serum | This might be a splurge but ladies, I promise it works ! I actually couldn't pull the plug all the way the first time I purchased it and opted for the mini-size. And since I ran out, I have been waiting for a sale like this to purchase the full-size WITHOUT regrets. It really works wonders on the skin to prepare it for a longer-lasting and hydrated makeup application.
BeautyBlender Bounce Liquid Whip Long Wear Foundation (en la tono 3.2) | Este es otro producto nuevo que he estado usando durante los últimos 6 meses. Está disponible en una amplia gama de tonos, lo que garantiza que encontraran el adecuado para ustedes. A menudo escojo este en lugar de la base IT Cosmetics que mencione anterior por su cobertura total. ¡Lo uso cuando quiero que mi maquillaje dure todo el día y que mi piel se vea increíble! Su textura es como terciopelo y tiene un acabado mate. Lo único que no me gusta de este producto es la forma en que se acumula alrededor de las grietas del área donde sale el producto.
Urban Decay Perversion Mascara | ¡Este es otro nuevo favorito! Me gusta que no se agrupan las pestañas y el cepillo se desliza a la perfección una y otra vez. Antes de descubrir esta fórmula, utilicé esta de Tarte, que todavía recomiendo sin lugar a duda.
Farsáli Unicorn Essence Antioxidant Primer Serum | Este podría ser un despilfarro, pero chicas, ¡prometo que funciona! La primera vez que lo compre no pude convencerme totalmente y opté por el tamaño pequeño. Y desde que se me acabó, he estado esperando una venta como esta para comprar el tamaño standar SIN arrepentimientos. La verdad que hace maravillas en la piel para prepararla para una aplicación de maquillaje hidratada y de mayor duración.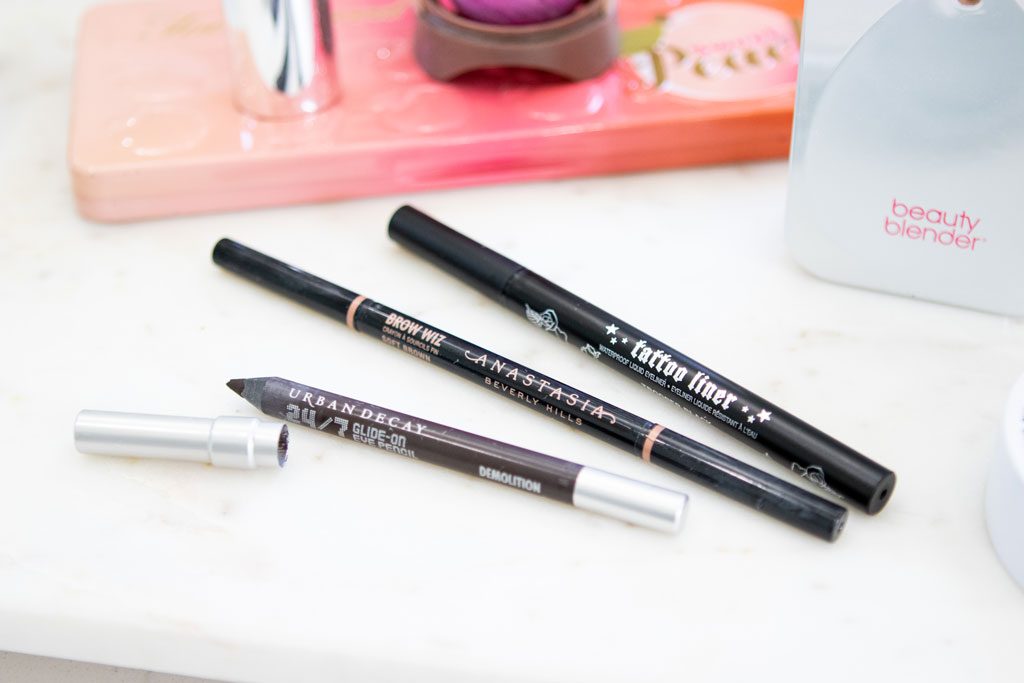 Living Proof Flex Hairspray | Not a makeup product but nonetheless one that I stock up on often. Because my hair is thin, it usually does not hold any style other than straight. Thus, when I do waves, I always saturate my hair with this holy-grail since it leaves it touchable and brushable; not stiff or greasy.
BeautyBlender BlenderCleanser Solid | Another non-makeup product that I can't live without (especially if you are on the run or travel often). When I came across this in a sample size, I almost cried when it ran out. Although dish detergent can work to clean your BeautyBlender, I feel that this travel-friendly alternative deep cleans the sponge and brushes alike. Also it promises to protect 99.9% from harmful germs 24 hours after washing.
Living Proof Flex Hairspray | No es un producto de maquillaje, pero, no obstante, lo utilizo con frecuencia. Debido a que mi cabello es fino, generalmente no tiende a durar cuando lo peino de otra manera que no sea liso. Por lo tanto, cuando hago ondas, siempre saturo mi cabello con este espray, ya que lo deja suave, no rígido ni grasiento.
BeautyBlender BlenderCleanser Solid | Otro producto que no para maquillarme, pero no puedo vivir sin el (especialmente si usualmente están de prisa o viajan con frecuencia). Cuando encontré con este producto en un tamaño de muestra, casi lloré cuando se me acabó. Aunque el detergente para platos puede funcionar para limpiar sus BeautyBlender, esta alternativa limpia profundamente la esponja y los cepillos por igual. También promete proteger el 99.9% de gérmenes dañinos 24 horas después del lavado.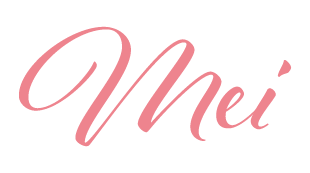 ---
PIN FOR LATER