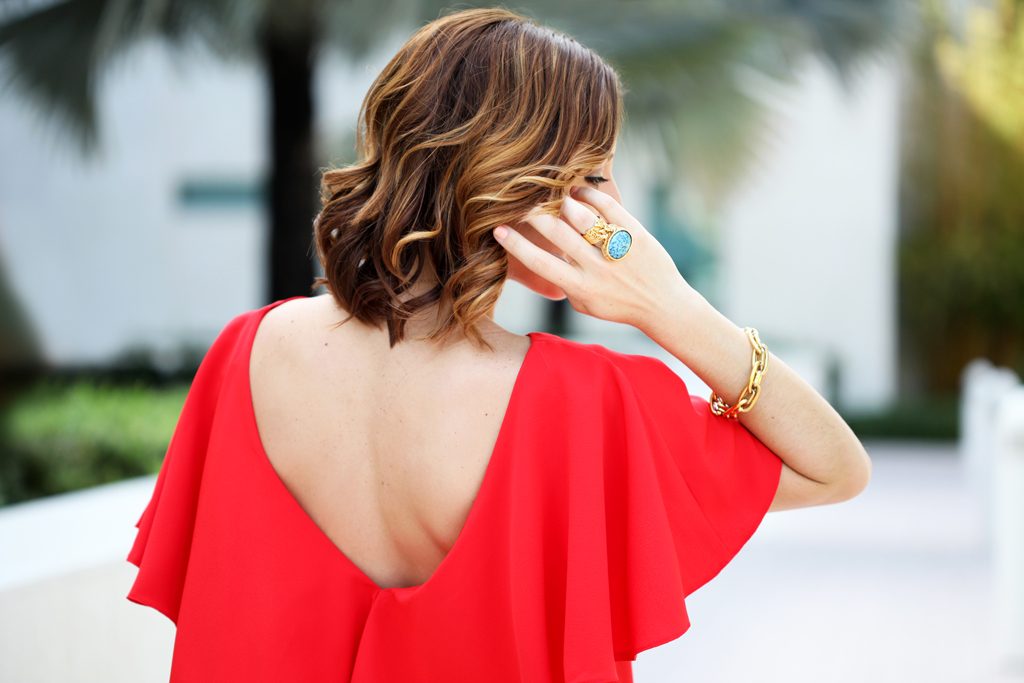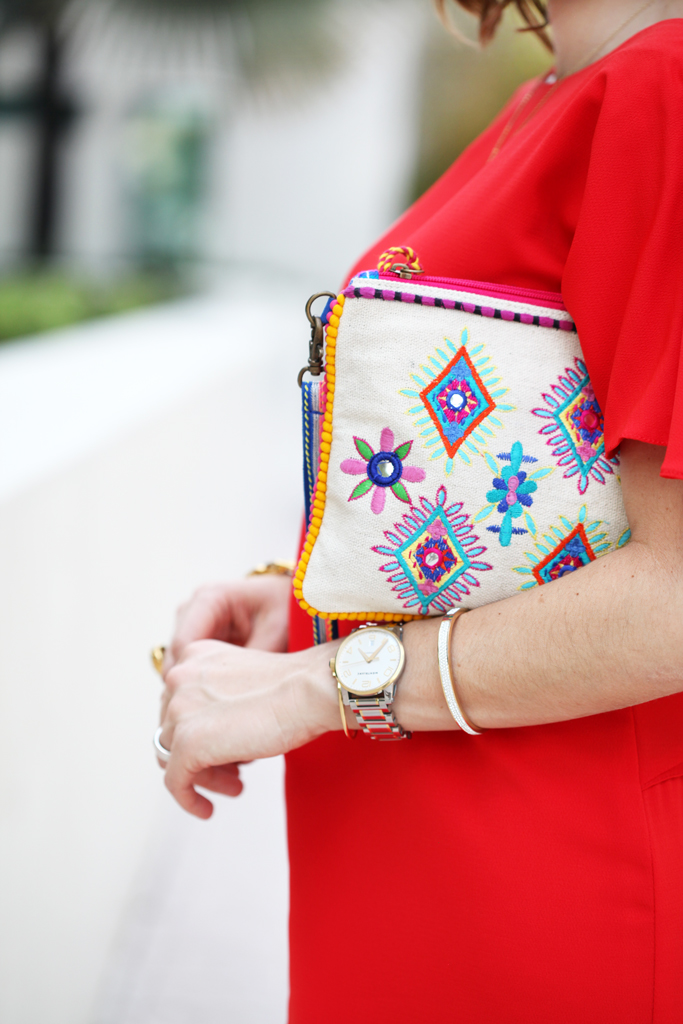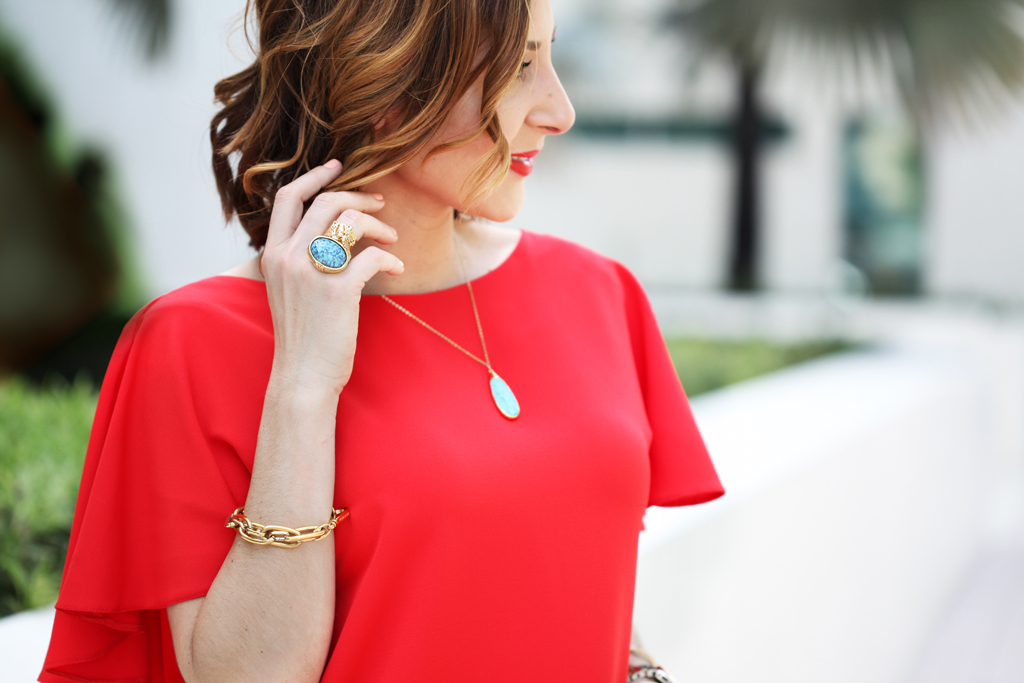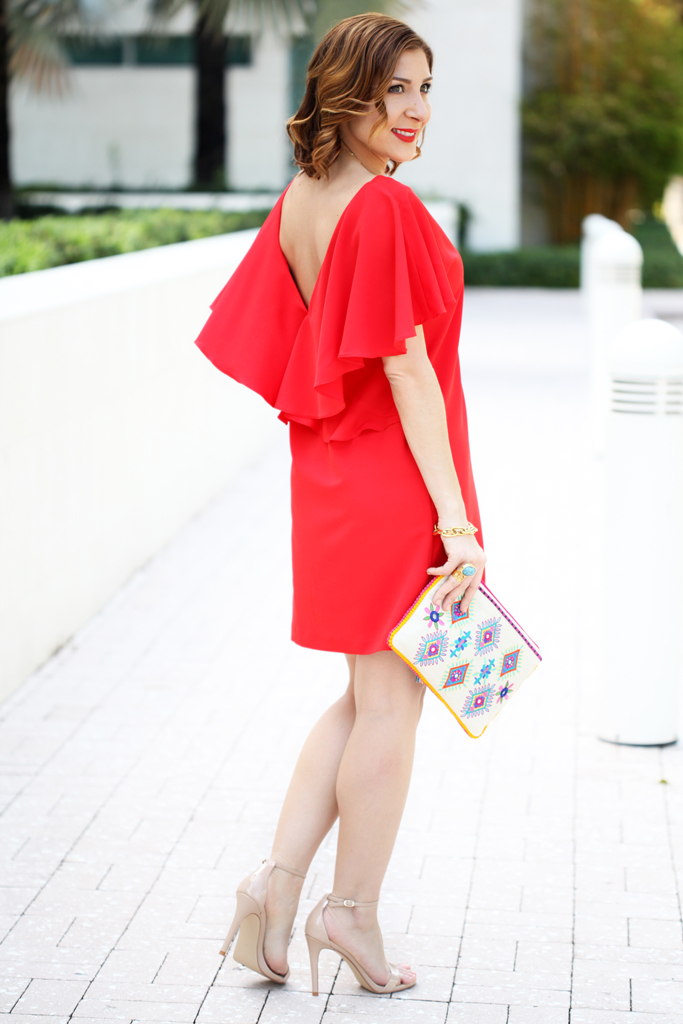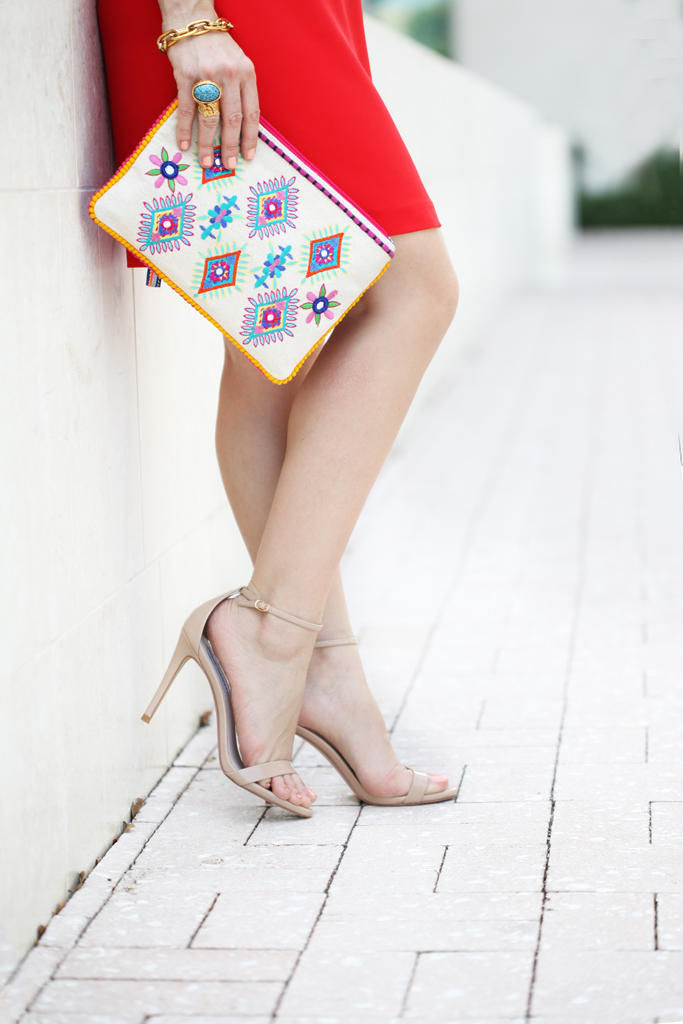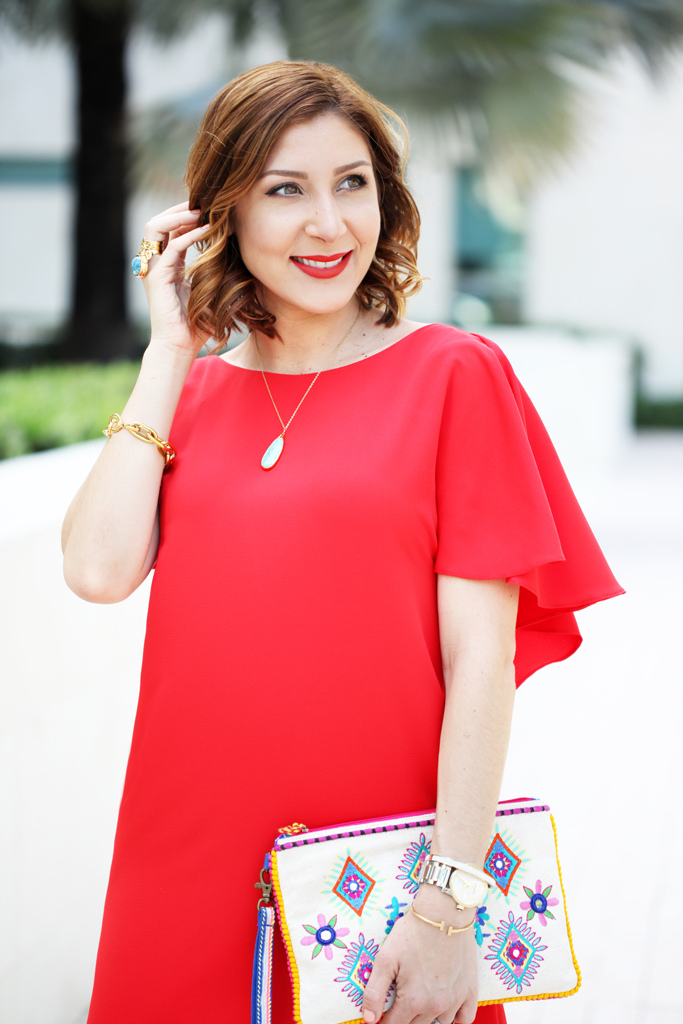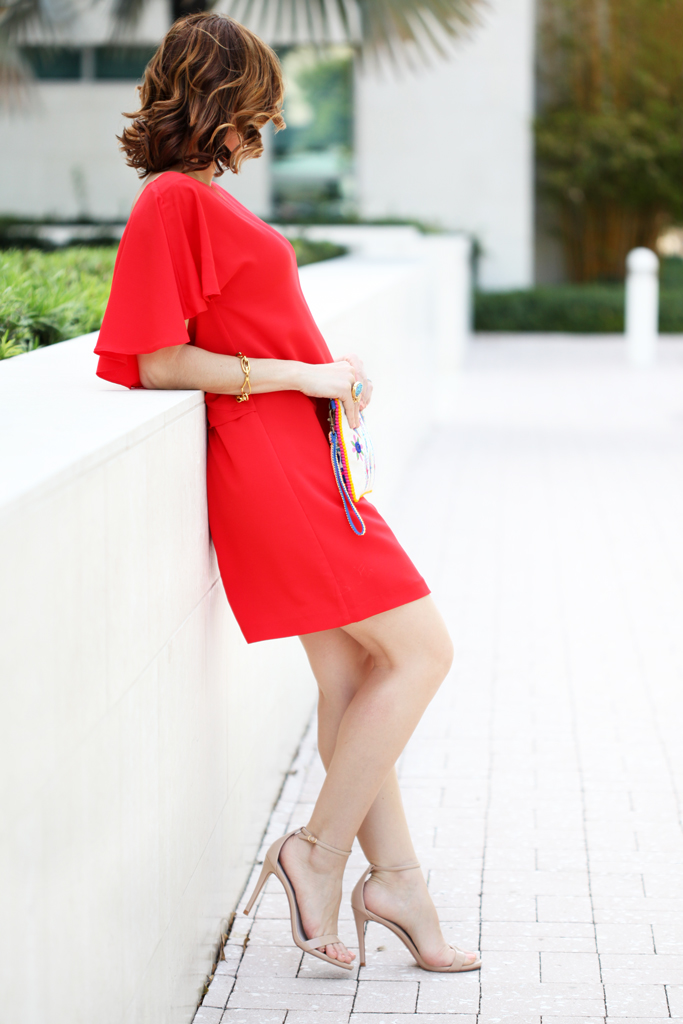 <<   DRESS:  Zara (similar #1, similar #2)   |    RING: YSL 'Arty' (similar)    |   HANDBAG: Steve Madden 'Jelli'  |  WATCH: Montblanc (affordable option) |    NECKLACE: Robyn Rhodes via Rocksbox (similar #1, similar #2, similar #3) use code blameitonmeixoxo to get your first month free!  |     BRACELET: Henri Bendel (Bendel Rox Skinny Bangle & similar) and  Tiffany & Co. 'T-Wire' (affordable option)   |   SANDALS: Steve Madden 'Stecy''   |   NAIL POLISH: CND 'Beau'  |   LIPSTICK:  MAC 'So Chaud'   >>
Do I remind you of someone with this red dress? Let me be more specific… an emoji maybe? Well, I sure embodied my Spanish roots with this little red ruffled number. As soon as I saw it, I knew I had to have it, and immediately styled it for the weekend when I arrived home. The funny thing about this dress is that after pairing it with my new holy summer grail wristlet (see more of it here and here) I realized that it could easily be transitioned to a more casual atmosphere. I can imagine it with lace up sandals and my favorite fedora. What do you think? Would you like to see that? Let me know in the comments.
Ladies, this pretty turquoise necklace is from my recent Rocksbox subscription. Not familiar with Rocksbox? For $19 a month you'll receive a set of 3 designer jewelry pieces on loan worth on average over $200. You borrow 3 pieces at a time, and swap your set anytime you want. These aren't just any pieces, they are specifically picked for you depending on your style questionnaire. Use code blameitonmeixoxo to get your first month free!
Have an awesome week!

DE ESPALDAS A VUELOS : VESTIDO ROJO + BOLSA DE MANO BORDADA
¿Les recuerdo de alguien con este vestido rojo? Déjenme ser más específica… ¿de un emoji tal vez? Bueno, de seguro que simbolicé mis raíces españolas con este pequeño númerito con detalle de volantes. Tan pronto cuando lo vi, supe que tenía que tenerlo, y de inmediato cuando llegue a casa lo combine para el fin de semana. Lo curioso de este vestido es que después de combinarlo con mi nueva bolsa de mano, que de por cierto se a convertido en un icono de mis looks recientes (vea más de ella aquí y aquí), me di cuenta de que podría ser fácilmente vestido para un ambiente más casual. Me lo puedo imaginar con sandalias de gladiador y mi sombrero de ala favorito ¿Qué piensan? ¿Les gustaría ver algo ashi? Háganmelo saber en los comentarios a continuación.
Chicas, este bonito collar es de mi suscripción de Rocksbox más reciente ¿No conoce a Rocksbox? Por $19 al mes recibirá un conjunto de 3 piezas de diseñador que de promedio tienen un costo de $200. Pueden usar las piezas por el transcurso de un mes, y cambiarlas por otras 3 más en el momento deseado. Estas no son cualquier piezas de joyería, son escogidas específicamente para usted dependiendo de su estilo. Utilice el código blameitonmeixoxo para obtener ¡su primer mes gratis!
¡Que tengan una linda semana!